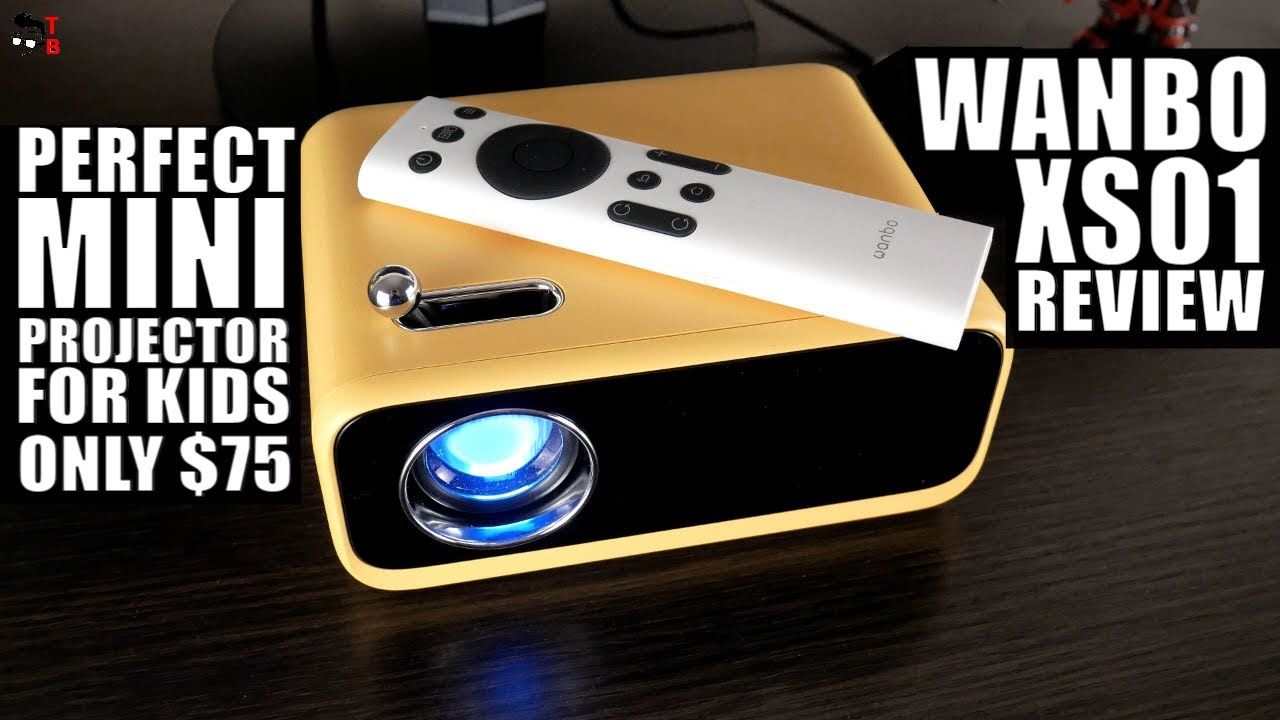 Today, I am testing one of the most compact and affordable projectors on the market in 2021. It is called Wanbo Mini XS01. Actually, this is a children's projector, but looking ahead, I want to tell you that I am really surprised by its projection quality.
The projector has only 480P native resolution, but the brightness is very good – 200ANSI Lumens. The maximum projection size is 120 inches.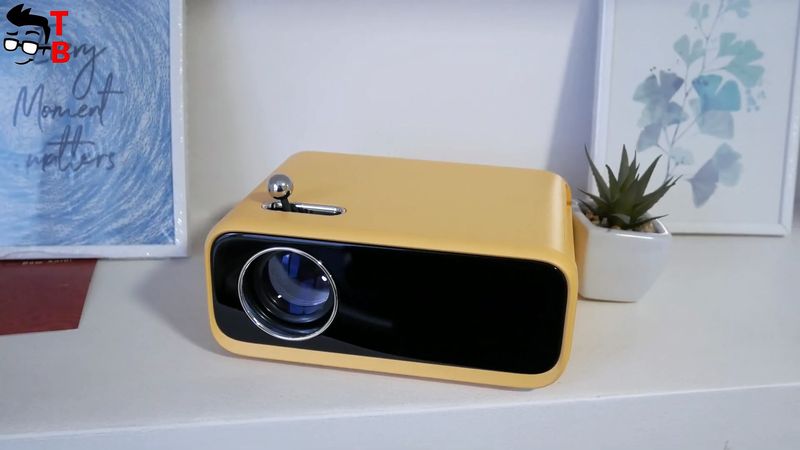 There is HDMI port, USB port, and 3.5 mm audio jack for connecting external devices.
Without further ado, let's start the review of the new Wanbo Mini XS01 projector.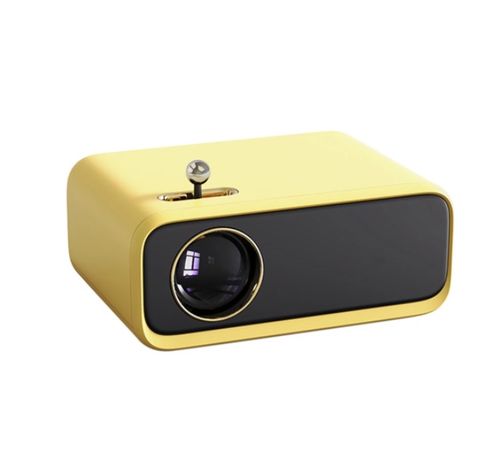 Wanbo Mini LED Projector - Banggood
Buy it now

Banggood.com
as of November 13, 2021 1:00 am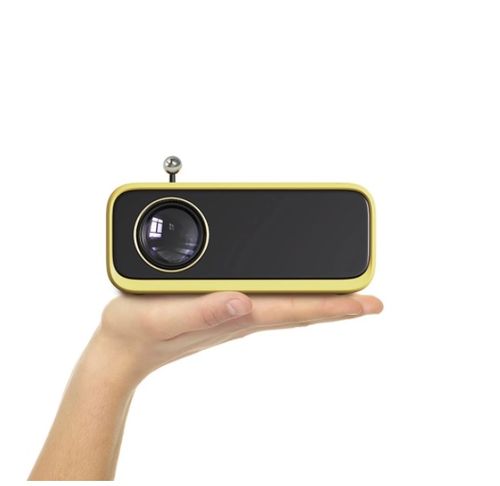 Global Version for Wanbo X1 Mini - Aliexpress
Buy it now

Aliexpress.com
as of November 13, 2021 1:00 am
Unboxing
As I already said, this is one of the most compact projector that I've ever had, so its box is also small.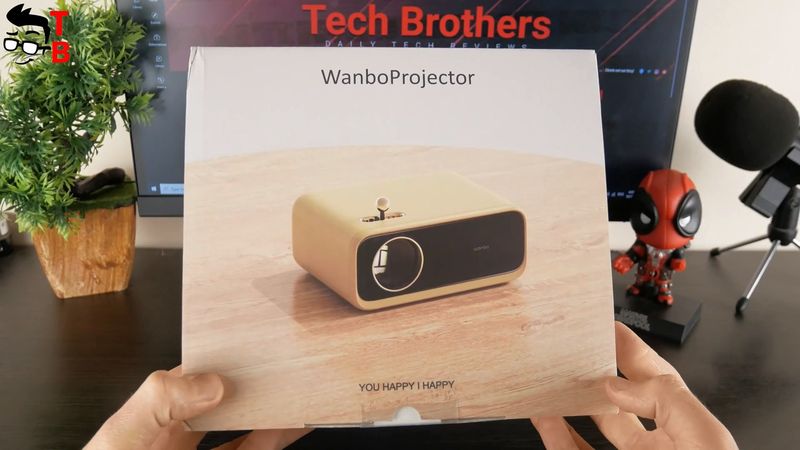 We can see how the projector looks like on the front of the box, and a very nice slogan – you happy, I happy.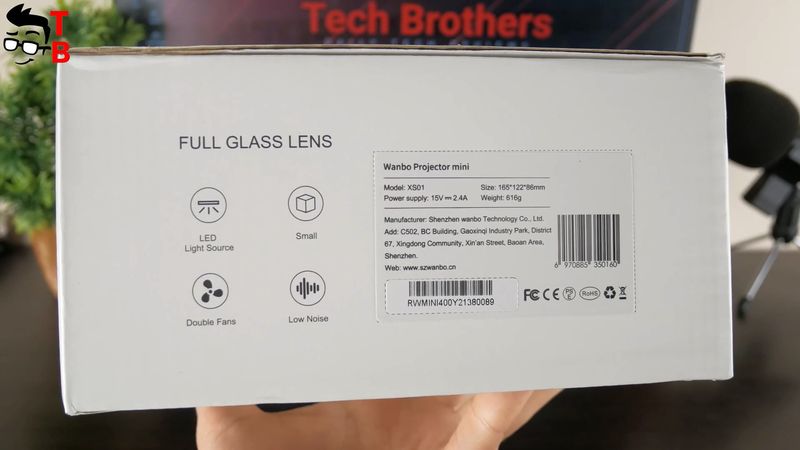 The main features of a projector are on the side faces, such as LED light source, small size, double fans, and low noise. There is also a sticker on the box with the model name and information about a manufacturer.
By the way, I am a little surprised that all inscriptions on the box are in English, not Chinese.
Inside the box, we have a projector itself, remote control, power adapter, AV cable, and user manual. The user manual is also in English. That's very good.
back to menu ↑
Design
Wanbo XS01 is a children's projector, so it has a bright yellow body. Only the front panel is glossy black.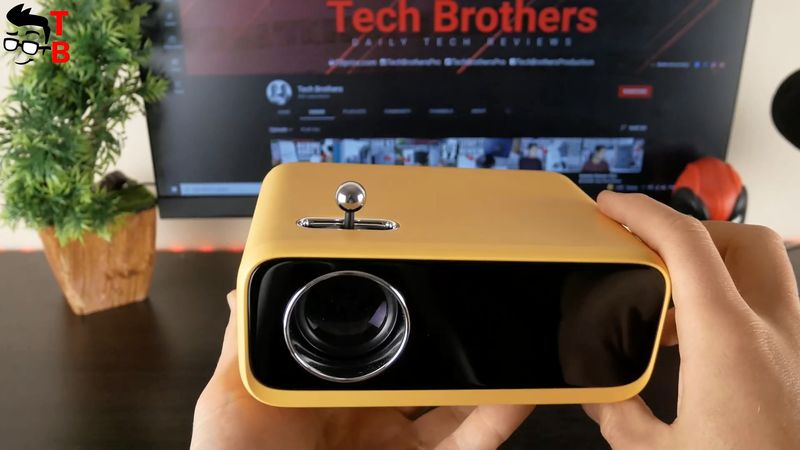 You know, it may be difficult for young children to spin the focus wheel, so the new Wanbo projector has a metal ball to adjust the focus. I think it is a brilliant solution.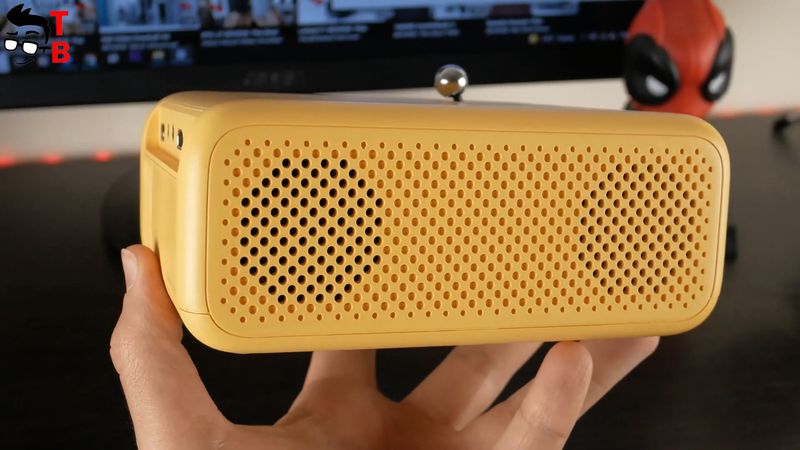 On the back of the projector, we can see speaker grilles.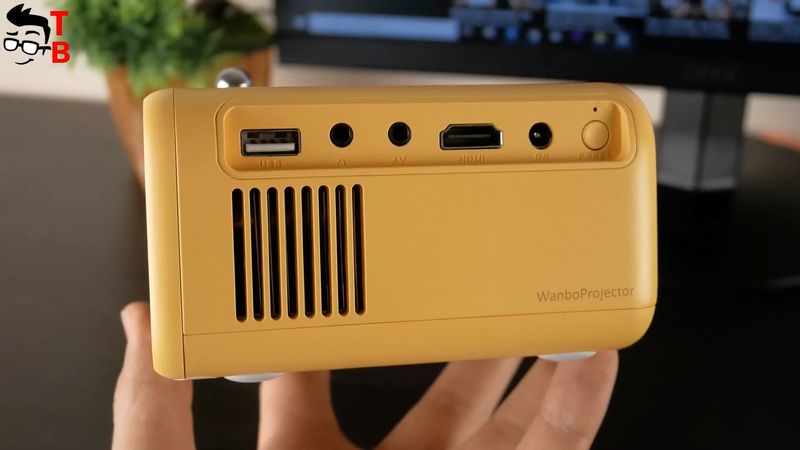 All the ports and connectors are located on the right side, such as USB 2.0, 3.5mm audio jack, AV, HDMI, DC power input, and power button.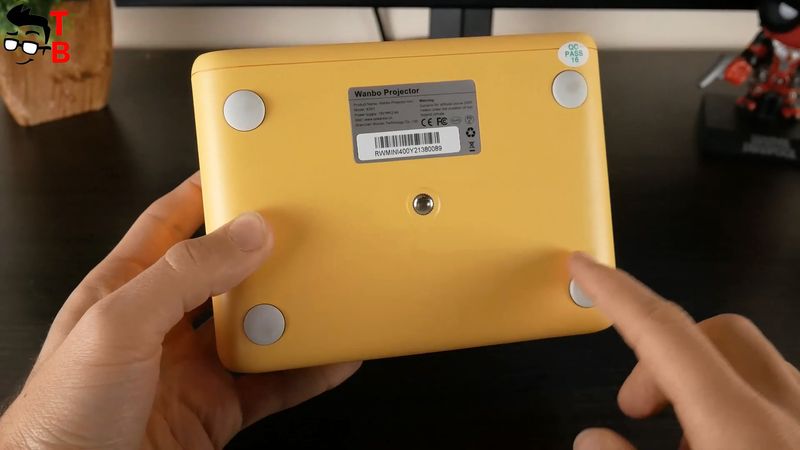 At the bottom, the projector has four rubber feet to keep it from sliding on the surface, as well as a tripod connector.
You know, the WANBO XS01 projector has a remote control, but I didn't find the IR receiver. Most likely, it is located on the front side.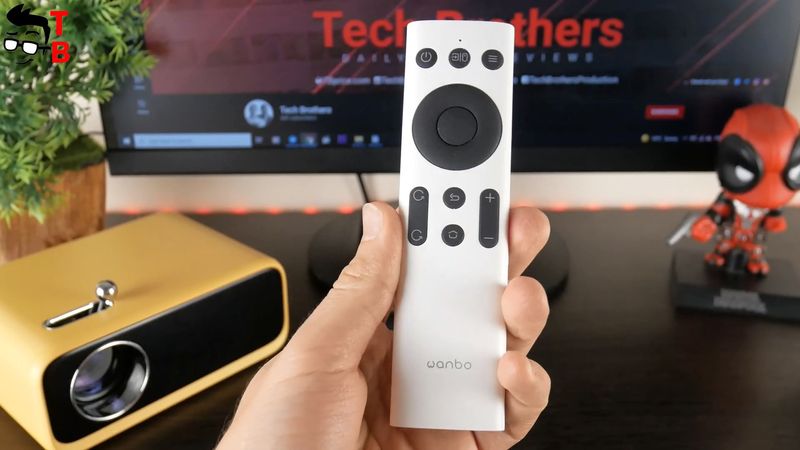 By the way, remote control is very stylish. It has a white body and black rubber buttons.
There is a power on/off button, source and mouse mode button, multi-function keys, arrow keys, OK button, previous and next, return, home, volume up and down.
I like how this remote control looks like.
OK, now we can turn on a projector, and look at the settings menu.
back to menu ↑
Settings menu
So, on the main screen of the projector, we can go to Media, HDMI, AV, and setup menu.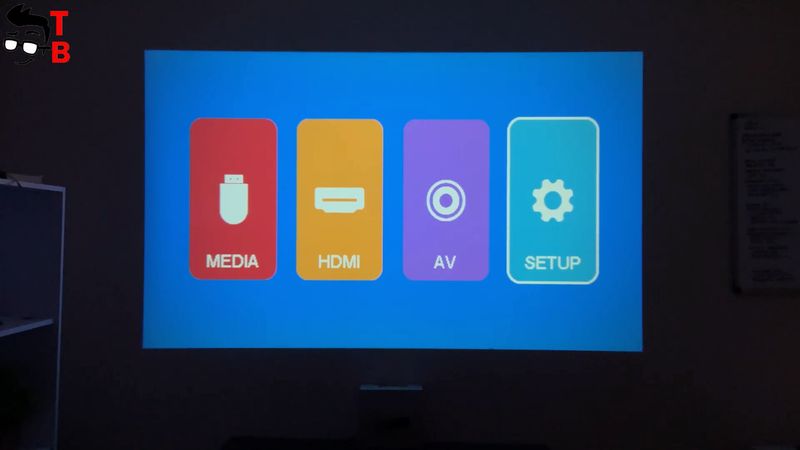 In the setting menu, we can change picture mode from standard, dynamic, mild, and user. Then, we can change contrast, brightness, color, tint, sharpness, focus, color temperature, and noise reduction.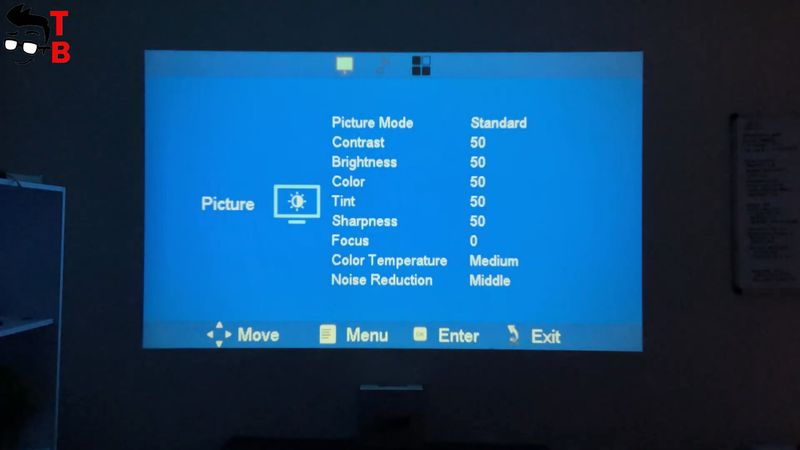 There is also the sound settings menu, where we can choose the sound mode, change treble and bass.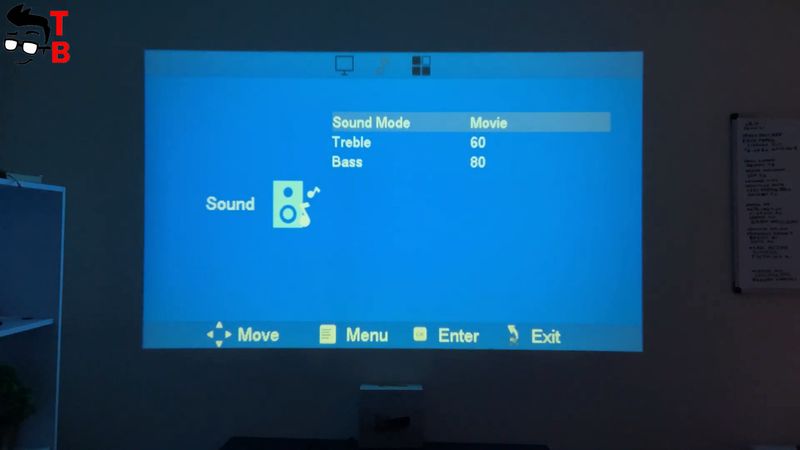 We can also select a language on the projector. By the way, there are many different languages available.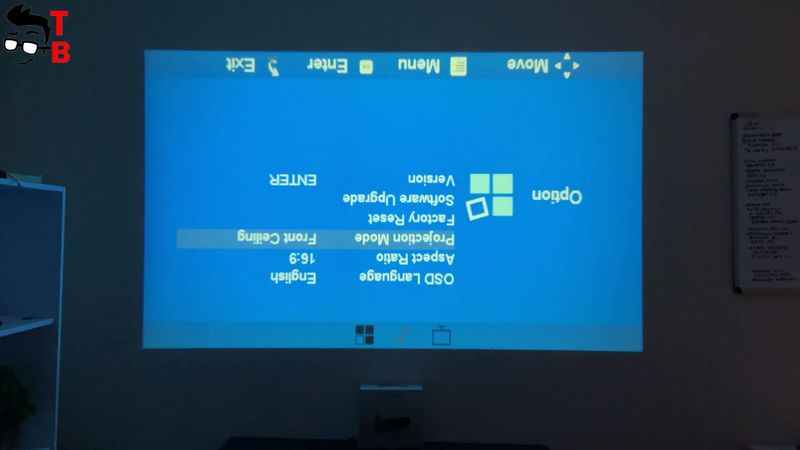 The aspect ratio is 16:9, and it cannot be changed. However, we can change projection mode. The other options are factory reset, software upgrade, and version.
back to menu ↑
Volume and noise levels
As I already said, the WANBO Mini projector has double fans. I want to check the noise level.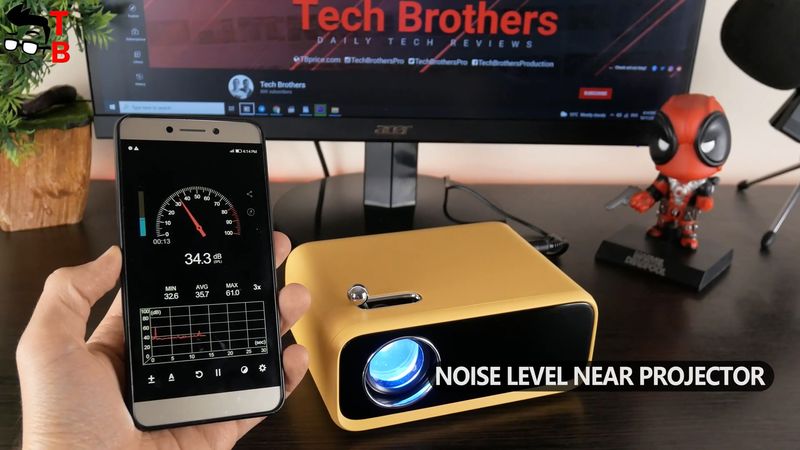 As you can see, it is about 34 dB near the projector and 30 dB at a distance of 1 meter.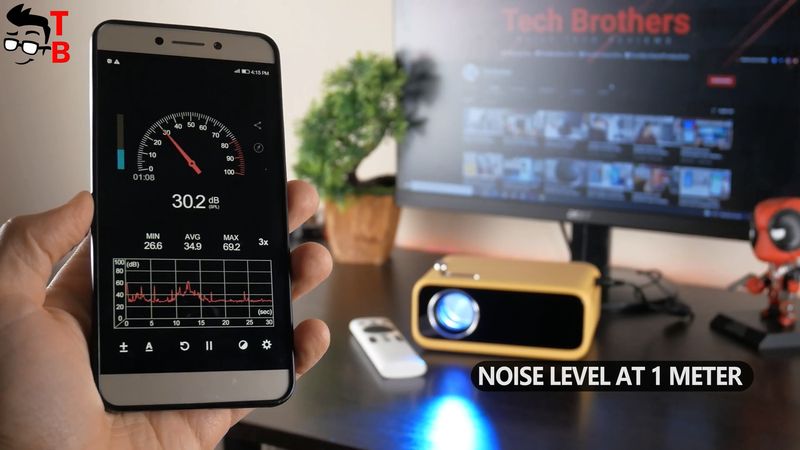 As for the volume, it is up to 71 dB.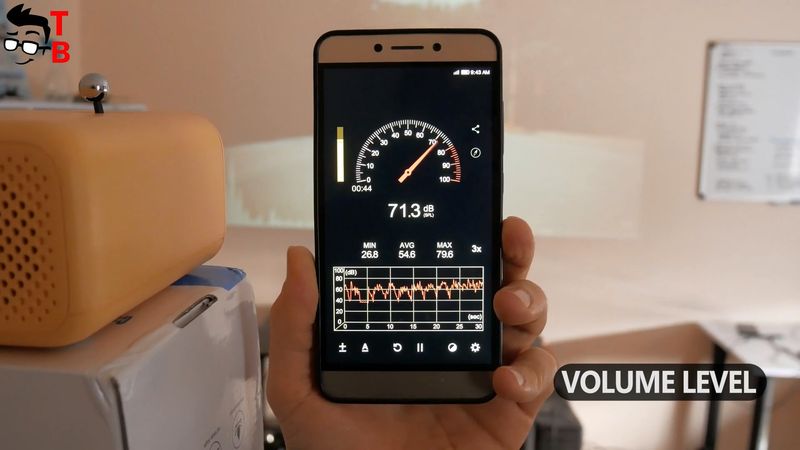 The sound quality is good enough for such a compact projector.
back to menu ↑
Projection Quality
OK, finally, we can watch some videos on the new Wanbo projector. This projector is for children, so let's start with animation movies.
I have placed a projector at a distance of 2 and a half meters from the wall, and the projection size is about 90 inches. The maximum projection size can be 120 inches. To get it, you need to place a projector at a distance of 3.7 meters.
The native resolution of this projector is only 480P, so it is hard enough to read a text.
On this video, we can see football fans, but, because of the low resolution, we cannot see their faces.
However, a projection is very bright, thanks to 200ANSI Lumens. I also like vivid colors. In general, the image quality is very good in the dark room.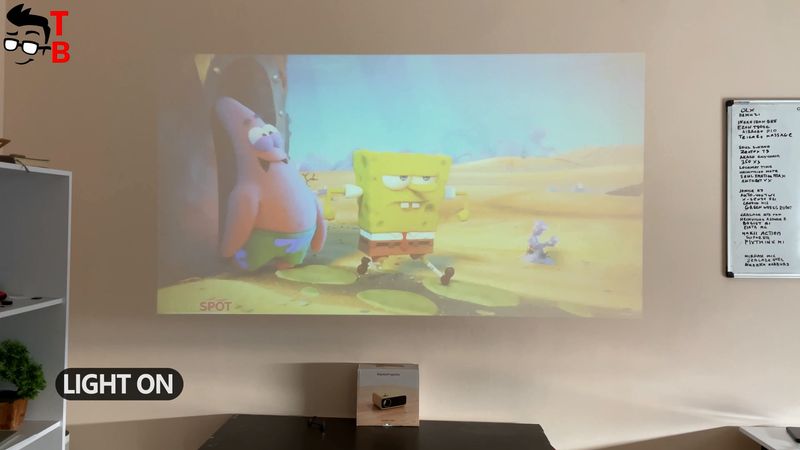 As I already said, Wanbo XS01 has good brightness, so you can even use it in the daytime.
So, children can watch cartoons not only in the evening but also during the day.
back to menu ↑
Conclusion
I didn't tell you the price of this projector. It is only $75. To be honest, I was very skeptical before buying Wanbo XS01, but I still decided to test it, because I liked the previous Wanbo X1 projector.
I think that Wanbo Mini XS01 is a perfect projector for children. It has a beautiful design, a very comfortable ball to adjust focus, and many ports to connect laptop, TV box, USB flash drive, etc.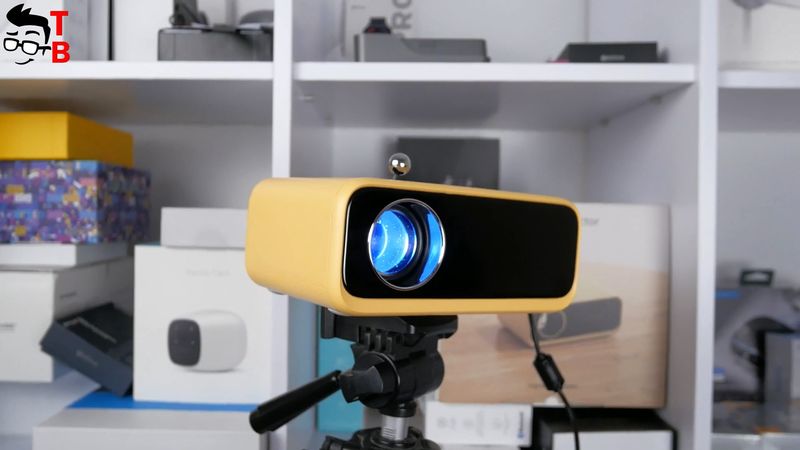 Moreover, I think this projector can be used for home theater. It has very good brightness and rich colors.
However, because of only 480P native resolution, it is not suitable for an office. It is almost impossible to read the text on the projection.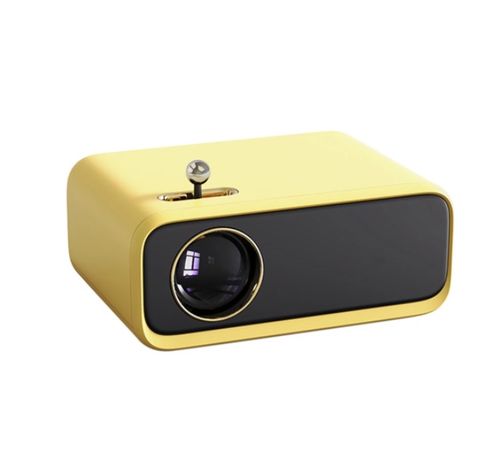 Wanbo Mini LED Projector - Banggood
Buy it now

Banggood.com
as of November 13, 2021 1:00 am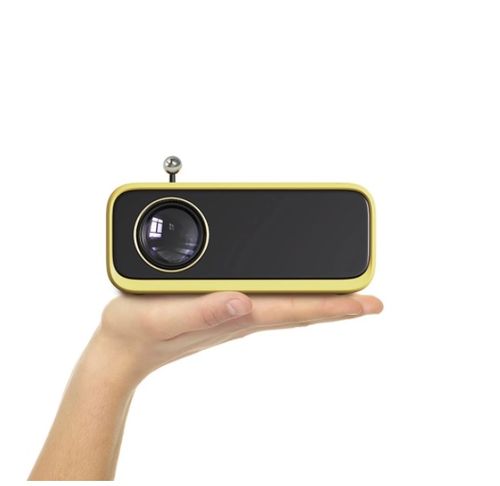 Global Version for Wanbo X1 Mini - Aliexpress
Buy it now

Aliexpress.com
as of November 13, 2021 1:00 am
back to menu ↑
Wanbo Mini XS01 Video Review