Some days ago, I told you about a rugged smartphone Blackview BV9200. This is a budget rugged phone with some amazing features.
The second new product from Blackview Company in 2023 is a tablet called Oscal Pad 10. We are also familiar with the Oscal brand because we posted some articles about Oscal products.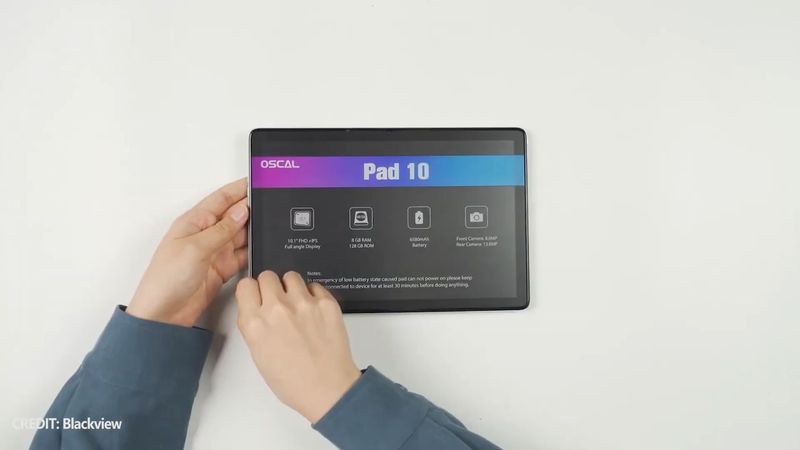 However, in this article, I want to compare the new Oscal Pad 10 and Blackview Tab 15, because they are the latest tablets from the Chinese company and they have many similar features.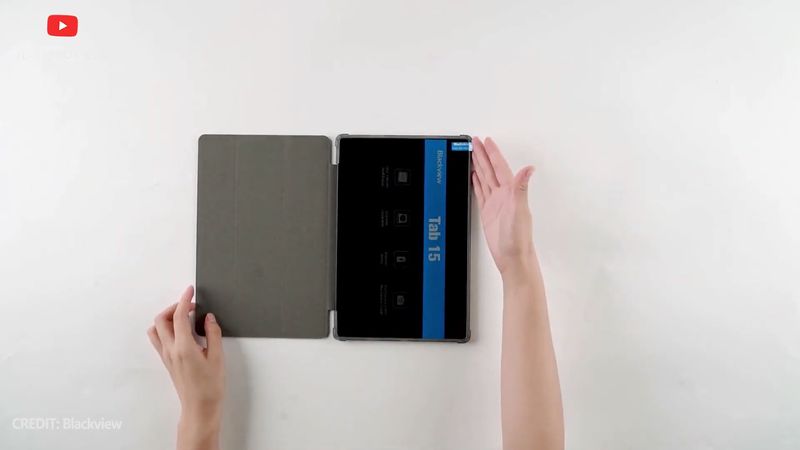 Let's start with the price, because this is probably the first thing you pay attention to when choosing a new device.
Price
So, the release date of the new Oscal Pad 10 tablet will be on January 9th. The price at the start of sale will be $129.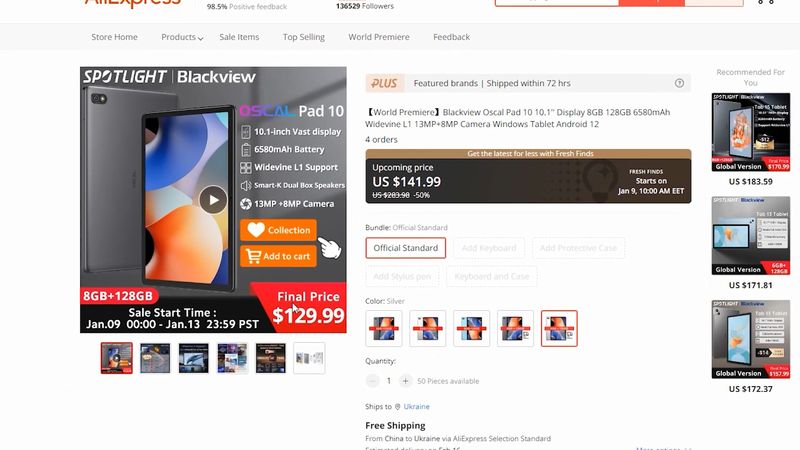 If we decided to compare the new Oscal tablet with Blackview Tab 15, then you should know that a Blackview tablet is more expensive. You can buy it for $160 on Aliexpress.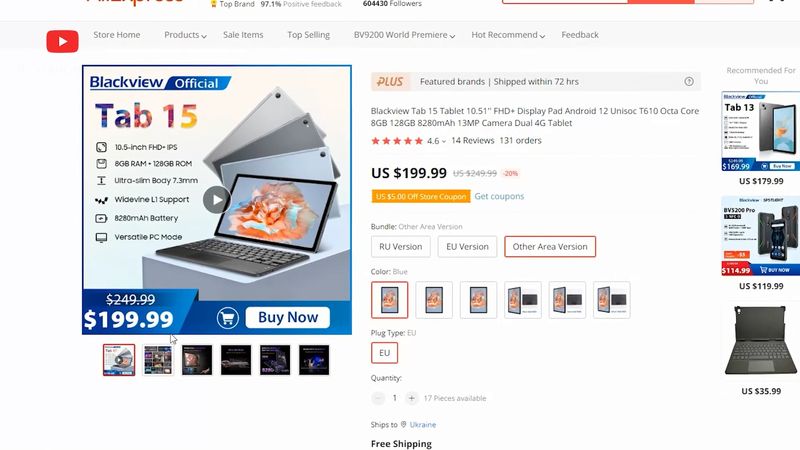 Design
You know, at first glance, the Oscal Pad 10 and Blackview Tab 15 look similar, because they have almost the same size.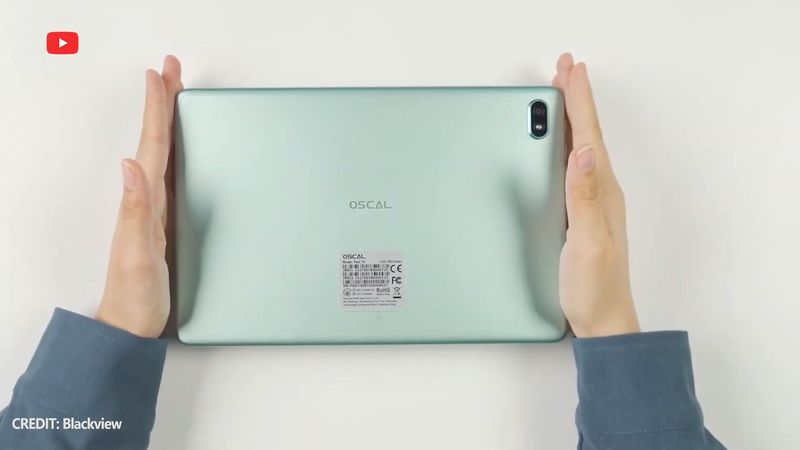 However, the advantage of the Blackview tablet is a slim body of only 7.9 mm. The thickness of Oscal Pad 10 is 8.9mm.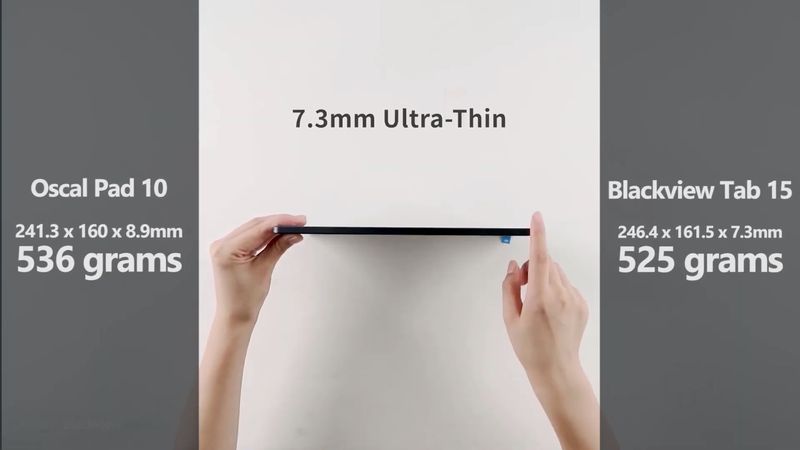 Display
Also, Blackview Tab 15 has a little bigger display with a diagonal of 10.5 inches. The new Oscal tablet has 10.1-inch screen.
Both of them have IPS panels with Full HD resolution, 1200 by 1920 pixels.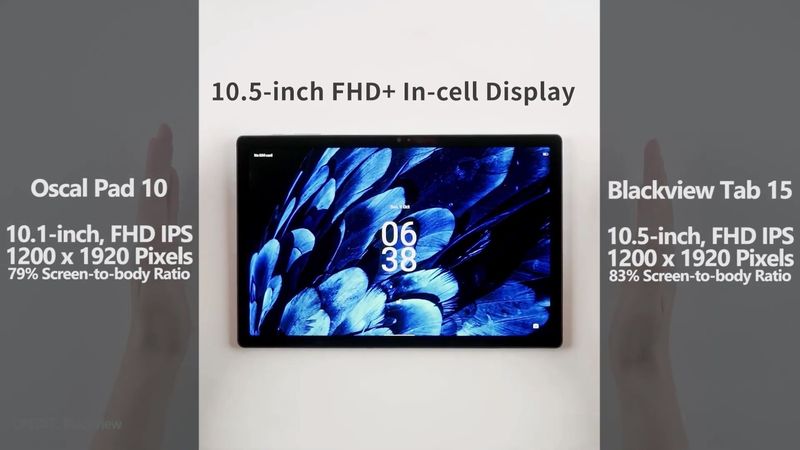 Camera
If we look at the rear panel, we see that the tablets have a single main camera. They have the same resolution of 13MP, but Oscal Pad 10 is equipped with Sony IMX319 sensor, while the Blackview Tab 15 has Sony IMX258 sensor.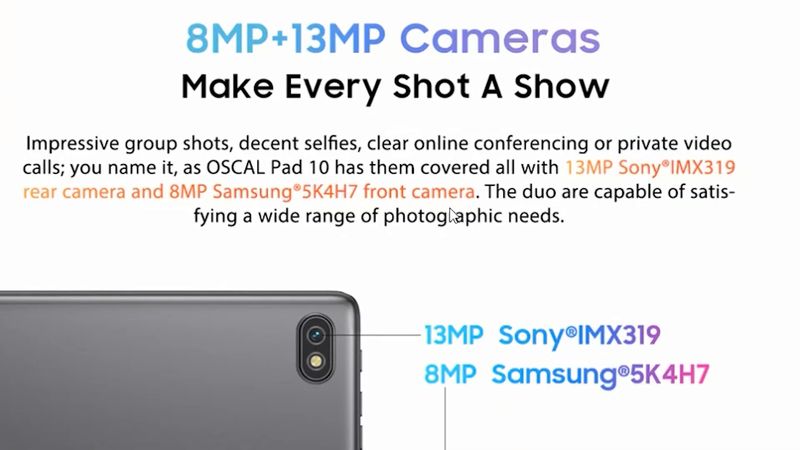 The front camera is the same 8MP.
In general, the camera is not the main feature of any tablet, so let's talk about the more important things, such as performance.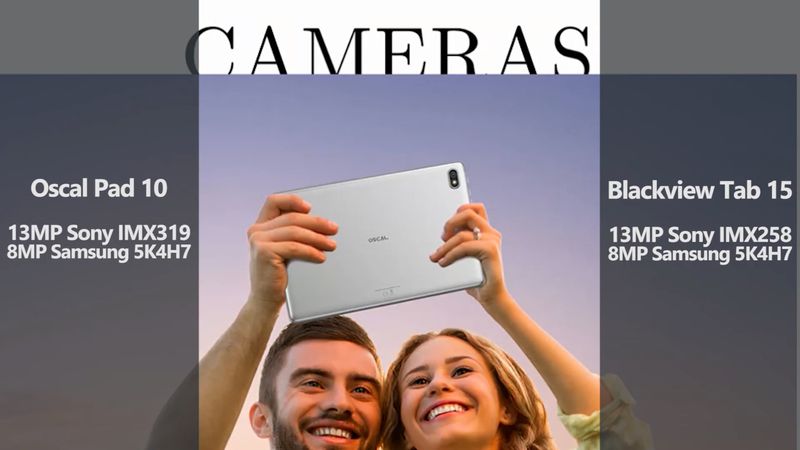 Hardware
Blackview Tab 15 is more expensive than Oscal Pad 10, because it has a newer chipset – Unisoc T610. The Oscal tablet is powered by Unisoc T606.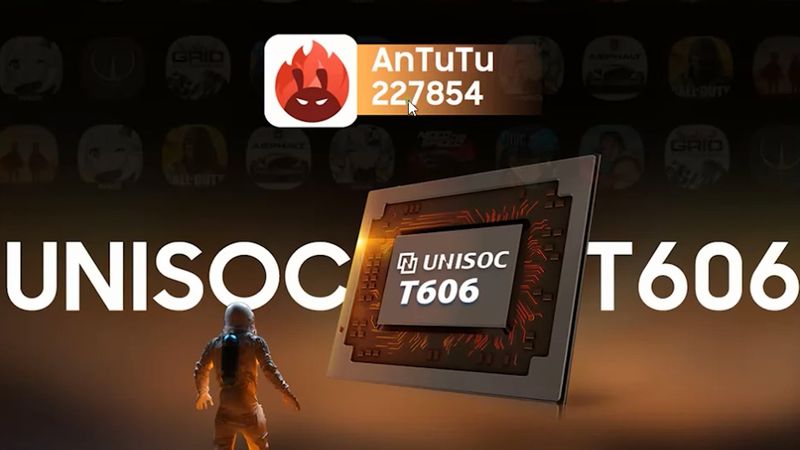 However, the AnTuTu result of Oscal Pad 10 is even a little higher than Blackview Tab 15 – 227 thousand points and 224 thousand points, respectively.
So, I don't think you will really notice a difference in performance on these tablets.
Talking about memory, they both have 8GB of RAM and 128GB of storage.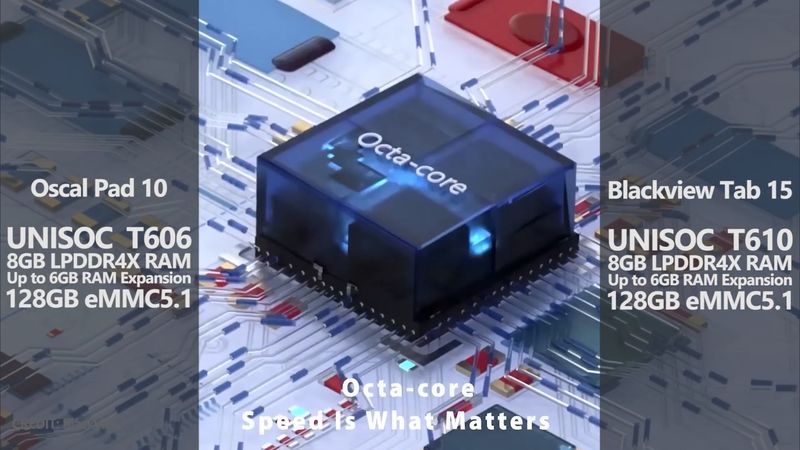 Software
You know, Blackview Tab 15 and Oscal Pad 10 run on the same Android 12 operating system with DokeOS 3.0 user interface. They have the same applications and functions, so you won't notice any differences between them either.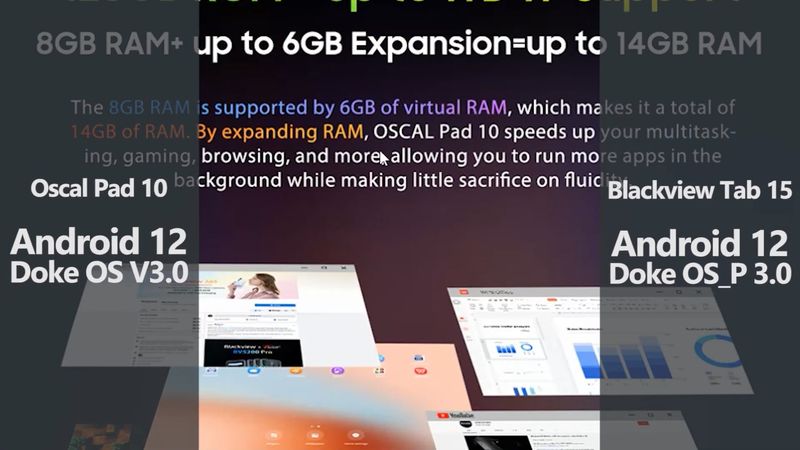 One of the main features of DokeOS user interface is a PC mode and floating windows.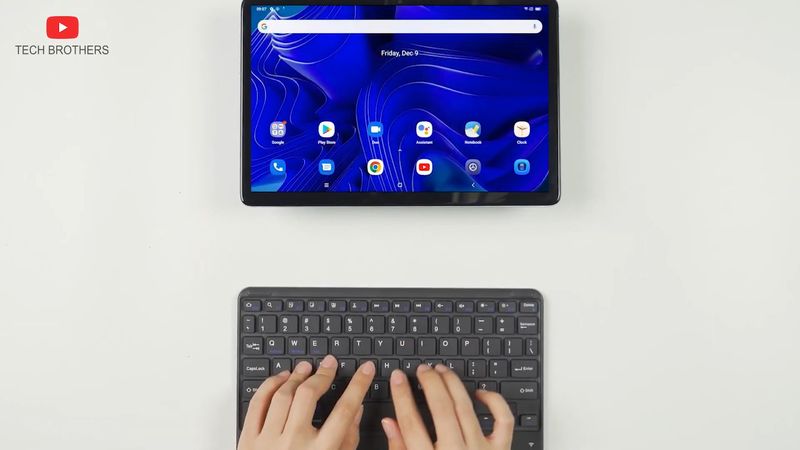 You can buy an external keyboard, connect it to the tablet, and then you will have a laptop with touchscreen. Both tablets offer a good performance for office tasks.
Connectivity
I forgot to tell you that Oscal and Blackview tablets have hybrid slot for dual SIM and microSD memory card. They support 4G LTE networks, so you can use the tablet for phone calls or mobile internet.
They also have GPS navigation, dual-band Wi-Fi and Bluetooth.
Battery
One of the main advantages of Blackview Tab 15 is a battery with a capacity of 8280mAh. The new Oscal Tab 10 tablet has 6580mAh battery.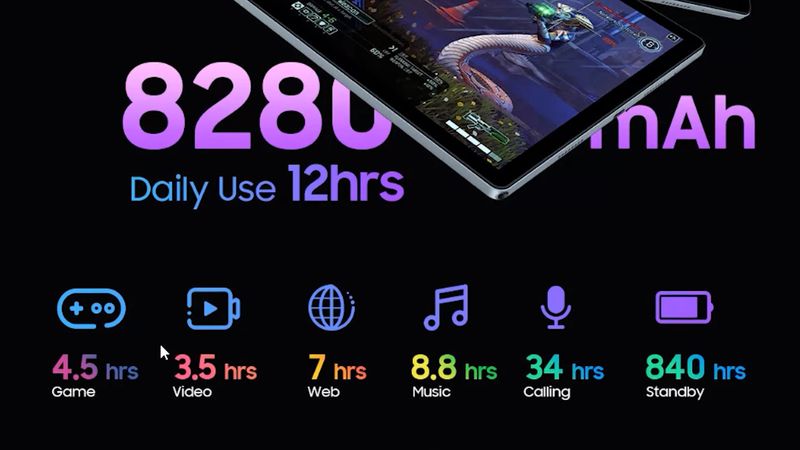 On these pictures, we can see that Blackview tablet has 4.5 hours of gaming, 3.5 hours of video playback, and 7 hours of web surfing, while the Oscal tablet has about 4 hours of gaming, 4 hours of video playback and 6 hours of web surfing.
Speaker
Another advantage of the Blackview Tab 15 is quad speakers. The new budget tablet from Oscal has dual speakers. So, the sound quality of the Blackview tablet should be better.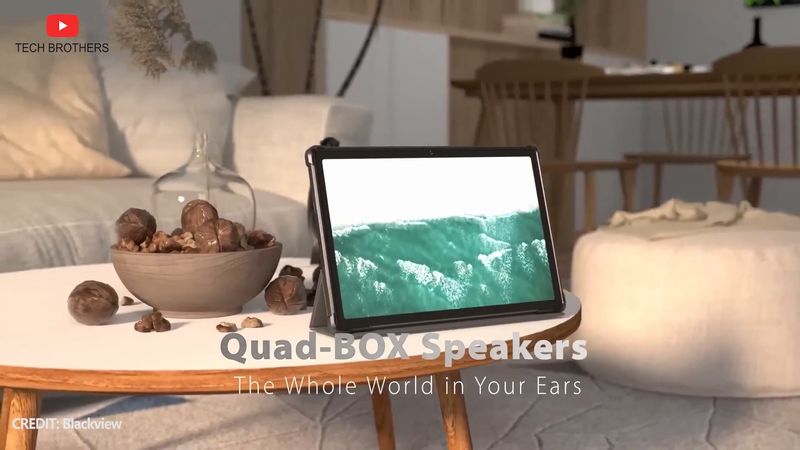 Conclusion
Overall, for the price of $129, Oscal Pad 10 is a very good tablet.
It has a big and quality display, a good performance for office tasks, as well as external keyboard support. You can also use dual SIM cards to stay connected when there is no Wi-Fi connection.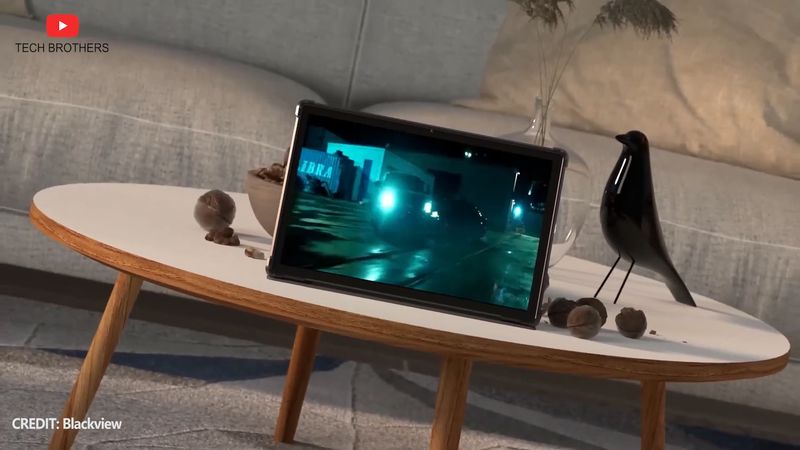 Blackview Tab 15 has several advantages over the Oscal Pad 10, such as a slimmer body, a bigger battery and quad speakers, but it is also more expensive.