The new Mibro wireless earbuds caught my attention, because they come with a 2000mAh charging case that can be used as a power bank for charging mobile devices.
If you are standing now, please sit down because you might fall over when you find out the total battery life of these earbuds. The manufacturer promises 30 days of battery life after the case and earbuds are fully charged.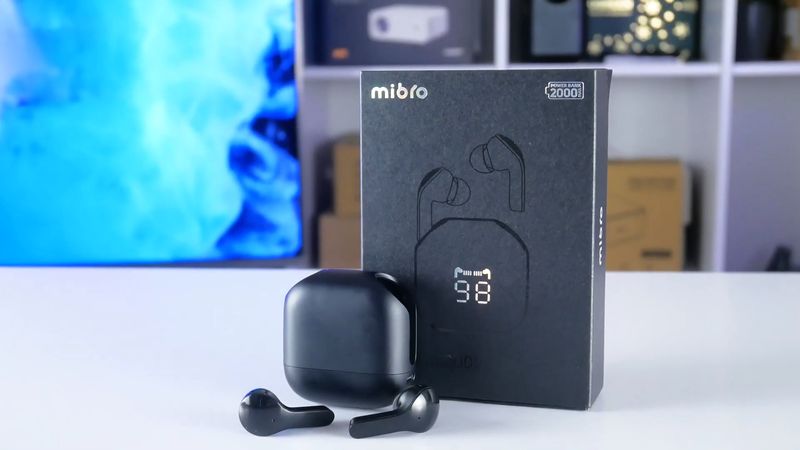 There is also a digital display on the charging case that shows the battery level of the left and right earbuds, as well as the case itself.
Another surprise of the new Mibro earbuds is an affordable price of only $29.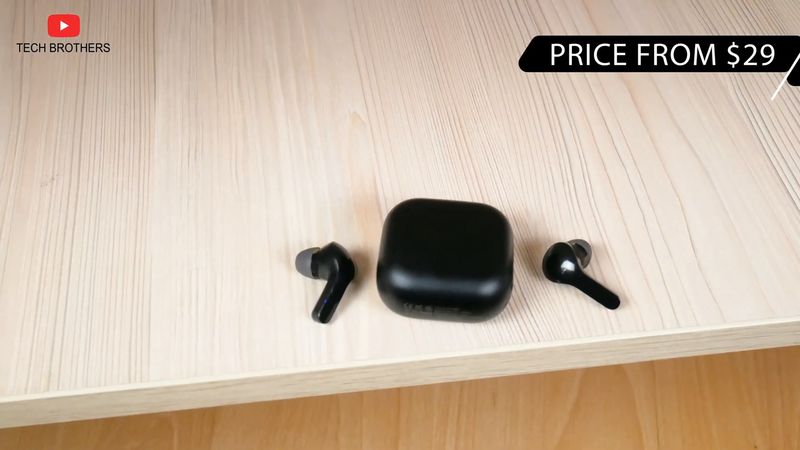 So, the charging case is awesome for budget earbuds, but we also need to test the latency in games, microphone quality, sound quality and other stuff.
Mibro Earbuds 3 Pro TWS 2000mAh Reverse Charging - Aliexpress
as of March 7, 2023 8:30 am
Unboxing
By the way, I forgot to tell you the full name of the earbuds, but I think you already read it in the title of the article. These are Mibro Earbuds 3 Pro.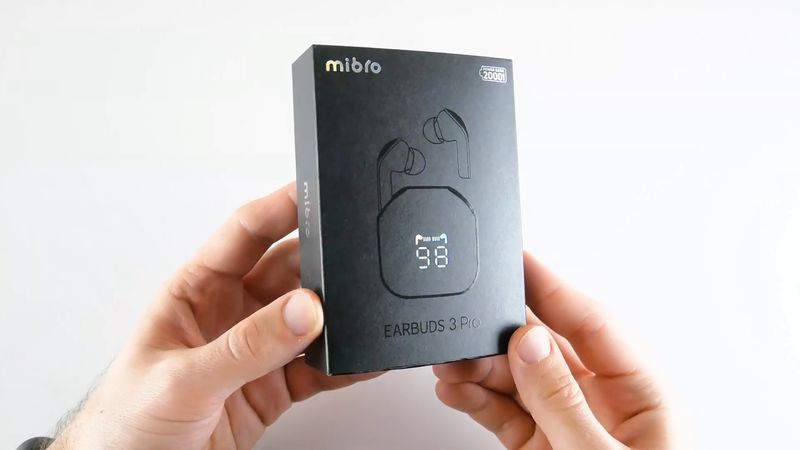 We can see the main feature of the new earbuds on the front of the box – 2000mAh power bank.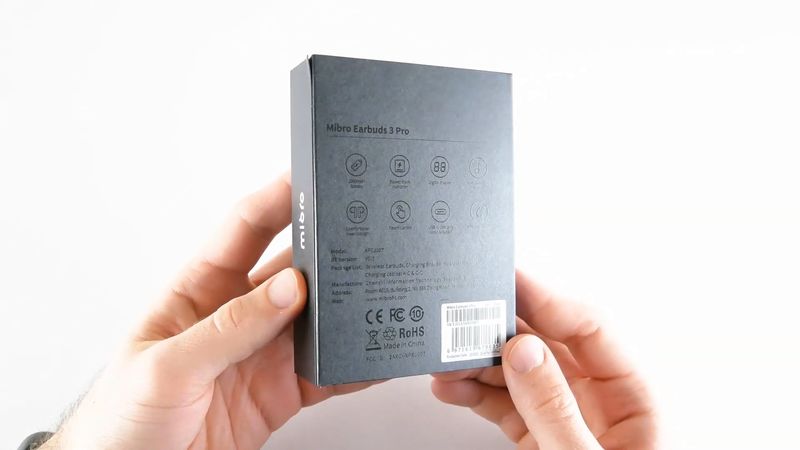 There are also some other features on the back, such as digital display, Well-Balanced Sound, comfortable inner design, touch control, IPX4 waterproof.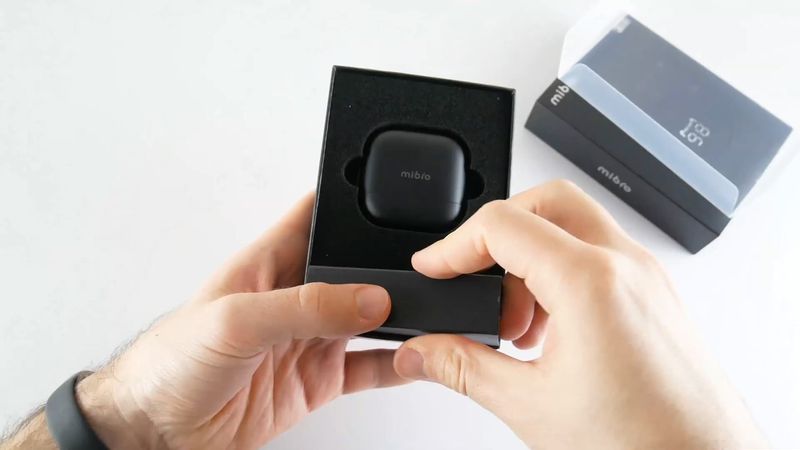 Inside the box is a charging case and earbuds, user manual, two USB Type-C cables and extra silicone ear tips.
You know, I was surprised to see two USB cables, because a charging case has only one USB Type-C port.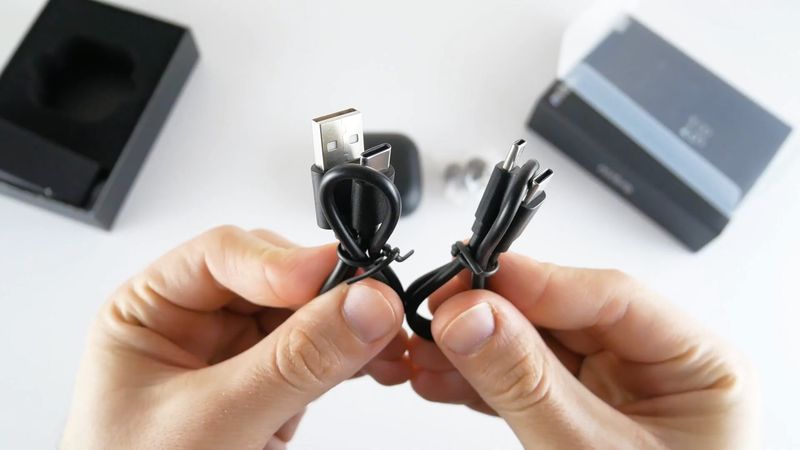 However, one of the cables has USB C to USB A connection to charge the case itself, while the other cable has USB C to USB C to charge the smartphone from the case of the earbuds. That's really good.
Design
Despite the fact that the charging case of Mibro Earbuds 3 Pro has a large battery capacity of 2000mAh, it is not much bigger than other earbuds.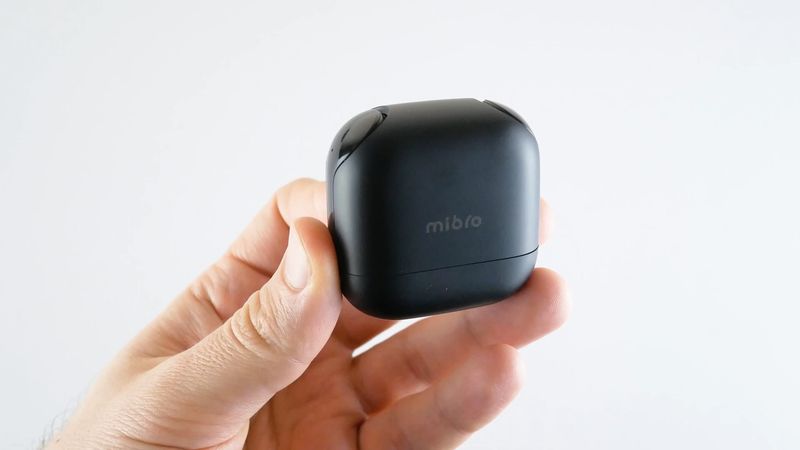 For comparison, I tested Lenovo earbuds some days ago, and their charging case is even bigger, but it has a battery capacity of only 280mAh.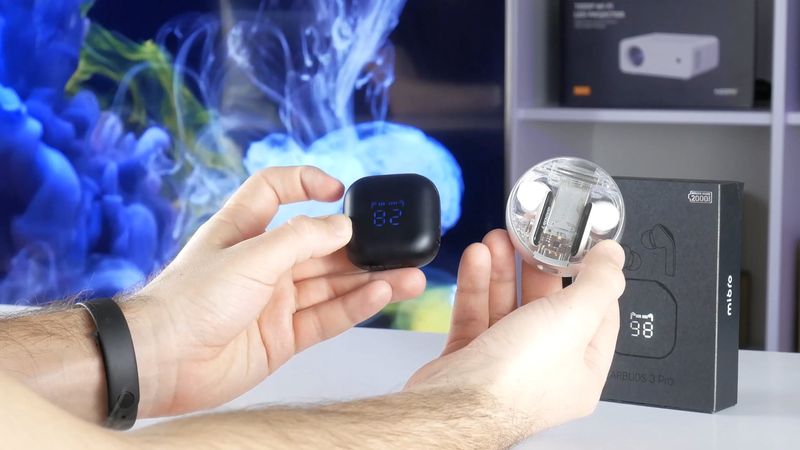 The weight is also about the same – 60 grams of Mibro Earbuds 3 Pro, and 64 grams of Lenovo earbuds.
You know, I cannot believe the Mibro earbuds charging case has a 2000mAh battery.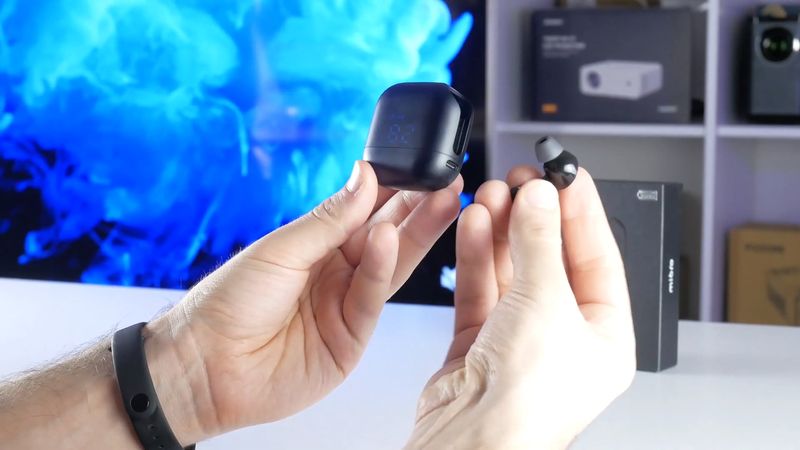 As you can see, the case doesn't have a lid, while the earbuds are attached to the sides. This is a very interesting design solution. I haven't seen it before.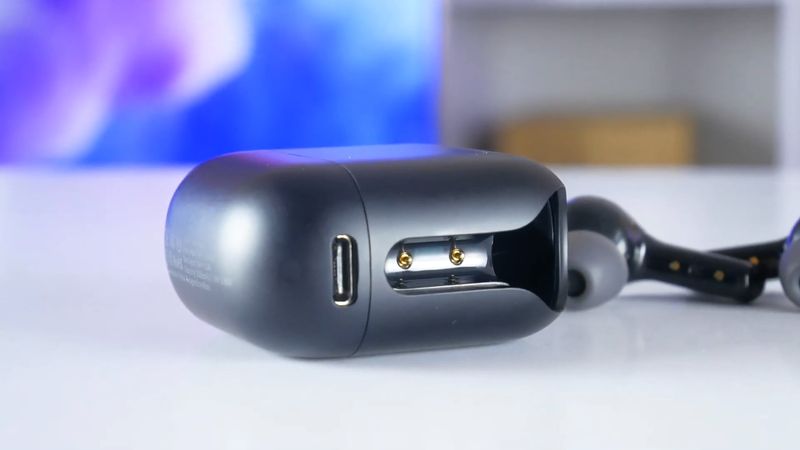 There is USB Type-C charging port, Mibro logo and some information about battery on the case.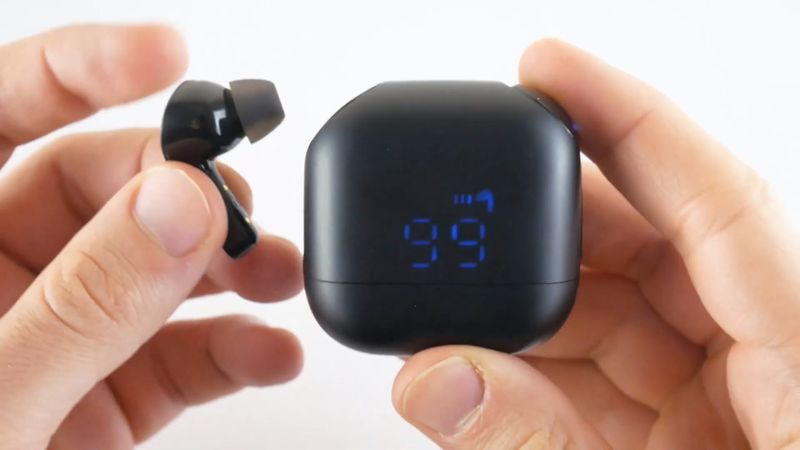 You may not even notice the digital screen on the charging case until you take out one of the earbuds. As I said before, a digital display shows the charge of the right and left earbuds, as well as the battery level of the case.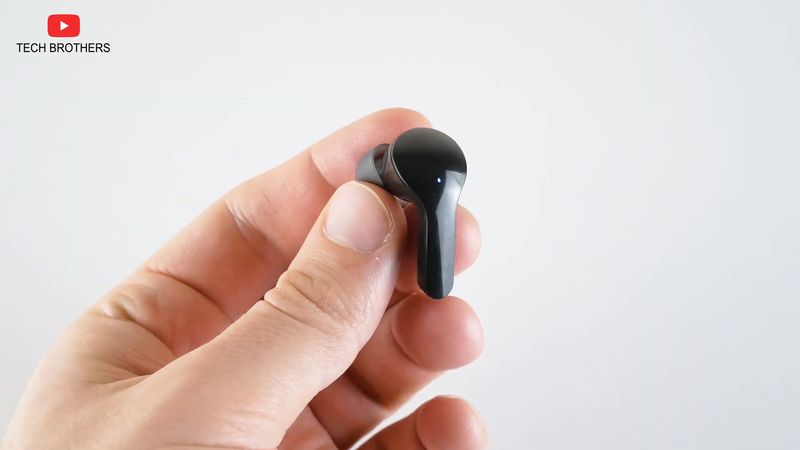 Talking about design of the earbuds, they are made of glossy black plastic. By the way, Mibro Earbuds 3 Pro is only available in black color.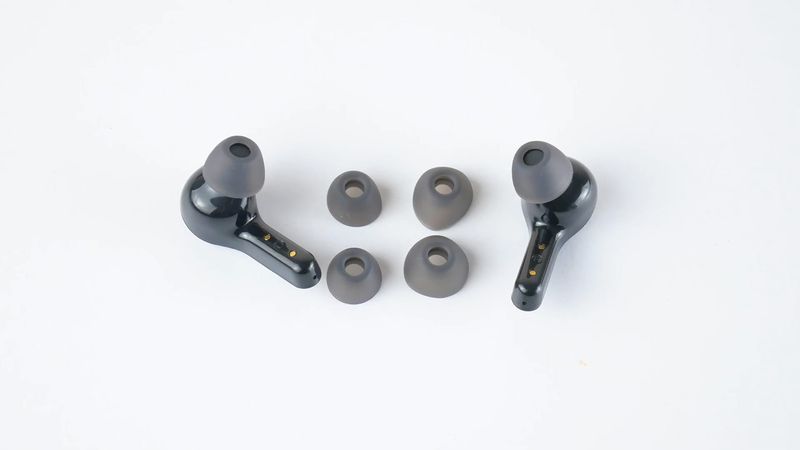 The earbuds have silicone eartips, LED indicators and touch panels.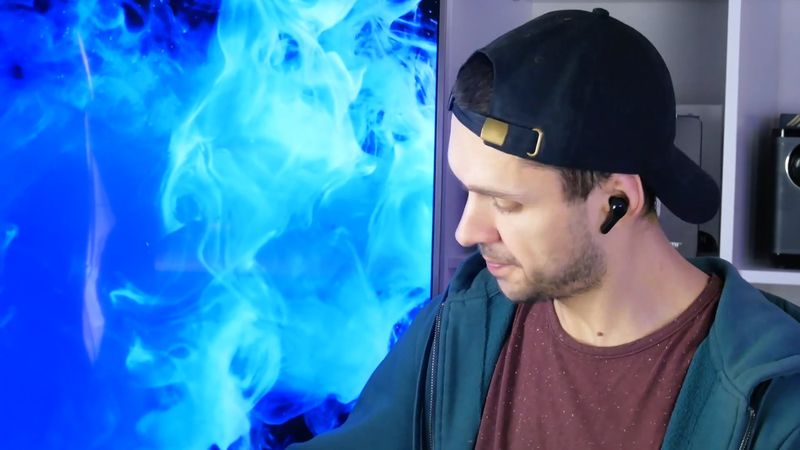 The earbuds look quite massive, but they fit very well in the ears. You can even run or do other sports with them. By the way, Mibro Earbuds 3 Pro have IPX4 waterproof rating, so they do not afraid of sweat and rain. However, you shouldn't shower or swim in the pool with them.
I think that's all I can tell you about design of the new Mibro earbuds, and now let's talk about control functions.
Control Functions
First, you can double click the left or right earbuds to pause a music, and double click again to resume it.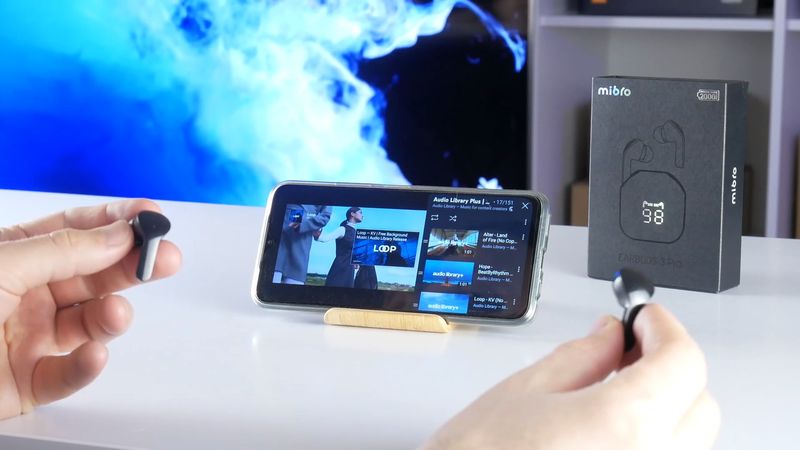 A triple click on the left earbud switches to the previous track, and triple click on the right earbud switches to the next track.
Mibro Earbuds 3 Pro also have a volume control. You can decrease a volume by single press on the left earbud, and increase by single press on the right earbud.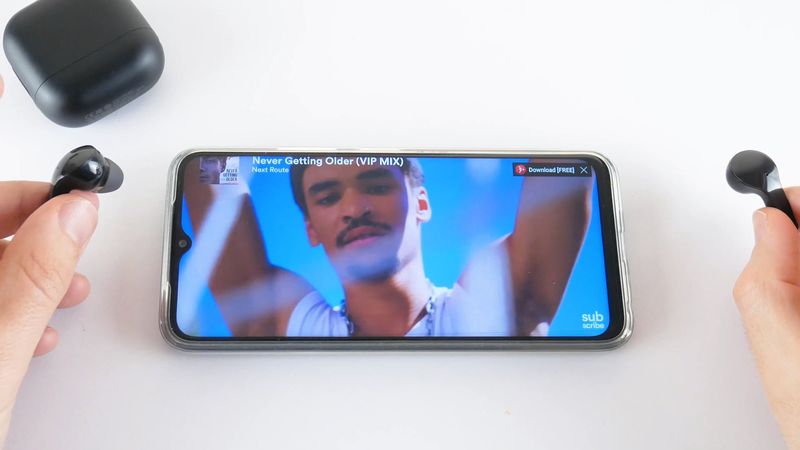 By the pressing and holding any earbuds for 2 seconds, you activate the voice assistant on your smartphone.
Unfortunately, Mibro Earbuds 3 Pro doesn't have a game mode, but we need to check the latency in games.
Latency Test
I will play PUBG Mobile, but the sound latency is the same in all games.
As you can see, the latency is quite high. Unfortunately, these earbuds are not suitable for gaming.
Microphone Quality
Mibro Earbuds 3 Pro have ENC call noise cancellation. The manufacturer says that the neural network algorithm removes 75% of background noise during phone calls.
Let's check it out.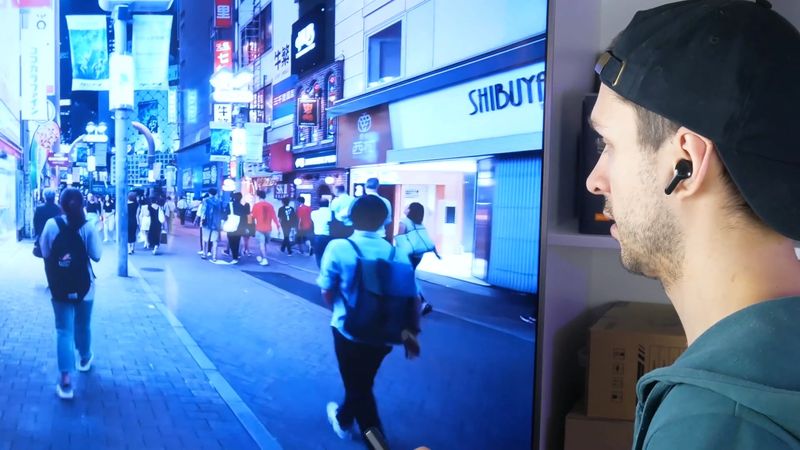 What's up, guys! I am testing a microphone of Mibro Earbuds 3 Pro. One, two, three, one, two, three. Now, I want to turn on the noise simulation on my TV and check the call noise cancellation.
It is still the sound from the earbuds, but in a noisy room.
Sound Quality
I didn't find any information about driver size of the Mibro Earbuds 3 Pro. However, I would say that it is probably 13mm, because the bass is very solid.
You know, I prefer wireless earbuds with silicone ear tips because they provide good noise cancellation. When I listen to music, I cannot hear the noise around me. You don't even need an active noise cancellation on these earbuds.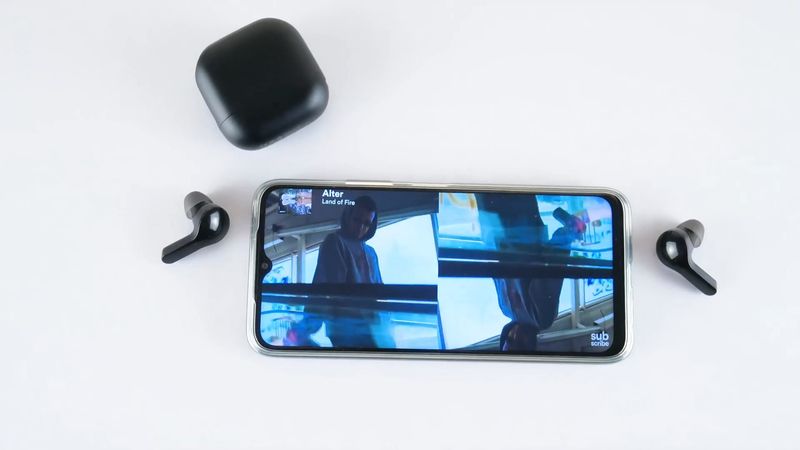 Even instrumental music sounds good on the Mibro earbuds.
Compared to Lenovo's budget earbuds, Mibro Earbuds 3 Pro have much better sound quality.
Battery
Finally, let's talk more about battery, because this is one of the main features of Mibro earbuds.
First, I want to try to charge my Android smartphone from the charging case of earbuds. It really works! I cannot tell you about charging speed, but it doesn't matter much.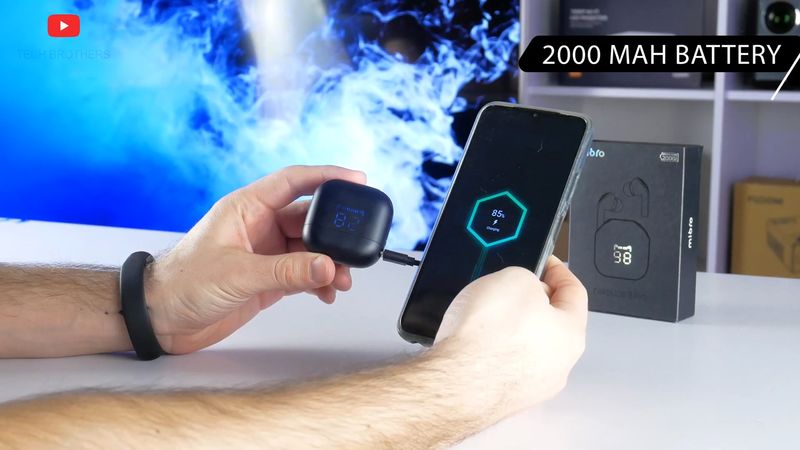 The case of the earbuds cannot fully charge your smartphone, but in emergency, you can get up to 50% of the charge for your mobile device. That's very good.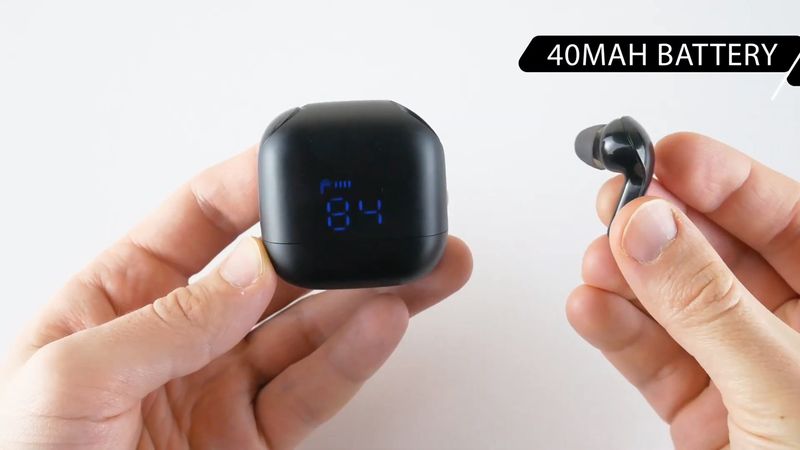 As for the battery life of the Mibro Eabuds 3 Pro, each earbud is equipped with 40mAh battery. This is enough for six and a half hours of music playtime.
The charging case has 2000mAh battery, and you can use it 25 times to recharge both earbuds.
Mibro Eabuds 3 Pro have ultra-long battery life.
Pros and Cons
In the end, let's talk about pros and cons. I will say right away that Mibro Earbuds 3 Pro has only one drawback, given the price of the earbuds.
I think they lack a game mode. There is a high sound delay in games, and a low latency mode could reduce it.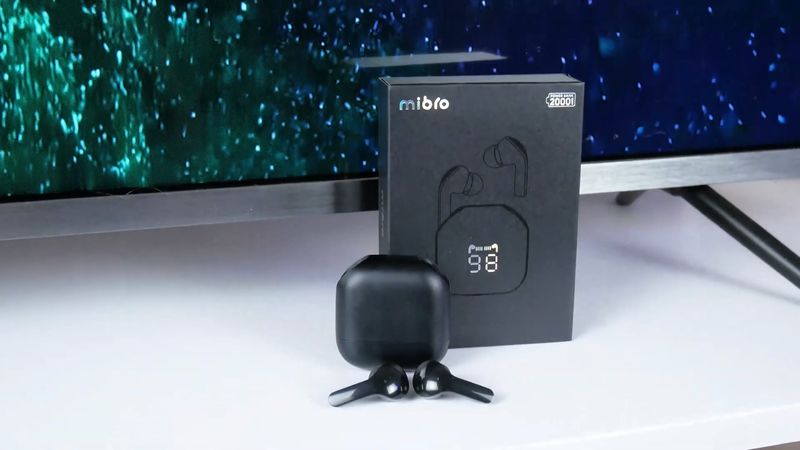 Apart from that, these are good wireless earbuds because they have a charging case with 2000mAh battery capacity, reverse charging support, digital display on the case, and very good sound quality.
If you have nothing against silicone ear tips, I recommend Mibro Eabuds 3 Pro.
Mibro Earbuds 3 Pro TWS 2000mAh Reverse Charging - Aliexpress
as of March 7, 2023 8:30 am