In this article, we will be testing a projector called JIMTAB M22. You know, we already have articles about JIMTAB M18 and JIMTAB M18 Pro. The main difference between them is Wi-Fi support in the Pro version.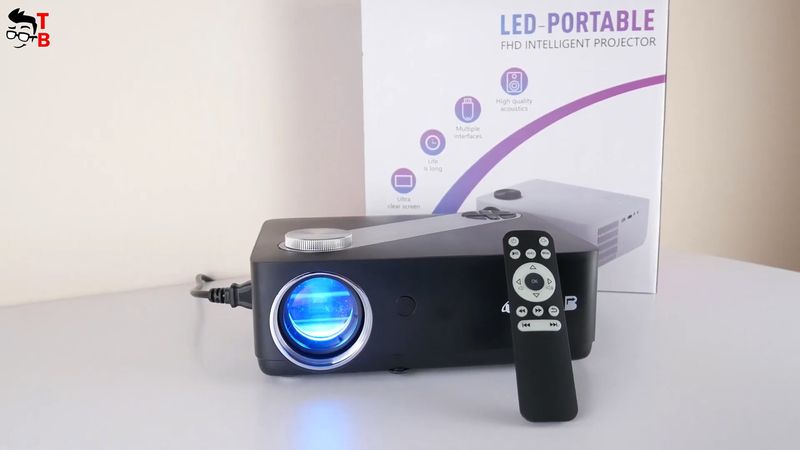 As for the new JIMTAB M22, it also has dual-band Wi-Fi support, but another feature is a short throw. The manufacturer says that you can place a projector at a distance of 3 meters from the wall to get 100-inch screen size.
We will check projection quality, sound quality, Wi-Fi connection, and other features of JIMTAB M22 in this article.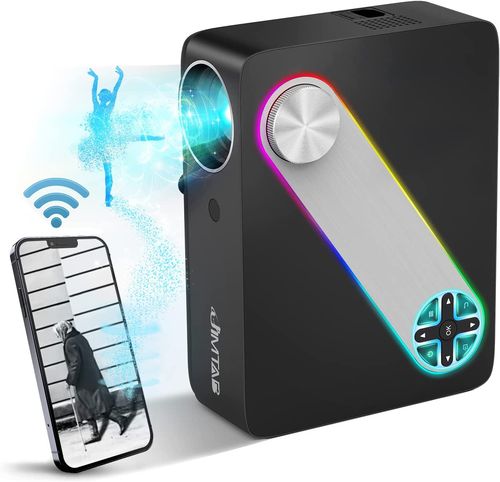 JIMTAB M22 Native 1080P WiFi Video Projector - Amazon
as of September 23, 2023 6:30 am
Unboxing
The new projector comes in this box.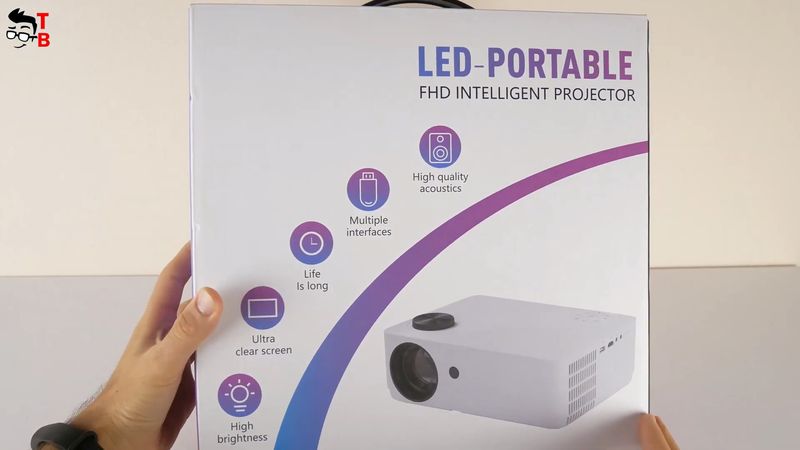 You know, I didn't find a logo of JIMTAB on the box, but we can read its main features, such as high quality acoustics, multiple interfaces, life is long, ultra clear screen, and high brightness.
By the way, the projector is white on the box, but it is actually graphite color. We will take a closer look at it a little later.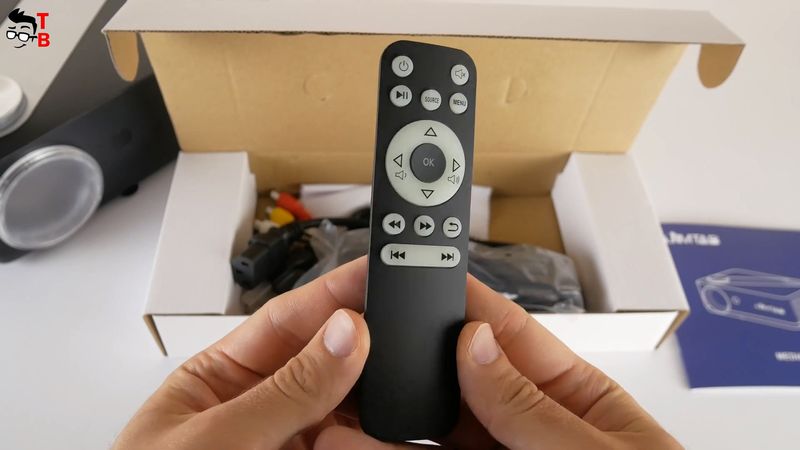 The accessories include remote control, AV cable, HDMI cable, power cable and user manual. There is also a cloth to wipe the lens from dust.
Design
You know, I have been testing compact projectors lately, so JIMTAB M22 looks massive to me. The dimensions are 256 by 200 by 100 mm. The weight is 1680 grams.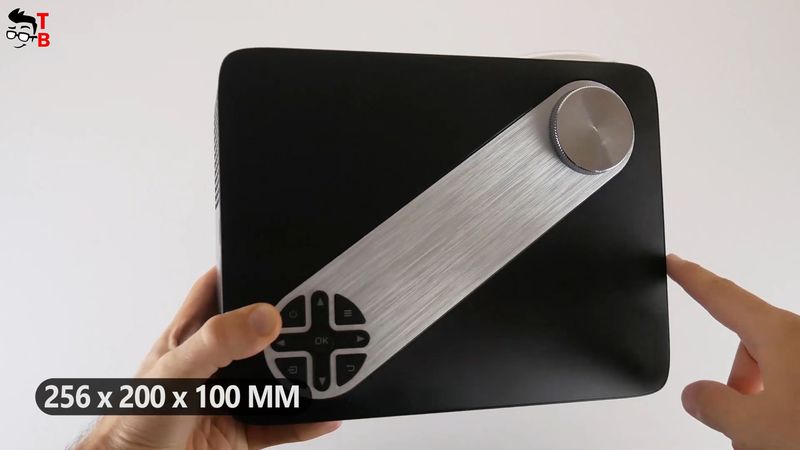 As I already said, the body color is graphite, but there is a silver finish at the top from the focus wheel to control panel. It looks like metal, but actually, it is made of plastic.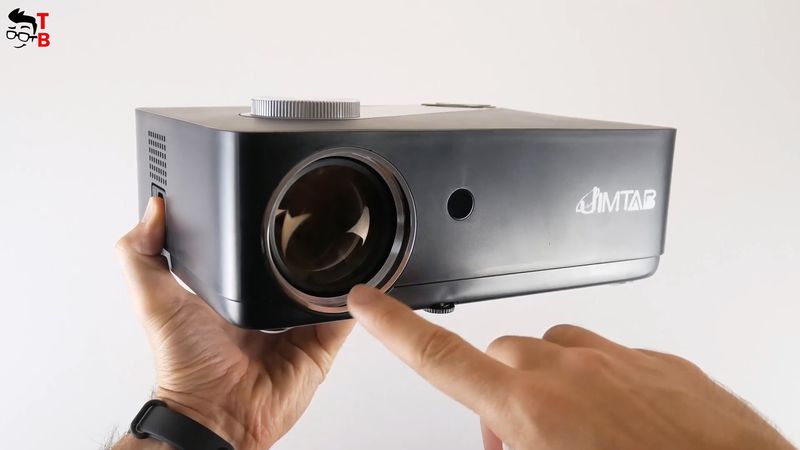 On the front, we can see a lens, infrared receiver and JIMTAB Logo.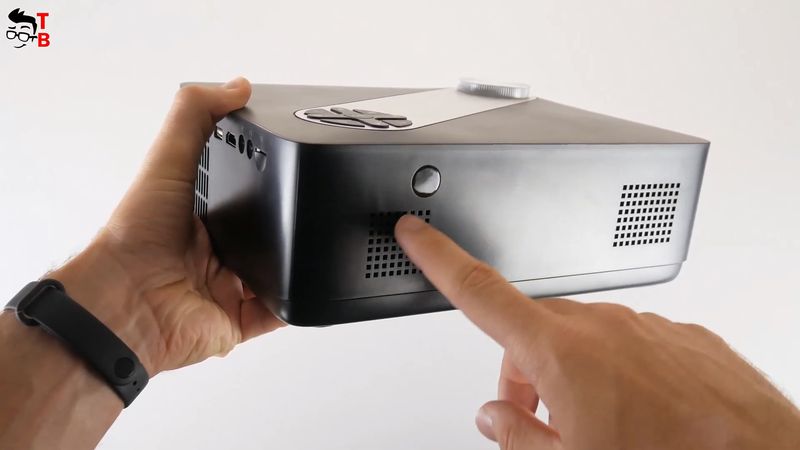 The second IR is located on the back, next to the speaker.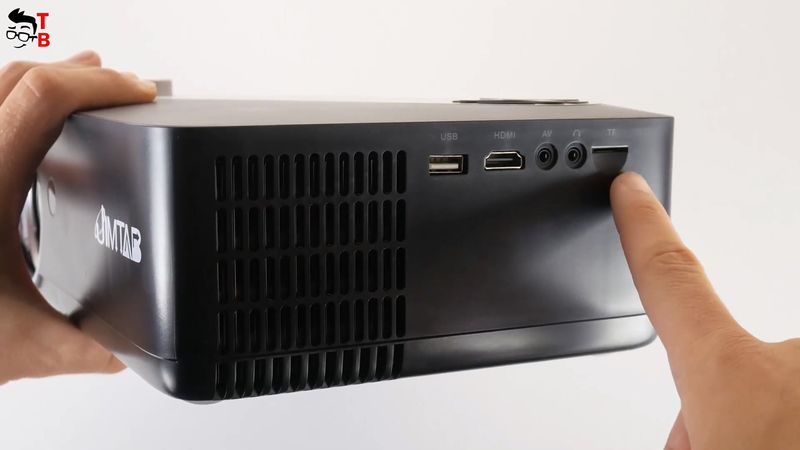 USB port, HDMI port, AV port, audio output and TF memory card slot are on the left side.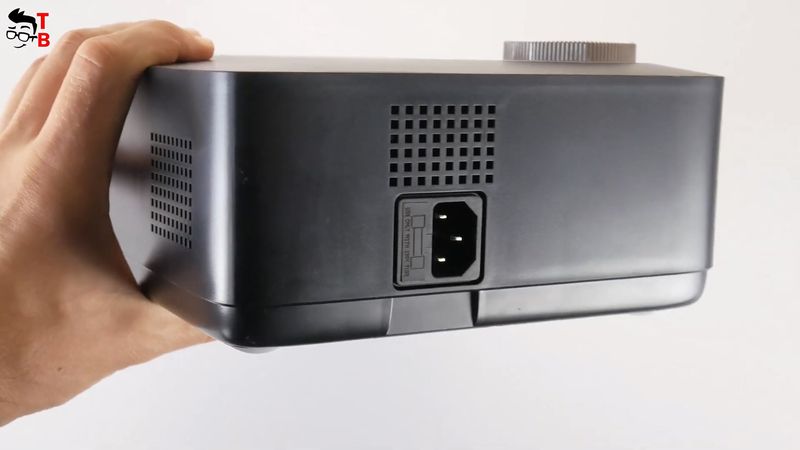 A power socket is on the right.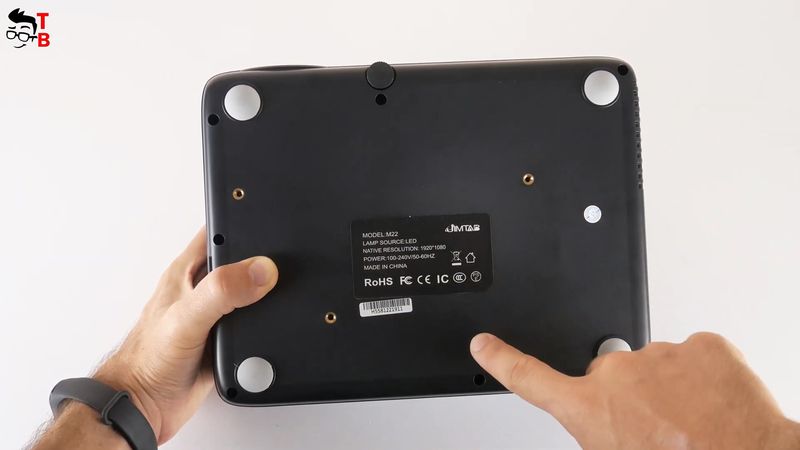 At the bottom, there is a kickstand, a sticker with some information about projector and mounting holes to install a projector on the ceiling.
By the way, I noticed that for some reason a projector is standing upright in the main image on Amazon page. Of course, this is not correct. It should stand horizontally on four rubberized feet.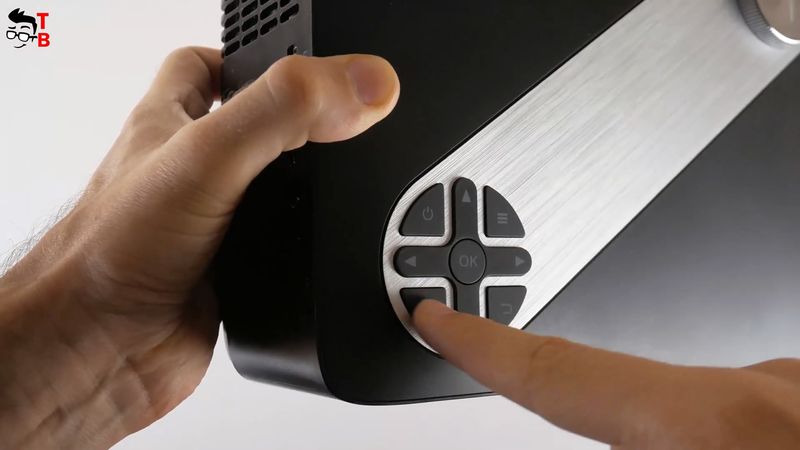 As I already said, there is a big focus wheel and control panel at the top. A control panel has power button, menu, return, source, navigation buttons and OK.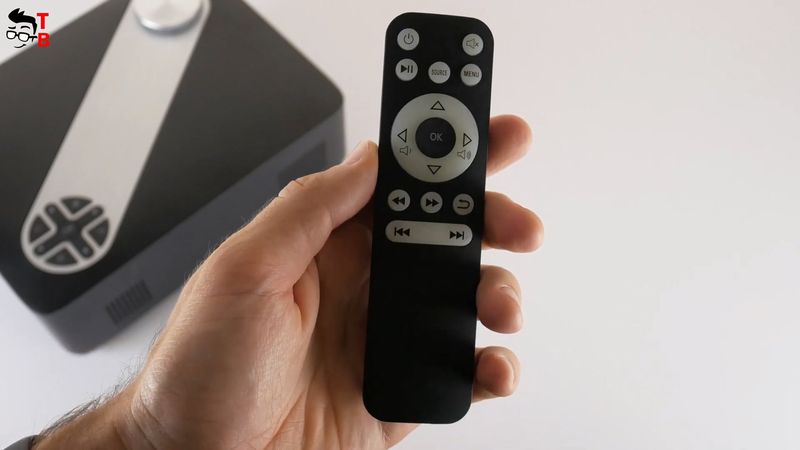 However, there is a remote control in the package, so it is more convenient to use it. By the way, a remote control is made of soft plastic, and it is very pleasant to hold in the hand.
Overall, JIMTAB M22 projector looks solid, while a silver finish at the top makes it look nice and interesting.
OK, now, let's look at the user interface and settings.
User Interface
Like the previous JIMTAB projectors I tested, the new JIMTAB M22 doesn't have Android operating system. You know, I think you don't really need it, because Android is very glitchy in most projectors because of the weak hardware.
It is better to connect Android TV Stick or TV box to projector via HDMI port.
If you connect a USB flash drive or memory card, then you can go to the movie, music, photo or text sections.
At the bottom, you can choose a source from AV, HDMI, USB, TF card, and Wi-Fi.
Settings
In the setup, there are picture settings that include a picture mode, a color temperature, aspect ratio, noise reduction, projection direction, and reduce display size.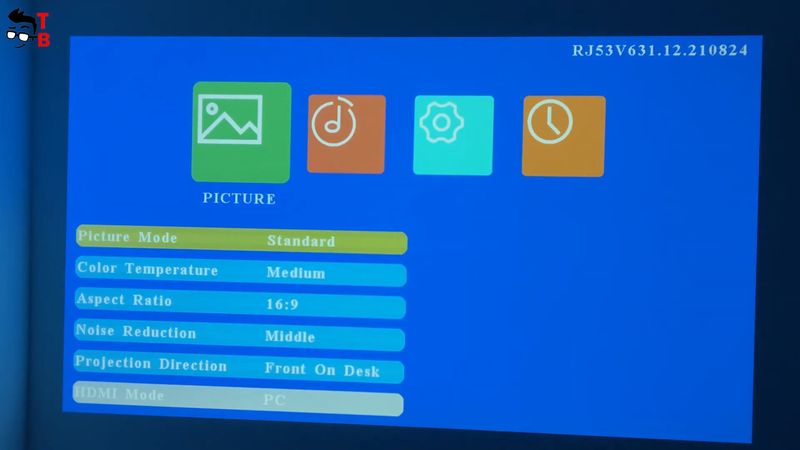 The sound settings has sound mode, balance and auto volume.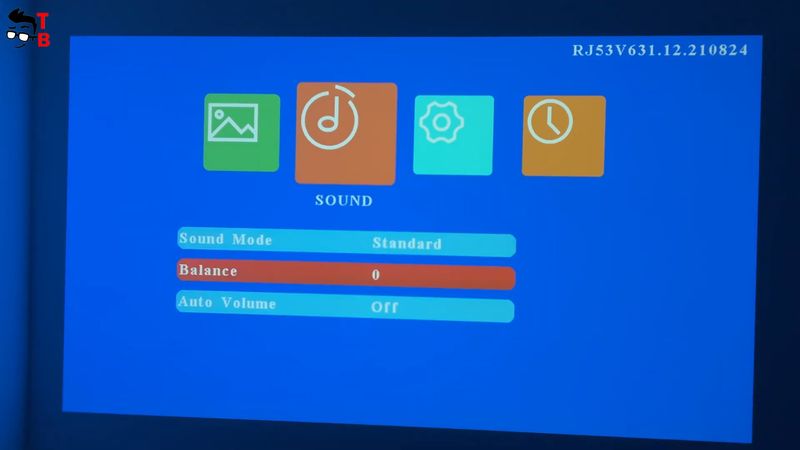 In the option menu, we can change a language; restore factory default, blending, OSD duration, Blue screen and keystone correction. By the way, there is no keystone correction wheel on the projector body, so you can only adjust it in the settings menu.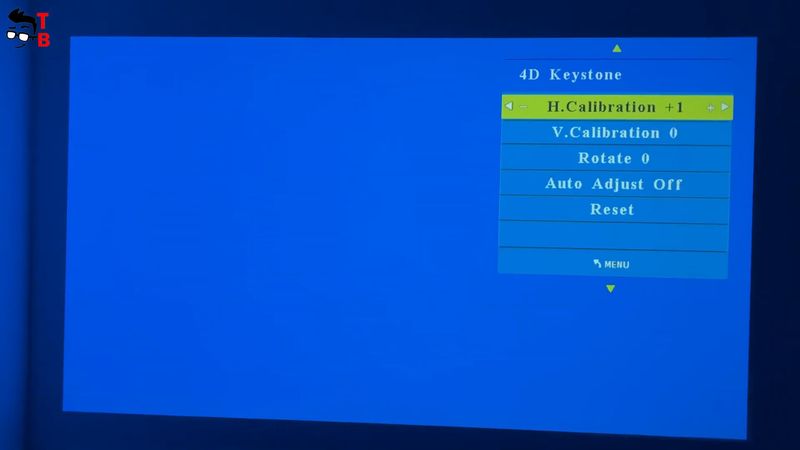 OK, now let's see how to mirror a screen from a smartphone to projector.
Wi-Fi Connection
First, you need to go to the screen-mirroring menu, and there is a step-by-step instruction what you need to do.
You can use Android and iOS device, as well as wireless and wired connection method.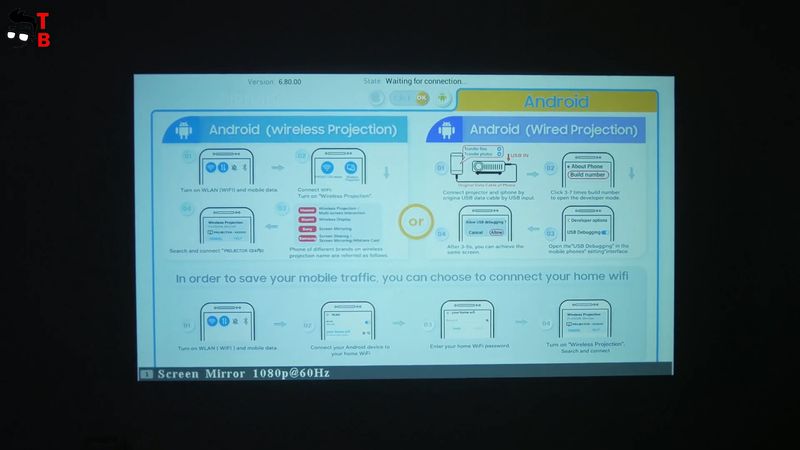 If you are using projector for home theater, it is better to connect to your home Wi-Fi network. If you are not at home, then you can use a mobile traffic.
So, first, you need to connect a projector to Wi-Fi network. The password from it is from 1 to 8.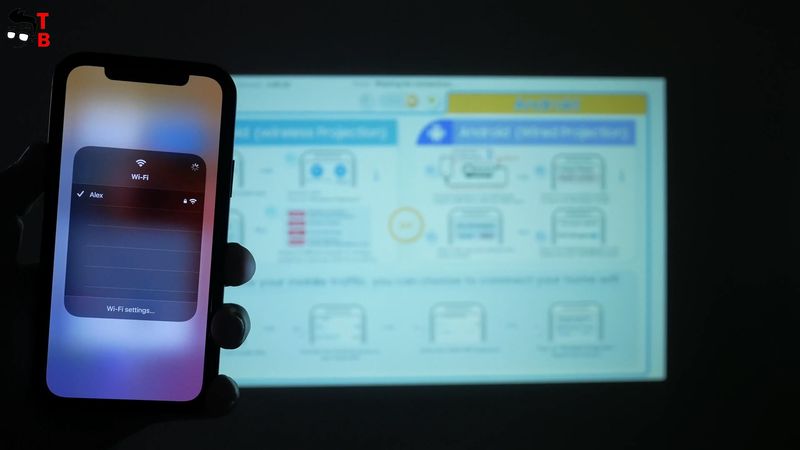 After that, open a browser on smartphone, and input IP 192.168.49.1.
Now, click on WiFi Ap, and then Scan.
You need to choose your home Wi-Fi network and enter a password from it.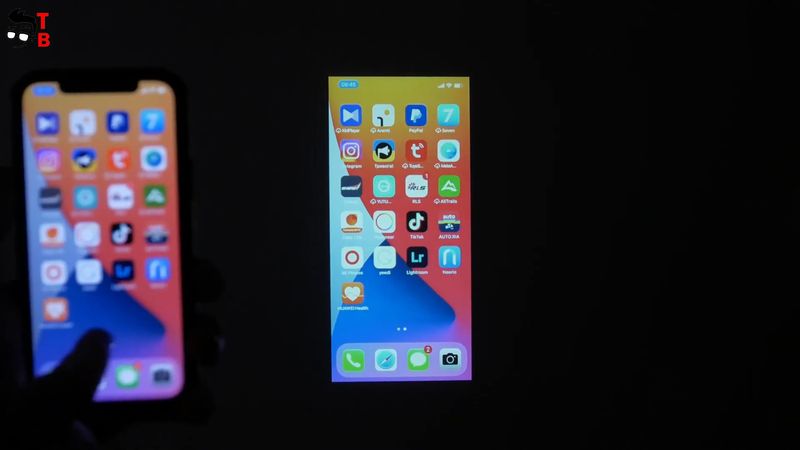 Finally, open a screen mirror menu on your smartphone, and select a projector. That's all.
By the way, during a wireless connection, you may see delays, but when you use a cable, there won't be any.
Noise Level
Talking about noise level, it is 42 db near projector, and 38 db at 1 meter.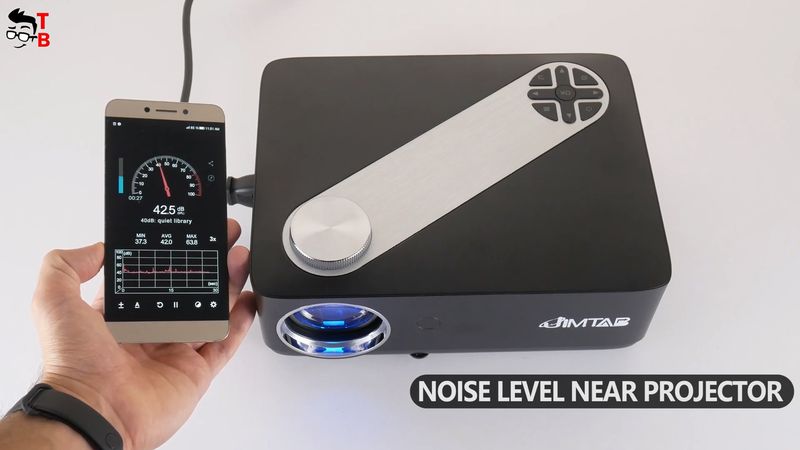 I cannot say that this projector is very quiet, but it doesn't disturb when you're watching a movie.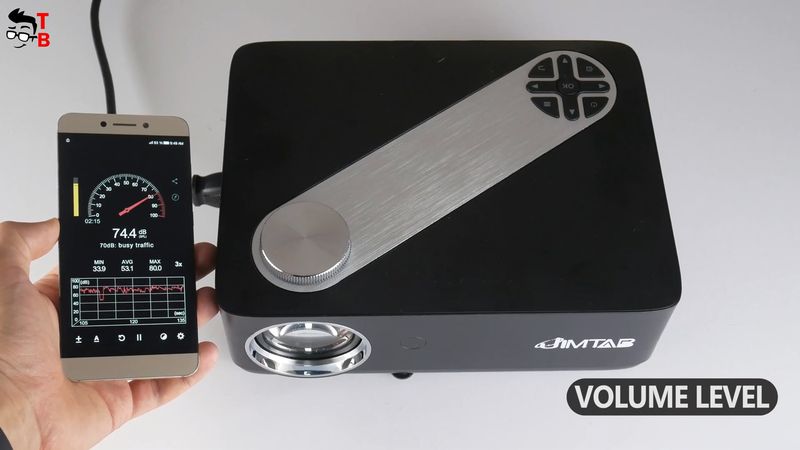 Sound Quality
As for the sound quality, JIMTAB M22 has a single 5W speaker. It is very loud and good quality. To be honest, I don't think you need an external speaker here.
Projection Quality
As I said at the beginning of the article, one of the main features of this projector is short throw.
In the user manual, we can see the projection distance and size. So, at 1.5 meters you will have 50-inch projection size. I also find information that the maximum projection size is 300 inches at 5.2 meters.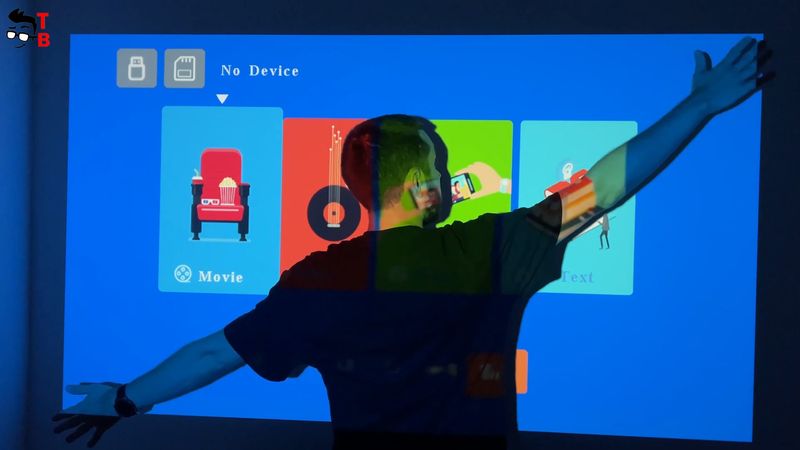 In my case, I have about 3 meters between a projector and a wall, and the projection size is about 100 inches.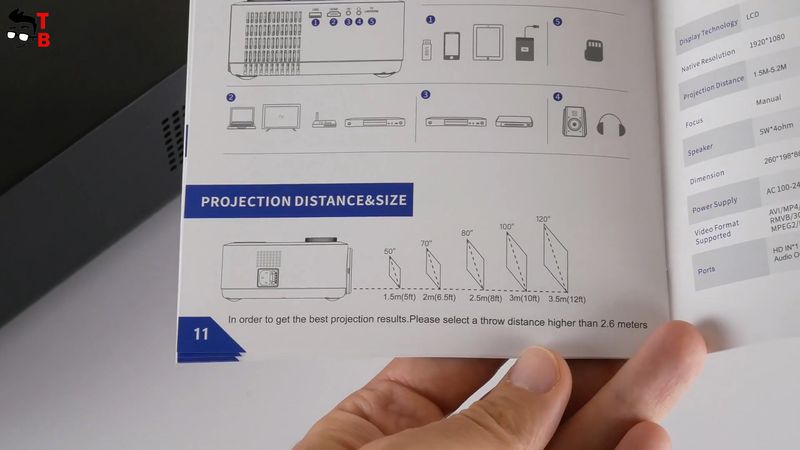 To be honest, it is about the same as other projectors I tested in 2022. I cannot say it is a real feature of this projector.
Now, let's talk about specifications of JIMTAB M22.
First, it has Full HD native resolution. The image is clear, so you can read small text, which is great for presentations.
The contrast ratio is 5000 to 1. The colors are also good, but I recommend you to change a picture mode depending on what you are watching – a dark movie, a sports match, etc.
As for the brightness, it is 5200 Lumens. You know, it is a little lower than the previous JIMTAB projectors, but I think this is enough for a budget model.
I want to show you some videos in the light room. As you can see, the lamp is right above the projector. It is very bright.
Of course, the projection is much better in total darkness, but I think JIMTAB M22 can be used during the day, if you don't have a TV, for example.
Conclusion
Let's summarize. JIMTAB M22 is a budget projector of about $200 with native 1080P resolution, clear image, vivid colors and good brightness.
The speaker quality is great, so you don't need an external speaker. However, if you want, you can connect it, because a projector has audio output.
Wi-Fi support allows you to mirror a smartphone screen to a large projection. I think this is a very useful feature for any projector in 2022.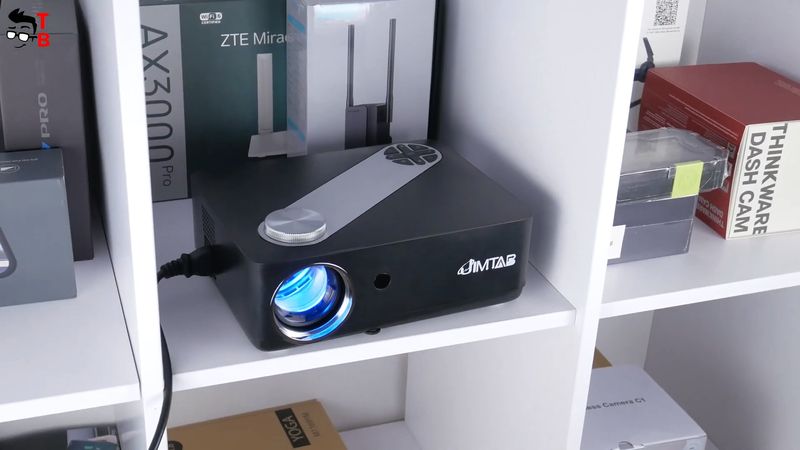 Among the drawbacks, I want to say that JIMTAB M22 is quite noisy, but when you watch a movie, it doesn't really bother you.
In addition, it is bigger and heavier than the projectors I have tested recently. I cannot call it compact.
By the way, at the beginning of the article, I said that the main feature of JIMTAB M22 is short throw. However, the screen size and the distance between a projector and a wall are about the same as other projectors in 2022. The screen size might be a little bigger, but it is not a big advantage.
However, the most important thing is that JIMTAB M22 has a very good projection quality, decent brightness, high-quality speaker and Wi-Fi support. I think it is even more than you would expect from a budget projector.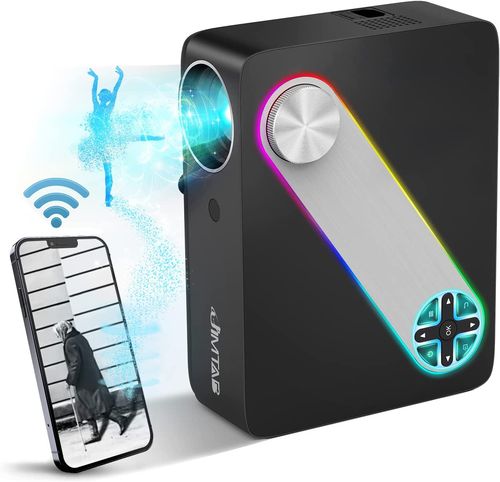 JIMTAB M22 Native 1080P WiFi Video Projector - Amazon
as of September 23, 2023 6:30 am