This week I received three new projectors. All of them have Full HD native resolution, but different features. As you can see, these two projectors are more compact, but we will talk about them next week.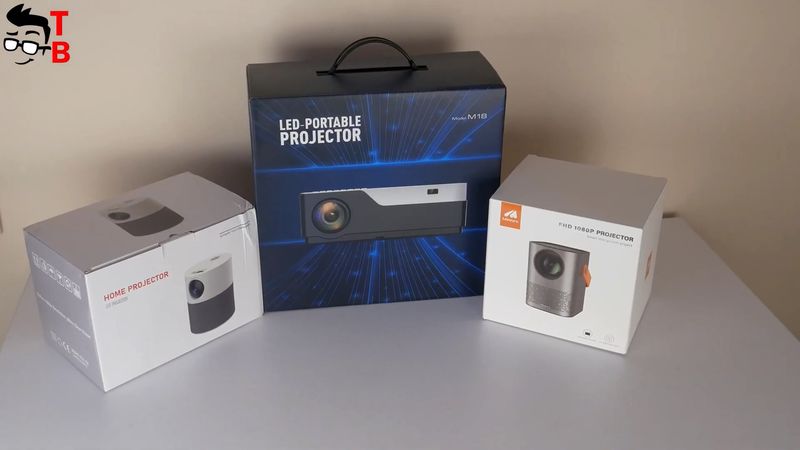 Today, I want to tell you about JIMTAB M18 Pro. We have already reviewed the JIMTAB M18 on our website. However, that projector was released about 3 years ago – in 2018. The pro version has some improvements, such as screen mirroring and firmware updates for better performance.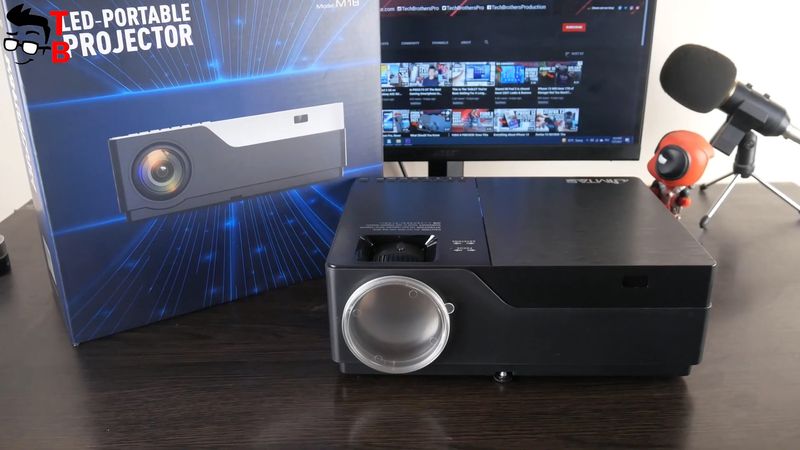 The other features are Full HD native resolution, 6000 Lumens brightness, dual-band Wi-Fi, up to 300 inches screen size.
In this article, we will do an unboxing, look at the design of the JIMTAB M18 Pro projector, test screen mirroring function, check the maximum volume and noise levels, and watch some videos in the dark and bright room.
Let's get started!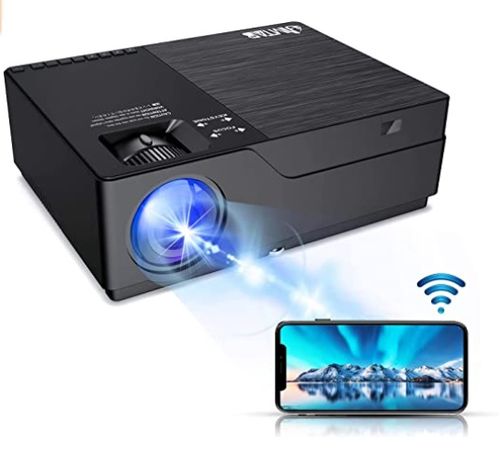 JIMTAB M18 PRO Native 1080P Video Projector - $49 OFF COUPON - Amazon
as of September 1, 2023 11:20 pm
Unboxing
You know, the new projector JIMTAB M18 Pro comes in the same box as the previous version.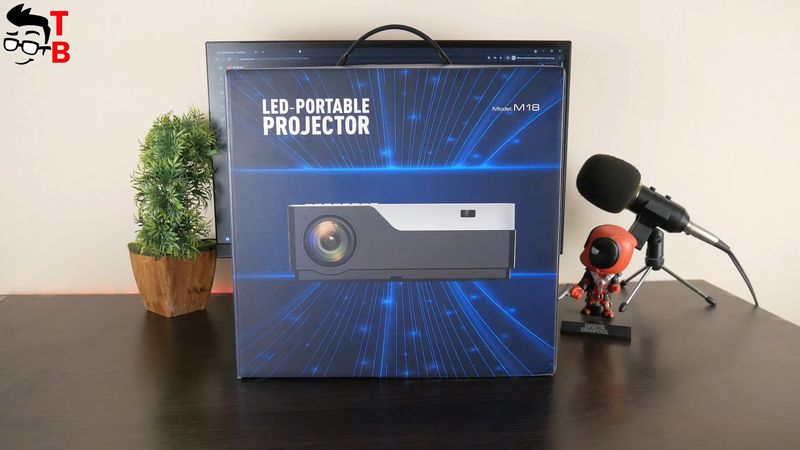 There is even a model name M18 on the front of the box. However, the sticker on the side face says that we have JIMTAB M18 Pro Metallic black.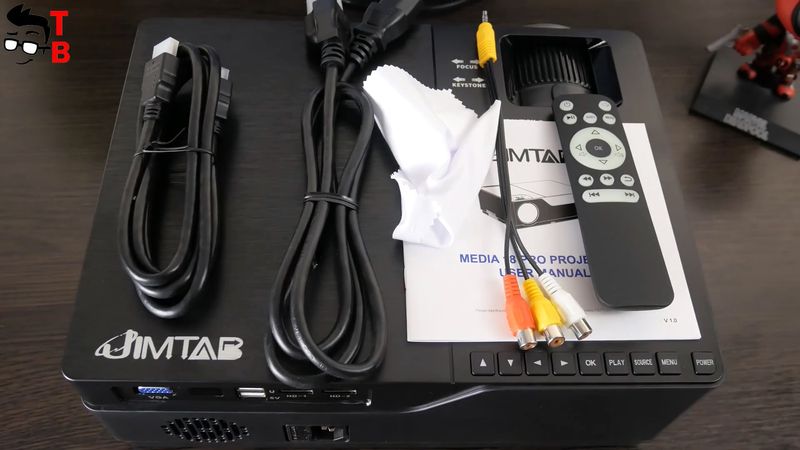 Inside the box, there is a projector itself, remote control, HDMI cable, AV cable, power cable, user manual, and lens dust cloth.
Everything is well packed, so the projector will not be damaged on delivery.
Design
The design of the JIMTAB M18 Pro is also the same as the previous projector – JIMTAB M18.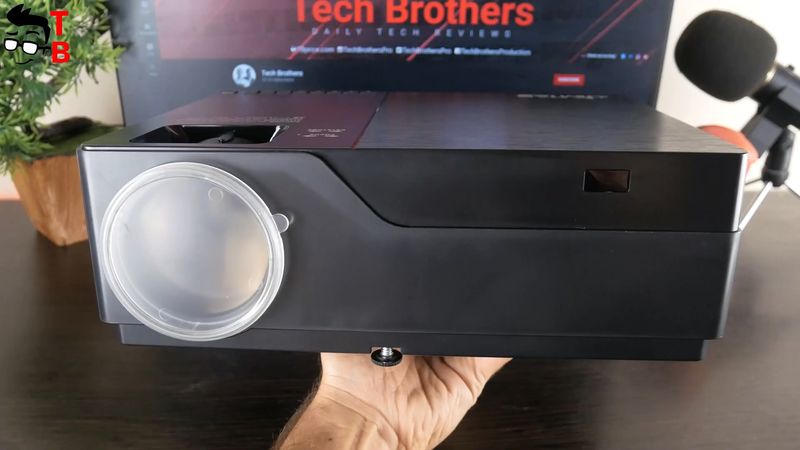 I don't see any differences at all.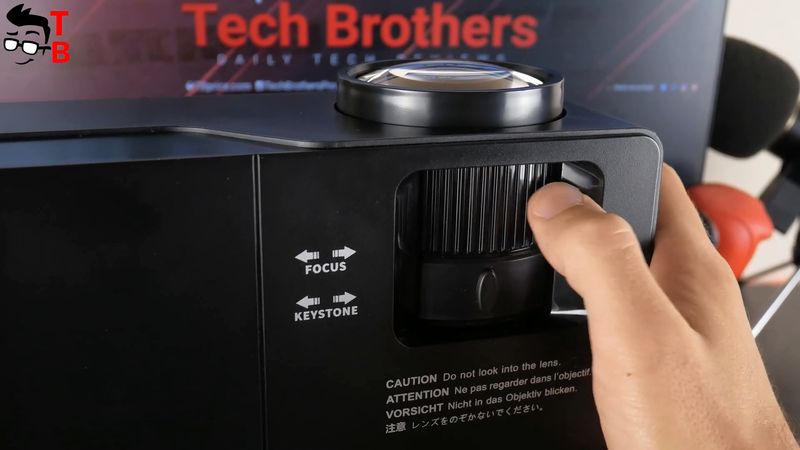 There is a focus wheel and keystone correction wheel on the top, as well as control buttons, such as up/down, left/right, OK, Play, Source, Menu, and power.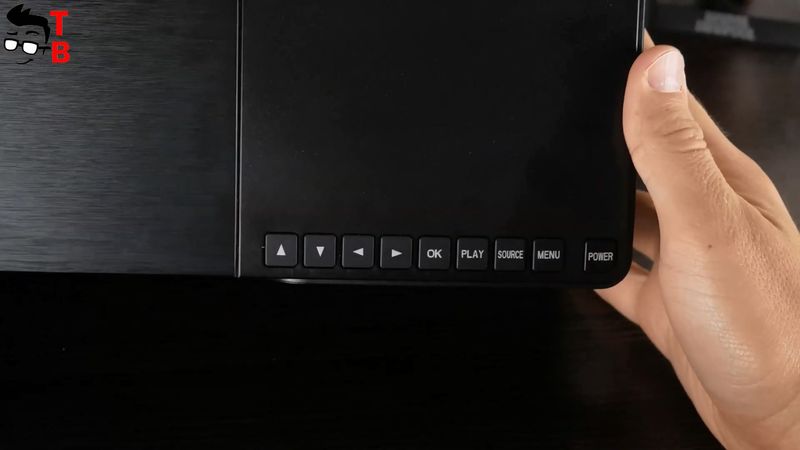 On the front of the projector, we have a lens and IR receiver for the remote control.
The second IR receiver in located on the back. There is also a VGA port, two USB ports, and two HDMI ports. This is a speaker and power input.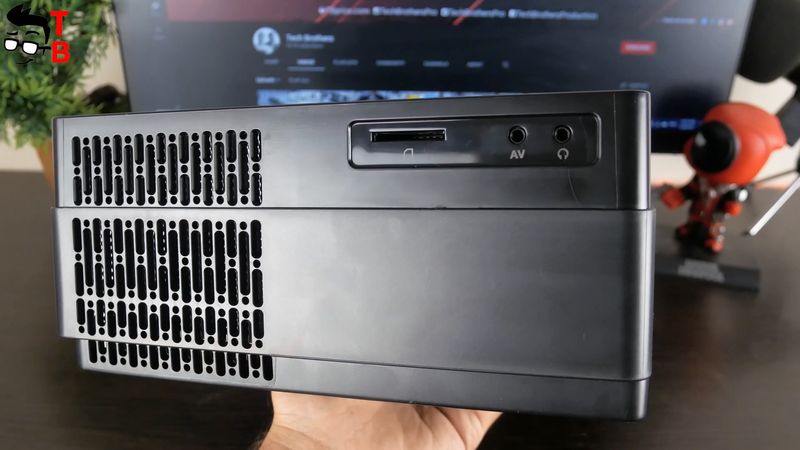 On the left of the projector, we can see an SD card slot, AV port, and 3.5mm audio jack.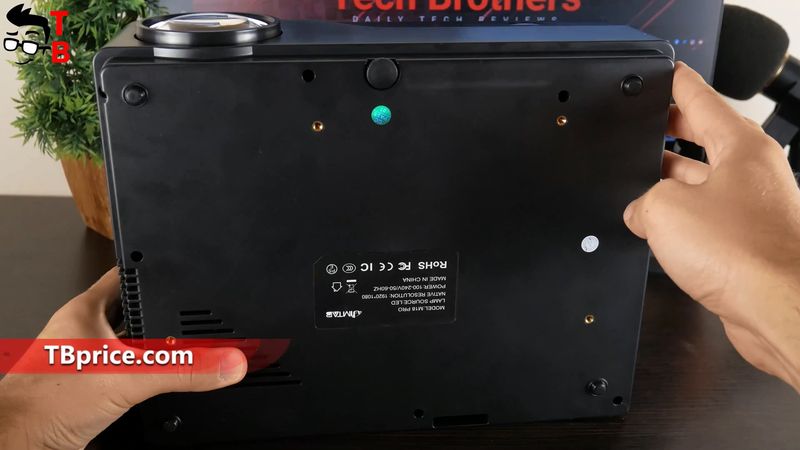 On the bottom, the projector has a kickstand and mounting ceiling holes.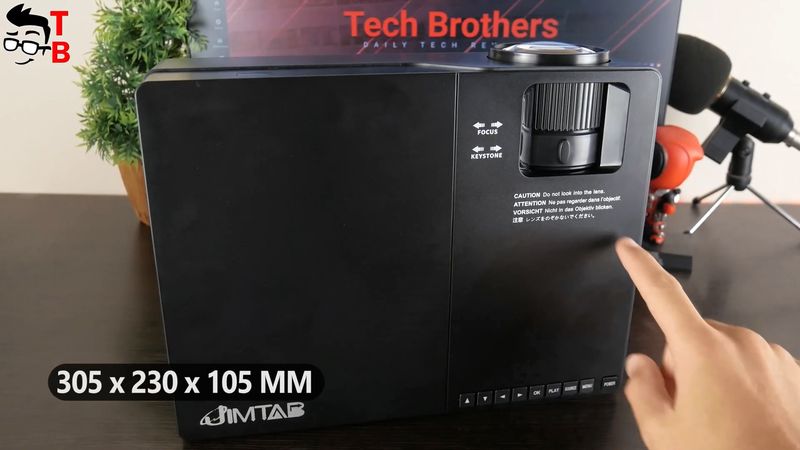 I already showed you other projectors at the beginning of this article, and JIMTAB M18 Pro is the biggest of them all. Its dimensions are 305 by 230 by 105 m.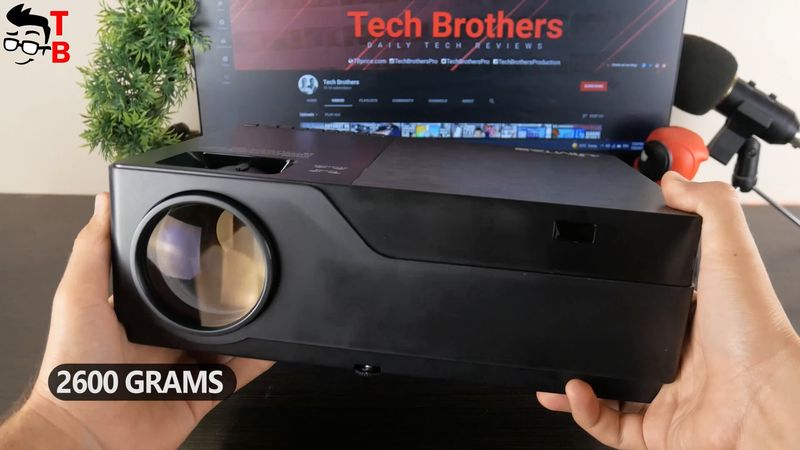 The weight is 2600 grams.
Yes, this is not a portable projector, but the larger size means it should have better cooling.
OK, now let's turn on the new projector, and look at a user interface.
User interface and settings
JIMTAB M18 Pro doesn't have an operating system. There is only a multimedia system. It means that you need to connect an external device to the projector to play video, music, photos, etc.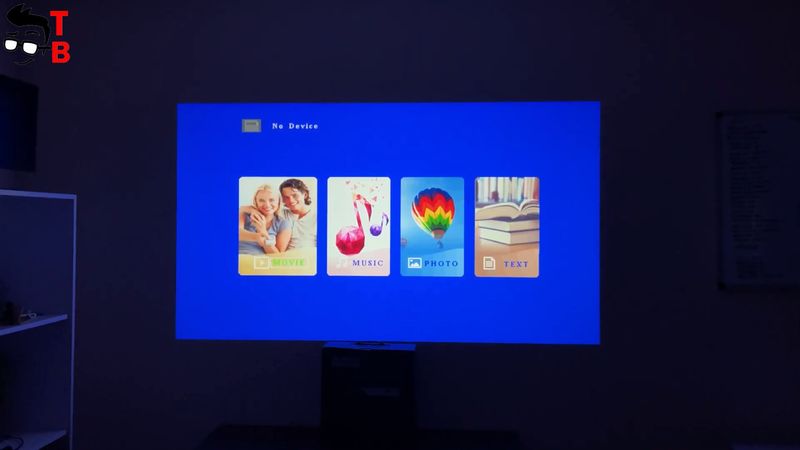 As I already said, JIMTAB M18 Pro has many ports, so you can connect a laptop, game console, USB flash drive, etc.
One of the main differences between the JIMTAB M18 Pro and the previous JIMTAB M18 is that the new projector supports dual-band Wi-Fi 2.4 and 5GHz. Later, I will show you how to connect a smartphone to a projector via a wireless network.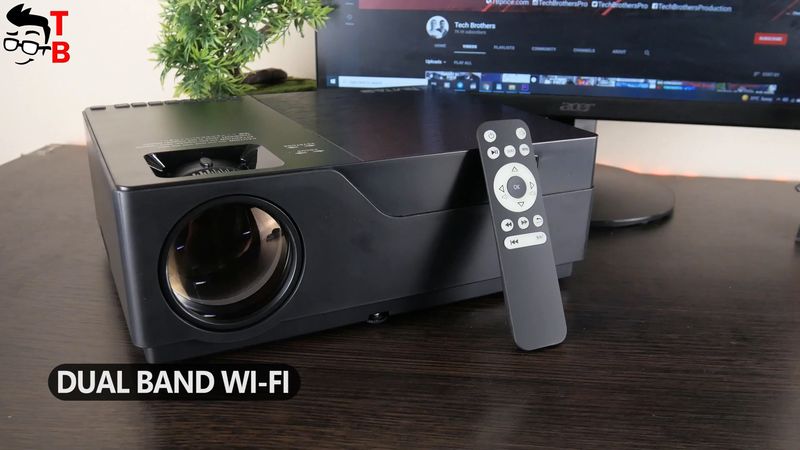 In the settings menu, we can choose picture mode, color temperature, aspect ratio, projection direction, and reduce the display size.
We can also change a language, restore factory default, a blue screen on/off, keystone, and software update.
There is also sleep timer and sound settings in the menu.
Now, I want to show you how to connect a smartphone to a projector.
Screen mirroring
The first step is to press on Source button on the projector or remote control, and then choose screen mirroring.
There is a step-by-step tutorial on connecting Android and iOS mobile devices to the projector.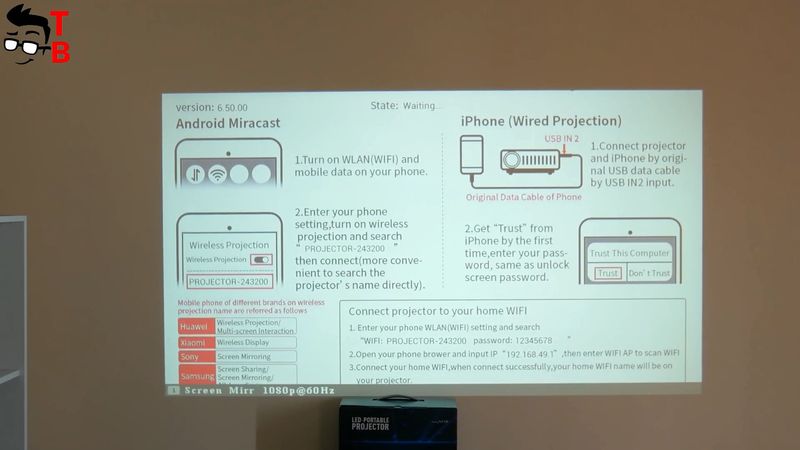 First, you need to open the Wi-Fi setting on your phone and connect to PROJECTOR. The password is 12345678.
Now, you need to connect the projector to your home Wi-Fi network. For that, open a browser on a smartphone, and input IP 192.169.49.1.
Then, click on Wi-Fi App.
After that, click on scan, and connect to your home Wi-Fi.
Now, you can go to the screen mirroring function on your phone, and choose PROJECTOR.
That's all!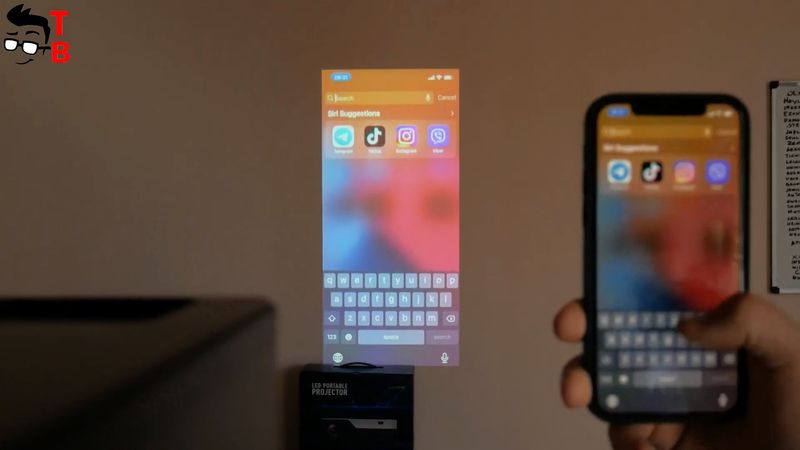 I showed you a Wi-Fi connection of the iPhone to the projector, but you can also connect Android device. There is also a wired mirroring connection method. You can read a user manual how to do this.
The next feature of the JIMTAB M18 Pro is a speaker. Let's talk about it and check the sound quality and volume level.
Volume and noise level
A new projector is equipped with a 5W Dolby speaker. In my opinion, the sound is very good.
It is also very loud, and it doesn't growl at high volume.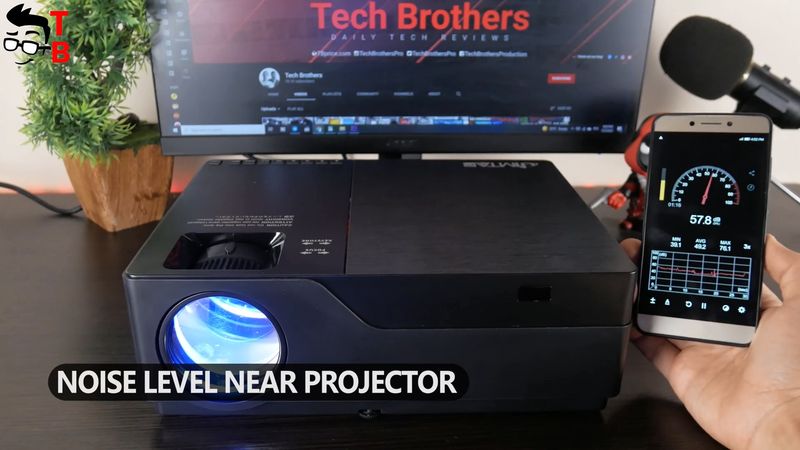 The noise level of JIMTAB M18 Pro is about 58 dB close to the projector, and it is about 37 dB at a distance of 1 meter.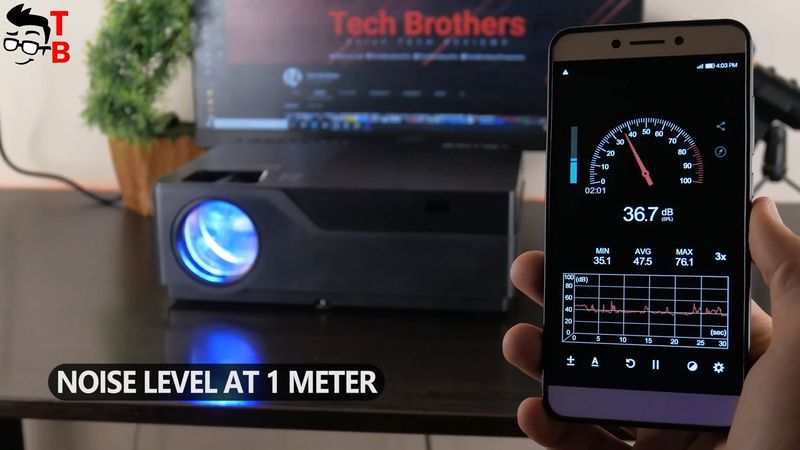 Finally, we can look at the image quality.
I will not comment so that you yourself can judge the quality of the projection. I will express my opinion at the end of the article.
Projection Quality
Conclusion
Unfortunately, I don't have JIMTAB M18 to compare it with the new JIMTAB M18 Pro. However, I watched our article about the previous projector, and I think that the new one has better quality.
In the darkroom, the projection quality is really good. The image is the same as many TVs, or maybe even better. However, you can't buy a TV with 100 inches or more for $250.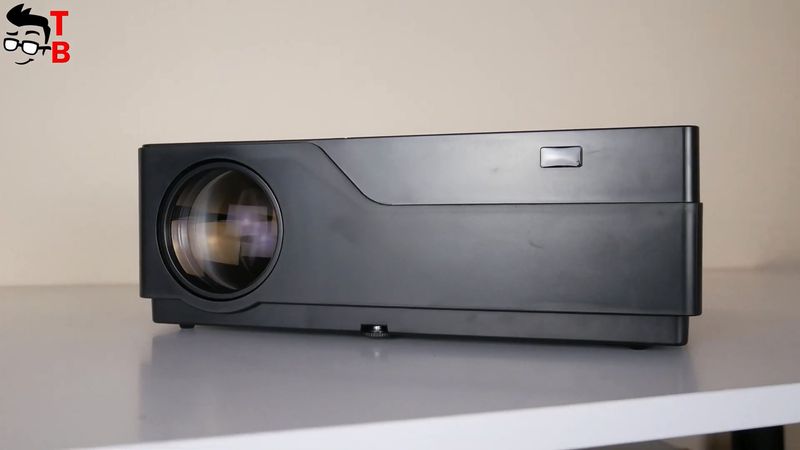 The brightness of 6000 Lumens is enough to use a projector in a bright room, but not the dark movies. It's better not to watch movies about Batman in the daytime on JIMTAB M18 Pro. From other side, it is OK for cartoons and presentations in the office.
The price of the JIMTAB M18 Pro is $260 on Amazon. By the way, if you don't need a screen mirroring function, then you can buy JIMTAB M18 for $227.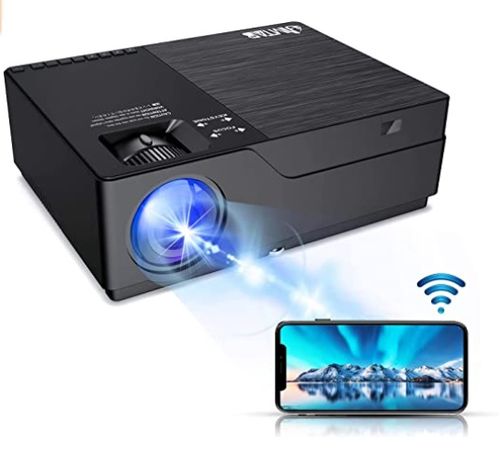 JIMTAB M18 PRO Native 1080P Video Projector - $49 OFF COUPON - Amazon
as of September 1, 2023 11:20 pm