If you are subscribed to our channel Tech Brothers, you know that I keep an eye out for new products from Blackview, especially tablets, because I really like them.
For example, we have articles about Blackview Tab 11, Tab 13, Tab 15 and Tab 16.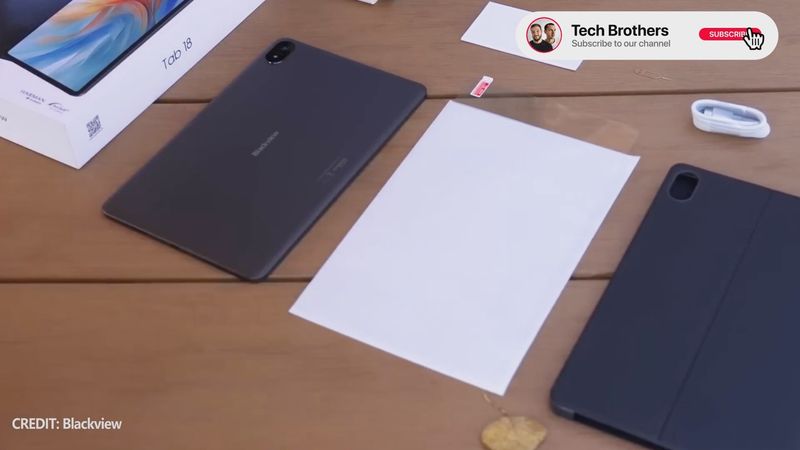 The new upcoming tablet is called Blackview Tab 18. Don't ask me why the Tab 17 was skipped, because I don't know that.
So, let's talk about the main features of the new Blackview tablet, and let's start with the price and availability.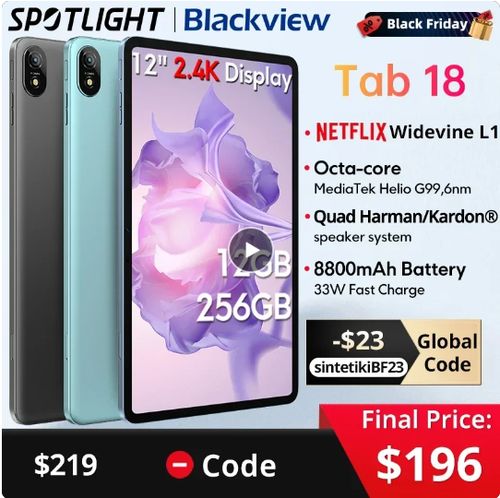 Blackview Tab 18 - Aliexpress - Black Friday Sale
as of November 3, 2023 9:45 am
Price and Release Date
I think you already know about the 11.11 sale, and the world premiere of the Blackview Tab 18 will take place on that day.
We also know the price at which the tablet will be available – $209. However, the first 500 buyers will be able to use a $10 off coupon and grab the tablet for only $199.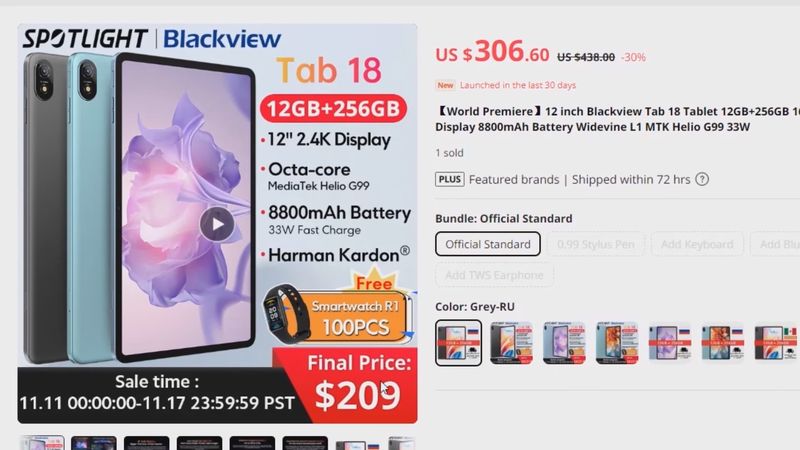 Okay, let's see what the new Blackview tablet offers for its money.
Design
If we compare the Blackview Tab 18 with the previous model Blackview Tab 16, we can see many upgrades including screen size, processor, battery and so on. But let's talk about everything in order.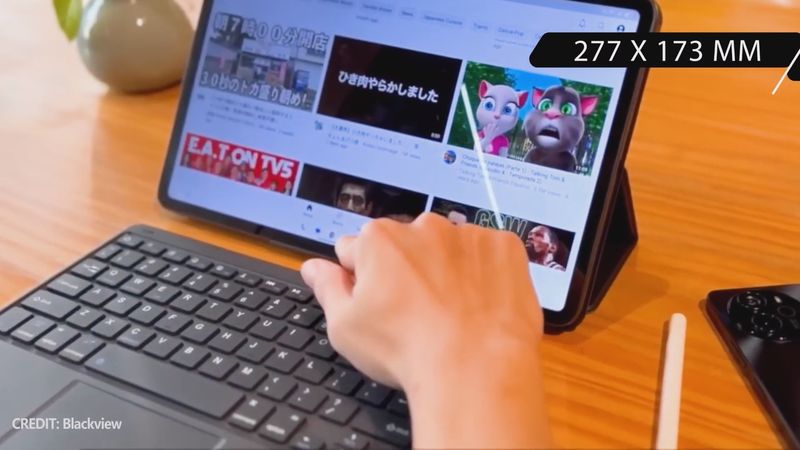 The new tablet has become a bit bigger, because it has a larger screen. Its dimensions are 277 x 173 mm. However, it is still a thin and lightweight tablet – only 7.9mm and 632 grams, respectively.
In addition, unlike the previous model, the Blackview Tab 18 has more rounded edges. I think this is done to make the tablet comfortable to hold.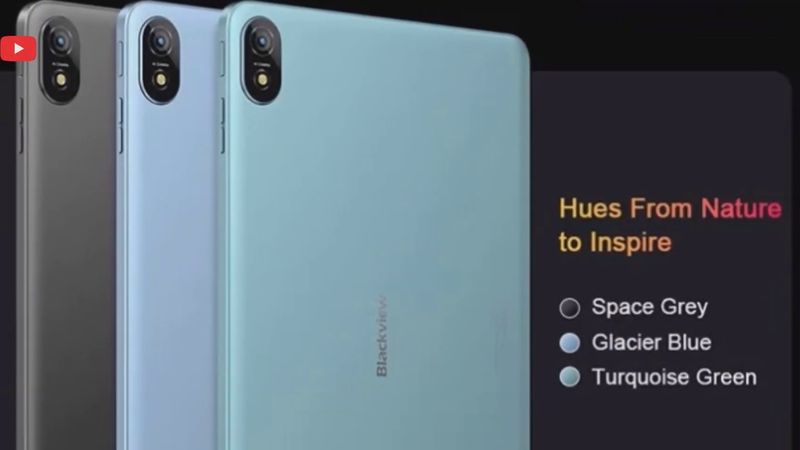 The new Blackview tablet will be available in gray, blue and green colors.
One of the main innovations in the design of the Blackview Tab 18 is the fingerprint reader, which is built into the power button. You know, none of the previous Blackview tablets had a fingerprint scanner, and it is generally a rare feature among budget tablets.
Display
Blackview Tab 18 also has the biggest display among Blackview tablets. It has a diagonal of 12 inches and 2.4K resolution.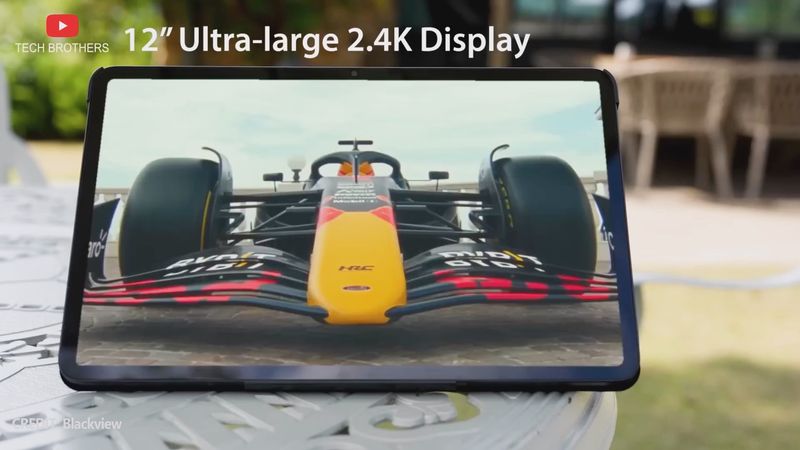 The Chinese company has said before that their tablets are good for office and work because you can connect a keyboard and a mouse, but now it is even more convenient to do with a larger screen.
By the way, you can additionally buy a stylus pen, a Bluetooth magnetic keyboard, mouse and earphones for the new tablet. A protective case is included.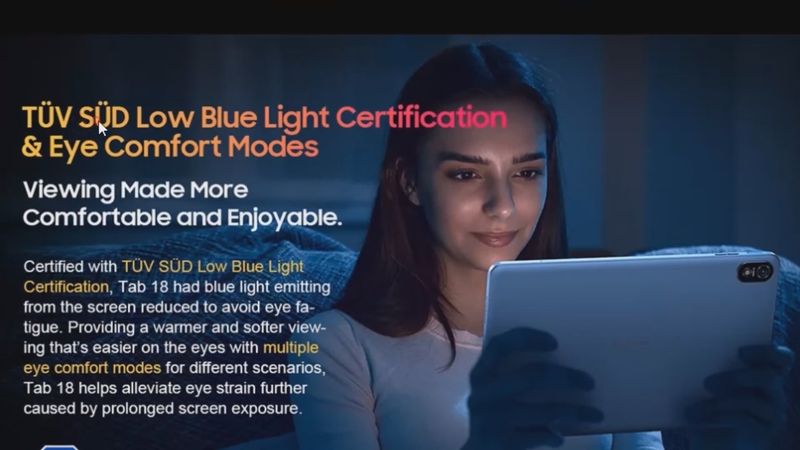 Going back to the screen, it has TUV SUD Low Blue Light Certification, and Eye Comfort Modes for reading books or using the tablet at night.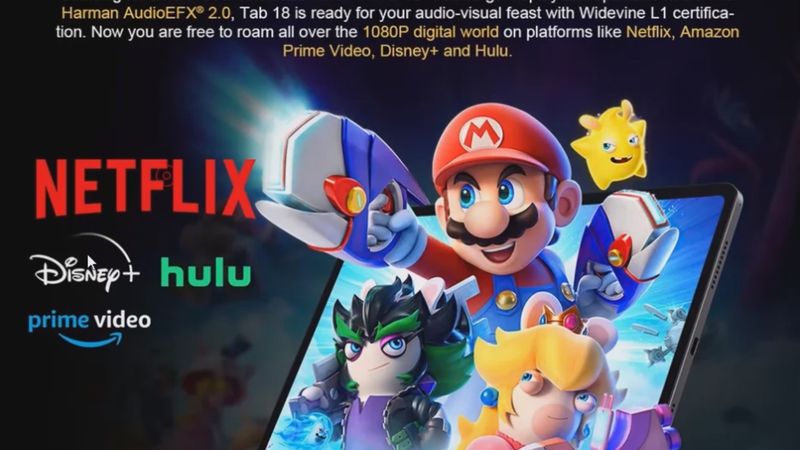 Blackview Tab 18 also has a Widevine L1 Certification to watch content in 1080P resolution on Neflix, Amazon Prime Video, Disney+ and Hulu.
Speakers
By the way, this tablet is very good for watching movies and shows thanks to four speakers. The sound is tuned by Harman AudioEFX 2.0.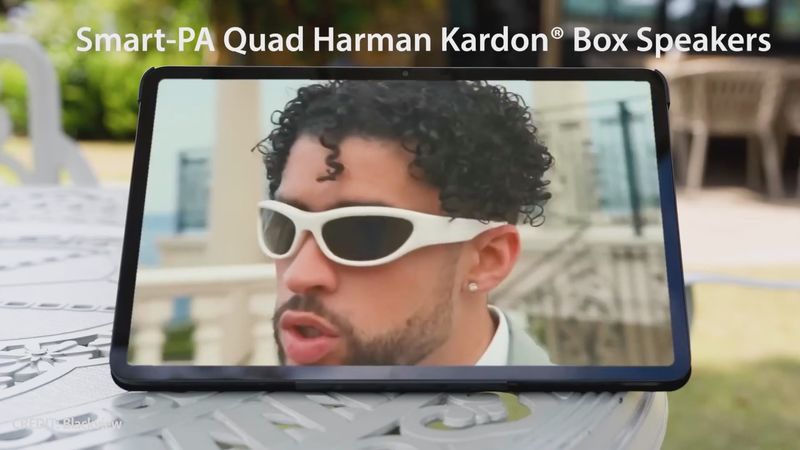 Performance
It looks like the Blackview Tab 18 is the most powerful tablet of the Chinese company. It is powered by Helio G99 chipset. There is 12GB of built-in RAM and 256GB of built-in storage. The RAM is expandable up to 24GB via software, and the built-in storage up to 1TB via a microSD memory card.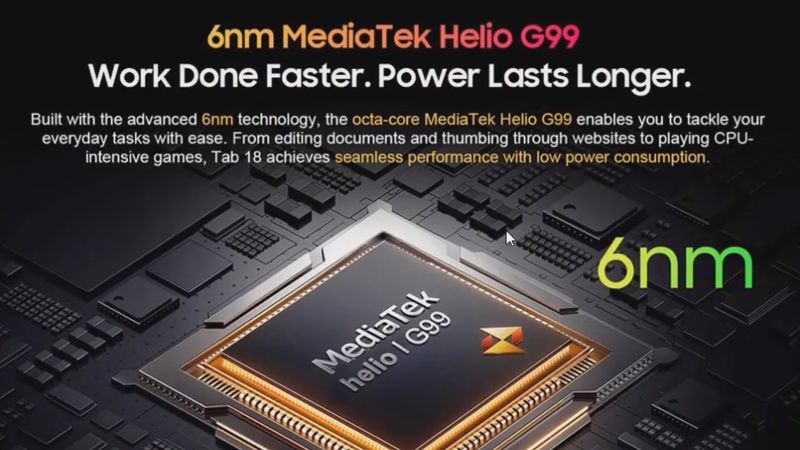 The new Blackview tablet has about 349,000 points in AnTuTu benchmark.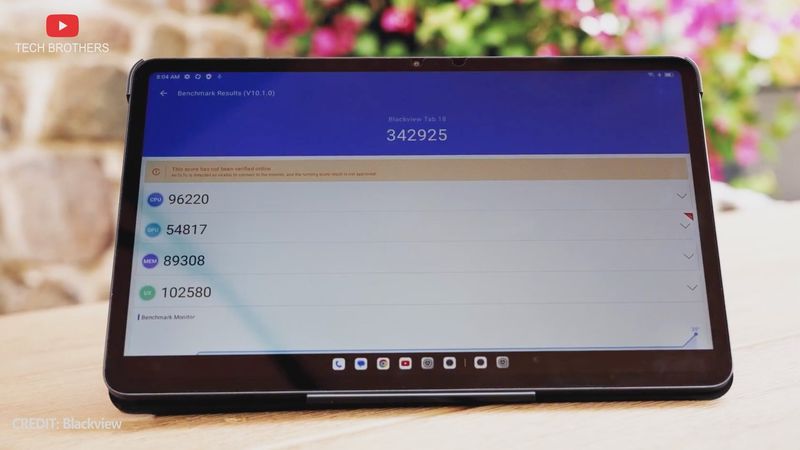 The tablet uses various technologies to boost performance, such as Hyper Engine 2.0 Lite, Network Engine 2.0, Integrated Cooling System, etc.
Software
By the way, Blackview Tab 18 runs on Android 13 operating system with the new version of DokeOS 4.0.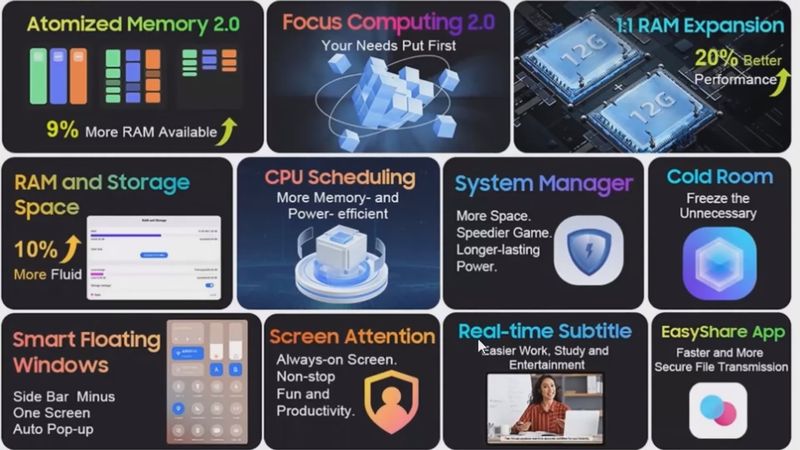 I will not dive into the new software functions because there are so many of them. You can see some of them on your screen.
Camera
It looks like the tablet has been improved in every category, including the camera. The Blackview Tab 18 has a 16MP rear camera, and an 8MP front camera.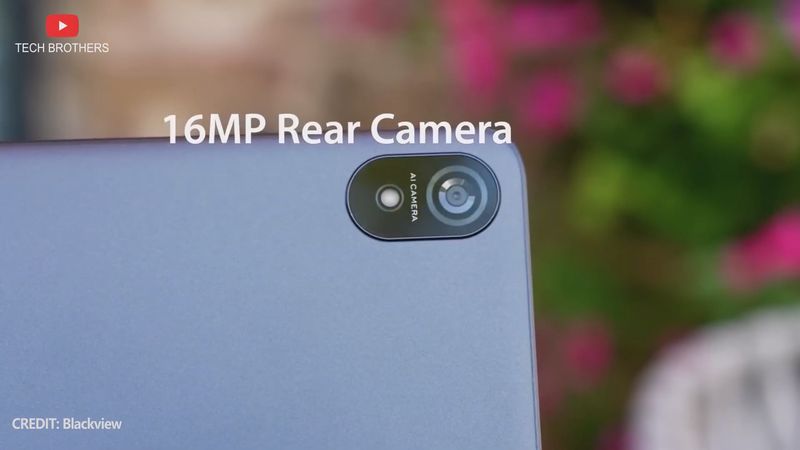 The ArcSoft 7.0 algorithm allows you to make high-quality HDR, Night, Portrait and other pictures.
Battery
As for the battery, it has a capacity of 8800mAh. I cannot say it is the biggest battery among 12-inch tablets, but the Chinese company promises 12 hours of battery life.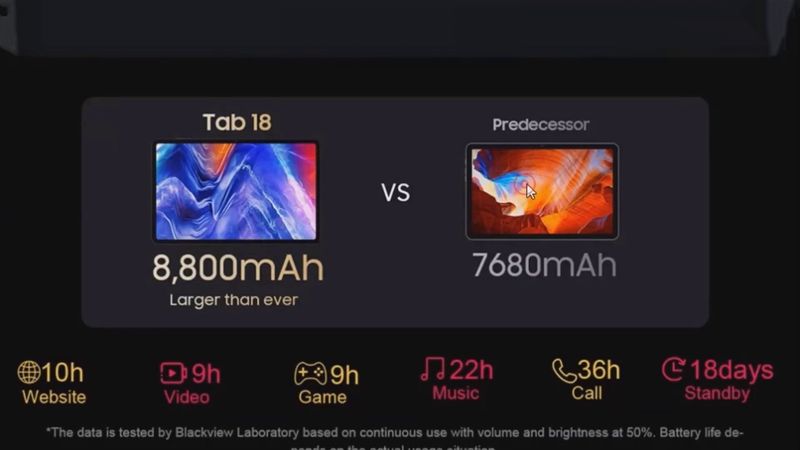 In addition, the new tablet supports 33W fast charging. It takes only 1 hour to charge the battery from 0 to 50%.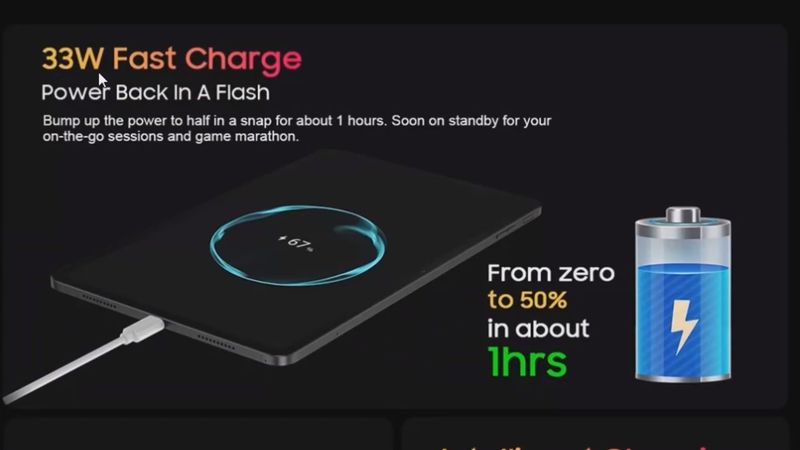 Connectivity
Like previous tablets in this lineup, the Blackview Tab 18 supports dual-band Wi-Fi and dual-band 4G.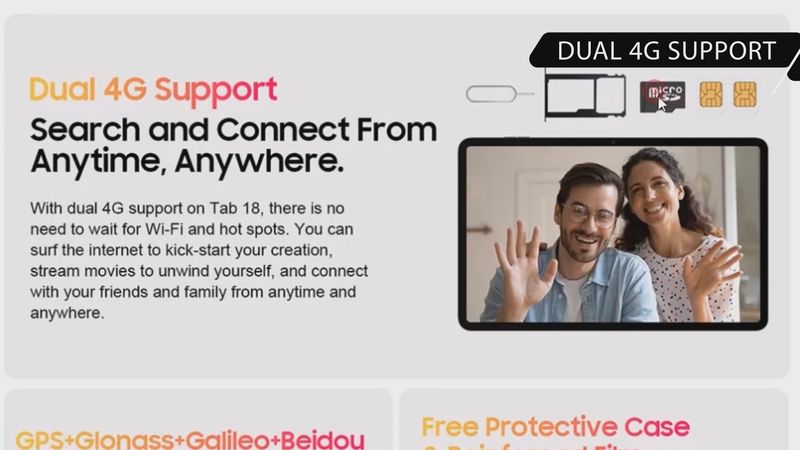 So, you can use the Wi-Fi network at home and the cellular network outside the home.
Conclusion
As you can see, the new Blackview tablet has received many upgrades, and in my opinion, it is really very good for its price. Waiting for the start of sales!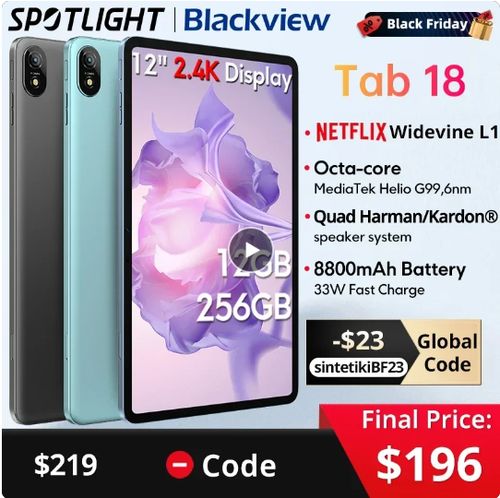 Blackview Tab 18 - Aliexpress - Black Friday Sale
as of November 3, 2023 9:45 am