The Chinese companies are preparing for the biggest 11.11 sale of the year and announcing their new products. Some days ago, I told you about the largest and most powerful tablet from Blackview, but also the Chinese company will release an ulta-budget smartphone called Blackview Shark 8.
Please, do not confuse Blackview Shark with Black Shark from Xiaomi. They are different brands and manufacturers.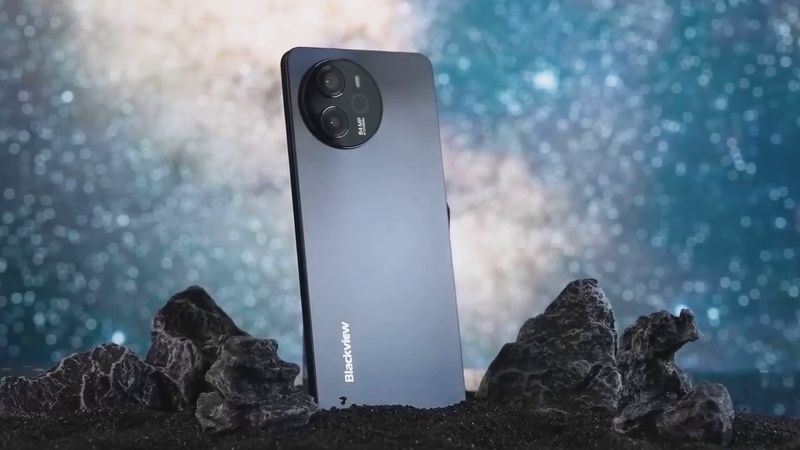 The new Blackview Shark 8 smartphone will have 6.78-inch Full HD+ display, Helio G99 chipset, 8GB of built-in RAM, 256GB of built-in storage, and 64MP main camera.
However, the biggest surprise of this smartphone for me was the price.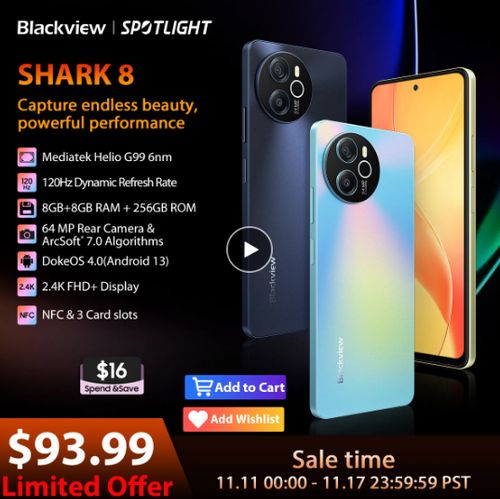 Blackview SHARK 8 - World Premiere - Aliexpress
as of November 3, 2023 11:33 am
Price and Release Date
Blackview Shark 8 will go on sale on November 11th for the price of $103. However, the first 150 buyers will be able to use the smartphone for only $93.99.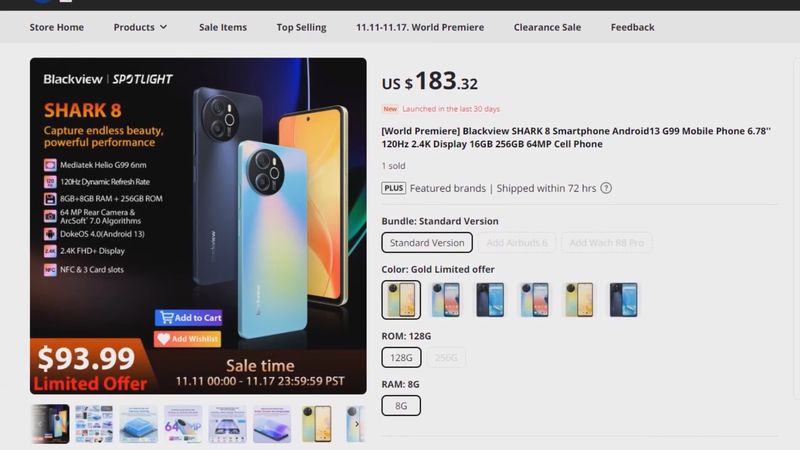 You know, that's a very low price for a smartphone with these specs. What is the catch? Let's try to find out.
Design
I think the new Blackview smartphone is designed for a young audience because it has a very attractive design. You know, even the box says that this is a gaming smartphone.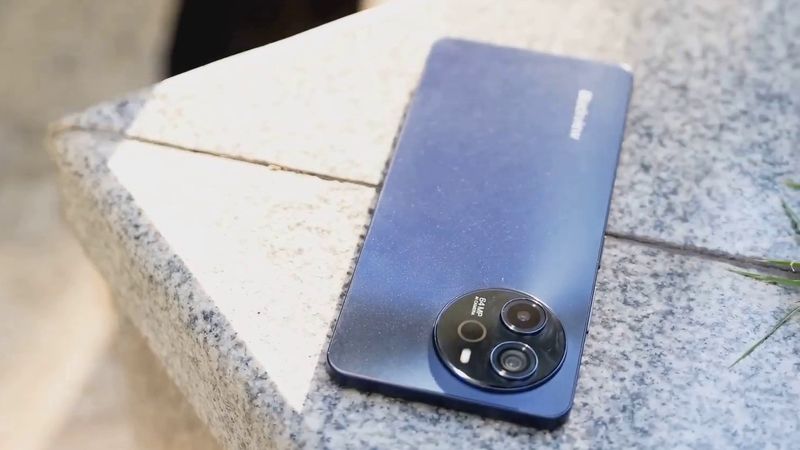 Perhaps the main feature in the design of the Blackview Shark 8 is the camera on the back. We will talk about the camera sensors a little later, but this round shape design looks very attractive to me.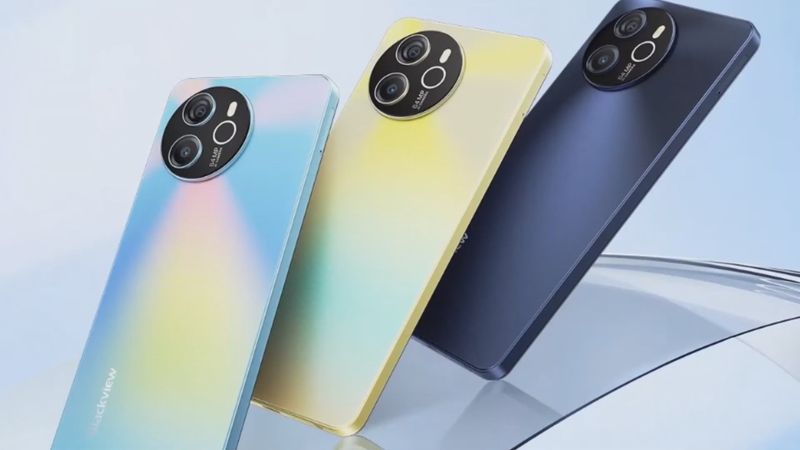 In addition, the smartphone will be available in vibrant colors of gold, blue and gray.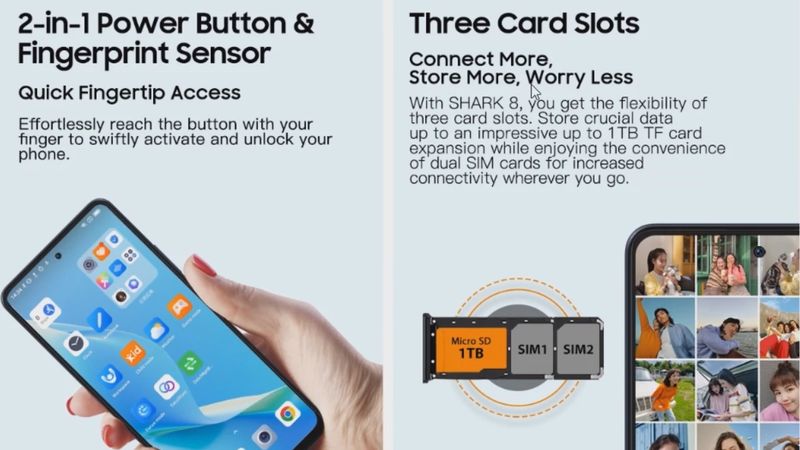 You should also know about the fingerprint scanner built into the power button, and three card slots for dual SIM and microSD memory card.
Display
If we talk about the screen, it has a diagonal of 6.78 inches and Full HD+ resolution, 1080 x 2460 pixels. The screen refresh rate is 120Hz, which is great for social media scrolling and even gaming.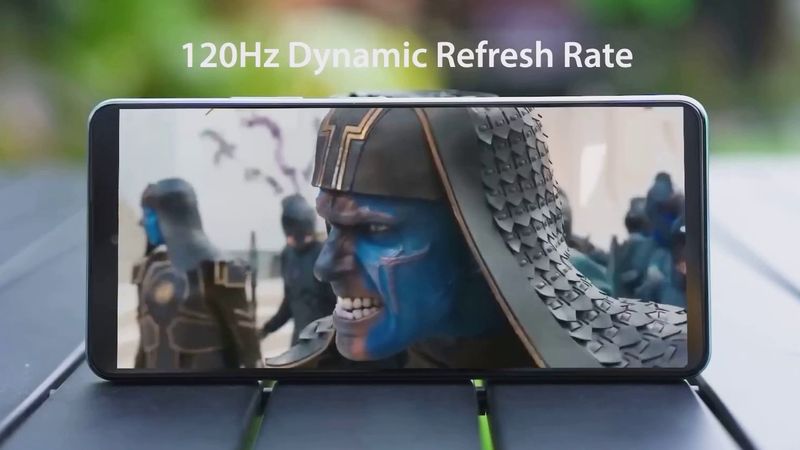 Performance
By the way, the Blackview Shark 8 has a good Helio G99 chipset. We have already tested some devices with this processor, and they offer good performance.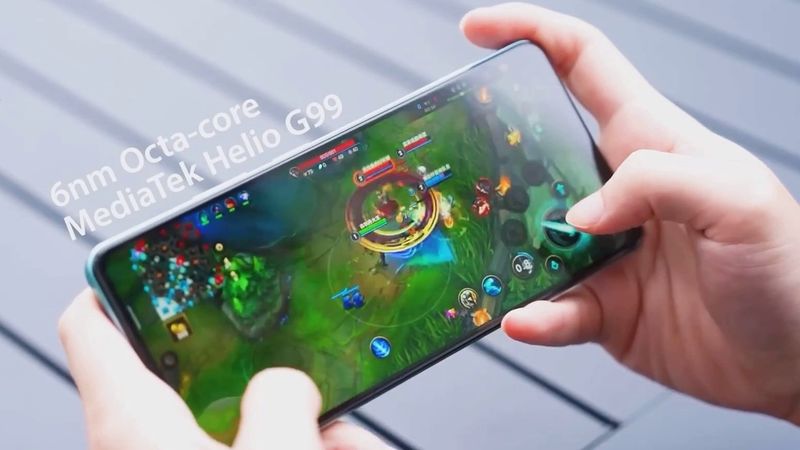 For example, the new Blackview smartphone has 425,000 points in AnTuTu Benchmark. That's a very decent result for a $100 smartphone, isn't it?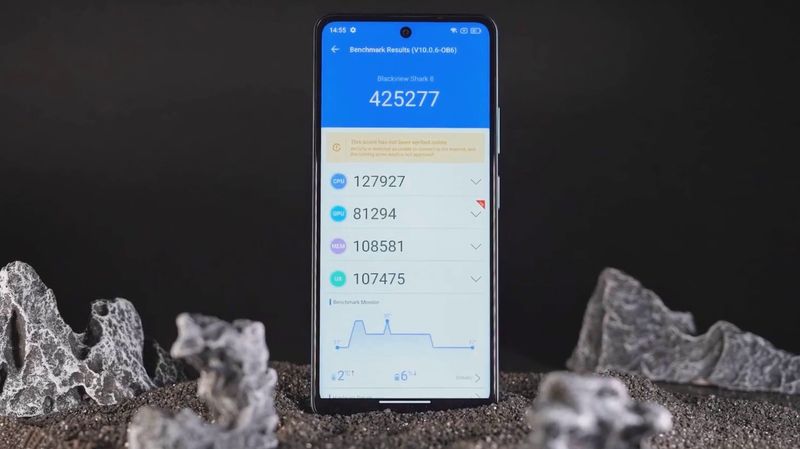 There is also 8GB of built-in RAM which can be expanded up to 16GB via software, as well as 256GB of built-in storage with microSD memory card support up to 1TB.
Software
When it comes to the software, Blackview Shark 8 runs on the latest Android 13 operating system with DokeOS 4.0.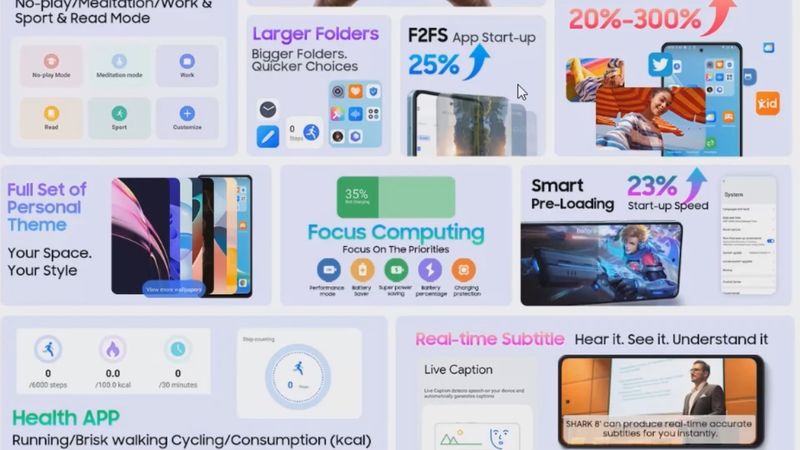 You know, I like Blackview devices because they not only have good hardware, but many useful software functions. You can see some of them on your screen now.
Camera
If we look at the main camera of the smartphone, we can see two sensors. However, we only know about the 64MP primary sensor. There is no information about the second sensor. It is most likely a macro sensor.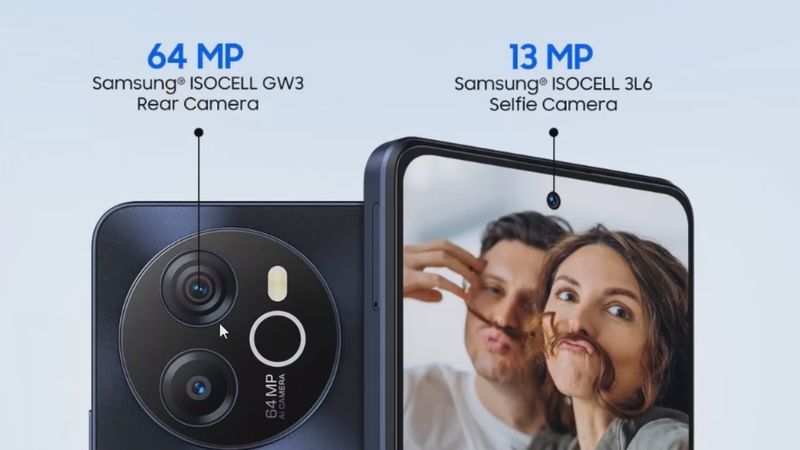 The front camera is 13MP.
The Chinese company has published some pictures taken on the Blackview Shark 8 camera, and they look pretty good.
Battery
We cannot get past the battery. It has a capacity of 5000mAh and 33W fast charging support. It is not a very big battery, but I was very pleased with the fast-charging support.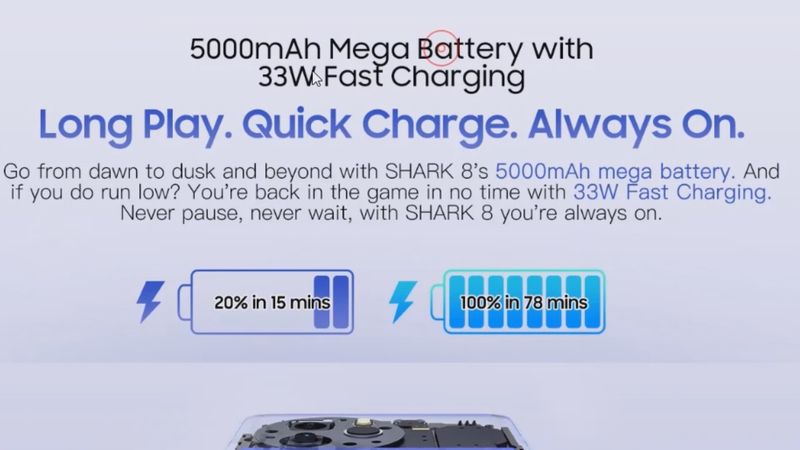 Connectivity
Finally, let's talk about connectivity.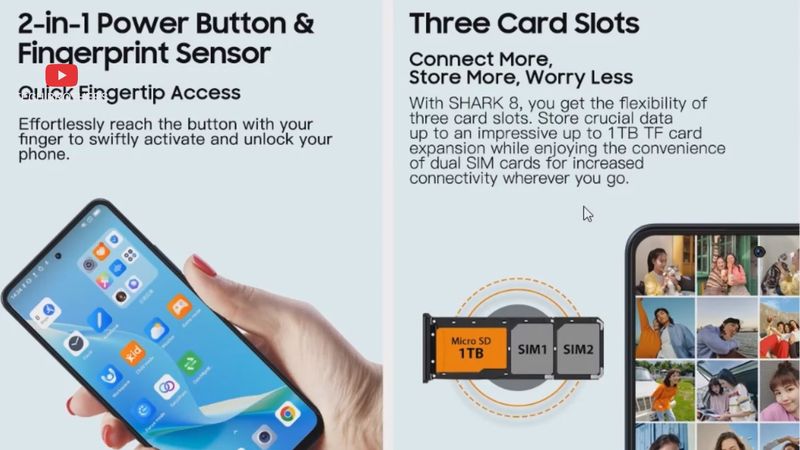 As I said before, Blackview Shark 8 has dual SIM card slot. However, the Helio G99 chipset supports only 4G networks. To be honest, I didn't expect 5G support in a $100 smartphone.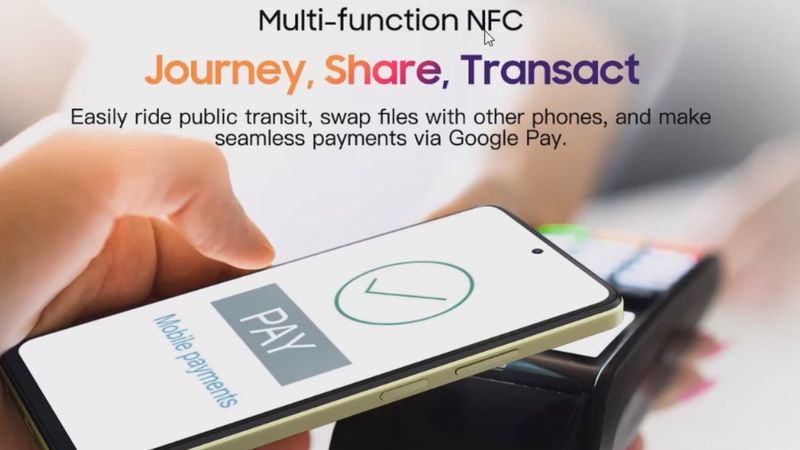 The new Blackview phone also has NFC, so you can use it for contactless payments via Google Pay.
Conclusion
As I said in the beginning of the article, the Blackview Shark 8 smartphone has stunning features for its price. I think it would be impossible to find another smartphone with similar specs for $100. If you know, write in the comments below.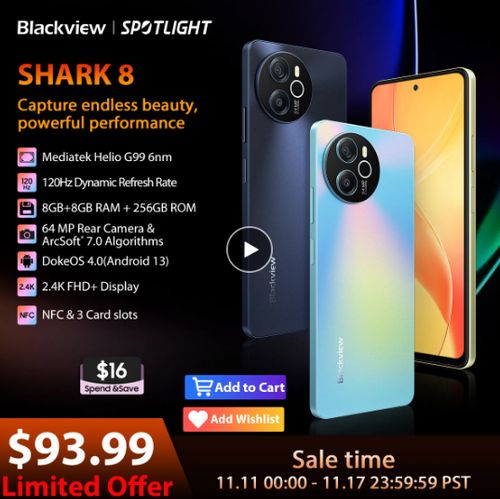 Blackview SHARK 8 - World Premiere - Aliexpress
as of November 3, 2023 11:33 am