Do you remember we tested BenQ GV30 projector? If you missed, you can read the article by this link.
Now, BenQ Company releases the light version of that projector. It is called BenQ GV11. As you can see, it has very similar design to BenQ GV30, but it is even more compact and lightweight.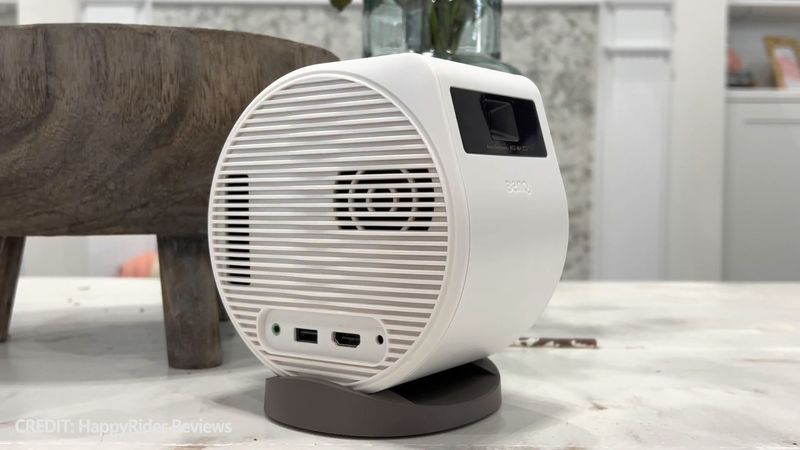 By the way, the new projector is also more affordable, so I couldn't pass it up. Let's talk about specifications, features and price of BenQ GV11 in this article.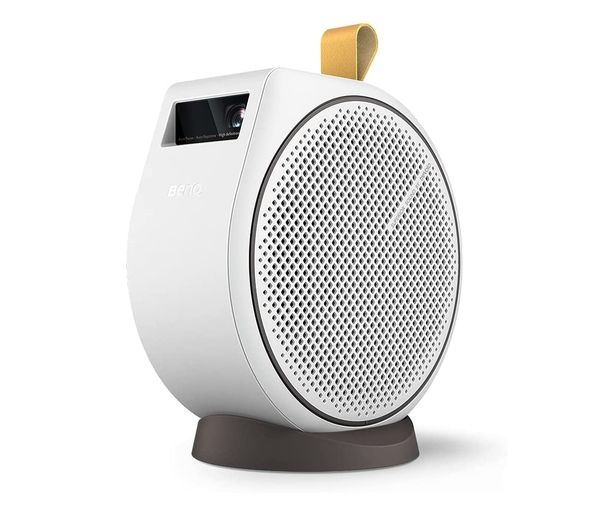 BenQ GV30 Portable Smart Projector - Amazon
as of September 9, 2023 5:40 pm
Price
You know, there is no price of the new projector on the official website, because it hasn't gone on sale yet. However, you can join a trial program, and get the new projector for only $279.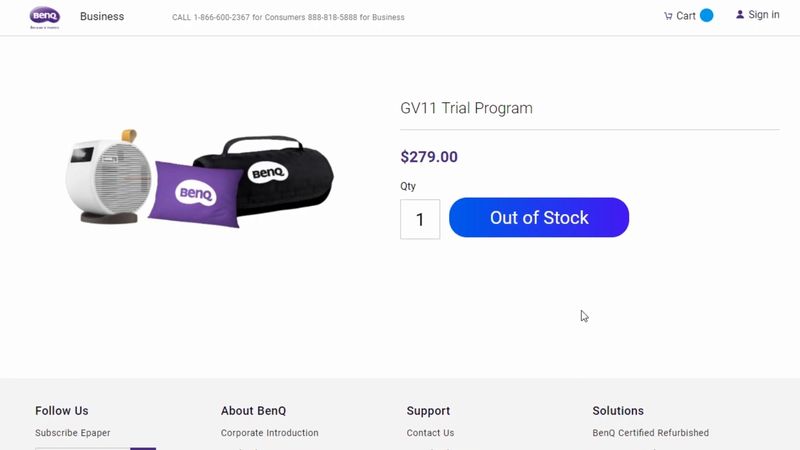 So, BenQ GV11 is almost two times cheaper than BenQ GV30, because it is $500 on official website and Amazon.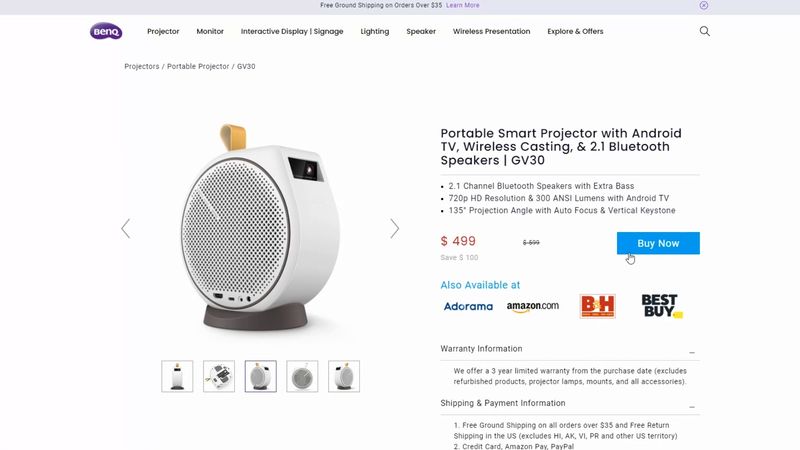 Design
Talking about design of the new projector, it looks very similar to BenQ GV30. It has the same round shape, speaker grill on the side, and connectors, such as 3.5mm audio jack, USB port, HDMI port and DC power.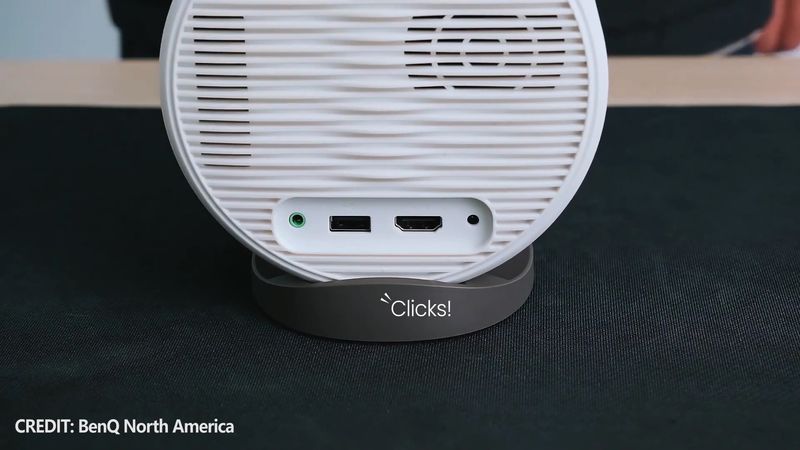 One of the main features of this projector series is Android TV Dongle. It is installed inside the body of the projector, so you can use the external ports to connect other devices, such as game console.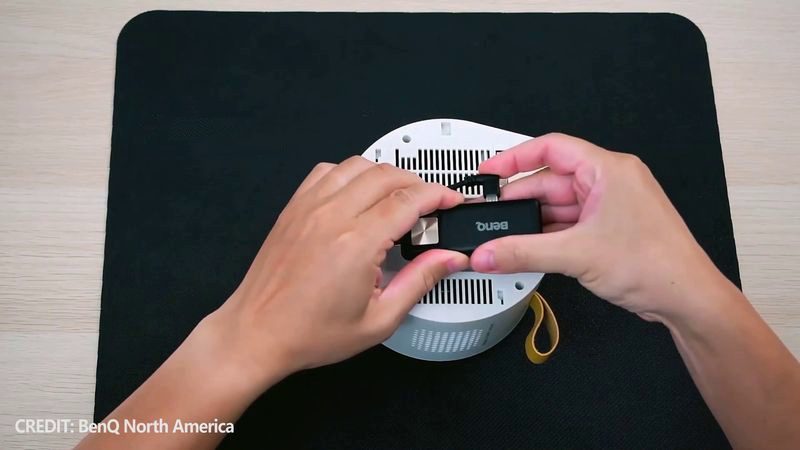 Another feature of BenQ GV11 and BenQ GV30 is a base. It allows you to change a projection angle, all the way to the ceiling. This is very convenient.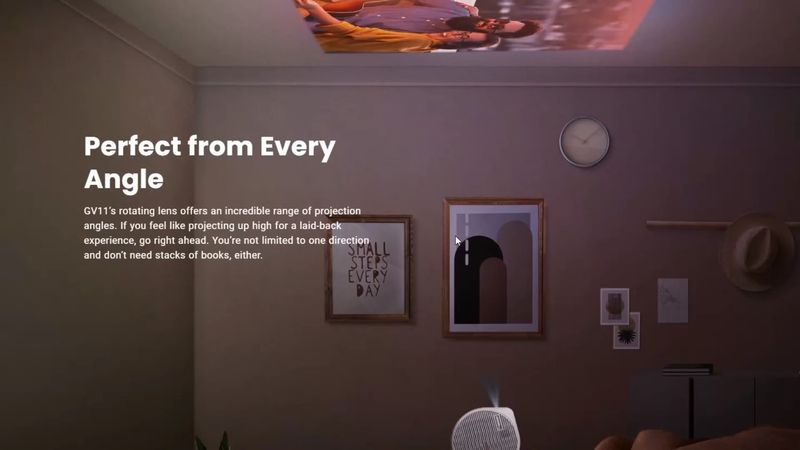 However, there are some big differences between these projectors. As I already said, the new BenQ GV11 is more compact than BenQ GV30. You can see the size of both projectors on the screen.
In addition, the new projector is only 0.97 kg, while BenQ GV30 is 1.6 kg. So, it is also more lightweight.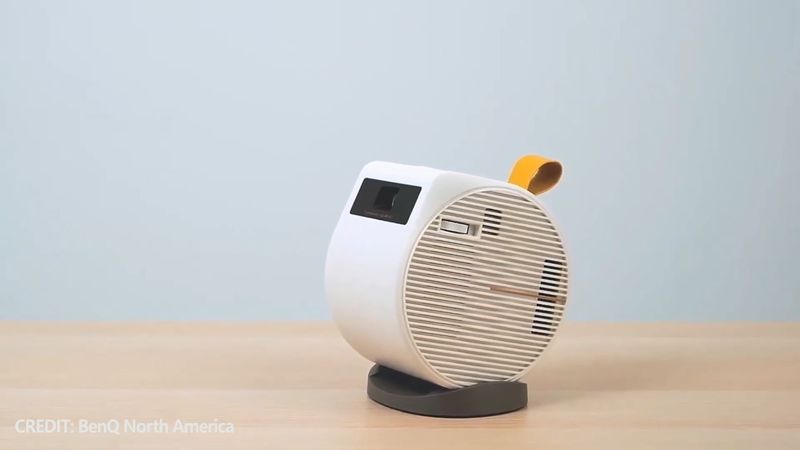 By the way, I have told you about the speaker grill on the side of the projector, but actually, the sound goes from three directions at 270 degrees.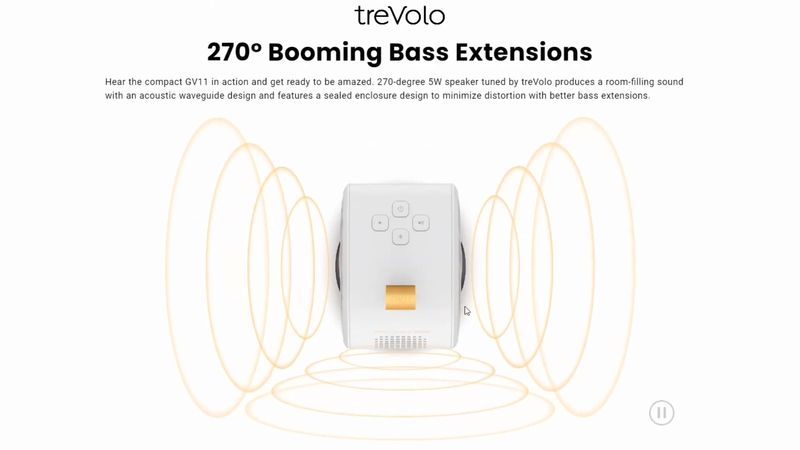 You know, a speaker of BenQ GV11 has a power of 5W, while the previous BenQ GV30 is equipped with 4W speaker. So, the sound quality of the new projector should be even better.
Now, let's compare the projection specs.
Projection Specs
The new projector is cheaper, so it must be worse at something. First, it is the image quality.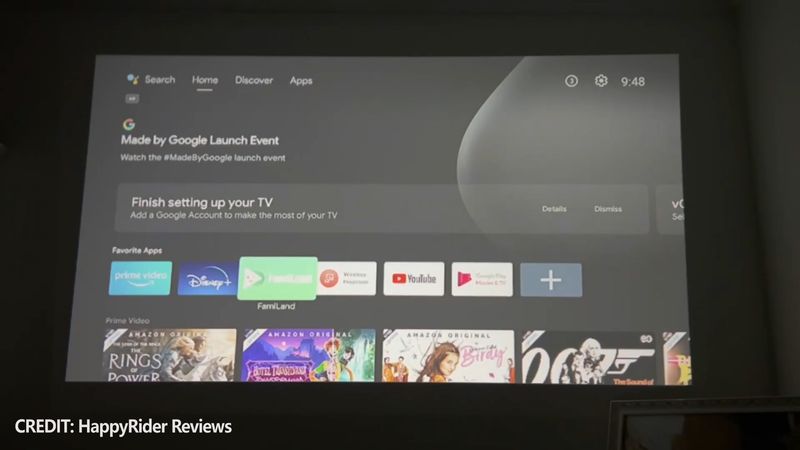 BenQ GV11 has WVGA native resolution, 854 x 480 pixels.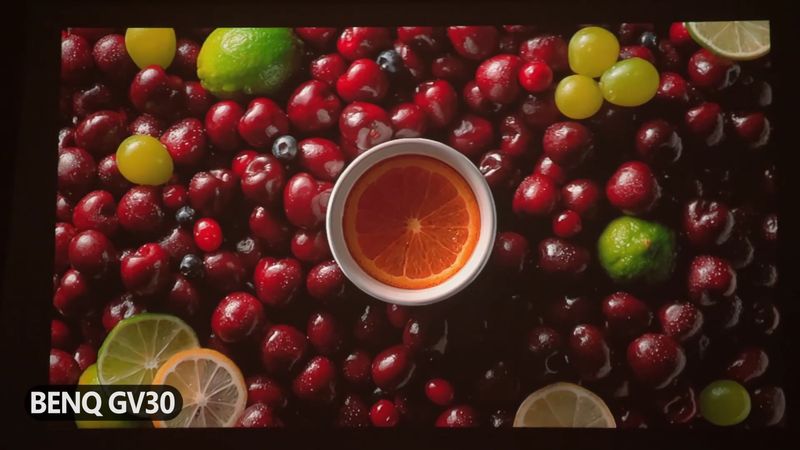 When I tested BenQ GV30 with 720p native resolution, I was surprised by its high image quality. It was as good as some budget Full HD projectors.
So, I am not afraid of WVGA resolution of the new BenQ projector. I think it should be pretty good.
Moreover, the maximum image size of BenQ GV11 is 80 inches. The brightness is 200 ANSI Lumens.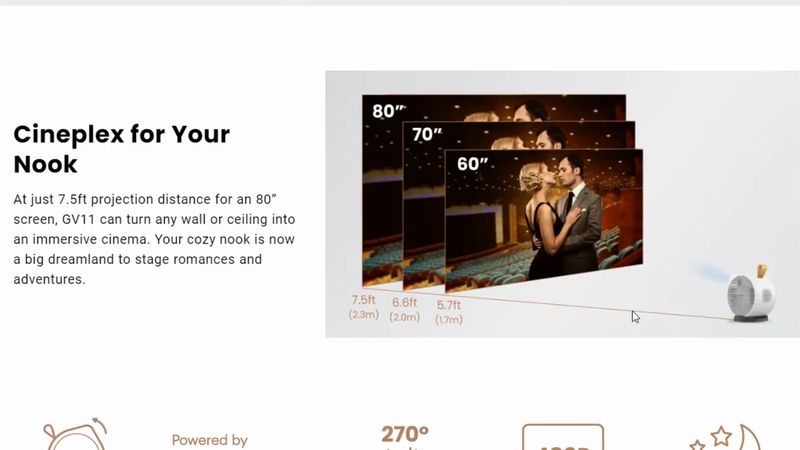 By the way, a new projector has 1.3:1 throw ratio. On this picture, you can see the ratio of distance and image screen. You should definitely consider this before buying a projector.
Android TV
Like the previous model, the new BenQ GV11 comes with Android TV dongle.
It is powered by Android TV 10 operating system with Google Play Store and Google Assistant. You can also mirror the screen from your smartphone, and even control the projector from the app on the mobile device.
Battery
Finally, BenQ GV11 has a built-in battery. There is no information about battery capacity, but the company promises 160 minutes of video playtime, and 240 minutes of music playtime.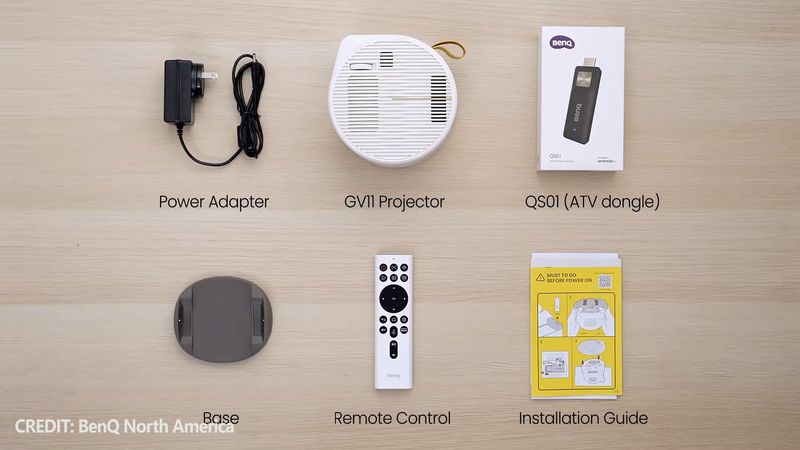 So, this is also a good portable projector for outdoor use.
Conclusion
The new BenQ GV11 projector will definitely have worse image quality than the previous BenQ GV30, but it has some advantages.
First, it has a more affordable price. You can buy it at the start of sales for only $279.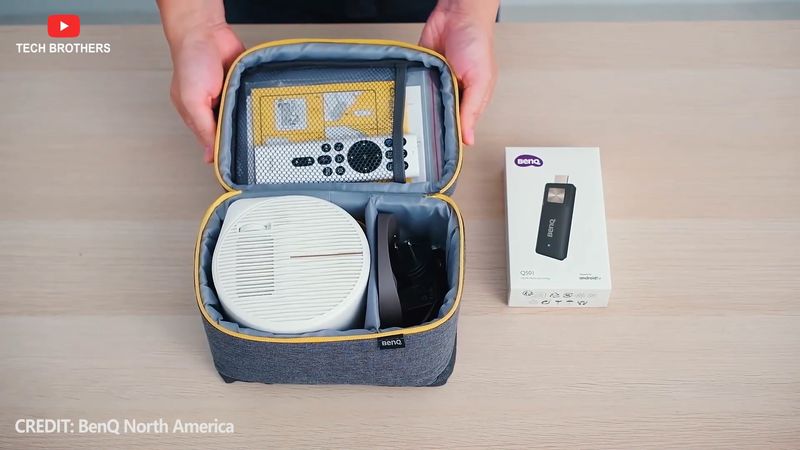 Another advantage of the new projector is a more compact size. That means it is even more convenient to use at camping or any other outdoor locations.
Otherwise, the projectors have similar features, including Android TV 10 operating system, built-in battery, DLP projection system, 51ms low latency, etc.
You know, I will try to buy BenQ GV11 projector, and test it closely.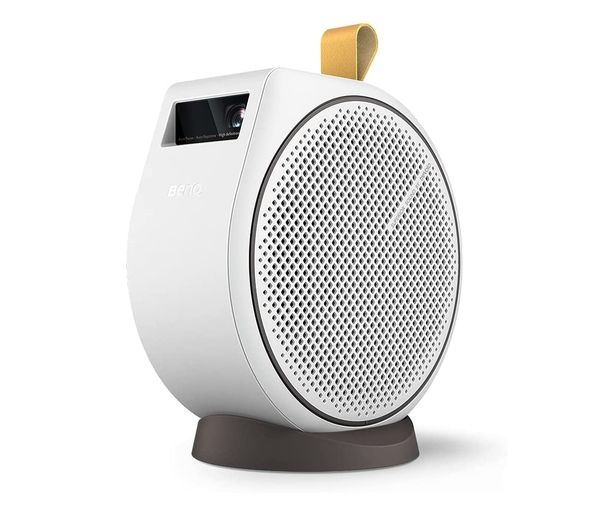 BenQ GV30 Portable Smart Projector - Amazon
as of September 9, 2023 5:40 pm