I am back with BenQ GV30 projector, and now let's do an unboxing and full review of it. If you missed, we have already posted an article about BenQ GV30, but it was a quick tutorial how to install Netflix on the new projector.
By the way, if you already have BenQ GV30, and you cannot install Netflix, please, read our article. It will be very useful for you.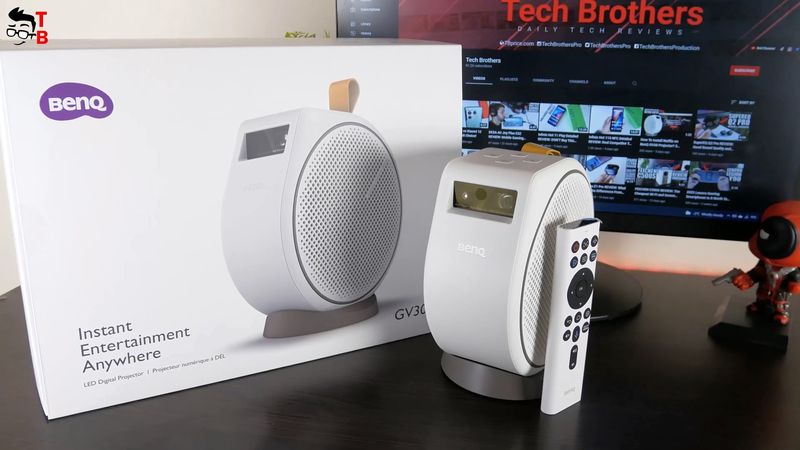 You know, BenQ GV30 is one of the most expensive projectors that I have ever tested. However, the price is completely justified. This is an advanced projector with stunning features, such as a 2.1 sound system, 135 degrees projection angle, auto-focus and keystone correction, Android TV operating system, and 4800mAh built-in battery.
The price of the new BenQ projector is $550.
So, make yourselves comfortable, because today we are going to talk a lot about BenQ GV30.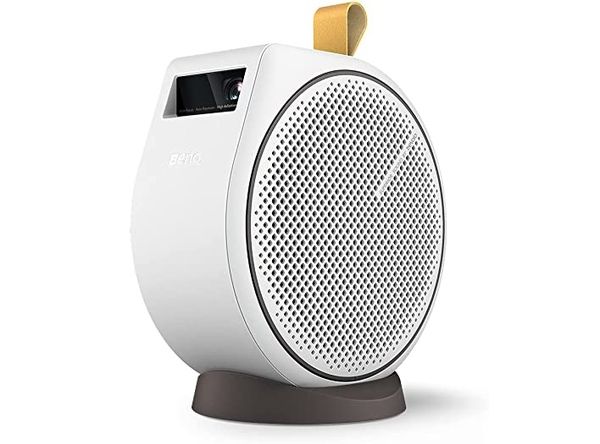 BenQ GV30 Portable Smart Projector - 10% OFF DISCOUNT - Amazon
as of December 5, 2023 8:40 pm
Unboxing
By the way, if you are subscribed to our second YouTube channel, Instagram or TikTok, you may have already seen the unboxing of this projector.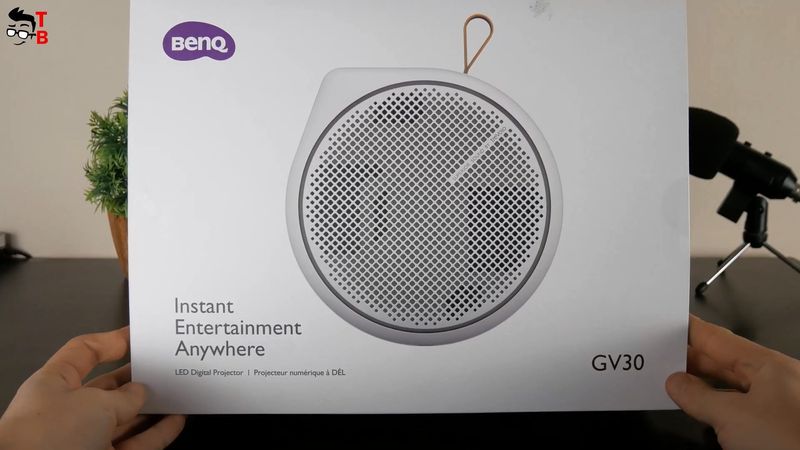 There is an image of BenQ GV30 on the front and back of the box, while the main features are at the bottom. We will talk about all them later in this article.
Inside the box, there is a carry bag. This is a very useful accessory for a portable projector, like BenQ GV30.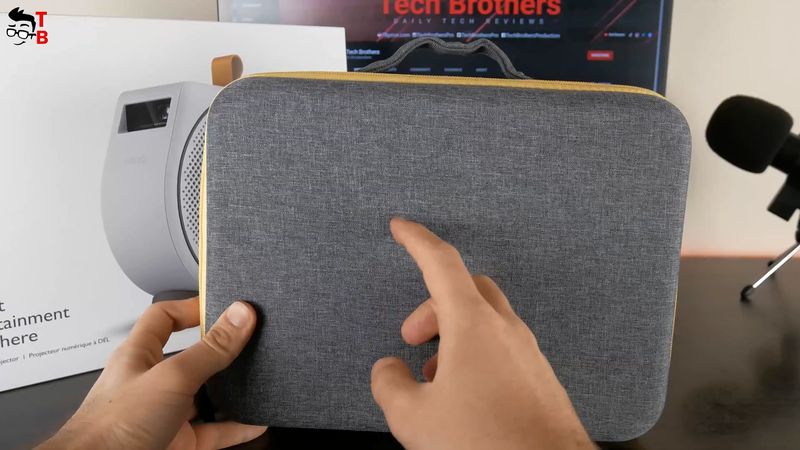 Then, we have different documentation, like the user manual, warranty card, etc, as well as a tool to open a case of the projector. Don't be afraid, I will tell you later why you need to do this.
There is also a power cord, power adapter, batteries for remote control, remote control itself, HDMI cable, and magnetic stand for the projector.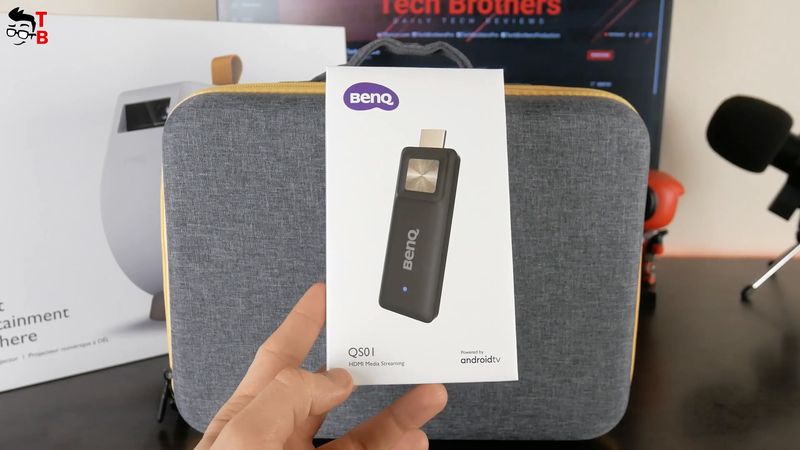 BenQ GV30 comes with an Android TV dongle in the package. It has a model name of QS01. As you can see on the back of the box, this is an HDMI media-streaming device with 4K support, dual-band Wi-Fi, an HDMI plugin, a mirror screen, and voice search.
Of course, you can use the BenQ GV30 projector without this Android TV dongle, but then you will need to connect an external device to it, for example, a laptop, game console, etc.
Design
Talking about the design, you know, BenQ GV30 doesn't even look like a projector, because of its one of the main features – 135 degrees projection angle.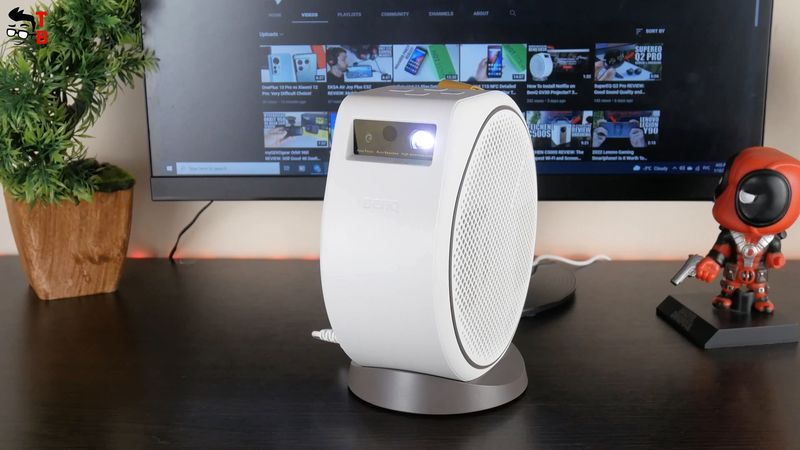 You can place a projector on a magnetic stand, and then move it up or down to project an image on the ceiling, wall, or even the floor. It is very easy to do.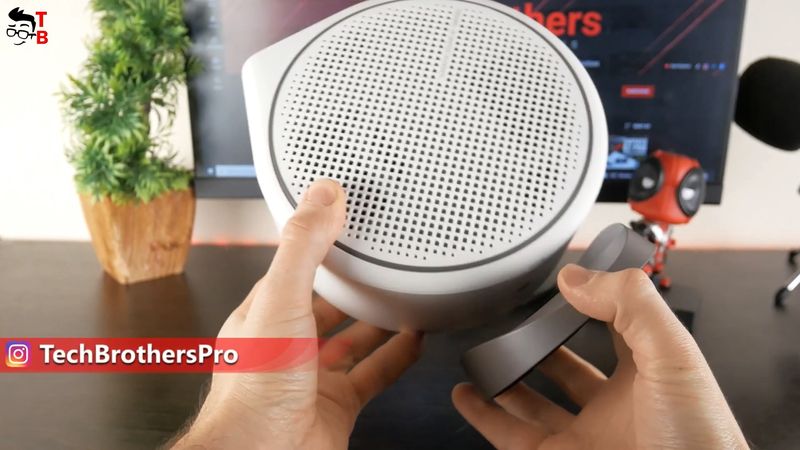 By the way, a stand has powerful magnets, so you can just take the projector by the handle, and carry it with the stand to another room.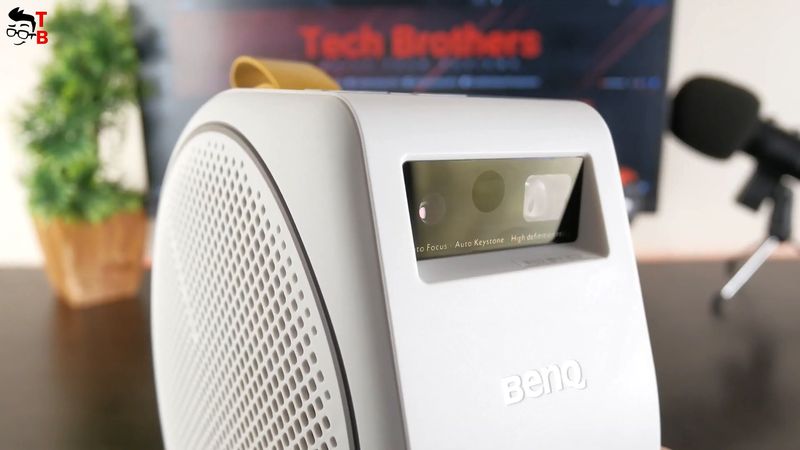 BenQ GV30 has a small lens, autofocus, and auto keystone correction sensors on the front.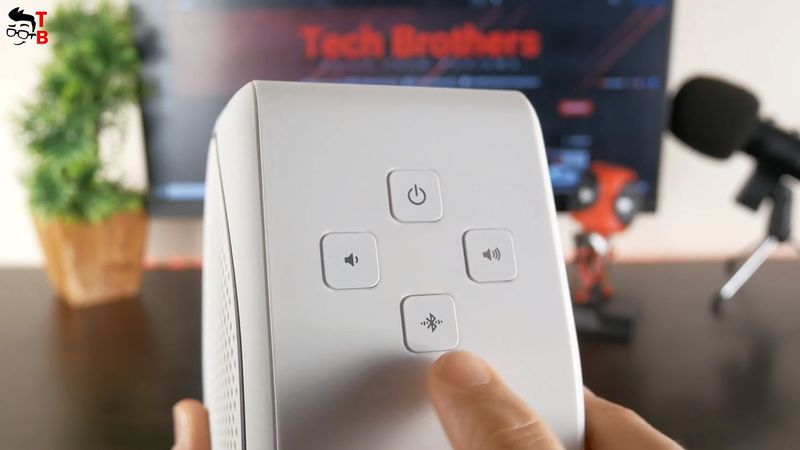 At the top, there is a power button, volume up/down, and Bluetooth speaker mode.
Speaker
Talking about speaker mode, the projector has two in one sound system. What does it mean? There is one speaker on the left side, the second speaker on the right, and the third one at the top.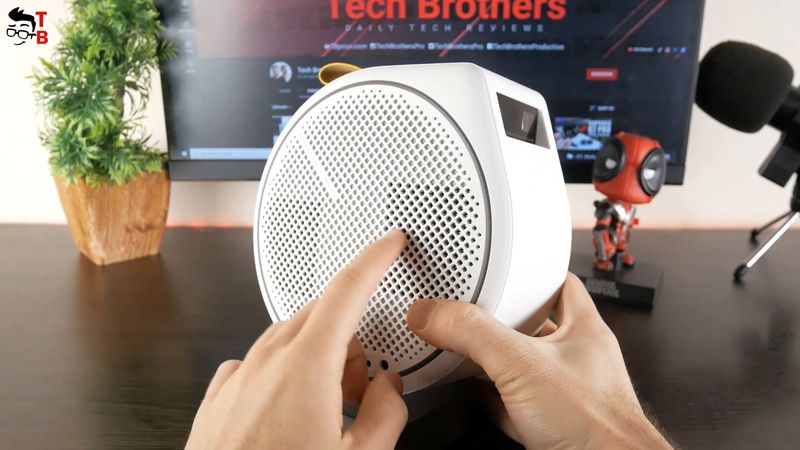 The bass speaker is located at the top, and it has a maximum power of 8W. The right and left channels have 4W. So, the total power of the BenQ GV30 projector audio system is 16W.
You know, the projector has the best speaker quality of all projector I have tested. It has very good bass despite its compact size.
Dimensions
Talking about the size, BenQ GV30 is 185 x 185 x 85 mm.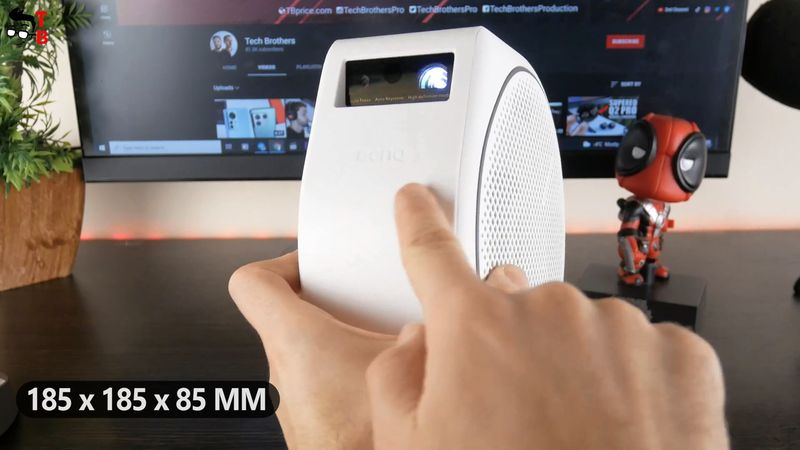 The weight is only 1480 grams.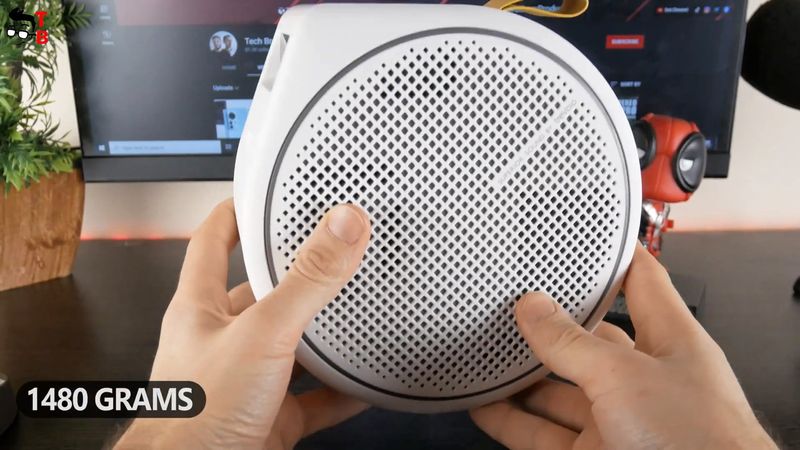 It is really compact and lightweight projector, so you can carry it between different rooms, and also take it with you to the office, college or even camp.
Interfaces
As for interfaces, the new projector from BenQ has an HDMI port, USB Type-C port, 3.5mm audio jack, and power connector.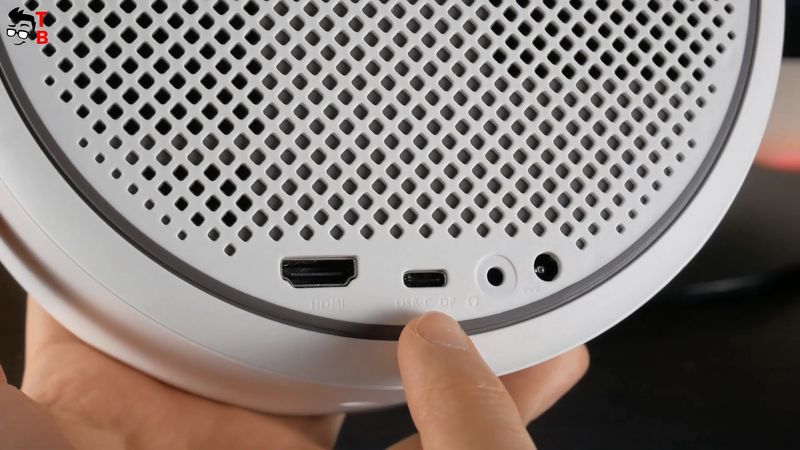 As you can see, there are only a few interfaces, but you don't really need them because the projector has Android TV and screen mirror function.
Android TV Dongle
By the way, BenQ GV30 has another HDMI port inside the case, but it is used for connecting Android TV dongle.
Let me show you how to get to the second HDMI port.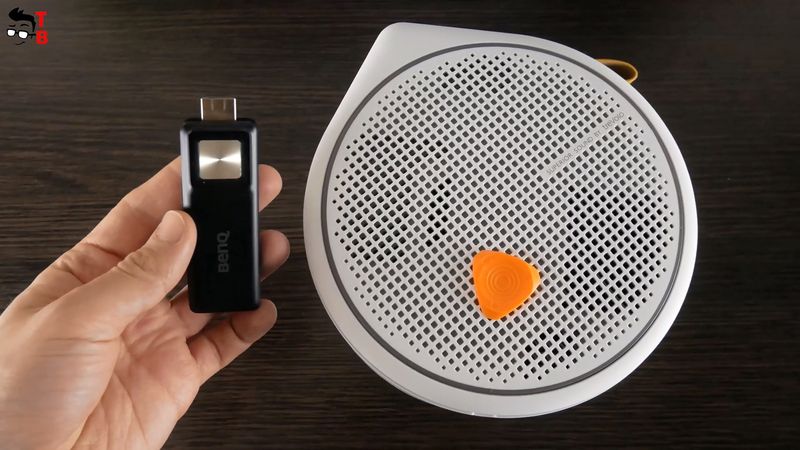 First, you need to take a special silicone tool in the package.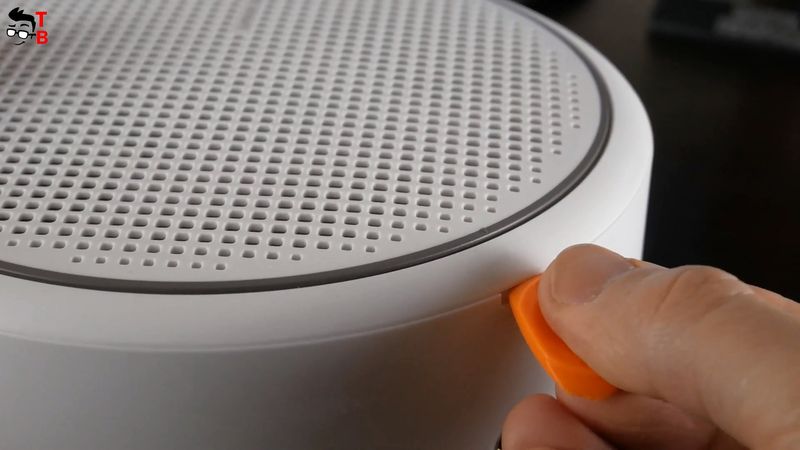 After that, find a caption of a TV dongle on the side of the projector. Insert a tool there, and move it around the whole body.
You will hear the sounds of the latches opening.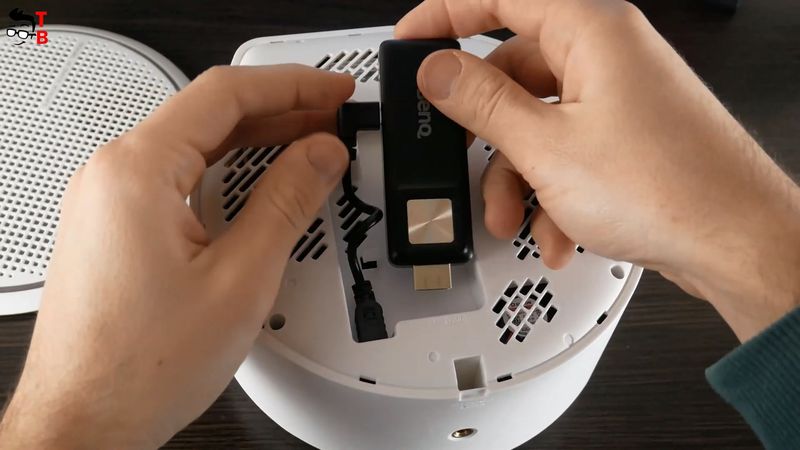 When the side cover is open, you need to connect a power cable to the Android TV dongle, and then plug it into the HDMI connector.
That's all!
I really like this solution because the Android TV Dongle is hidden inside, and doesn't draw attention to itself.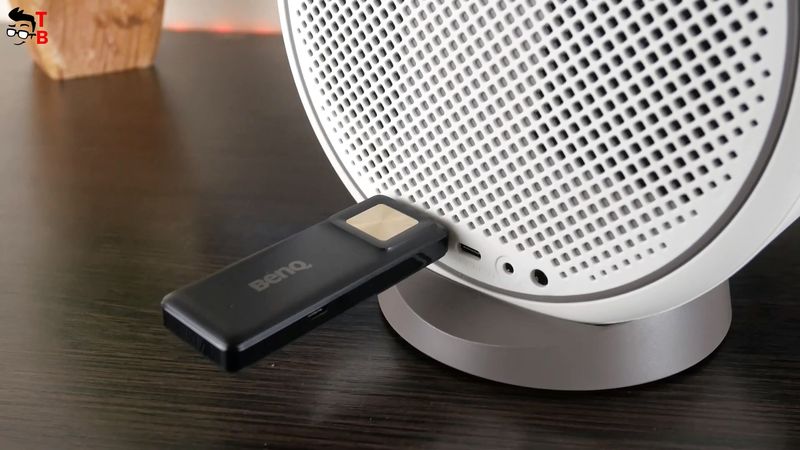 Just imagine if it was plugged into the HDMI port on the right side of the projector. It would stick out and look terrible.
Okay, the Android TV dongle is connected. Now, we can turn on the projector and look at the user interface.
User interface
You know this is a stock Android TV. There are Google apps, such as YouTube and Play Store, as well as some pre-installed apps from BenQ, for example, Prime Video and FamiLand.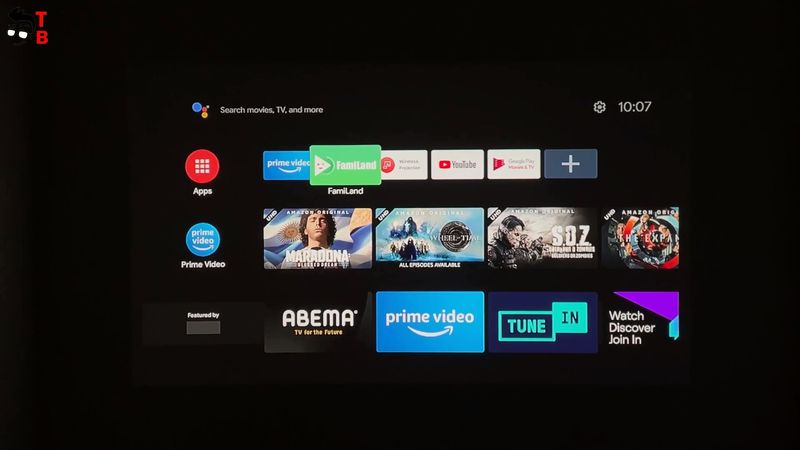 I think you know about Prime Video, and I don't need to tell you about this streaming service.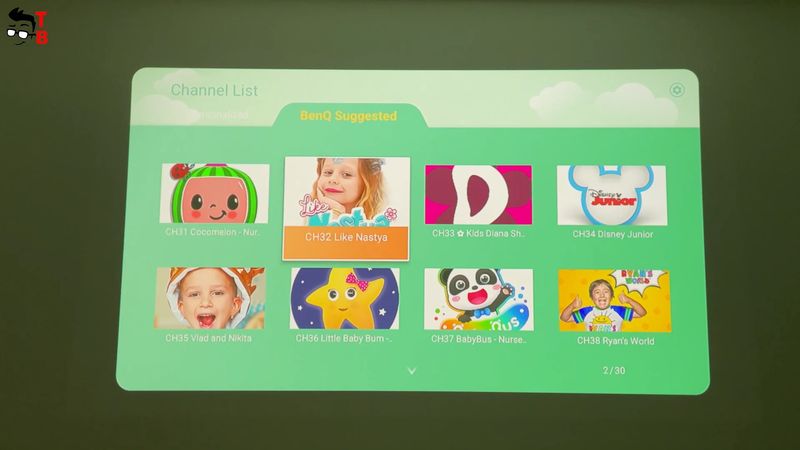 As for FamilyLand, this is a new app from BenQ for children. The most popular children's shows are collected here.
By the way, if you want to watch Netflix on the BenQ GV30 projector, then you need to use the AptoideTV app. We already made a tutorial how to install and watch Netflix on this projector. You can find it by the link in the description.
Remote Control
You know, I forgot to tell you about the remote control. It has some very useful buttons. First, there is Prime Video button, so you can quickly open this streaming service.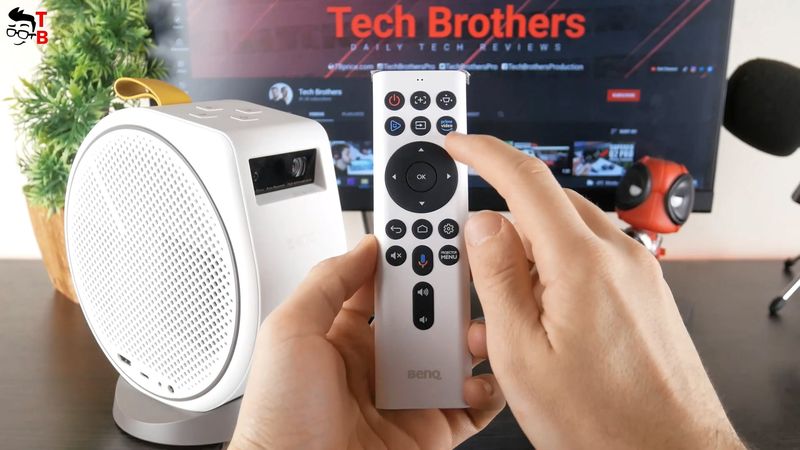 Then, there is an autofocus button. Just press it, and the focus will be automatically adjusted.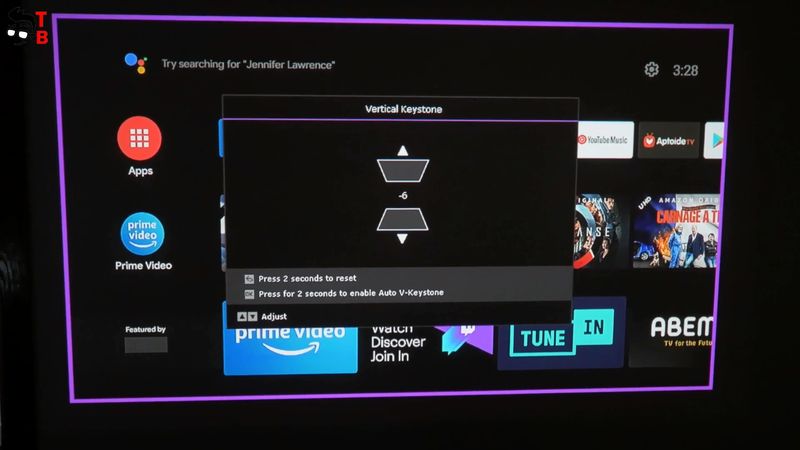 The next button is keystone correction. By pressing on it, you can manually adjust the keystone correction.
There is also volume up/down, mute, voice control, home, return, and other standard buttons on the remote control.
By the way, you can press on source button, and choose the device connected by HDMI or USB ports, for example, a game console.
There is also a speaker mode in the source menu. When you go into this mode, the BenQ GV30 turns off projection and works only as a speaker. As we have already discovered, the speakers are terrific here.
Projector Menu
In the projector menu, we can change the brightness, picture mode from the bright, living room, game, sports, cinema and day time, sound mode, such as standard, cinema, music, game, and sports.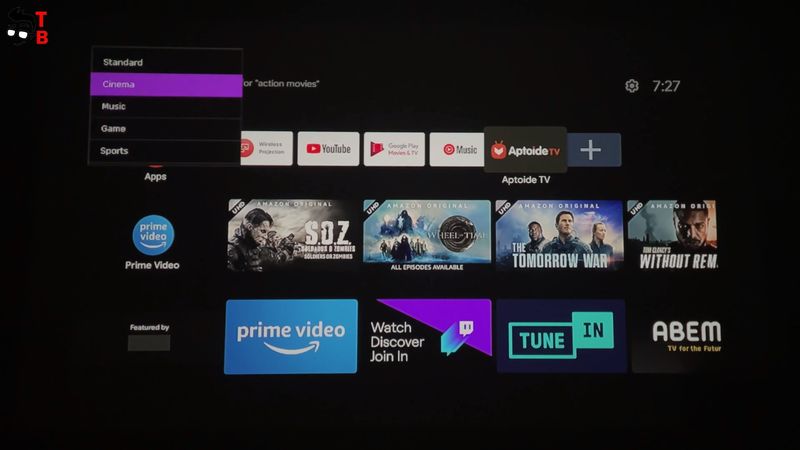 The general settings include a picture, where we can change the brightness, contrast, color, sharpness for each mode, and installation menu with the following options: auto vertical keystone, manual vertical keystone correction, aspect ratio, test pattern, and high altitude mode.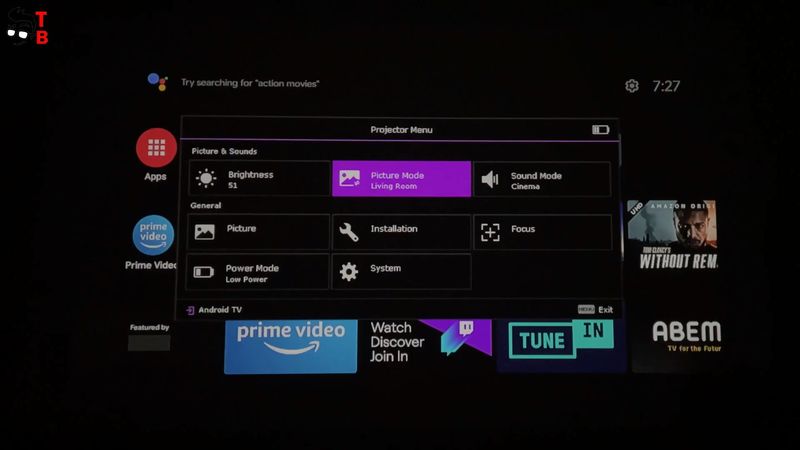 In the focus menu, we can choose real-time adjustment on/off, sensitivity, and manual focus.
BenQ GV30 projector has a built-in battery, and you can choose a power mode.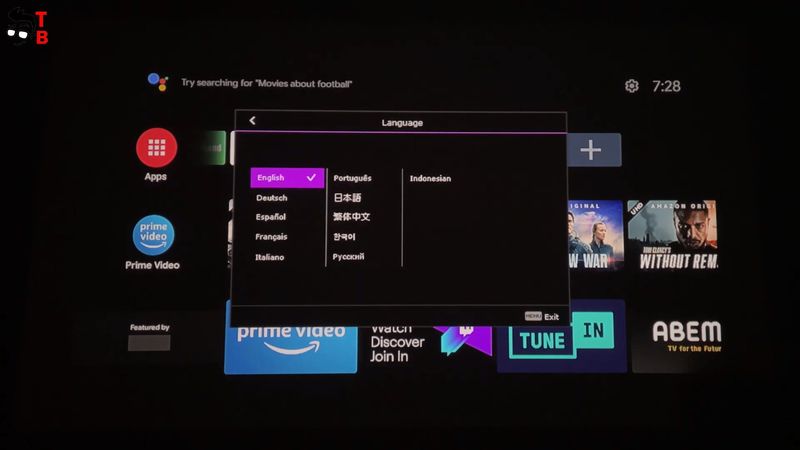 In the system settings, we can change the language, auto power off, system update, system information, and projector information.
Android Menu
BenQ GV30 runs on Android TV, so there is an Android menu like on the other Android devices. I will not go into detail because all of you know the functions of this menu, such as Wi-Fi, Google Accounts, Apps, Remotes, and Accessories.
Wireless Projection
Now, I want to show you a wireless projection on BenQ GV30.
As you can see, we can screen a mirror from iPhone, Android, and PC.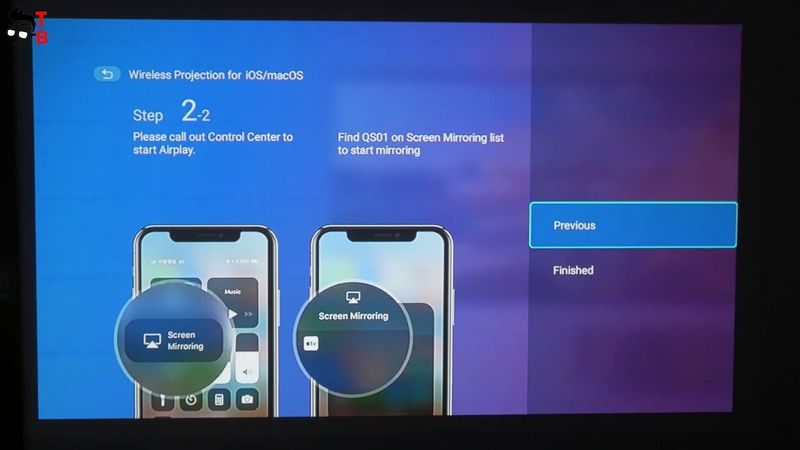 First, you need to connect a projector to the same Wi-Fi network as a mobile device that you want to mirror a screen.
Then, just open a screen-mirroring menu on your smartphone, and choose QS01. That's all!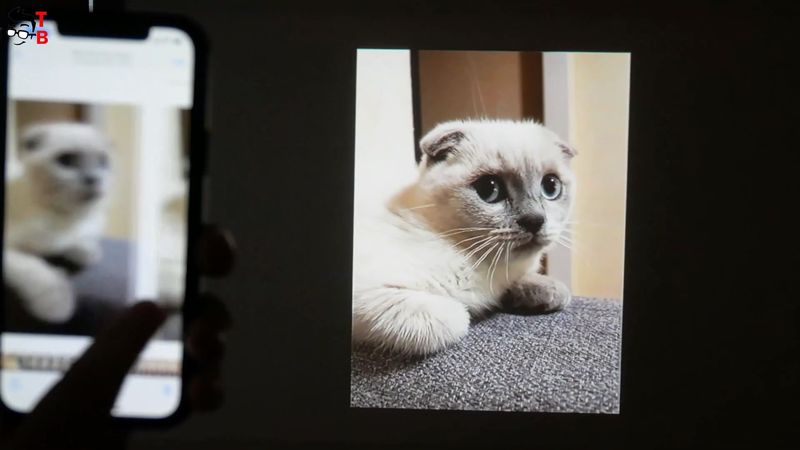 You know, there is latency when you mirror a screen from a smartphone on projection, so this method is not suitable for games. However, it is a very convenient way to show your family photos and videos from a smartphone on a big projection screen.
Battery
I have already said many times that BenQ GV30 is a portable projector, and it has a built-in battery with a capacity of 4800mAh. The battery life on a single charge is 2.5 hours.
If that's not enough for you, you can use a power bank.
Noise Level
By the way, let's measure the noise level of this projector.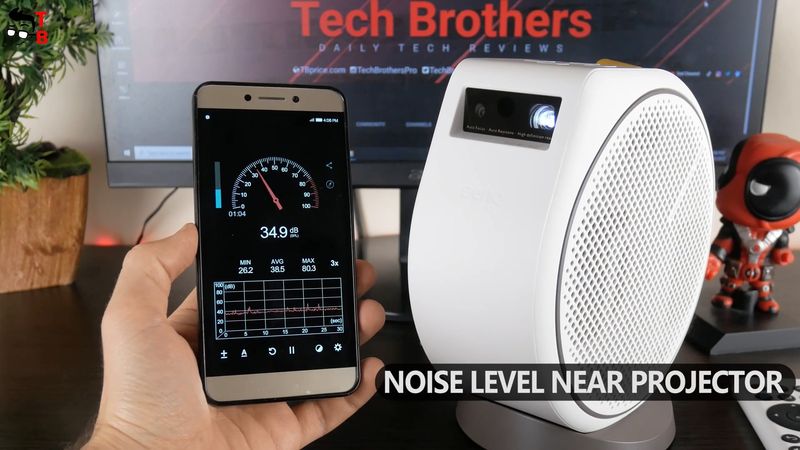 As you can see, it is only 35 dB near the projector and 30 dB at a distance of about 1 meter.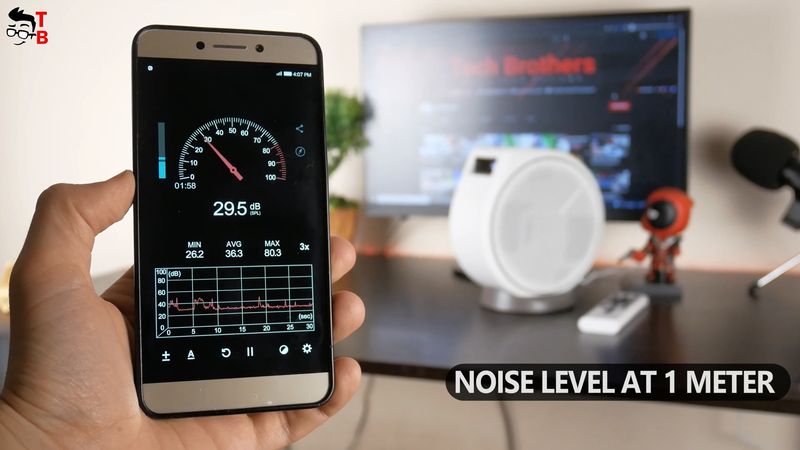 BenQ GV30 is a very quiet projector.
Projection Quality
Talking about projection quality, first, I want to say about image size. I have placed a projector at a distance of about 3 meters, so the projection size in my case is about 100 inches.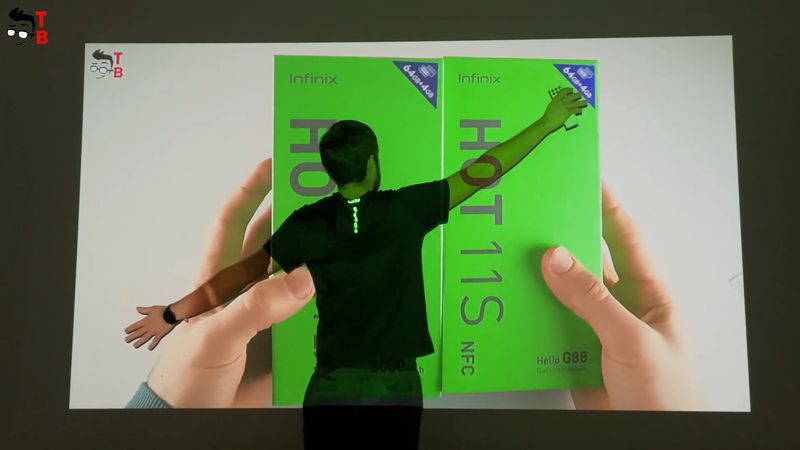 I think it could be bigger, but the manufacturer recommends not exceeding 100 inches for better picture quality.
You know, I didn't tell you that before, but the native resolution of BenQ GV30 is 720p, 1280 by 720 pixels. I have tested many Full HD projectors, and I want to say that Benq GV30 looks very similar to them.
The image is very clear, and you can read the text without any problems.
As for the colors, the new projector from BenQ has a 100,000:1 contrast ratio. On these pictures, you can see how bright and saturated the colors of this projector are.
The brightness of BenQ GV30 is 300 ANSI Lumens. For me, the projector is very bright. It is using only 50% of brightness, and I don't think that you need more, because then the image will be overexposed.
So, you can even use BenQ GV30 during the day, but it is better to close the curtains or blinds.
Conclusion
You know, before testing BenQ GV30, I thought that the price of $550 is too high for it. However, now, I realize that it is even low.
This is a premium projector with excellent build quality, amazing speakers, an Android TV operating system, a built-in battery, and good projection quality.
I think this is the best portable projector for a home in 2022.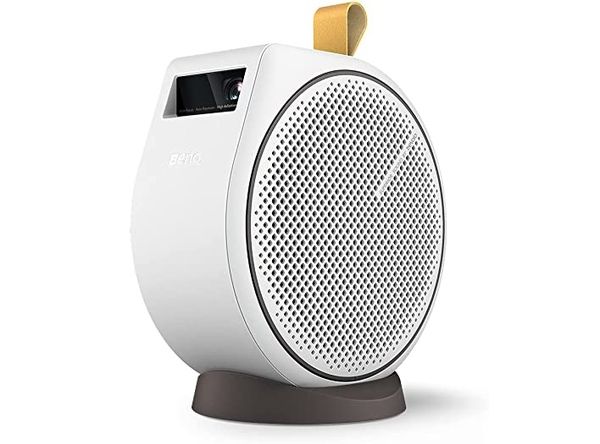 BenQ GV30 Portable Smart Projector - 10% OFF DISCOUNT - Amazon
as of December 5, 2023 8:40 pm
Source: benq