You know, I have tested many smartphones on our channel Tech Brothers, and I know that even mid-range and some flagship phones do not have a video stabilization. This is just as important as a video resolution.
If you want to shoot the smoothest video on your smartphone, then you should buy a gimbal.
One of the latest and most interesting phone gimbals in 2022 is Zhiyun Smooth Q4.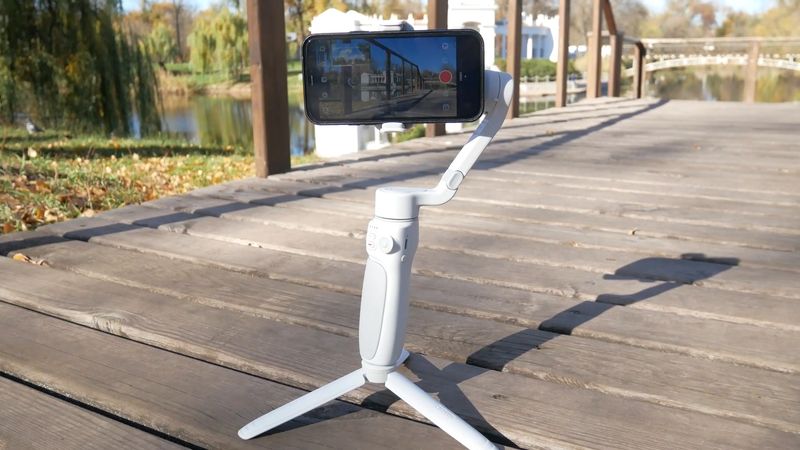 Unlike the other 3-axis gimbals, it has some new features, such as a built-in extendable rod, so you can use a gimbal as a selfie stick, or even shoot a drone-like footage.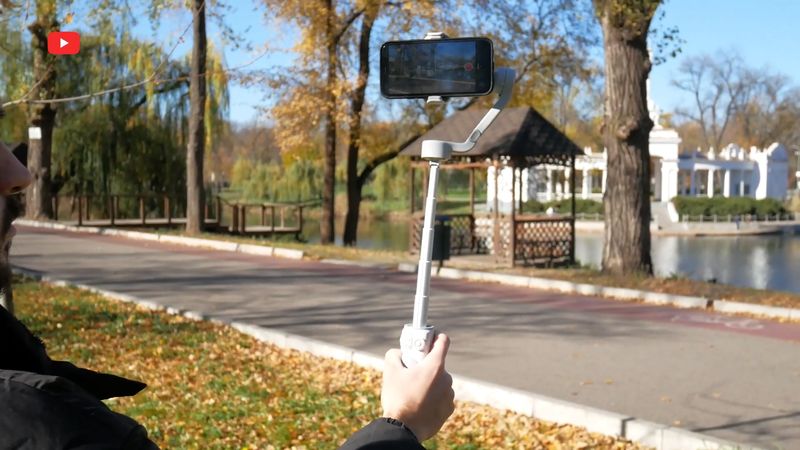 There is also a magnetic fill light with four color filters to shoot the video in low light conditions.
OK, let's talk about design, connection, app functions, gimbal and shooting modes of the new Zhiyun Smooth Q4.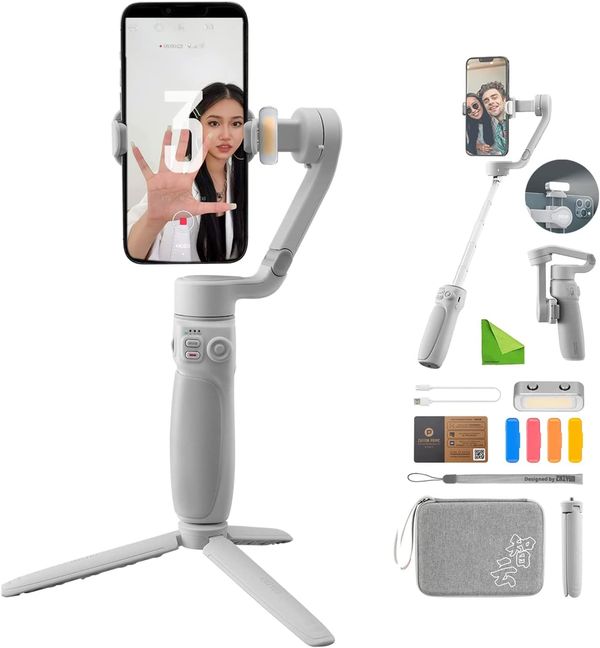 Zhiyun Smooth Q4 Gimbal Stabilizer Combo - Amazon
as of November 14, 2022 10:10 am
Unboxing
On the box of the gimbal stabilizer, we can see the model name of Smooth Q4 and Combo inscription.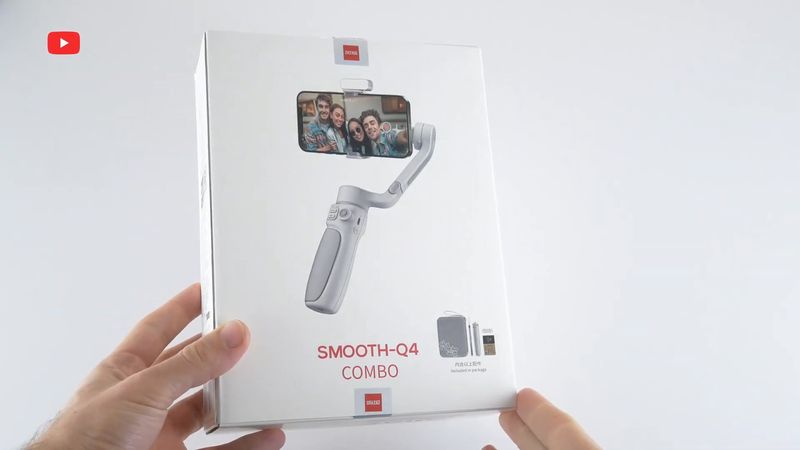 You can also buy a standard package without carrying case, strap and magnetic fill light, but I think it is worth paying $20 more for these accessories.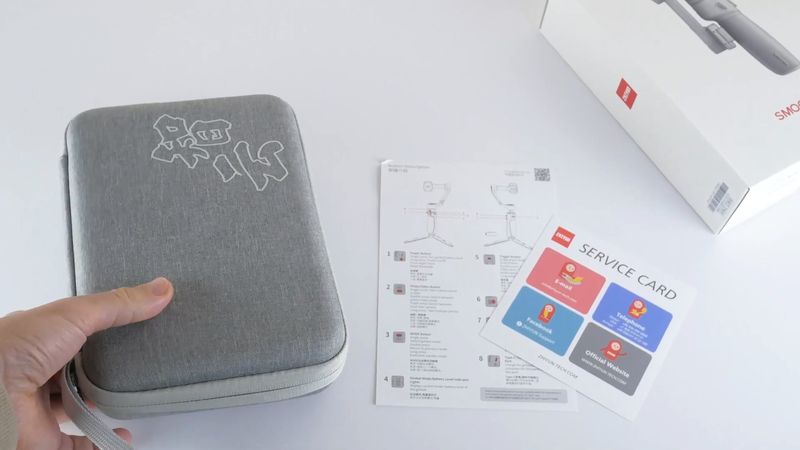 Inside the box, there is a strong carrying case, service card and quick start guide.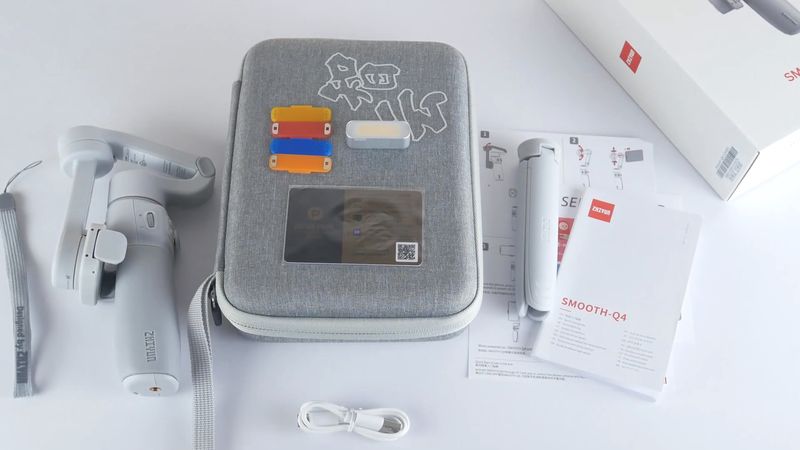 In the case, we have the phone gimbal and tripod.
The side pocket contains a wrist strap, fill light and four filters for it, charging cable, and an envelope with VIP member card and user manual.
Design
Talking about design of this smartphone gimbal, first, it is available only in this grey color.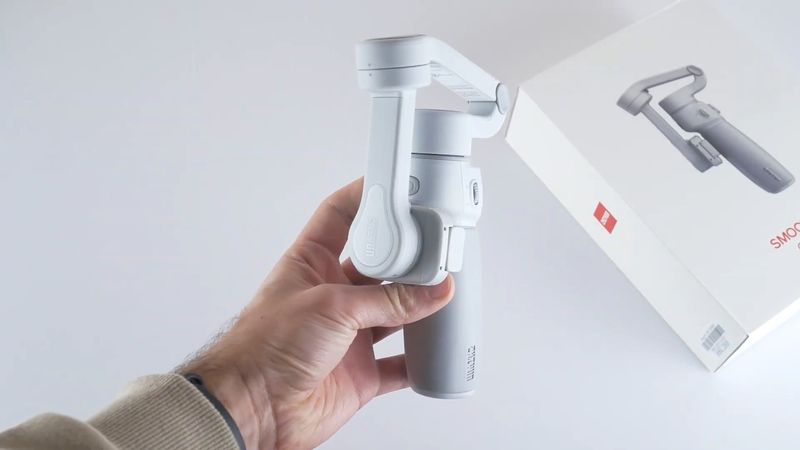 You know, there is Zhiyun logo on the handle, on the smartphone mount, and on the back side of it. So, you will not forget the manufacturer of this device.
By the way, the handle has a soft silicone coating that prevents the gimbal stabilizer from slipping in your hand. Overall, the gimbal is very comfortable to hold in one hand.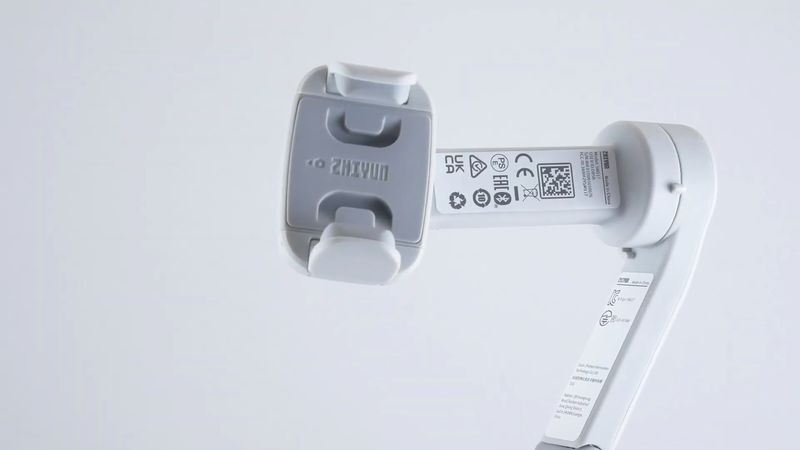 As you have already noticed, the smartphone stabilizer has a folding design. However, I cannot say that this is the most compact phone gimbal that I have ever tested.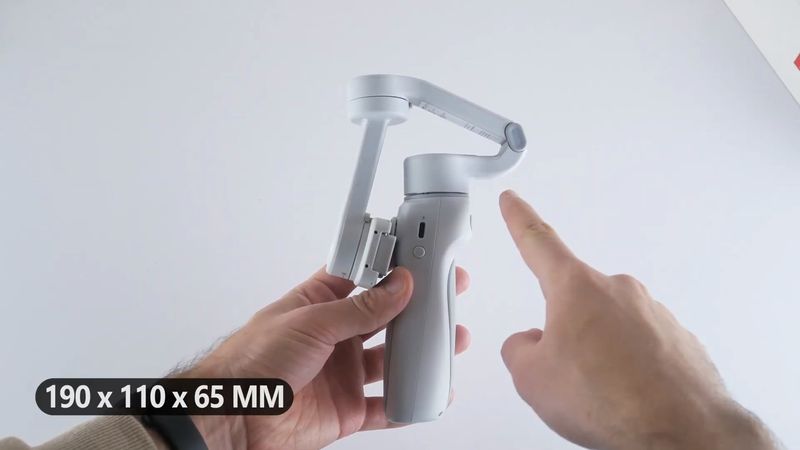 Its dimensions are 190 by 110 by 65 mm. The weight is 373 grams.
Yes, you can put the phone gimbal in a jacket pocket, but I think it is better to store and carry in a special case.
Installation
Zhiyun Smooth Q4 is a 3-axis gimbal stabilizer, and before using it, you need to unlock tilt axis, pan axis and the phone clamp.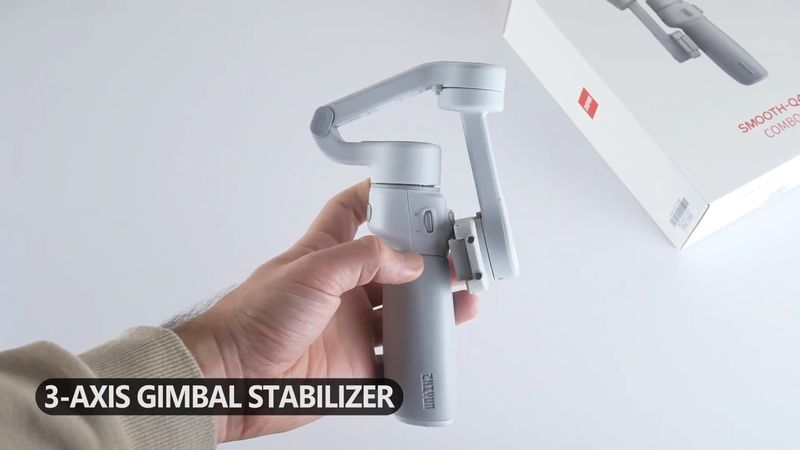 Now, you can install a smartphone in the clamp. Make sure that you can read the company name, and the camera of smartphone is on the left.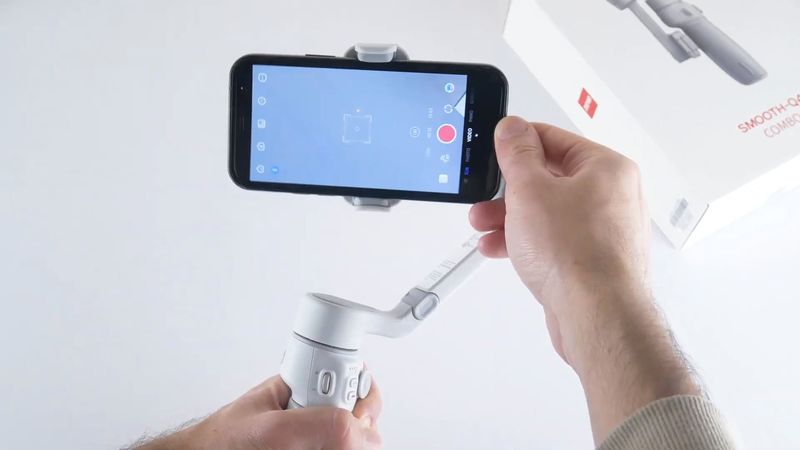 By the way, you need to find a balance for your smartphone before turning on the stabilizer. Adjust the position of the mobile device left and right until the phone is steady.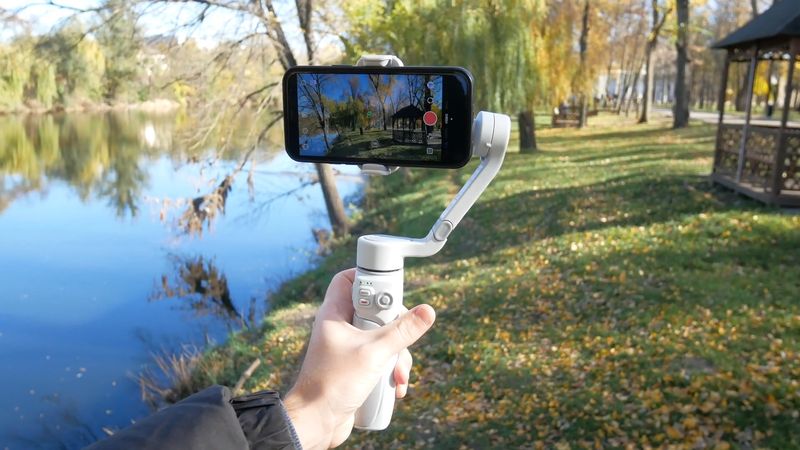 Now, you can press the power button to turn on the gimbal.
Control
You know, there are some control buttons on the smartphone stabilizer, so let's talk about them.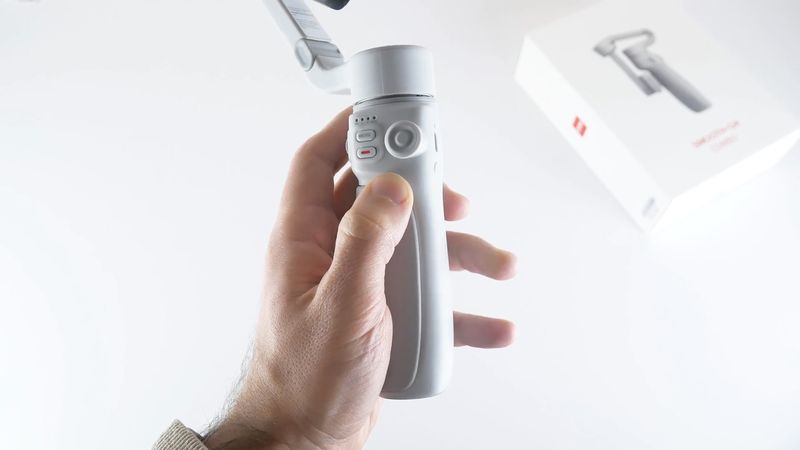 First, there is a power button on the right side. You can long press it to power on/off the device, but also you can single press it to check the battery level.
If you press a power button eight times, then the Bluetooth connection will be reset.
Then, there is a joystick to rotate the gimbal.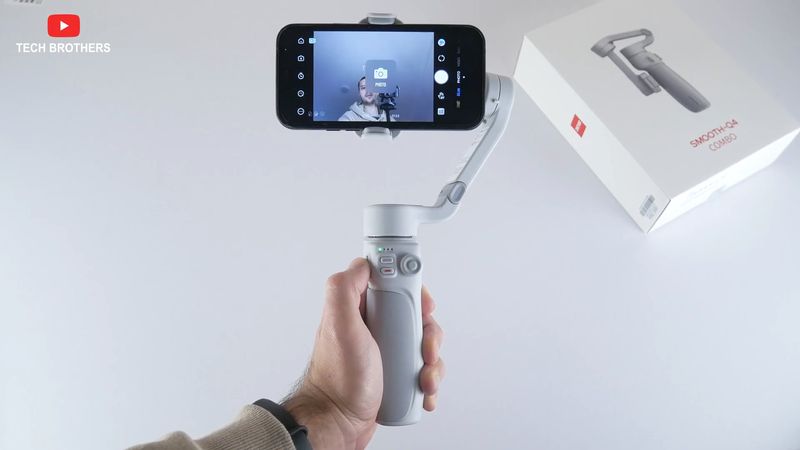 We can also see four gimbal mode indicator lights. You can change the gimbal mode by pressing on the Mode button. The double press on this button returns to the previous mode.
There is also a photo/video button on the new phone gimbal.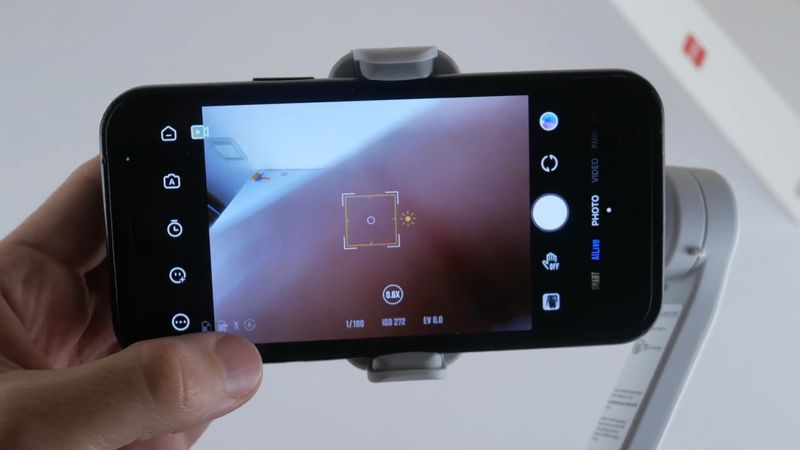 A single press on it allows you to take a photo or shoot a video.
A double press switches between a photo and a video mode.
You can also triple press on it to switch the front and rear camera.
Finally, a long press on this button takes multiple photos.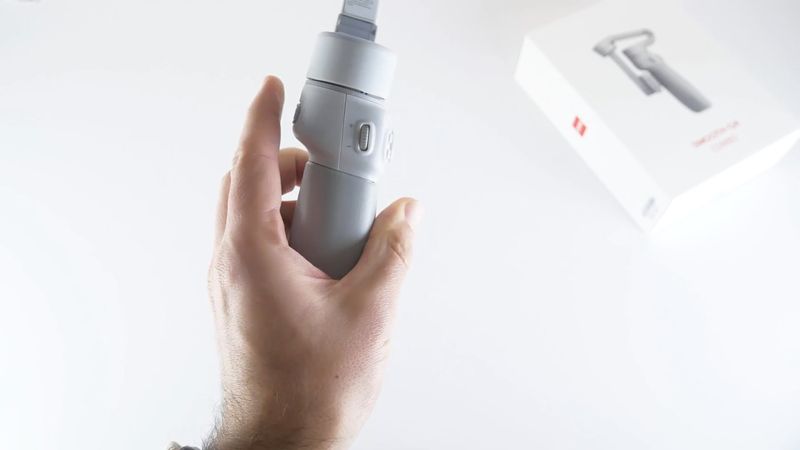 On the left side of the handle, there is a control wheel. You can slide it up and down to zoom in and out.
When a magnetic fill light is installed, you can single press on the control wheel and slide it up and down to change the light brightness. A long press on the control wheel turns on/off the fill light.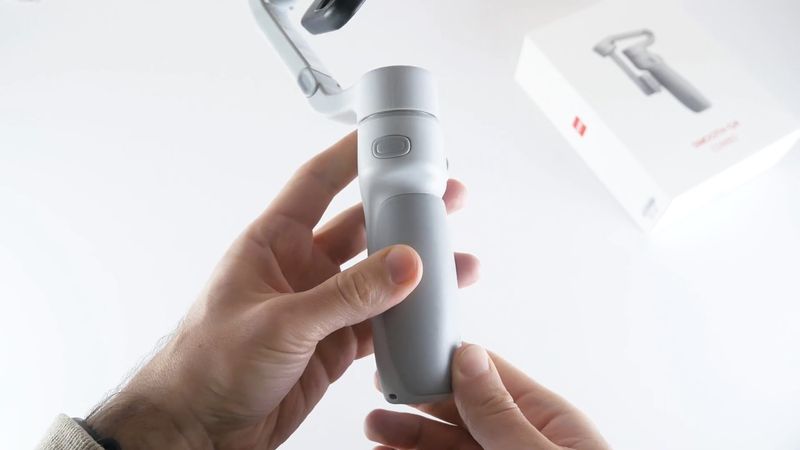 Finally, there is a trigger button on the back of the handle. You can single press it to enable or disable a Smart Follow mode.
A double press on the trigger button makes a gimbal reposition.
If you want to switch between landscape and portrait mode, then triple press the trigger button.
Finally, the long press on this button allows you to enter Go mode.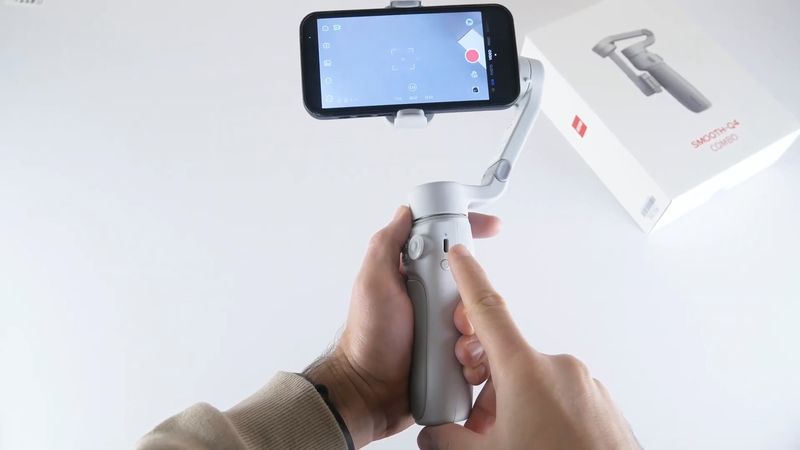 By the way, I forgot to tell you that Zhiyun Smooth Q4 gimbal has USB Type-C charging port next to the power button.
You should also note that some of the functions I talked above are only available through the companion app called ZY Cami, but not the stock camera app on your smartphone.
Connection
Let's install a companion app, connect a phone gimbal and look at the app functions and settings.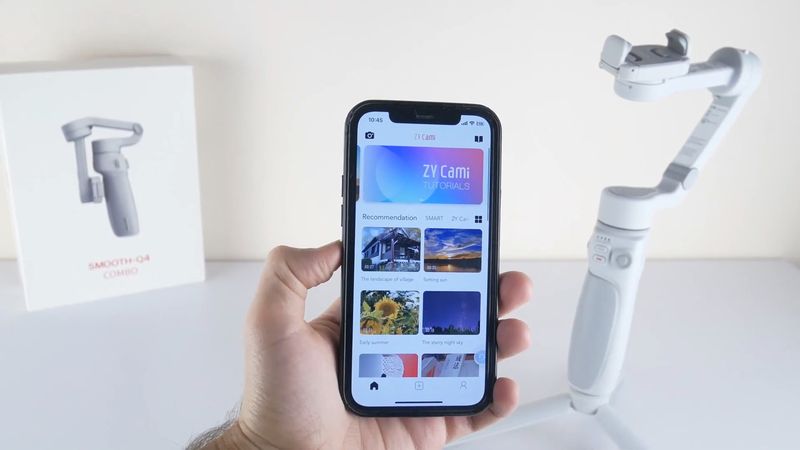 So, the app is called ZY Cami, and it is available on Android and iOS devices.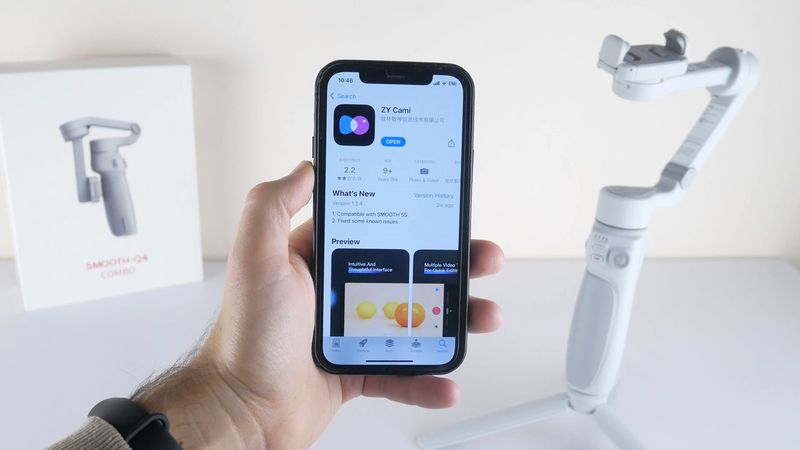 The connection of the gimbal stabilizer to the app is very simple. You just need to click on the camera icon the left top corner, and the phone gimbal will be connected automatically.
App Settings
On the right side of the screen, we can see the shooting modes, such as photo, video, panorama, slow motion, dolly zoom, time lapse, and hyper lapse.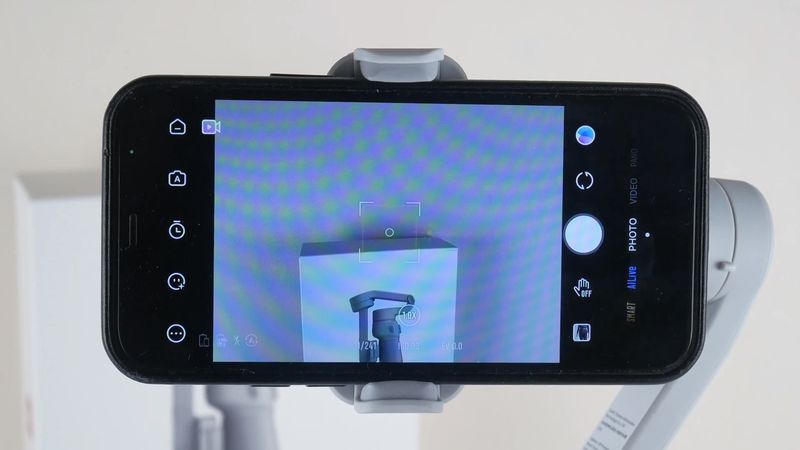 Then, you can use the smart templates for your videos. If you are a beginner cameraman and don't know how to edit the videos, these templates may be very helpful.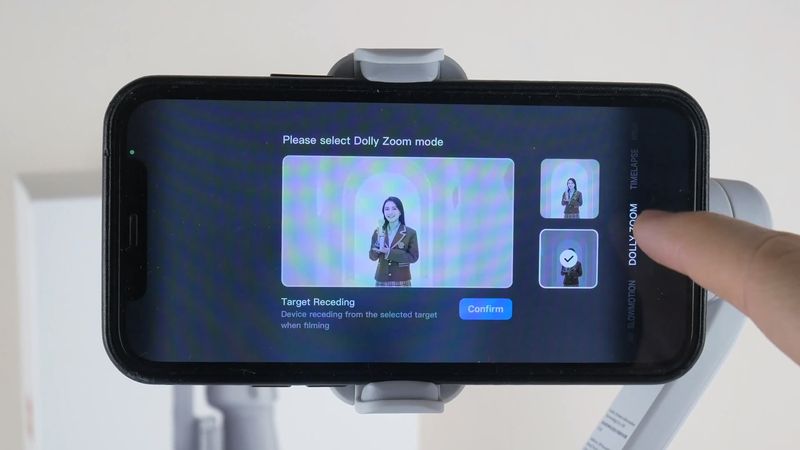 The next icon is to switch between front and rear cameras.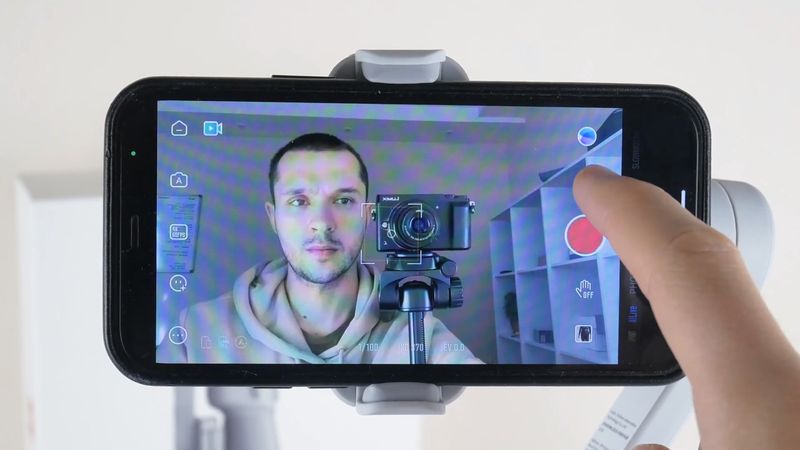 There is also a shutter button, gesture control button, and gallery icon on the right.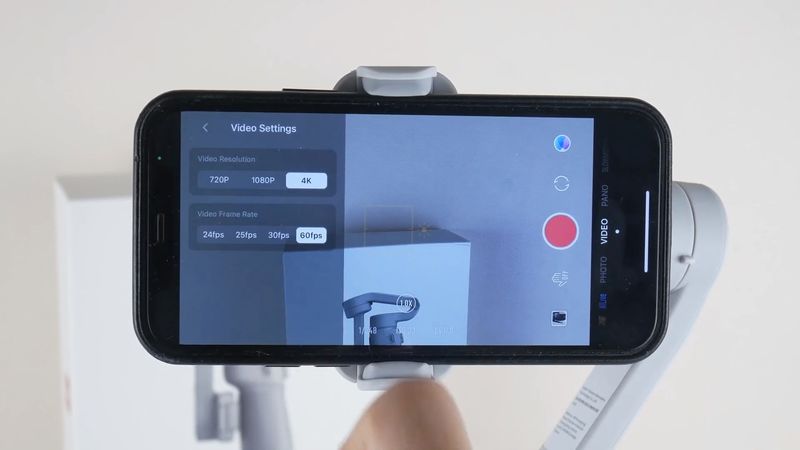 On the left side, you can return to the home page, switch between automatic and manual mode, change video settings, use glamour effects, and go to the settings menu.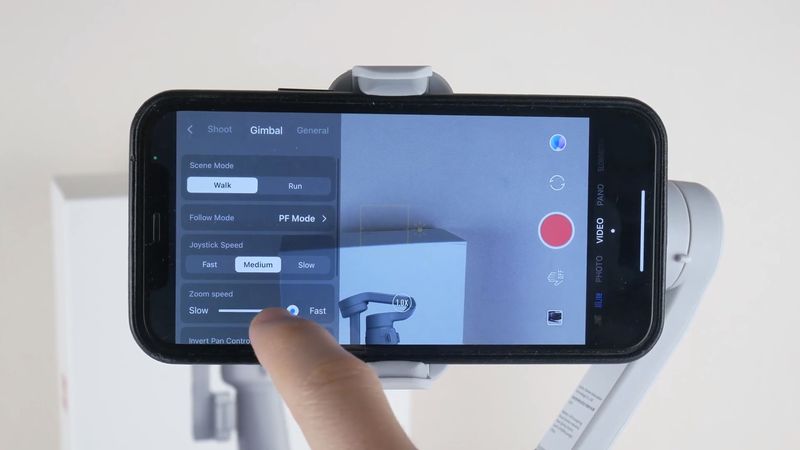 In a gimbal settings menu, you can select walk or run mode, change follow mode, joystick speed, zoom speed, invert pan control, invert tilt control, and gimbal auto calibration.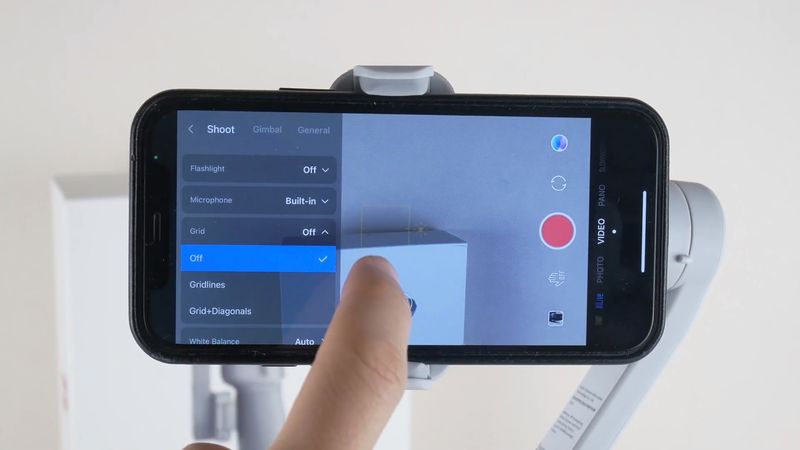 In a shoot menu, you can turn on/off flashlight, select a built-in, external or Bluetooth microphone, enable grid, change white balance, gesture control, smart shooting and HDR shooting.
Gimbal Modes
You know, Zhiyun Smooth Q4 has five gimbal modes, but only four of them are available through the control buttons. I will show you them.
So, you can use pan follow mode, locked mode, Follow Mode and POV Mode. There is also Phone GO Mode and Vortex Mode in the app.
Face Tracking/Object Tracking
Another useful feature of this gimbal stabilizer is a face tracking or object tracking.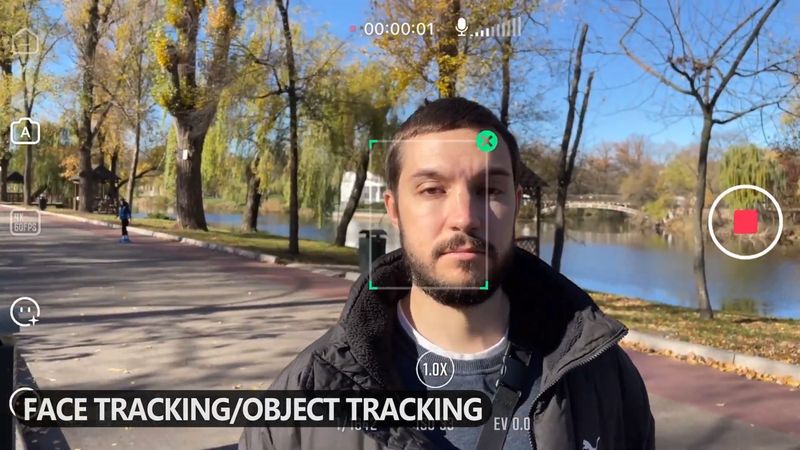 You just need to select an object in the green square, and the gimbal will follow it. You know, the tracking works very well at different distances from an object.
Video Test
Overall, I have shot a few videos with the new stabilizer, and they are really good. I am not talking about video quality, although it is good too, but the main thing is that the videos are smooth.
Battery
By the way, I forgot to tell you about the battery of this gimbal stabilizer. You know, I didn't find information about battery capacity, but the manufacturer promises from 10 to 15 hours of battery life.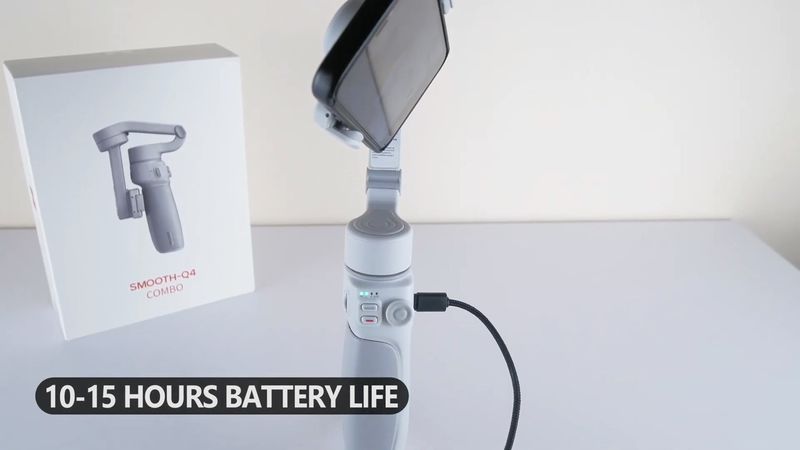 That's very good.
Conclusion
So, Zhiyun Smooth Q4 has some advantages over other smartphone gimbals on the market.
I will not talk about folding design, tripod, gimbal modes, smart shooting modes, gesture control, face tracking, smart templates in the app, because they are about the same on all phone gimbal stabilizers.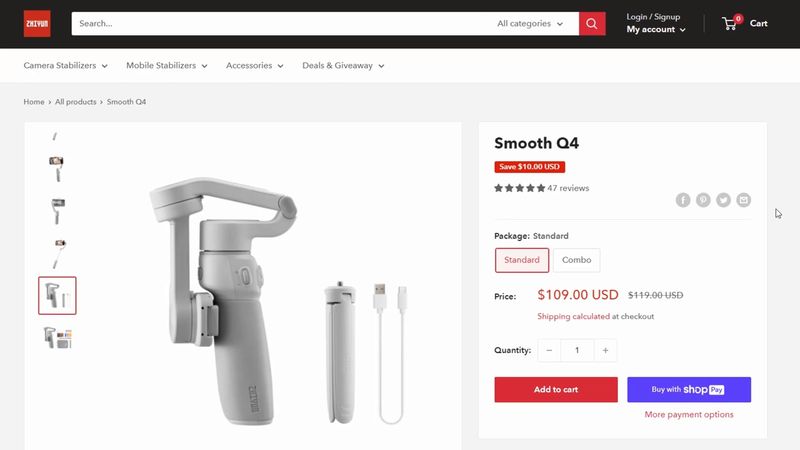 However, the new Zhiyun Smooth Q4 has an extendable arm and magnetic fill light. I haven't seen these features in other gimbals, and they make Smooth Q4 more attractive.
The price of this smartphone gimbal is also very nice. You can buy a standard package for $109, but I recommend you to get a combo package with fill light for $129.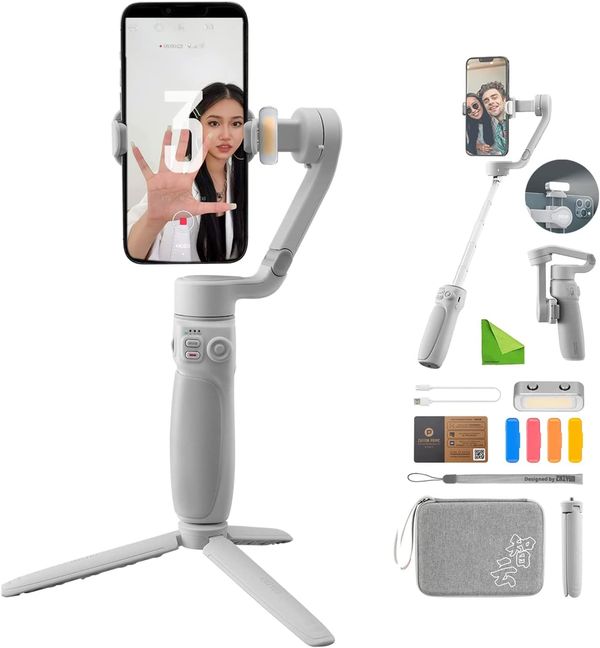 Zhiyun Smooth Q4 Gimbal Stabilizer Combo - Amazon
as of November 14, 2022 10:10 am