Today we are going to test the new projector called ZEEMR D1 Pro.
You may have already watched videos about this projector on YouTube, but I have an improved version with Android operating system, 1GB of RAM and 16GB of storage, Full HD native resolution, 380 ANSI brightness, and other features.
You know, the price of the upgraded model is only $20 more, but is it really better? Let's find out.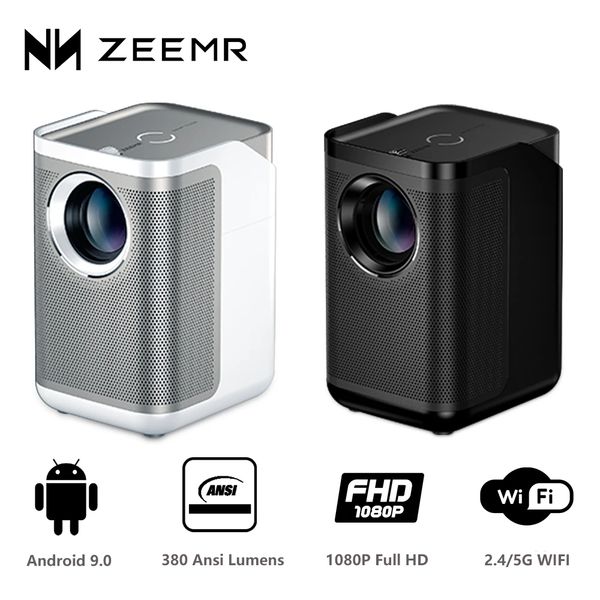 ZEEMR D1 Pro Android Projector - Aliexpress
as of March 6, 2023 11:21 am
Unboxing
The package contents are pretty standard for a budget projector, which includes a projector itself, HDMI cable, power cable and power adapter, remote control, and user manual.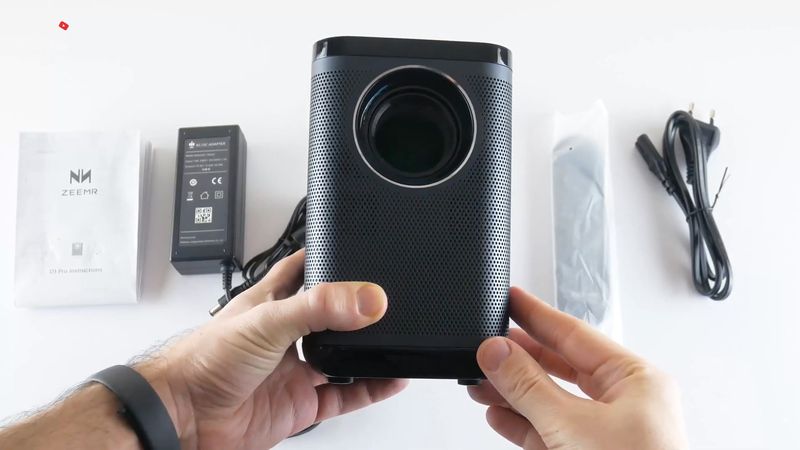 There is also a qualified certificate in the box, so you can see the production date of your sample.
Design
When it comes to design, ZEEMR D1 Pro looks very stylish. I have a black version, but it is also available in white. If you ask me, the projector looks better in black.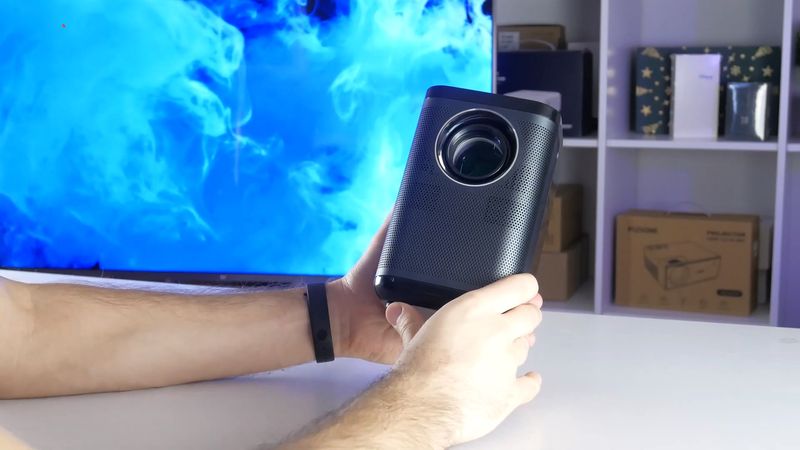 I like a combination of glossy side faces and matte top panel. It looks like the projector is made of two pieces. That's probably true, but you cannot disassemble it because the body has a closed design.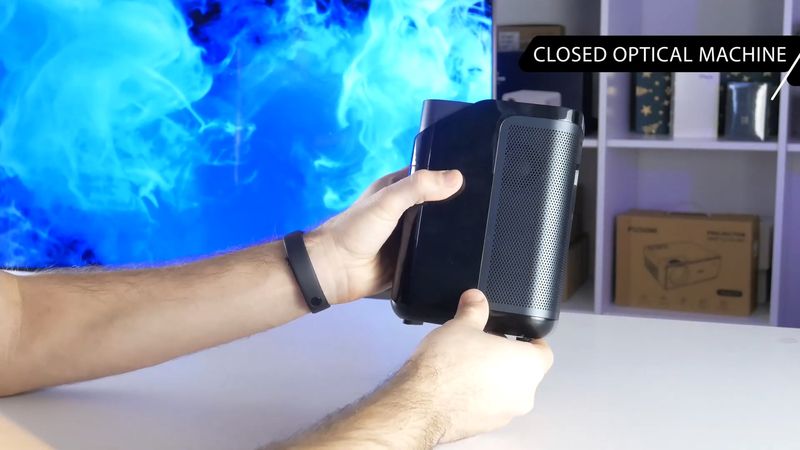 It is properly called a closed optical machine. The advantage of the closed optical machine over the open optical machine is that it is difficult for dust to get inside the body, so a service life of the projector will be longer.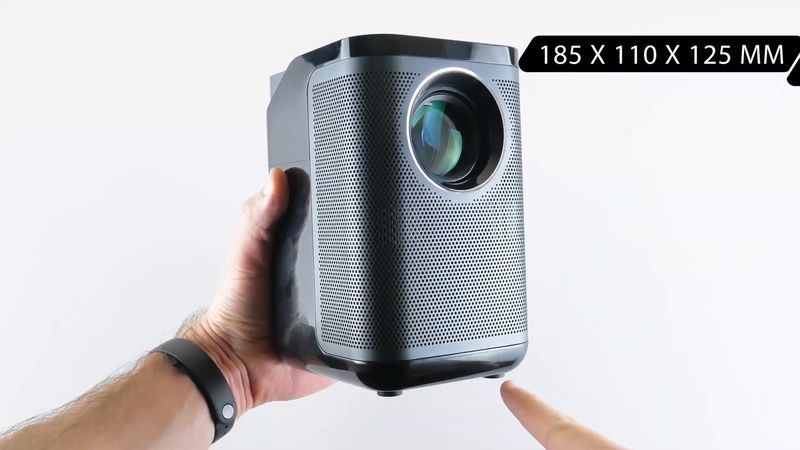 ZEEMR D1 Pro is a compact projector, but it is not portable, because it doesn't have a built-in battery. The dimensions are 185 x 110 x 125 mm. You know, the projector is quite heavy – 1210 grams.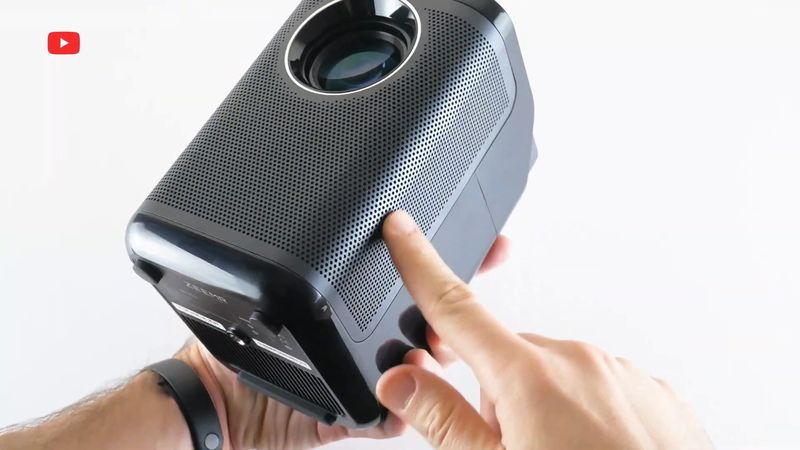 I think the reason for this is quality materials. The front and sides are covered with 98% of aviation-grade aluminum magnesium metal. The honeycomb mesh structure is used for effective cooling. We will check this later.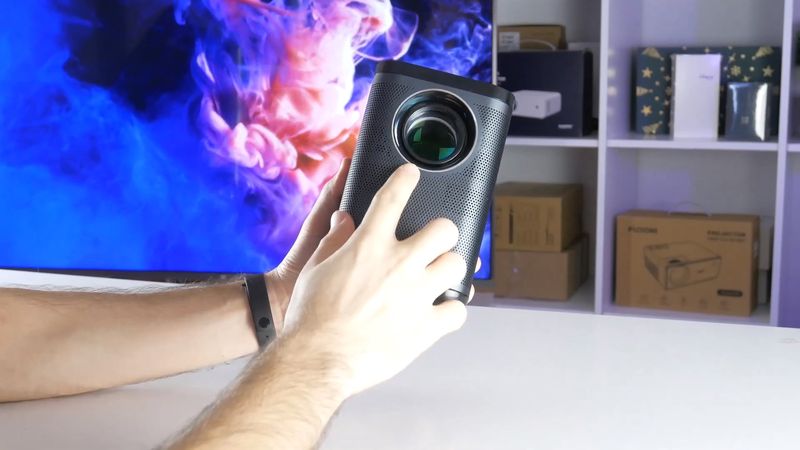 There is a lens on the front of the projector.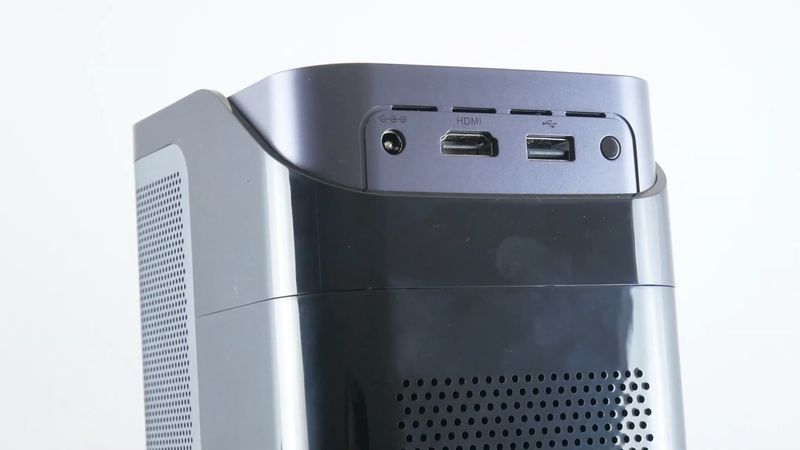 On the back, we can see DC power port, HDMI port, USB port and infrared receiver.
The speaker grilles are on the left and right sides. A little later, we will check a sound quality of the built-in speaker.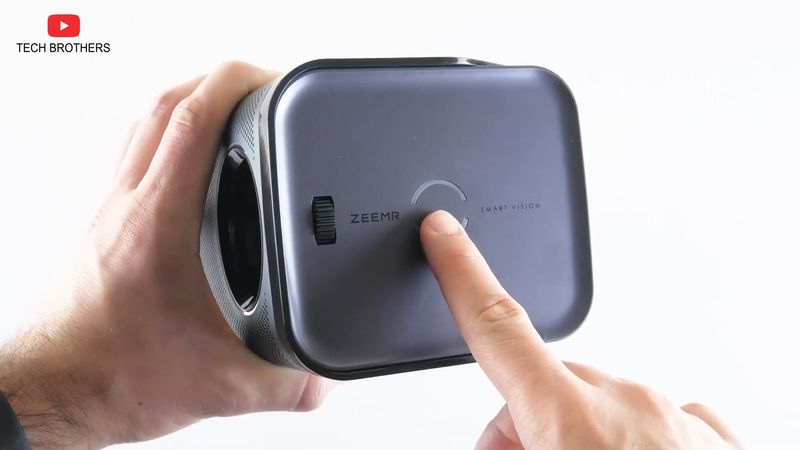 On the top panel, you will find a manual focus wheel, and a touch power on/off button.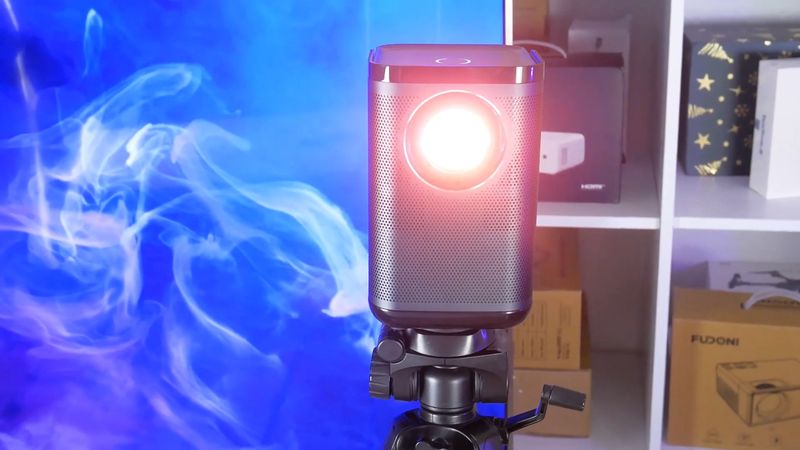 By the way, you can install a projector on the tripod, because there is a ¼ inch screw hole at the bottom. There are also rubberized feet to prevent the projector from sliding on the table.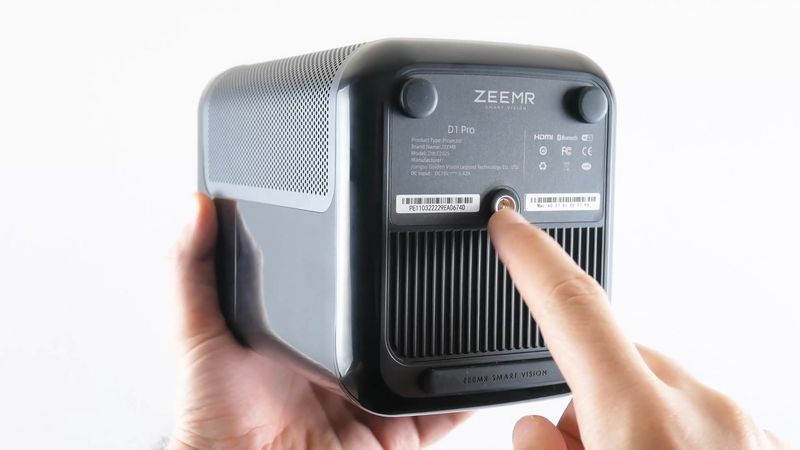 So, ZEEMR D1 Pro looks very good for its price, but I really want to turn it on and look at the user interface, because this is an upgraded version of projector with Android operating system.
Android OS
So, we can go to the settings and see that projector runs on Android 9 OS. By the way, ZEEMR D1 Pro also has 1GB of RAM and 16GB of storage.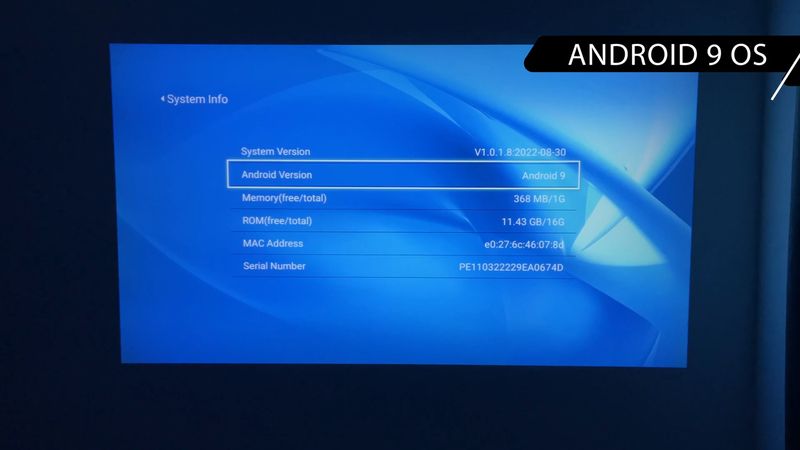 In the File Manager, there is an external device and internal storage. We can find different folders on the internal memory, such as alarms, Android, Download, Movies, etc., but most of them are empty.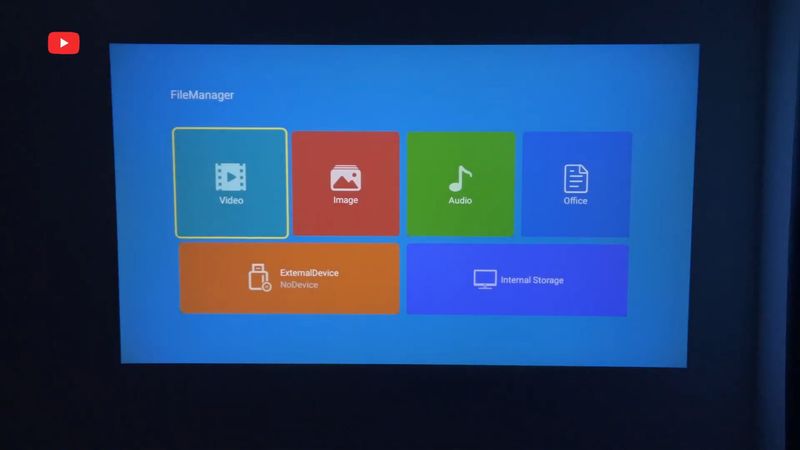 Let's take a look at the main screen of the projector, and then we will go back to the settings.
As you can see, this is not stock Android TV, but there are many pre-installed apps.
First, you can go to the Search menu and look for the app.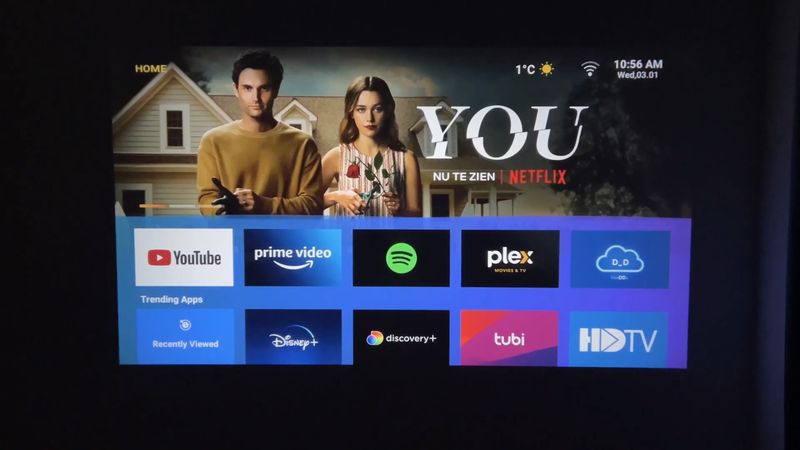 On the Home page, there are previews from Netflix and other streaming services, as well as quick access to the latest apps.
You can also go to the Apps menu, Video, Music and Settings.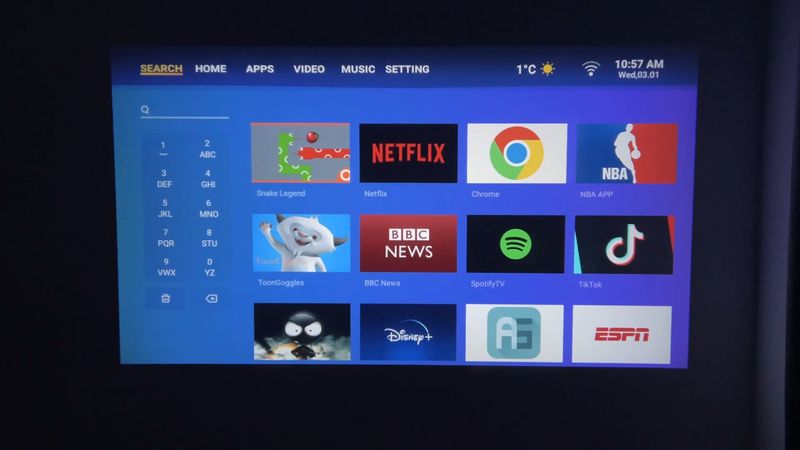 ZEEMR D1 Pro has some pre-installed apps, such as App Store, FileManager, Netflix, OfficeSuite, Prime Video, YouTube, and others.
It seems Netflix and Prime Video are working fine.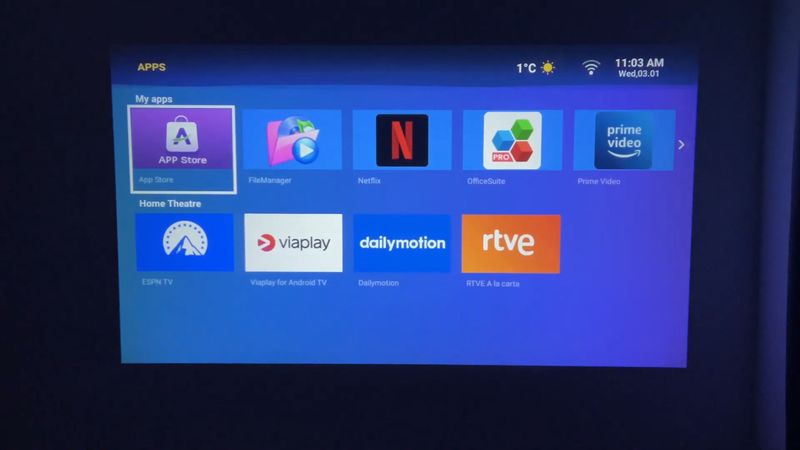 If you cannot find the app you want, open the App Store and look for it there. And even if it is not there, you can always install the APK file via USB Flash Drive.
In the Settings menu, we can go to the Settings themselves, as well as choose a source, USB and other options.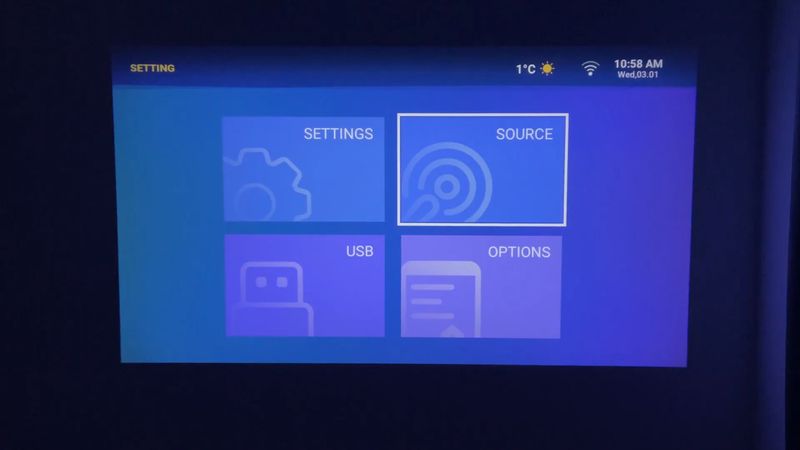 So, on the new ZEEMR projector we have Wi-Fi settings, Bluetooth settings, Projection settings, Language, Date, Application, System Update, and other Settings.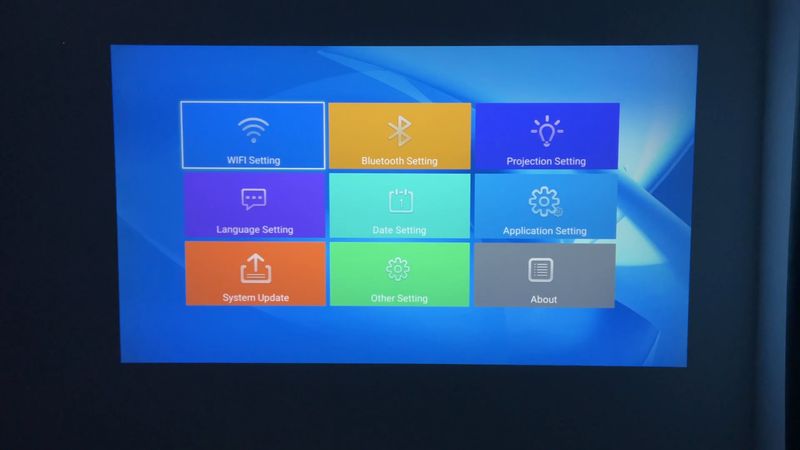 You know, the interface is very fast and smooth. I am really surprised by it from a budget projector. I would recommend buying the Android version of ZEEMR D1 Pro because you don't need to connect an external TV box or other devices.
Wi-Fi and Screen Mirroring
Now, I want to check the screen mirroring on this projector.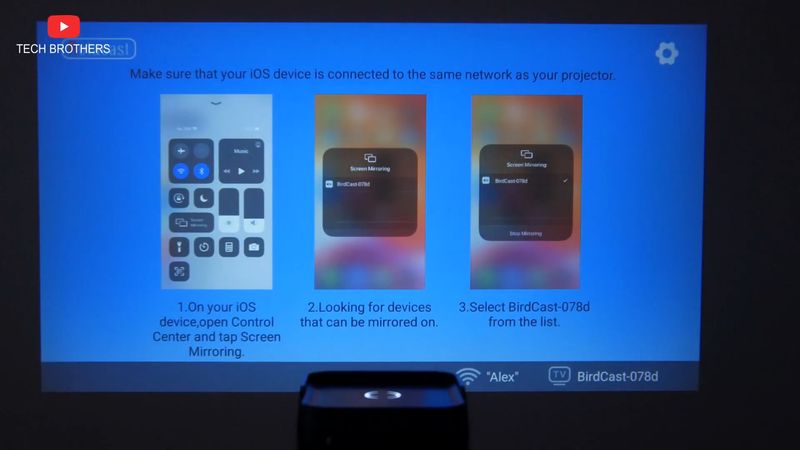 You can use the iOSCast for connection to the iOS device via Wi-Fi, and MiraCast for Android devices.
First, make sure the projector is connected to your home Wi-Fi network.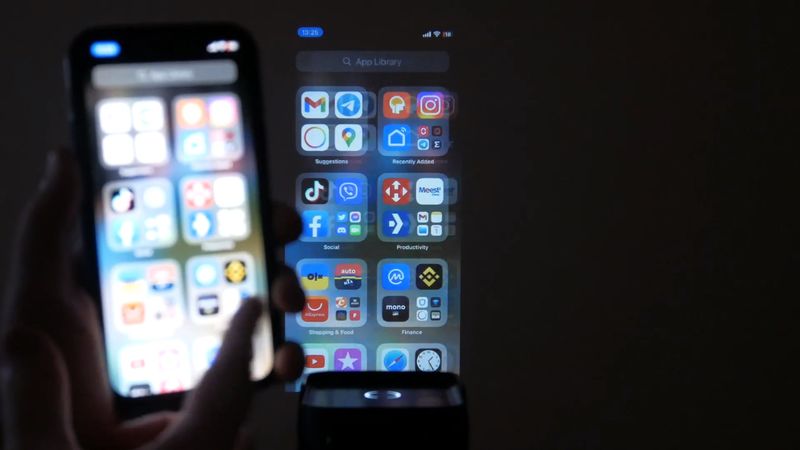 Now, open iOSCast or Miracast on the projector, and go to the screen mirroring on your smartphone. Select a projector, and you are done!
Bluetooth
Another feature of ZEEMR D1 Pro is a Bluetooth mode.
You can use a projector as a Bluetooth speaker for your smartphone.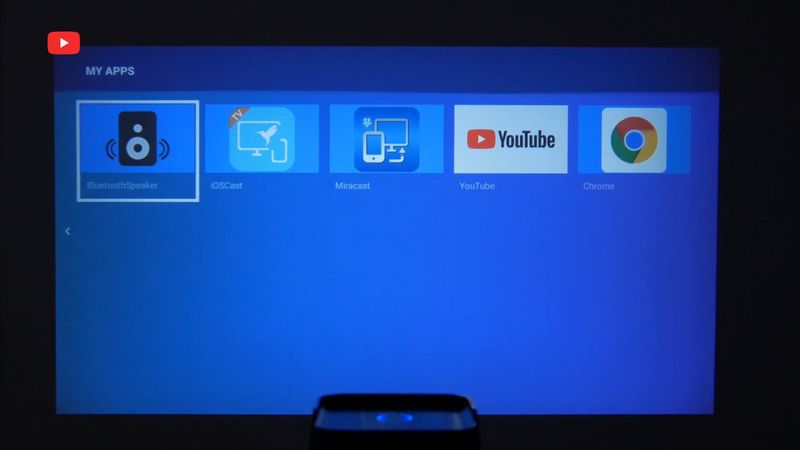 For that, open the app called BluetoothSpeaker, and then select a projector in the Bluetooth settings of your smartphone.
Sound Quality
By the way, ZEEMR D1 Pro has very good dual 3W speakers.
I think it has the best sound quality among projectors under $200. Take a listen to this.
Noise Level
I already told you about the honeycomb mesh structure for the effective cooling, but we also need to check the noise level.
In addition to the quality speaker, ZEEMR D1 Pro is one of the quietest projectors.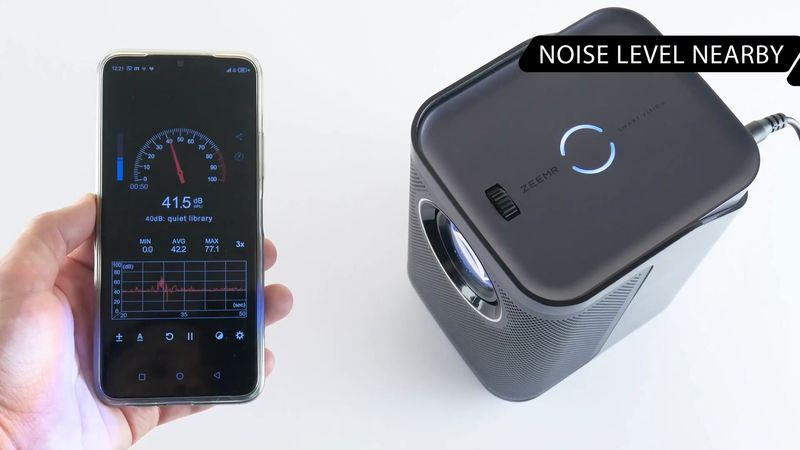 It is only 42 db near the projector, and about 33 db at a distance of 1 meter.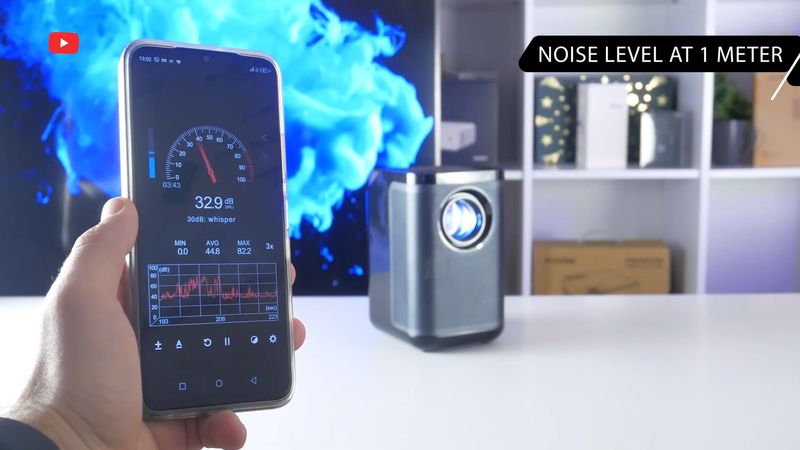 The projector is almost noise-free.
Projector Quality
Now we can talk about the projection quality.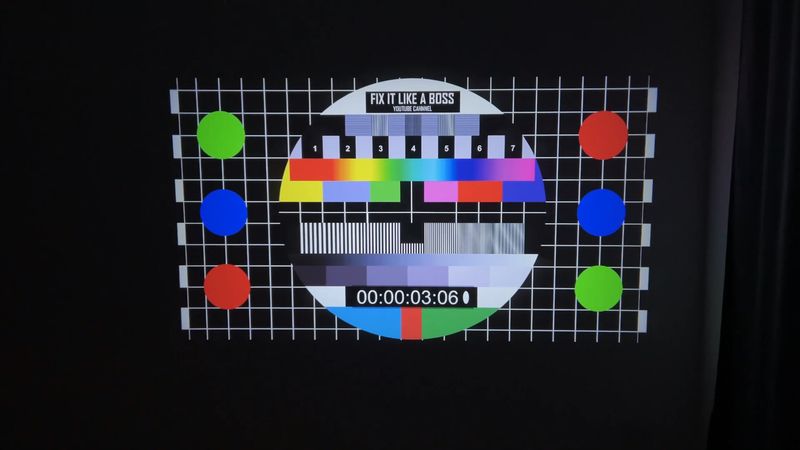 ZEEMR D1 Pro has a Full HD native resolution. The image is very clear. You can see on these pictures that the lines are clear all over the screen.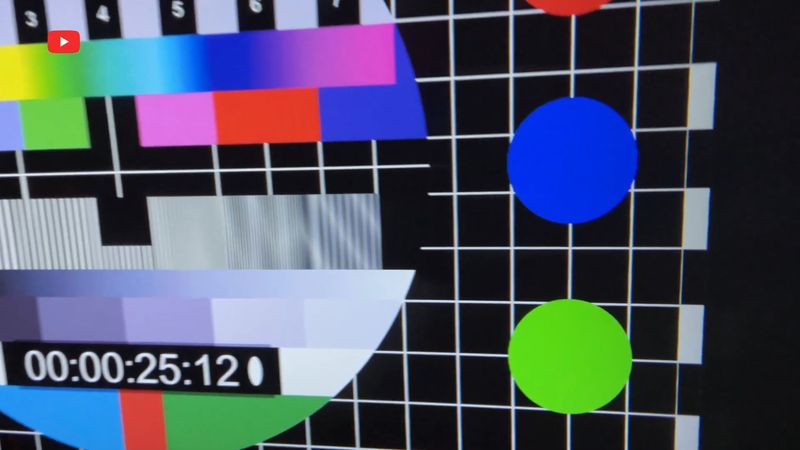 Unlike other budget projectors, ZEEMR D1 Pro doesn't blur corners.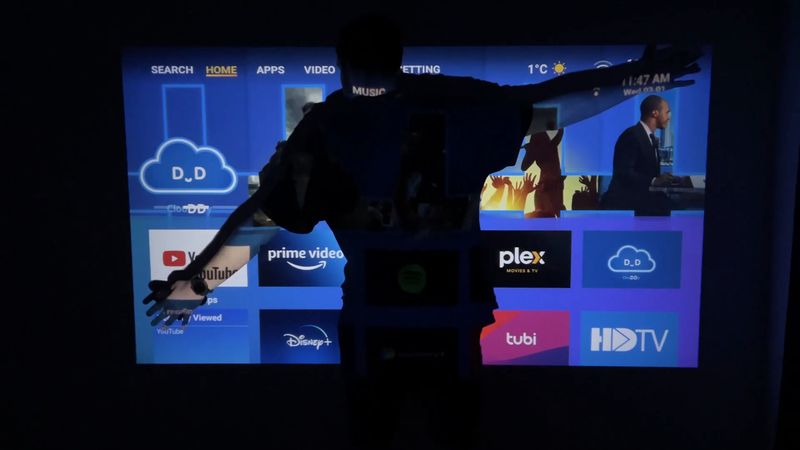 I placed the projector 2 meters away from the wall and my screen size is about 80 inches.
I don't know the contrast ratio, but the colors are very good.
You know, the seller on Aliexpress says that my version of projector has 380ANSI brightness, while the official store reports about 260ANSI. Unfortunately, I cannot measure the brightness, because I don't have a lux meter.
However, the brightness is enough for watching movies in the dark room.
If we talk about the light room, you can still see the projection, but not as well as with the light off.
Conclusion
In my opinion, the Android operating system makes this projector much better.
Yes, it is not stock Android TV, and the projector has only 1GB of RAM, but the interface is still fast and smooth. I like the ability to install additional applications through the App Store or even a USB flash drive.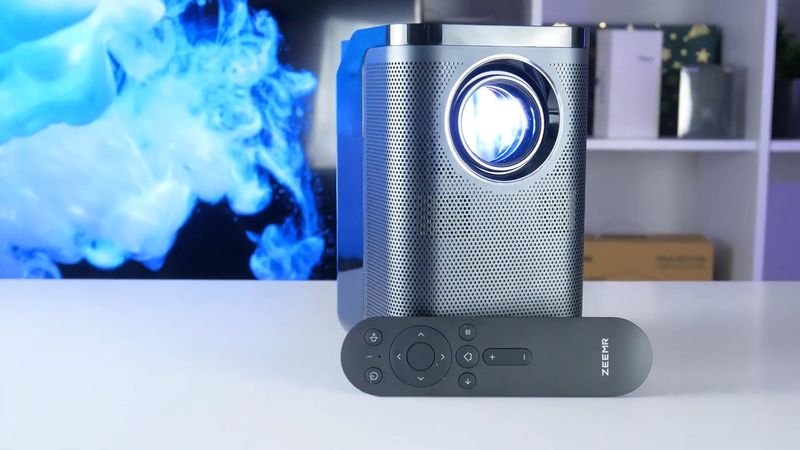 ZEEMR D1 Pro also has very good built-in speakers, so you don't need to connect external ones. You can even use a projector as a Bluetooth speaker for your smartphone.
Unlike other budget projectors, ZEEMR D1 Pro has a clear image without blurred edges and corners. The projection quality is really good.
You know, I have tested many projectors on our channel Tech Brothers, and most of them are budget under $200. However, I will remember ZEEMR D1 Pro for a long time. It has a good combination of image quality, speaker, noise level, smart functions, and price.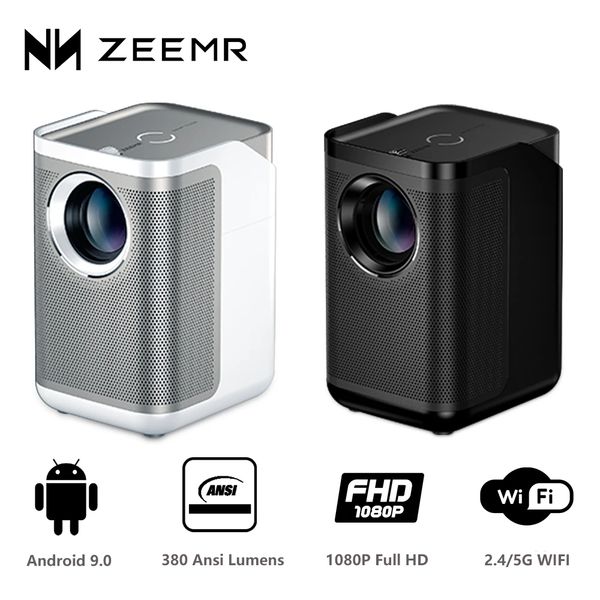 ZEEMR D1 Pro Android Projector - Aliexpress
as of March 6, 2023 11:21 am