Today we have review of another smartwatch from Zeblaze company. We already reviewed Zeblaze Thor Pro, and you can watch video about this smartwatch at the end of this article. This time we want to talk about Zeblaze THOR 4 Plus.
It is a bit more expensive, but provides bigger battery, better chipset, higher screen resolution, newer Android 7.1 operating system, and most importantly – 4G LTE support.
As you can see, Zeblaze THOR 4 Plus looks much better than Zeblaze THOR Pro, but let's make a final conclusion after the review.
[wpsm_offerbox button_link="https://goo.gl/4MYUBh" button_text="BUY IT NOW" price="$119.99″ price_old="$277.53″ title="Zeblaze THOR 4 Plus 4G LTE Smart Watch Phone" description="Android 7.1.1 – Quad Core – 16GB+1GB – 5MP Camera – 580mAh – 1.4-Inch AMOLED Display – GPS – Nano SIM – WIFI – Heart Rate Sports Smartwatch" thumb="http://www.tbprice.com/wp-content/uploads/2018/12/11.jpg" logo_thumb="http://www.tbprice.com/wp-content/uploads/2018/12/cdf4c34d2a2656aa17afcd6579c65148.png" ]
Unboxing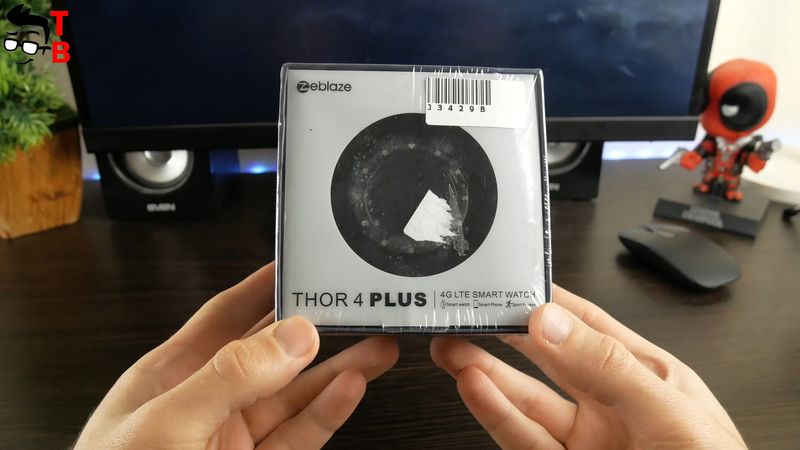 The smartwatch comes in a simple box with transparent front cover, so you can see the gadget inside. From other side you can read main specifications.
The package content is quite standard for any modern smartwatch. Except the smartwatch itself, there is user manual in English, magnetic charging cable, and screwdriver to open the SIM slot.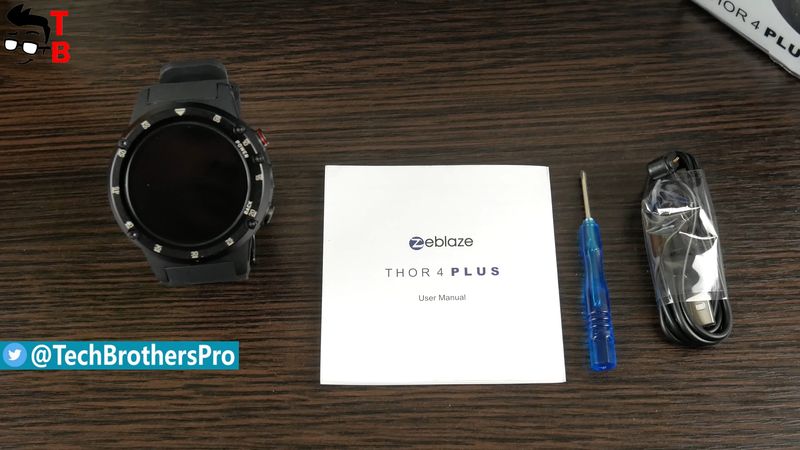 The package is very tight and durable. Your smartwatch will not be damaged during transportation.
Design
As you remember, Zeblaze Thor Pro had 1.53-inch display. Zeblaze THOR 4 Plus is equipped with a little smaller screen – 1.4 inches, but higher resolution 400 by 400 pixels. I think it is even better, because the smartwatch doesn't look bulky on the wrist.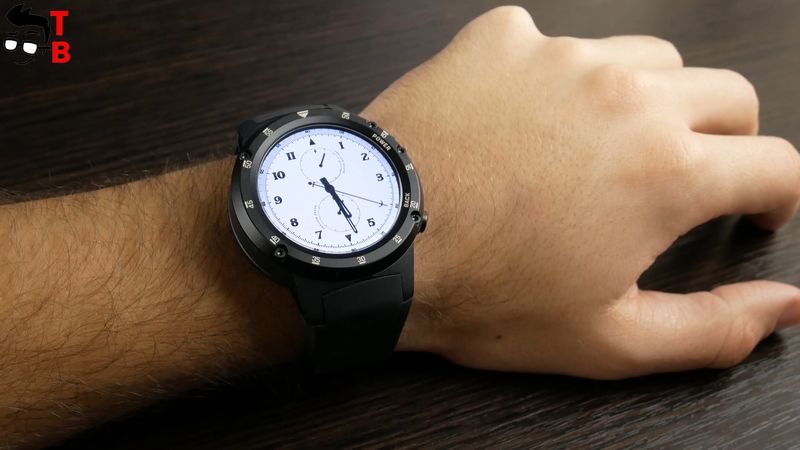 This is AMOLED panel with good brightness. It is comfortable to use even in direct sunlight. Also, the display is covered by Corning Gorilla Glass 4.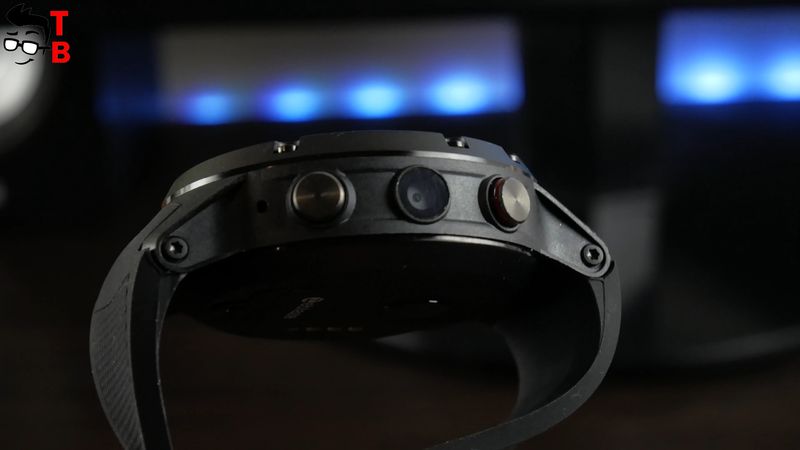 You can notice screws around the screen. To be honest, I do not know why you need them. Perhaps you can make out the watch, but I do not recommend it.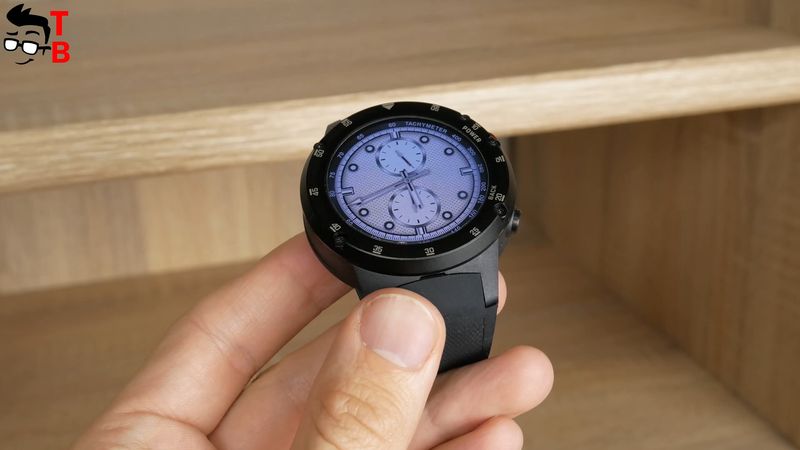 The dial is made of zinc alloy, while the strap is silicone. The dial diameter is 4.85 cm, and the thickness is 1.59 cm. The smartwatch weights 66 grams.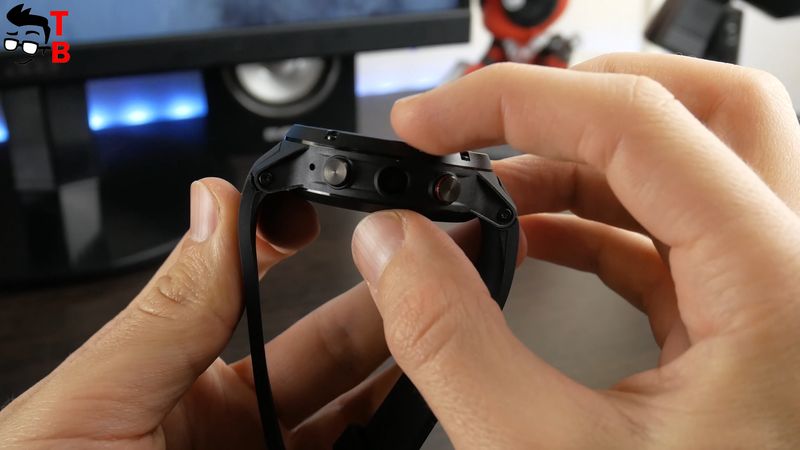 On right side of the watch, you can find two physical buttons: Power and Back. Also, you can see camera lens, and microphone.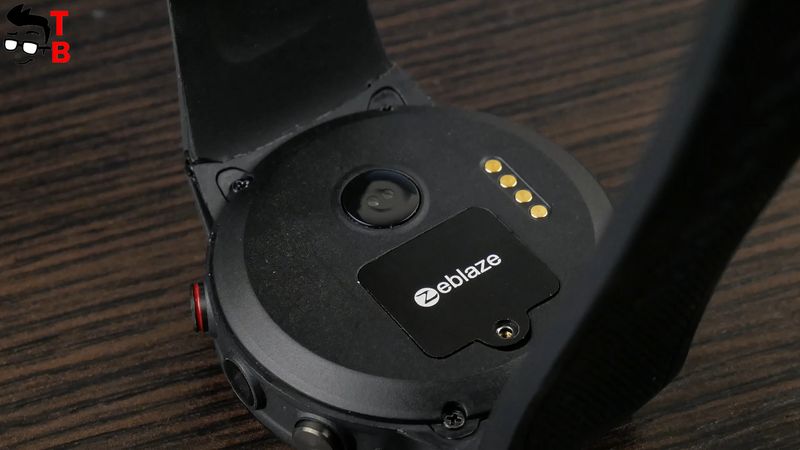 On the back is magnetic charging connector, hear rate monitor and slot for SIM card. As I already said, you need a screwdriver to open the SIM slot.
The last thing I want to note about design of Zeblaze Thor 4 Plus is that it is not waterproof. There is no any IP standard, so you shouldn't swim or even wet the smartwatch. Avoid any contact with water.
Specifications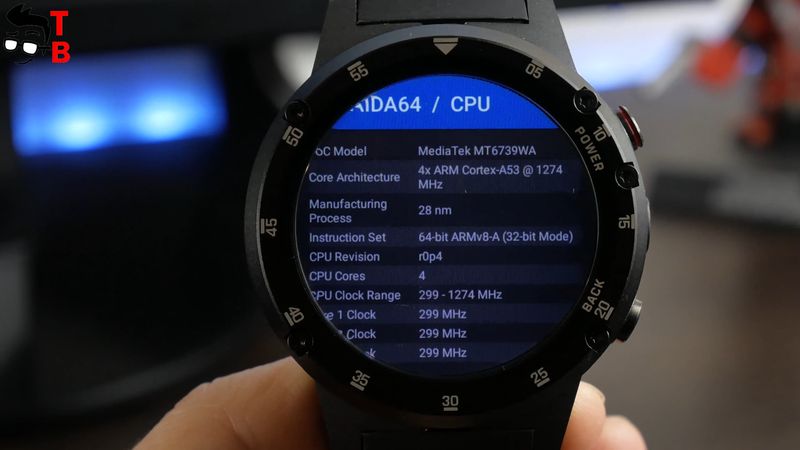 Talking about specifications, I should start with processor. Zeblaze Thor 4 Plus is powered by quad core MTK6739 chipset with clock speed of 1.25GHz. There is 1GB of RAM and 16GB of internal memory. Among the wireless connections are dual-band WiFi, Bluetooth 4.0, GPS, Glonass and 2G, 3G and even 4G LTE support.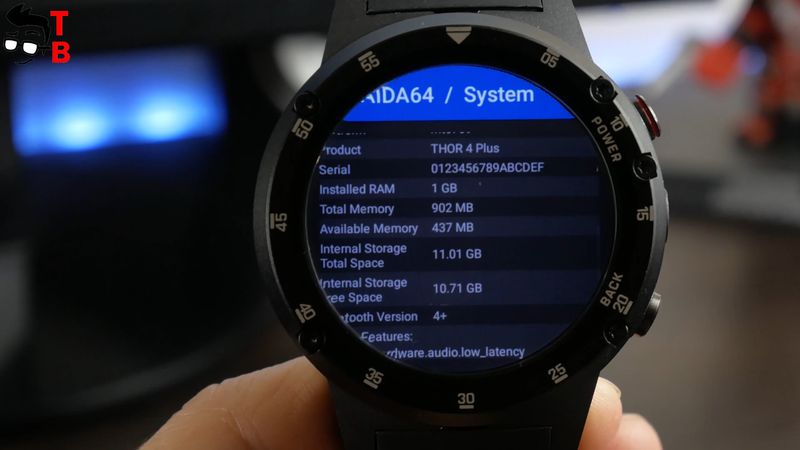 The smartwatch has 580mAh built-in battery. Just like the smartphone, it provides a single day of battery life with moderate usage.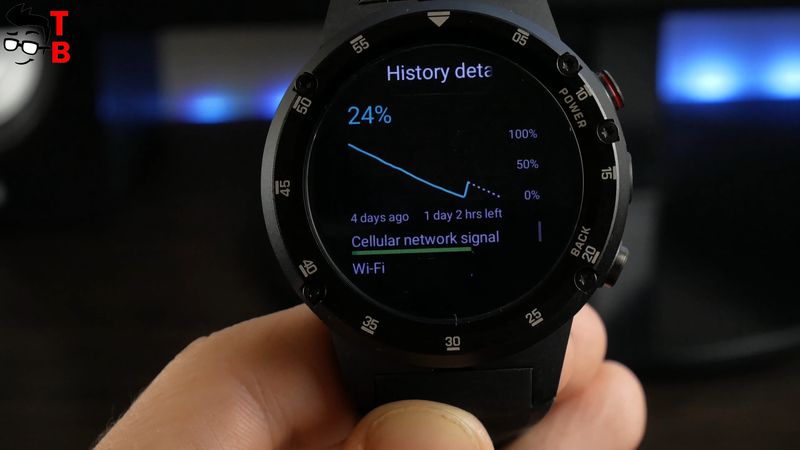 By the way, Zeblaze Thor 4 Plus has 5MP camera. You can use smartwatch to take photos or record videos.
Functions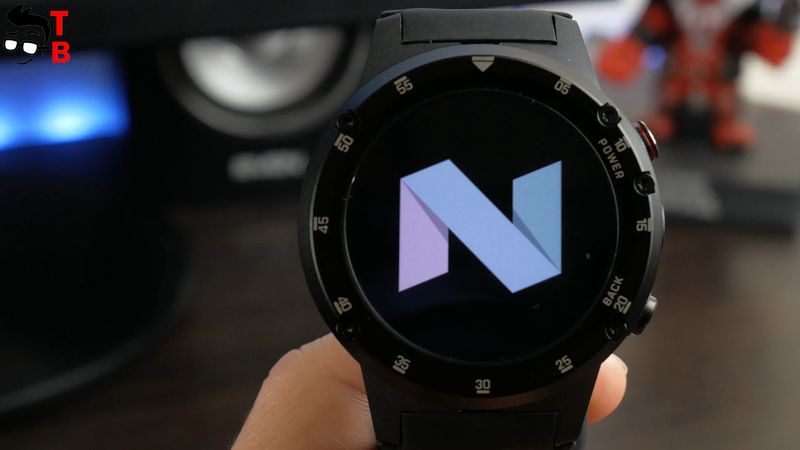 Now, let's talk about main functions. Zeblaze Thor 4 Plus runs on Android 7.1.1 operating system. It is the latest Android version for smartwatches. There is Google Play Store, so you can install any Android apps, such as Instagram, Facebook, What's up, and even games. You can even watch videos on YouTube.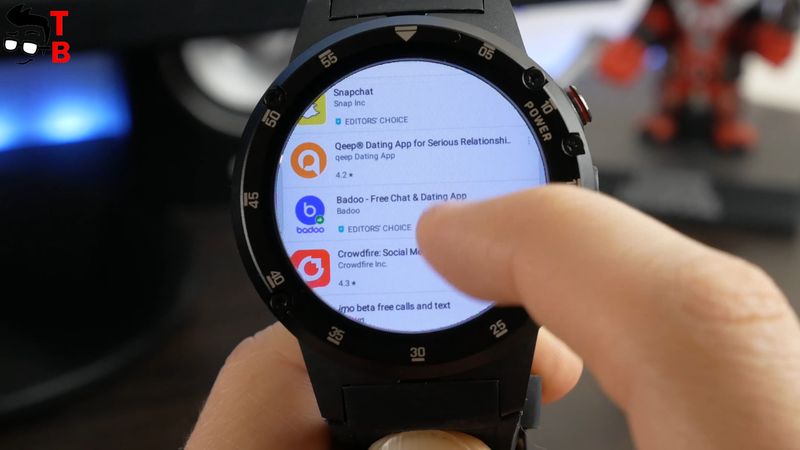 Zeblaze Thor 4 Plus has pre-installed Google Maps. Although GPS is not as accurate as on smartphone (about 10 meters), you can still use it to navigate around the city.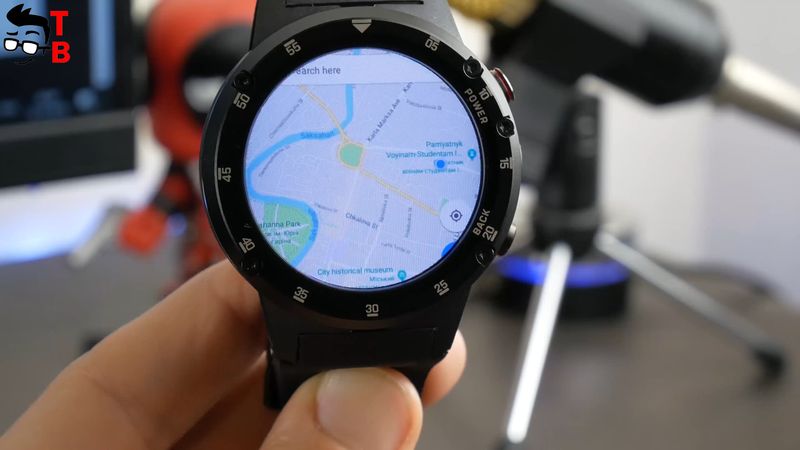 I already said about 5MP camera, and here is how camera app looks like. There are buttons for taking photo and video.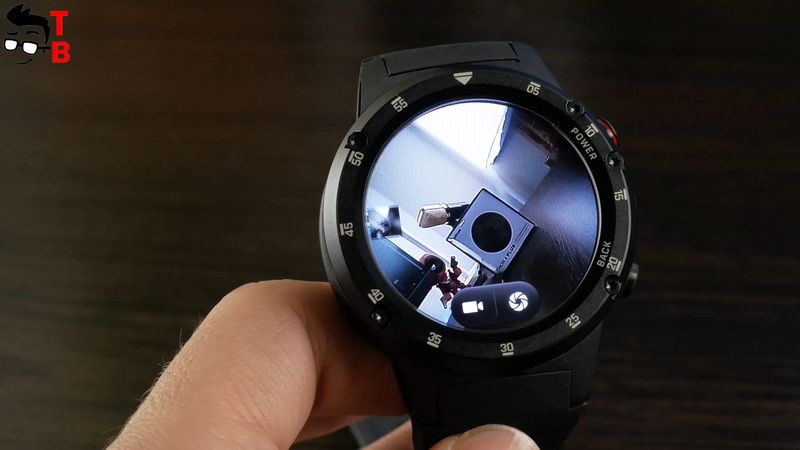 Zeblaze Thor 4 Plus has many pre-installed watch faces, and you can download even more from app on smartphone. I will show you the app a little later. Another interesting feature is always-on display. Go to the screen settings menu and enable this option.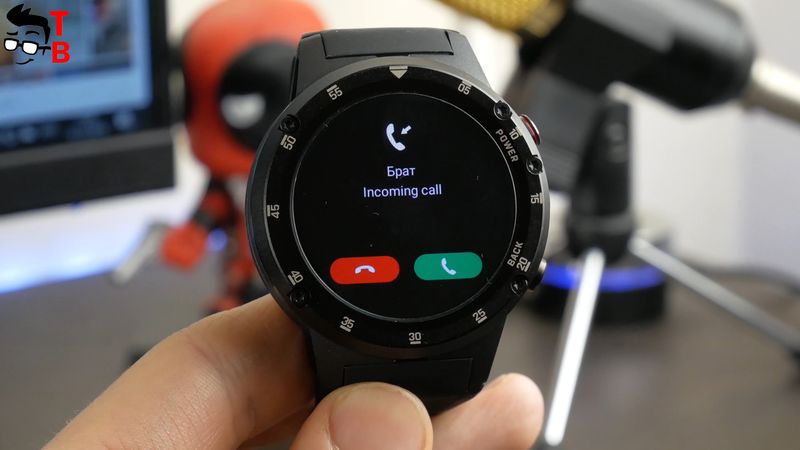 The smartwatch has SIM and 4G LTE support, so you can insert SIM card and receive or make calls. There is contact book with all your contacts on SIM card, dial menu to enter the phone number and menu with new messages.
Of course, Zeblaze Thor 4 Plus has sports functions. There is steps count, heart rate monitor, kilometers and burned calories. You can use different sports modes, such as running, walking, biking, basketball, football and many others.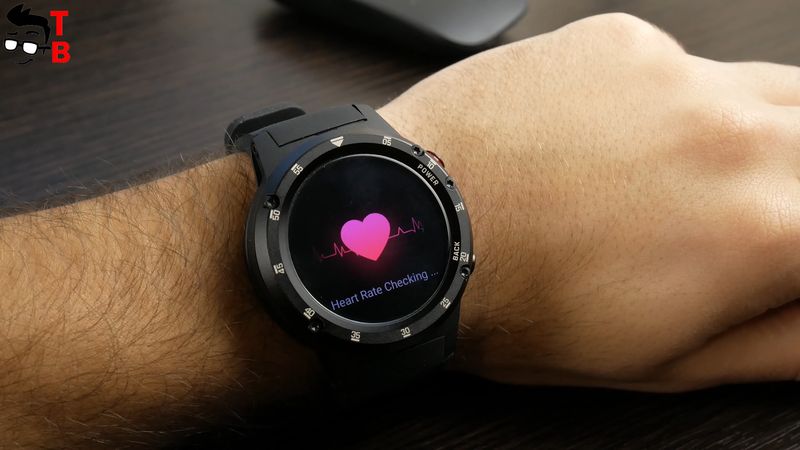 Zeblaze Thor 4 Plus has 16GB of built-in memory, so you can store photos, music or even movies. It is not very comfortable to watch movies on this small display, but the smartwatch is great for listening to music.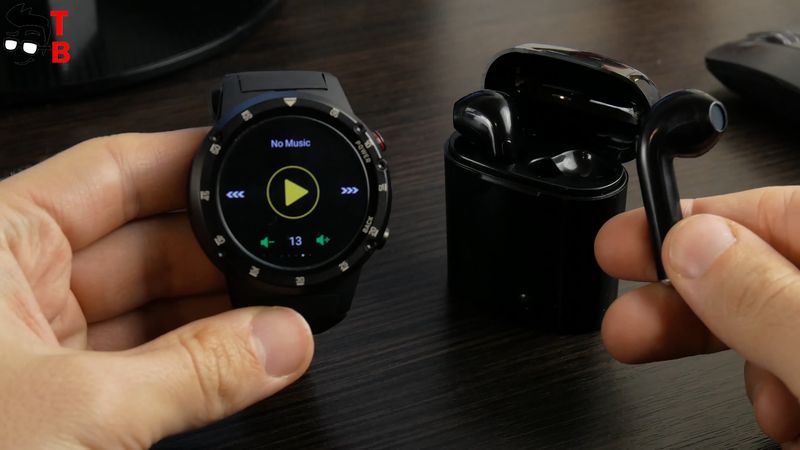 The device has pre-install music player, so you just need to upload music on smartwatch, connect Bluetooth headphones, and listen to music any time and any place.
App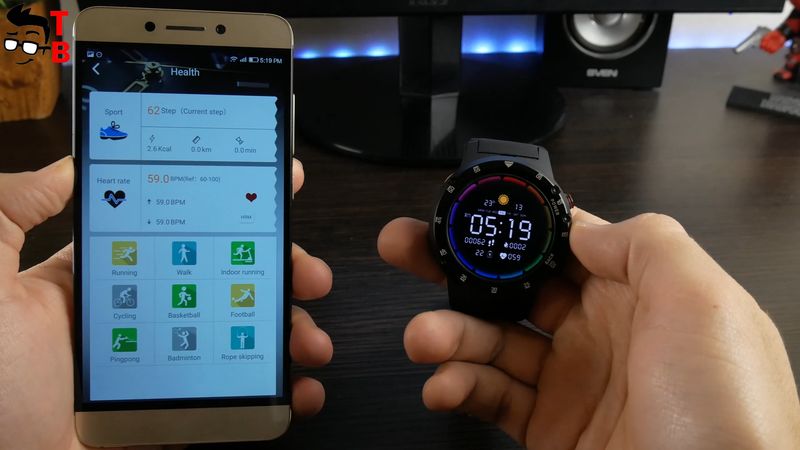 Zeblaze Thor 4 Plus has app companion on smartphone. However, it is not necessary, because all the functions are on smartwatch.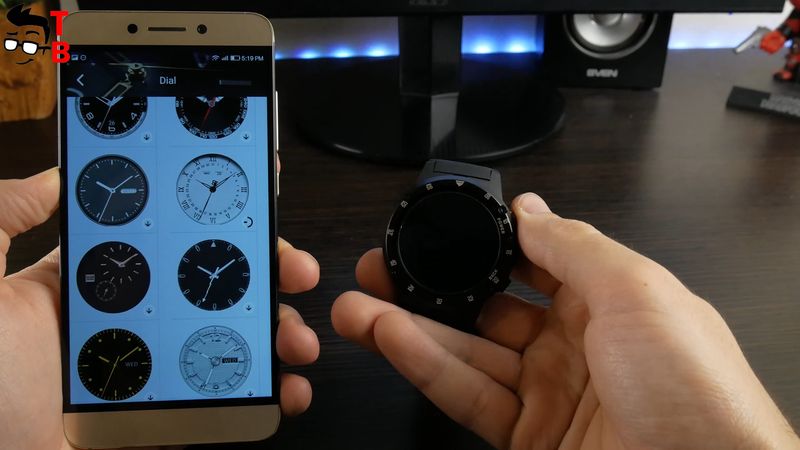 Mobile app can be useful to monitor your daily activity and download more watch faces. That's all!
Conclusion
After the review of Zeblaze Thor 4 Plus, I can say that it is a small upgrade from Zeblaze Thor 4, but big step forward from Zeblaze Thor Pro. New smartwatch has 1.4-inch AMOLED display, 4G LTE support, 5MP camera, good performance and a lot of storage.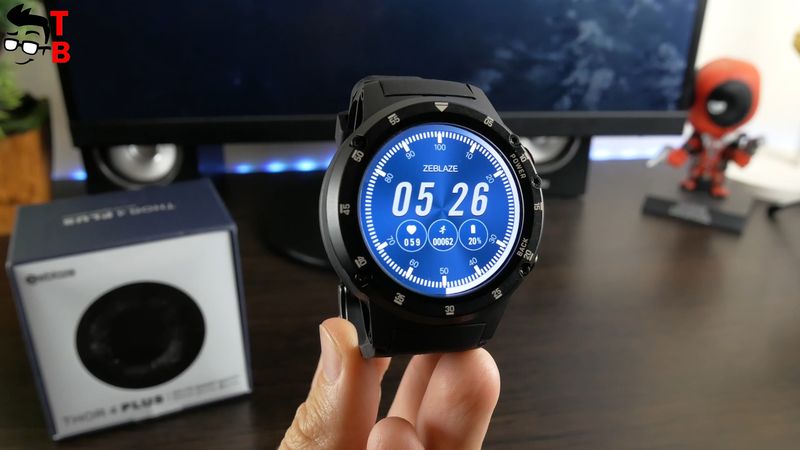 The battery life remains the main problem of any modern smartwatches. You will need to charge them every day. I want to forget about charging for at least one month, like Amazfit BIP, but it is impossible on any Android smartwatch.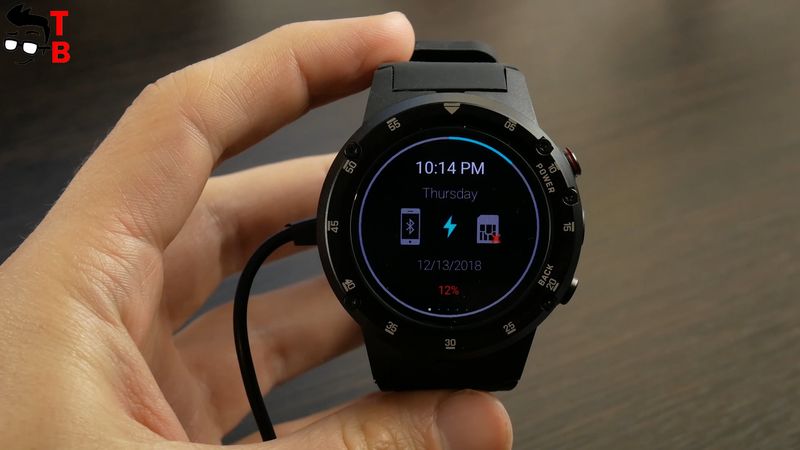 For the rest, Zeblaze Thor 4 Plus is a great smartwatch.
[wpsm_offerbox button_link="https://goo.gl/4MYUBh" button_text="BUY IT NOW" price="$119.99″ price_old="$277.53″ title="Zeblaze THOR 4 Plus 4G LTE Smart Watch Phone" description="Android 7.1.1 – Quad Core – 16GB+1GB – 5MP Camera – 580mAh – 1.4-Inch AMOLED Display – GPS – Nano SIM – WIFI – Heart Rate Sports Smartwatch" thumb="http://www.tbprice.com/wp-content/uploads/2018/12/11.jpg" logo_thumb="http://www.tbprice.com/wp-content/uploads/2018/12/cdf4c34d2a2656aa17afcd6579c65148.png" ]
Zeblaze Thor 4 Plus REVIEW Video
Zeblaze Thor Pro REVIEW Video