Zeblaze Stratos is a new smartwatch from the Chinese manufacturer with built-in GPS, durable design, 1.32-inch color display, and up to 25 days of battery life.
What do you think the price of this watch? It is only $50 on Aliexpress.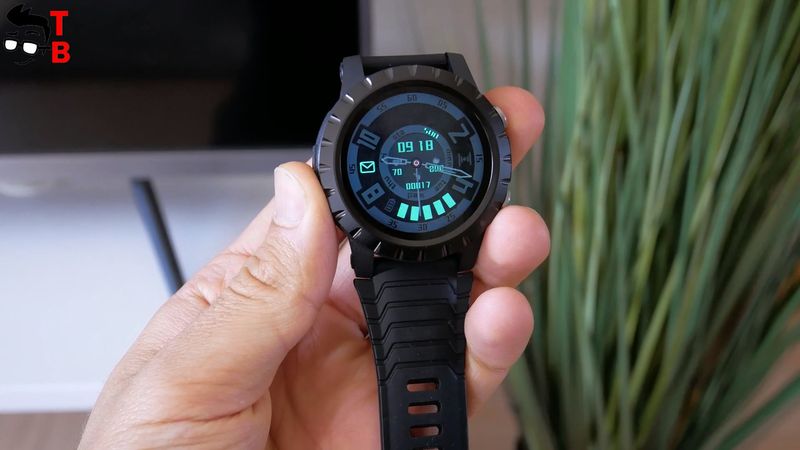 Okay, without further ado, let's move on to unboxing and a full review of Zeblaze Stratos smartwatch.
Unboxing
The new smartwatch from Zeblaze comes in this box.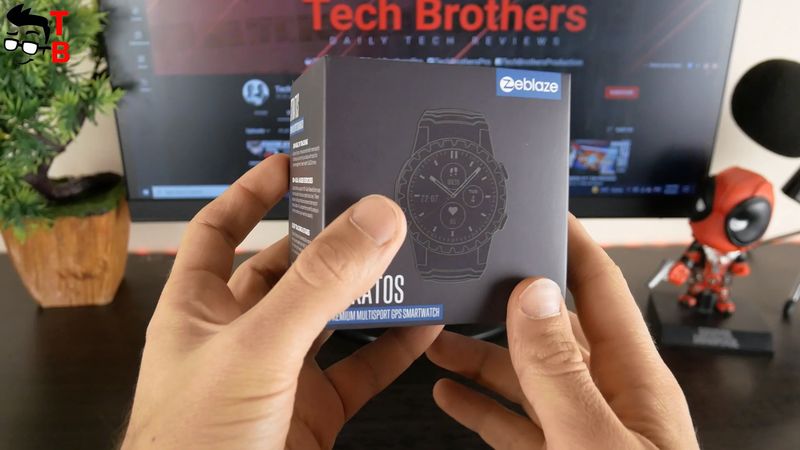 There are main features of the watch on the side face, such as 24 hours health tracking, more than 100 goal-based exercises, sleep tracking and stages, smart notifications.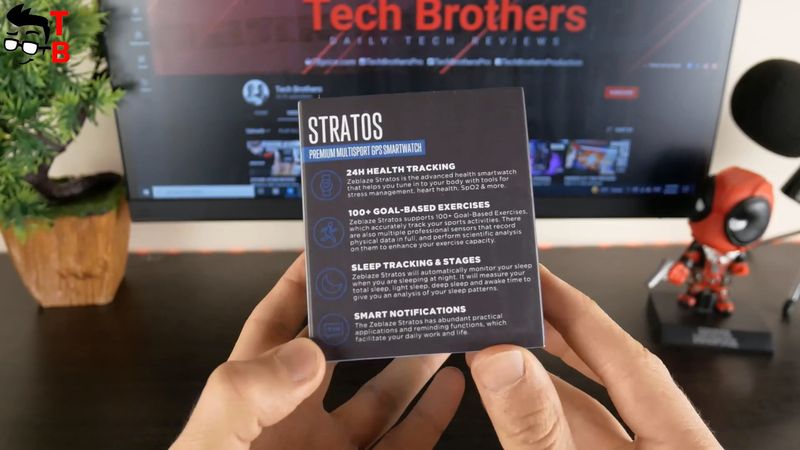 Inside the box, we have a user manual, the smartwatch itself, and a charging cable. That's all!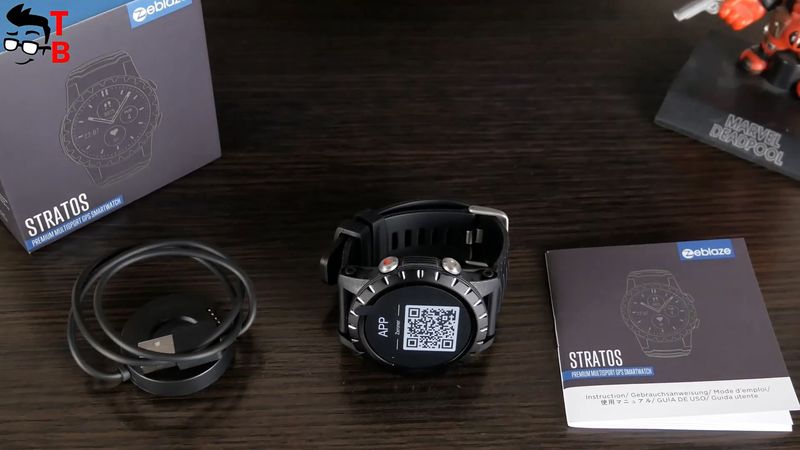 Design
You know, Zeblaze Stratos looks very impressive. In fact, it is quite heavy. The weight is 60 grams.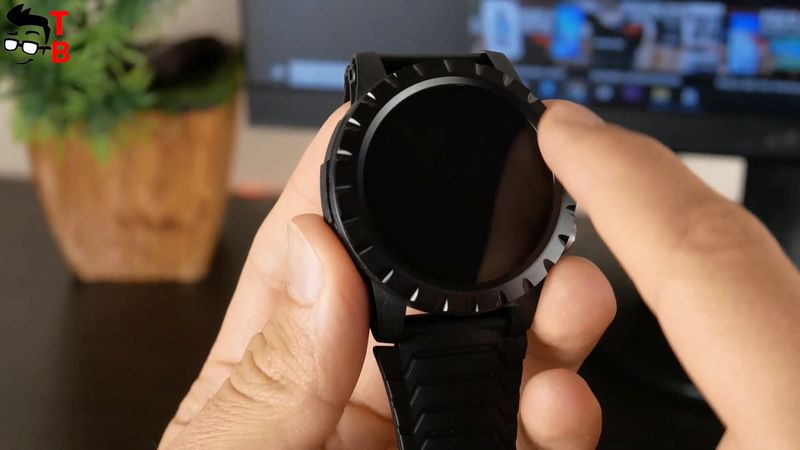 The bezel of the watch is made of zinc alloy, while the main case is carbon fiber polymer. The buttons on the right side are made of stainless steel.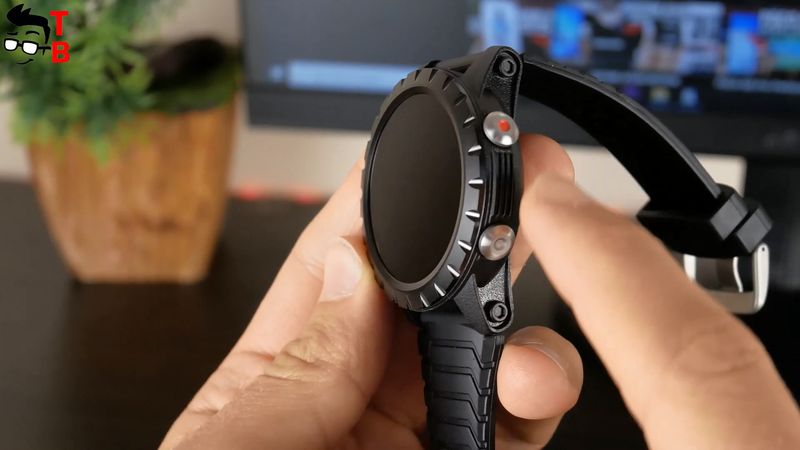 The strap is silicone, and it has a width of 22mm. You know, the watch is very comfortable to wear.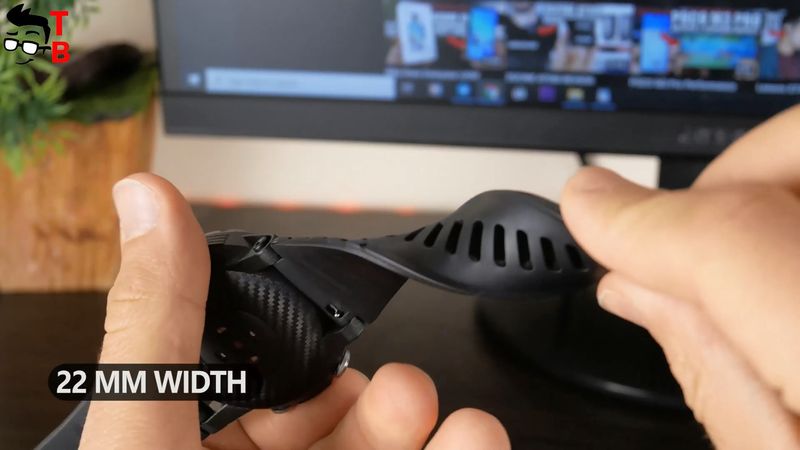 I think this is because of the very nice strap. It is very soft and doesn't create any discomfort.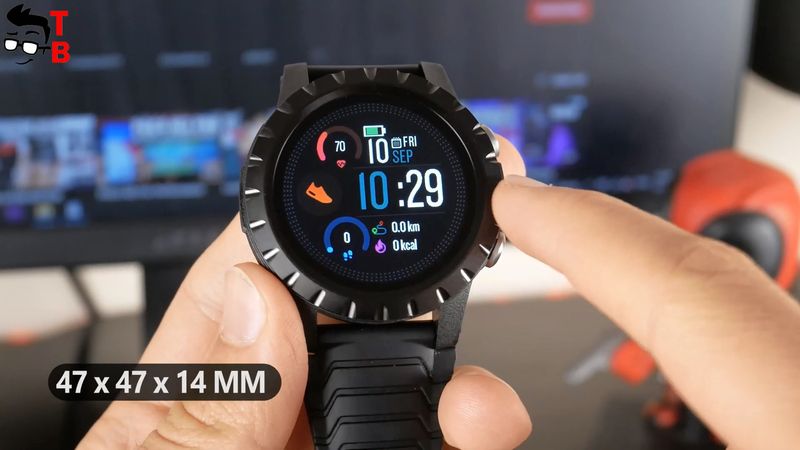 The dimensions of the watch are 47 by 47 mm, while the thickness is 14mm.
On the back of the watch, we can see charging contacts, and multiple sensors. We will talk about all of them later in this article.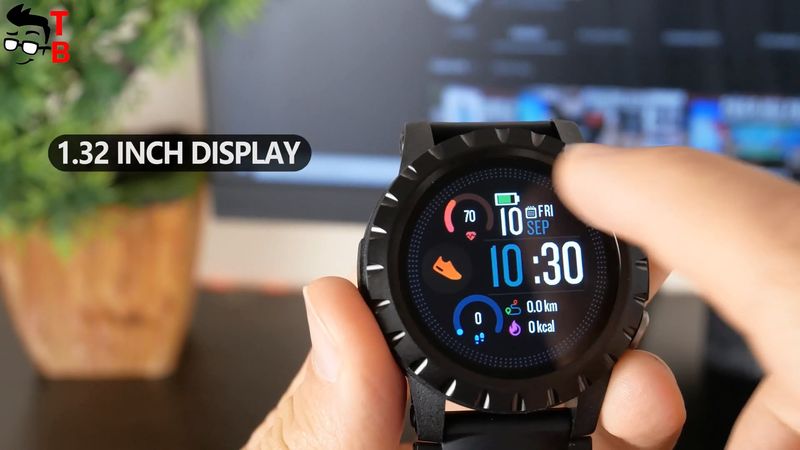 The display has a diagonal of 1.32 inches and a resolution of 360 by 360 pixels.  The screen is very bright, so you can see everything on it in direct sunlight. The touch screen is also very responsive.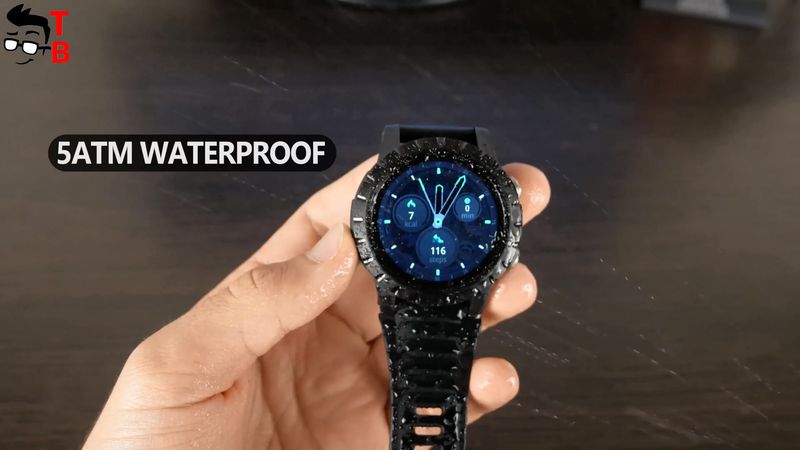 Zeblaze Stratos is a sports smartwatch, so it has water protection up to a depth of 50 meters. There is even a swimming mode available on the watch. You can set the length of the pool, and start training.
If we started talking about swimming mode, let's move on to other sport modes and the main functions of the watch.
Functions
The manufacturer says that Zeblaze Stratos has more than 100 goal-based exercises. There are 17 sports modes available on the watch by default. However, you press on Custom and then click on the Plus icon to add the new sport mode.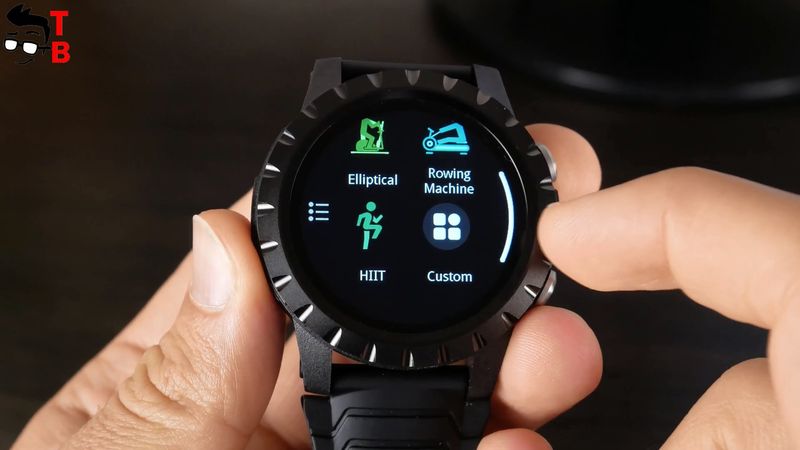 Most of the sports modes, such as running, walking, cycling, have the same functions, such as set a distance, time, and calories. You can also click on the settings button at the bottom, to turn on/off GPS trace, kilometers alert, and heart rate alert.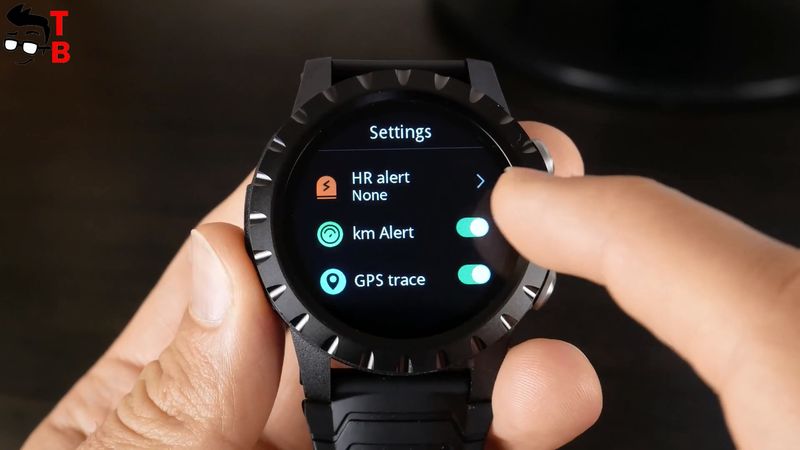 In soccer, basketball, badminton, and some other modes, you can only Start training, and then track your training time, heart rate, and calories burned.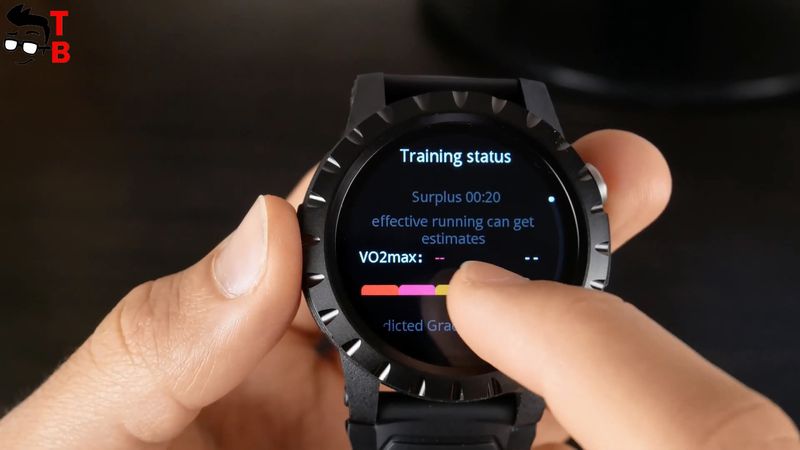 The next function of Zeblaze Stratos that I haven't seen on the previous Zeblaze watches is VO2 Max Fitness Analysis. It says about maximum oxygen uptake.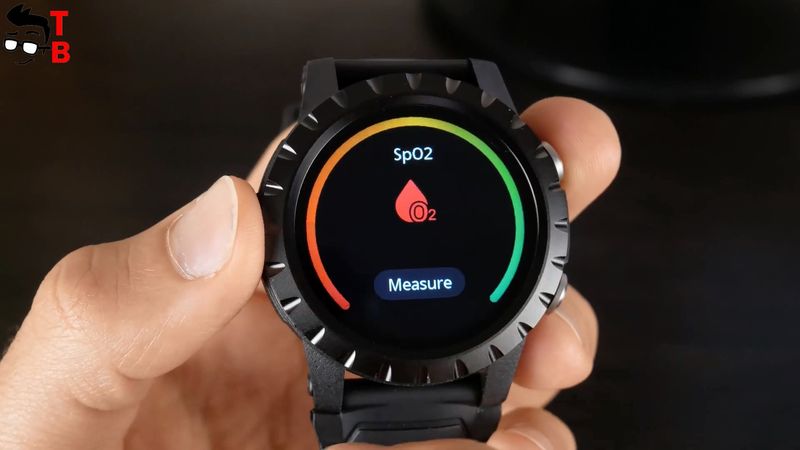 Then, the smartwatch has a heart rate monitor, stress detection, spO2 level measurement, and a menu with other functions, such as settings, events, compass, breathe training, heart health, watch faces, and language.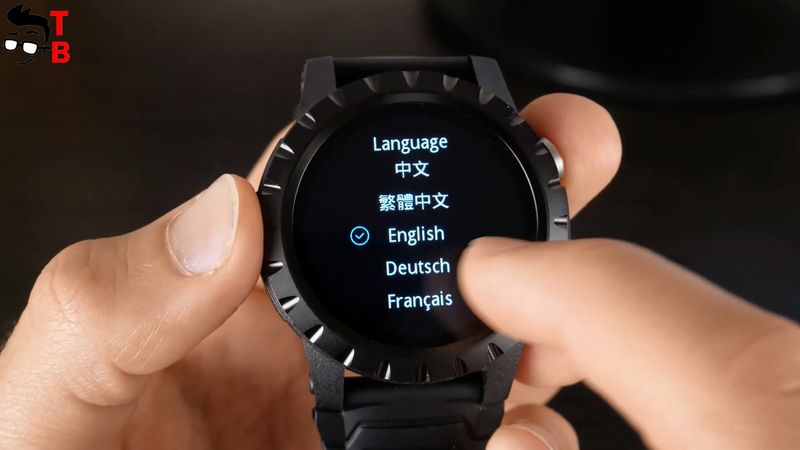 By the way, Zeblaze Stratos supports many languages, such as English, German, Spanish, and others.
Talking about watch faces, there are nine pre-installed on the watch. Later, I will check if you can download more from the app on your smartphone.
Like the previous Zeblaze watches, the new Zeblaze Stratos has quick settings menu. You can turn on Do Not Disturb mode, change screen brightness, use a flashlight, stopwatch, timer, and go settings menu.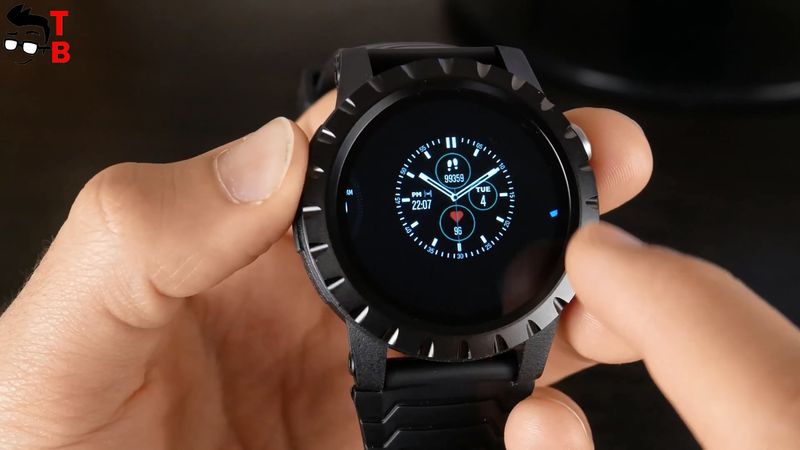 In the settings menu, we can turn on/off the 24-hour heart rate monitor, 24 hour time, smart track, set the function to a long press of the lower button, set date and time, read information about the watch, and finally, reset and shutdown the watch.
As you can see, Zeblaze Stratos has many functions. However, we also need to look at the app.
App
You know, every new Zeblaze watch has its own application. This time it is called Zeroner.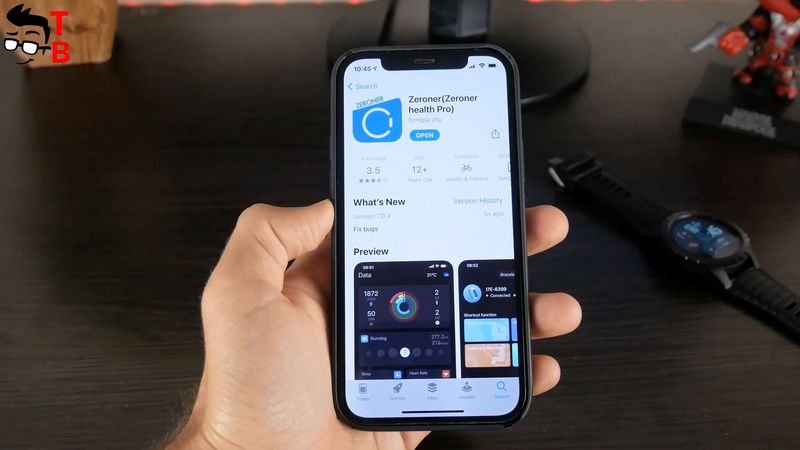 During the first launch of the app, you need to register an account, and then enter your personal information, such as height, weight, and birthday.
After that, you can connect the watch to a smartphone. Just go to the Device menu, and choose Watch. Here you will see the Stratos device.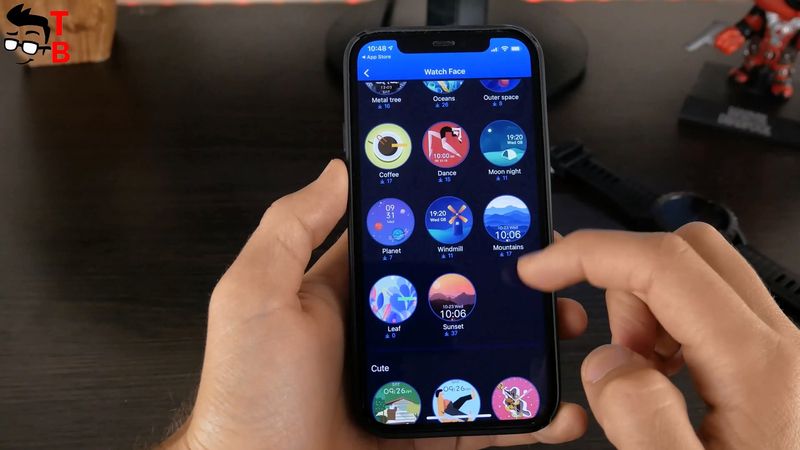 First, I want to check if I can upload the new watch faces. Yes, it can be done. There are many new watch faces available in the app on smartphone.
Then, we have shortcut functions, such as alarm and schedule, message notifications, sedentary reminder and remote camera.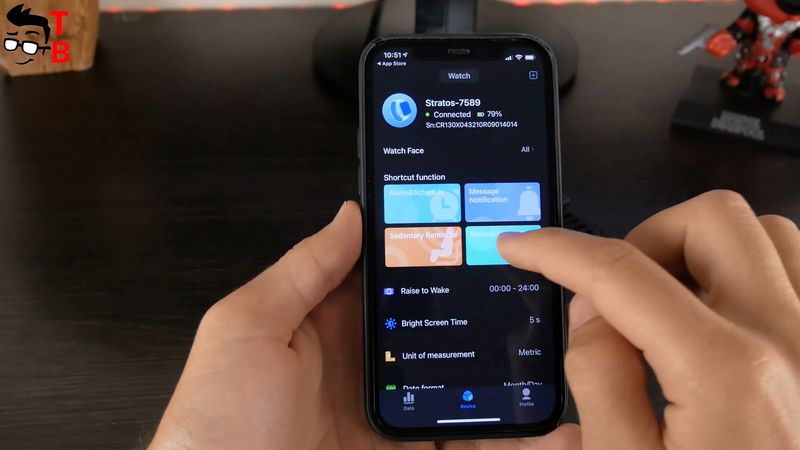 Then, there is a raise to wake function, bright screen time, unit of measurement, date format, wearing manner, vibration reminder, and firmware upgrade.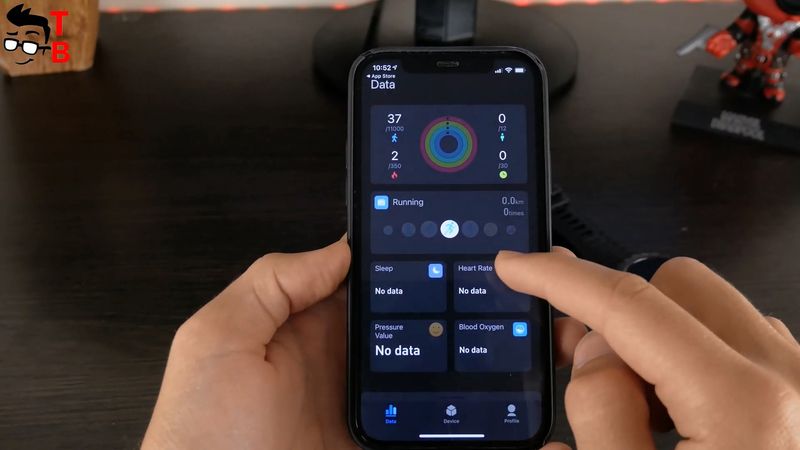 On the main screen of the app, there is information about daily activity, such as steps, distance, calories, and information about sleep, heart rate, pressure, and blood oxygen.
That's all!
Battery
Finally, we can talk about the battery of Zeblaze Stratos. Actually, this is another feature of the new watch, because it can last a very long time.
The battery life of Zeblaze Stratos in smartwatch mode is 14 days, but you can use battery-saving mode, and then the watch will last for up to 25 days.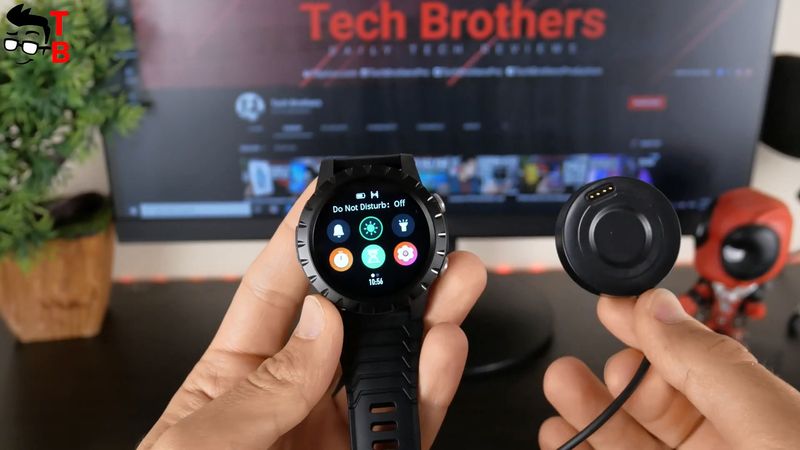 With continuous use of GPS, the battery life of the new Zeblaze watch is 40 hours.
By the way, the battery capacity is 580mAh.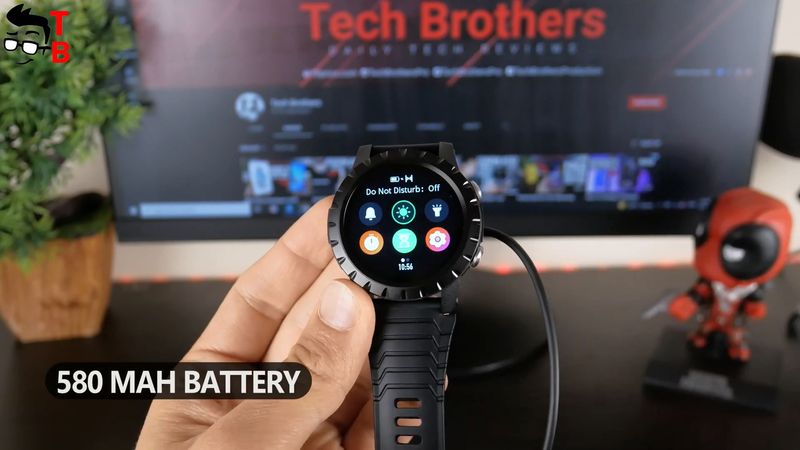 This is very good battery life for a smartwatch with built-in GPS.
Conclusion
Zeblaze Stratos is a budget smartwatch, but it can be really used for sports, because it has water protection, built-in GPS, many sports modes, and different sensors, such as heart rate, blood oxygen, spO2.
The display is very bright, so the watch is good for outdoor. The battery life is great for the GPS smartwatch.