Zeblaze is one of my favorite manufacturers of budget smartwatches. We already made many reviews about Zeblaze watches, such as Zeblaze Vibe 6, Zeblaze GTS, Zeblaze Thor 6, and others.
By the way, do you remember our article about Amazfit Neo? It was a very interesting budget smartwatch with a retro design. The Chinese company Zeblaze released a similar watch with a retro design. It also has a 1.3-inch HD color display, 24 hours heart rate monitor, 7 days battery life, multi-watch faces, and a price of only $20.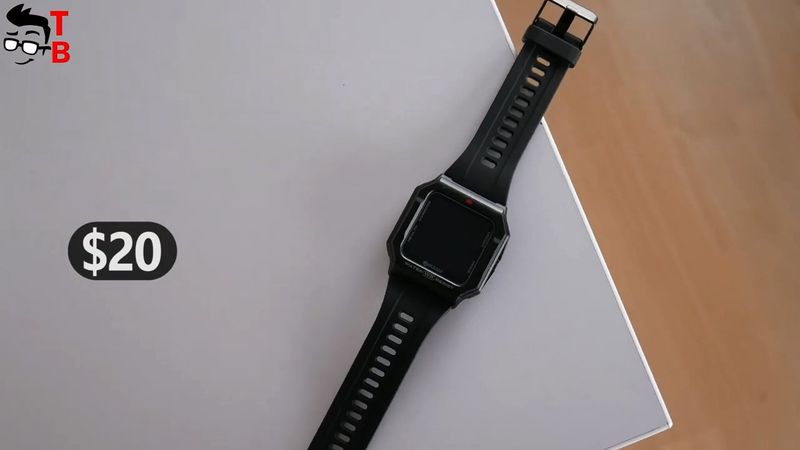 You know, Zeblaze Ares looks like a very interesting watch. Let's do an unboxing and a full review of this device.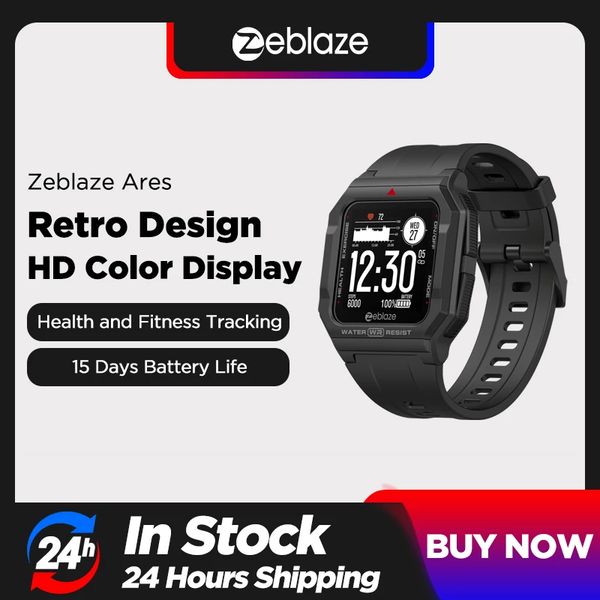 NEW 2021 Zeblaze Ares - Aliexpress
as of November 26, 2023 12:18 pm
Unboxing
On the box of Zeblaze Ares, we can see the watch in full size.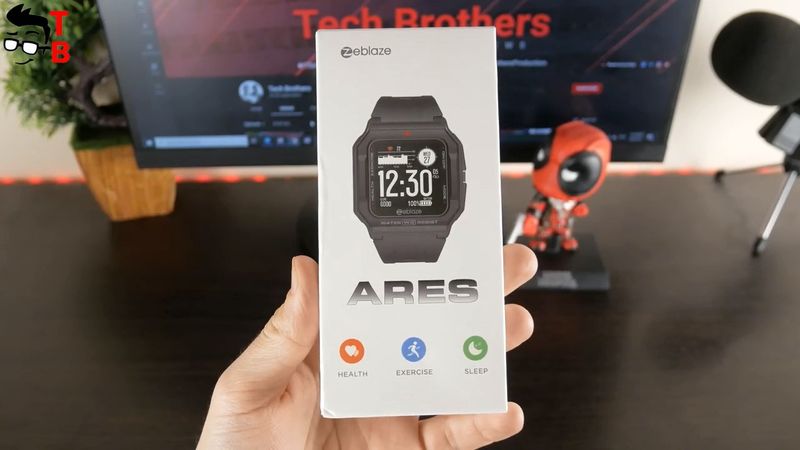 There are also main features of a smartwatch on the front, and side faces, such as notifications, weather, light and comfortable, alarm clock, long battery life, etc.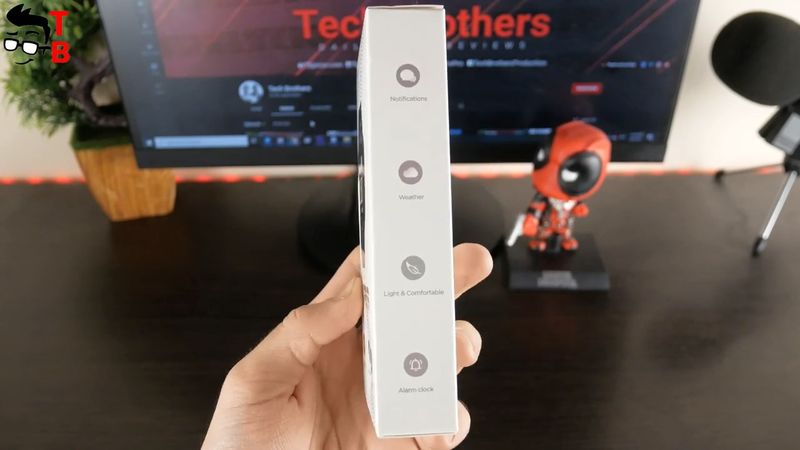 Inside the box, we can find a watch itself, magnetic charging cable, and user manual.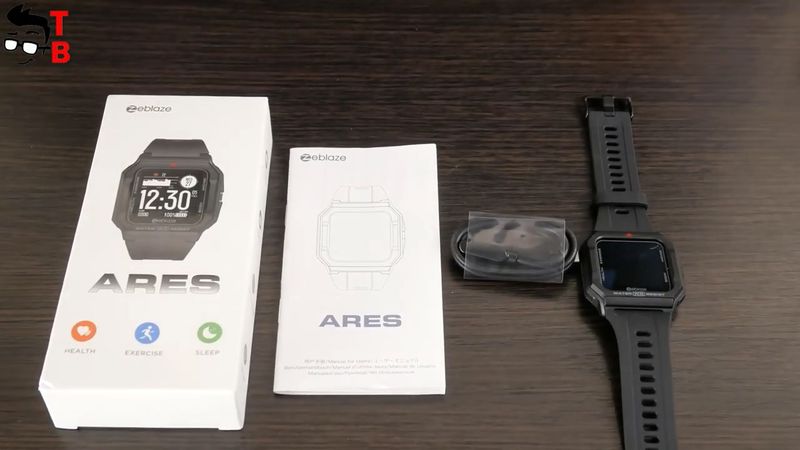 By the way, the user manual is in different languages: English, Spanish, Chinese, Russian, and others.
Design
I want to start talking about design from the size of this watch.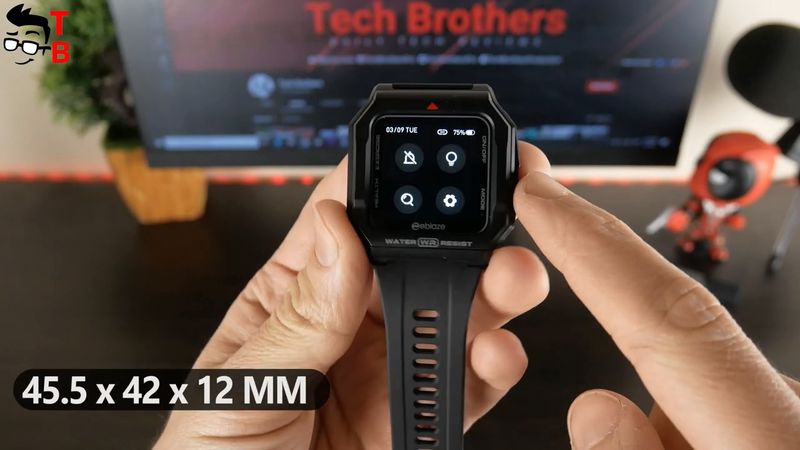 The dimensions of the dial are 45.5 by 42 by 12 mm.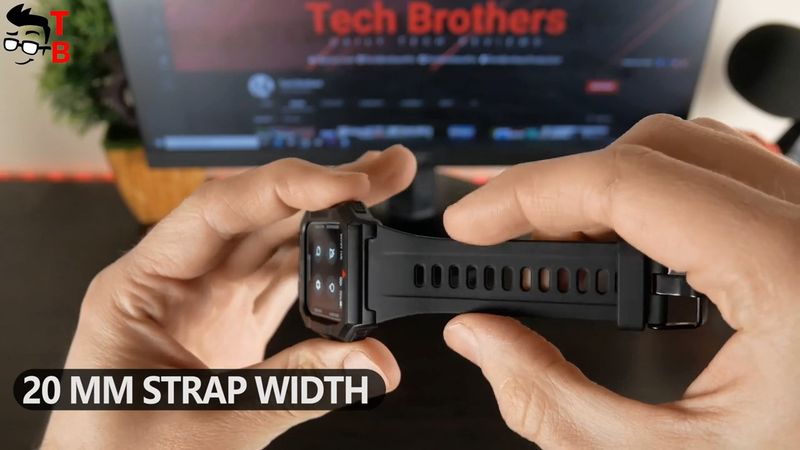 The strap width is 20 mm, and the length is 250 mm.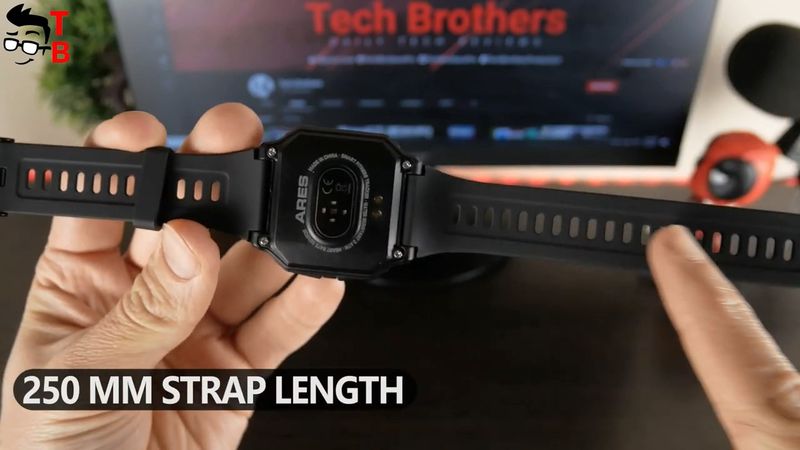 The weight of Zeblaze Ares is 33 grams.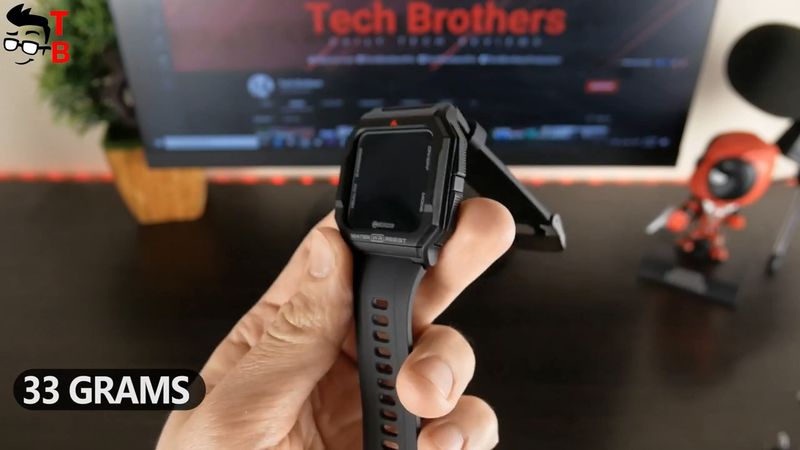 You can see the comparison of Amazfit GTR and Zeblaze Ares.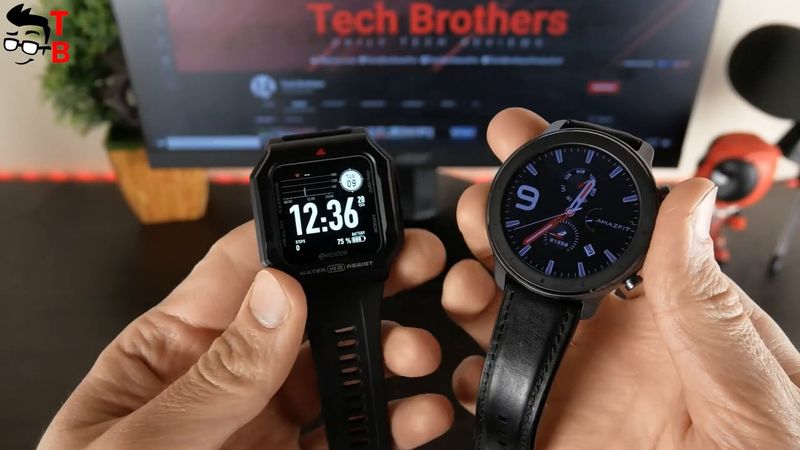 As you can see, the new watch from Zeblaze is more compact, and it is much more lightweight than Amazfit GTR because it is made of plastic.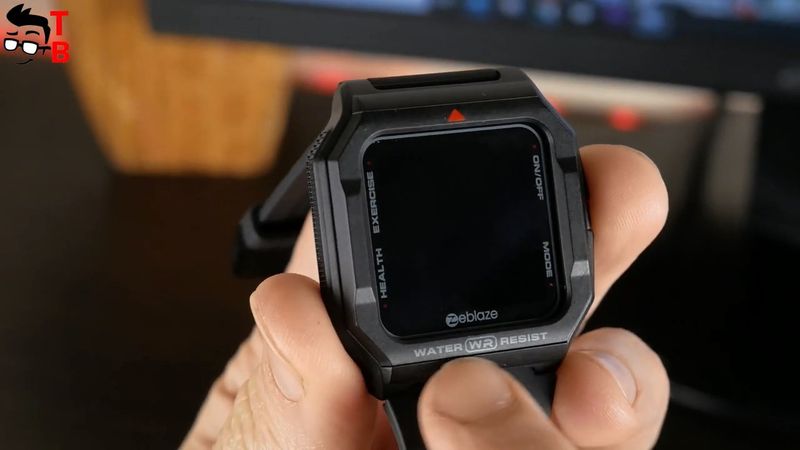 On the front of the watch, we can see a Water resist inscription. Zeblaze Ares is really waterproof by 3ATM standard. You can take a shower and even swim in the pool with this watch.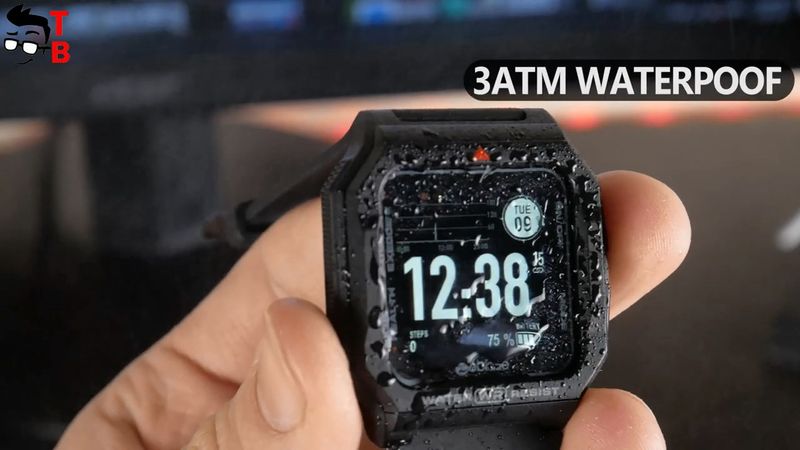 By the way, the strap is made of silicone, and it is not removable. You have to choose the color of the strap before buying the watch. Zeblaze Ares is available in black, green, and red colors.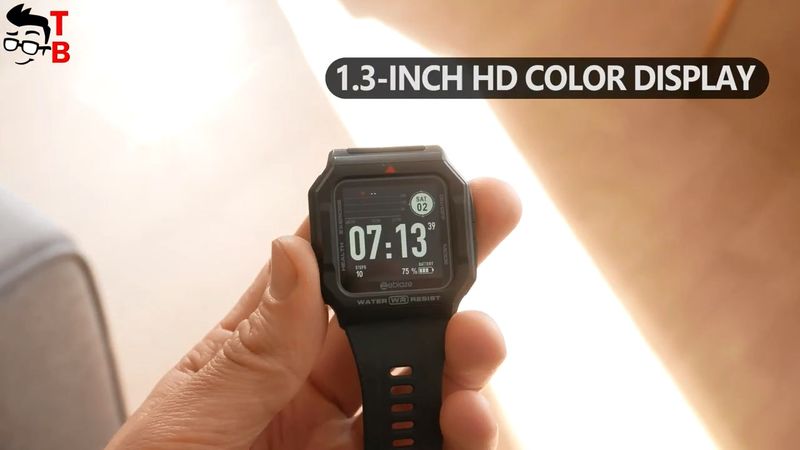 The new watch from Zeblaze has a big 1.3-inch color screen. This is an IPS panel with 240 by 240 pixels resolution. You know, the screen is really good even in direct sunlight.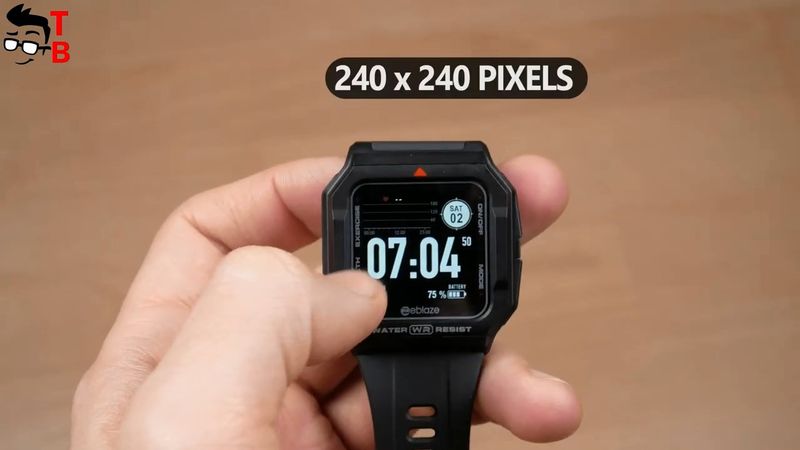 You know, first, I thought that Zeblaze Ares was a clone of Amazfit Neo, but the new watch from Zeblaze has a color touch screen, while the Amazfit watch has only a black and white display. In addition, the Amazfit watch screen is not touch-sensitive. This is the first big advantage of Zeblaze Ares over Amazfit Neo.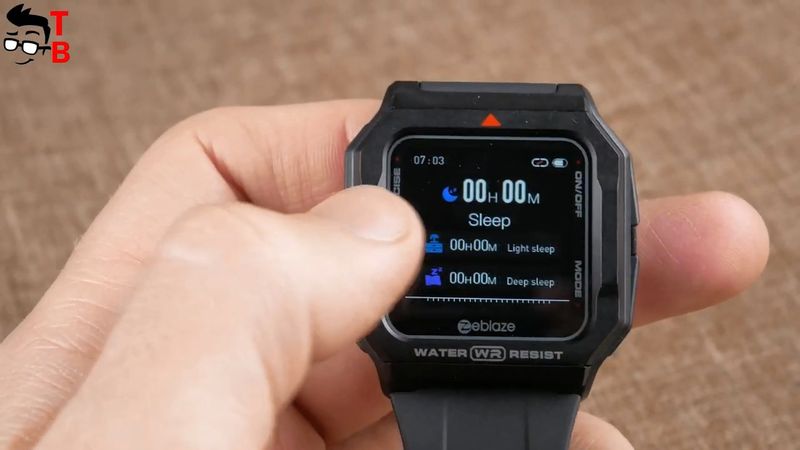 On the right side of the dial, we can see the Up and Down buttons.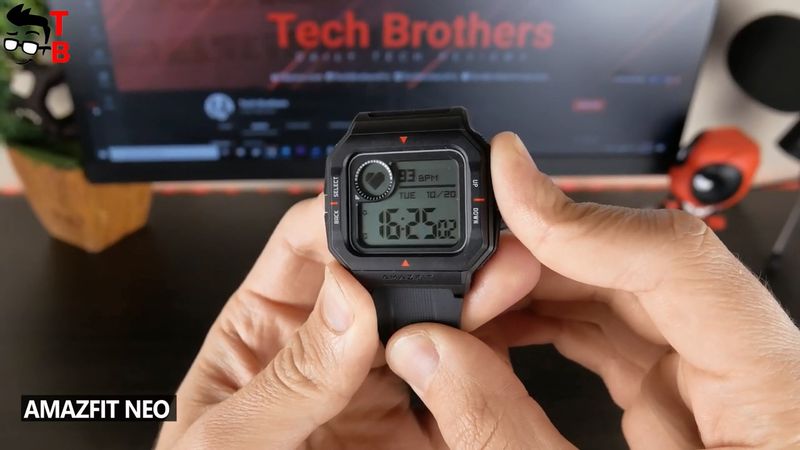 There are a heart rate sensor and two pin charging interface on the back.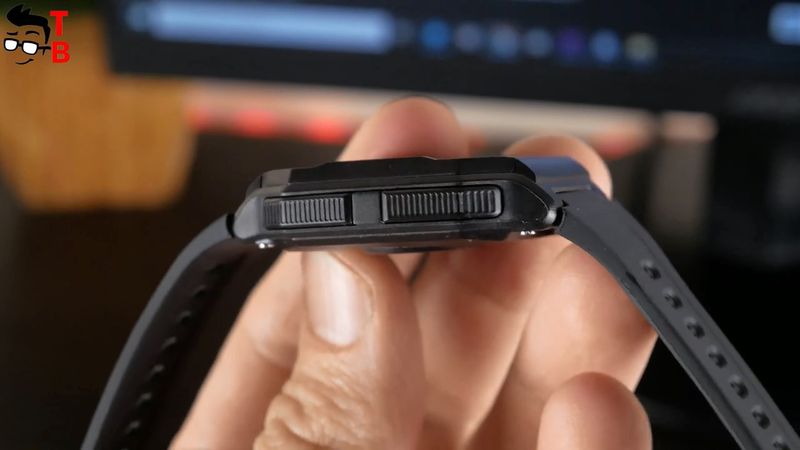 So, the main feature of Zeblaze Ares is retro design. However, the watch also has a color touch screen display. I like how the watch combines retro design with modern features.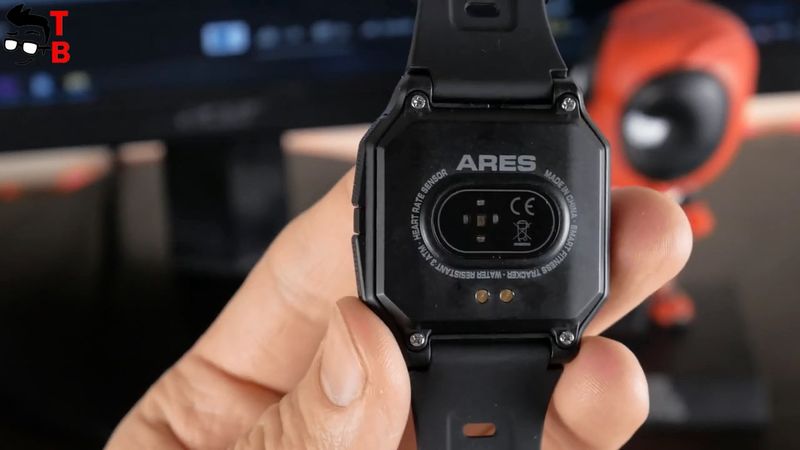 Now, let's talk about the main functions of the Zeblaze Ares watch.
Functions
The main watch face looks like this.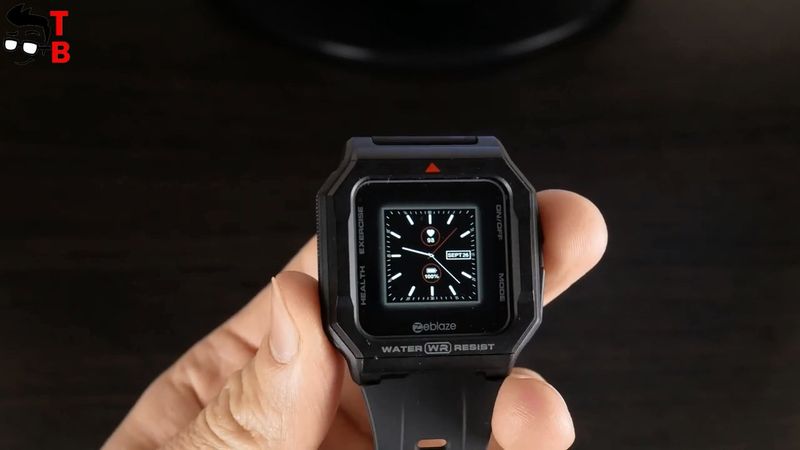 By the way, it is the same as the one on the box. If you don't like it, you can press and hold on the screen, and then choose another watch face. However, there are only three watch faces available out of the box. Later, I will show you how to upload other watch faces using the mobile app.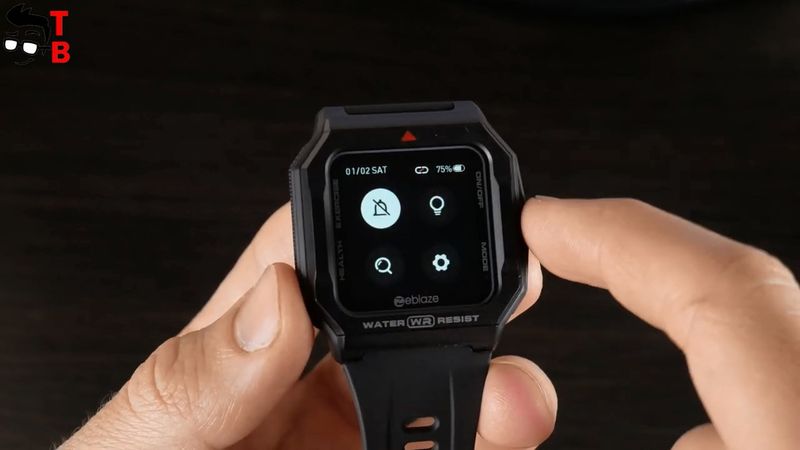 Zeblaze Ares has a quick settings menu with the following functions: do not disturb mode, screen brightness, find phone, and settings menu. In the settings menu, we can choose watch face and change screen brightness again, power off and reset the watch, and QR code to download the app on a smartphone.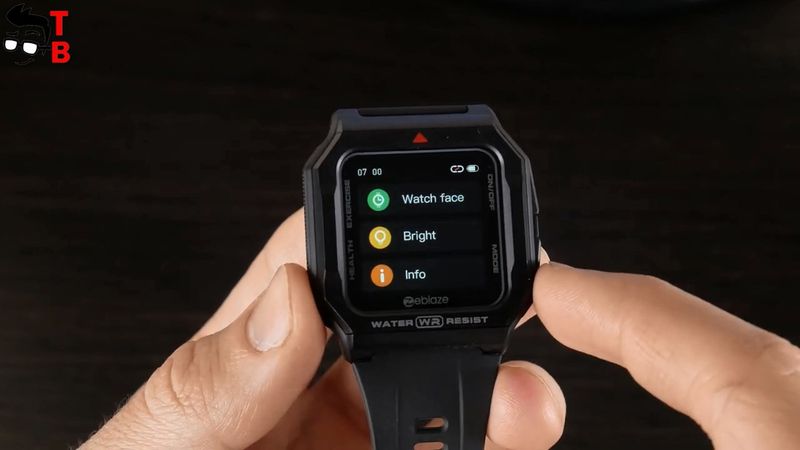 Swipe up from the main screen to see the new notifications.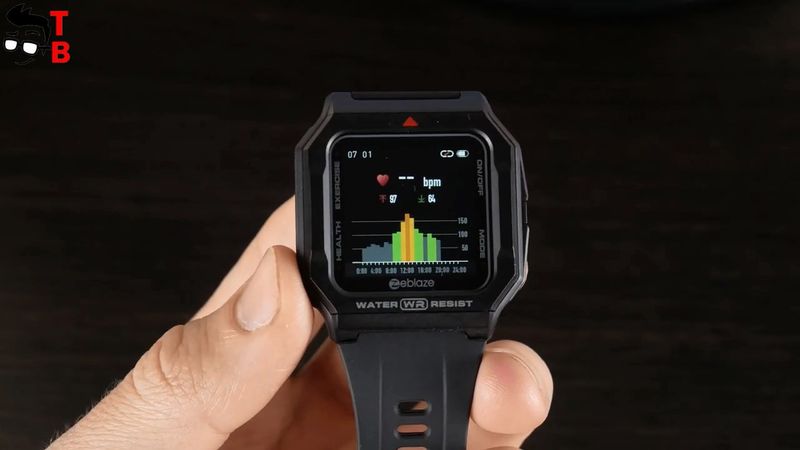 Swipe left allows to see information about daily activity, heart rate, sleep monitor, weather, and music player.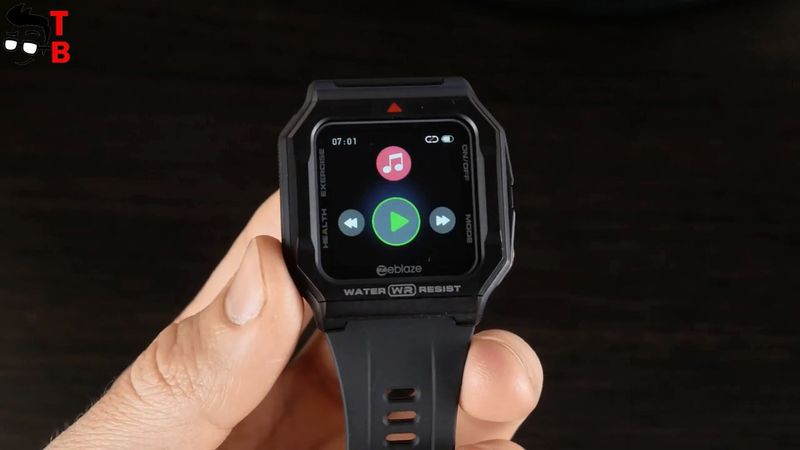 That's not even all the functions of the new Zeblaze watch. You can find the other functions of the watch by swiping right. There are many sports modes, such as running, cycling, swimming, and others. You can also measure blood pressure.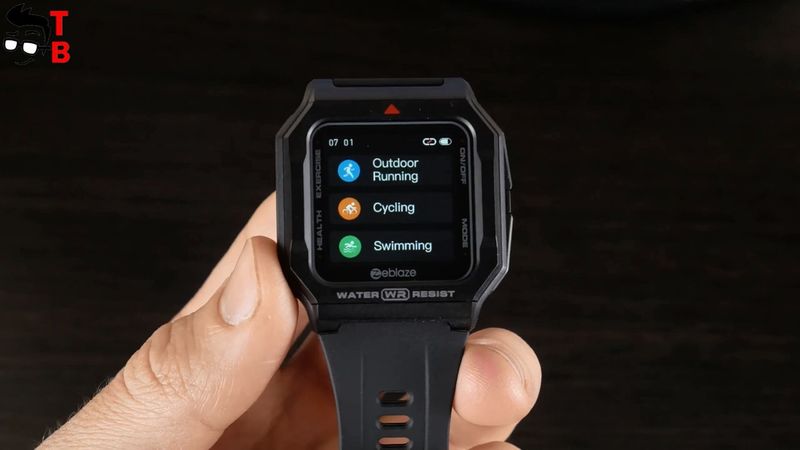 Like many other watches, Zeblaze Ares has a stopwatch, timer, find the phone, and even flashlight.
Now, it is all about the functions of the Zeblaze smartwatch.
App
Talking about application on smartphone, it is called GloryFit.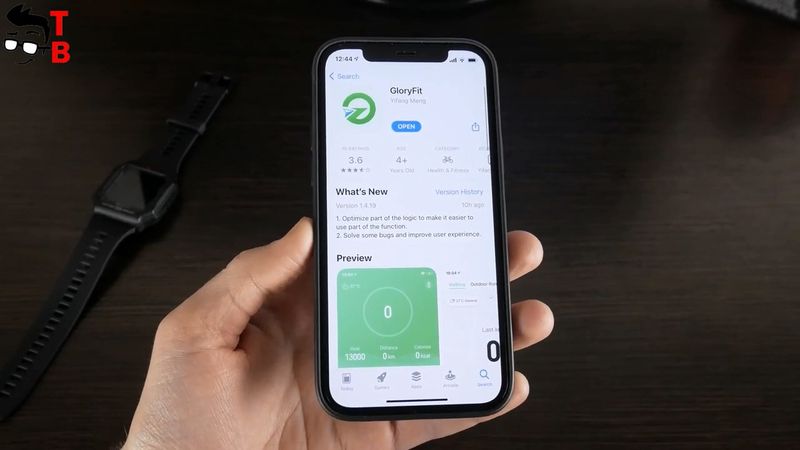 We have already tested the previous Zeblaze watches with the same app. It is similar to other fitness applications. You can see your daily goad, distance, and calories on the Home screen. There is also information about sleep, heart rate, and blood pressure.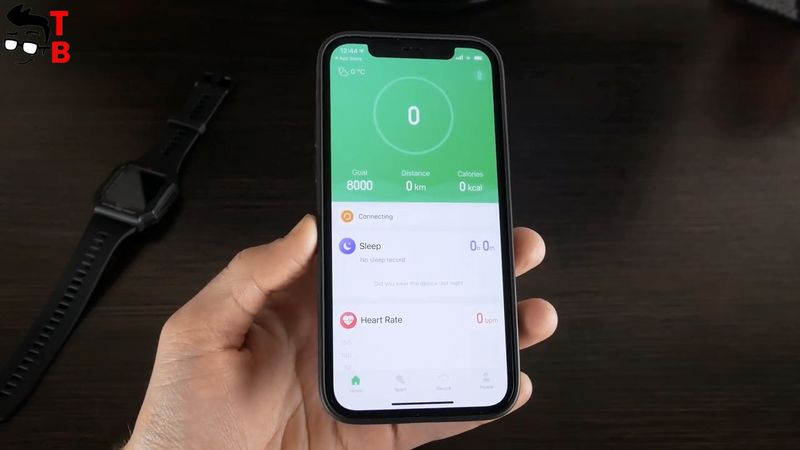 By the way, I promised to show you how to download the new watch faces on Zeblaze Ares. For that, you need to press on Device and then choose Dash Board. As you can see, there are many watch faces available. You just need to choose the one you like and then click on synchronization.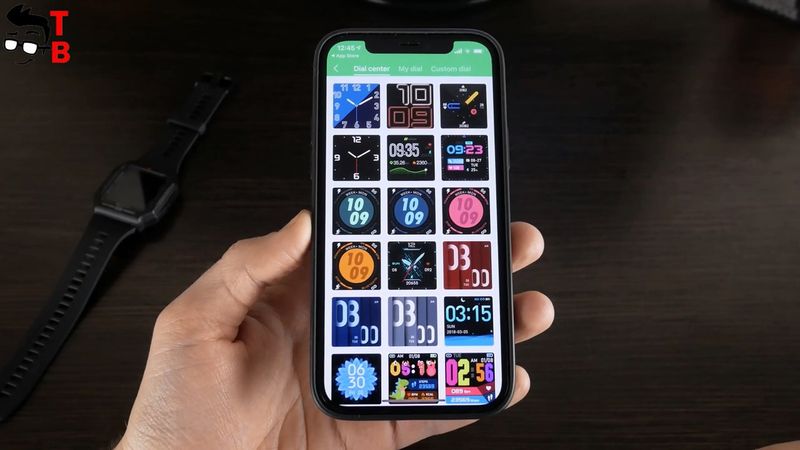 If you want to receive notifications about phone calls, SMS, and new messages in the apps, then enable phone, SMS, and app.
By the way, I want to show the notifications about phone calls on Zeblaze Ares. As you can see, there is a contact name, phone number, and you can take or reject the phone call.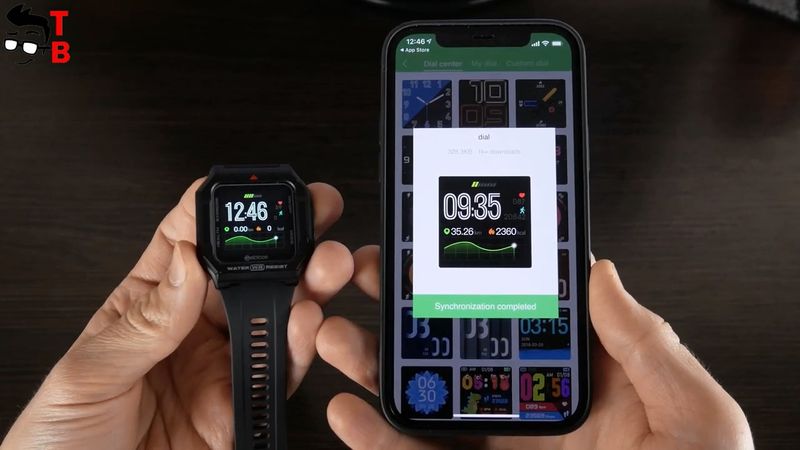 The other settings in the app are a sedentary reminder, alarm clock, light up, do not disturb mode, shake to take a picture, find the device, display timeout, 24-hour time, and device language. Zeblaze Ares supports many languages, such as English, Chinese, Italian, Spanish, Russian, Indonesian, and others.
Battery
Finally, let's talk about the battery of Zeblaze Ares. The new watch is equipped with a 170mAh battery.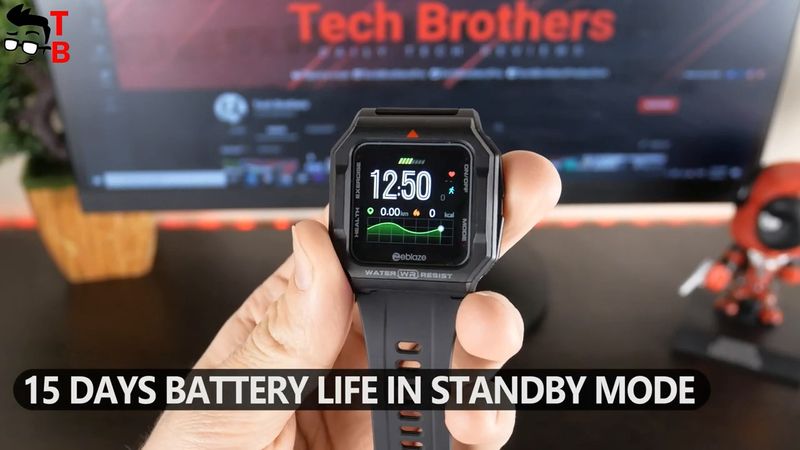 The manufacturer promises up to 15 days of battery life on a single charge, but this is in standby mode. If you use the watch every day, then the battery life will be about 7 days.
This is the standard battery life for budget watches in 2021.
Conclusion
So, you know, Zeblaze Ares is another budget fitness watch in 2021. It has the same functions as many other sports watches of this year. However, its main feature is retro design. I know many people who like retro designs.
From other side, Zeblaze Ares has a modern high-quality color touch screen. There are also many useful functions, such as heart rate and blood pressure monitors, sports modes, music player, and others.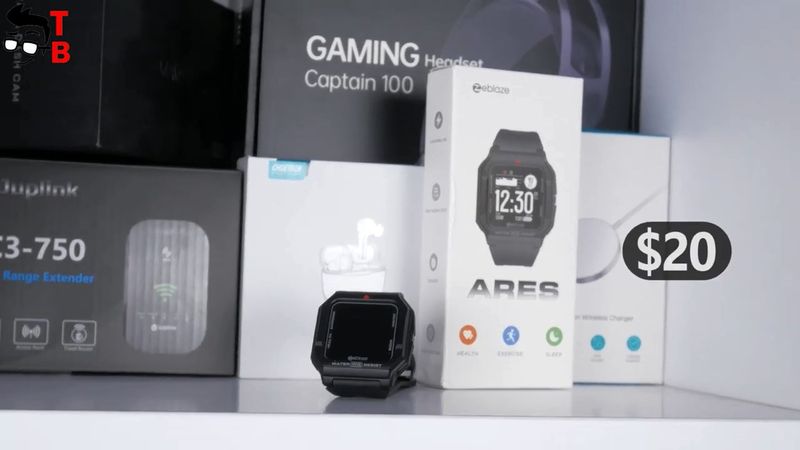 The price of Zeblaze Ares is only $20, and I think it is a very good deal.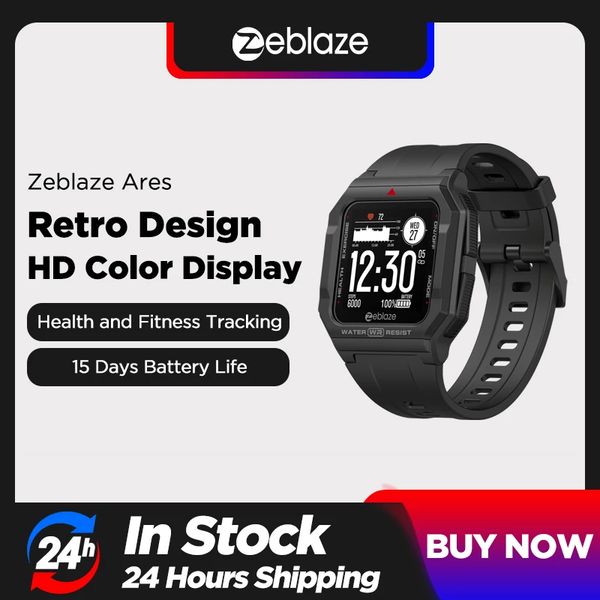 NEW 2021 Zeblaze Ares - Aliexpress
as of November 26, 2023 12:18 pm