You know, I am surprised how the market of projectors has changed in a couple of years. You used to have to pay $500 for Full HD projector with Wi-Fi support, but now $100 is enough.
For example, the new projector from Yoton Company has Full HD native resolution, 9000 Lumens brightness, or 220 ANSI Lumens, and Wi-Fi support with screen mirroring function.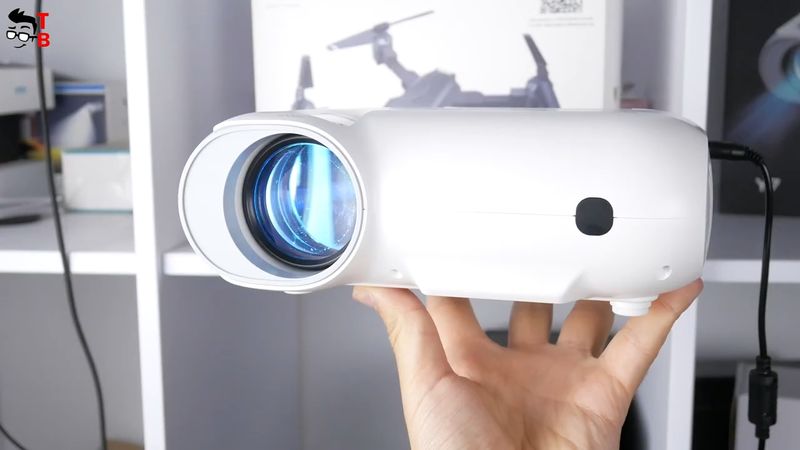 The price of this projector is $159 on Amazon, but you can use $60 off coupon code. So, the final price for you will be only $99.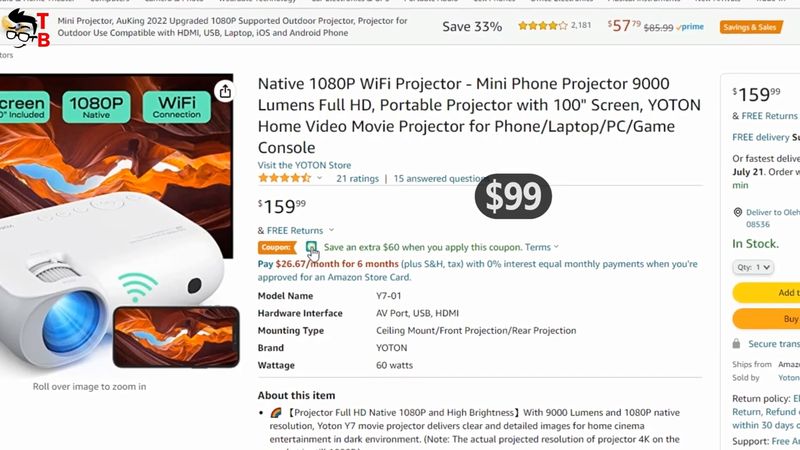 You know, Yoton Y7 looks very impressive for its price. Let's take a closer look at it, and try to find a catch.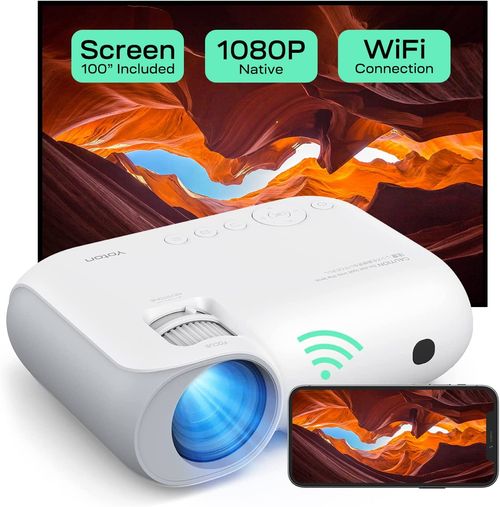 Yoton Y7 Native 1080P WiFi Projector - Amazon - $55 OFF COUPON
as of September 17, 2023 6:03 pm
Unboxing
On the box, we can see the image of projector, and you know it is in a full size. Yes, Yoton Y7 is a compact projector.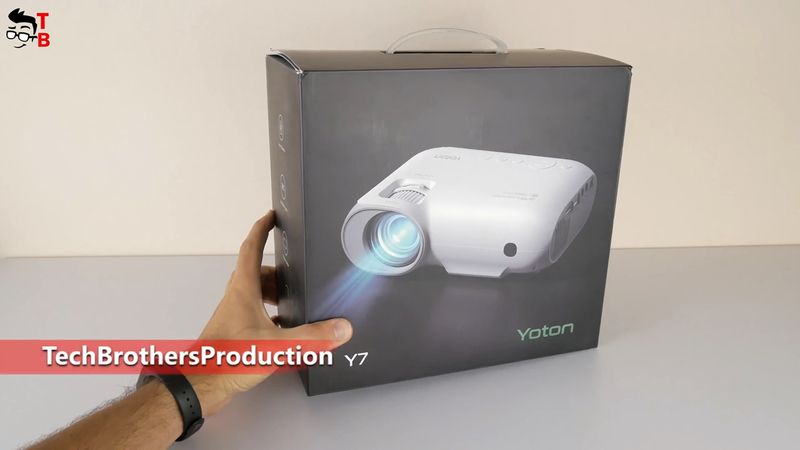 There is some specs and information about manufacturer on the back of the box.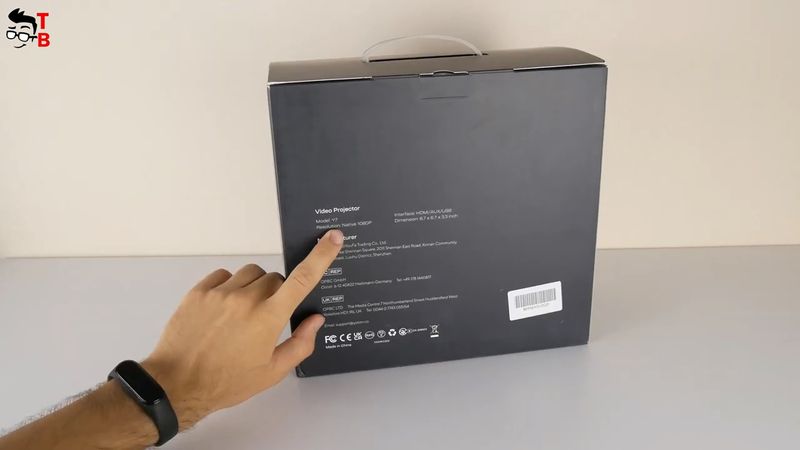 Inside, we have a 100-inch fabric screen on the wall, remote control, power adapter and power cable, audio cable, HDMI cable and projector itself.
I am very surprised to see a screen in the package, as well as audio cable and HDMI cable.
This is an ultra-budget projector under $100, but the manufacturer put the important accessories in the box.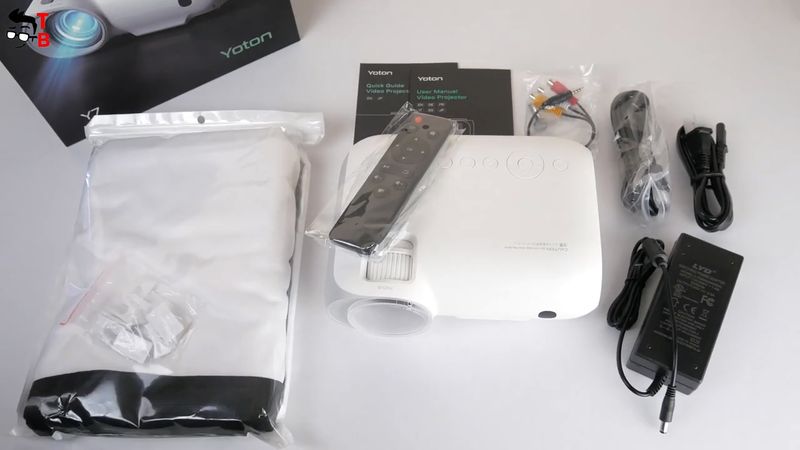 That's very good.
Design
As I already said, YOTON Y7 is a compact projector. Its dimensions are 220 by 170 by 85 mm. The weight is only 920 grams.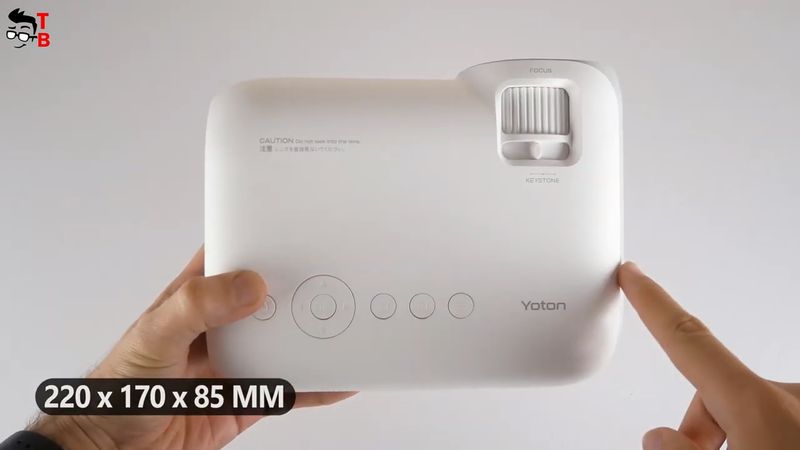 So, this is a compact or mini projector, but it is not portable, because it doesn't have a built-in battery.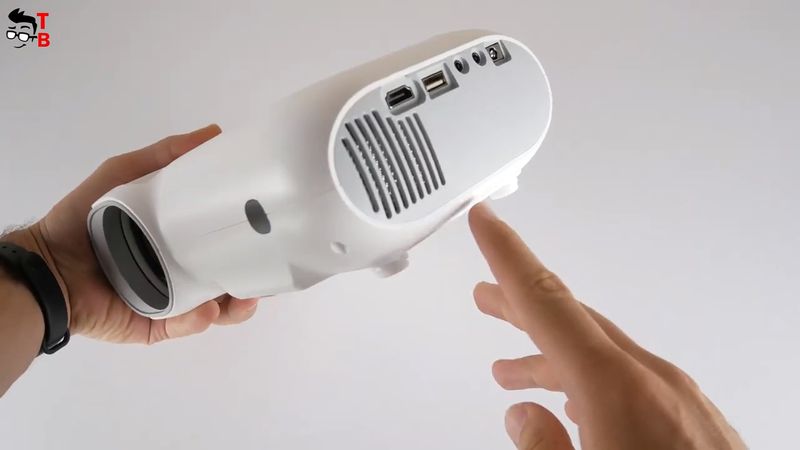 The body has a rounded shape. The projector is made of white plastic, but the right and left sides are gray. Overall, the projector has a nice and fresh design.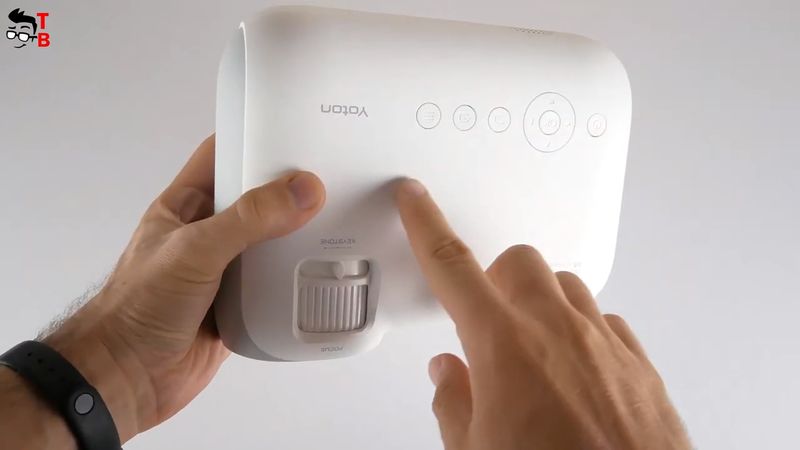 On the top, we can see a focus and keystone wheels, as well as control buttons, and YOTON logo.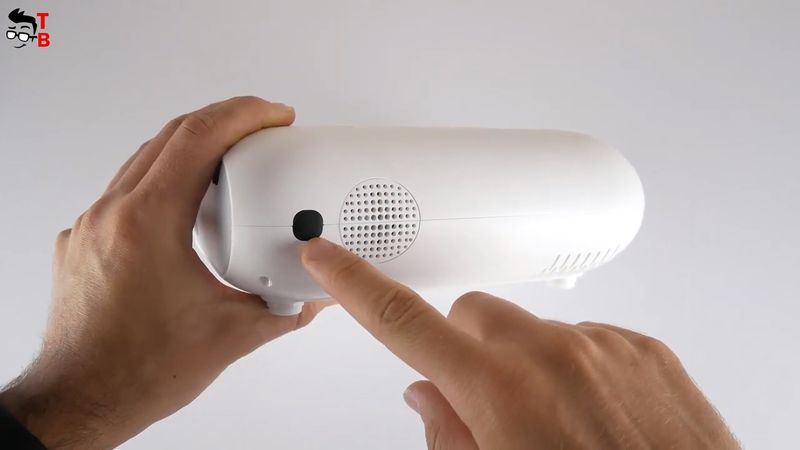 On the back, there is a speaker and infrared receiver for remote control.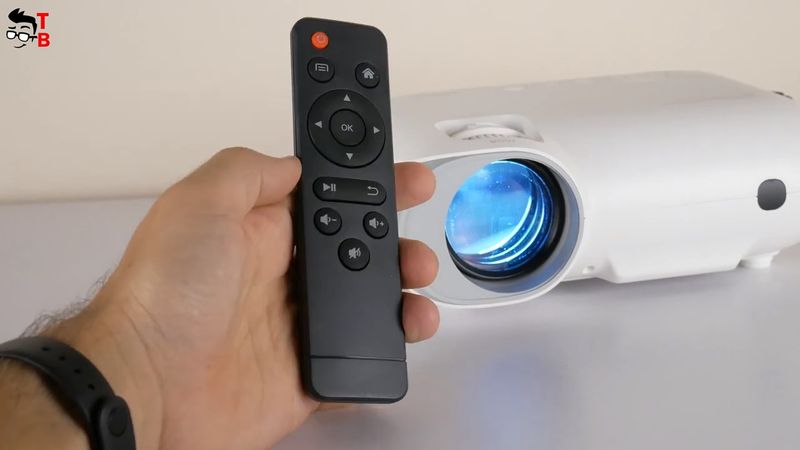 The second IR receive is located on the front, next to the lens. By the way, the lens looks huge because the projector itself is small.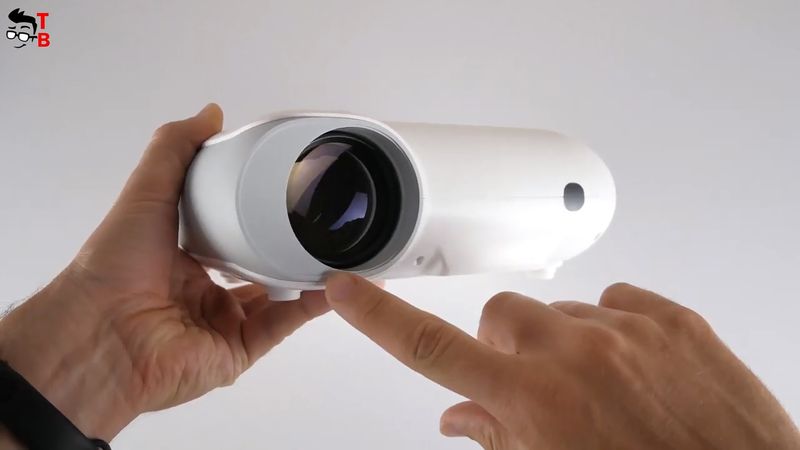 The connectors are located on the left side. Here we have HDMI, USB, AV, 3.5mm audio, and DC ports.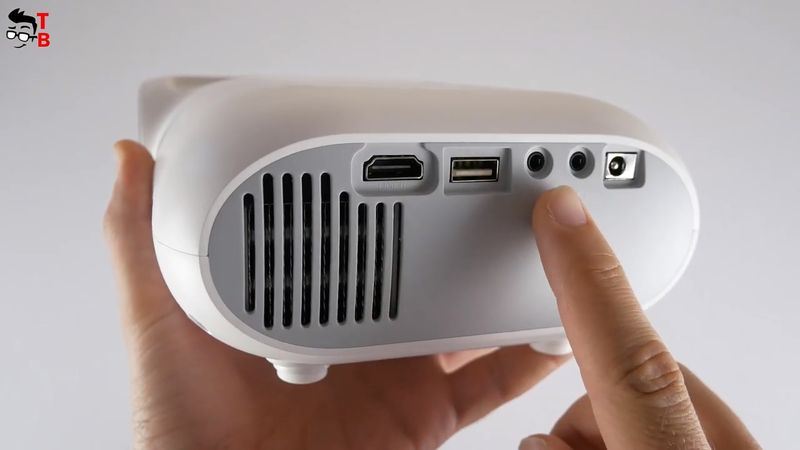 There is nothing on the right side.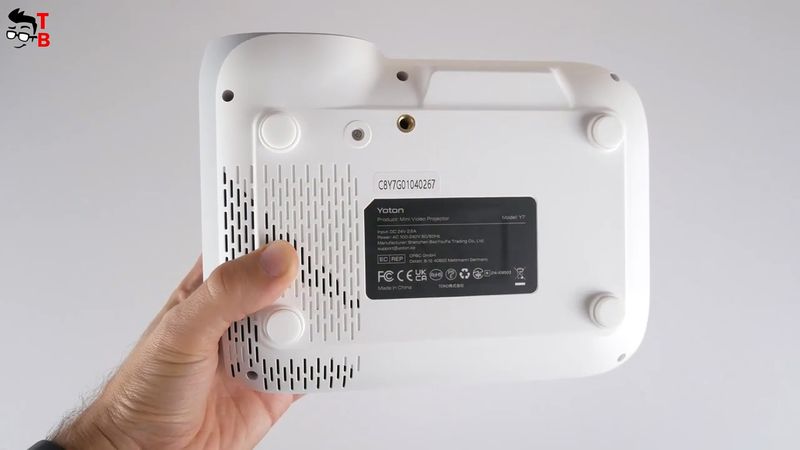 YOTON Y7 has the M4 hole at the bottom, so you can mount it on a tripod or even the ceiling. However, it also feels good on the coffee table. The four rubber feet keep it from slipping on the surface.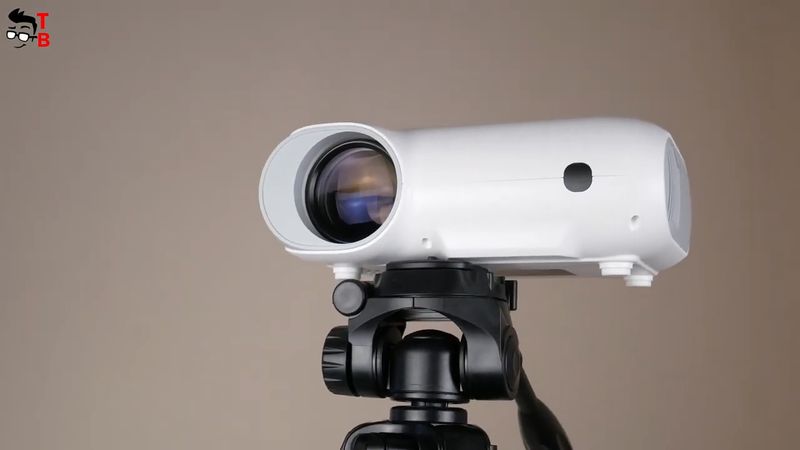 Okay, now let's turn on the projector and look at the menu.
Menu
When you first power on the projector, you are prompted to choose a language. There are eight languages available, such English, Germany, Italian, Spanish, and others.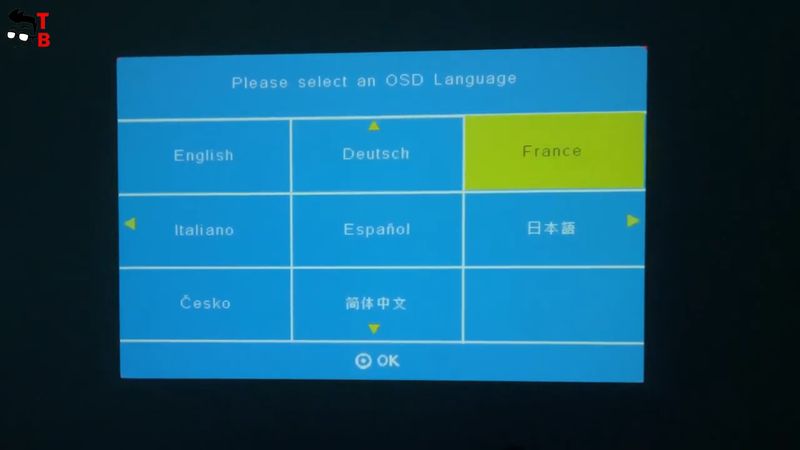 After that, we can choose a connection method from HDMI, screen mirroring, AV. You can also connect USB flash drive to projector, and go to the movie, music, picture or text.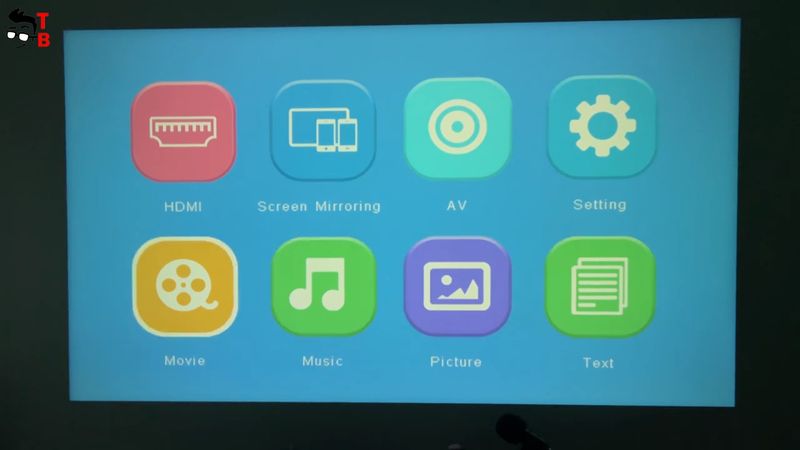 You know, the settings menu is the same as on other budget projectors. We have the picture settings, where we can choose a picture mode, color temperature, aspect ratio, projection direction and reduce display.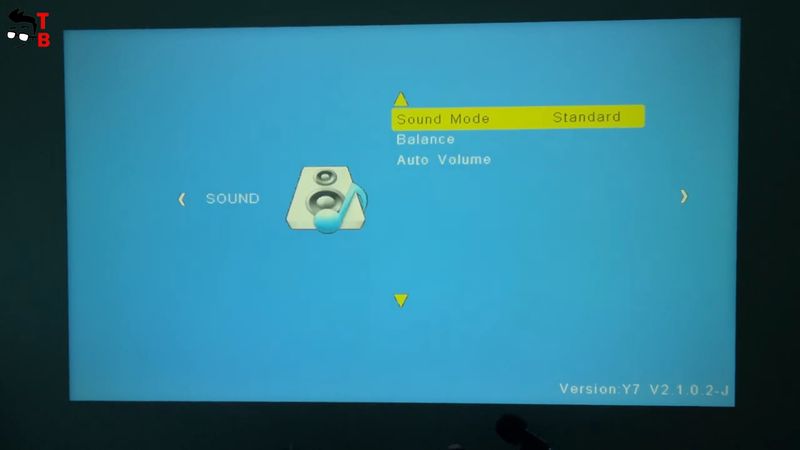 The audio settings include sound mode, balance and auto volume.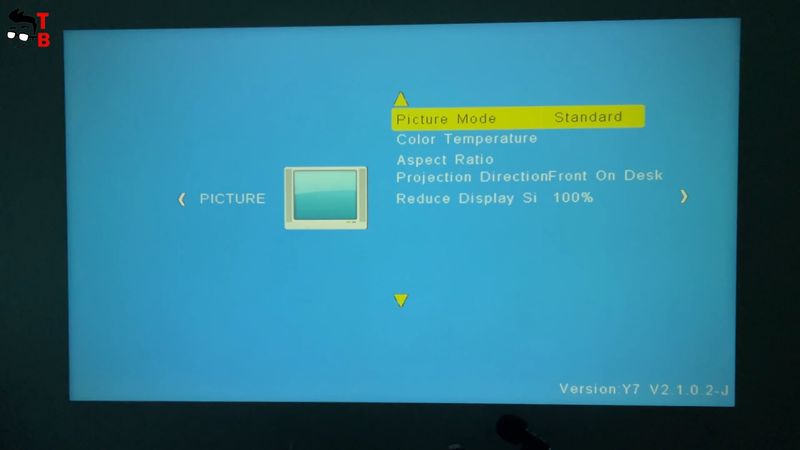 In the time menu, there is only sleep timer.
In the system settings, we can change a language, restore factory default, and some other options.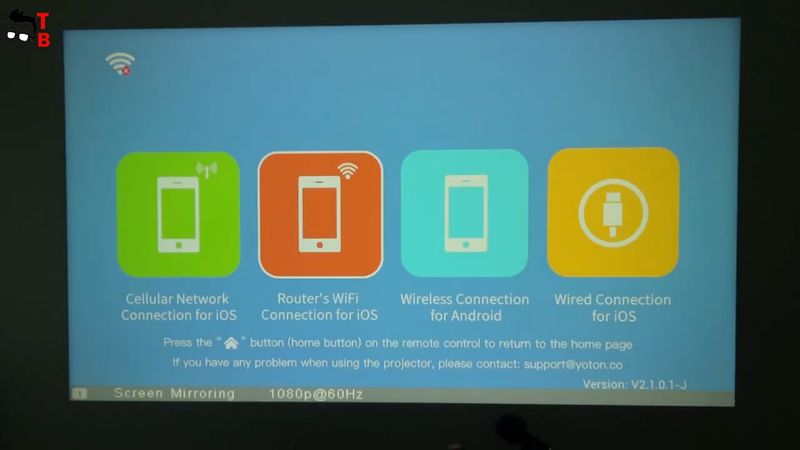 However, the main feature of Yoton Y7 projector is Wi-Fi support. There is even 2.4 and 5Ghz Wi-Fi support.
Wi-Fi and Screen Mirroring
You need to go to the screen mirroring menu, and choose a suitable connection method, such as cellular network connection for iOS, routers Wi-Fi connection for iOS, wireless connection for Android and wired connection for iOS.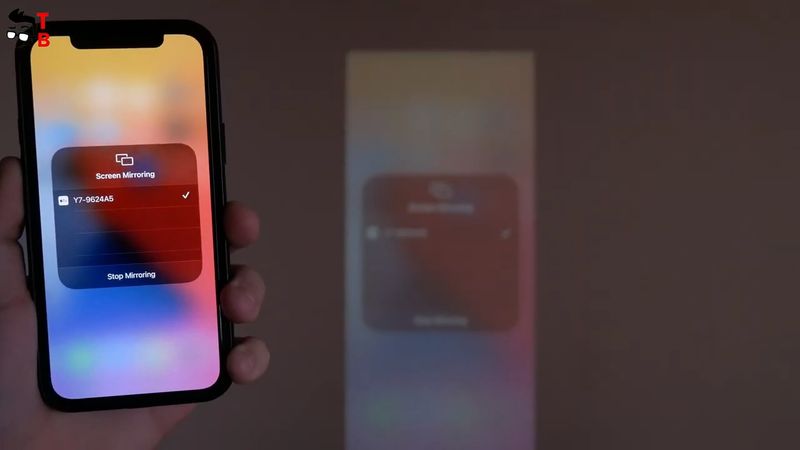 I have the iPhone, so let's try to connect it to projector. First, we need to go to the Wi-Fi settings, and connect to home Wi-Fi network. After that, take your smartphone, and open screen-mirroring menu. Here we can see Yoton projector. That's all!
Next time you don't have to re-enter a password from Wi-Fi Network on projector.
I have also read that you can mirror the screen of your smartphone to projector without connecting the same Wi-Fi network. It is called a cellular network connection.
Noise and Volume Levels
Talking about noise of Yoton Y7, it is quiet enough.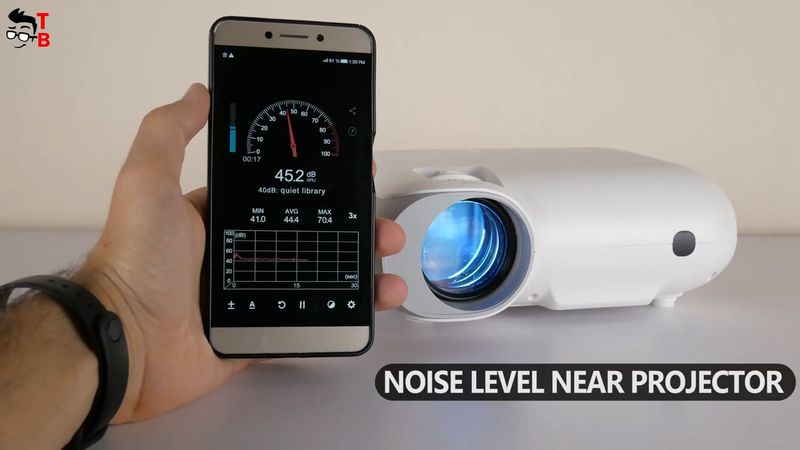 The noise level near projector is 45db, and it is only 35db at 1 meter.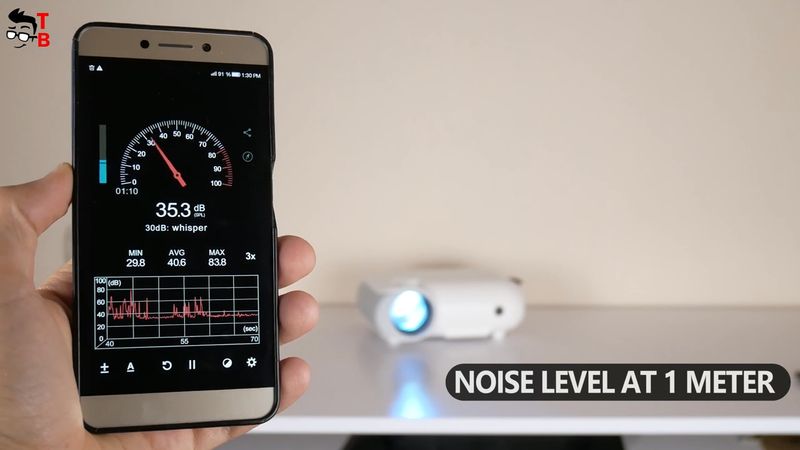 You know, I was worried that the projector would get hot because of its compact size, but it didn't. There is really hot air coming out of the right side, but the body itself is not hot.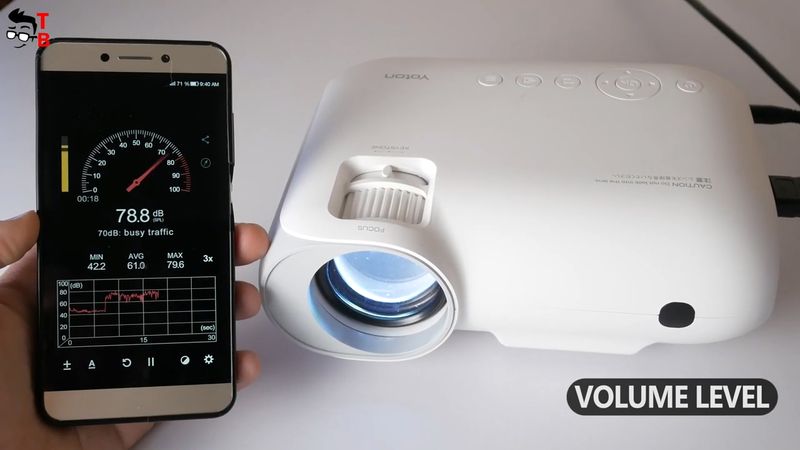 As for the volume level, it reaches 79 db. The sound is very loud, but the overall quality of the speaker is poor. It definitely needs more bass.
Projection Quality
Finally, we can watch some videos on the big screen.
I have placed a projector at about 3 meters from the wall, and got the projection size of 120 inches. The maximum screen size is 200 inches, but the recommended one is from 30 to 160 inches.
If your distance from the wall is too big, you can reduce a projection size from 100% to 50% with a remote control.
As I already said, the native resolution of Yoton Y7 projector is Full HD. The image is really clear. You can read text on projection, which is good for presentations or even games.
As for the contrast ratio, it is 2000 to 1. Of course, the colors are not as rich as on more expensive projectors or TVs, but they are good for a budget projector. Do you agree?
The brightness is 9000 Lumens or 220 ANSI Lumens. I think it is very good for $99 projector, and you can use it during the day. Of course, it is necessary to close the curtains or blinds on the windows.
Conclusion
So, let's summarize. You know, when I first saw Yoton Y7, I thought it was a children's model because of its compact size and rounded shape. However, it is really good for home theater.
First, I am glad it comes with 100-inch screen in the package. This is a nice surprise from a budget projector.
There are different connectors on the left side, such as HDMI, USB, AV, 3.5mm audio, so you can connect USB flash drive, laptop or even game console.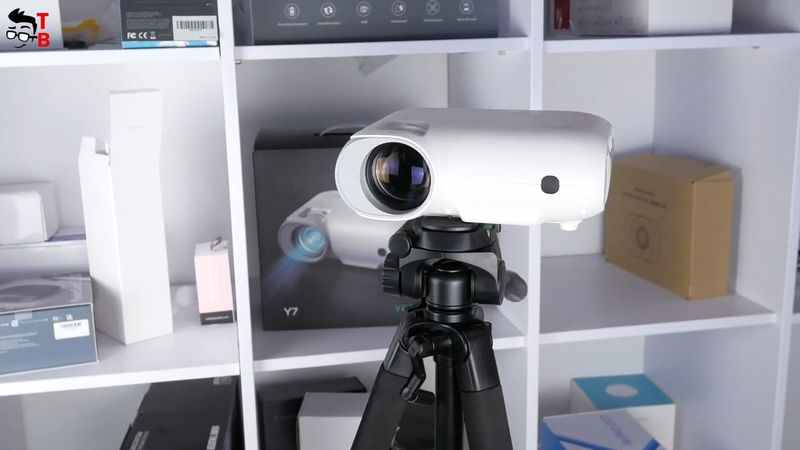 There is also dual band Wi-Fi support, so the screen mirroring function is available.
The projection quality is very good, thanks to Full HD native resolution and high brightness.
Probably the only drawback of Yoton Y7 is a speaker. It is very loud, but the quality is poor. I would recommend connecting an external speaker, especially since AV and 3.5mm audio ports are available here.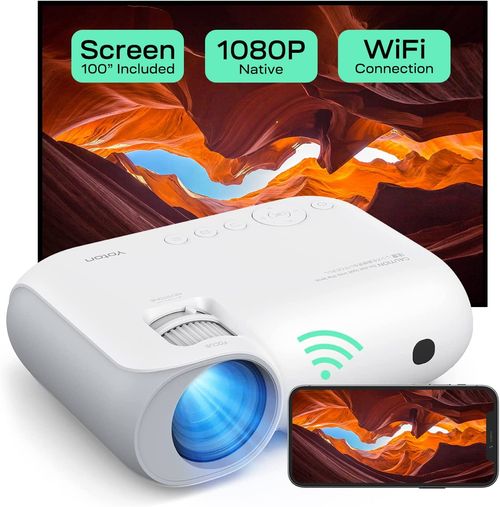 Yoton Y7 Native 1080P WiFi Projector - Amazon - $55 OFF COUPON
as of September 17, 2023 6:03 pm