So, I have been using the Xiaomi Mi Band 7 fitness band for about a week now, and I have an opinion on it. Let's talk about the advantages and disadvantages of this device.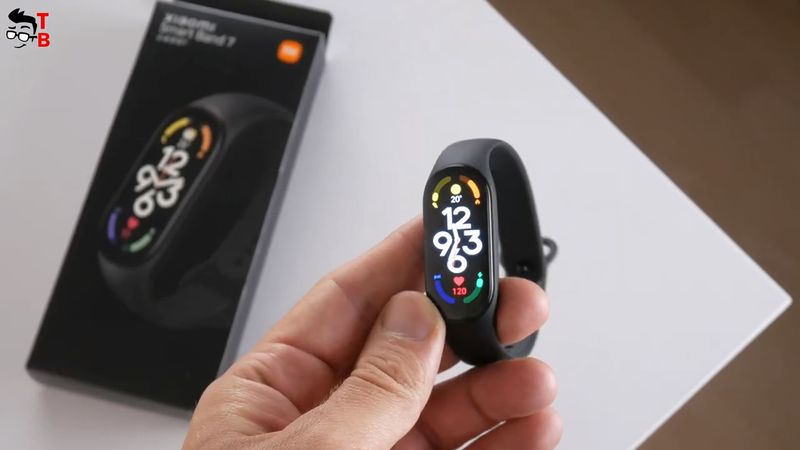 I have a Chinese version of Mi Band 7 without NFC. Later I will tell you about the differences between global and Chinese models.
OK, let's start with unboxing.
Unboxing
As I already said, I have a Chinese version of Xiaomi Mi Band 7, so the inscriptions on the back of the box are in Chinese.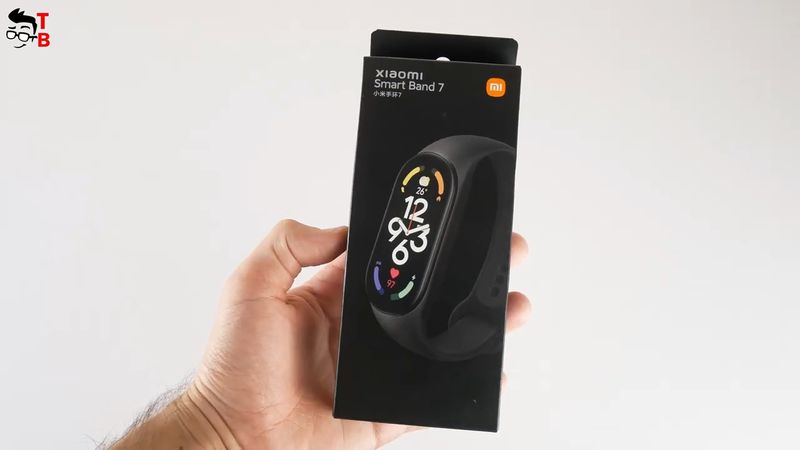 This is the first difference between a Chinese and a global version of fitness bracelet.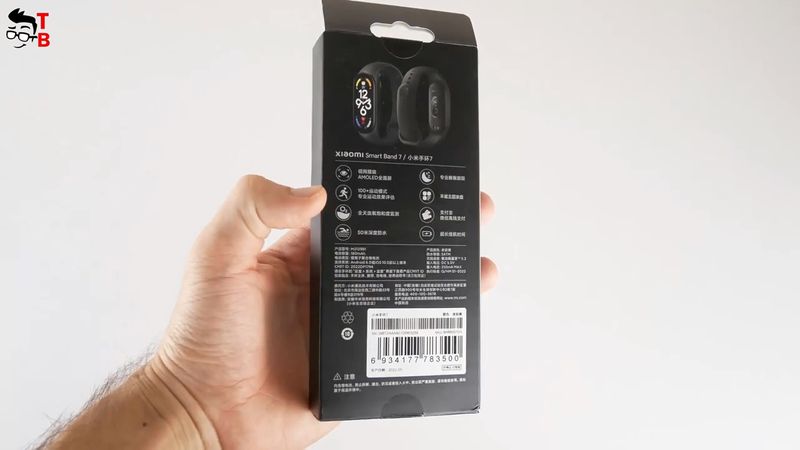 Inside the box, we have a fitness bracelet, user manual and a magnetic charging cable.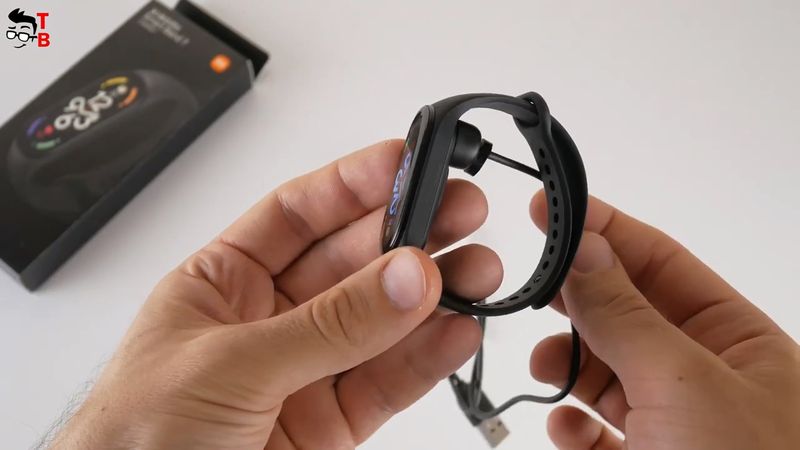 You know, Xiaomi has added a magnetic charging cable to Mi Band 5, and I still think it one of the best fitness band upgrades in the last few years.
Design
If you don't compare the fitness bracelets side-by-side, then you will not notice big differences in Xiaomi Mi Band 7.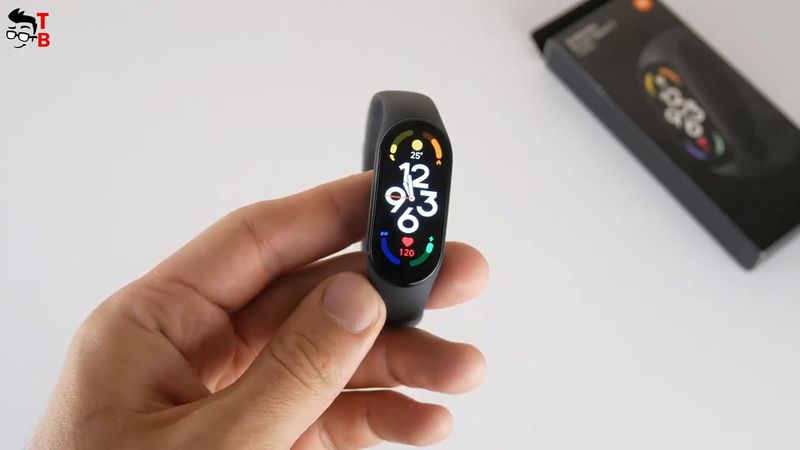 It has a classic design with removable tracker and silicone strap.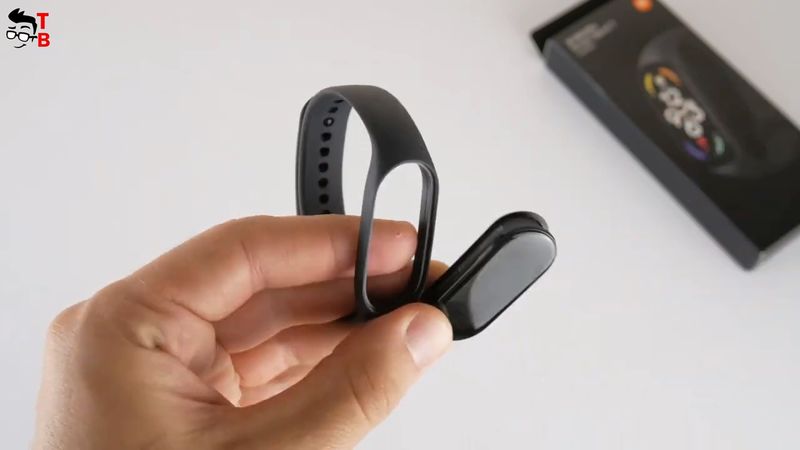 However, now, you don't need to remove a tracker from the strap to charge fitness bracelet, like it was a couple of years ago. Now you can only do this to change the strap. I think that you will not change it often, so the lifetime of the strap should be long.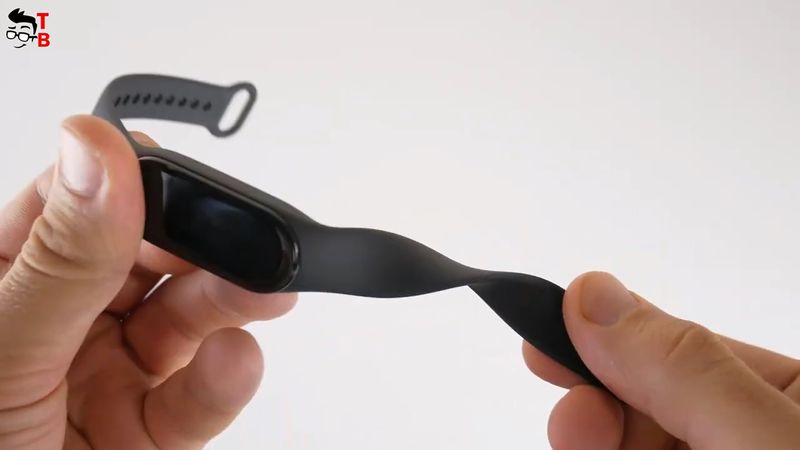 Overall, a strap of Mi Band 7 looks and feels similar to the previous model, but it is not compatible, because the new tracker is a little bigger.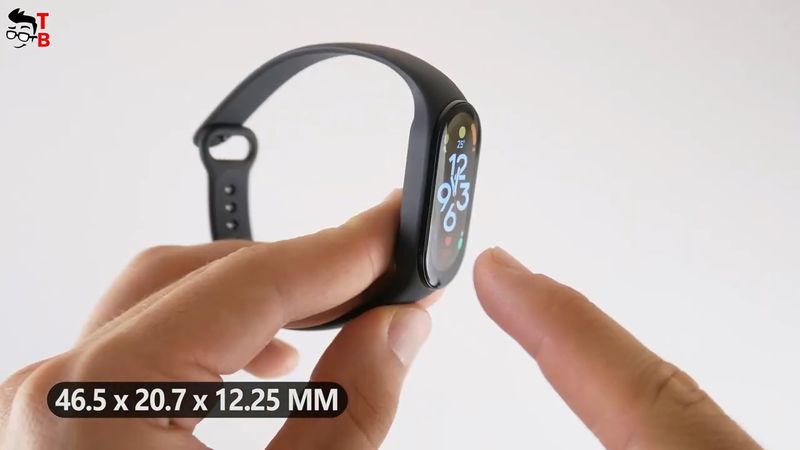 The dimensions of Mi Band 7 tracker are 46.5 by 20.7 by 12.25 mm. The weight is only 26 grams.
Display
Talking about display, you might think that it doesn't have bezels at all, but if you look in direct sunlight, you will see them, especially under the screen.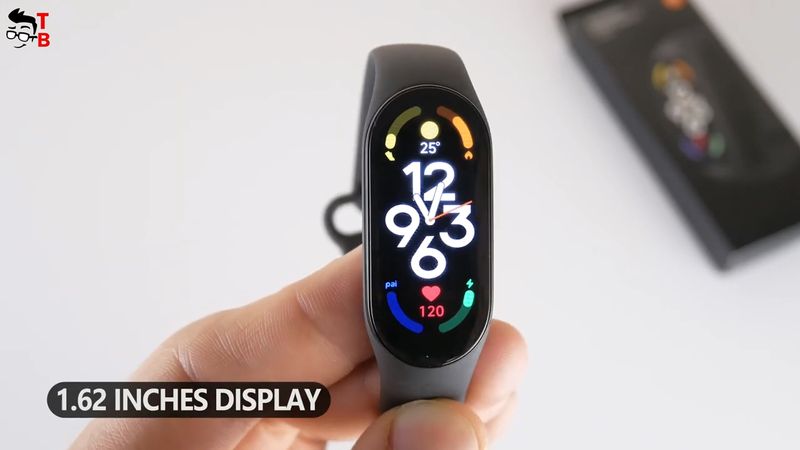 A display has a diagonal of 1.62 inches and 192 by 490 pixels resolution. You know, it is one of the brightest display among the fitness bracelets – up to 500 nits. You can see everything on the screen outdoors.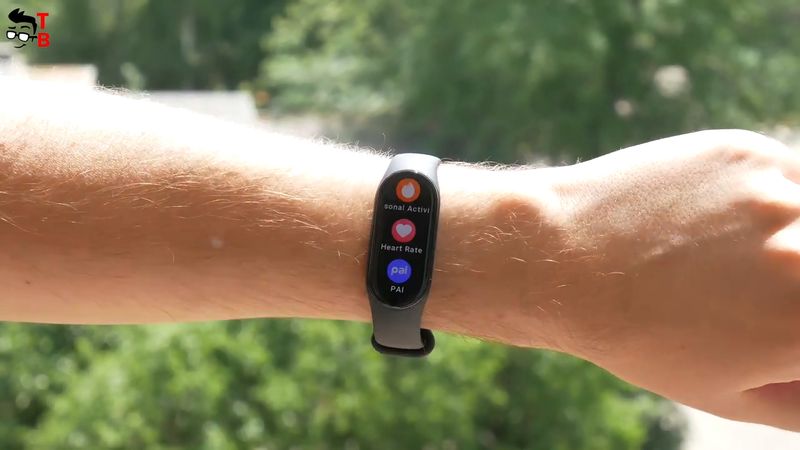 Another feature of this display is AMOLED panel. The previous generation of Mi Band also had AMOLED panel, but it didn't have Always-On Display. Now, it is available. You don't need to raise your hand and wake up the screen to see the time.
I think the Always-on screen is one of the biggest upgrades in Mi Band 7.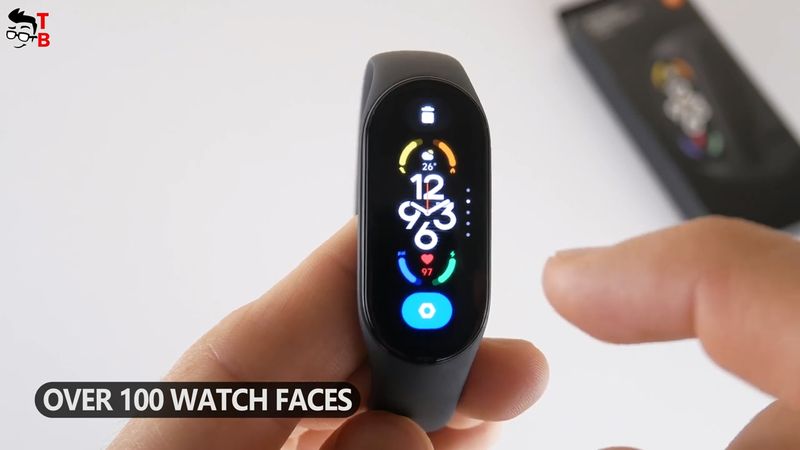 If you are interested in watch faces, there are over 100 available. Actually, there are 5 in the fitness bracelet, but you can upload more from the app on smartphone. Later I will show you that, but now let's look at the functions of Mi Band 7.
Functions
It looks like the icons and inscriptions on the new fitness bracelet become larger. I think it is a good thing, because the screen is not so big, and small text is not convenient to read.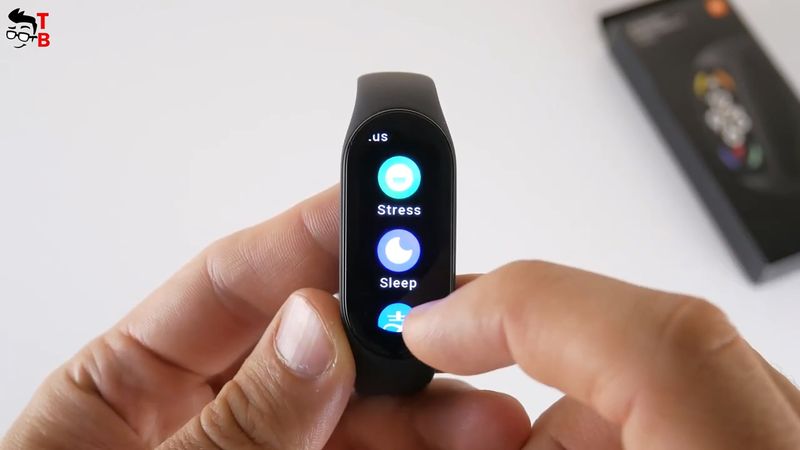 You know, Xiaomi Mi Band 7 is equipped with a new Dialog 14706 chip, so the performance is improved. I cannot show you Mi Band 6, because I don't have it now, but I saw some videos on YouTube, and the new Mi Band 7 really has better performance.
Menu navigation has become smoother.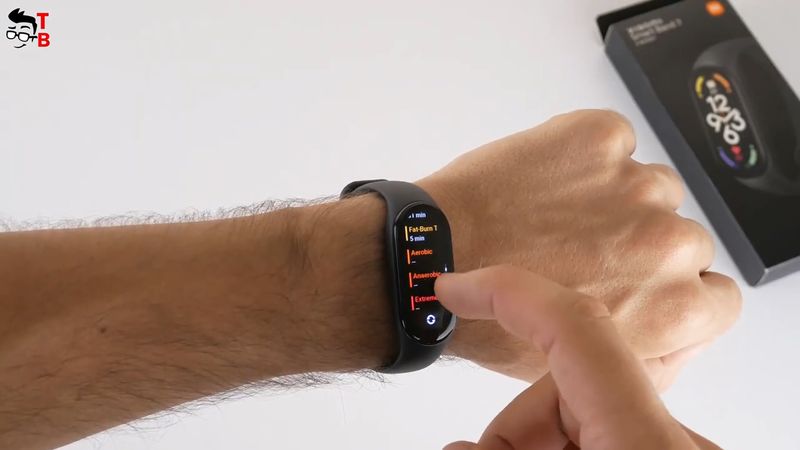 First, you can swipe down from the main watch face to read the new notifications.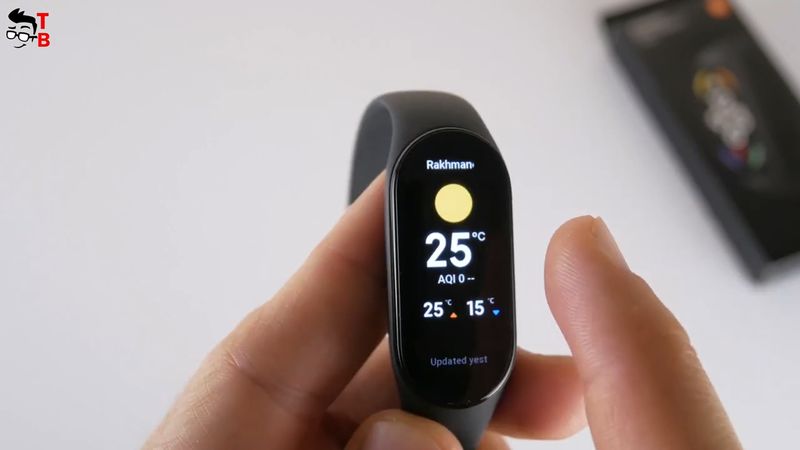 Then, you can swipe left or right to see a weather forecast, AliPay, WeChat pay and music control. By the way, I have non-NFC version of Mi Band 7, but there is AliPay and WeChat Pay, because they use QR codes.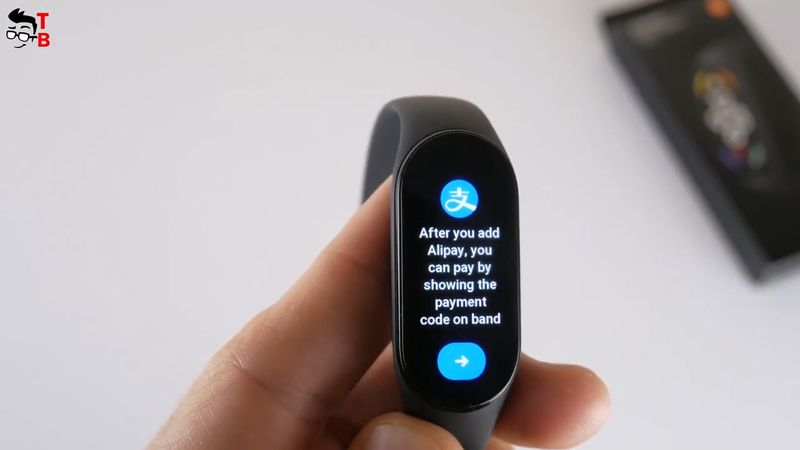 You ca also swipe up from the main watch face to get to the main menu with all apps, such as personal activity,  heart rate, PAI, blood oxygen, workout modes, workout history, workout status, stress monitor, sleep monitor, AliPay, WeChat Pay, Weather Forecast, Music control, Alarm clocks, Events, Settings menu and More.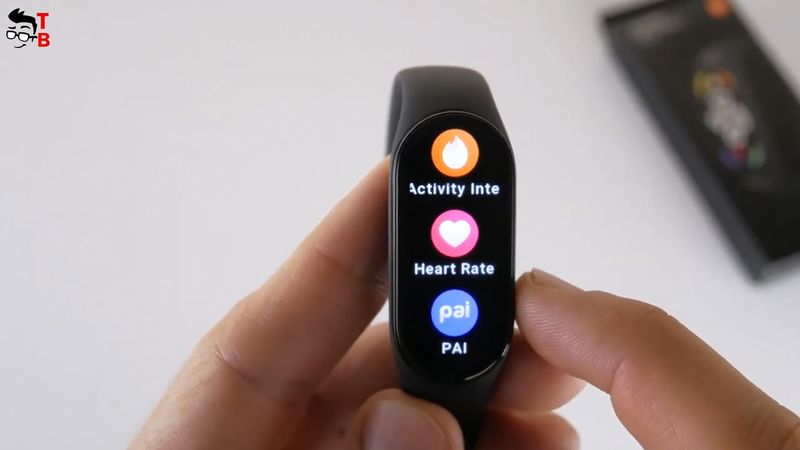 In the More menu, there is a flashlight, female health, breathing exercise, stopwatch, timer, Event reminder, Pomodoro Timer, and remote camera.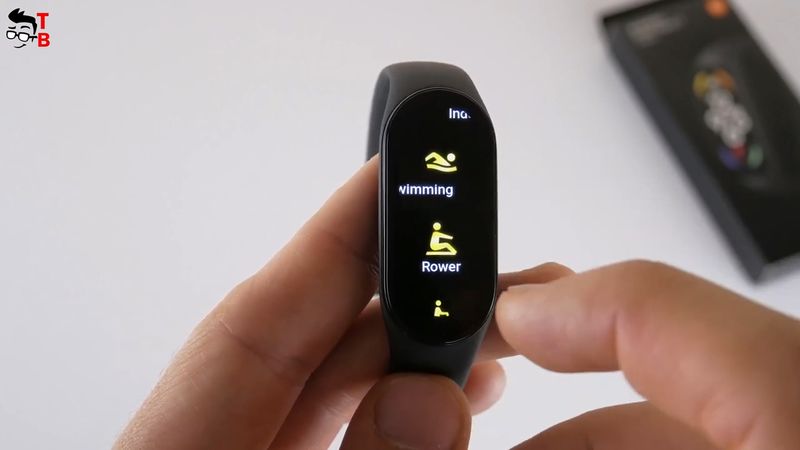 Xiaomi Mi Band 7 has 120 fitness modes, and they are divided into sections like running, cycling, dance, indoor workout, etc.
The new fitness bracelet from Xiaomi also has a new workout status menu. Here we can see a training load for the last 7 days, VO2 Max measurement, and recovery duration.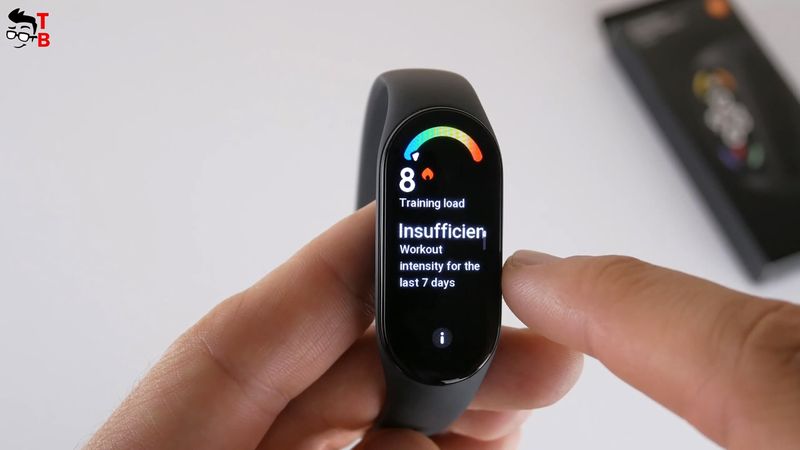 The settings menu also has many options. I will tell you about some of them. First, you can change a watch face, time format and date format.
Among the display settings are brightness, screen on duration, always on display, wake on wrist raise, screen always lit and screen on upon notification.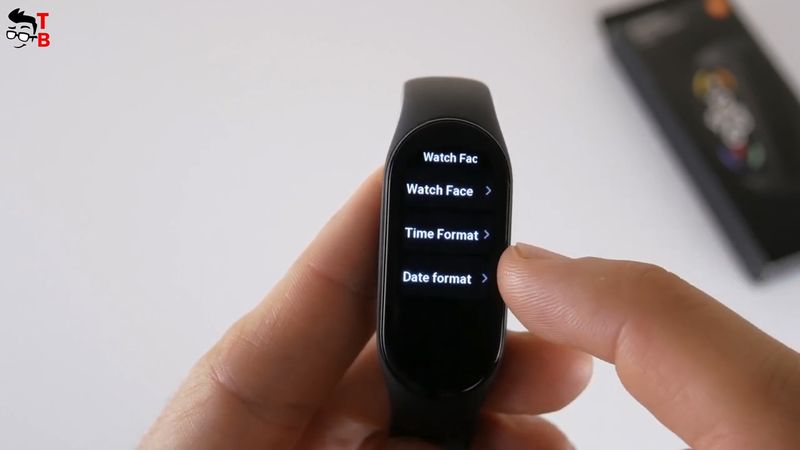 There are also some other options in the settings menu, such as do not disturb mode, lock screen, battery saver mode, workout detection and system.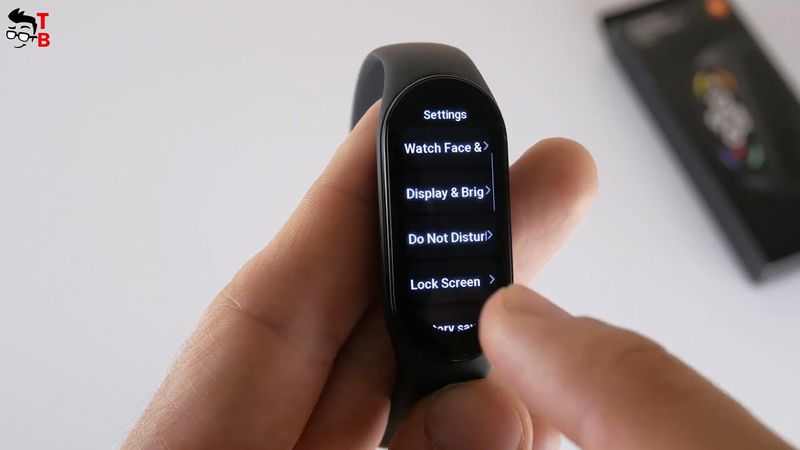 You know, the bracelet has many settings. However, you still need to connect Mi Band 7 to your smartphone to use it. For that, you need to install Zepp Life app on your Android or iOS device.
Let's look at this app.
App
You know, earlier Xiaomi Mi Band fitness bracelets have the app called Mi Fit. Now, the Chinese version of Mi Band 7 uses Zepp Life app, while a global version is connected through Mi Fitness app. I don't know why it is so difficult.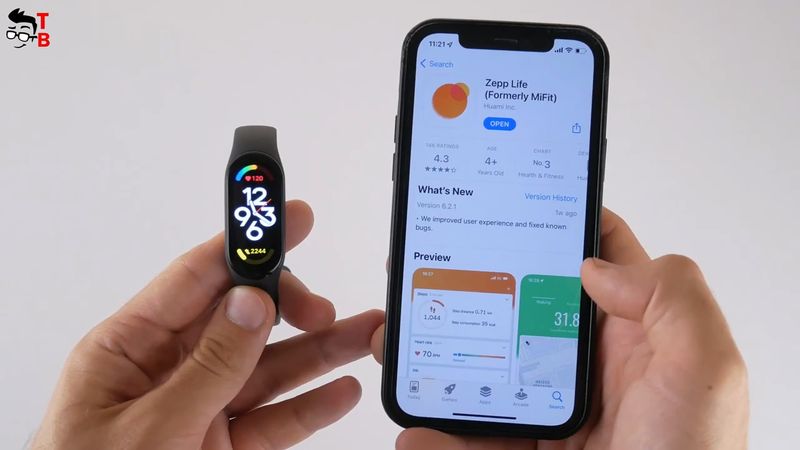 Anyway, on the main screen of the app, we can see the steps, sleep information, heart rate, PAI, activities, cycles, weight and body score.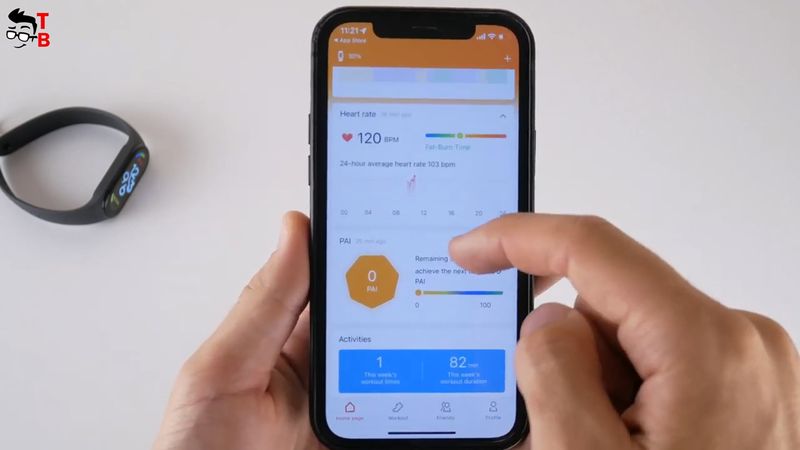 There is also a workout menu, where you can choose walking, running or cycling mode. Xiaomi Mi Band 7 doesn't have built-in GPS, but it uses a GPS positing on your smartphone.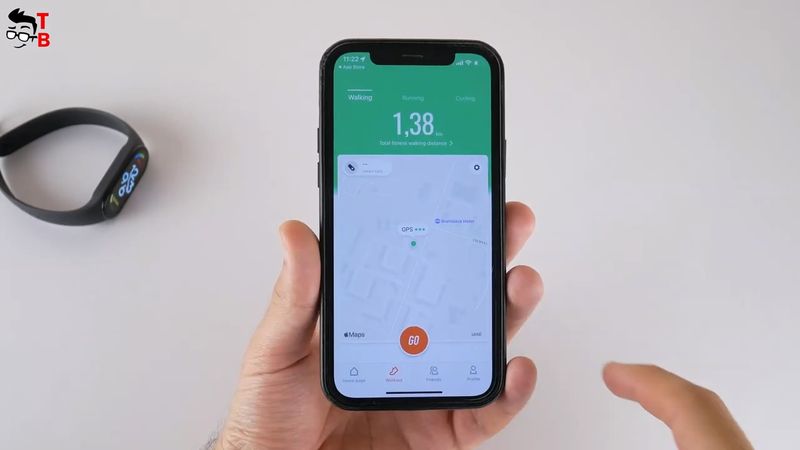 In the settings menu, we can see the image of fitness band and battery level.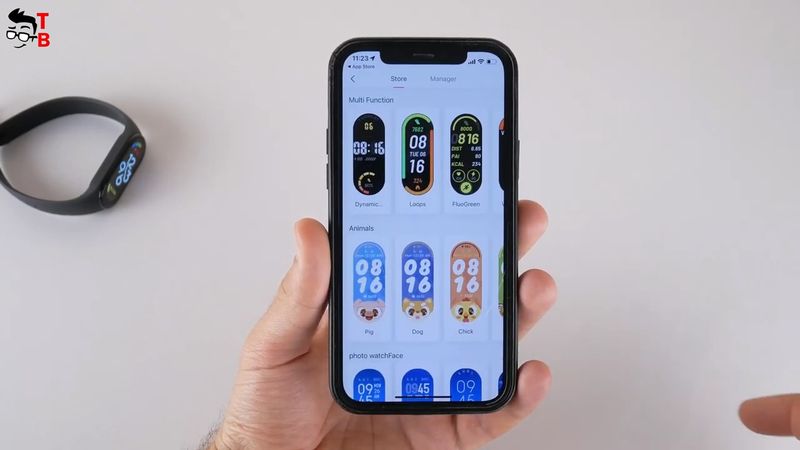 Then, we can go to the Store, and upload the new watch faces to the bracelet. As I already said, there are more than 100 watch faces available.
In the next menu, we can setup notifications and reminders.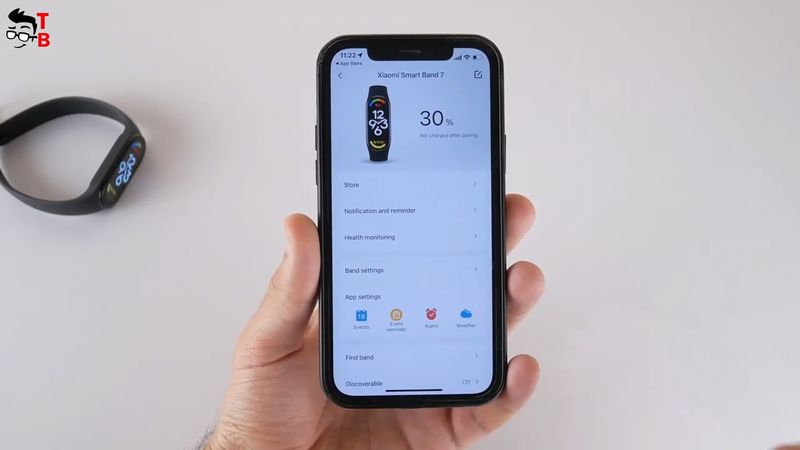 Among the health monitoring functions are heart rate, abnormal heartbeat, sleep, stress and SP02.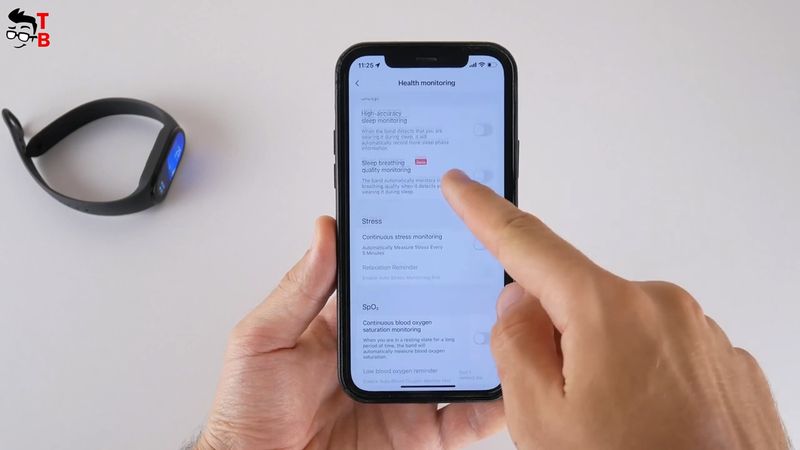 By the way, many people say that the Chinese version of Mi Band 7 supports only Chinese and English languages. However, this is not true. As you can see, there is Spanish, Portugal, Brazil, Poland, Italian, and many other languages available.
Battery
Finally, we can talk about battery of Xiaomi Mi Band 7. The new fitness bracelet has 50% bigger battery than the previous generation, but the battery life is about the same.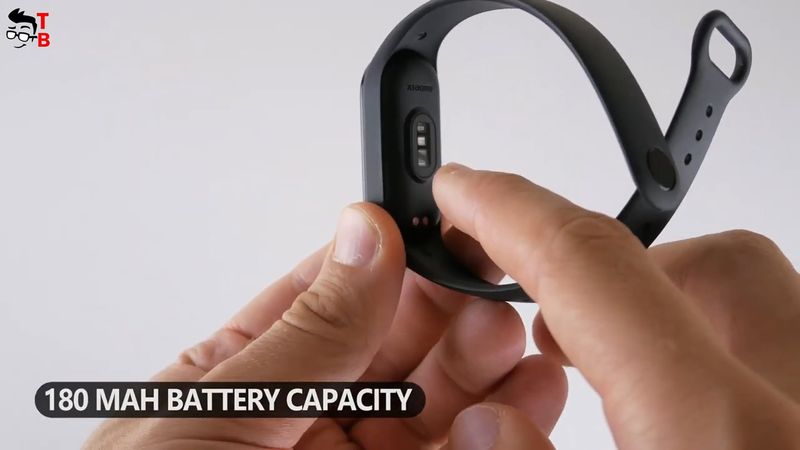 This is because a display become bigger and brighter, as well as new functions that consume more power.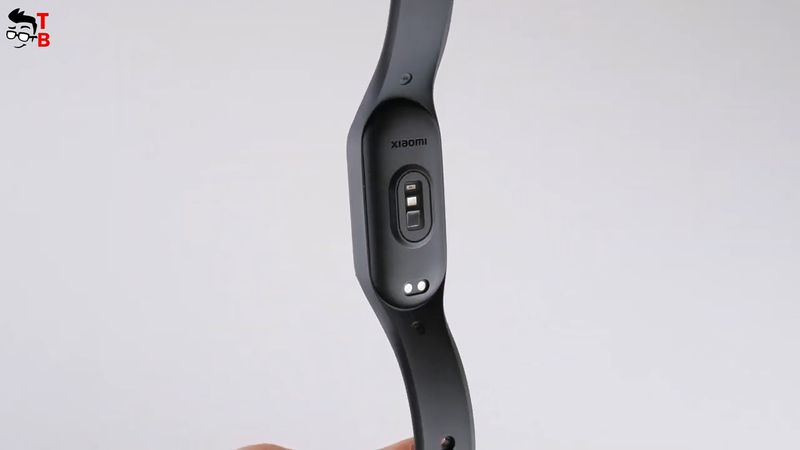 A typical battery life of Mi Band 7 is about 15 days.
However, if you use a continuous heart rate tracking, sp02 measurement, sports modes, etc., then the battery life will be about 7 days.
Conclusion
So, I cannot say Xiaomi Mi Band 7 surprised me. It looks the same as the previous model. However, it has many less noticeable improvements, such as a bigger and brighter screen, Always-on Display, higher performance.
The health measurements are better because the sensors have been updated, such as SpO2 sensor and heart rate sensor. Among the new sports functions are sp02 alerts, V02 Max and Training loads, and some new sports modes. In total, there are 120 fitness modes available.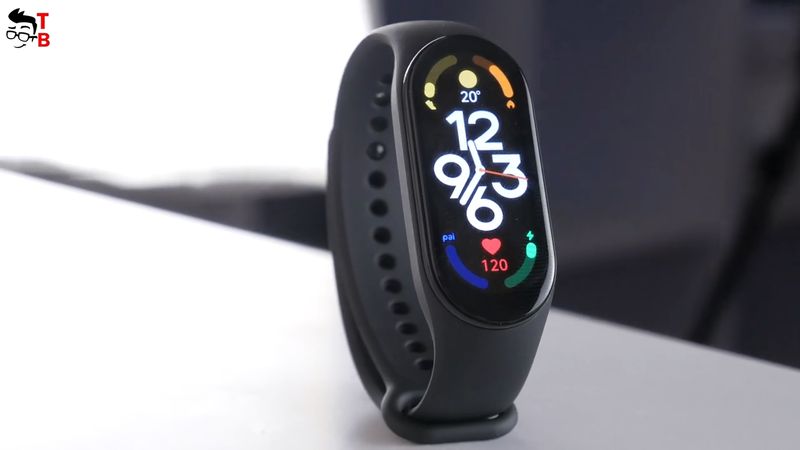 You know, I didn't find any differences between the Chinese and global versions of Mi Band 7, except the Chinese inscriptions on the box. It seems the software update came to my fitness bracelet, and now it is the same as the global version.
In general, Mi band 7 is a very good fitness bracelet, and now it can really be called fitness. However, there is already a Pro version of the band, and it looks completely different.
We have already ordered Xiaomi Mi Band 7 Pro, and it is on the way to us.