Today, we are going to look at a budget projector with some good features such as Full HD native resolution, 400ANSI brightness, dual-band Wi-Fi and Bluetooth support, and a screen size of up to 300 inches.
By the way, this projector has one of the longest lamp lives – up to 100,000 hours. You know, it is very impressive for the bright projector.
Please meet the VYSER L1. As usual, let's start the review with unboxing.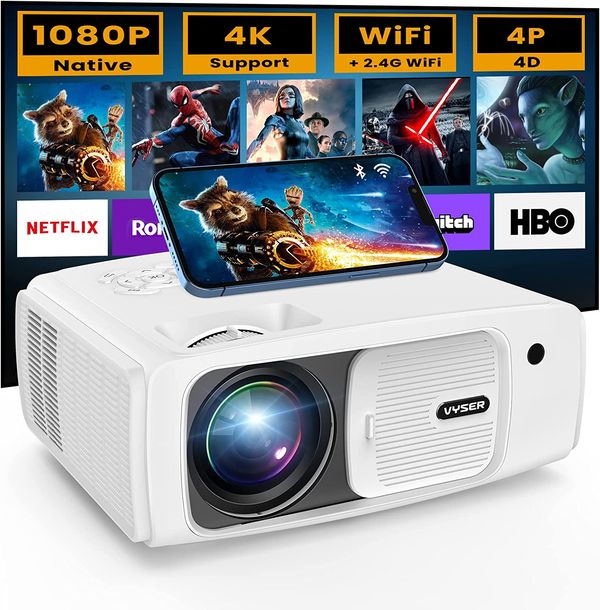 VYSER Projector with 5G WiFi & Bluetooth - Amazon
as of May 10, 2023 10:37 am
Unboxing
First, we can see the VYSER logo on the box.
The manufacturer says that this projector is good for home theater, teaching and office. We will definitely check it out in our article.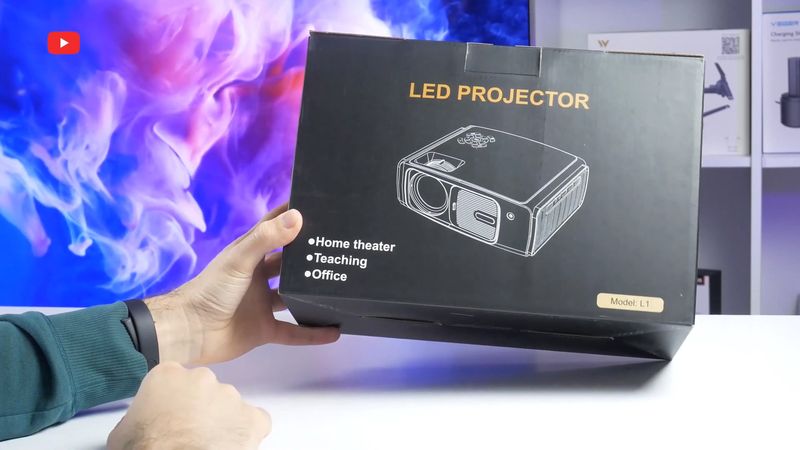 Inside the box, there is a simple projection screen of 100-inch size, and a bag.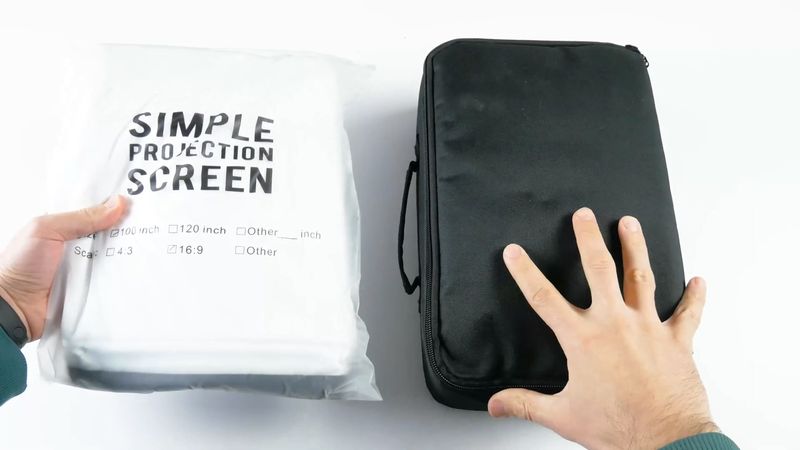 When you open the bag, first, you will see the projector. We will take a closer look at it a little later.
There is also a user manual, power cable, HDMI cable, AV cable, kickstand and remote control in the bag.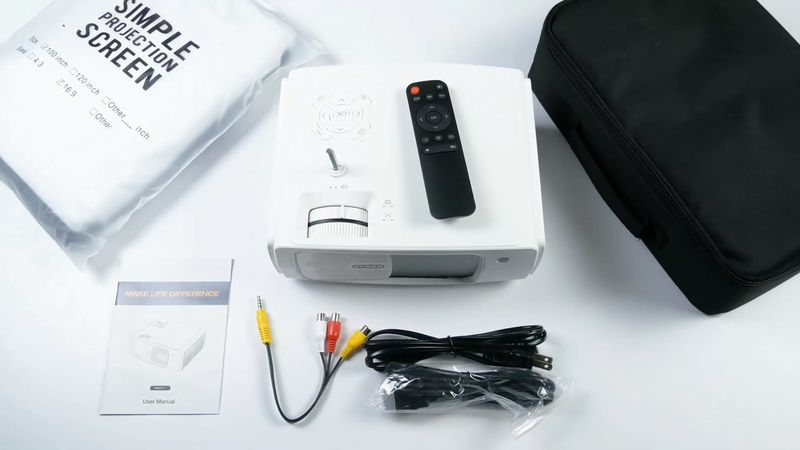 You know, I like it when projectors come with a bag for storing and carrying. It is very convenient.
Design
I think one of the main features in the design of VYSER L1 projector is a built-in cover on the lens. It is a very useful thing, and I don't understand why other projectors don't have it. The lens should be protected from dust, and the sliding cover is the best solution.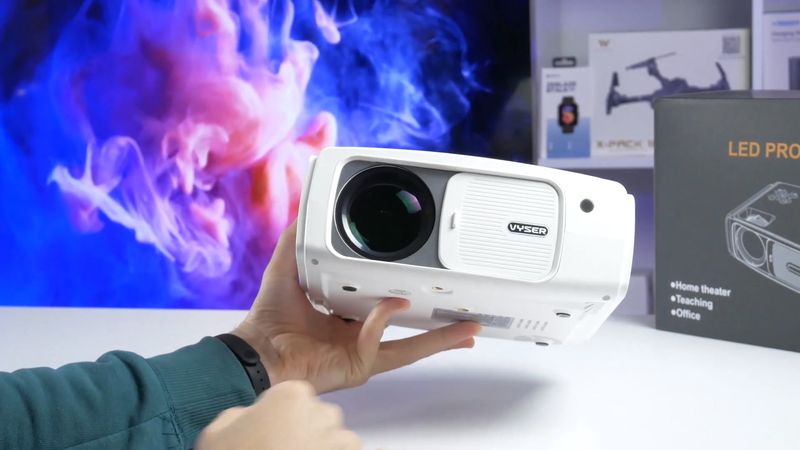 There is also an infrared receiver on the front of the projector.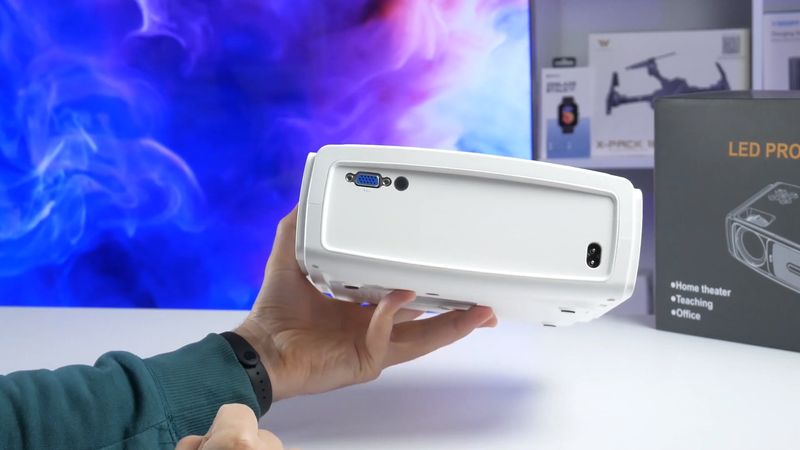 VGA port, the second infrared receiver and power connector are on the back.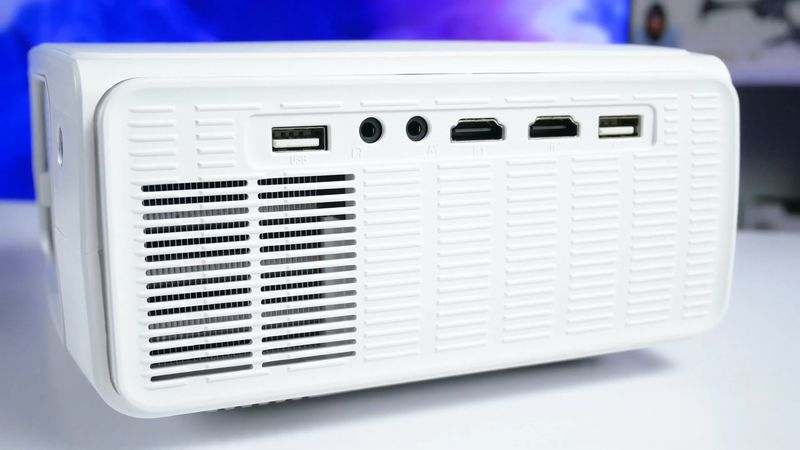 You can also use USB port, 3.5mm headphone jack, AV port, two HDMI ports and another USB port on the side of the projector.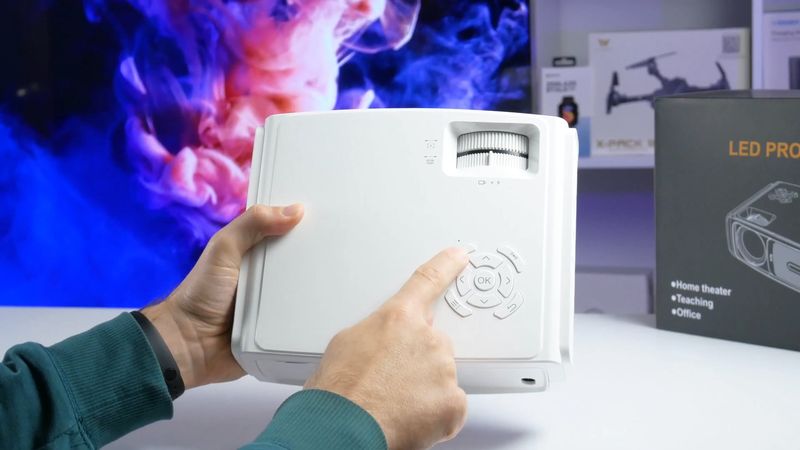 If we look at the top panel, there is a focus adjustment wheel, a keystone correction wheel and control panel with power on/off button, signal source, navigation buttons, OK, menu and return.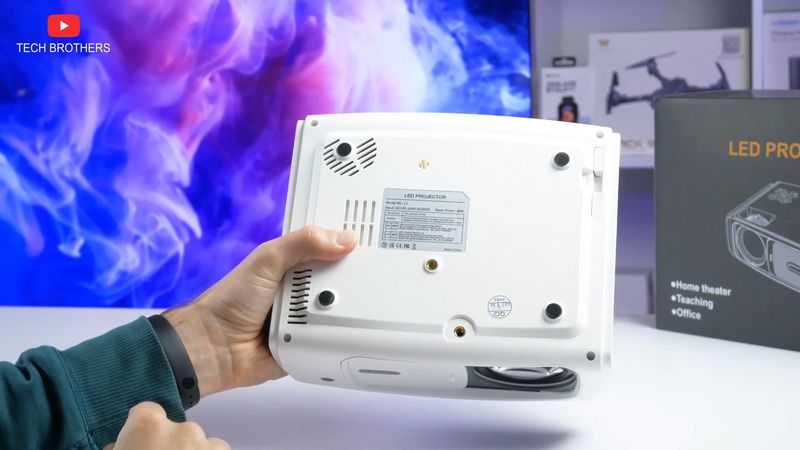 By the way, the speaker is located at the bottom. We can also see four rubberized feet and a tripod mount here. This is very good because I always use projectors on a tripod.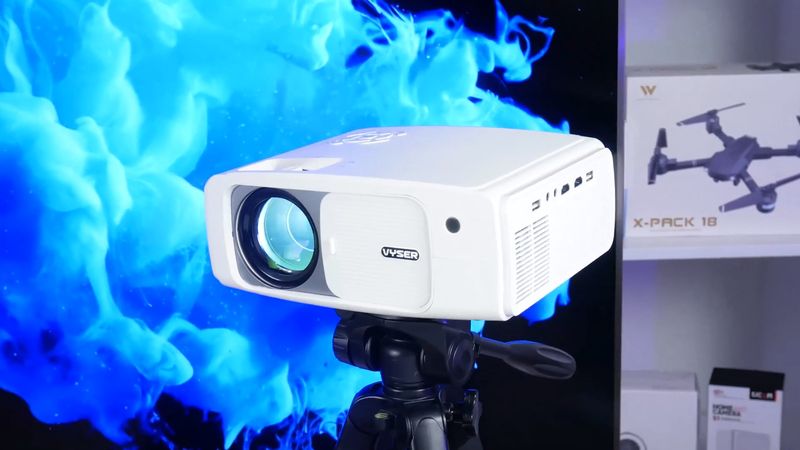 You know, it seems to me that VYSER L1 is good for both the office and the home. However, I have to say that it is bigger than most of the projectors I have tested lately.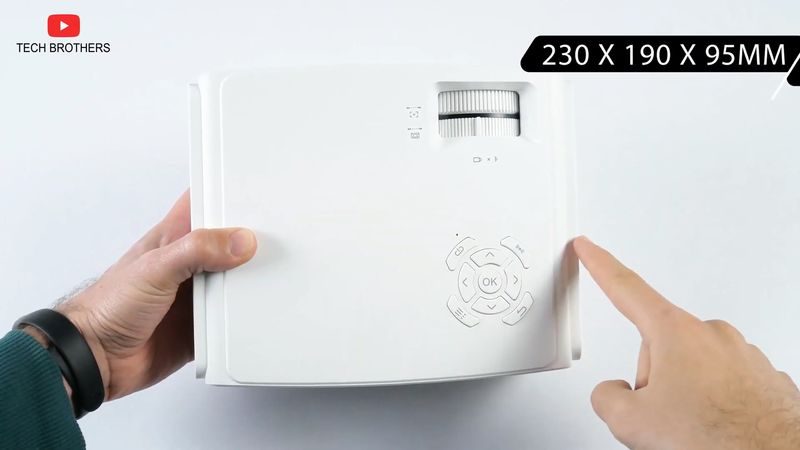 Its dimensions are 230 by 190 by 95 mm. The weight is 1438 grams. I hope that a bigger size will provide better cooling and less noise. We will definitely check it out later.
User Interface and Settings
Now, let's take a look at the user interface.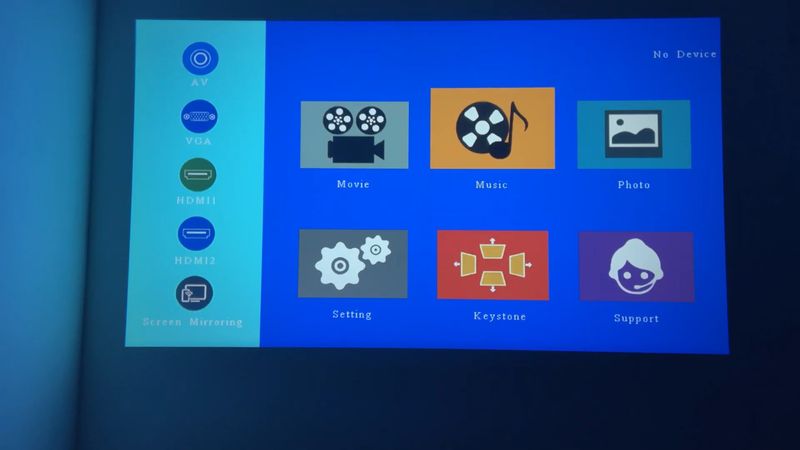 On the home page, we can select a signal source from AV, VGA, HDMI1, HDMI2 and Screen Mirroring.
You can also connect an external drive and play a movie, music, or photo.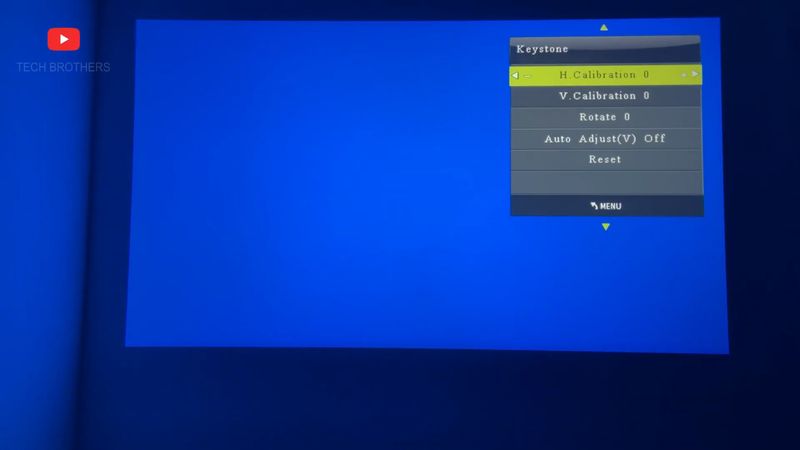 There is also a settings menu, keystone correction and support on the home page.
By the way, the keystone correction is one of the main features of VYSER L1 projector, because you can manually adjust it, but also there is a plus minus 50 degrees automatic correction.
This is a useful feature because you don't have to place the projector exactly against the wall. Even if it is placed at an angle, the projector will make the image flat.
Settings
In the settings menu, you can change a picture mode, color temperature, aspect ratio, noise reduction, projection direction, HDMI mode and reduce display size.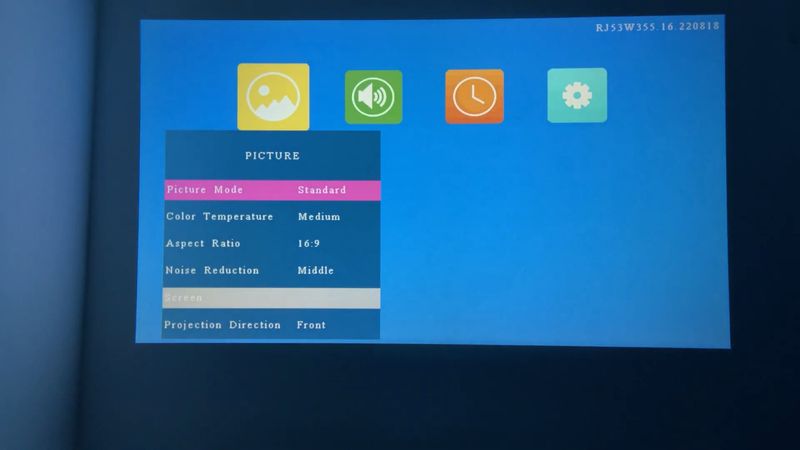 There are also sound settings that include sound mode, balance, auto volume, and Bluetooth.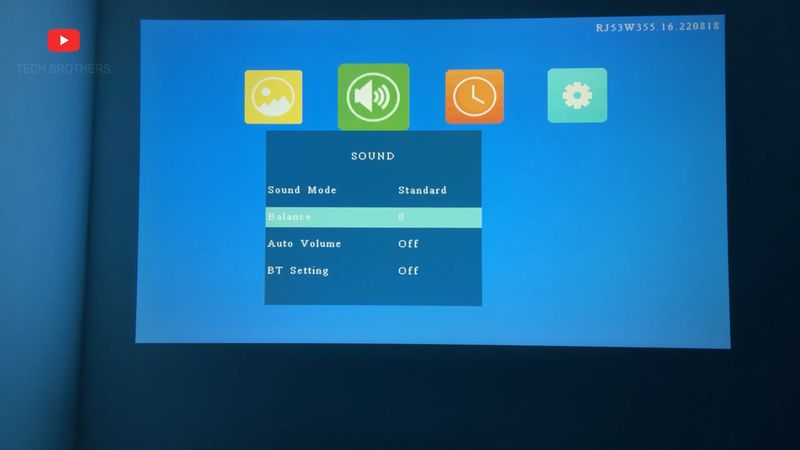 A sleep timer is also available on this projector.
Finally, you can change the system language, restore factory default, blending, OSD duration, Blue Screen, Keystone and software update on the new Vyser L1 projector.
Wi-Fi and Screen Mirroring
OK, that's all about settings, but I also want to show you how to connect a smartphone to the projector via Wi-Fi.
First, you need to go to the Screen Mirroring from the home page.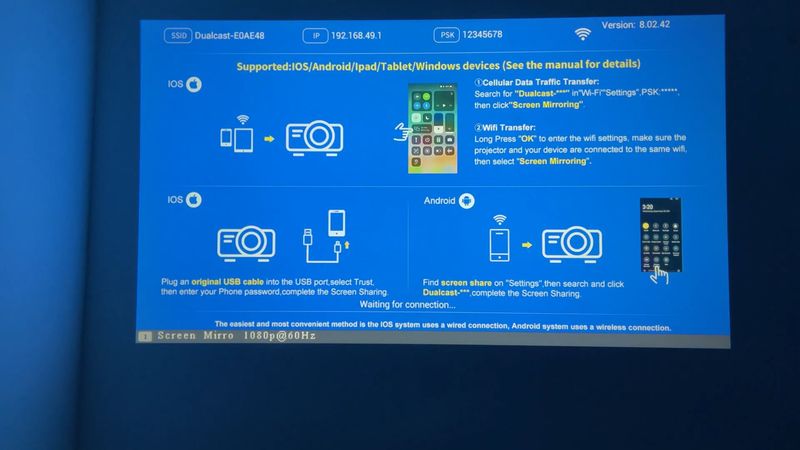 Here you will see instructions on what to do on Android and iOS devices.
But first, you need to connect a projector to the same Wi-Fi network as your smartphone. For that, press and hold OK button on the remote control.
Now, select your Wi-Fi network and enter a password from it.
When the projector is connected, return to the previous menu and take your mobile device.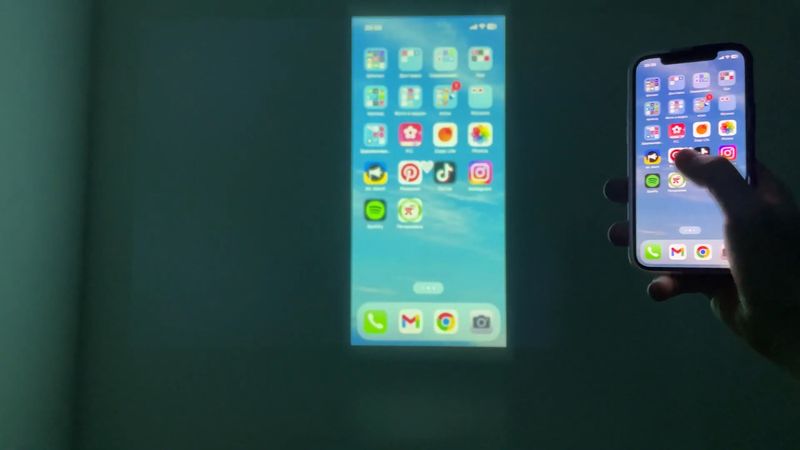 Finally, select a projector in the screen mirroring on your smartphone. That's it!
Bluetooth Connection
VYSER L1 also has a Bluetooth support, so you can connect an external speaker or headphones to the projector.
You can find a Bluetooth menu in the Settings, Sound menu and the last option – Bluetooth Setting.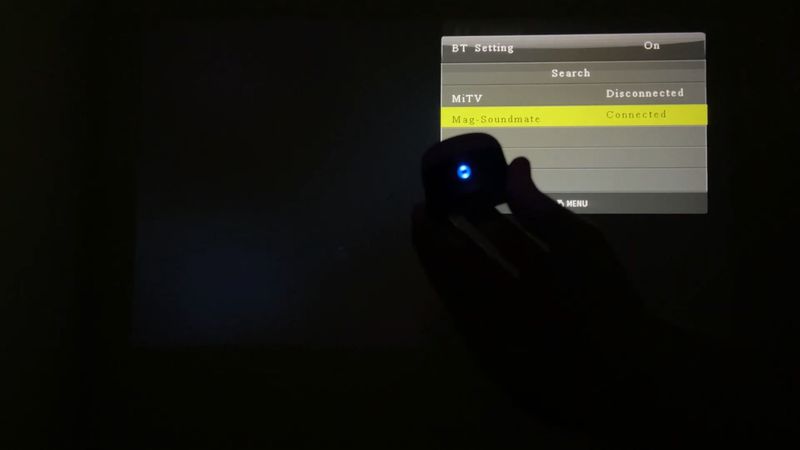 First, you need to turn on Bluetooth, and then press on Search.
Make sure the Bluetooth device is turned on, and then select it from the list on the projector.
Speaker Quality
You know, this is a useful feature for connecting headphones, but I am not sure if you need to connect an external speaker, but the built-in speaker of this projector is quite good.
I like the deep bass. The volume is also very high, but I think it is better to use it at maximum 70% volume.
Noise
You know, the projector looked amazing up to this point, but it looks like I have found a little problem. VYSER L1 is noisy.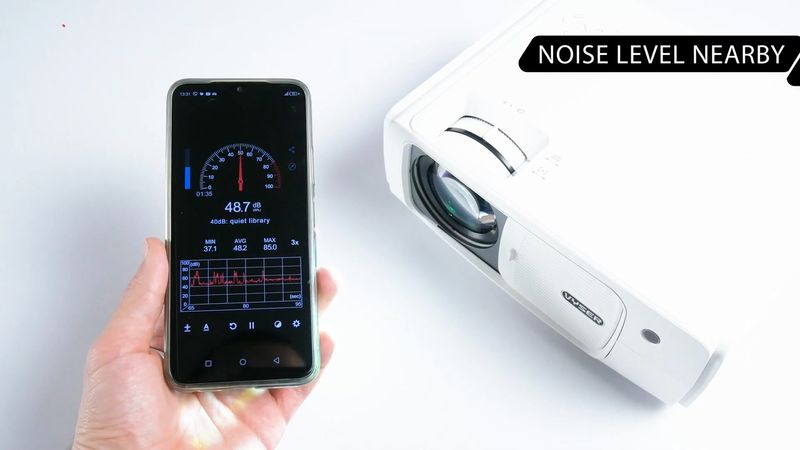 The noise level near the projector is 49 db, and it is about 42 db at 1 meter.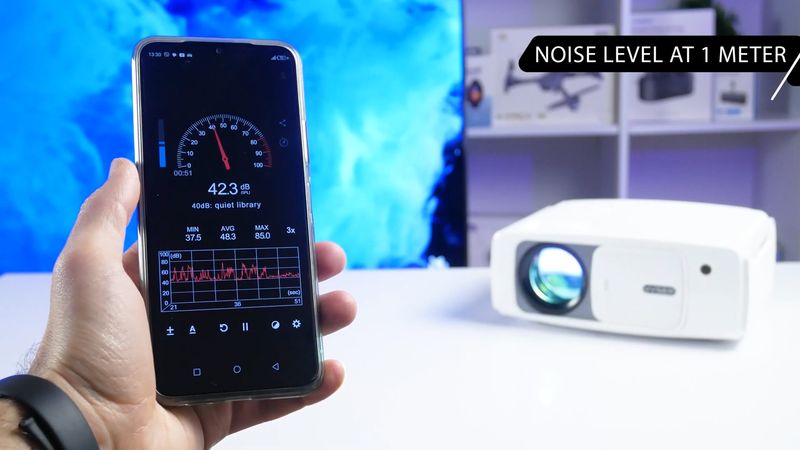 However, when you watch a movie, you don't really notice the fan noise.
I also found that the projector gets very hot on the left side.
Maybe it is because of the high brightness of the lamp, but I have tested other projectors with similar brightness, and they were not as hot.
On the other hand, if hot air is coming out, it means that the cooling system is working well.
Projection Quality
Finally, we get to the image quality.
First, you should know that I placed a projector at about 2 meters from the wall, and my screen size is 80 inches. VYSER L1 supports maximum 300 inches screen size.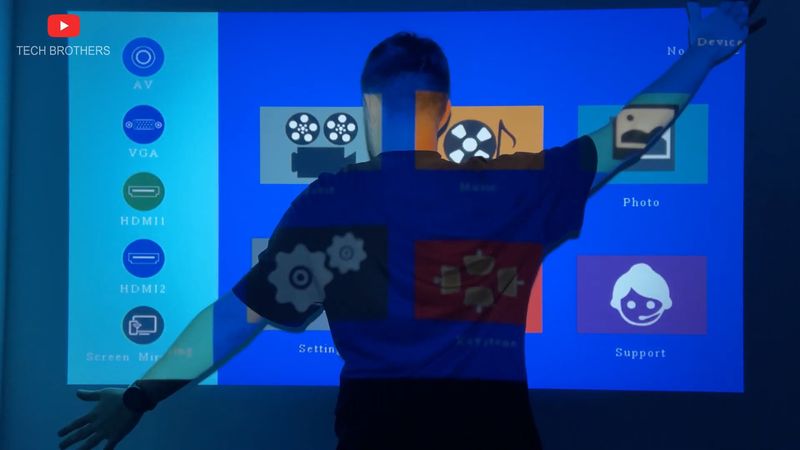 The native resolution of this projector is Full HD 1080p.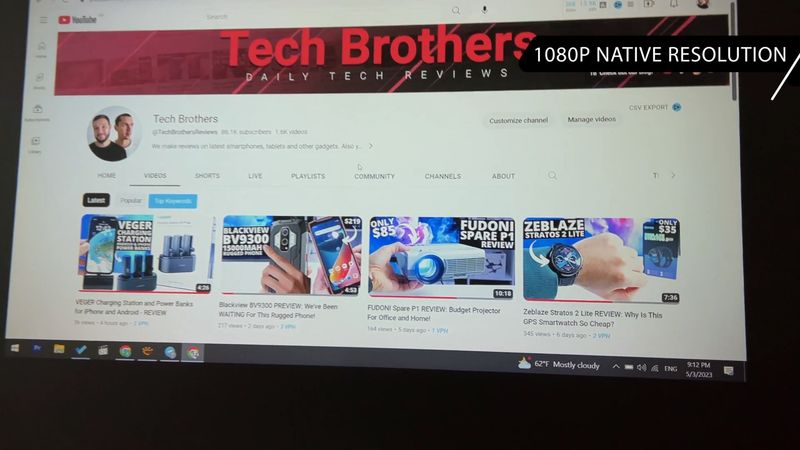 You know, the image is very clear. The text reads very well. Even at a close range, you cannot see the pixels.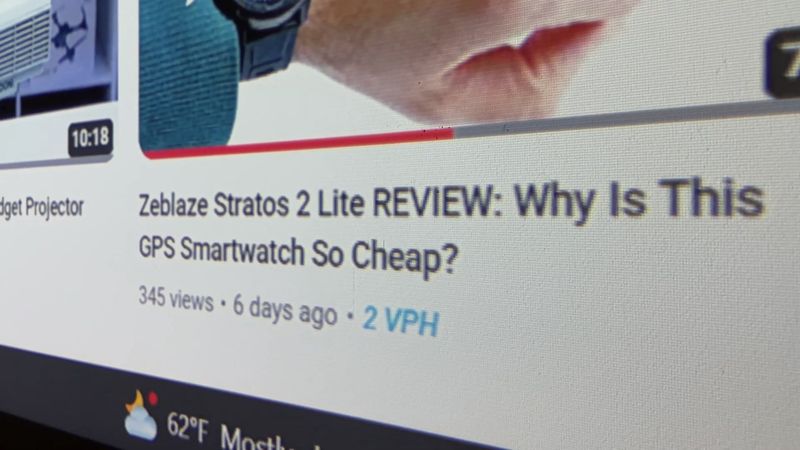 By the way, despite the fact that this is a budget projector, the edges are not blurry. I just noticed that a small piece of the left top corner is blurry, but maybe that's because I didn't set up the projector correctly.
What else I like about this projector is the colors. They are very good for a budget projector.
The brightness of VYSER L1 projector is 400ANSI Lumen.
Now I want to show you a comparison of the projection image in a room with light off and light on. As you can see, the picture is still good. Yes, the dark color in a light room is not as deep as in a dark room, but the text is still readable.
You can watch YouTube videos or sports games in a bright room, but you may have problems with dark movies.
Conclusion
Let's summarize.
I liked everything about this projector, especially the design with a built-in protective cover on the lens, a fast Wi-Fi and Bluetooth connection, good speakers and a clear image.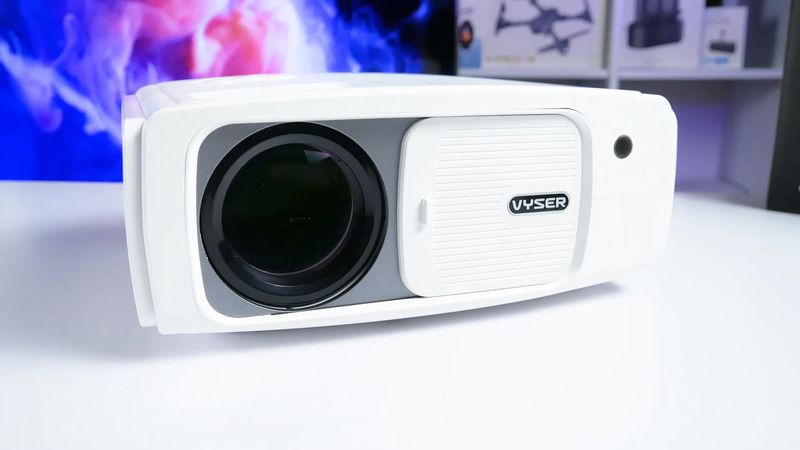 I also want to mention the rich colors, and the high brightness, which makes the projector even usable in a room with light.
I think it is a good projector for home, office or school.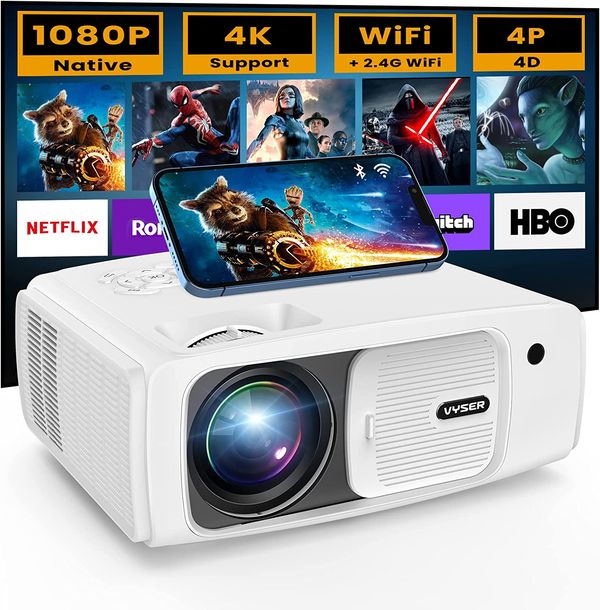 VYSER Projector with 5G WiFi & Bluetooth - Amazon
as of May 10, 2023 10:37 am