I have the latest projector from Vivibright Company with a model name of D5000. You know, I have already tested many projectors from this brand, such as Vivibright D3000, Vivibright F10, and Vivibright L1, so I am very interested in testing the new one.
By the way, VIVIBRIGHT D5000 is the biggest projector from this company I have ever tested. It is also one of the largest projectors I have ever tested on our channel.
Why is it so big? We will try to find out in this article.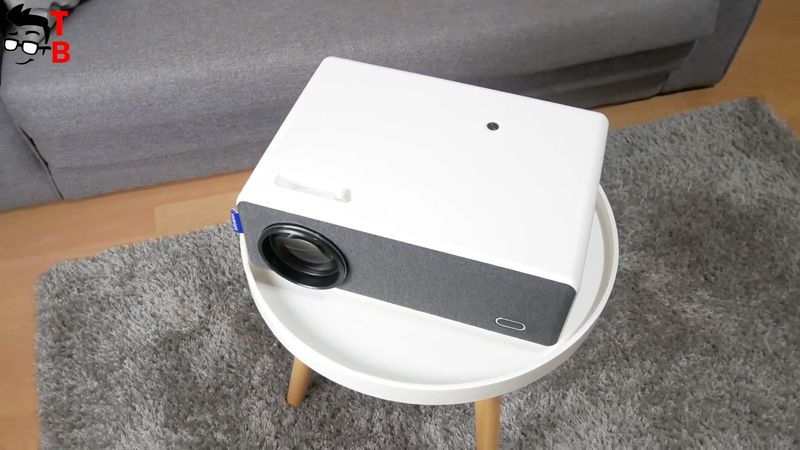 The main features of VIVIBRIGHT D5000 are Full HD native resolution, 8000 Lumens brightness or 600ANSI Lumens, 10,000 to 1 contrast ratio, 10W built-in speaker, and up to 200 inches projection size.
You will be surprised, but the price of this projector is only $189.
Okay, let's start the review with unboxing because the new VIVIBRIGHT projector comes with some useful accessories.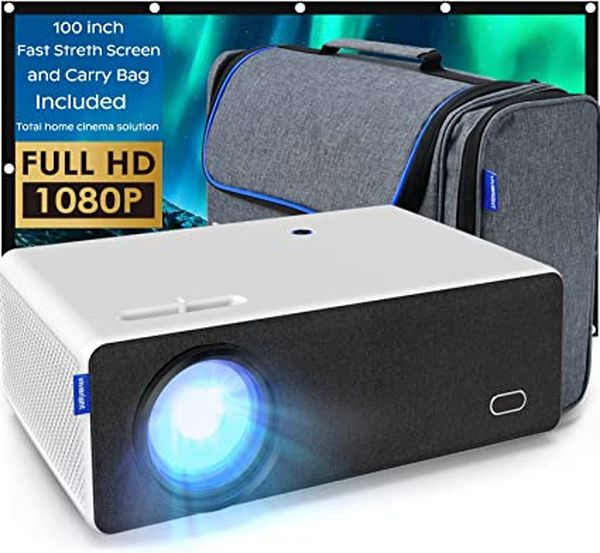 VIVIBRIGHT Projector D5000 - Amazon
as of November 27, 2022 9:54 am
Unboxing
As I already said, VIVIBRIGHT D5000 is one of the biggest projectors that I have tested lately, so the box of it is also big.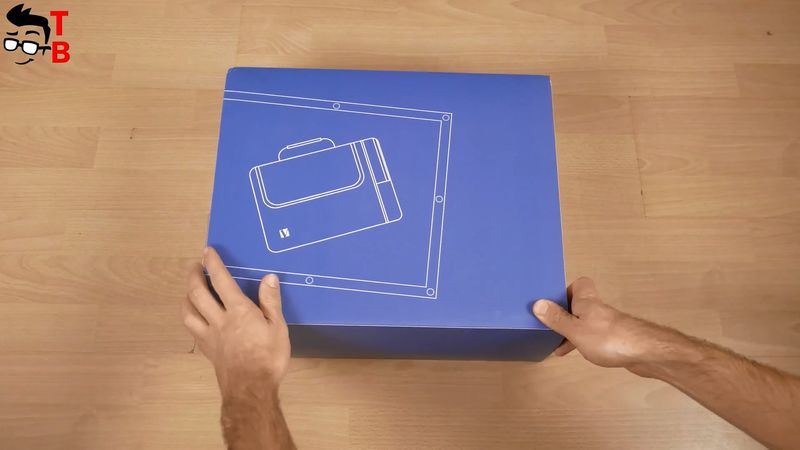 When you open the box, first, you will find a 100-inch simple projection screen. You can mount it on the wall if you don't have a blank white wall at home.
Then, there is a storage bag in the box.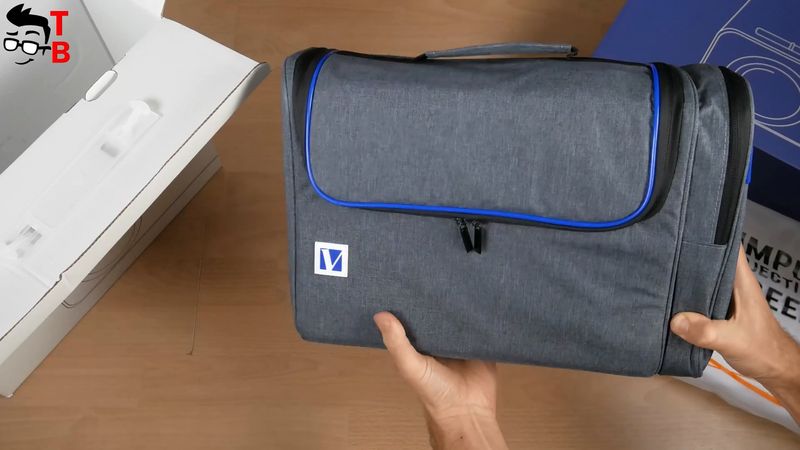 In the main section of the bag is a projector. In the second section, I found a remote control, power cable, user manual, a cloth to clean the projector lens, as well as a rope and other accessories to mount a 100-inch projection screen on the wall.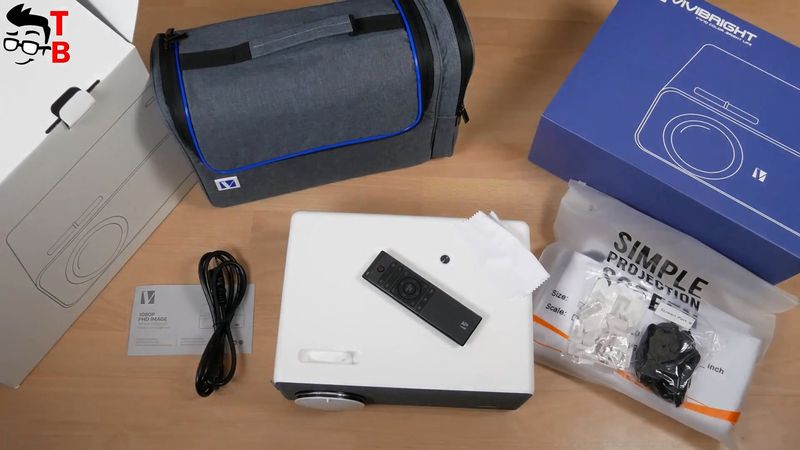 Unfortunately, there is no HDMI cable, but most likely, you will connect a laptop, game console, or TV Box to a projector using an HDMI port. You will need to buy an HDMI cable additionally.
Design
So, the size of VIVIBRIGHT D5000 is one of the main features or problems of this projector. I don't know.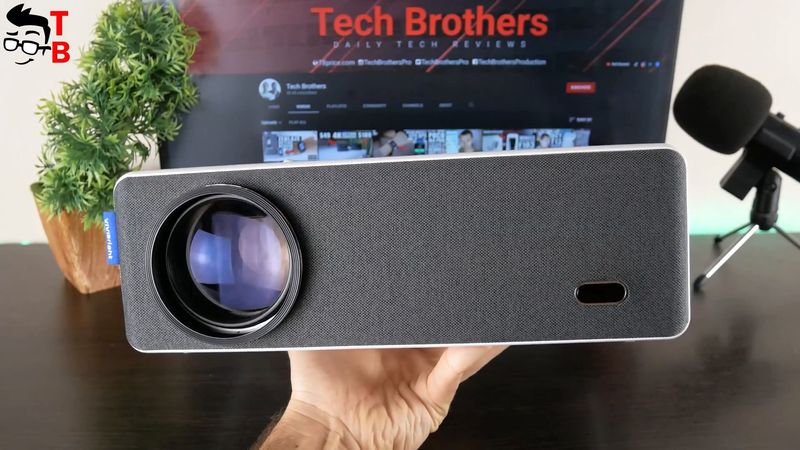 For comparison, I tested the smallest projector on the market some weeks ago. The difference is significant. Do you agree? However, the projection quality is also very different. I will show some pictures from this big and small projector a little later. Looking ahead, VIVIBRIGHT D5000 has much better projection quality.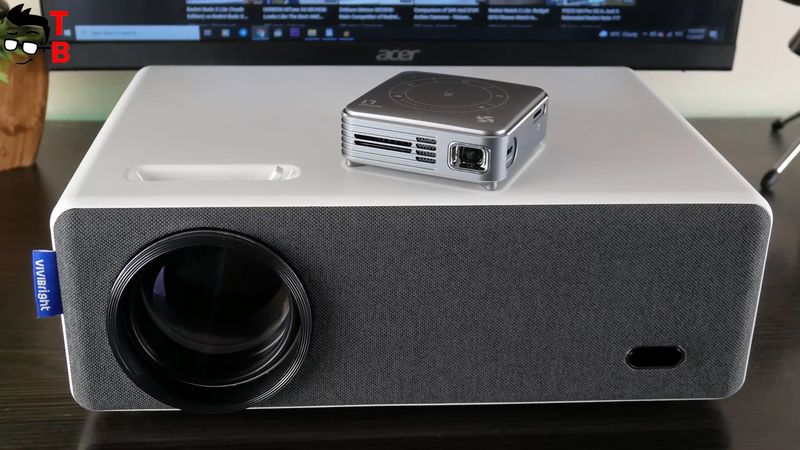 On the front of this projector, we can see the lens and infrared receiver.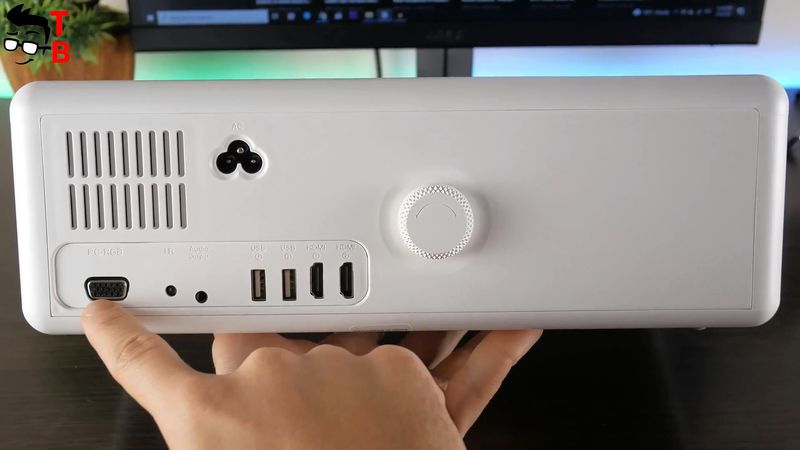 All the ports and connectors are on the back, such as the VGA port, the second infrared receiver, audio input, two USB ports, and two HDMI ports.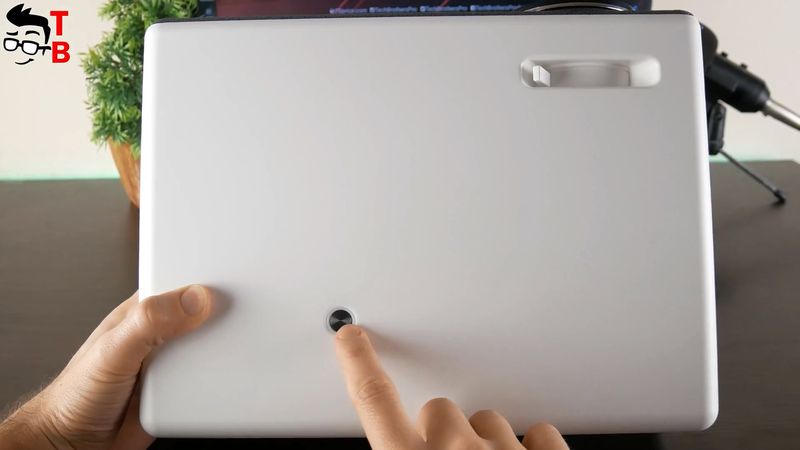 There is also a speaker grill, power cord interface, and keystone correction knob on the back of the projector.
VIVIBRIGHT D5000 has only a power button and focus adjustment wheel at the top.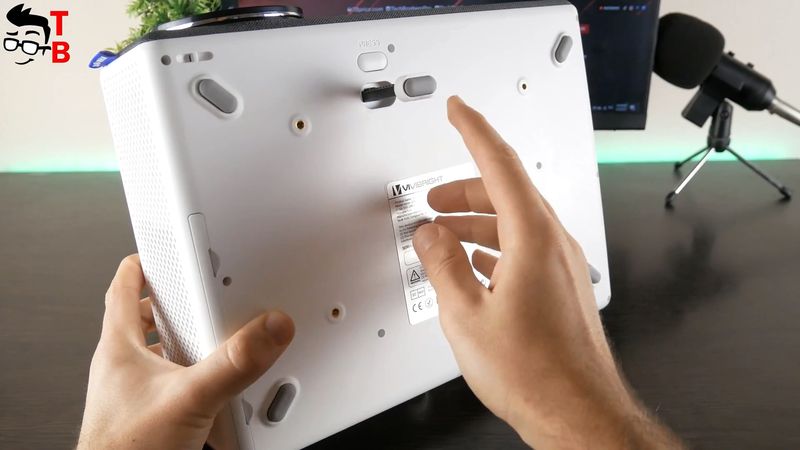 Finally, we can look at the bottom of the projector. First, you can press this button to release a kickstand. Then, there are five rubber feet to avoid a projector slide on the surface, as well as four holes to mount a projector on the ceiling.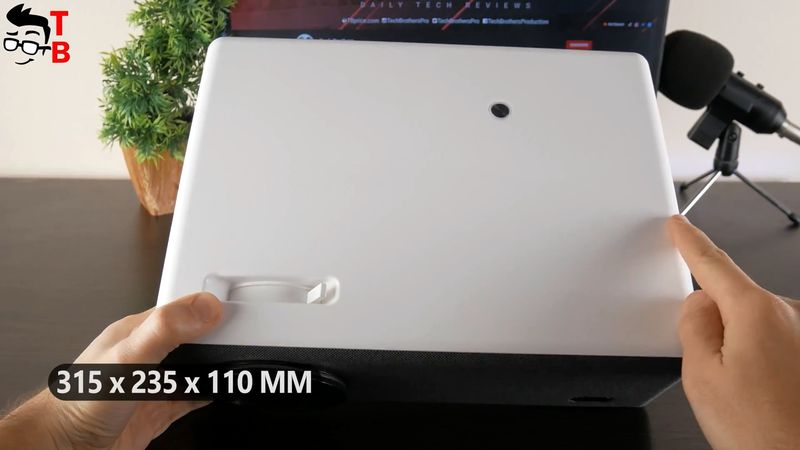 By the way, I didn't tell you the dimensions of VIVIBRIGHT D5000. It is 315 x 235 x 110 mm. The weight is about 2780 grams.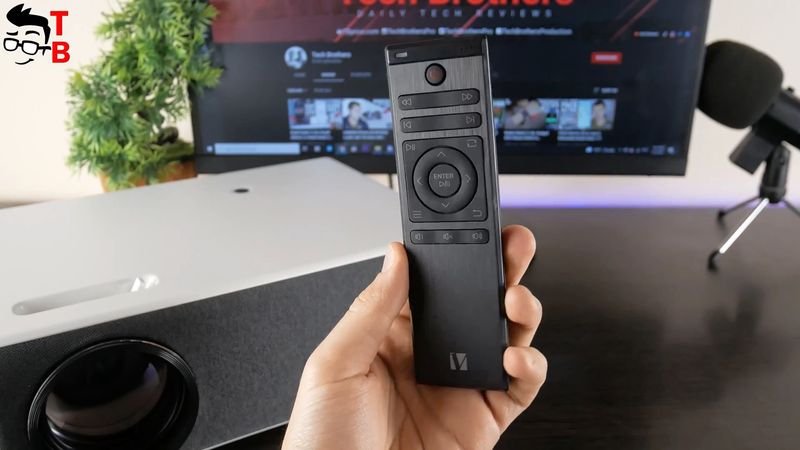 I also want to show you the remote control. It has standard control buttons, but I am interested in these small holes. Is this a microphone or a speaker? To be honest, I don't know. I don't see a voice control button on the remote, so I don't think it is a microphone.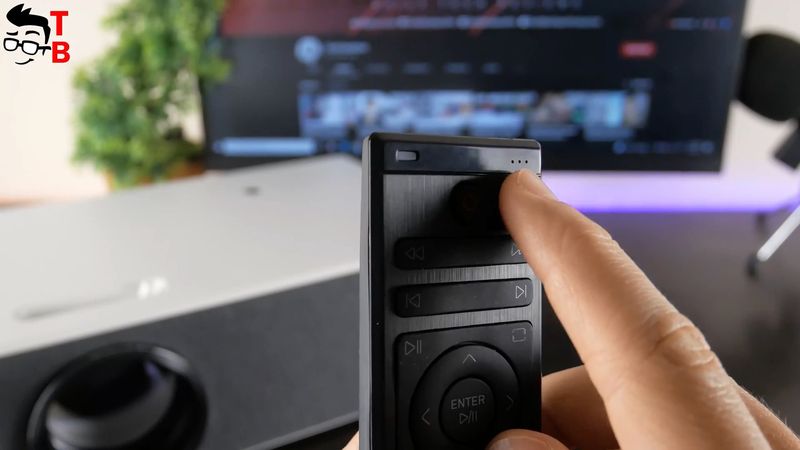 OK, let's turn on the projector and look at the settings menu.
Settings
So, VIVIBRIGHT D5000 has the main screen, where we can choose a source, such as PC-RGB, HDMI 1, HDMI 2, Media Player 1, and Media Player 2. We can also check a firmware version of the projector.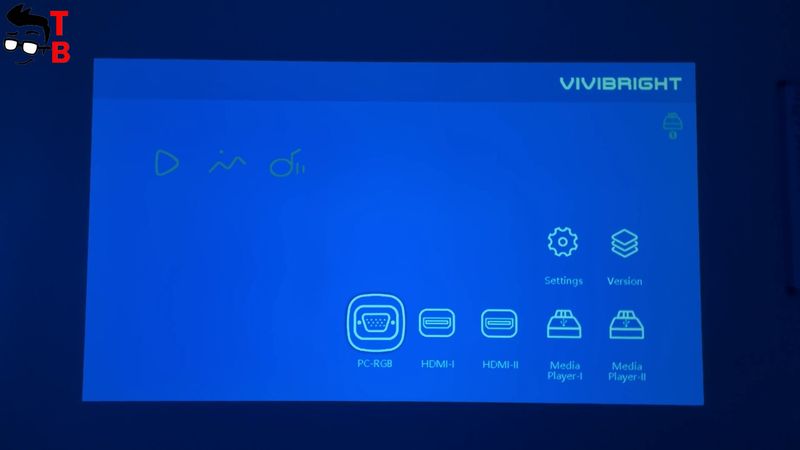 Then, we can go to the settings menu.
In the settings menu, we can choose a display mode: PC, whiteboard, movie, and user.
In the audio settings, we can change the volume and sound mode.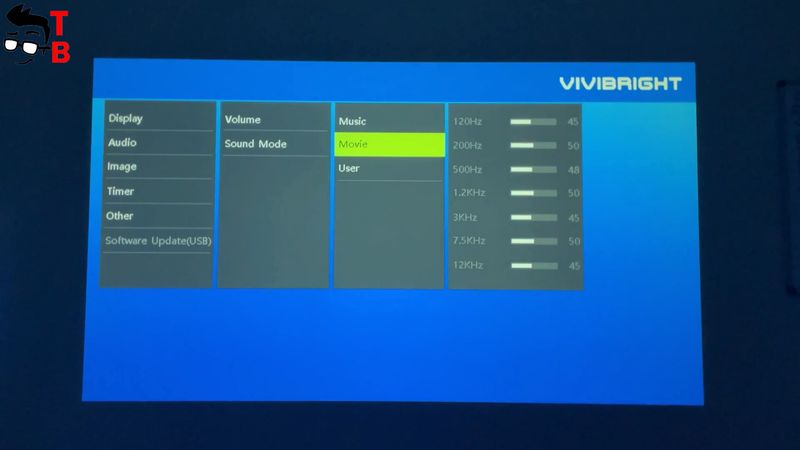 There is also an option to change the aspect ratio and projection mode.
VIVIBRIGHT D5000 has an auto turn-off timer from 10 to 60 minutes.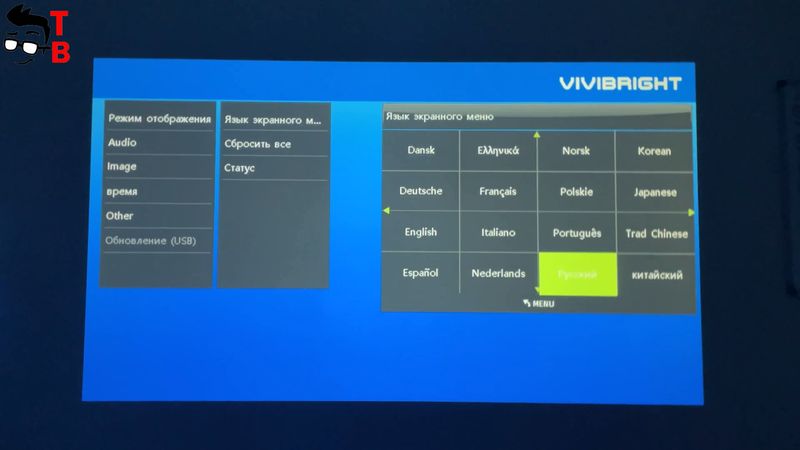 Finally, we can choose the language for the projector. There are many languages available, such as English, Spanish, German, Russian, etc.
Volume and noise levels
You know, VIVIBRIGHT D5000 has a 10W stereo speaker. The sound quality of this projector is one of the best I have ever heard. It has good bass and a clear sound.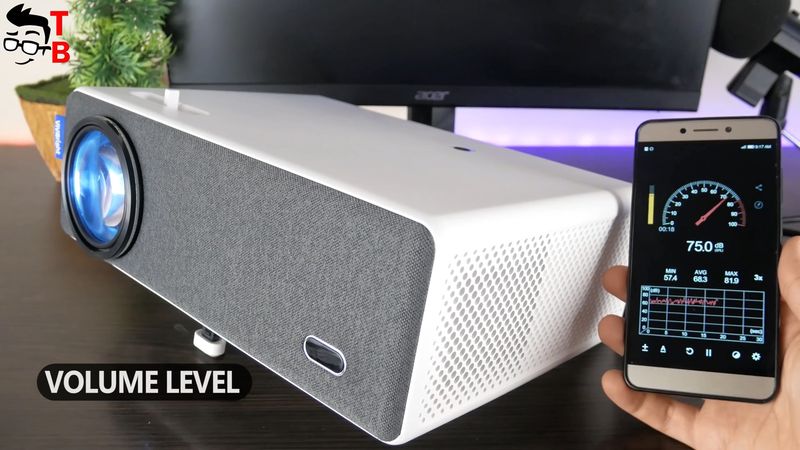 By the way, the maximum volume is about 75 dB.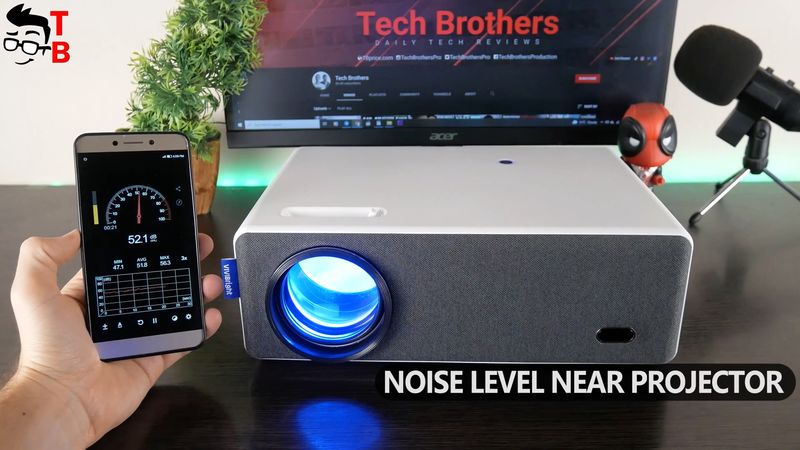 However, one of the main problems of this projector is the noise level. It is about 52 dB near the projector, and 38 dB at a distance of 1 meter.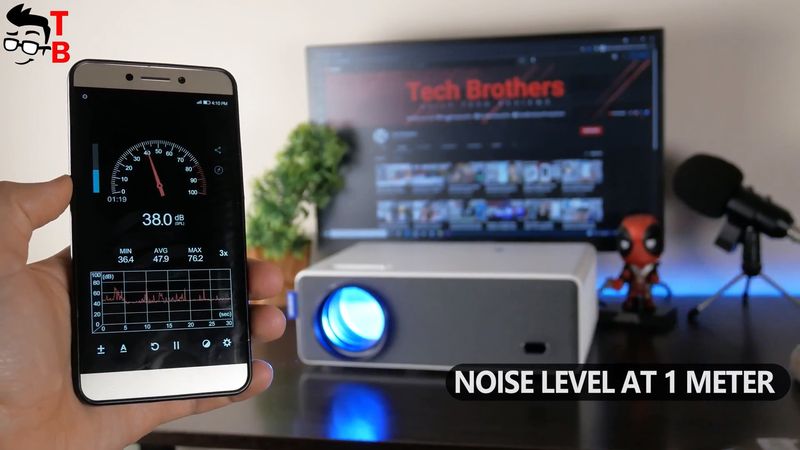 VIVIBRIGHT D500 is really noisy.
OK, now, we can check the projection quality in the dark room and bright room.
Projection Quality
First, I have to say that I placed a projector at a distance of about 2 and a half meters from the wall. The screen size is about 80 inches. The manufacturer says that the maximum projection size is 200 inches, but you need to have a very big room for that.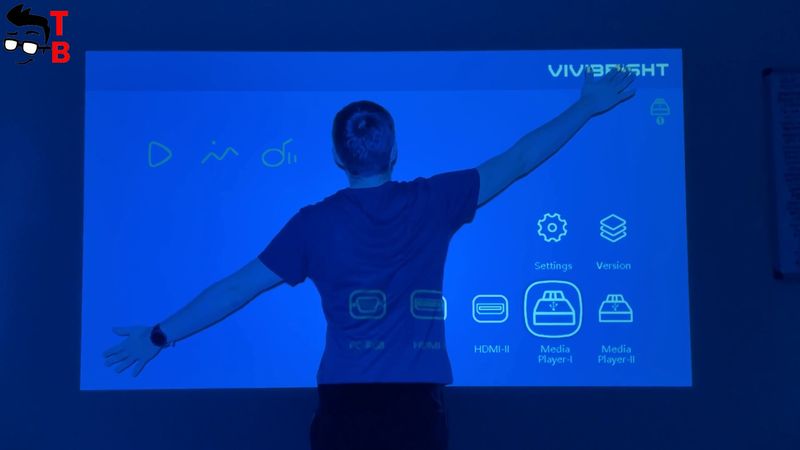 I have connected my laptop to a projector via HDMI cable.
The native resolution of VIVIBRIGHT D5000 is Full HD, 1920 by 1080 pixels. The image is very clear. You can read a small text on the projection.
I promised to show you a comparison of a small projector with WVGA resolution and a big VIVIBRIGHT projector with Full HD resolution. As you can see, it is impossible to read the text of the small projector because of the low resolution.
However, the text is very readable on the VIVIBRIGHT D5000 projection.
In addition, the new VIVIBRIGHT projector has a good brightness – 8000 Lumens or 600ANSI Lumens. Later, I will show you the projection quality in a bright room, but now let's watch some videos in a dark room.
As I already said, VIVIBRIGHT D5000 has good brightness, so you can use a projector in the daytime. Of course, the colors are not as rich and the image is as clear as in a dark room, but you can still watch videos and even read a small text on projection in a bright room.
Conclusion
OK, after a full review, I am ready to draw conclusions about VIVIBRIGHT D5000.
First, I like the price of this projector. It is only $189 on Amazon.
Another advantage of the new VIVIBRIGHT projector is package contents. You will get a 100-inch projection screen and a carrying bag with a projector. That's very nice.
There are many ports and connectors available, so you can connect a laptop, game console, TV box, and even headphones to the projector.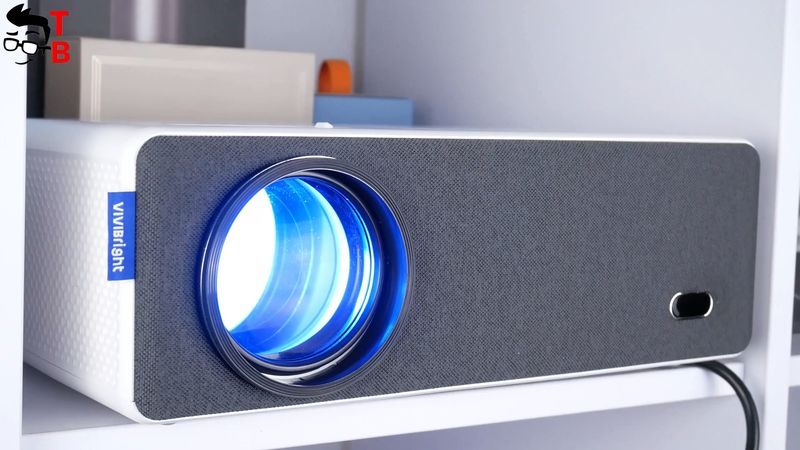 However, I don't think that you will need headphones, because a projector has a 10W stereo speaker. The sound quality is decent.
As for projection quality, it is very good, because of Full HD native resolution and 600 ANSI Lumens brightness. The image at night is great for a $200 projector, and you can even use it during the day.
However, I found one problem with the new VIVIBRIGHT projector. It is very noisy. I understand that it is noisy because the cooling system works, and the projector is really cool even when you watch movies for a long time, but still, the noise can be distracting.
In general, I think that VIVIBRIGHT D5000 is one of the best projectors on the market in 2021 for under $200.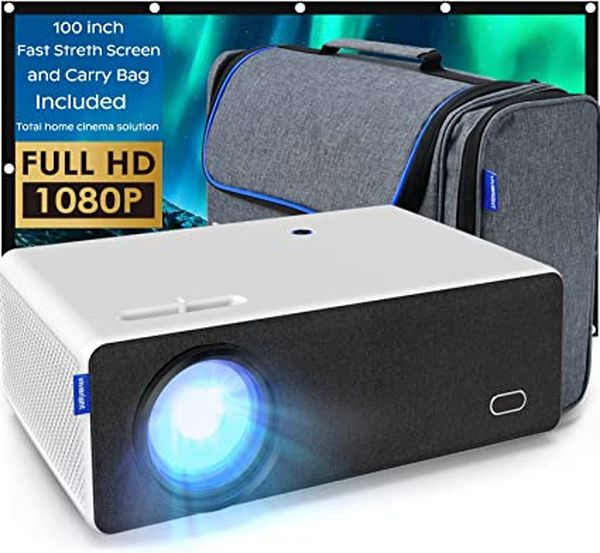 VIVIBRIGHT Projector D5000 - Amazon
as of November 27, 2022 9:54 am