In this article, I want to tell you about another dash cam, but it differs from other models by having a triple camera. This is the first dash cam that I have tested with three channels: front, rear, and interior.
The other features are built-in Wi-Fi, GPS, voice notifications, built-in and external microphones for better sound recording.
The dash cam is called VIOFO A139. So, I suggest to start with unboxing and then look at the design, main features, application, and sample videos day and night.
Official website: viofo
Where To Buy VIOFO A139?
3 Channel Dash Cam VIOFO A139 - Amazon
as of September 25, 2023 5:16 am
Unboxing
The new dash cam from VIOFO comes in this box.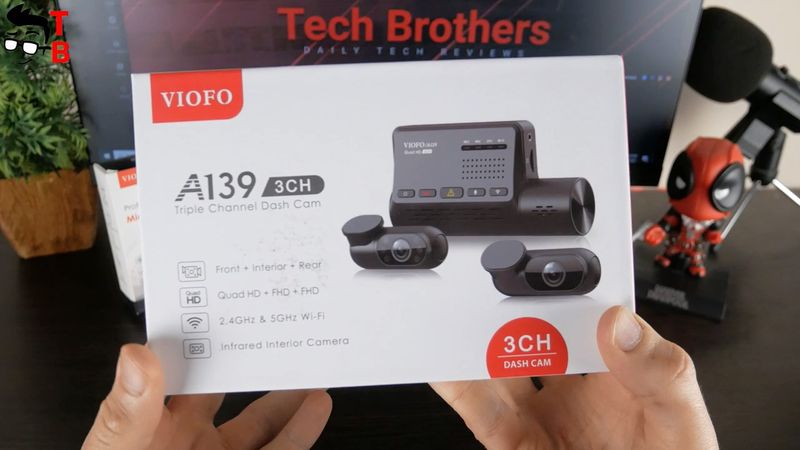 There is all information about the product on the box, such as main features on the front, accessories on one face, and specifications on the other.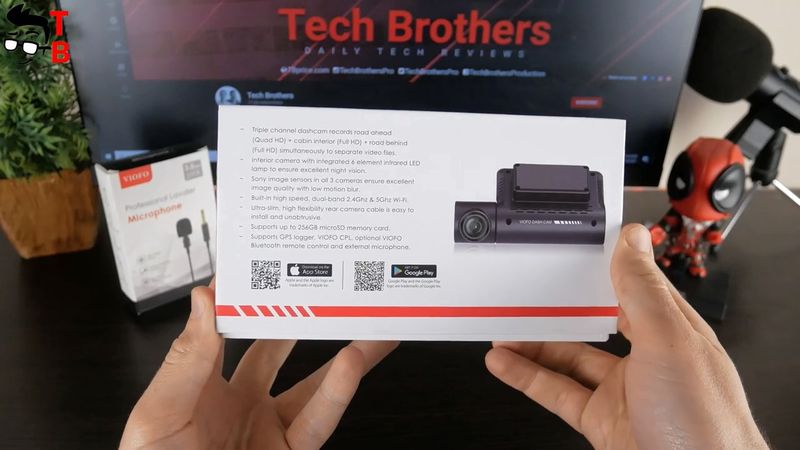 Inside the box, everything is well packed, such as dash cam, rear camera, cabin camera, 6 meters rear camera cable, 1-meter interior camera cable, car charger, card reader adapter, USB Type-C cable, circular polarizing lens filter, front and rear mount 3M sticker, trim removal tool and static windshield stickers.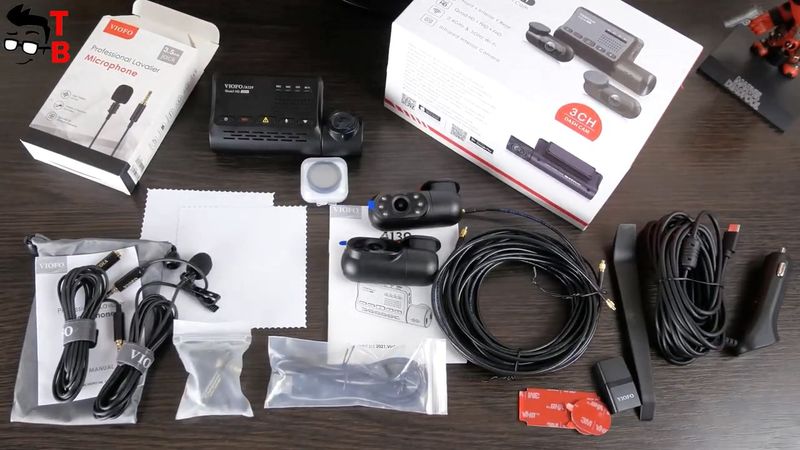 By the way, I also have another box with a professional lavalier microphone. It is sold additionally.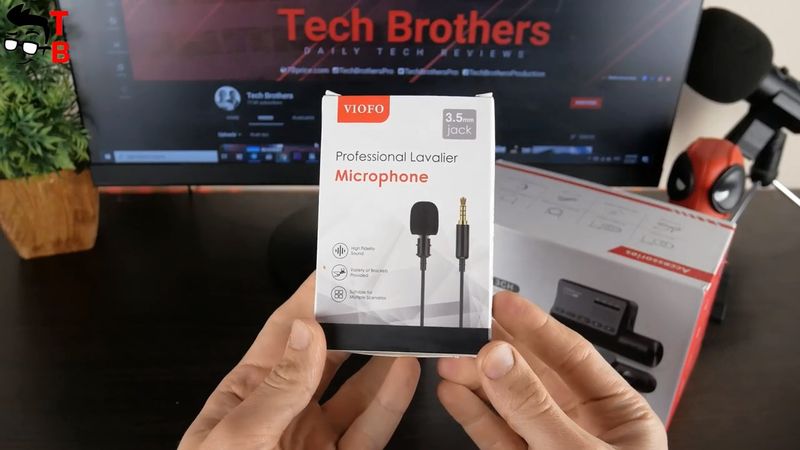 As you can see, you can use the microphone with not only dash cam, but also a smartphone, tablet, PC, notebook, and other devices. Later in this article, we will check the microphone quality.
Design
So, this is the VIOFO A139 dash cam. The first thing I noticed is 300 degrees rotation lens. It is a very useful feature because you can record video inside and outside the car.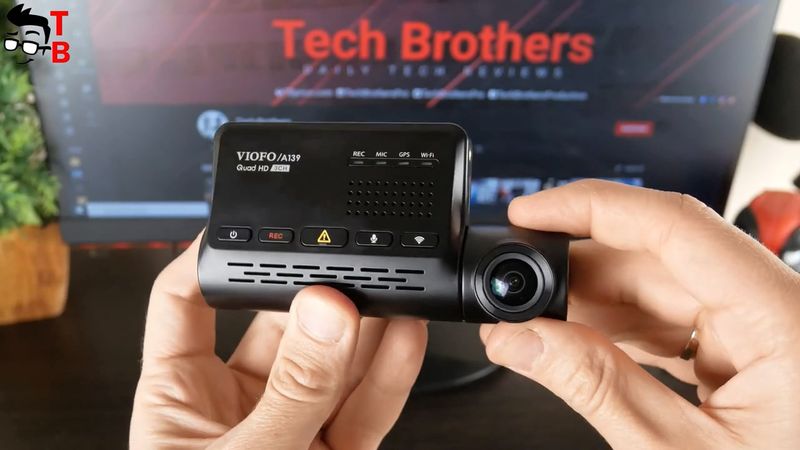 As you can see, the dash cam doesn't have a display. Instead, there are many different buttons, such as power on/off, record start/stop, video protect, microphone on/off, and Wi-Fi on/off.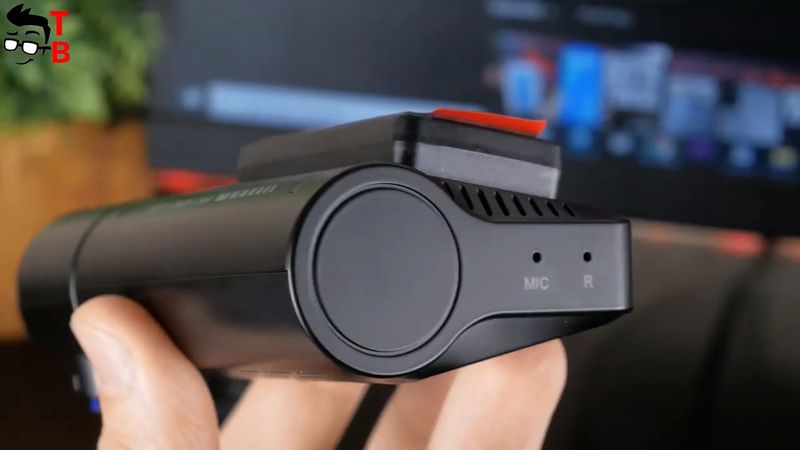 There are also four status indicators on the top: Record, Microphone, GPS, and Wi-Fi.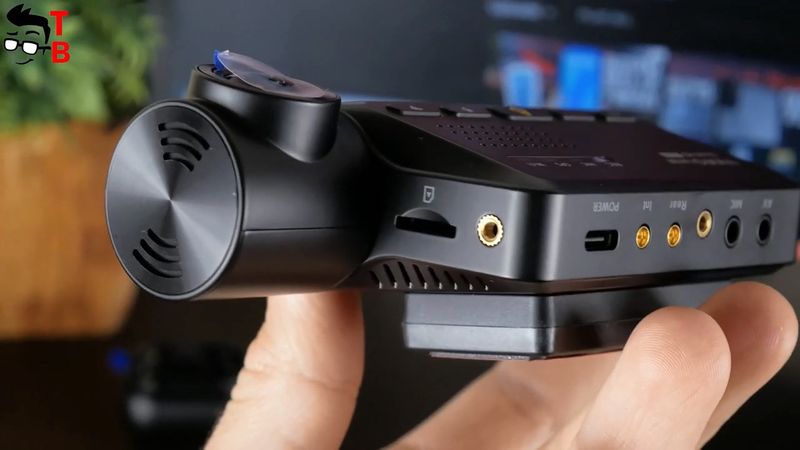 On the left side, we can see a reset hole and a built-in microphone hole.
On the right side, we have a screw hole and microSD memory card slot.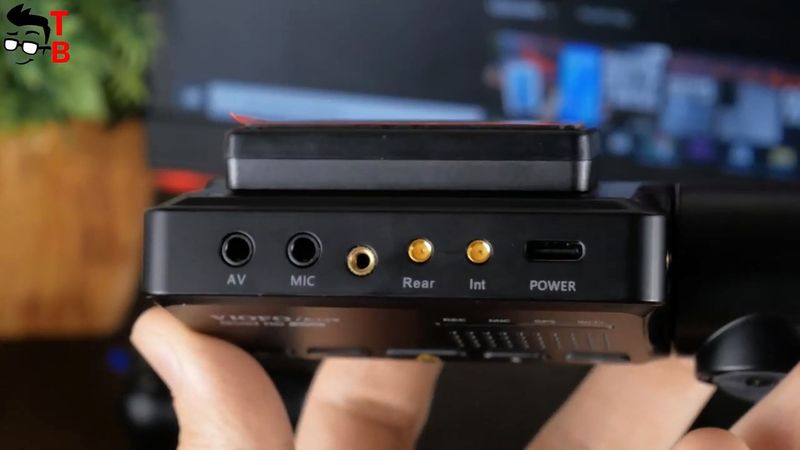 By the way, this is a GPS module.
There are AV and microphone ports on the top, as well as rear and interior camera connectors. USB Type-C port is used to power the dash cam.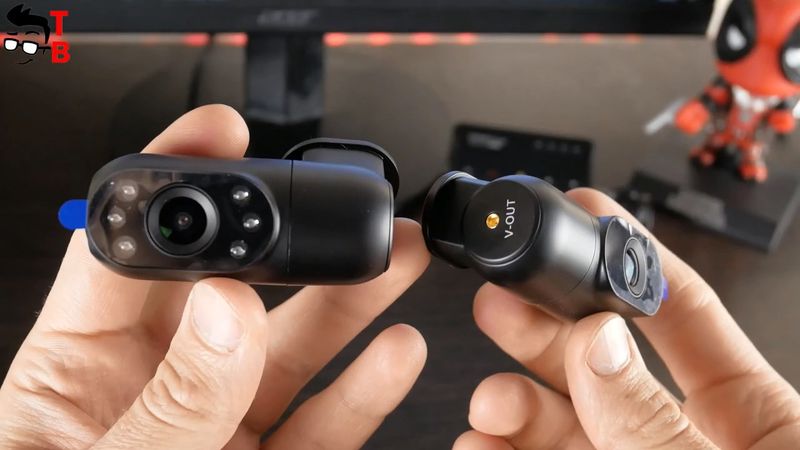 Now, let's talk a look at the rear and interior cameras. Actually, they look the same, but the cabin camera has six infrared lights. The cameras don't have any buttons, because you just need to connect them to the dash cam, and they will be turned on.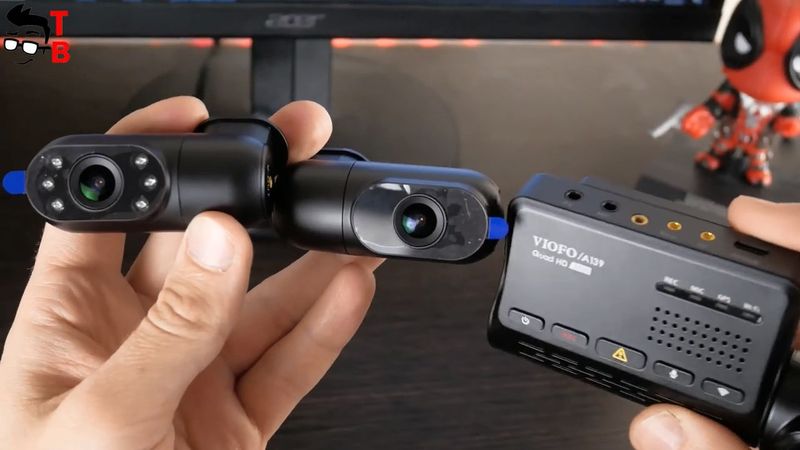 By the way, the interior camera is sold additionally, just like an external microphone. You can also buy an optional hardware kit, Bluetooth remote control, and memory card. All these accessories are sold on Amazon.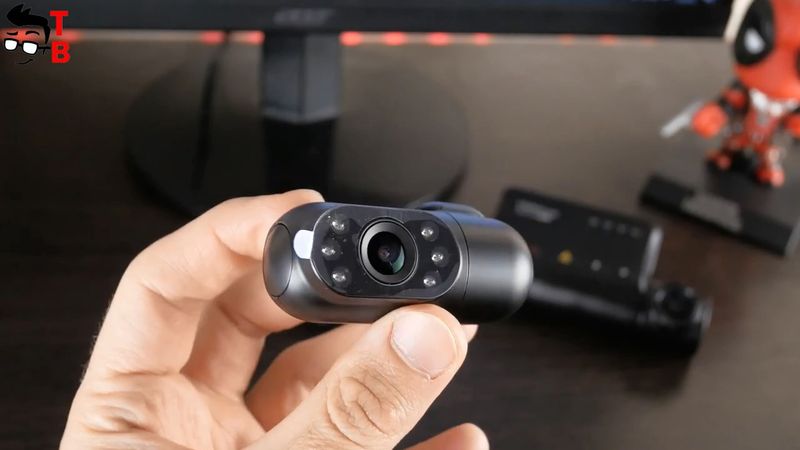 OK, now I want to go to the Amazon product page and look at the main features of dash cam.
Features
So, here we can see that the first feature of the VIOFO A139 dash cam is three-channel recording. The front 5MP Sony camera has 140 degrees viewing angle and a resolution of 2560 by 1440 pixels at 30 fps.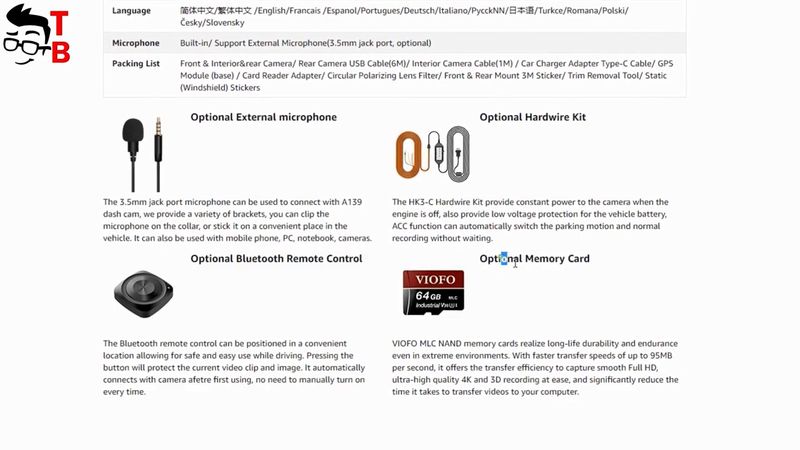 The rear and interior cameras have Sony Starvis sensors and Full HD 30fps resolution.
The dash cam also has built-in Wi-Fi 2.4 and 5GHz. It is really necessary because you can watch the live video from dash cam or video footage only in the app.
The next feature of VIOFO A139 is voice notifications. The dash cam uses spoken the English language to confirm settings changes.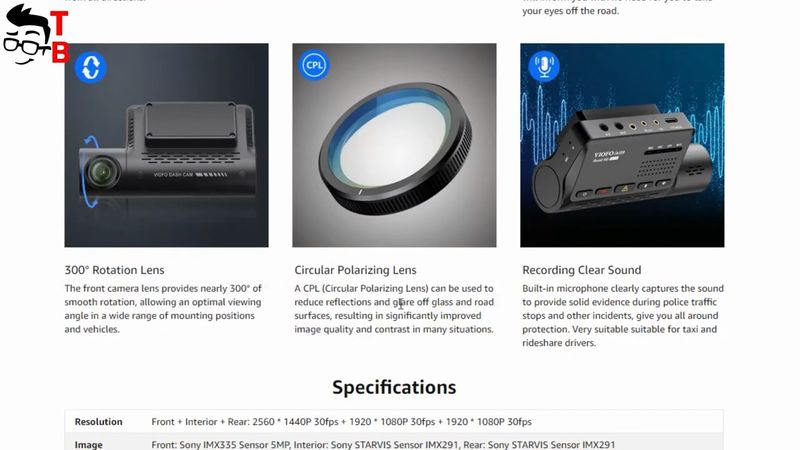 I already said about 300 degrees rotation lens.
I also showed you a circular polarized lens in the package. It can be used to reduce reflections and glare off glass and road surfaces.
Finally, the last feature of the VIOFO A139 dash cam is a built-in microphone. We will compare the quality of the built-in and external microphone a little later.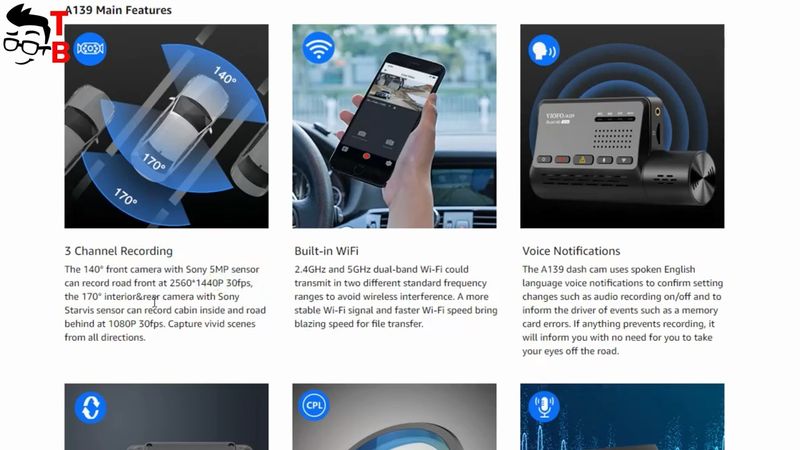 However, that's not all the features of the new VIOFO dash cam. It also has built-in GPS, super night vision, and three parking solutions, such as auto event detection, time-lapse and low bitrate.
Now, we can look at application and its functions.
App
So, in the app on a smartphone, we can see the video from the front, rear, and interior cameras.
There is also a switch camera and snapshot buttons.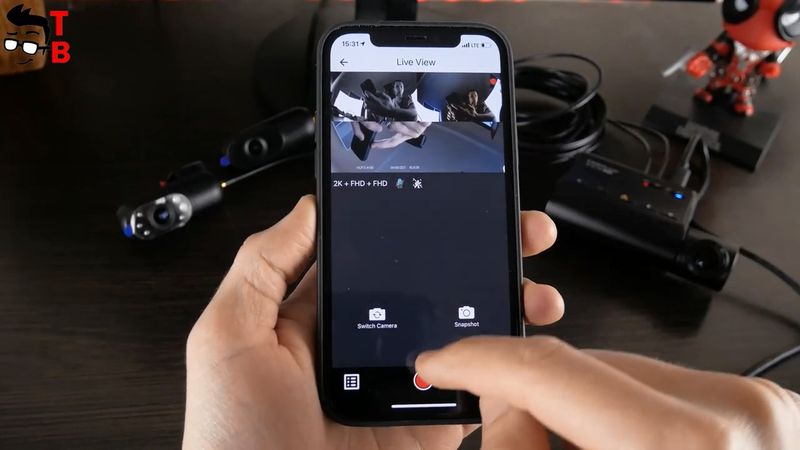 In the settings, we can choose video resolution, time-lapse recording, loop recording, recording audio, G-Sensor sensitivity, and bitrate.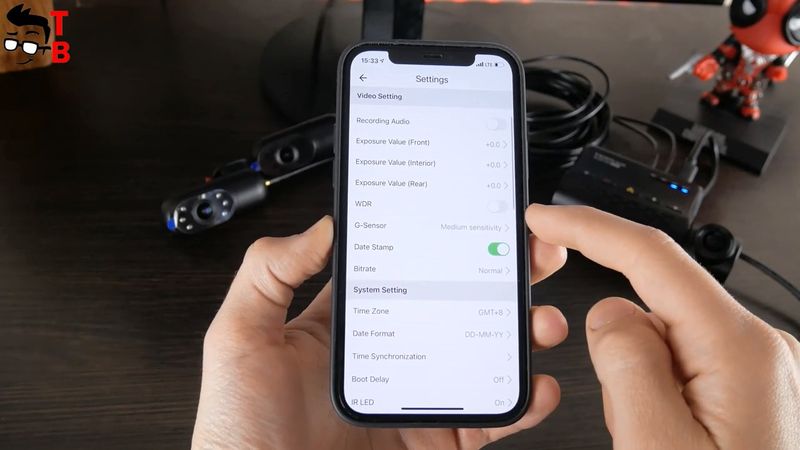 The system settings also have many options, such as boot delay, IR LED on/off, parking mode, parking G-Sensor, parking motion detection, interior, and rear camera mirror, notifications sounds, voice notifications, GPS, and many others.
By the way, there is also a gallery in the app with all files, locked files, and parking files.
As I said at the beginning of this article, I want to test the quality of the built-in and external microphone. Let's do this.
Microphone
Hey, guys! This sound is recorded on the built-in microphone of the VIOFO A139 dash cam. Actually, I am not driving anywhere. I am in my studio now, so the sound quality should be good.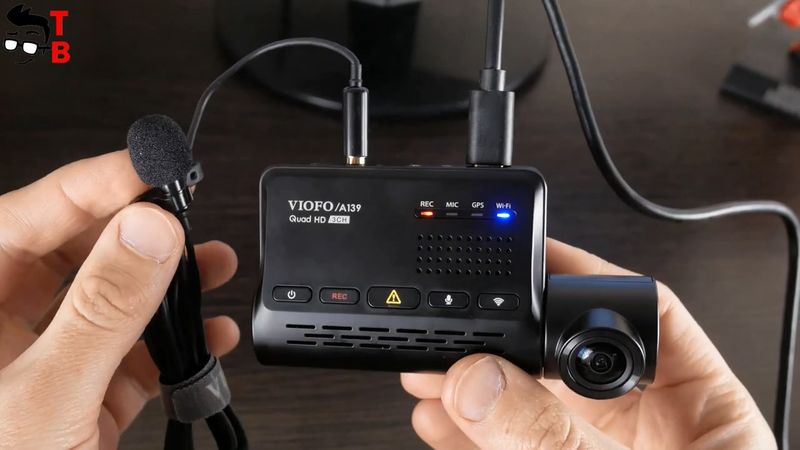 Now, I have connected an external microphone to the VIOFO A139 dash cam. What do you think of the sound? Is it better? But again, I am in my quiet studio, so maybe the sound will be a little worse when you are driving in a car.
Sample Videos
So, I recorded some video samples on all three cameras during the day and at night. Let's watch them.
Conclusion
VIOFO A139 is a very interesting dash cam because it has three cameras: front, rear, and interior. As you could see, the video quality is good on all three cameras.
The dash cam also has built-in Wi-Fi and GPS. By the way, it supports dual-band Wi-Fi. This is really important, because the dash cam doesn't have a screen, so you can watch the live and recorded video only in the app.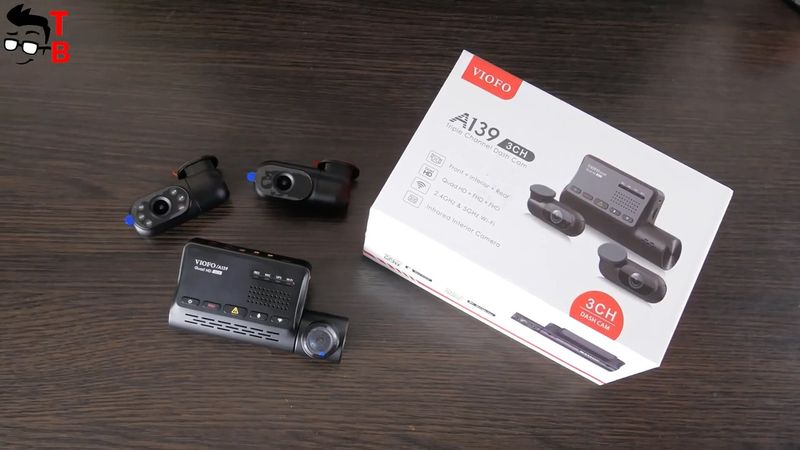 I also like the external microphone of the VIOFO A139 dash cam. It is optional, but I think it can be very useful for many of you.
You can also buy the optional Bluetooth Remote Control.
Honestly, I think that VIOFO A139 is one of the best dash cams in 2021.
Where To Buy VIOFO A139?
3 Channel Dash Cam VIOFO A139 - Amazon
as of September 25, 2023 5:16 am