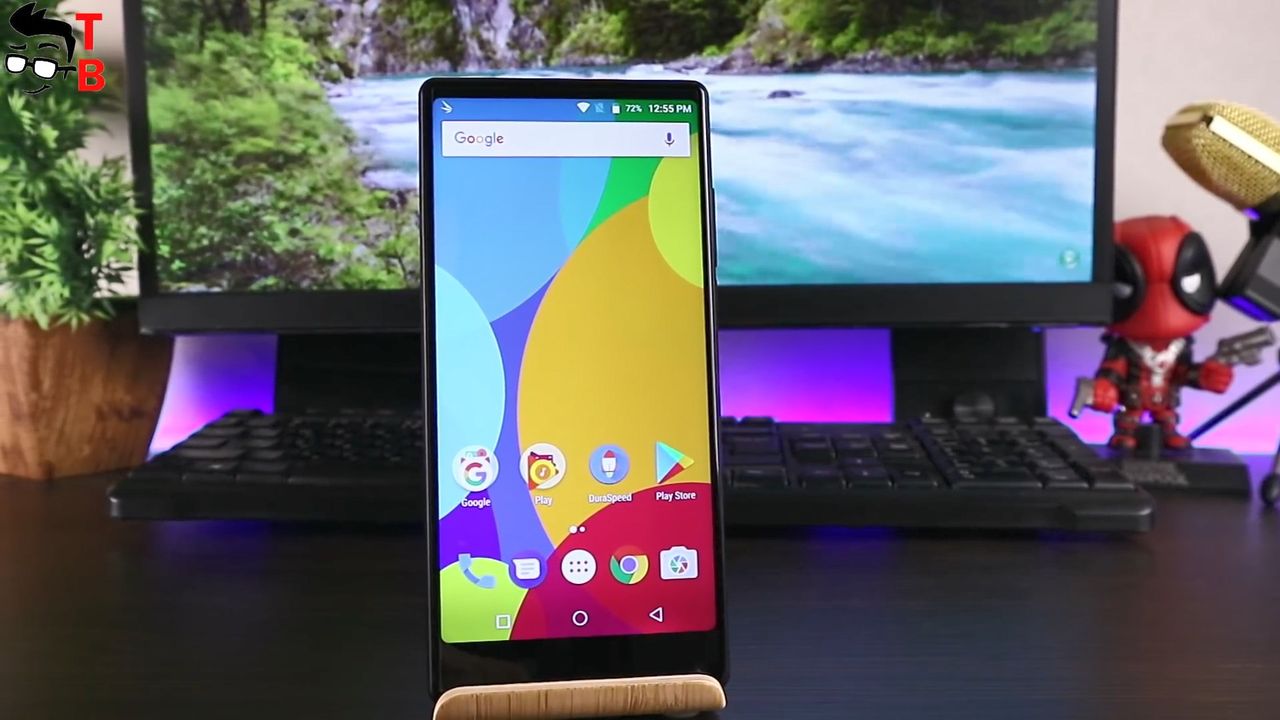 Finally I received Vernee Mix 2. Perhaps it is the first real english review of this smartphone. You had many questions about this phone, and I'll try to answer them.
Vernee Mix 2 is another budget smartphone with bezel-less design. It comes with 6 inch Full HD+ display, 4GB of RAM and 64GB of storage, Dual Rear camera (13-megapixel + 5-megapixel), and front camera with resolution of 8-megapixel.
So, it is very promising full screen smartphone, and let's look at it closer.
Unboxing
Vernee Mix 2 comes with a big white box. Here is Vernee logo on the front panel and model name Mix 2 on a blue sticker. As usual, the back side provides some information about smartphone. So, if you don't know anything about it, you can read main specifications and features.
Inside the box is smartphone with factory film. It feels very nice the hand, but we will talk about design a little later. Under the smartphone is power adapter, USB cable and SIM needle.
That's all! Headphones and silicone case should be bought additionaly. The package content is rather poor, but Vernee Mix 2 is budget smartphone, so we can not complain about it.
Design
Vernee Mix 2 is budget phone, although it is made very high quality. The smartphone is a hybrid of glass and metal alloy. The front and back panels is made of glass, and metal frame surrounds them. Over 80% of the phone being glass, and it is really impressive.
The smartphone has 6-inch display, but its size is not very large. By the way, Vermee Mix 2 is narrower than its older brother Vernee Mix, because new smartphone has 18:9 display ration.
On the front panel we can see only display, front camera under it, and earpiece above. It seems, that Vernee Mix 2 doesn't have LED notification, but it is not exactly. Later I'll turn on the phone and check it out.
The back panel also has very minimalist design. As I already said, it is made of glass. There is dual rear camera in the upper left corner, and flash next to it. Fingerprint reader is located closer to the center.
At the bottom of smartphone we can see microUSB port, and speaker. On top there is 3.5 mm audio jack.
The right side has power button and volume rocker. The hybrid slot for SIM card and microSD memory card is on the left side.
So, Vernee Mix 2 looks very solid. It is made almost entirely of glass. I do not know how practical and comfortable it is, but it looks very impressive.
Now, let's turn on the smartphone.
Display
Vernee Mix 2 has 6-inch display with resolution of Full HD Plus. It occupies about 93% of front panel, though there are bezels on sides. 2.5D glass helps to provide a borderless visual experience.
By the way, display has 18:9 aspect ratio, so its 6-inch size is comparable to 5.5 inches devices. Recently 18:9 aspect ration becomes the new standard for smartphones.
I can say, that Vernee Mix 2 display looks very similar to Xiaomi Mi Mix 2 screen. It has almost the same sides bezels, but Vernee bottom is a bit more.
The viewing angles are great (up to 178 degrees), as it is IPS display. If you prefer detailed screen, then Vernee Mix 2 is great option.
Software
New smartphone runs on Android 7.0 Nougat with VOS 1.0 on top. It is a bit customized OS, but it's possible that you will not even notice the difference with stock Android.
Here is standard Android settings menu. It provides some useful features, such as motion gestures, swap button under the display, setup status bar, wireless updated, and so on.
I should say that user interface works very fast and smooth. During my review I didn't notice any lags and breaks.
Vernee Mix 2: Performance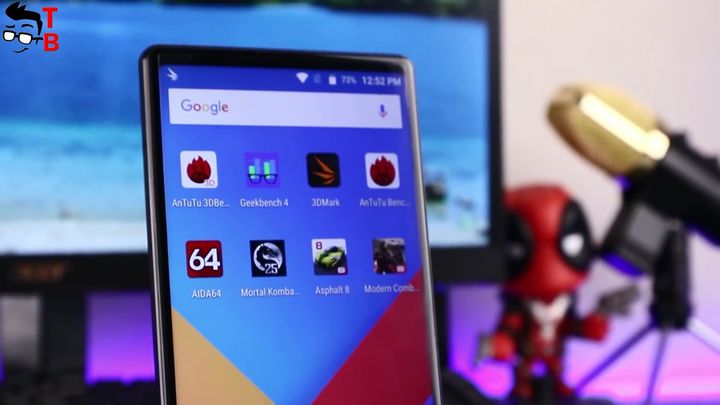 Vernee Mix 2 has very good performane for budget smartphone. It is powered by Helio P25 chipset, 4GB of RAM and 64GB of internal storage with support for microSD memory cards. The manufacturer says that new chipset reduced the power consumption to 25% compared to the last generation. It is great balance between good performance and energy saving.
Benchmarks
As usual, I begin with AnTuTu. Perhaps it is the most popular benchmark for testing performance of Android devices. Vernee Mix 2 is budget smartphone, although it has very good result in benchmarks – about 62 thousand scores.
GeekBench 4 allows to allows you to check the graphics performance of your smartphone. Vernee Mix 2 has 4GB of RAM, so it should have good result in multi-core test. As you can see on your screen, the smartphone shows 777 points in single-core test, and about 3100 in multi-core test. This is very good for $160 smartphone.
And the last benchmark for this smartphone is 3DMark. The benchmark test Sling Shot allows to compare mainstream Android devices with popular iPhone and iPad models. Vernee Mix 2 has 898 points in this test.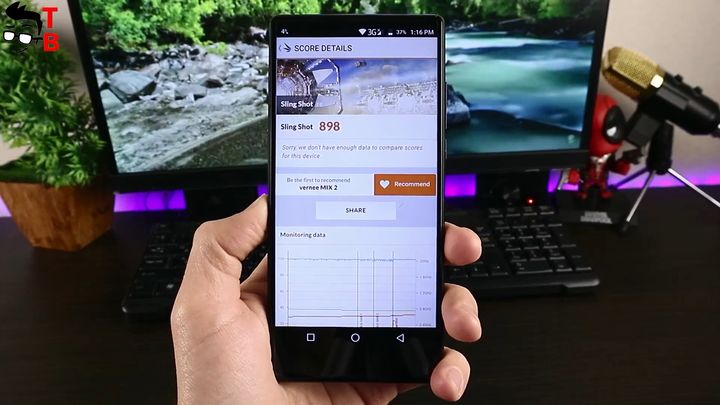 The smartphone looks very good in benchmark, but what about real performance? Let's play some heavy games.
Gaming
The first game is Mortal Combat X. I have to say that playing games on full screen phone is amazing. The display is really high-quality and bright.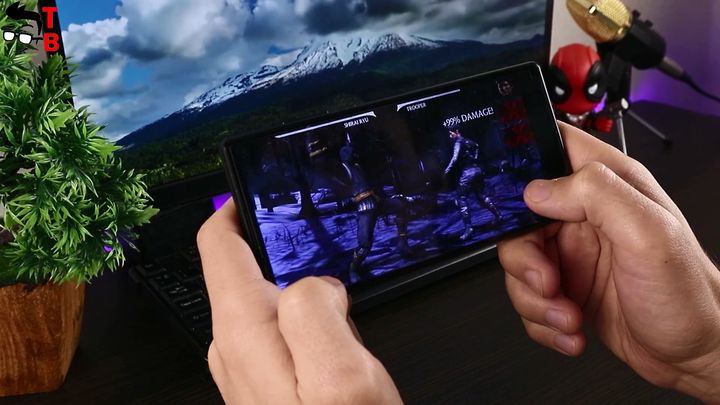 As for performance, Vernee Mix 2 copes with this game very good. I don't see any lags and breaks.
As you know, many smartphones are very hot during games. This is bad for performance and smartphone itself. So, I want to check the temperature of smartphone after each game. AIDA64 allows to see real temperature of device.
My feeling is that smartphone does not warmed up after the first game, and the app shows about 40 degrees. It is very good.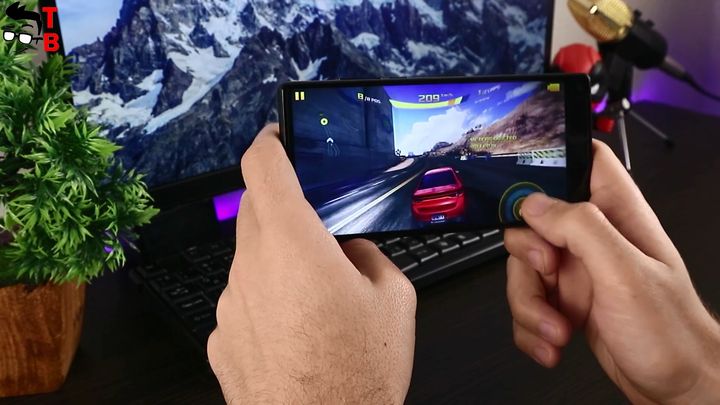 Now, let's play Asphalt 8. It is another heavy game for Android devices. Not all smartphones run it quickly and smoothly. Quite often the game runs slowly, or does not start at all.
As you can see, Vernee Mix 2 doesn't have any problems with Asphalt 8.
Once again check the temperature. It is almost the same – about 40 degrees.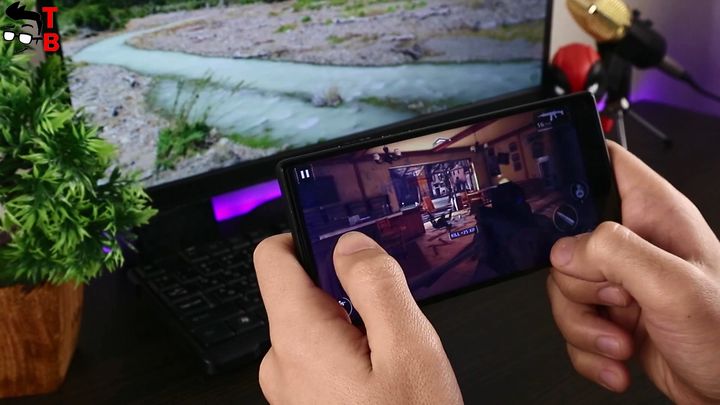 And the last game is Mortal Combat 5. This is very addictive game from the first person. The graphics is amazing for smartphone. Vernee Mix 2 runs it very well. There is no slow downs, and breaks. Everything works smooth.
And temperature after third game – it is about 45 degrees. It is great! It means that your smartphone will not be hot even after several hours of gaming.
So, Vernee Mix 2 is very good smartphone for games. It runs any Android games, and doesn't have problems. Also, its bezel-less display makes you feel exciting gaming experience.
Vernee Mix 2: Camera
Vernee Mix 2 has dual rear camera, like iPhone 7 Plus. It's the same telephoto dual camera configuration. The main sensor is 13MP Sony IMX 258 with wide angle and OIS, and secondary is 5MP sensor.
On the front panel you can find 8-megapixel sensor.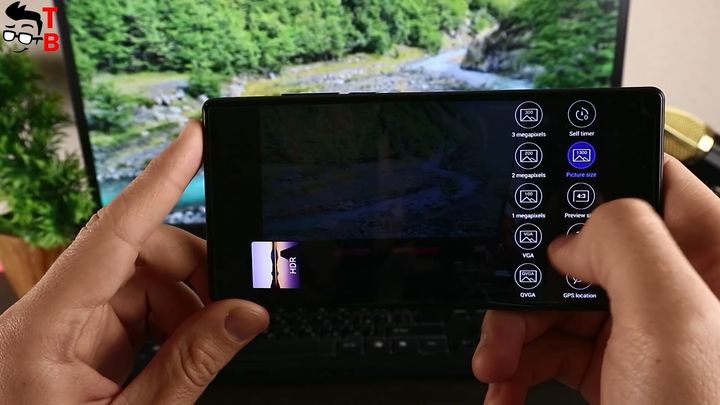 By the way, Vernee Mix 2 has 4 axis OIS, so you can forget about shaky videos.
Now let's look at real sample photos and videos.
Sample Photos
Daylight images
Night photos
Selfie camera photos
Sample Videos
Battery
If we talk about battery, then there is 4200 mAh capacity. It is really large battery that will provide two days of operation on a single charge. Also, it support fast charge technology Pump Express. Yeah, Vernee Mix 2 has big 6-inch Full HD plus display, and it consumes a lot of charge, but you should not forget about energy efficient processor.
Our battery test shows the followint result:
6 hours and 15 minutes playtime Full HD videos on YouTube with full brightness.
1 hour and 33 minutes for full charging.
Conclusion
So, I made the review of long-waited Vernee Mix 2. What can I say about it? First of all, it has really impressive design. Besides minimal bezels around the display, it has glass back panel. Also, new smartphone comes with amazing 6 inch Full HD Plus display. Also, I need to mention powerful hardware, dual rear camera and big battery. All this makes Vernee Mix 2 is very attractive smartphone, especially given its price – about $160.
Vernee Mix 2 Review Video