We haven't tested smartphones in a while, but soon we will get some interesting mobile devices. Stay tuned. We will also try to post more articles about smartphones, because I know that you like them.
Now I have a smartphone that very few people have heard about, but it is one of the most exiting ones I have seen this year.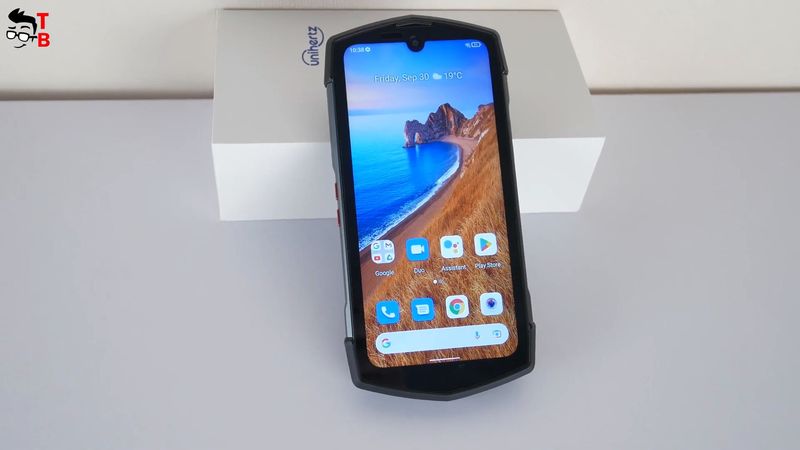 The name of this phone is Unihertz TickTock. As you can see, this is a rugged smartphone, but its main feature is the second screen on the rear panel. It also has a powerful Dimensity 700 processor with 5G support, 8GB of RAM and 128GB of storage, 48MP camera and 6000mAh battery.
In this article, we will do a full review of Unihertz TickTock smartphone, including performance test, camera test, battery test, etc.
Let's start with unboxing.
Unboxing
You know, the smartphone looks extraordinary, but it comes in a very simple white box. There is a company logo Unihertz on the front and a model name of smartphone TickTock on the side.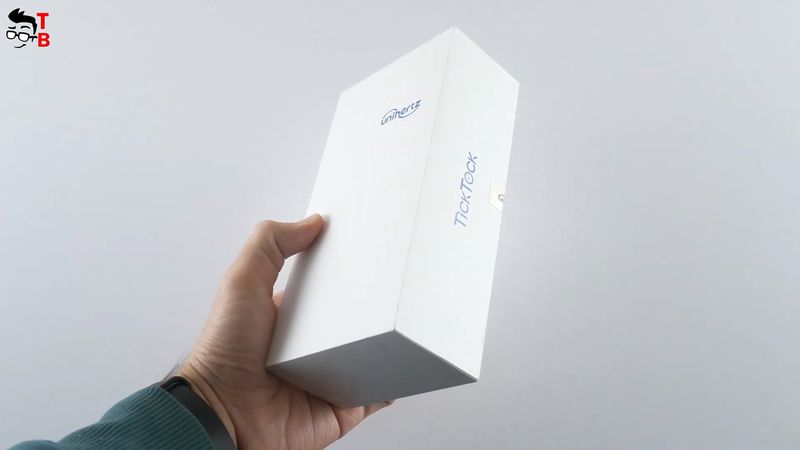 On the back of the box, we can read the specs of the mobile device. I have already told you about some of them. By the way, here we can see that the screen size is 6.3 inches, but the official website says about 6.5-inch main screen. Later we will check a display size through the benchmark tests.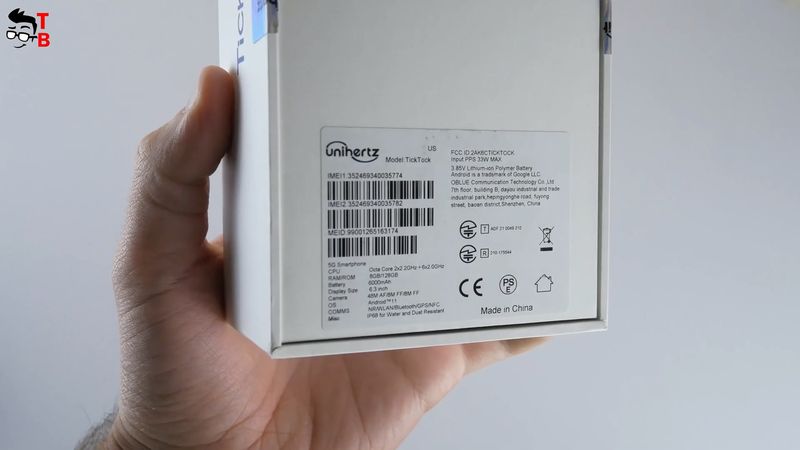 Inside the box, there is an envelope with screen protector, user manual and warranty card. Then, we have a smartphone. We will take a closer look at it a little later.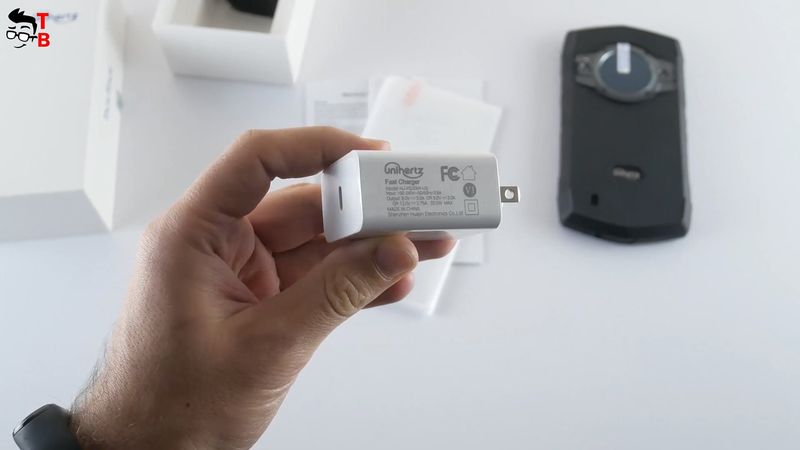 There is also a power adapter, USB Type-C charging cable and adapter from Type-C to 3.5mm audio jack.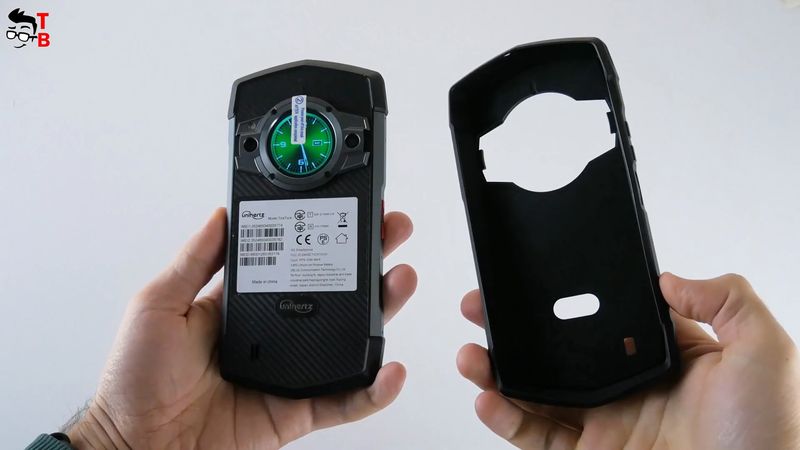 By the way, the smartphone comes with a protective case. I don't quite understand why you need a protective case for a rugged smartphone, but it looks good.
Design
Talking about design, first, I want to say about dimensions of Unihertz TickTock. It is 176 x 85,6 x 14,9 mm. The weight is 308 grams.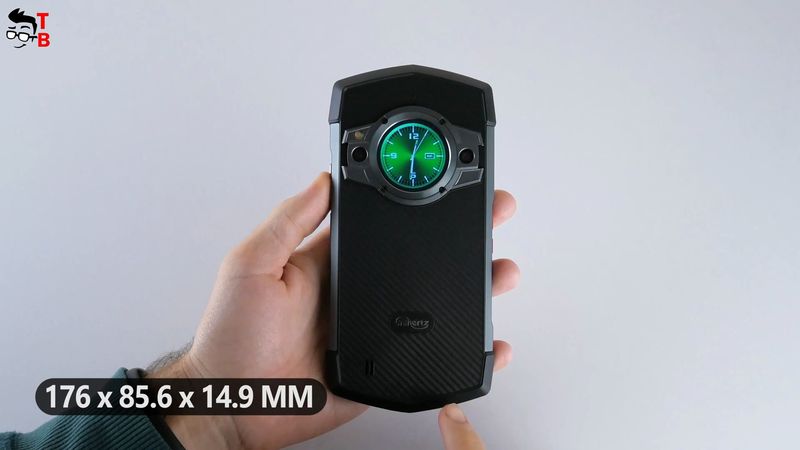 So, this is quite bulky smartphone, like the other rugged phones.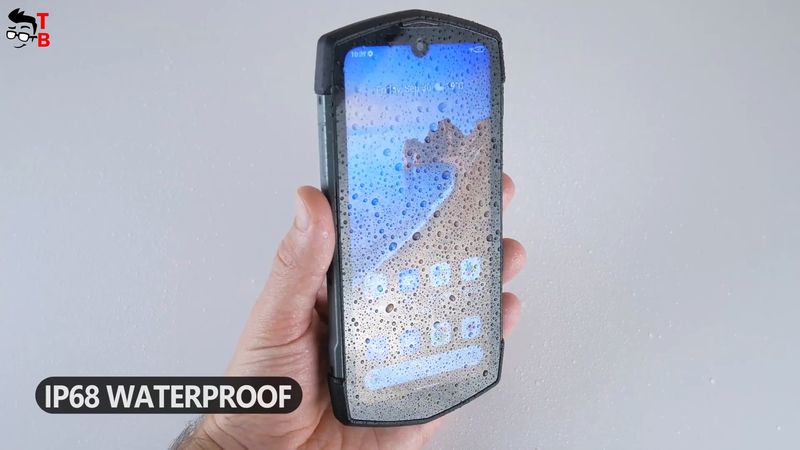 However, thanks to IP68 rating, it is waterproof, dustproof and shockproof.
You know, the weak point of all smartphones is the corners. Unihertz TickTock has thick plastic on the corners, while the side panels are made of metal. I think it is good protected from falls.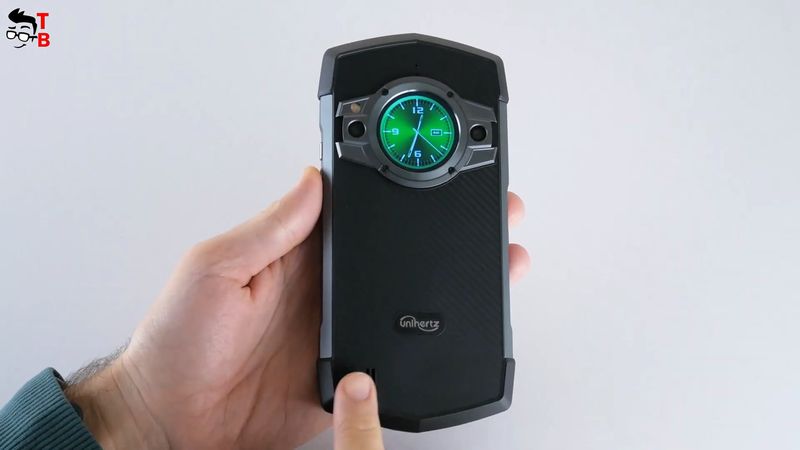 As you can see, the smartphone has a triangular top and bottom. I think this is also done for increased protection of the phone.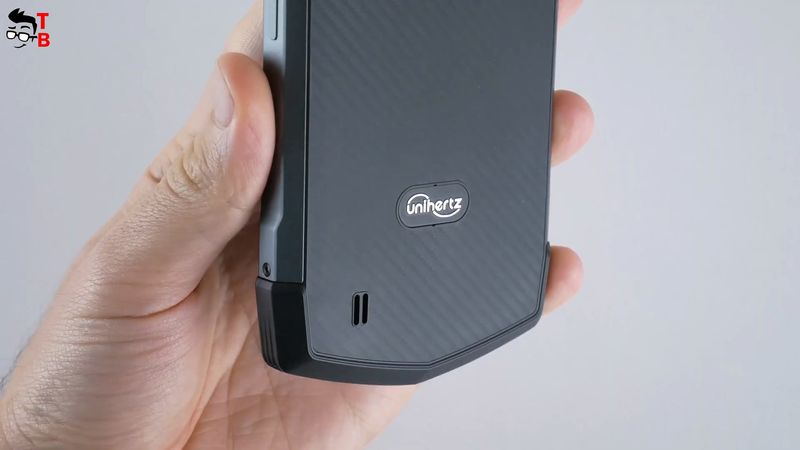 The rear panel has a nice picture. There is Unihertz logo, speaker, camera module with two sensors and flashlight, and the second display on the rear panel.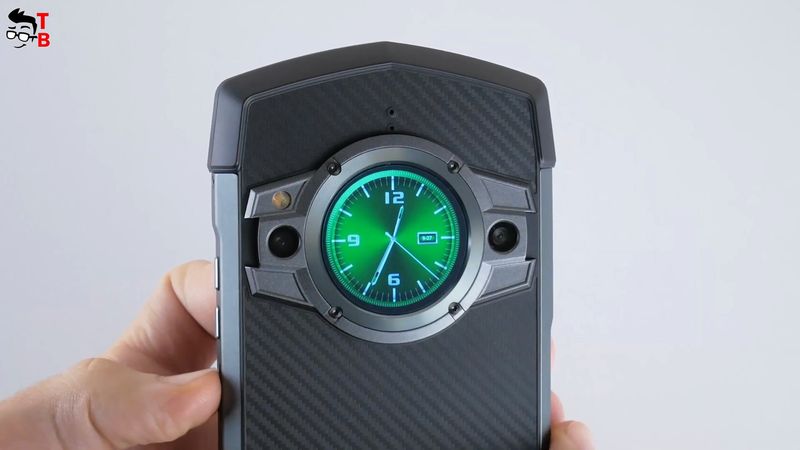 We will talk about rear display a little later, but now I want to draw your attention to the design of the camera. It looks awesome, doesn't it? However, unlike the side faces of the phone, it is made of plastic.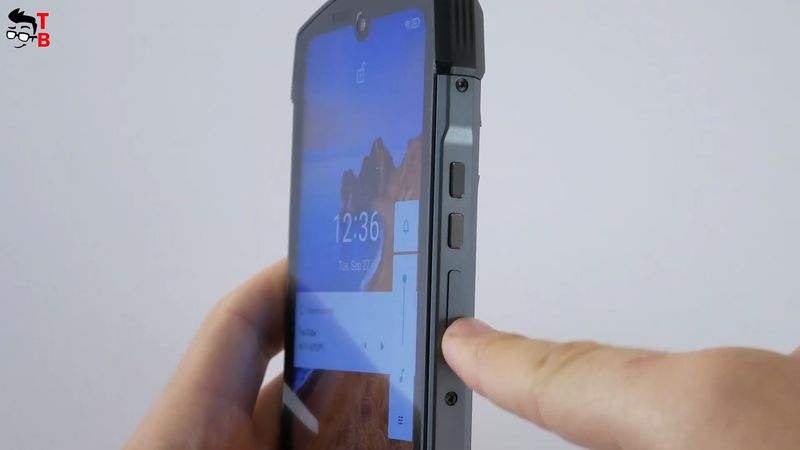 A fingerprint reader is located under the power button on the right side of the phone.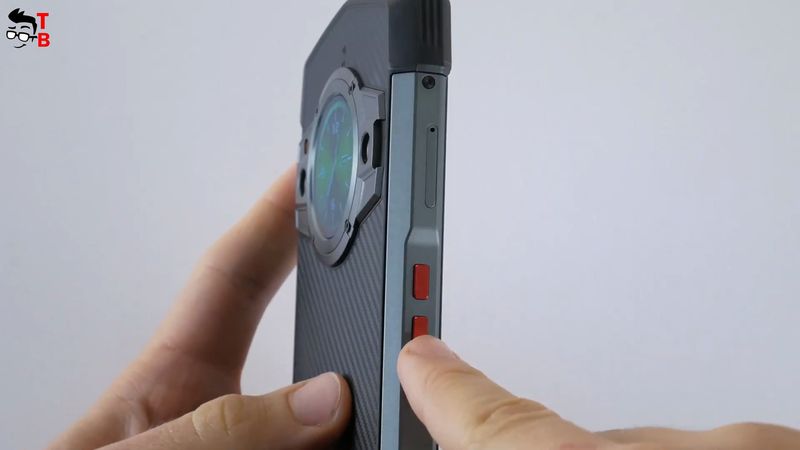 There is also a volume rocker on the same side, while on the other two customizable buttons and hybrid slot for dual SIM and microSD memory card.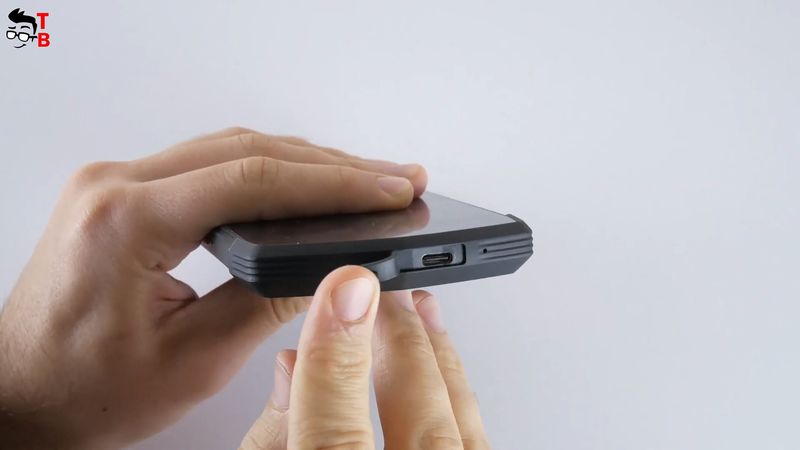 USB Type-C charging port is at the bottom of the phone under a rubber plug.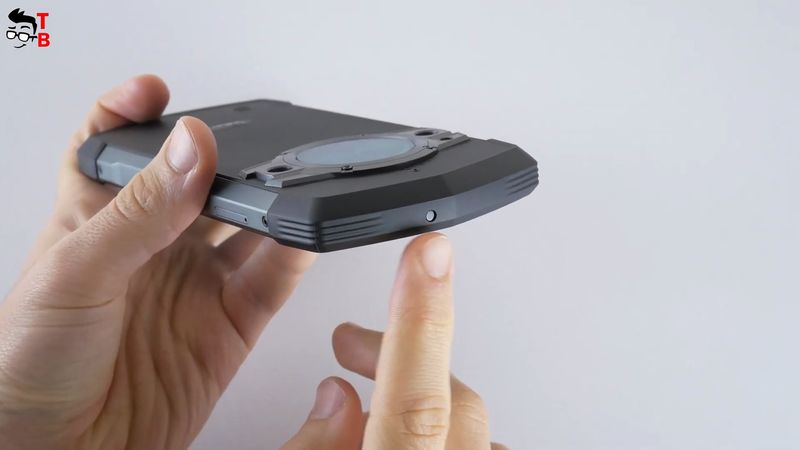 Another feature of Unihertz TickTock is infrared port at the top, so you can use a smartphone to control TV, AC, etc.
You know, the new rugged phone also has LED notification light above the display. It is very rare nowadays.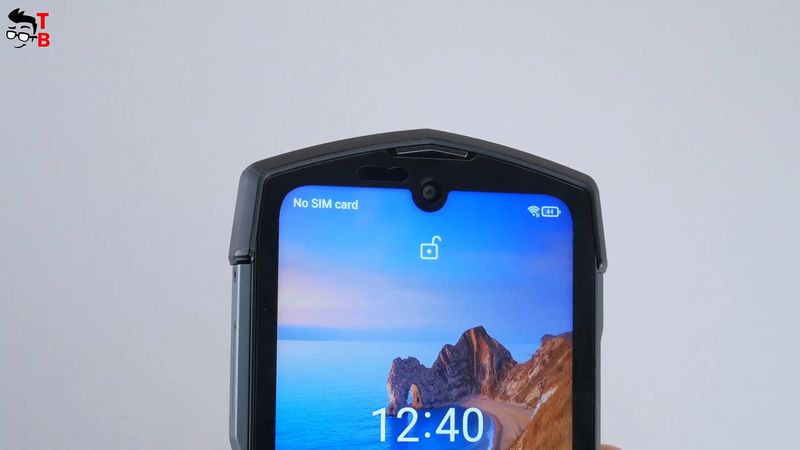 As you can see, there is also a waterdrop notch above the display, but it is very compact. This is because of this triangular design. I think the manufacturer could even place a camera a little higher, and made the screen without notch at all. Even so, however, it looks good.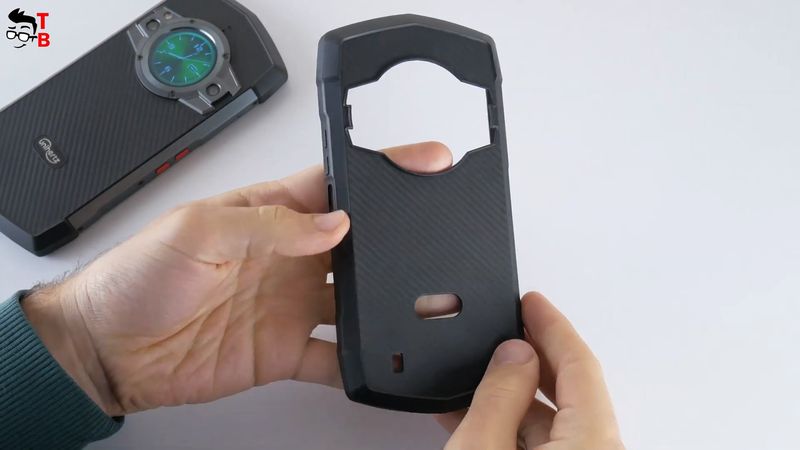 As I already said, Unihertz TickTock comes with a protective case, but unlike the other phones, it doesn't really protect from damage, because the smartphone is shockproof, but it protects from scratches the rear panel.
By the way, a case has the same picture as the rear panel of smartphone.
Display
As for the display of Unihertz TickTock, there was some confusion about diagonal, but we can see 6.5 inches in the benchmark tests. The screen resolution is Full HD+, 1080 x 2340 pixels.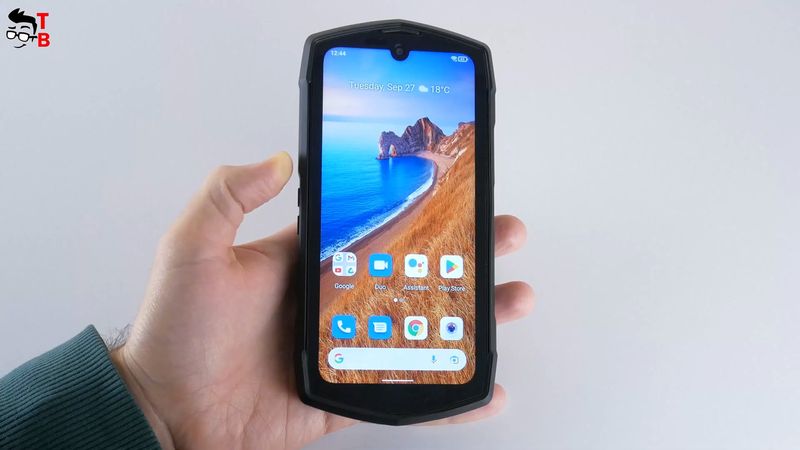 To be honest, I don't know the brightness of the display, but it looks very good outdoors.
The colors are also saturated and contrast. This display is good for watching videos.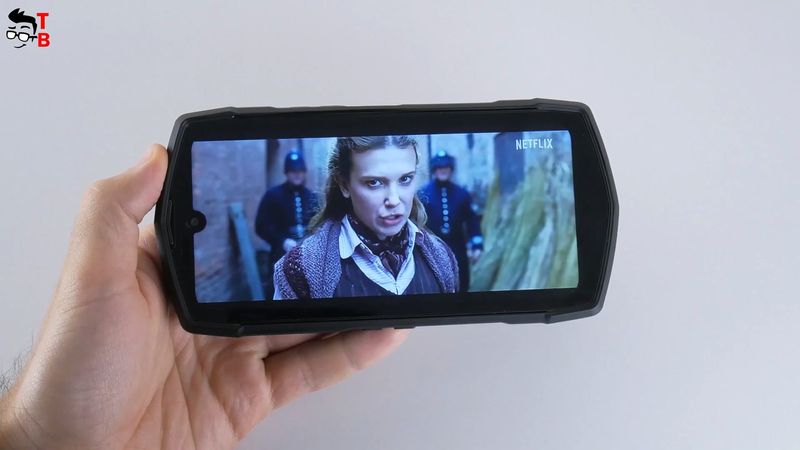 The second screen on the rear panel has 1.3-inch diagonal and 360 by 360 pixels resolution. Of course, you cannot watch videos or play games on it, but even on this clock, we can see that it is a good quality.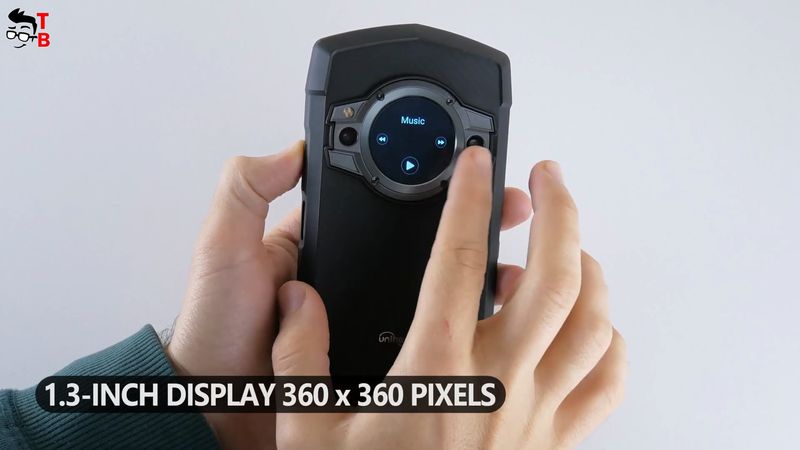 By the way, let's talk about what we can do on the second screen.
Second Display
You know, the name of the smartphone is not related to the popular Chinese social network TikTok, but to the sound of the clock – Tick Tock, Tick Tock. This is because the smartphone has a clock on the rear panel.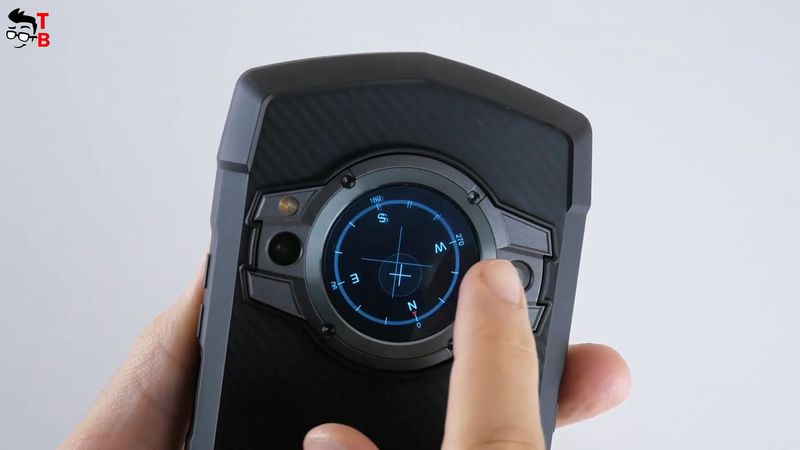 However, you can also swipe left or right and use the other functions of the second screen, such as music player, compass, and camera.
If you want to read the notifications, then swipe up from the main screen.
You can also check a battery level of smartphone by swiping down.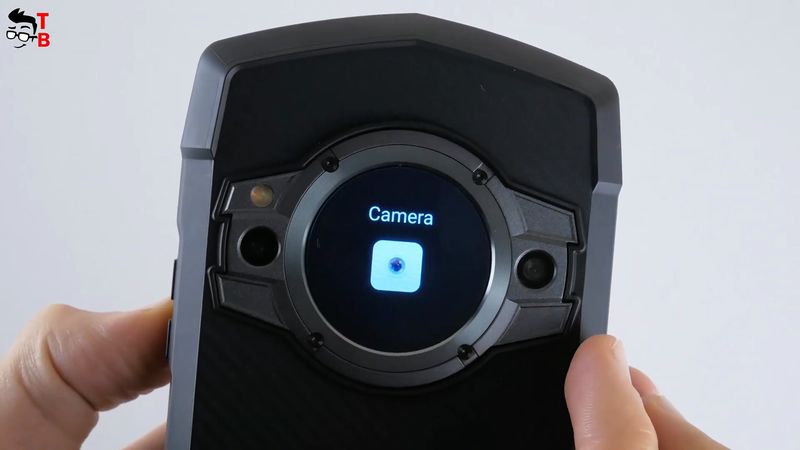 In a camera mode, you can only take a picture, but a not a video, switch to the front camera and open a gallery.
By the way, the gallery for the second screen is different from the main camera gallery.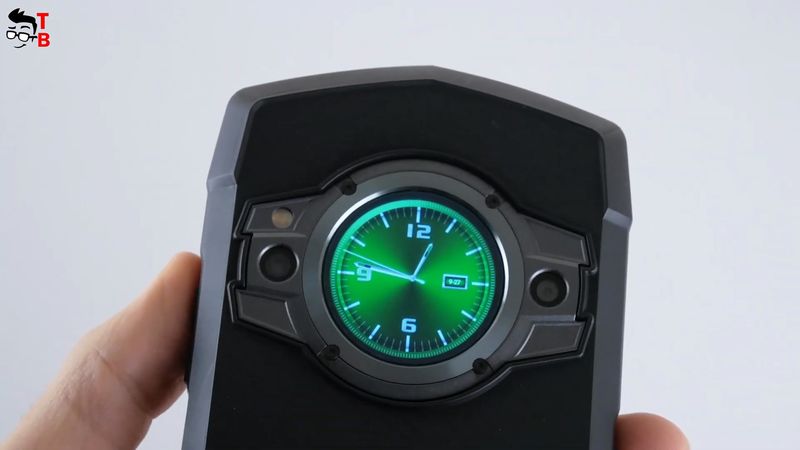 You can also go to the Settings of smartphone, and Subscreen settings to select a clock plate. There are sixteen clock plates available, but you can even install your own picture on the second screen.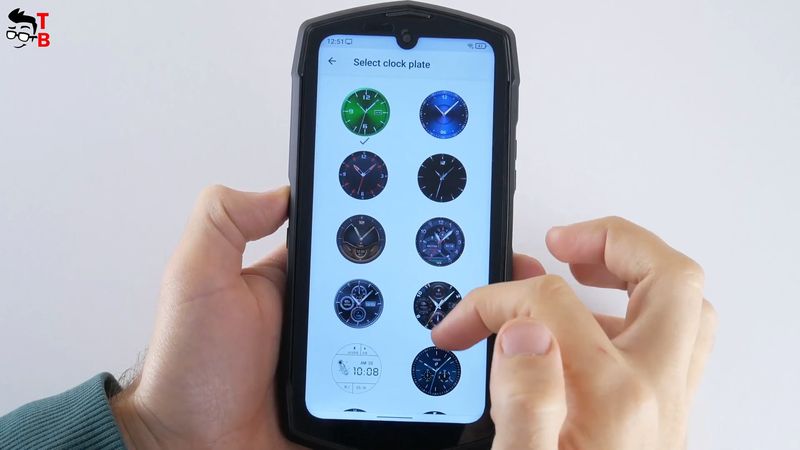 Then, you can choose a screen timeout, and backlight level.
There are three options available to screen on the second display, such as screen on with main screen, flip to screen on, and double tap to screen on.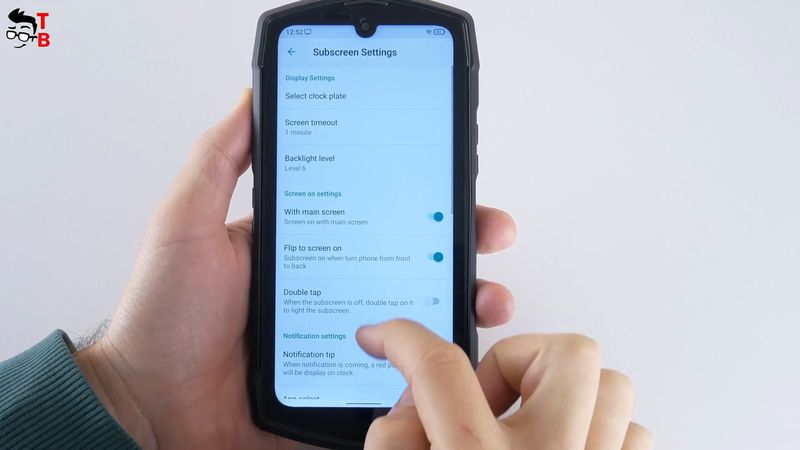 The second display can also be used for notifications. You need to activate notification tip in the settings, and you can choose the apps which show notifications on the second screen.
If you don't need a music player on the second display, then you can remove it.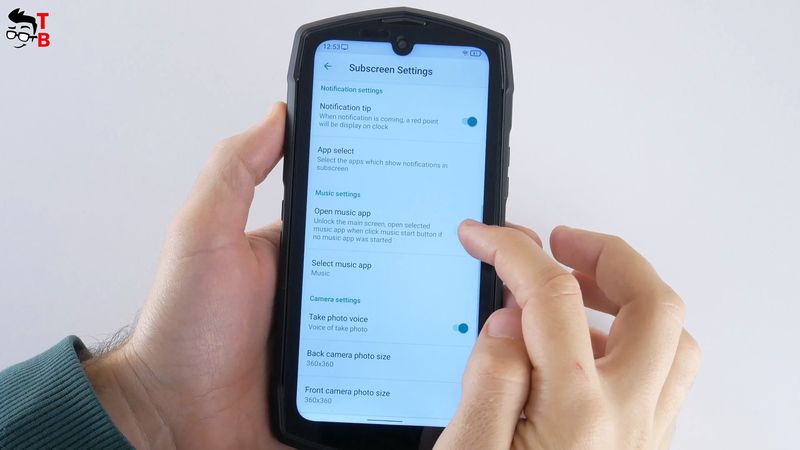 The camera settings include a take photo voice, back camera photo size, and front camera photo size. By default, the photos resolution is 360 by 360 pixels, so don't forget to select a higher resolution.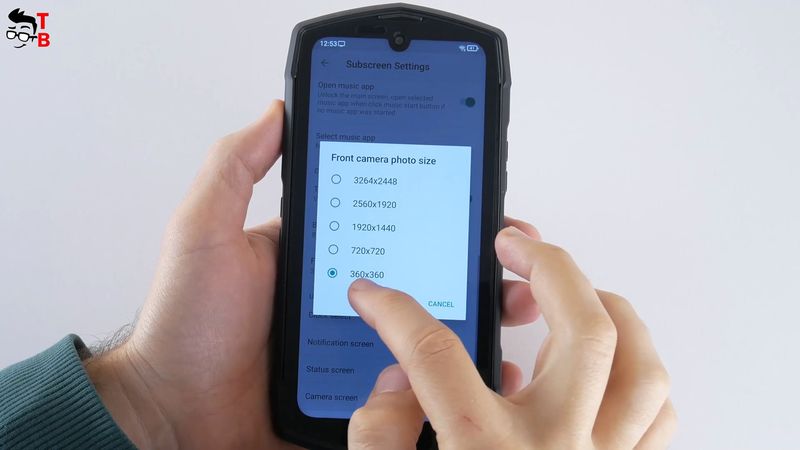 So, I think the second screen is a very useful feature. I wouldn't say that taking pictures is very convenient, but you can quickly check the time and battery or read new notifications.
User Interface
Talking about user interface of Unihertz TickTock, it runs on Android 11 operating system. By the way, I have received a software update from the June 21st. It looks like the smartphone receives the software updates regularly.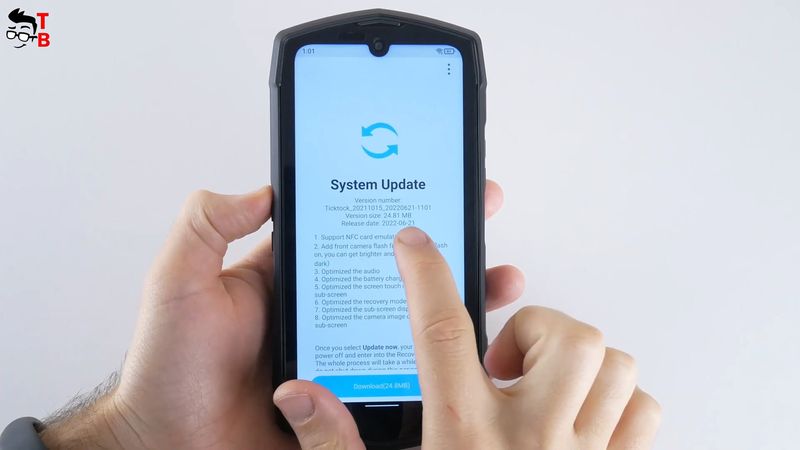 In general, the user interface is not much different from other Android devices. There are Google apps, such as Play Store, YouTube, Maps, etc.
However, Unihertz TickTock is a rugged smartphone, so it has a toolbox with some useful functions, such as noise test, compass, flashlight, bubble level, alarm, underwater camera, etc.
Performance
OK, now, we can test a performance of the new smartphone.
Unihertz TickTock has Dimensity 700 processor, 8GB of RAM and 128GB of internal memory. You can also use microSD memory card to expand the internal storage.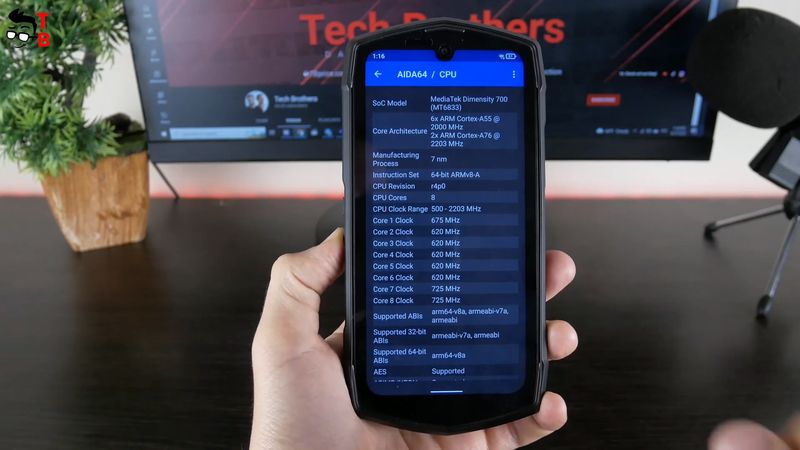 You know, the hardware is very good for the rugged smartphone.
The AnTuTu result is about 327000 points.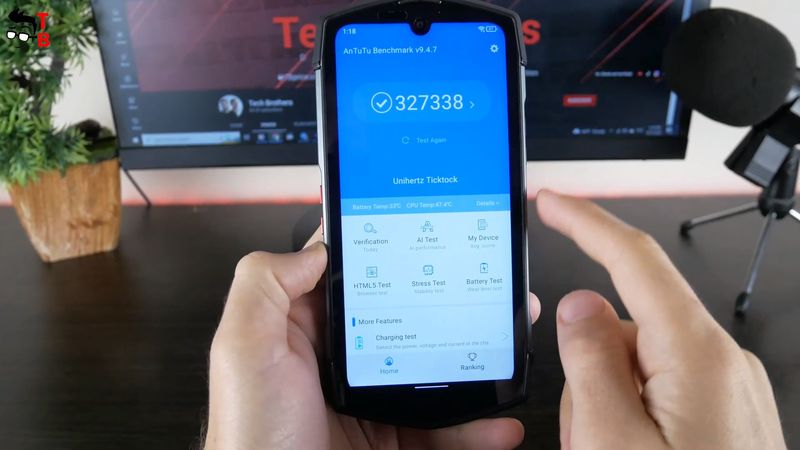 In GeekBench 5, the new phone has 540 points in single core test and 1680 points in multi core test.
Finally, in 3DMark benchmark, the Unihertz smartphone scores 1109 overall score.
So, the benchmark results are very good for the mid-range rugged phone. However, is it good for playing games? Let's find out.
Games
I am going to play some games, such as PUBG Mobile, Call of Duty Mobile and Genshin Impact.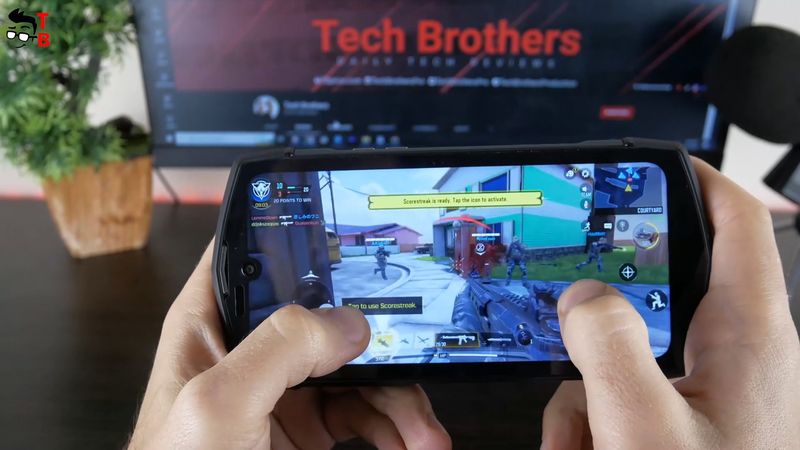 As you can see, all the games run very well. However, the graphics is quite weak in Genshin Impact. You should understand that Unihertz TickTock is not exactly a gaming smartphone. However, even after a long gaming, it doesn't heat up.
Camera
You know, we can see the dual camera on the rear panel, but it looks like the smartphone has a single main camera. There is only information about 48MP main camera and 8MP front camera on official website.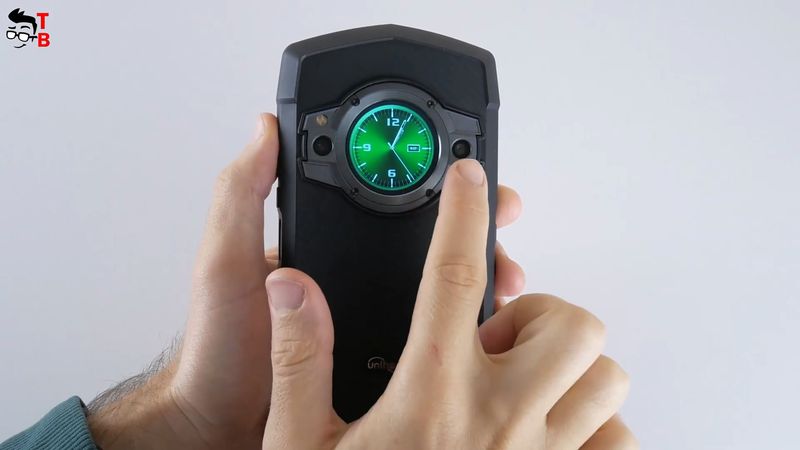 Even in benchmark tests, we find nothing about the second camera on the back. It looks like it is fake.
There is no ultra-wide angle, portrait or macro modes in the camera app. You can only take normal photo and video, Professional mode, time-lapse, and slow motion.
In the camera settings, we have anti-shake function, RAM format, self-times, picture size, anti-flicker, capture sound, auto screen brightness, GPS location and key mode.
The video settings menu has scene mode, electronic image stabilization, microphone, video format and video quality, and some other options.
I have already taken some photos and videos. Let's take a look at them.
By default, the smartphone takes photos with 12MP resolution. They look like this.
However, it is better to select 48MP picture size in the settings, because the quality is much better.
As I said before, the smartphone doesn't have any modes like portrait, macro or ultra-wide angle.
The photos on the 8MP front camera are good.
Talking about video recording, it is also HD by default, but you can select Full HD resolution in the settings.
Overall, the video quality is not bad, but stabilization could be better.
Battery
The battery of Unihertz TickTock has a capacity of 6000mAh. You know, it is not very big compared to some other rugged smartphones, but it supports 30W fast charging.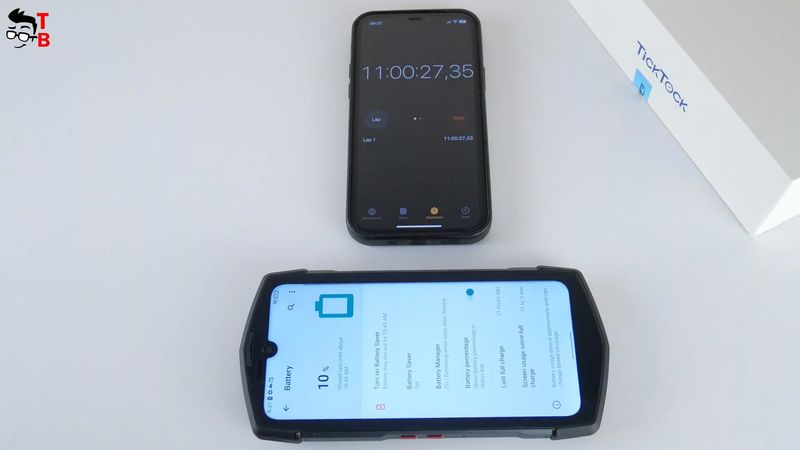 In the battery test with video playback on YouTube via Wi-Fi, and maximum screen brightness, the battery life is 11 hours and 40 minutes.
The full battery charge takes 2 hours and 13 minutes. It is a really fast charging of 6000mAh battery.
Speaker
As I already said, Unihertz TickTock has a speaker on the rear panel. Let's check its quality.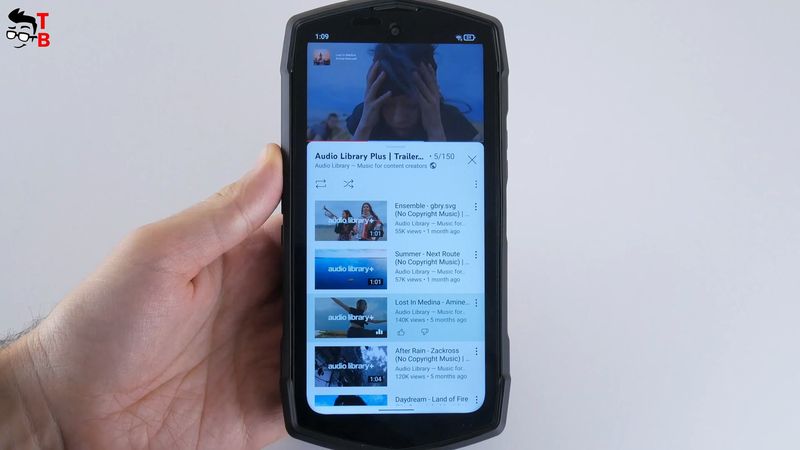 First, I want to say that a speaker is very loud. It is also quite good quality.
Connectivity
Finally, let's talk about connectivity. The smartphone has dual SIM slot, and both of them support 5G networks. Unfortunately, I don't have 5G networks in my country, so it is not very useful for me.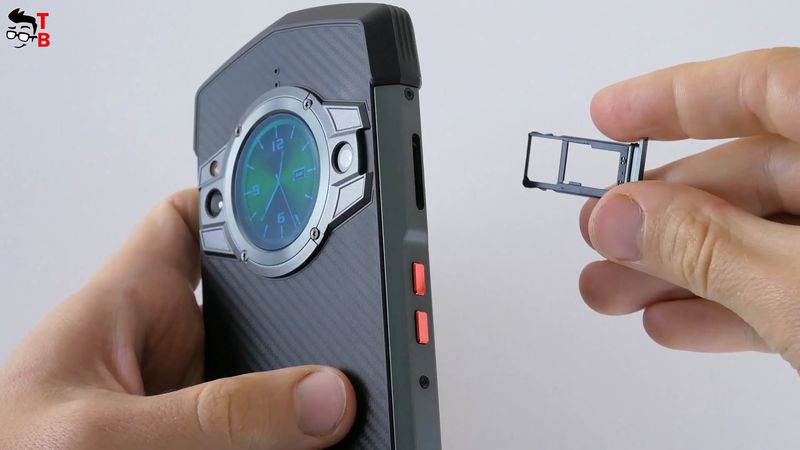 However, Unihertz TickTock supports NFC, and it is very important for me, because I often make contactless payments with my phone.
The new rugged smartphone also supports dual band Wi-Fi, Bluetooth 5.1, GPS. Actually, there are four navigational satellites support. That's very good for accurate positioning.
Conclusion
So, Unihertz TickTock really doesn't look like other smartphones, because of the triangular top and bottom, and the second screen on the rear panel.
This is also a rugged smartphone, so it is waterproof, dustproof and shockproof. The design is definitely a highlight of this phone.
However, the performance is also good. You can play any Android games, such as PUBG Mobile, Genshin Impact, etc.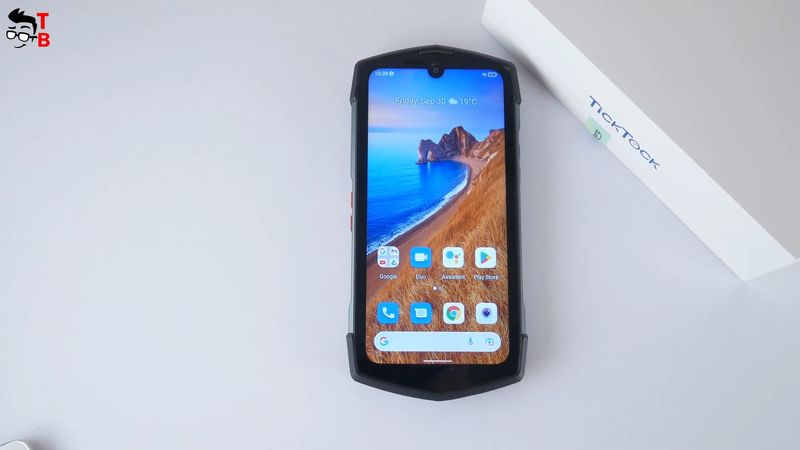 As for the camera, it takes decent photos and videos, but it lacks additional modes, such as portrait, macro, wide-angle.
The battery life is also good, but I think that 30W fast charging support is even better than a large battery capacity.
By the way, the smartphone also supports 5G networks and NFC.
For the price of $350, Unihertz TickTock is a very nice rugged phone.