Today we are testing a soundbar with subwoofer called Ultimea TAPIO V.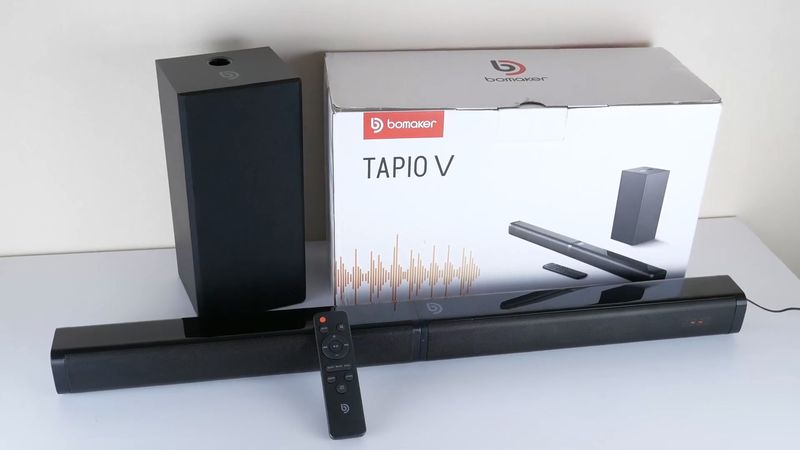 You know, the most exciting thing about this product is a price. You can buy it for only $129, but I also have a 20% off coupon code for you.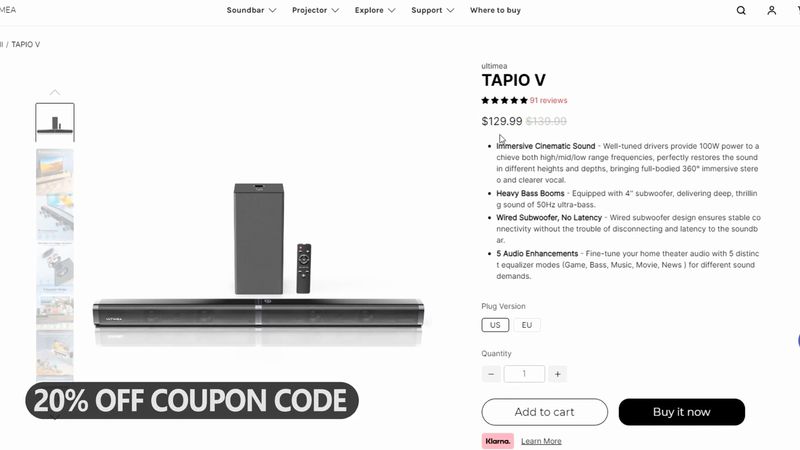 So, the new soundbar has 100W peak power, a wireless Bluetooth connection, 4 built-in speakers, 5 equalizer modes, and a wired subwoofer.
In brief, in this article, we will make unboxing, look at design of the soundbar and its connection, and then check a sound quality.
Unboxing
You know, I was expecting a bigger box from a soundbar with a subwoofer.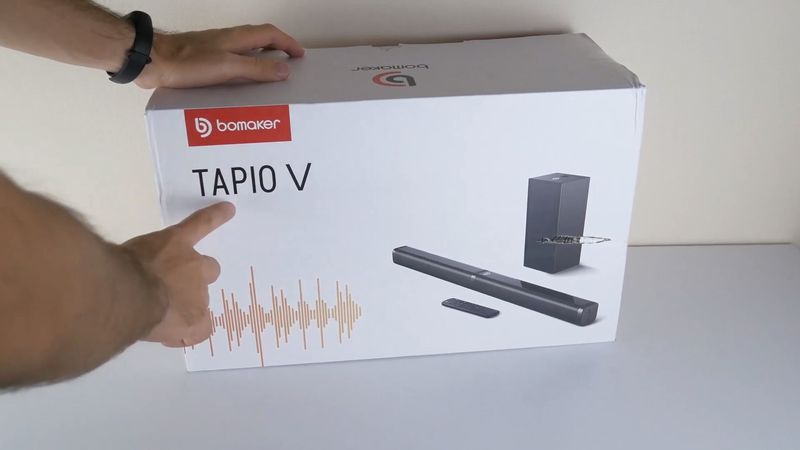 We can see the brand name of Bomaker, and the model name on the front. As you can see, this is Tapio V.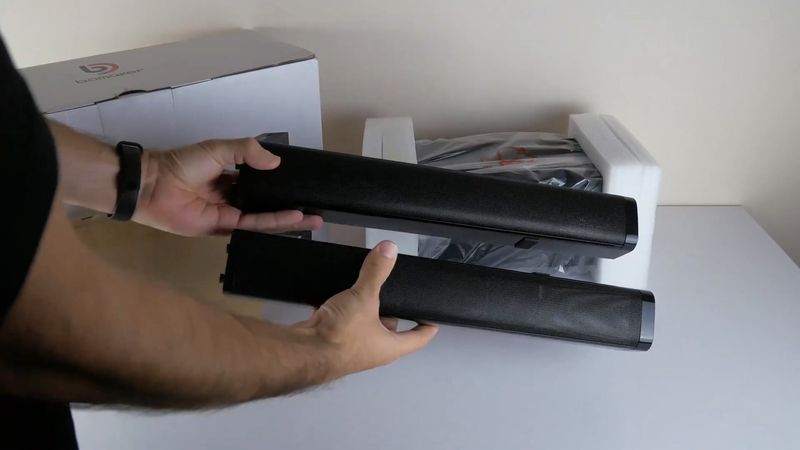 You know, the box is not very big, because the soundbar consists of two parts. Later, I will show you how to connect them.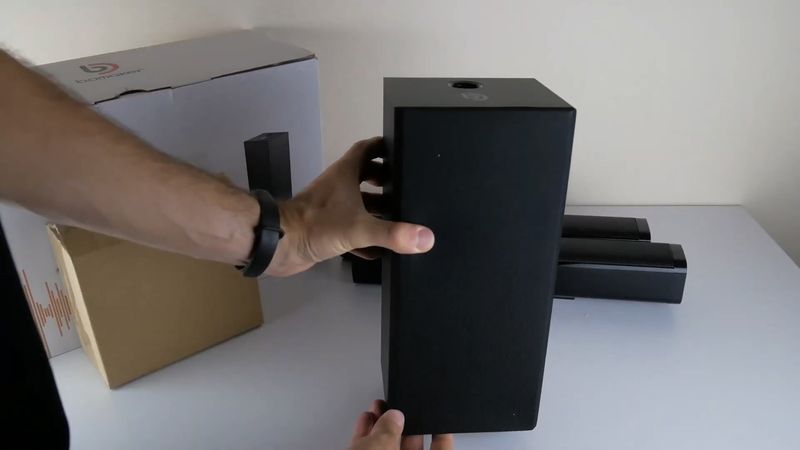 Then, there is a subwoofer in the box, and accessories, such as power adapter, remote control, user manual, and warranty card, optical cable, RCA cable.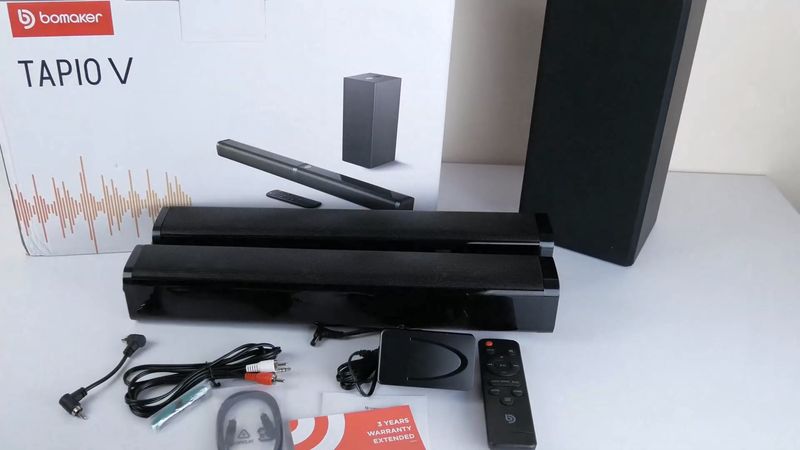 There is also another cable in the package to connect the two pieces of the soundbar together.
Let's see how to do this.
Design
You know, I haven't seen a soundbar consisting of two parts before. I think that's why it has a model name of V. (покажи их на видео в форме V). However, you cannot use them separately. You need to connect them together before using.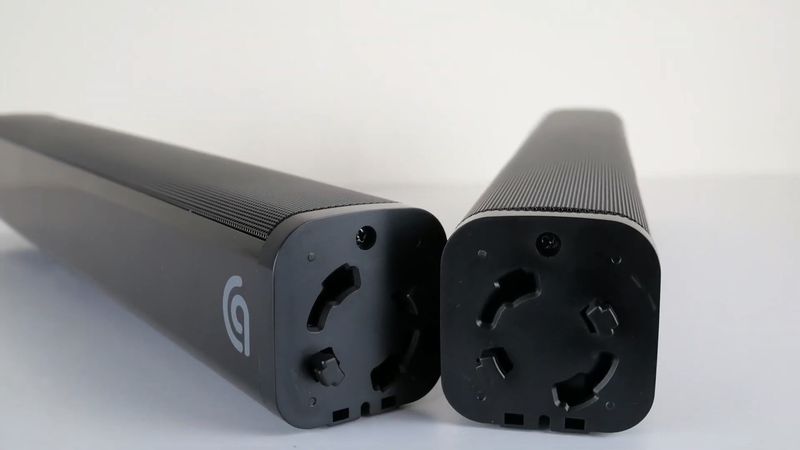 There is a connection plug on one piece of the soundbar, and the same one on another piece of the soundbar. You just need to put them together and twist.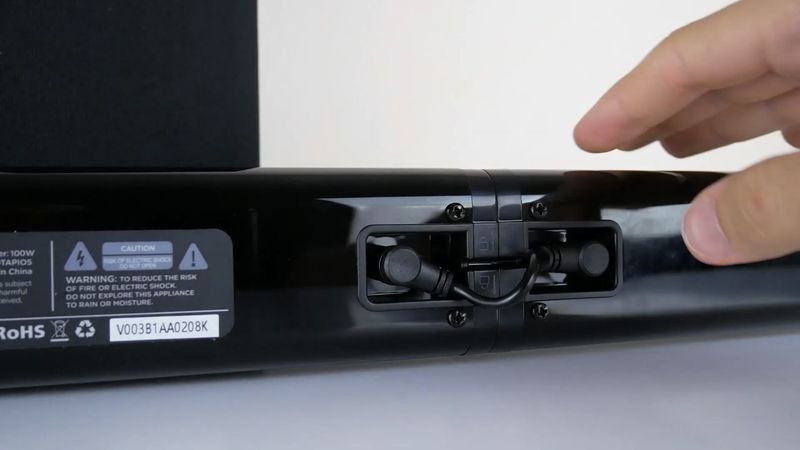 Now, you need to take a cable from the package, and connect the two parts of the soundbar. That's all! Now, you can press a power button and use it.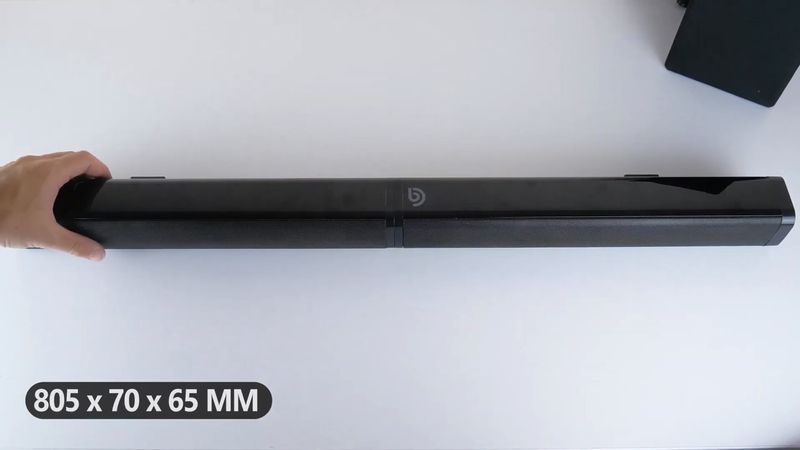 By the way, the full size of the product is 805 by 70 by 65 mm. The weight is 1350 grams.
As you can see, TOPIO V soundbar isn't really that small, but it is light enough.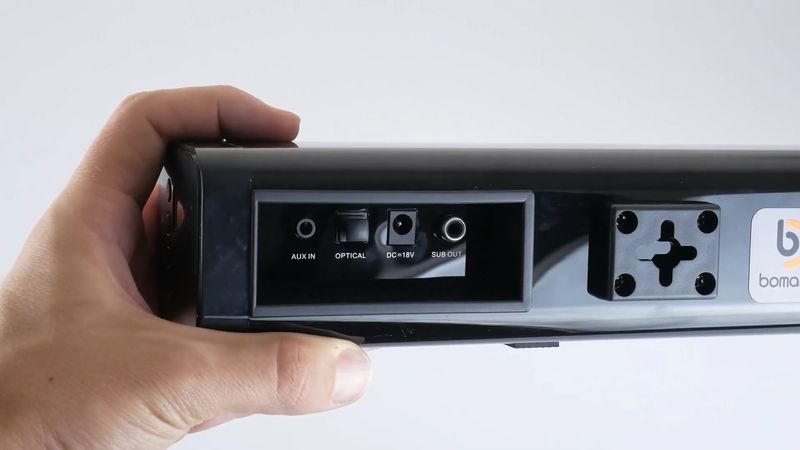 On the back, we can see AUX input, optical input, DC power input, and a connector for subwoofer.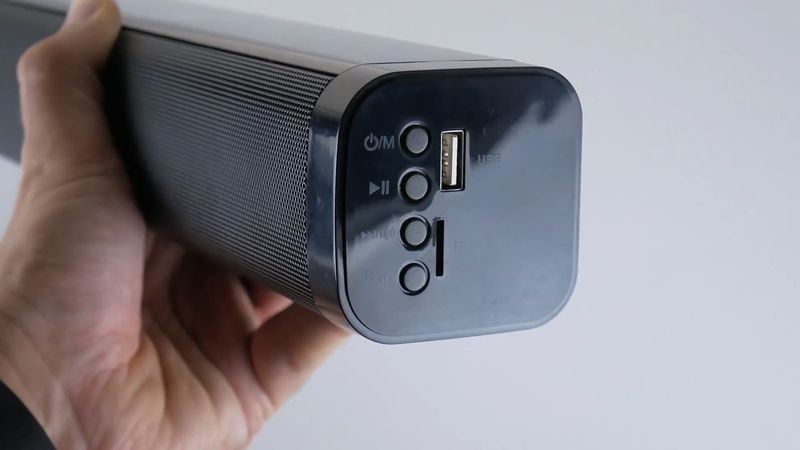 A control panel is located on the right side. There is a power on/off and change input mode button, play/pause button, previous and next song, as well as volume up/down buttons. We can also see a TF card slot and USB port.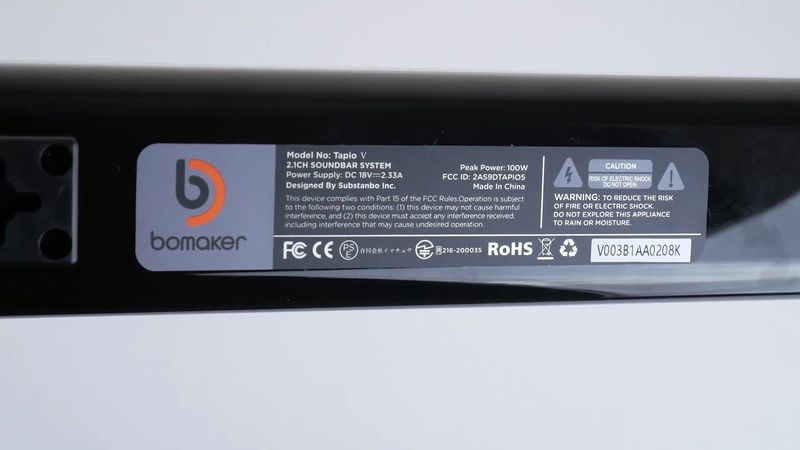 On the back of the soundbar, there is a sticker with some technical information. As you can see, the peak power of this soundbar is 100W, while a power supply is 18V.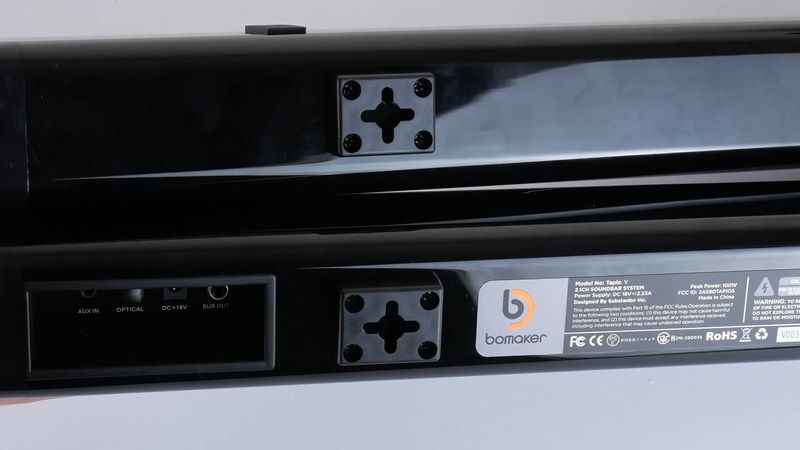 By the way, there are also two mounts on the back to install a soundbar on the wall. That's very good.
LED indicator on the front says about connection method, such as Bluetooth, USB, AUX, as well as volume level, and equalizer mode. You can turn the LED indicator off using a remote control.
Talking about remote control, it is powered by two AA batteries.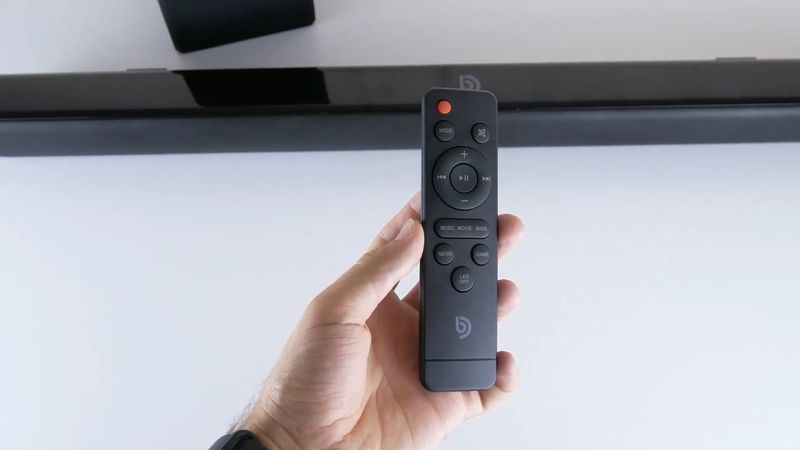 There is a power on/off button, input mode and mute, volume up/down and switch tracks, as well as equalizer modes and LED off.
By the way, this is an infrared remote control, and it has a working range up to 8 meters.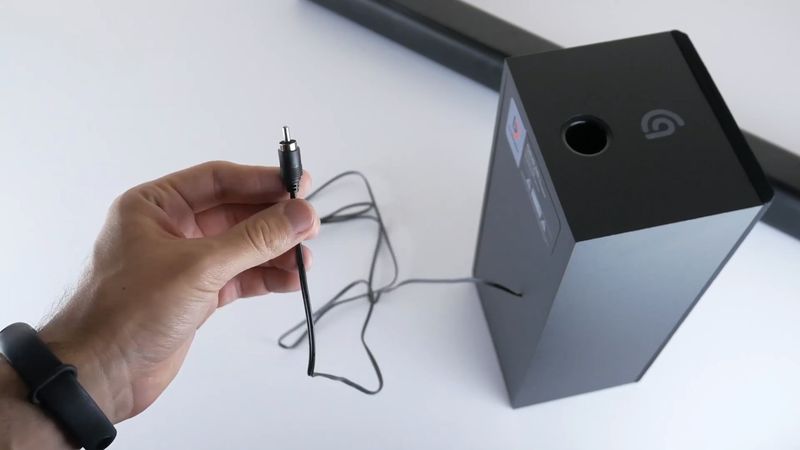 Talking about subwoofer, first, you need to know that it is wired. You can use RCA cable from the package to connect a subwoofer to the soundbar.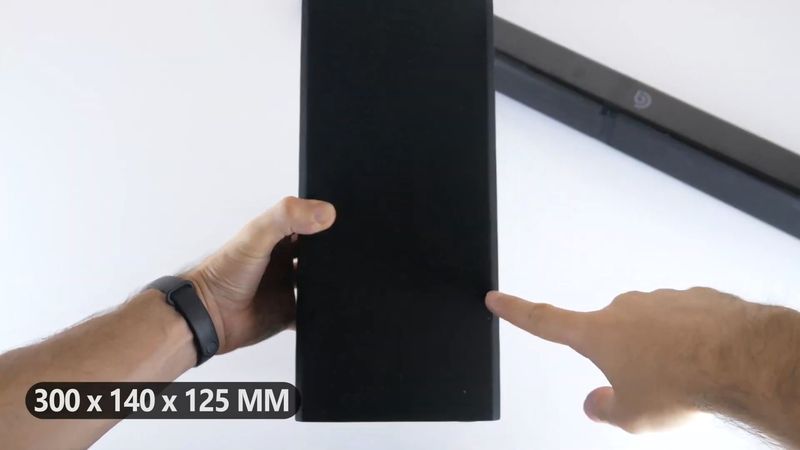 The dimensions of the subwoofer are 300 by 140 by 125 mm. The weight is 1965 grams.
Now, let's connect the soundbar to the TV and check the sound quality.
Connection
As I already said, this is a wireless soundbar, and it uses Bluetooth 5.0 technology for connection with other devices, such as TV, PC, laptop, smartphone etc.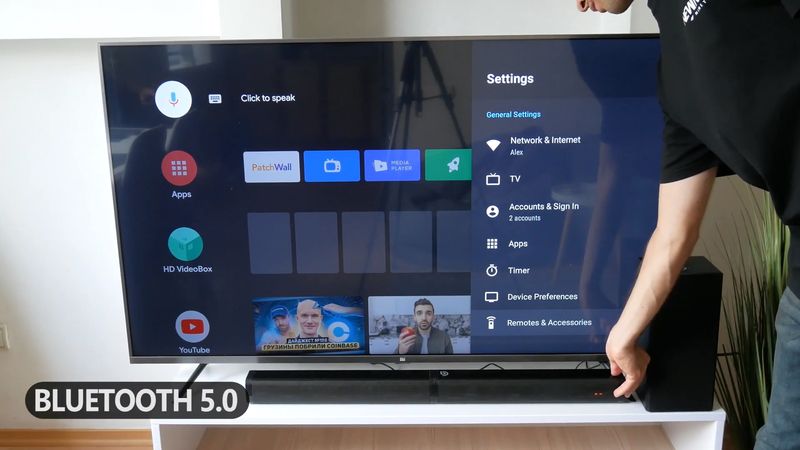 You just need to choose a Bluetooth mode on the soundbar, then go to the Bluetooth settings, and select Tapio V. That's it.
Volume Level
Before talking about sound quality, I want to check the volume level.
You know, the manufacturer says that the maximum volume of this soundbar is 110dB.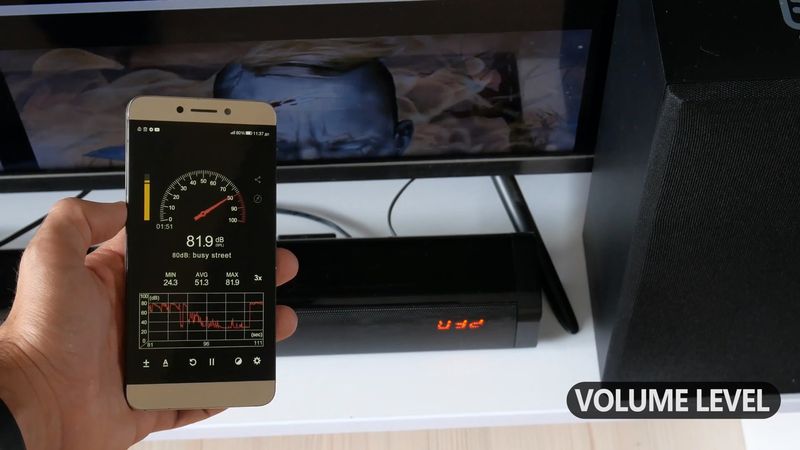 In my case, the maximum sound level is about 80 dB. However, it is still very loud.
Sound Quality
Okay, now let's compare the sound quality of the soundbar with the subwoofer and the built-in speakers of my Xiaomi TV.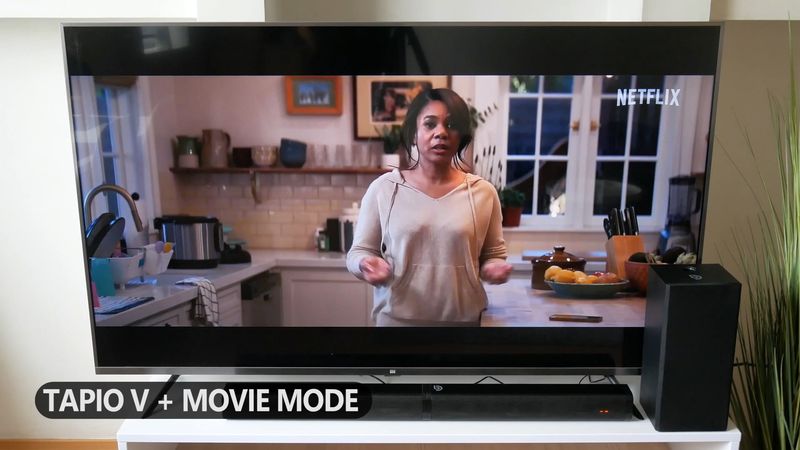 I will also switch equalizer modes on the remote control.
Conclusion
You know, Tapio V is a quite simple soundbar, because it doesn't have a Dolby Atmos or DTS support. However, it is really powerful, and it comes with a subwoofer.
From the sound test you heard, it is actually better than the built-in speakers of my Xiaomi TV.
For just under $100, you can really improve the sound quality of your TV, projector, or computer.