You know, I have tested many budget projectors this year, and they are very similar to each other. I mean that most LCD projectors under $200 have Full HD native resolution, up to 300 ANSI Lumens brightness, and Wi-Fi support.
As you understand, if the projectors have the similar specifications, the image quality will also be about the same.
However, when choosing a projector, you should pay attention not only to the image quality, but also speaker quality, noise level, design, user interface, etc.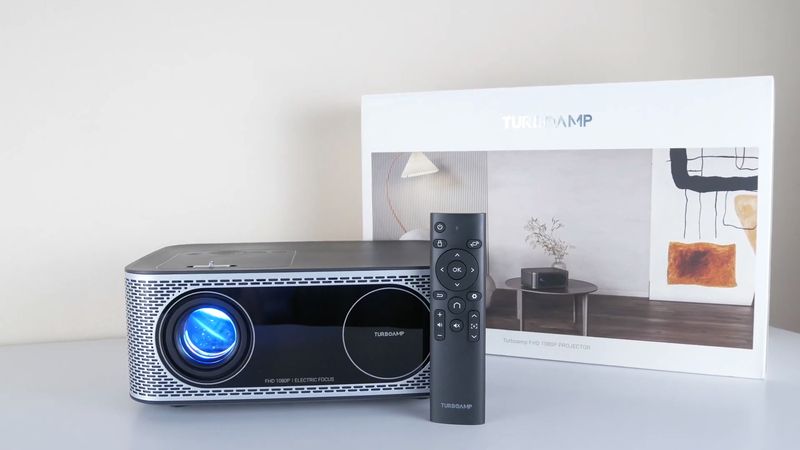 The new projector TURBOAMP has a very nice design, in my opinion, dual speakers, dual-band Wi-Fi and Bluetooth support, 1080p native resolution, 300 ANSI Lumens brightness, very friendly user interface and even electric focus adjustment.
However, let's talk about all of this in more detail.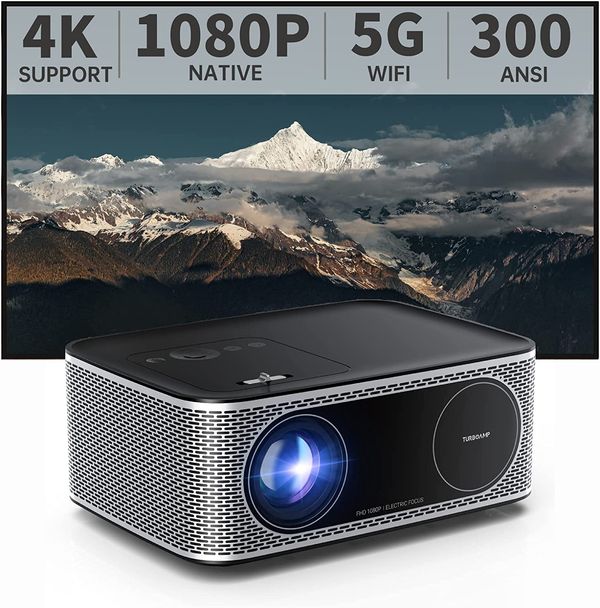 TURBOAMP 5G Native 1080P Movie Projector - Amazon
as of November 4, 2022 7:45 am
Unboxing
So, we can see a new projector in a stylish designer room on the box.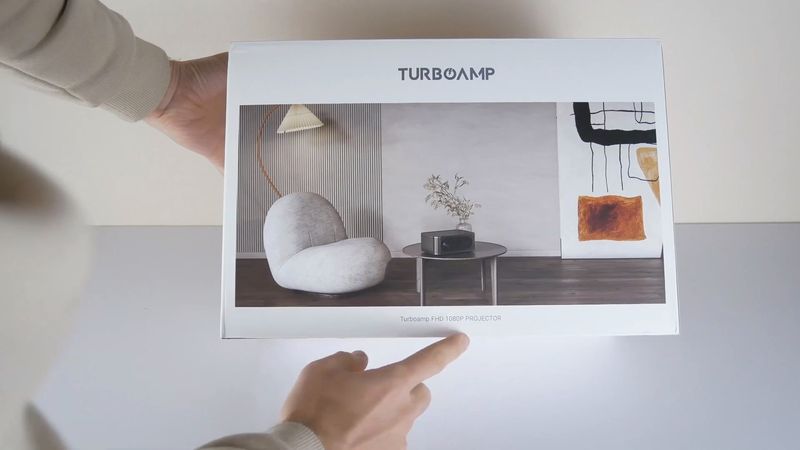 Inside the box, there is HDMI cable, and carrying case.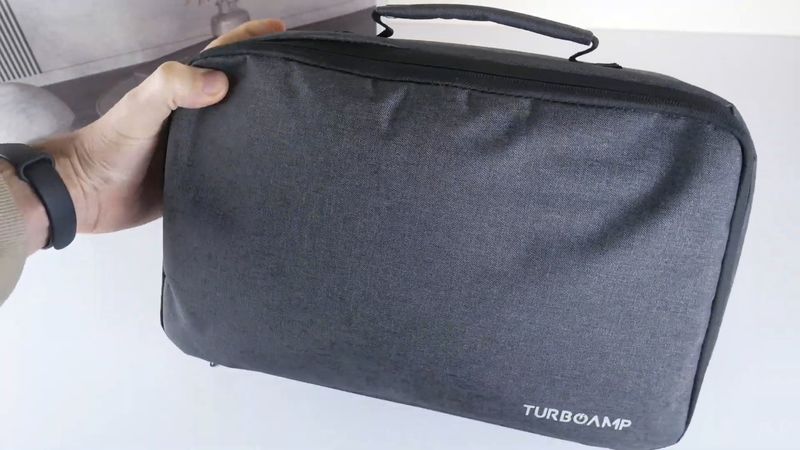 When you open the case, you will see the projector itself, as well as accessories such as remote control, power cable and a lens cap.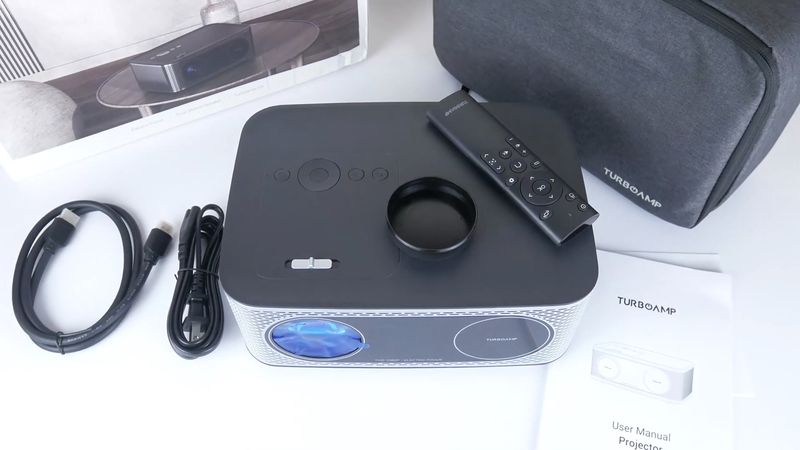 By the way, there is also a quick start guide and user manual in the package.
Design
You know, TURBOAMP is one of the most beautiful and stylish projectors that I have tested recently. It has metal sides, while the top and bottom are made of matte plastic.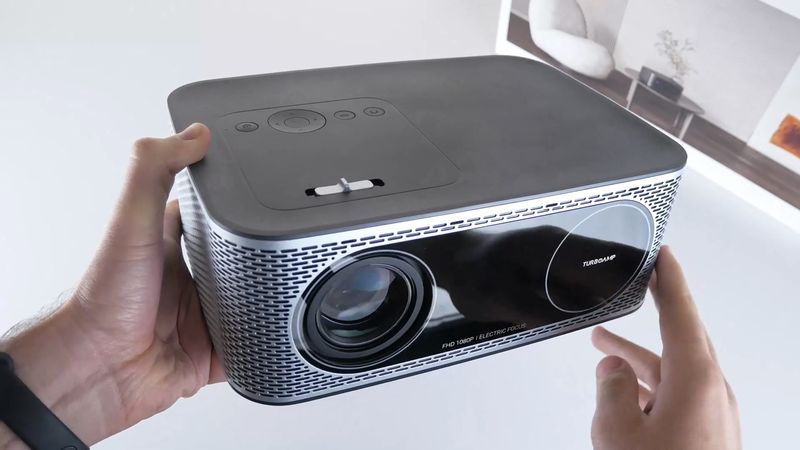 On the front, there is a glossy panel with a lens, imitation of the second lens with TURBOAMP logo inside, IR receiver for remote control, as well as Full HD 1080p and electric focus inscriptions.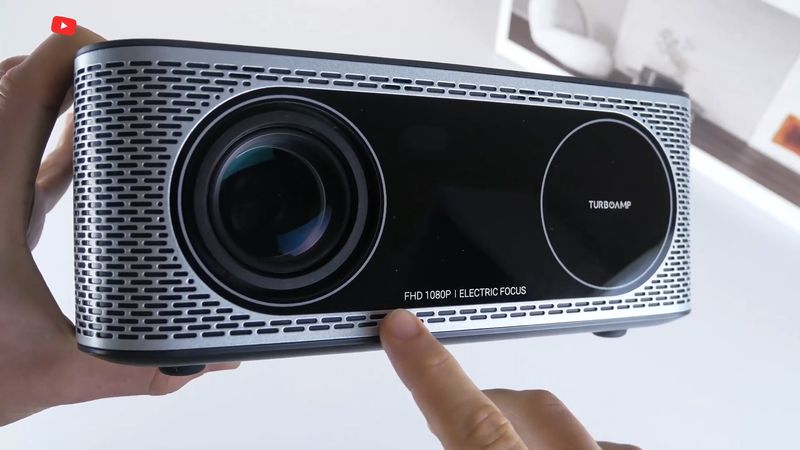 On the back, we can see VGA port, USB port, HDMI port, and the second HDMI port for TV stick, the second IR receiver for remote control, AV and Audio connectors.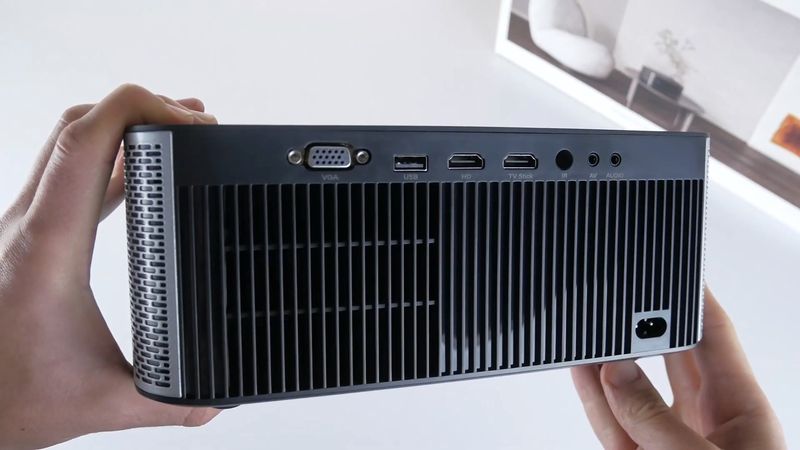 There is also an air ventilation and DC In port on the back.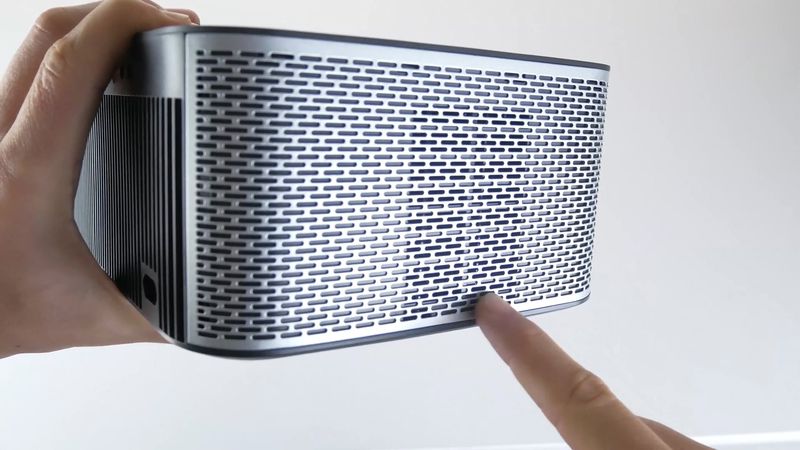 The air intake is on the right side, because the filter is located here. By the way, you can remove the filter and clean it from dust.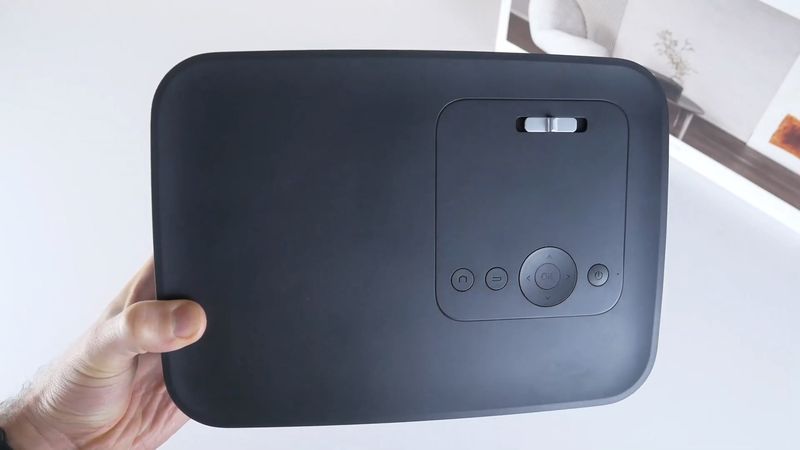 At the top, there is a keystone correction switch, navigation buttons, power button, return button and menu.
Finally, let's take a look at the bottom.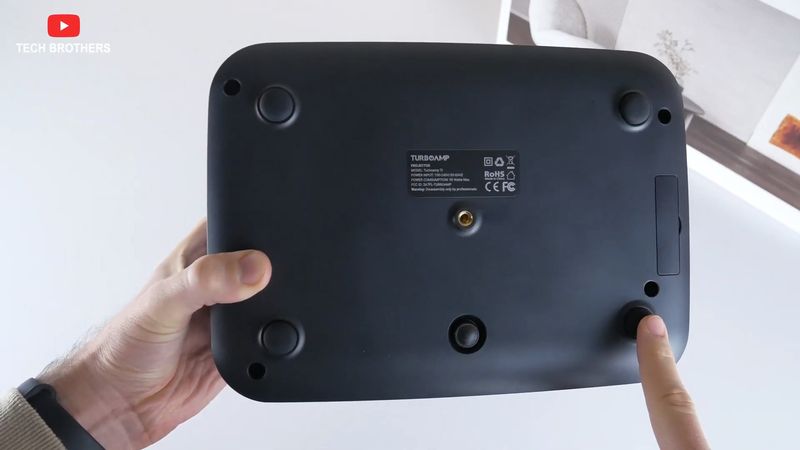 As you can see, a projector stands on the four rubber anti-slip feet.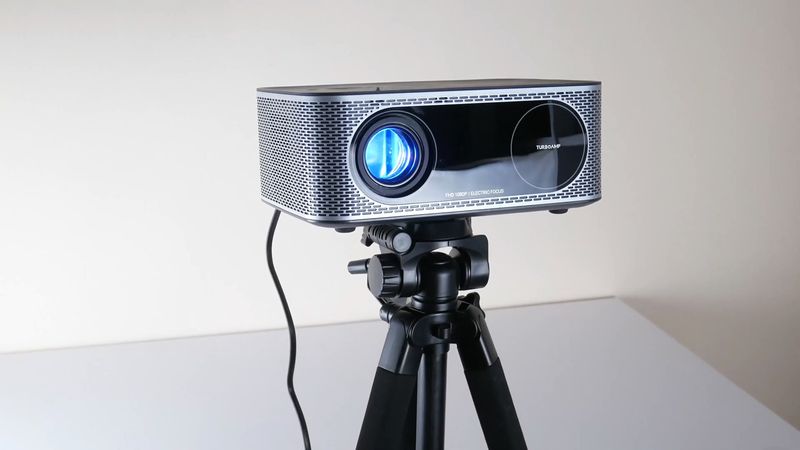 There is also a kickstand to raise the front of the projector, and a screw hole to install a projector on the tripod or ceiling mount.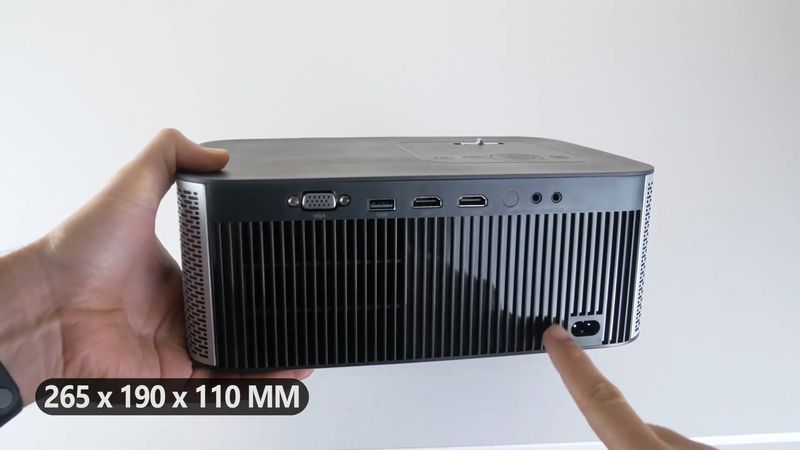 Talking about the size of TURBOAMP projector, I can say that it is standard. The dimensions are 265 x 190 x 110 mm, and the weight is 1715 grams.
Overall, the new projector looks very stylish, thanks to the metal sides as well as the glossy front. To be honest, it looks more expensive than $200.
Remote Control
By the way, I forgot to show you a remote control. I see that it is specifically designed for this projector, because there is TURBOAMP logo and special buttons to control the projector, such as select input source, flip the screen, and focus adjustment.
Unlike the other budget projectors, TURBOAMP has electric focus adjustment on the remote control. I think it is more convenient than a manual focus.
User Interface and Settings
Now, we can turn on a projector, and look at the user interface.
You know, the company says that projector runs on TurboAMP operating system. I would say it is not the operating system, but the user interface, because you cannot install apps on it, for example, YouTube, Netflix, and others.
However, it is a very nice user interface with different settings.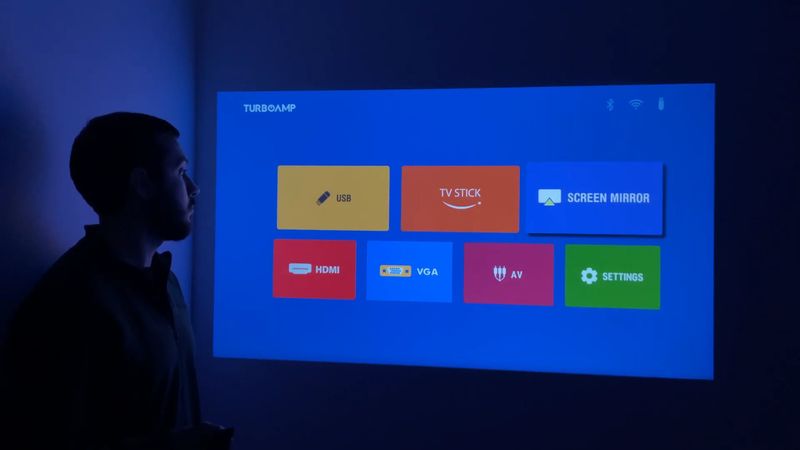 From the main screen, you can go to USB, TV Stick, Screen Mirror, HDMI, VGA, AV and Settings.
In my case, there is no signal, because TV Stick is not connected.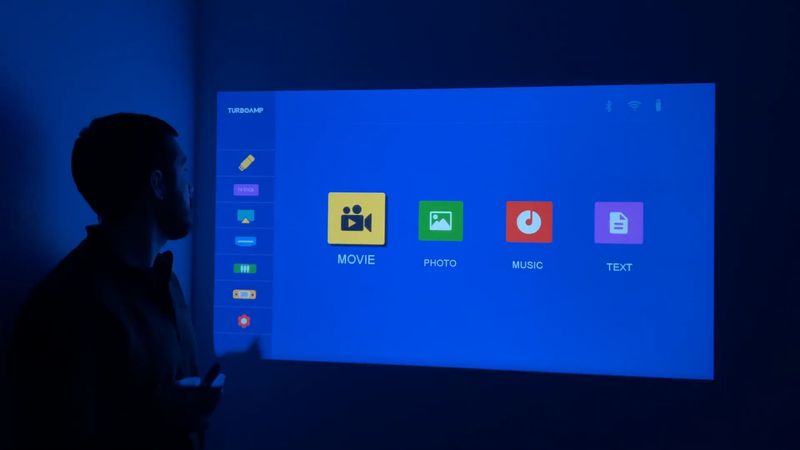 If you go to the USB section, you can choose Movie, Photo, Music and Text.
In the Screen Mirror, there are three wireless connection methods available, such as Miracast, AirPlay and DLNA. I have the iPhone, so I will show you how to mirror a screen through the AirPlay, but a little later.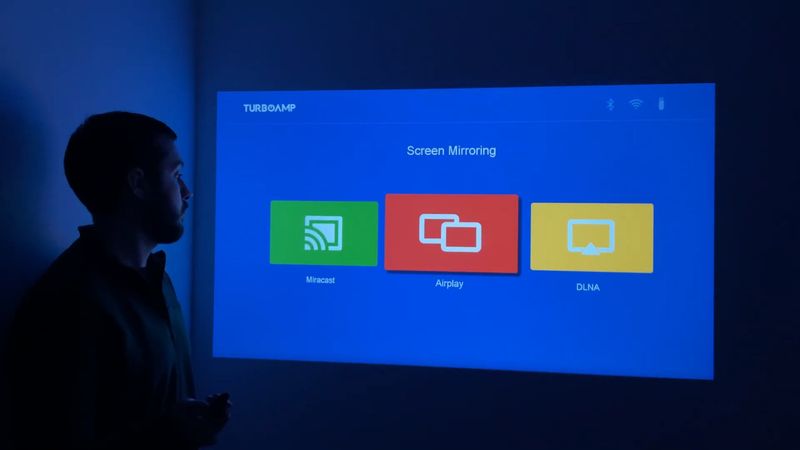 Now, let's go to the Settings menu.
Here, we can connect to the Wi-Fi network, Bluetooth device, change projection direction, change language, check the software version, and reset the settings.
TURBOAMP projector also has a power off timer, audio settings, where you can choose the sound mode, and picture settings.
In the picture settings, you can also choose a picture mode from standard, dynamic, mild and user, color temperature and noise reduction.
That's all! You know, the user interface of TURBOAMP projector has about the same functions as other projectors, but it is simpler and more intuitive. I like it.
Screen Mirroring
I promised to show you the Wi-Fi connection and the screen mirroring function. Let's see how it works.
First, you need to go to the Settings menu, and connect to the same Wi-Fi network as your smartphone.
Then, return to the main page, and go to Screen Mirror.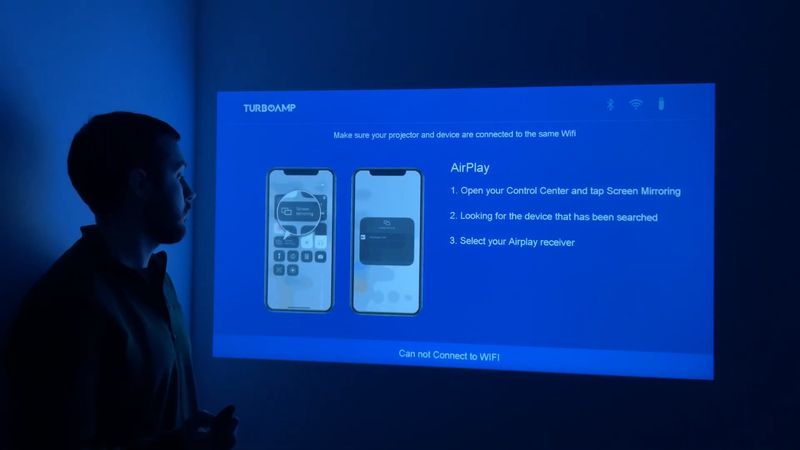 As I already said, I have the iPhone, so I need to choose the AirPlay.
Now, you can take your smartphone, open Screen Mirror and select Projector. That's all.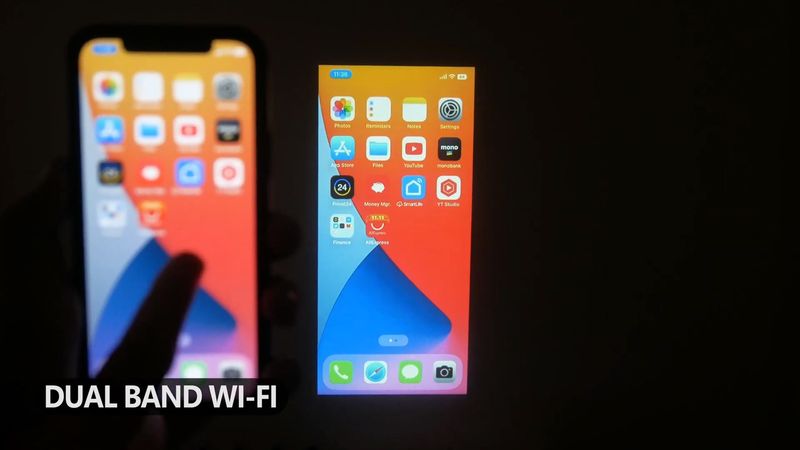 By the way, TURBOAMP supports dual-band Wi-Fi, but there is a latency. This is not a problem if you watch movies or show documents, but you cannot play games.
Bluetooth
In addition, the new projector supports Bluetooth. However, it is not bidirectional, because you cannot connect a smartphone to projector and use it as Bluetooth speaker.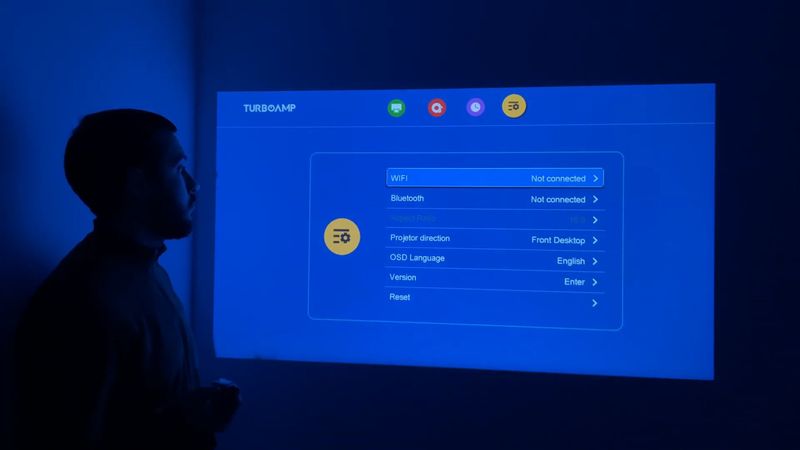 You can only connect an external Bluetooth speaker or headphones to projector.
For that, go to Bluetooth menu, and select your device.
Noise Level
Now, I want to measure a noise level of TURBOAMP projector. You know, I have tested some budget projectors that were very loud. It was very uncomfortable to watch movies.
However, the noise level near TURBOAMP projector is only 36 db.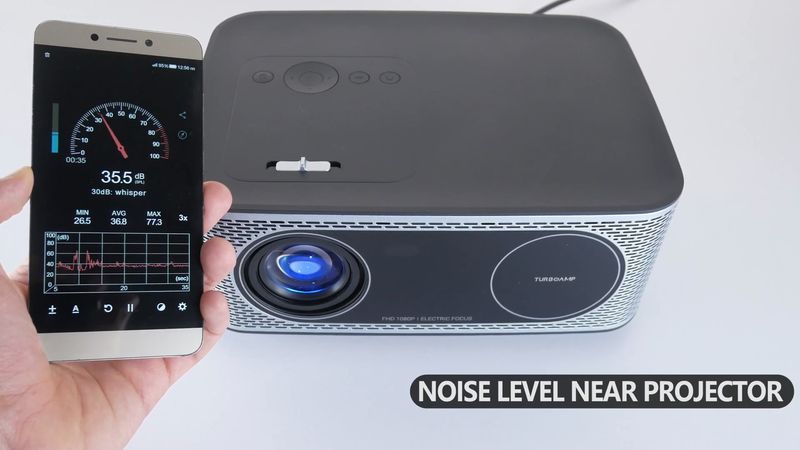 It is even 29 db at 1 meter.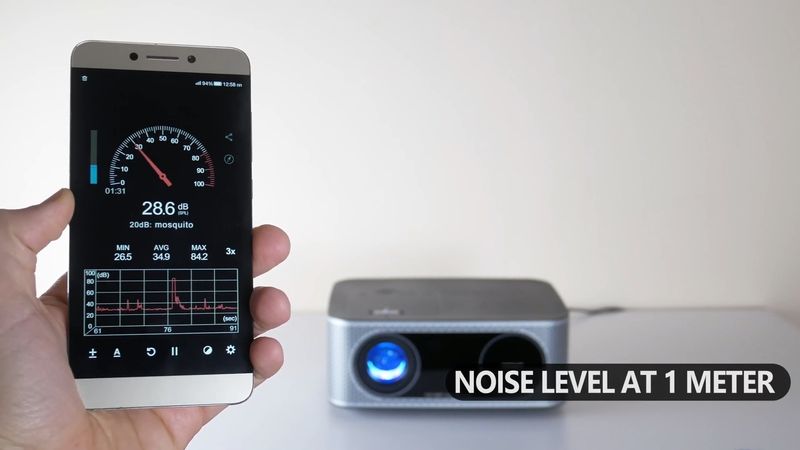 When watching videos, the noise is almost inaudible.
Speaker Quality
I think this is also due to the speakers, because they are very high quality here. TURBOAMP is equipped with dual 5W speakers.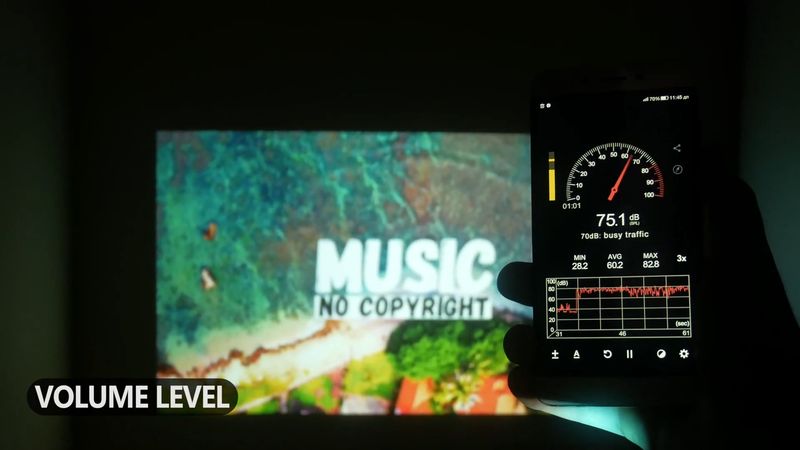 The maximum volume level is about 75 db. However, you will probably use a projector at about 30-40% of volume, because it is very loud.
Overall, the sound quality is good. I don't think you need to connect external speakers to this projector.
Image Quality
Finally, we can talk about projection quality. Of course, this is the most important thing for any projector. However, as I said at the beginning of this article, LCD projectors under $200 have about the same image quality.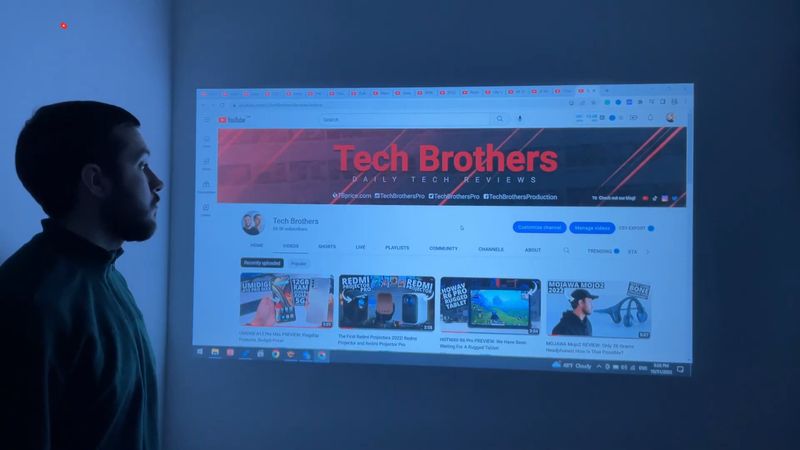 TURBOAMP has Full HD 1080P native resolution, 300 ANSI or 12000 Lumens brightness.
By the way, the throw ration of this projector is 1.4 to 1. In the user manual, you can find a table with a screen size and projection distance.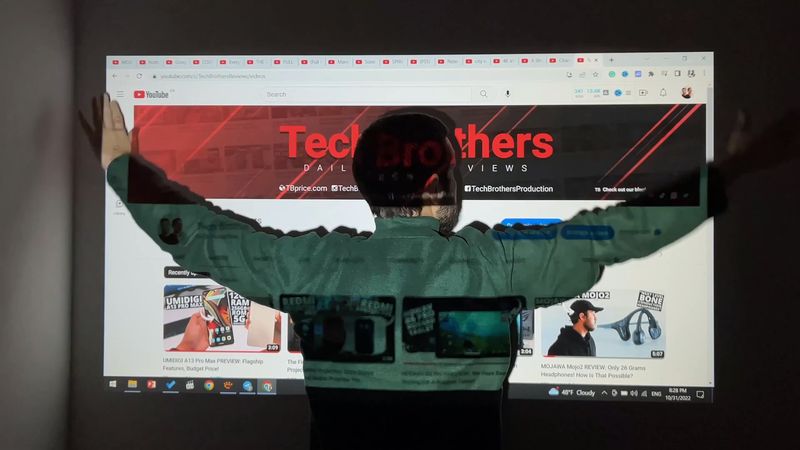 I have placed a projector at about 2 meters from the wall, and I have 70 inches screen size. The maximum screen size of TURBOAMP projector is 200 inches.
The image is very clear, so you can read fine text. The projector can be used for the office or a college.
I also want to note the very rich colors. By the way, the contrast ratio of this projector is up to 10000:1.
Now, let's test the projector in a room with light on. As you can see, a very bright lamp is in the center of my room.
Of course, the image is much better in complete darkness, but even in a bright room, you can see the projection. It is comfortable to watch sports matches or even play games.
Conclusion
So, as I said at the beginning of this article, most LCD projectors under $200 in 2022 have about same projection specs and image quality.
TURBOAMP has a Full HD native resolution, so the image is clear, as well as high contrast and 300ANSI brightness.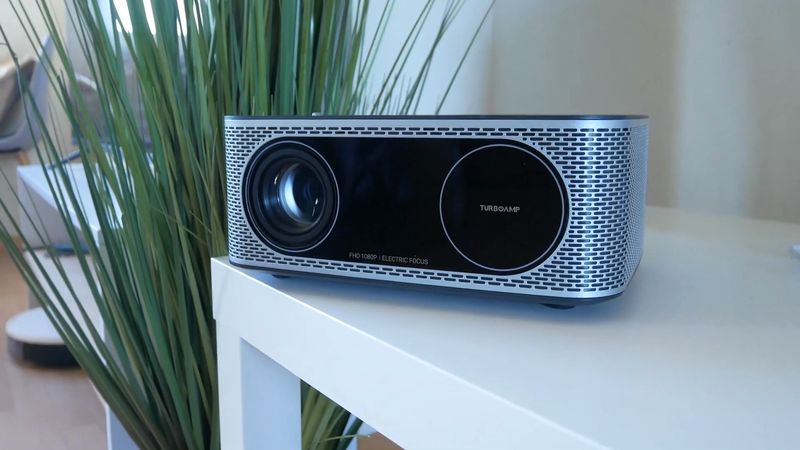 However, I think the main advantage of this projector is a very stylish design. It looks much more expensive than $200.
I also like a speaker quality, as well as user interface.
I think TURBOAMP is a good budget LCD projector.
By the way, there is 30% off coupon code on this projector when buying on Amazon. So, the final price for you will be only $140. That's a very good deal.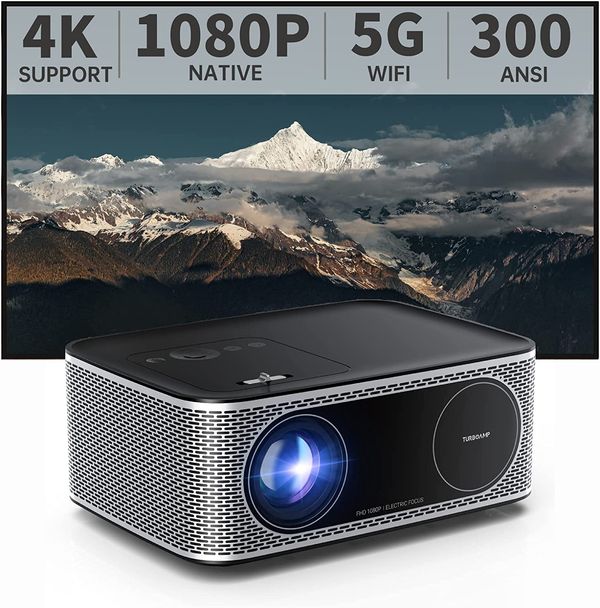 TURBOAMP 5G Native 1080P Movie Projector - Amazon
as of November 4, 2022 7:45 am