Today we are looking at the new wireless earbuds – Tronsmart Onyx Ace. They have a similar design to Apple AirPods, but they are definitely not a clone. Perhaps, the new wireless earbuds from Tronsmart are even better than Apple AirPods in some aspects.
Also, they are much cheaper – only $30 on Aliexpess and other Chinese stores.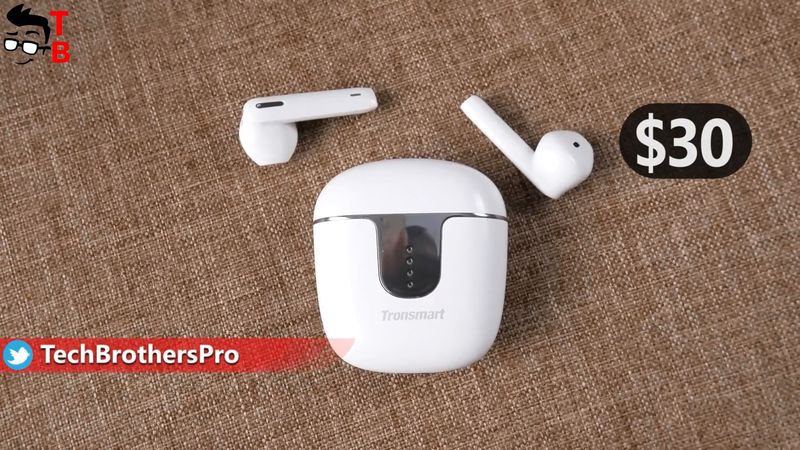 So, let's do an unboxing and a full review of the new Tronsmart Onyx Ace.
Unboxing
The box is very bright. There is the image of earbuds and main features on the front side, such as Qualcomm aptX, touch control, 24 hours of playtime with charging case, etc.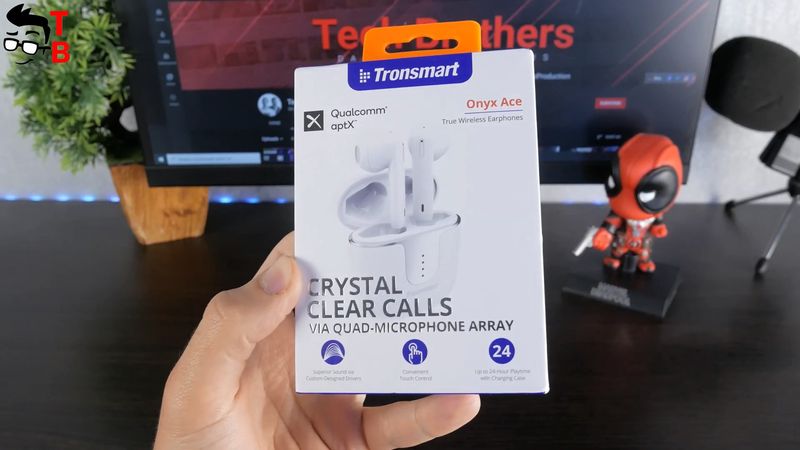 On the side face, we can see the guy using these earbuds.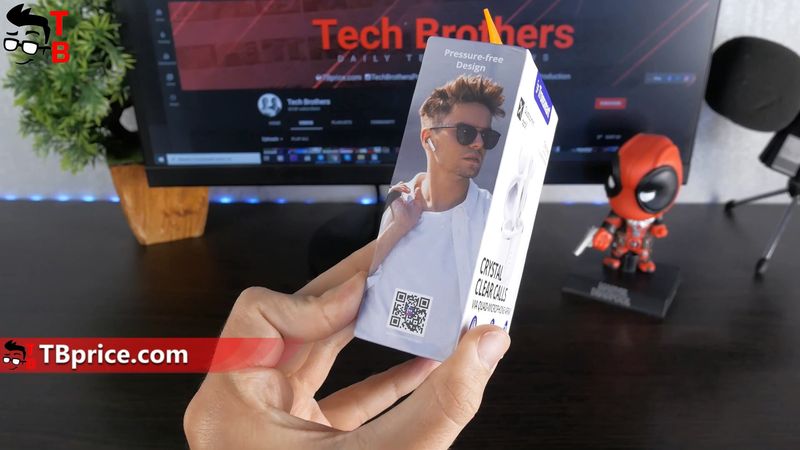 On the back, there is a full specifications list.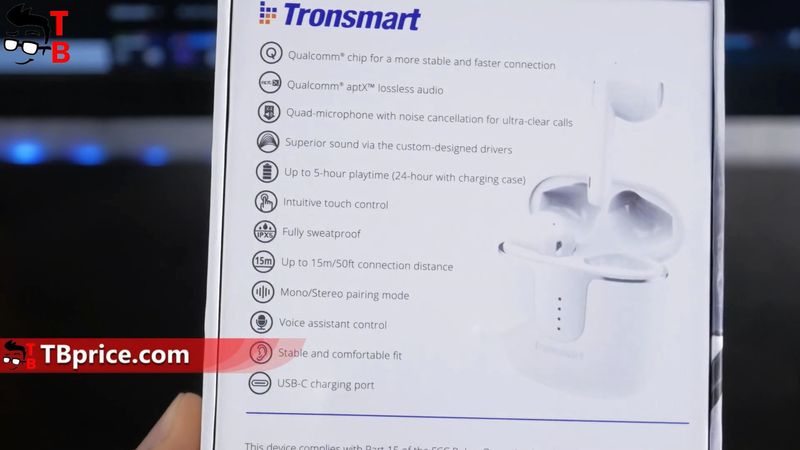 Inside the box, I found the earbuds and charging cases separately. There is also a user manual and USB Type-C charging cable.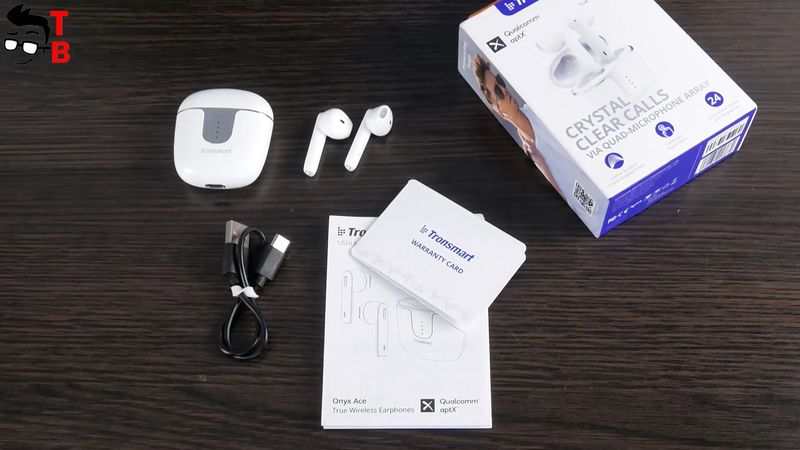 Design
Unfortunately, I don't have Apple AirPods to compare them with Tronsmart Onyx Ace side-by-side. However, they really look very similar, especially in the ears.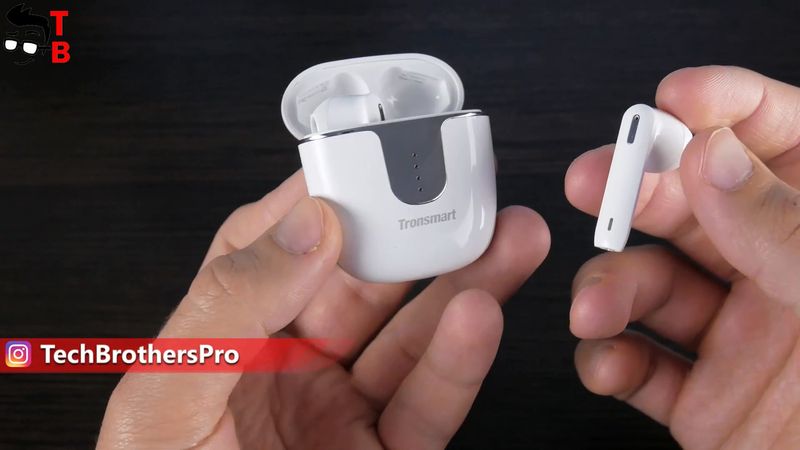 The earbuds and charging case are available in white and black colors. As you can see, I have a white version.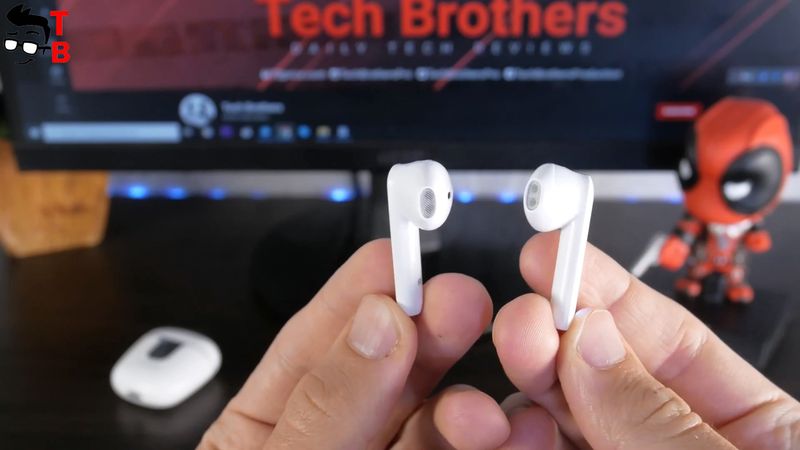 The size of one earbud is 37 by 17 mm. The weight is about 3,5 grams.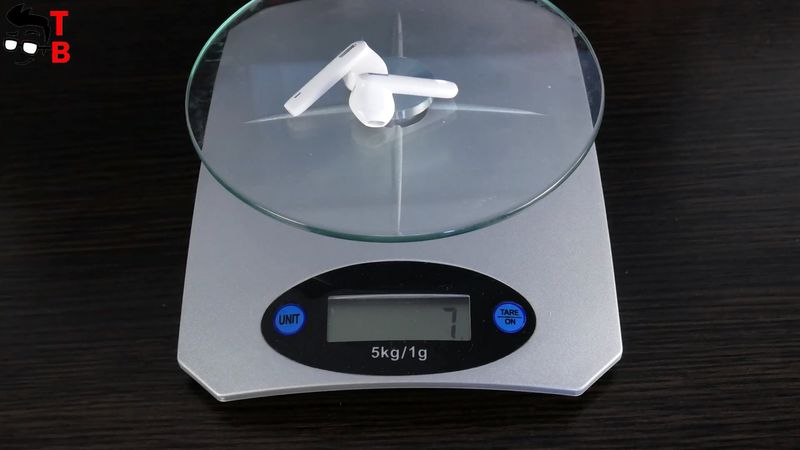 As for the charging case, it has a pocket-friendly size – 57 by 48 mm.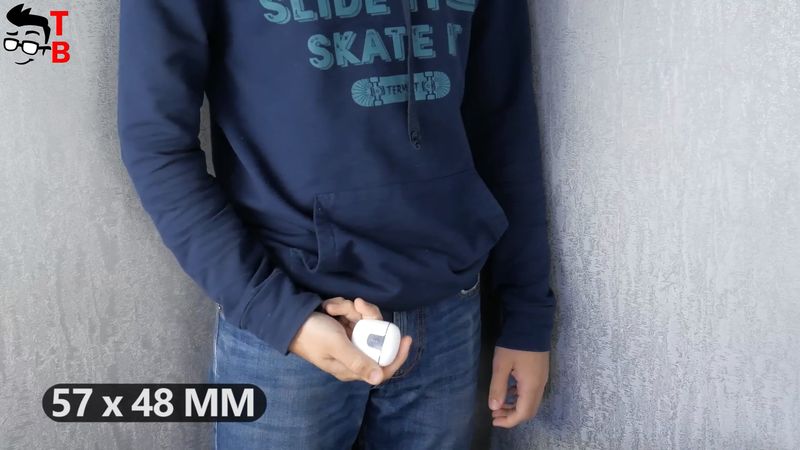 The weight of the charging case with earbuds inside is 38 grams.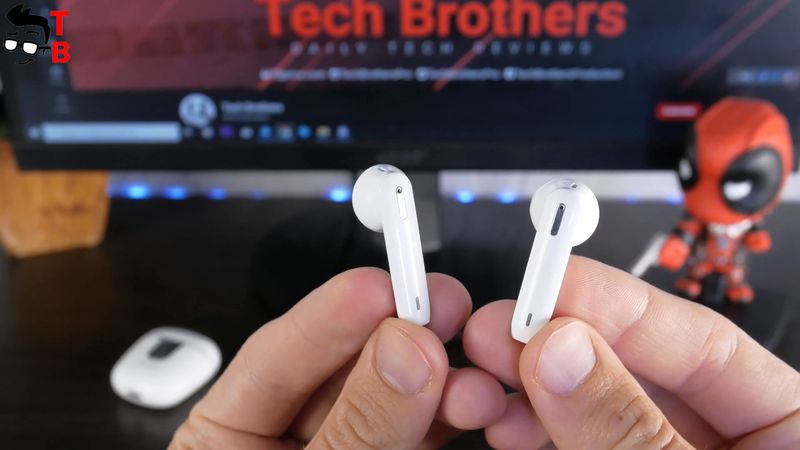 The earbuds have a touch control button on the outside, and a very bright LED light.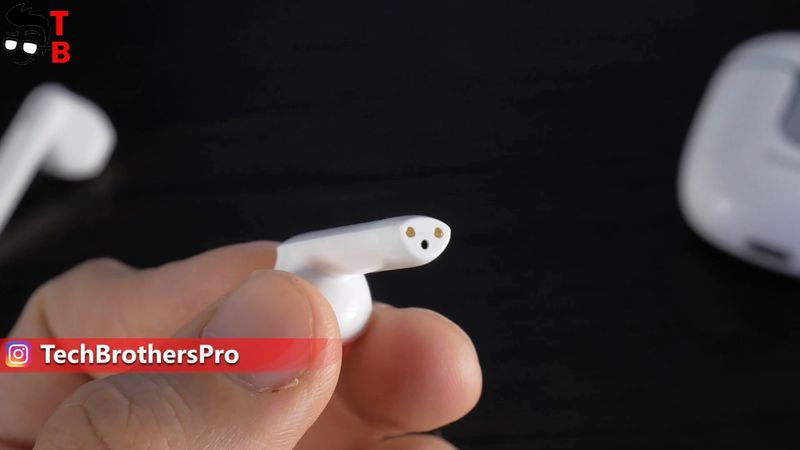 The microphone and charging contacts are at the bottom.
The charging case has four LED lights that say about the battery level. There is also USB Type-C charging port at the bottom.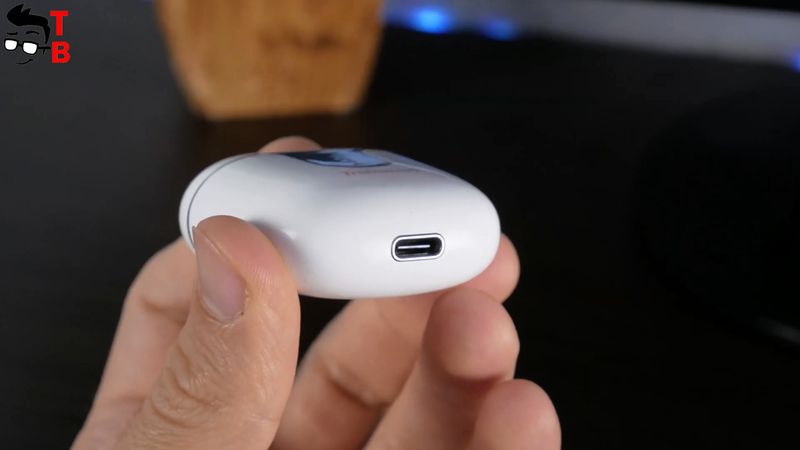 Everything looks fine with these earbuds and charging case. They have a very good size and weight. The earbuds fit well in the ears, and they don't hurt during long use.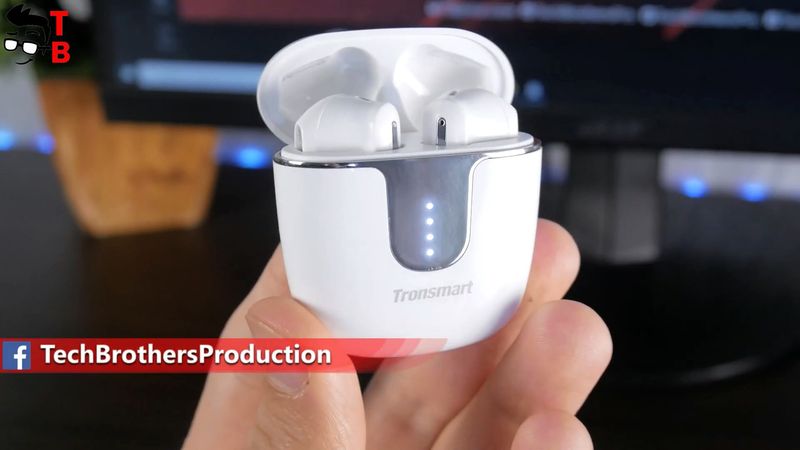 However, I don't really like this glossy white plastic. It looks pretty cheap, don't you think so?
Connection
OK, now, let me show you how to connect the earbuds to the smartphone. It is very simple.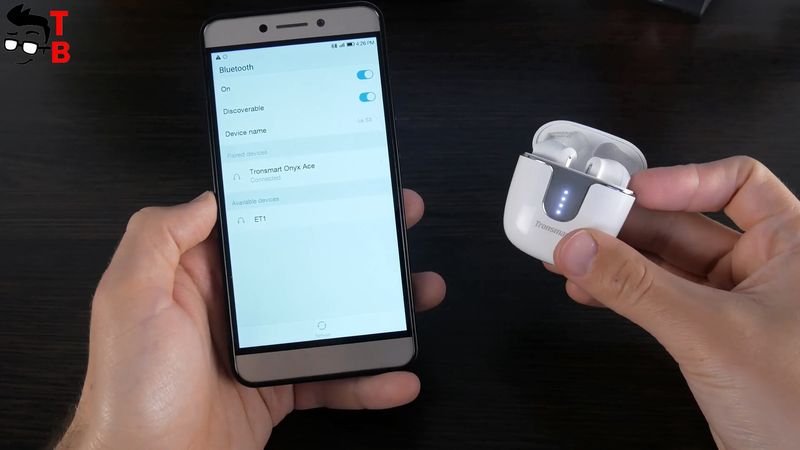 You don't even need to take the earbuds out of the charging case. All you have to do is to open the charging case, then go to Bluetooth settings on your phone, and choose Tronsmart Onyx Ace.
That's all!
By the way, these are true wireless earbuds, so you can use left or right earphone alone.
Control
The new earbuds from Tronsmart offer all kinds of control.
You can volume up with a single tap on the right earbud, and volume down on the left earbud.
If you want to play/pause the music, then just tap the earbuds twice.
Press and hold the right earbud for 2 seconds to play the next track, and left earbud to play the previous song.
You can also answer the phone call with a double-tap or reject the call with press and hold for 2 seconds.
If you want to call the voice assistant, triple press on any earbud.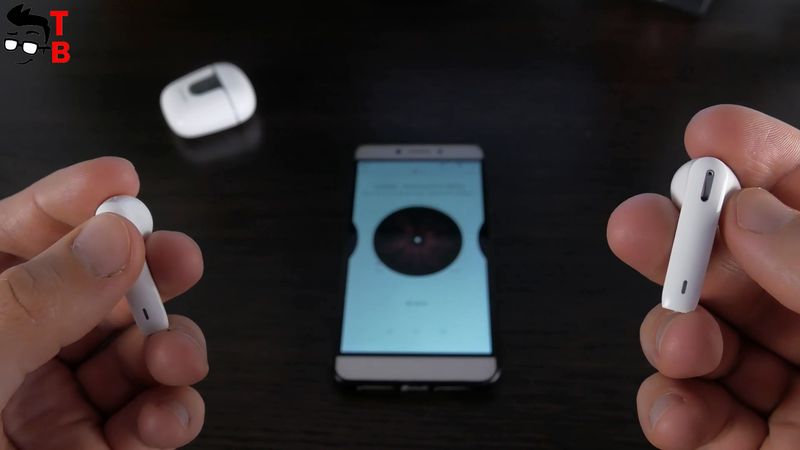 All right! It's time to talk about sound quality.
Sound Quality
Tronsmart Onyx Ace is equipped with a 13mm speaker driver. There is also aptX, AAC, and SBS support.
First, I want to remind the price of these earbuds – only $30. For this money, the sound quality is very good.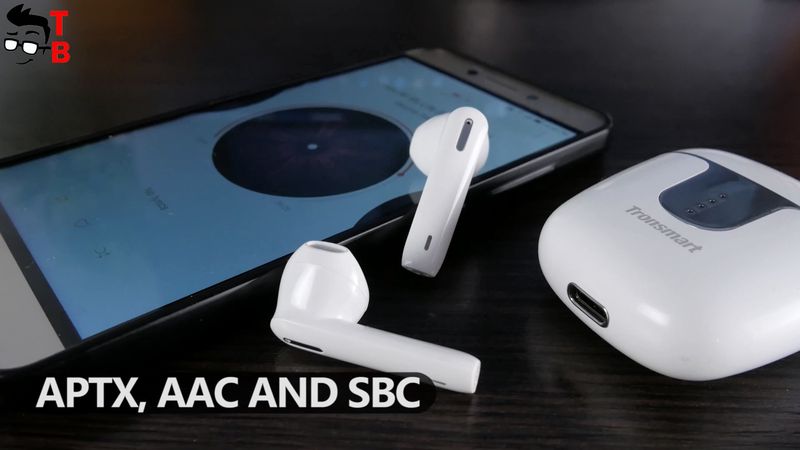 The sound is clear, and there is even good bass. If you like powerful bass, you can add them in the equalizer on a smartphone. However, I like the default sound.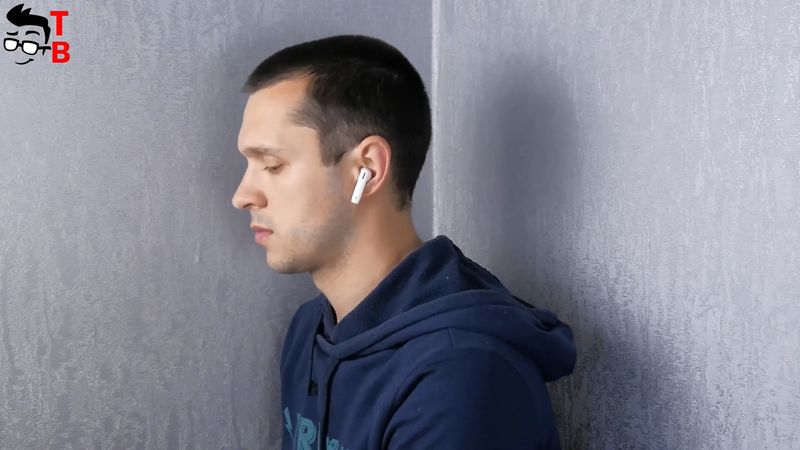 I didn't notice the latency when playing games or watching videos. That's because of Qualcomm 3020 chip inside the earbuds.
By the way, I forgot to tell you that Tronsmart Onyx Ace use Bluetooth 5.0 for connection with smartphone.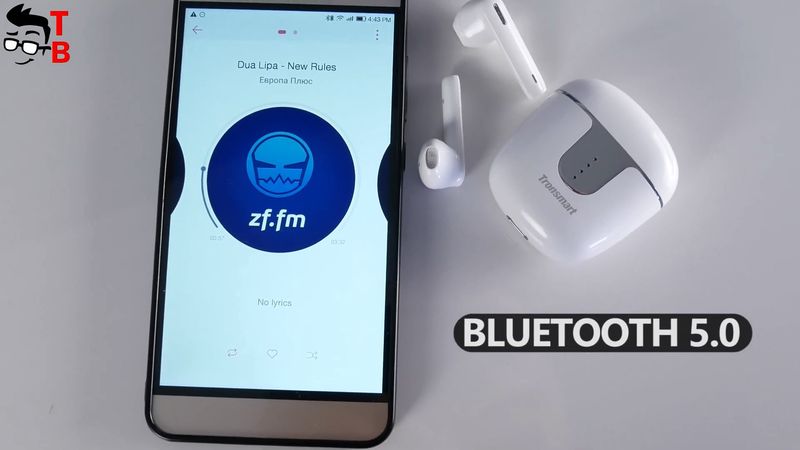 As for microphone quality, it is also very good. The earbuds are equipped with CVC 8.0 noise cancellation. You can talk in a crowded place, and you will be well heard.
Battery
Finally, let's talk about the battery. Each earphone is equipped with a 40mAh battery. The charging case is 400mAh.
The manufacturer promises 5 hours of playtime on a single charge with a 50% volume. With the charging case, you can use the earbuds for 24 hours.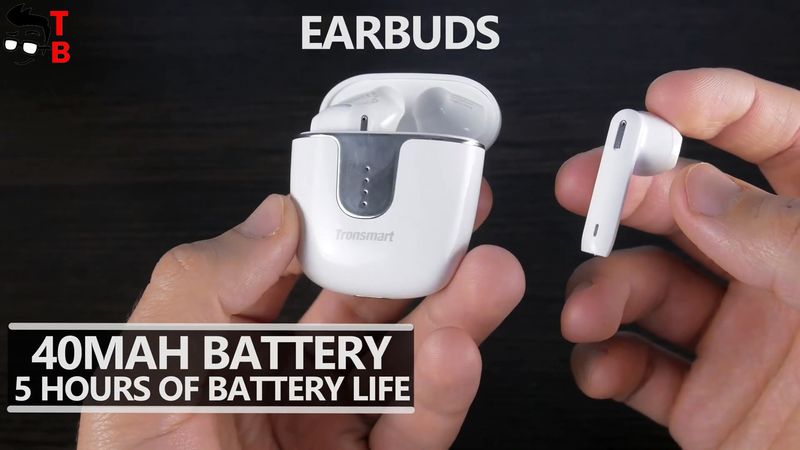 I think that's a very good battery life.
By the way, the charging time of earbuds inside the case is 1 hour and 20 minutes.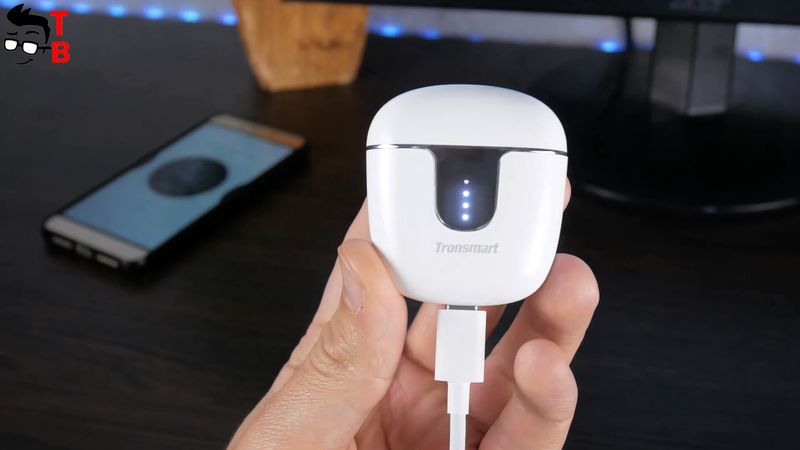 Also, you will need 1 hour and 30 minutes to charge the case with USB Type-C cable.
Conclusion
To be honest, I didn't expect much from these $30 wireless earbuds. However, I am impressed by them.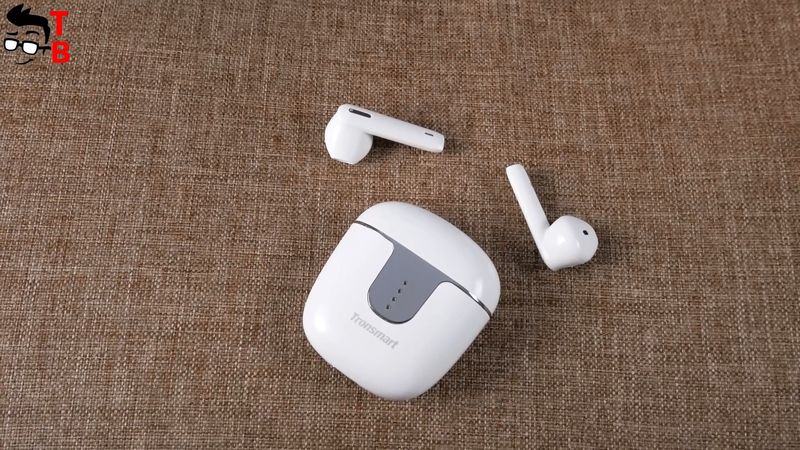 Yes, they look quite cheap to me, because of glossy plastic, but they have everything you need from TWS earbuds, such as Bluetooth 5.0, volume control, mono, and stereo mode, charging case with USB Type-C port, microphone with noise cancellation, long battery life, and good sound quality.
Tronsmart Onyx Ace is one of the best wireless earbuds around $30 in 2020. If you want to buy them, I will leave the links below.