I know that you like articles about projectors, so here is another one called Touyinger T9. This is a budget projector with Full HD native resolution, 5500 Lumens brightness, 4-point keystone correction, Android 9.0, Wi-Fi, and Bluetooth support.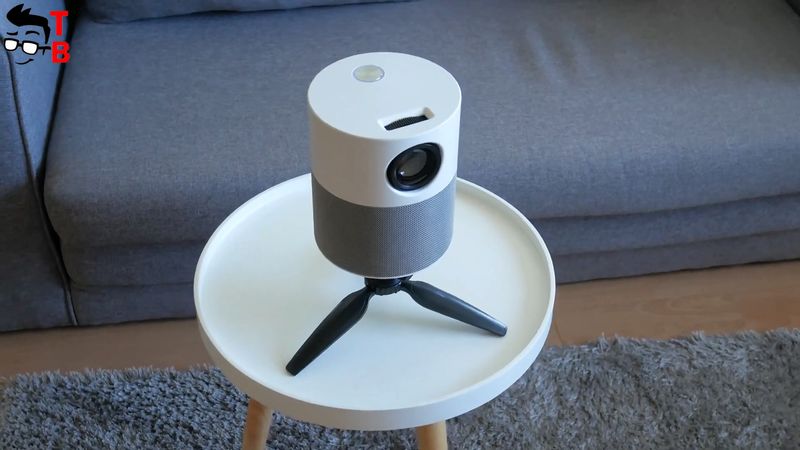 Actually, I have a model of T9W, because it has an Android operating system. The basic version T9 is about $20 cheaper, but it has a phone-mirroring function.
You know, this is one of the most affordable Full HD projectors on the market, so I am very excited. Let's move on to the review.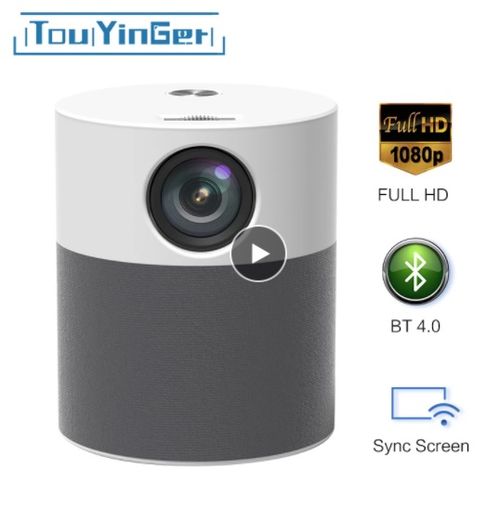 Touyinger T9 Native Full HD Portable Projector - Aliexpress
as of December 6, 2023 12:21 pm
Unboxing
So, this is a box of the new Touyinger T9W projector.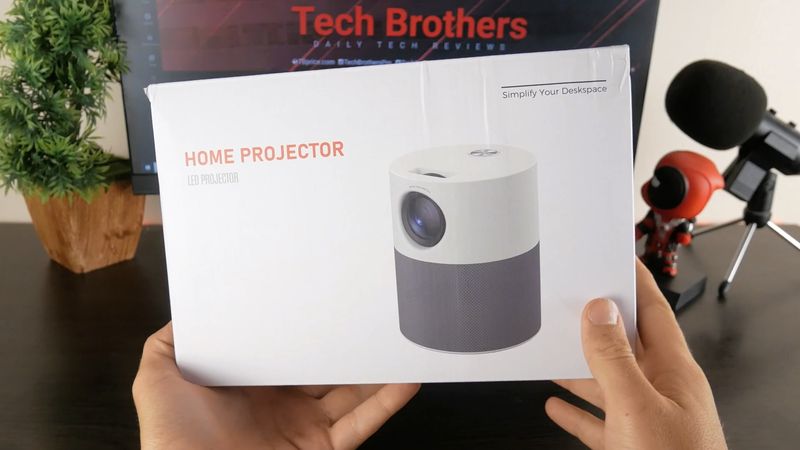 I am a little surprised that there is no sticker with the model name. You will know which version it is – Android or phone mirroring – only after you turn it on.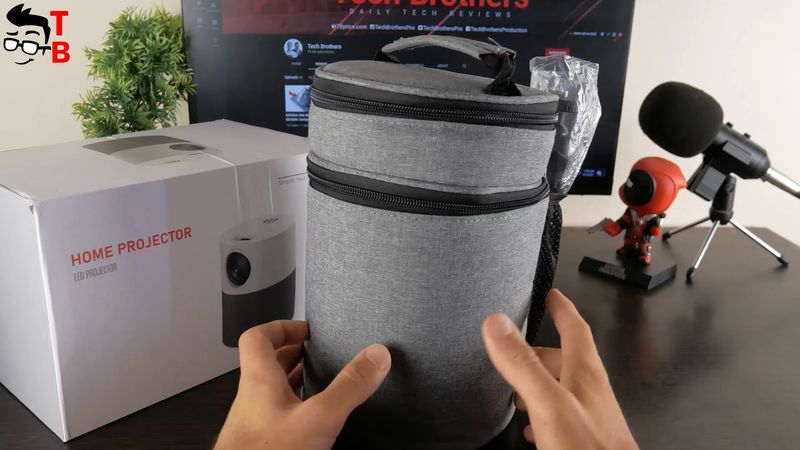 Inside a cardboard box, we have a very nice handbag with two sections. There are accessories in the first section, such as user manual, remote control, HDMI cable, AV cable, and power cable.
In the second section of the handbag, I found a projector itself.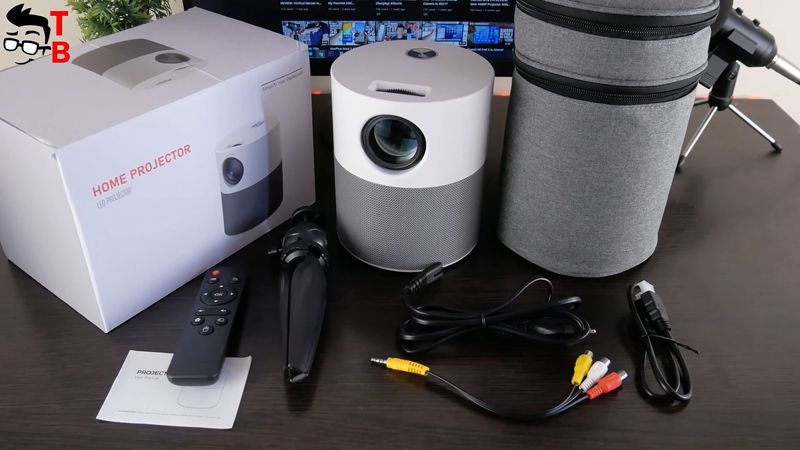 By the way, there is also a tripod in the package. I didn't buy it additionally. It comes in the package for free.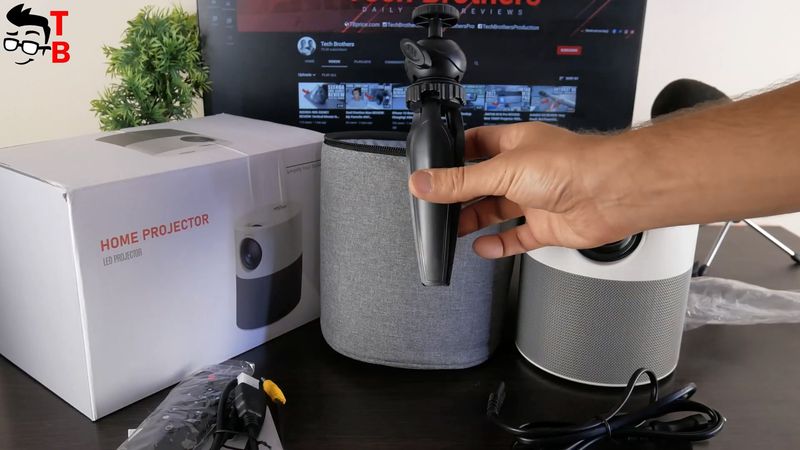 So, Touyinger T9W is a budget projector, but it has a very nice handbag and even a tripod. So far, the first impressions of this projector are very good.
Design
I want to start talking about design with the size of the new projector.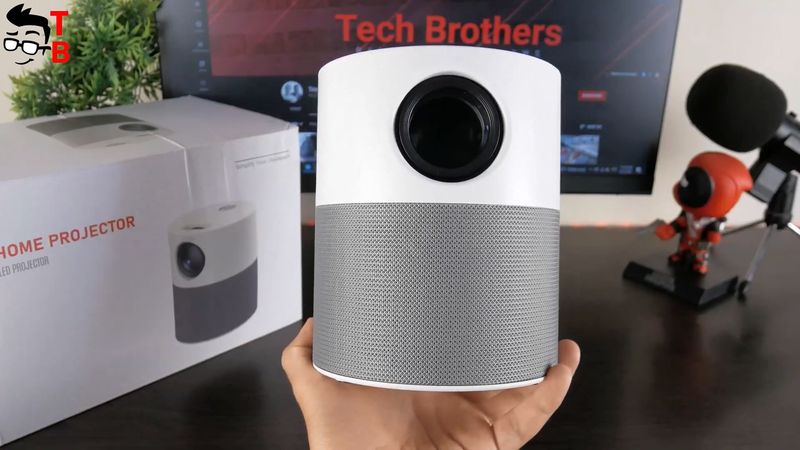 As you can see, it is quite compact. For example, we have tested another Full HD projector last week, and it is much bigger and heavier.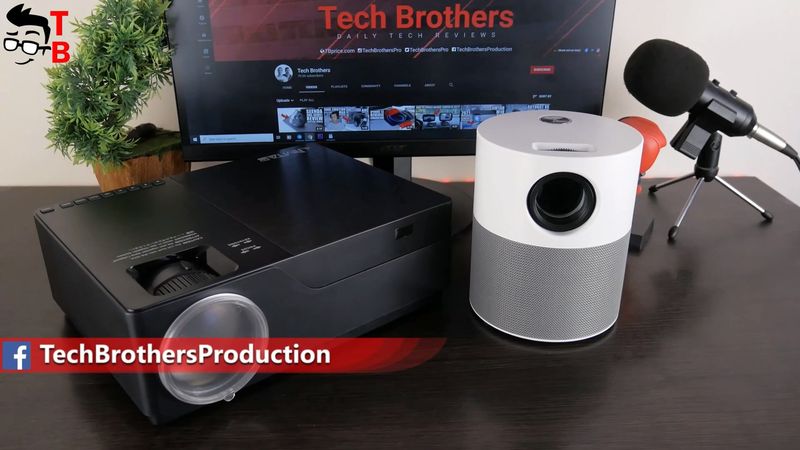 The dimensions of the Touyinger projector are 170 by 140 by 140 mm. The weight is 980 grams.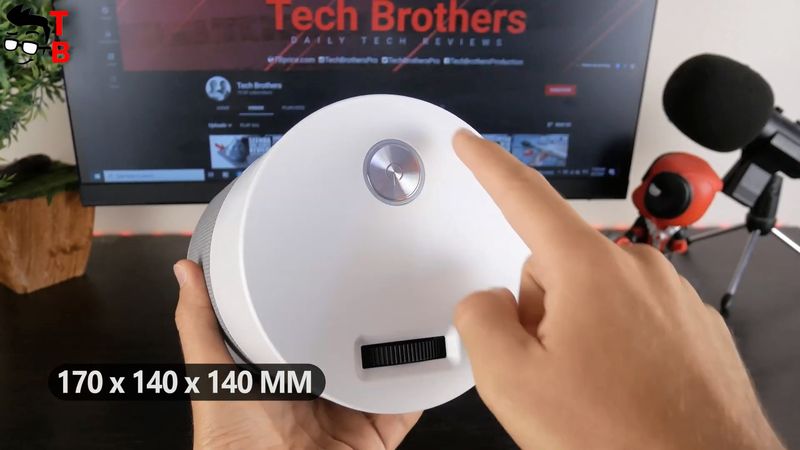 You might think that all gray part is a speaker, but it is not. Actually, a speaker grill is located on the back.
There is also a power cable port, HDMI port, USB port, TF card slot, 3.5mm audio jack, and AV port on the back of the projector.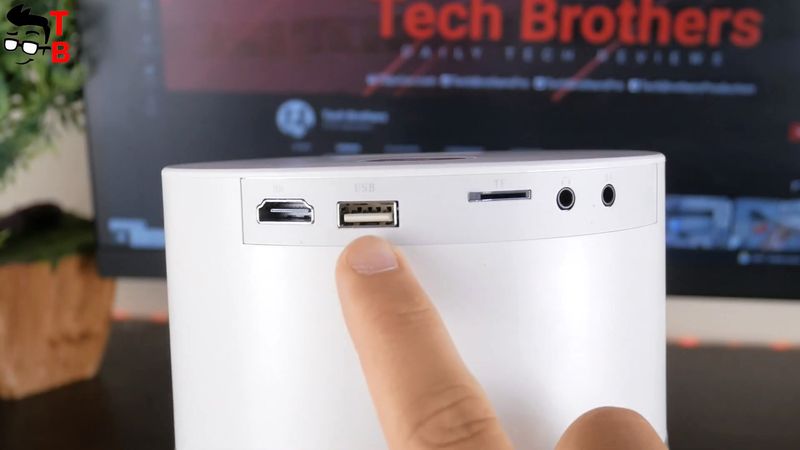 The projector has only one Power button on the top. However, there is also a manual focus wheel.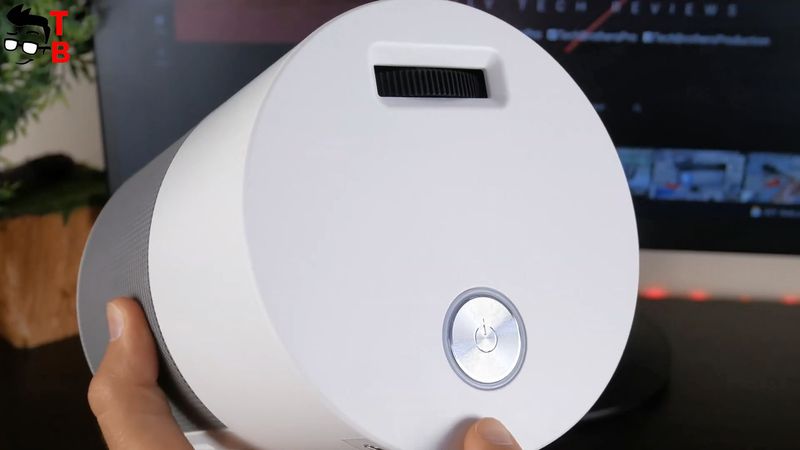 Finally, I found a sticker with the model name of this projector. As you can see, I really have T9W. There is also an Android sticker at the bottom of the projector.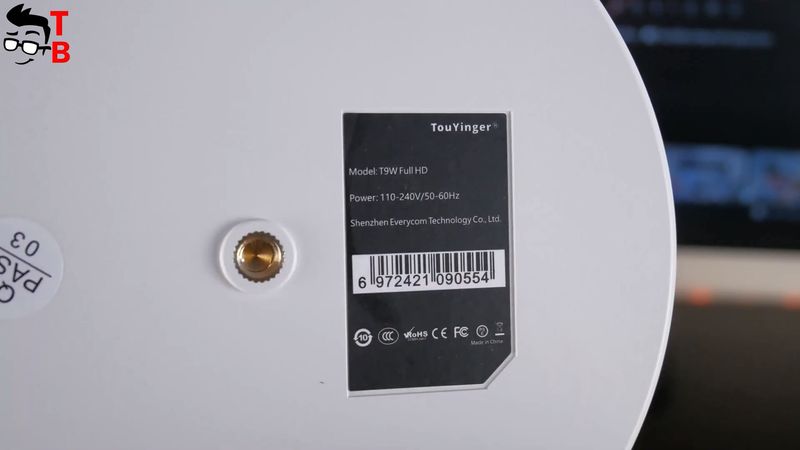 As I already said, a tripod comes in the package. The new projector has a 6mm tripod hole at the bottom.
I also want to show you the remote control. It is powered by two-three A batteries.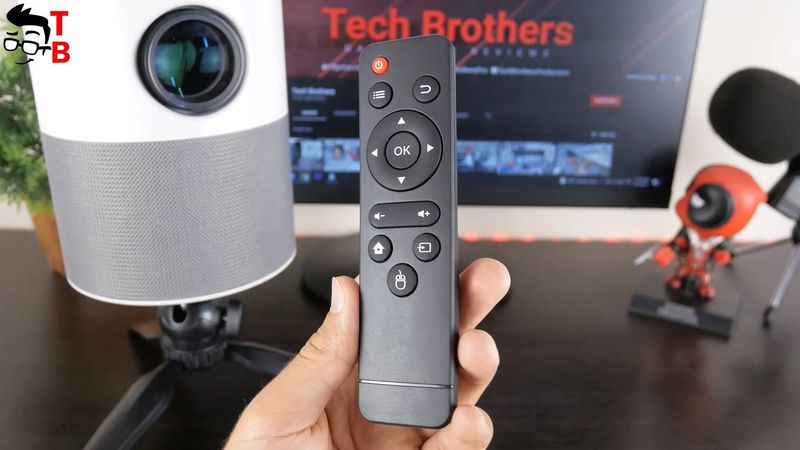 The remote control has standard buttons, such as power, return, volume up/down, home, source, but there is also a mouse button. It is really useful in some cases. For example, I tried to run Netflix, but I couldn't do it with navigation buttons. A mouse button helped me with that.
Since we are talking about Netflix, let's turn on the projector and look at the user interface.
User interface and Settings
I have already told you many times that I have an Android version of a projector, and it is called Touyinger T9W. If you don't need a built-in Android operating system, then you can buy a basic version with a phone mirroring function.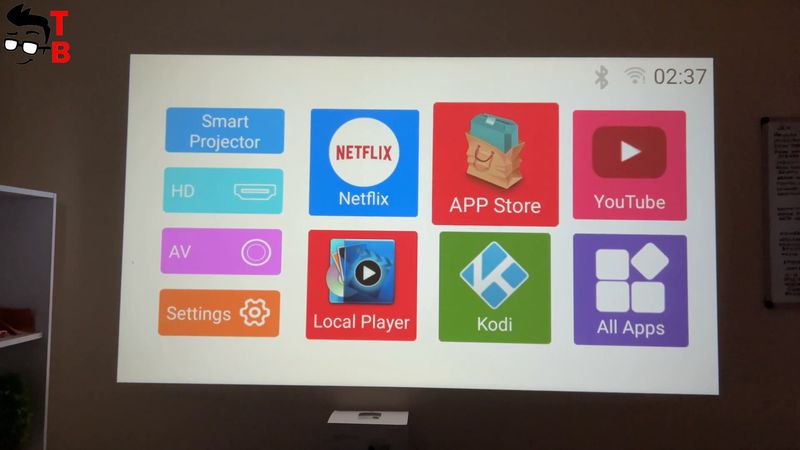 When you first turn on a projector, you need to adjust focus. Use a focus wheel on the top of a projector for that.
There are already some pre-installed apps on a projector, such as smart YouTube, Netflix, Local Player, Kodi. You can see all the apps in the all apps menu.
There is also an App store, so you can install any application.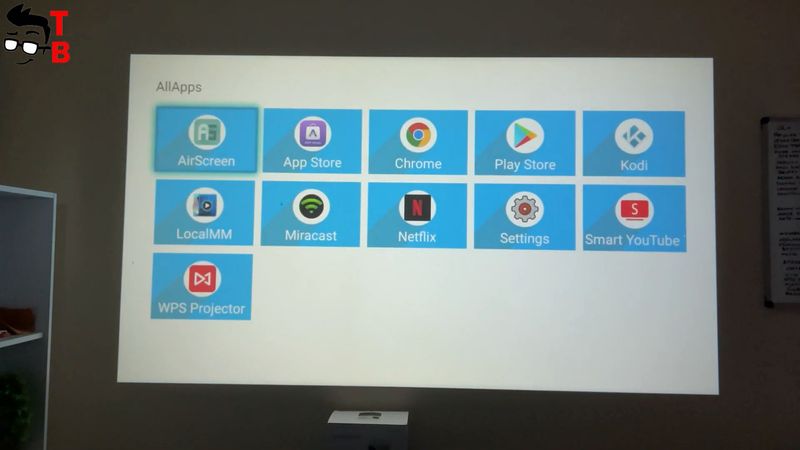 We can choose a source on the main screen: HDMI or Audio/Video.
In addition, the projector has a settings menu. If you want to watch YouTube, Netflix, or use any other apps, then you need to connect to your home Wi-Fi network. You can do this in Wi-Fi settings.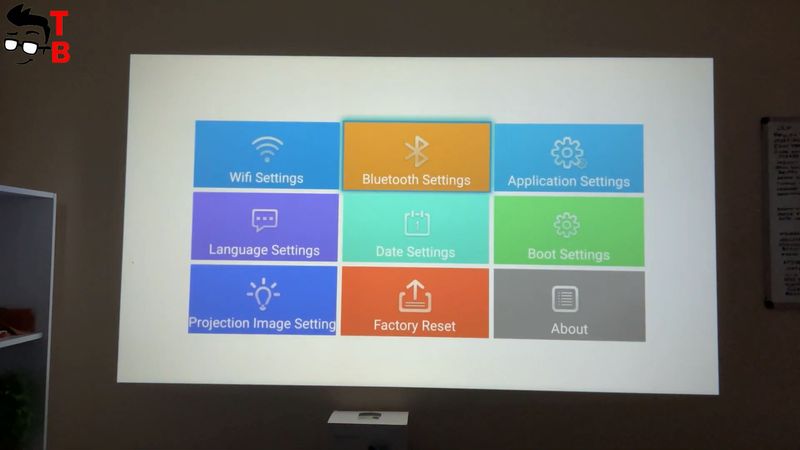 You can also connect Bluetooth accessories, for example, a gamepad, keyboard, mouse, etc.
The next menu is application settings. There is a list of all apps installed on the projector.
Touyinger T9W is a Chinese projector, but it supports many languages.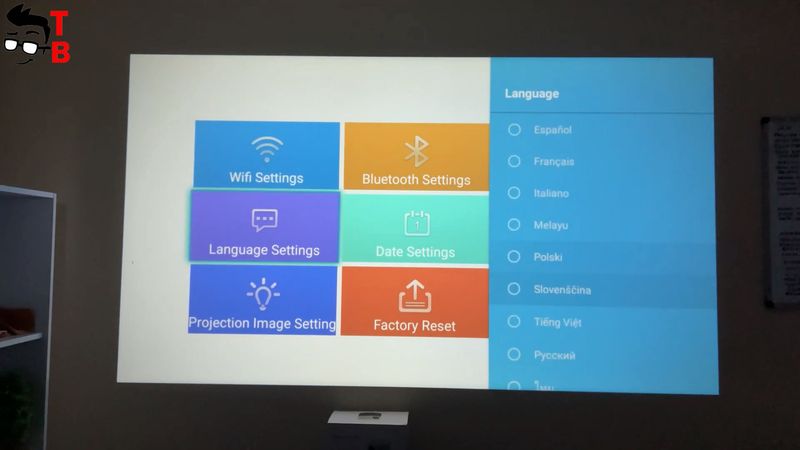 I am not going to explain the date settings, because everything is clear here.
The next menu – Boot settings – is very useful. You can choose the boot source for projector, such as standby, direct, home, AV, and HDMI. You can also choose a launcher for the projector, but I haven't installed a launcher yet, so I cannot show it to you.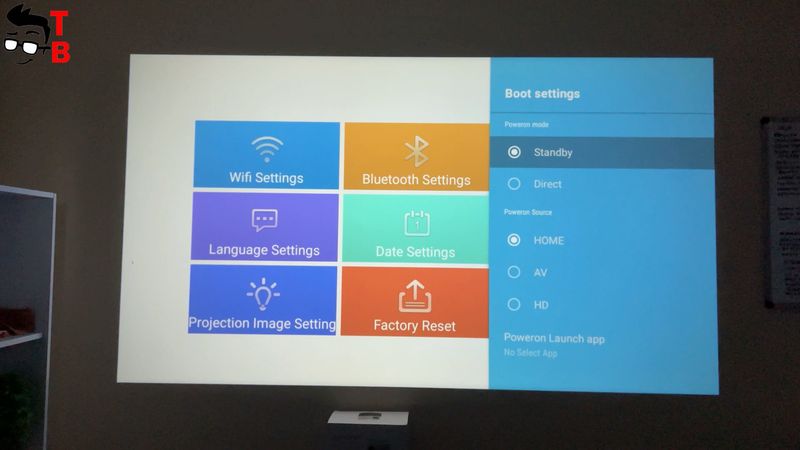 Any projector has projector settings. We can choose install mode (front desktop, rear desktop, front ceiling, and rear ceiling), keystone settings (four-point or horizon and vector), zoom from 80 to 100%, and manual keystone.
You can also factory reset and read about the software version of the projector in the settings.
OK, before watching the videos, let's check the volume and noise level of the new projector.
Volume and noise level
The Chinese manufacturer says that Touyinger T9W has a 3W built-in speaker.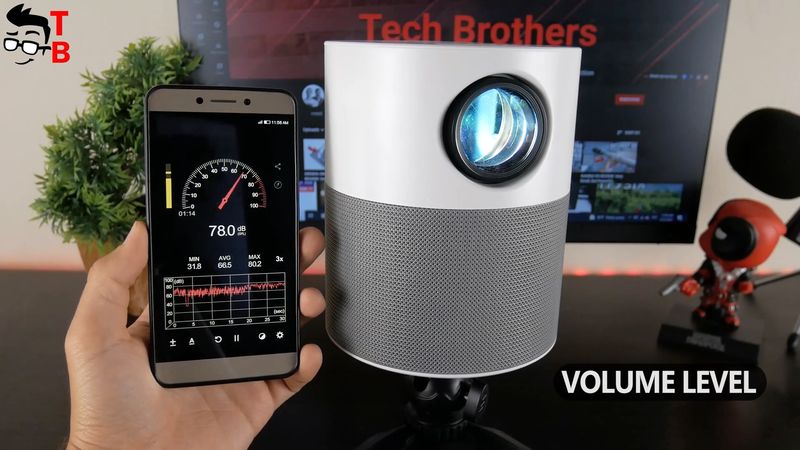 The volume is very good, but the sound quality could be better.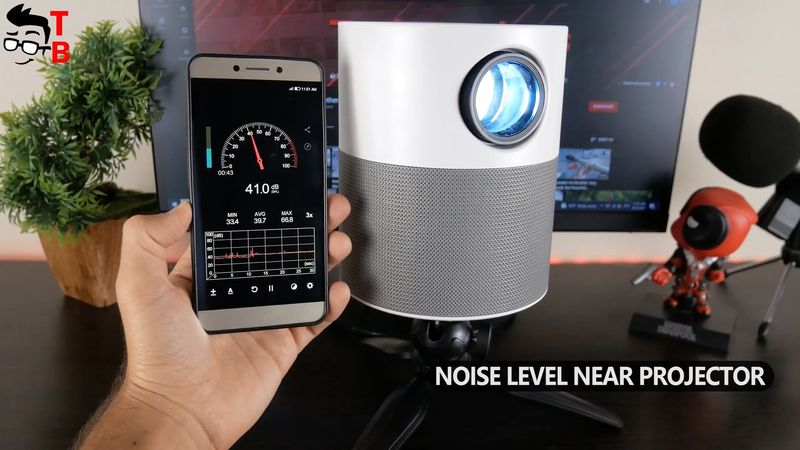 The noise level is 41 dB near the projector and about 30 dB at a distance of 1 meter.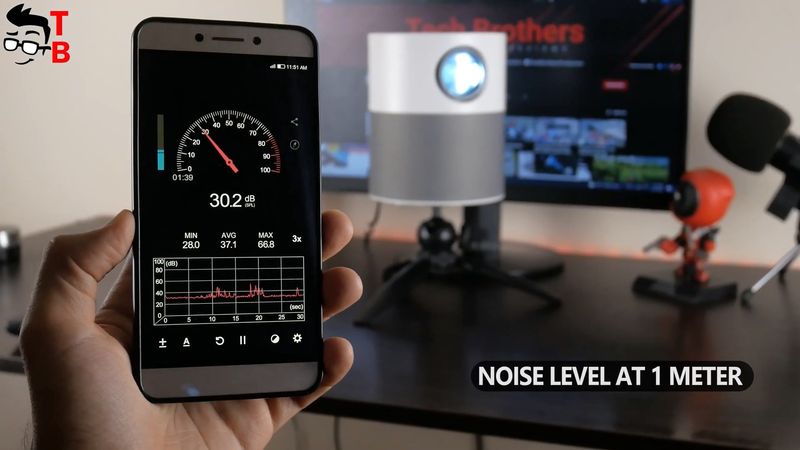 Projection Quality
You know, the manufacturer says that the best projection distance is two meters. I placed the projector at about this distance from the wall.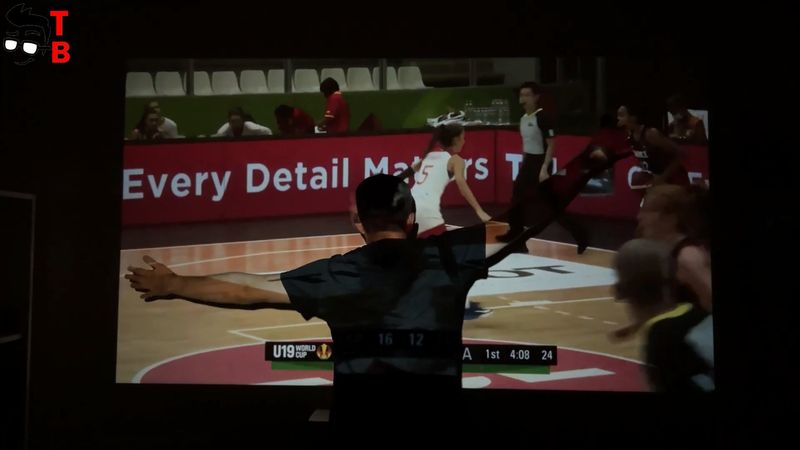 We can also see in the user manual the diagonal of projection depending on the distance. So, if you place a projector at 1.1 meters from the wall, then you will have a 33-inch projection.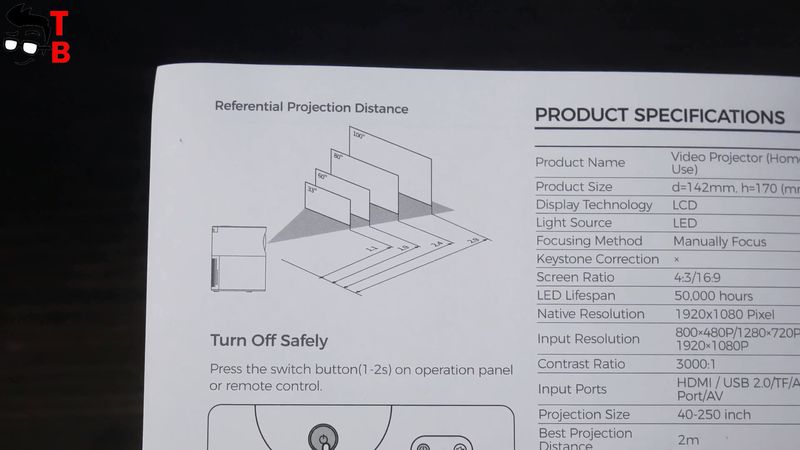 If you want a 100-inch projection size, then you have to place a projector at 2.9 meters.
I already told you that we are testing a projector with Full HD native resolution. You know, the image is really clear. The edges are not blurry, unlike many other budget projectors.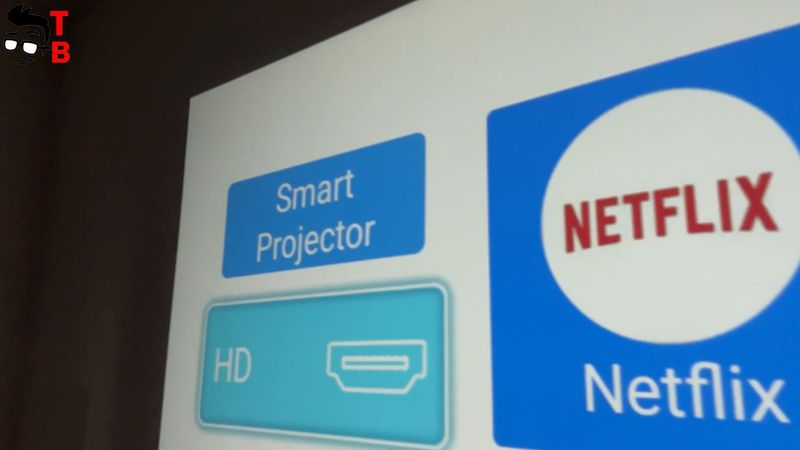 However, the brightness says that this is a budget projector. Until this moment, I couldn't believe that this projector costs only $120, but now I understand why it is so cheap. The brightness is 5500 Lumens, but it is about 100 ANSI Lumens.
Even in a completely dark room, it can be difficult to watch dark scenes in the movie.
However, the brightness is enough for sports videos such as basketball, football, etc.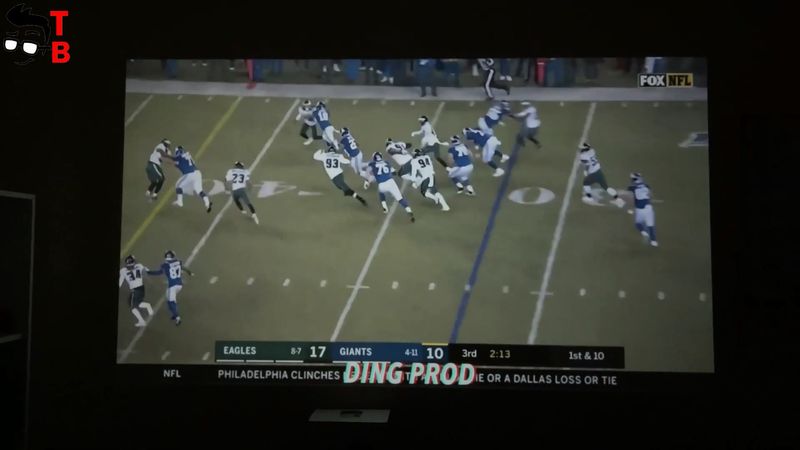 Of course, you can use a projector in the daytime, but you should close the curtains.
Conclusion
You know, I like everything about this projector except the brightness. It has a very nice handbag and tripod, compact size, an attractive design, Android operating system, Wi-Fi, and Bluetooth support. Even the native resolution is Full HD.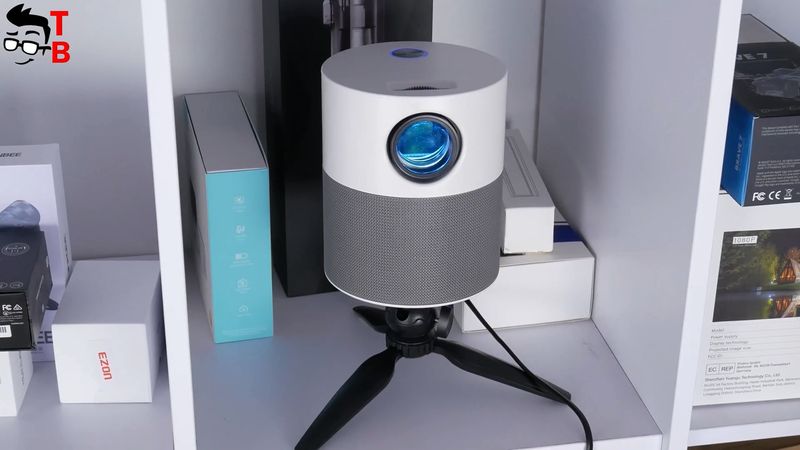 However, this is still a budget projector, and it has only 100 ANSI lumens. It is OK for home theater, but it is probably not suitable for the office.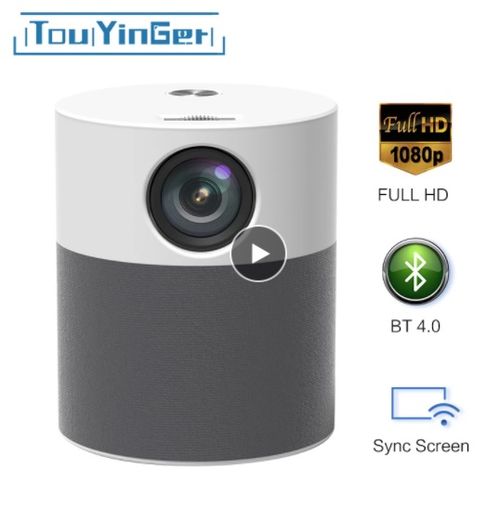 Touyinger T9 Native Full HD Portable Projector - Aliexpress
as of December 6, 2023 12:21 pm