Today, we have a review of one of the most interesting projectors on the market in 2021. This is a portable projector with an Android 9.0 operating system, 2GB of RAM, 32GB of storage, 5200mAh built-in battery, and many other features.
You know, looking ahead, I am very impressed by this device. It has many interesting functions, as well as good projection quality. We will talk about that in this article, but first, let's do an unboxing.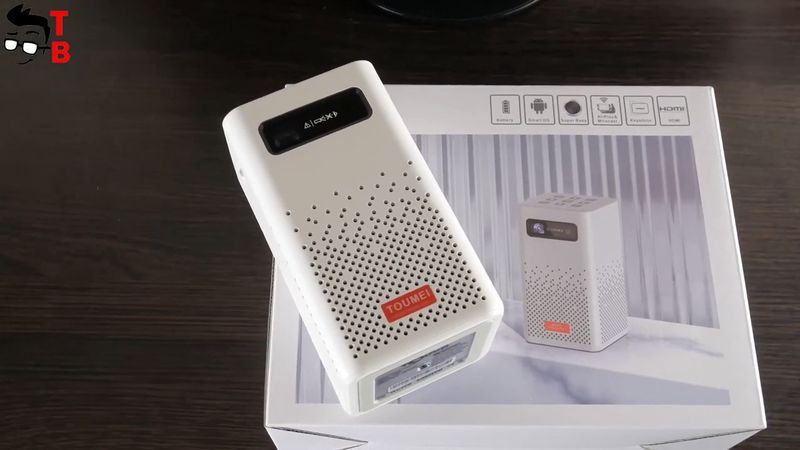 By the way, I forgot to tell you the name of this projector, but I think you already read it from the title of the article. This is Toumei C900.
Where To Buy Toumei C900?
C900 Portable Smart DLP Projector - Amazon
as of September 2, 2023 1:43 pm
Unboxing
As I already said, Toumei C900 is a portable projector, so the box is not very big.  However, the projector inside is two or even three times smaller than this box.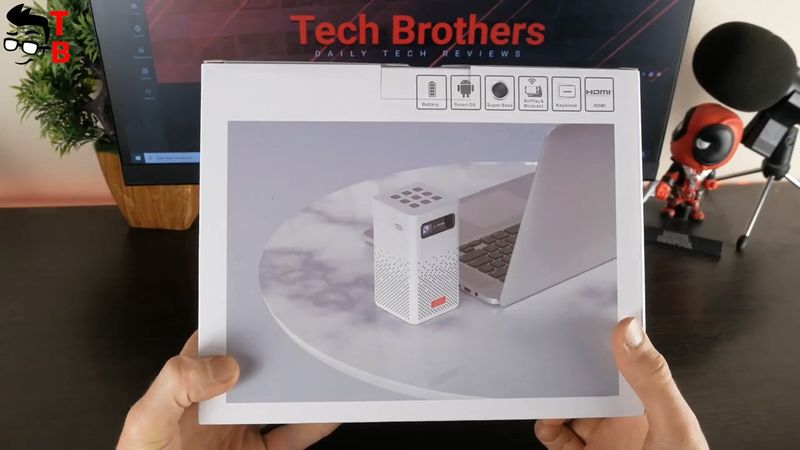 We can see the main features of the new projector on the box, such as the battery, smart OS, super Bass, airplay and Miracast, keystone correction, HDMI.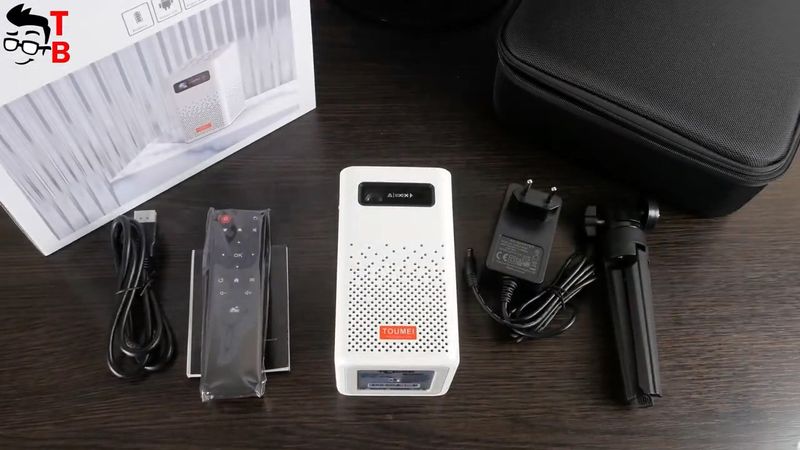 Inside the box, we have a projector of white color. By the way, it is also available in black color. Then, there is a power adapter, remote control, tripod, HDMI cable, and user manual.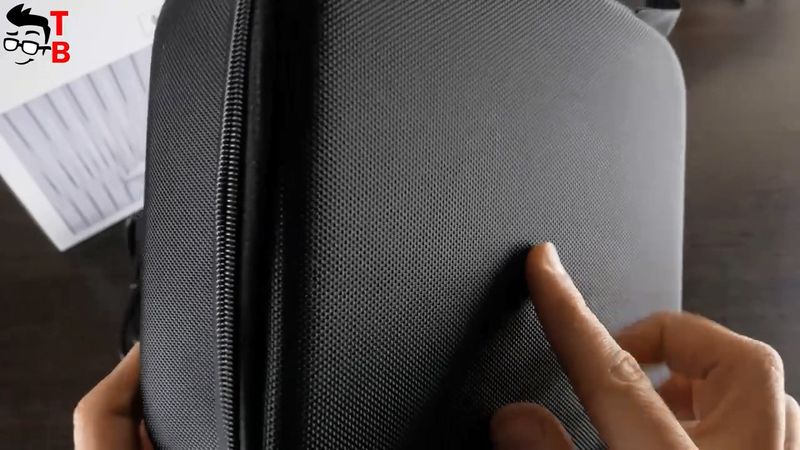 Did you notice this carrying bag? Toumei C900 is a portable projector with a built-in battery, so you can use it anywhere you want, for example, home, office, college or even outdoor. This bag is very useful to carry the projector.
Design
So, one of the main features of the Toumei C900 projector is its compact size. Its dimensions are only 140 by 75 by 75 mm.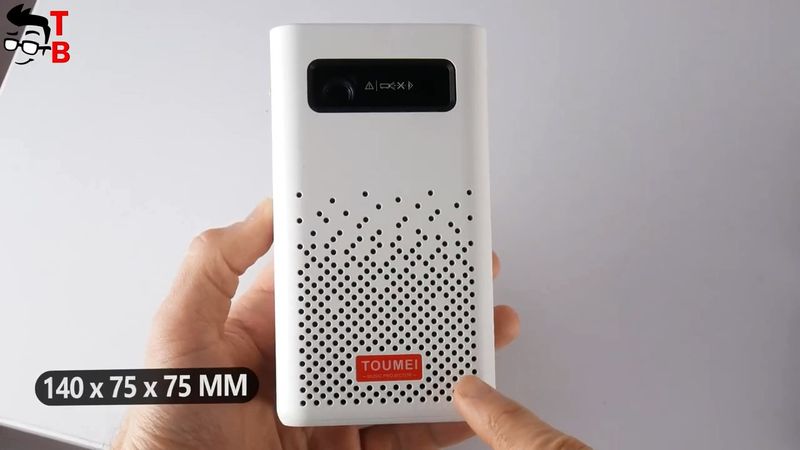 The weight is 530 grams.
As you can see, I have a white version, but also this projector is available in black color.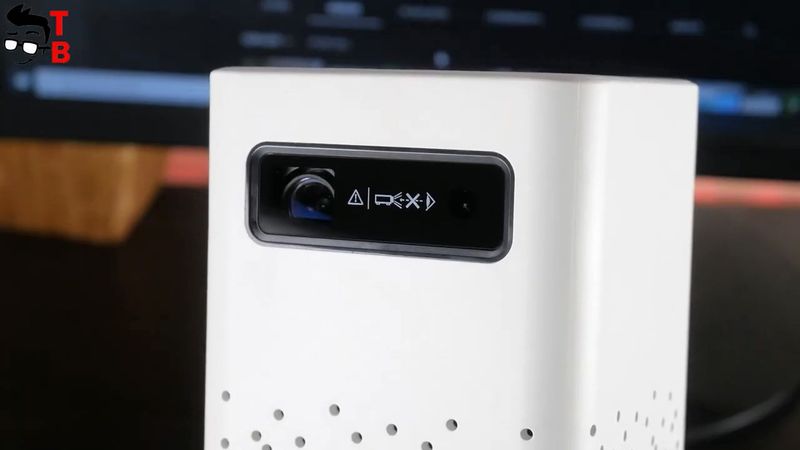 The projector has a Toumei logo, lens, and IR receiver on the front. By the way, the manufacturer says that the new projector has a dustproof design because there is optical glass protection.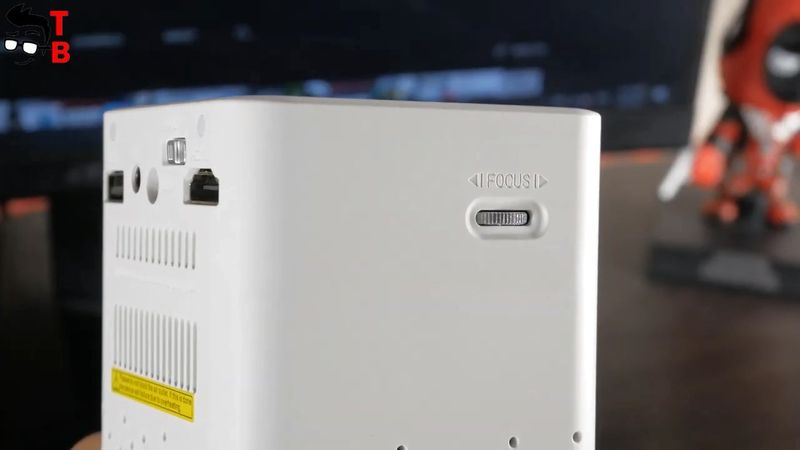 The focus wheel is on the left side.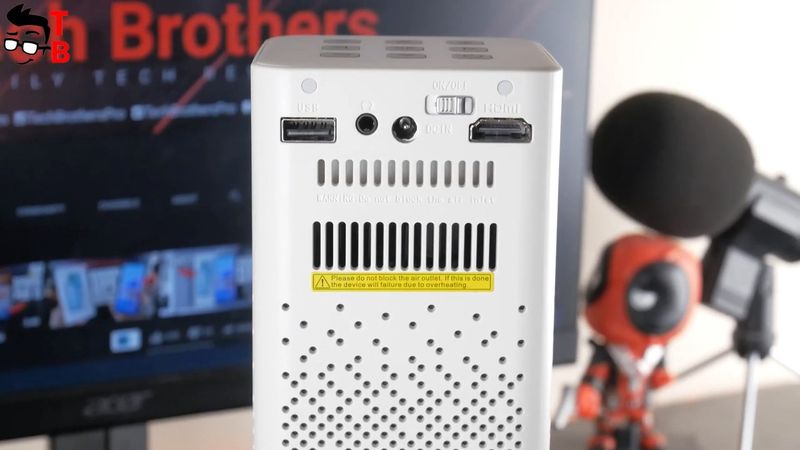 On the back, we can see a power switch, USB port, HDMI port, 3.5mm audio jack, DC IN power connector.
There is also an air inlet and outlet. The inscription says that they cannot be blocked to avoid device failure. I think it is a good recommendation.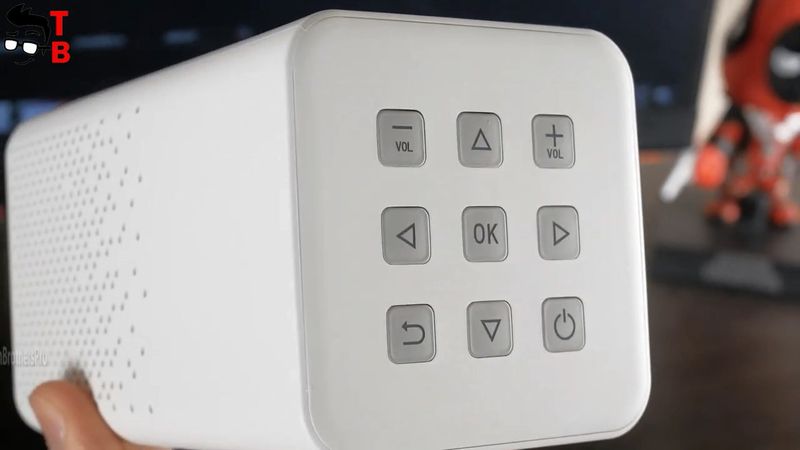 On the top of the projector, we have a keypad with the following buttons: power on/off, OK, return, volume up/down, as well as up/down/left and right arrows.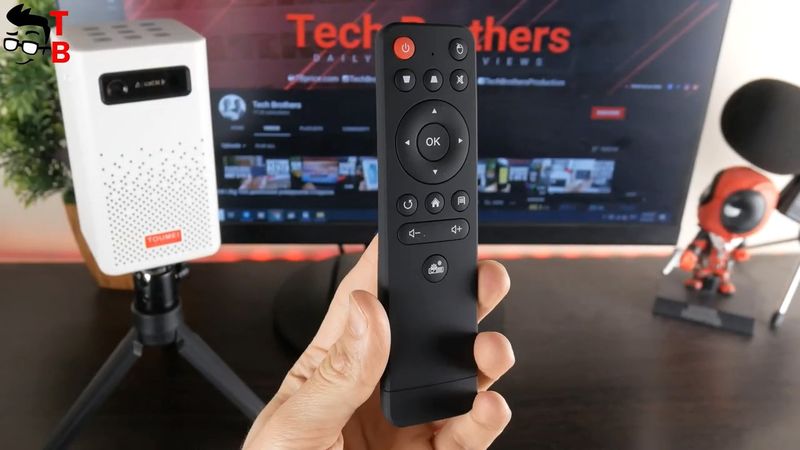 However, you can use remote control. It has the same buttons as the projector itself, but also a very useful mouse button, and keystone correction. The remote control is powered by two AAA batteries.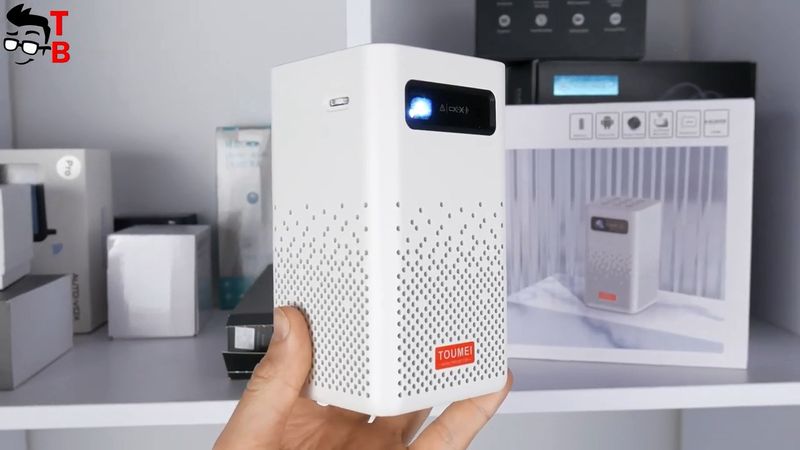 I think you have already noticed many holes on all sides of the projector. These are speakers. Actually, Toumei C900 has dual 5W speakers. Later in this article, we will check the sound quality.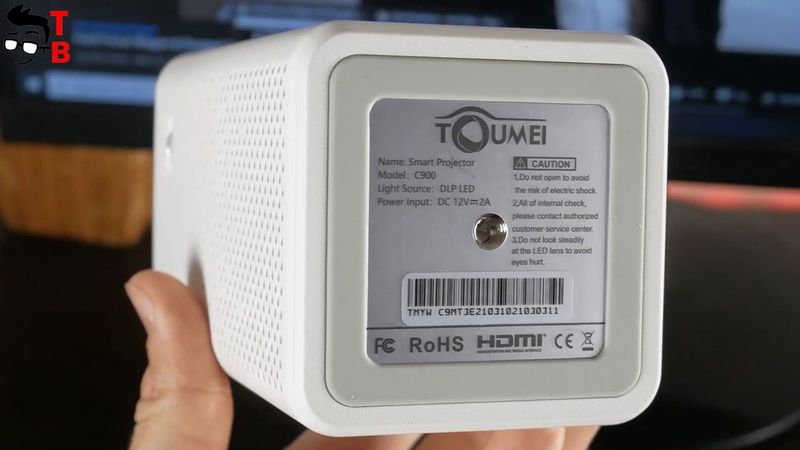 There is also a hole for the tripod on the bottom of the projector. By the way, this is how Toumei C900 looks like on the tripod. Very good, do you agree?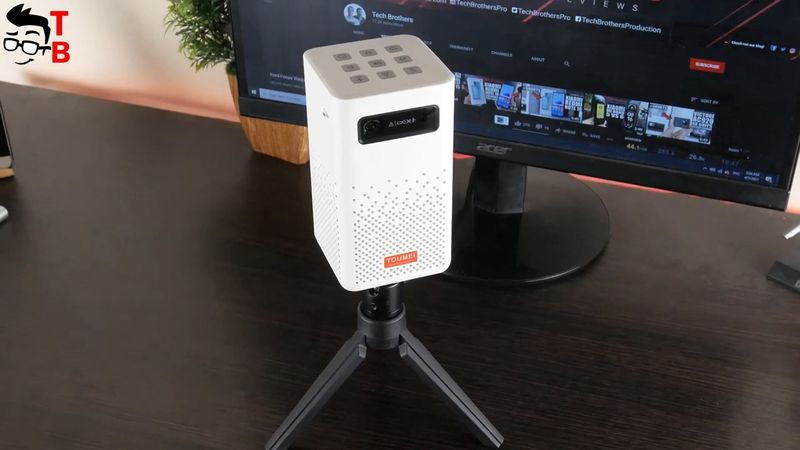 So, I like the compact size of the projector, and how it looks like. However, design is not the most important thing in any projector, so let's look at the specifications, functions, and projection quality of the Toumei C900.
Specifications
You can read the full specifications list of a projector on the official website. Toumei C900 has DLP display type, 100 ANSI Lumens brightness, OSRAM LED lamps, 1000 to 1 contrast, the native resolution of 854 by 480 pixels, the size of projection from 30 to 120 inches, projection distance from 0.2 to 3 meters, automatic or manual keystone correction.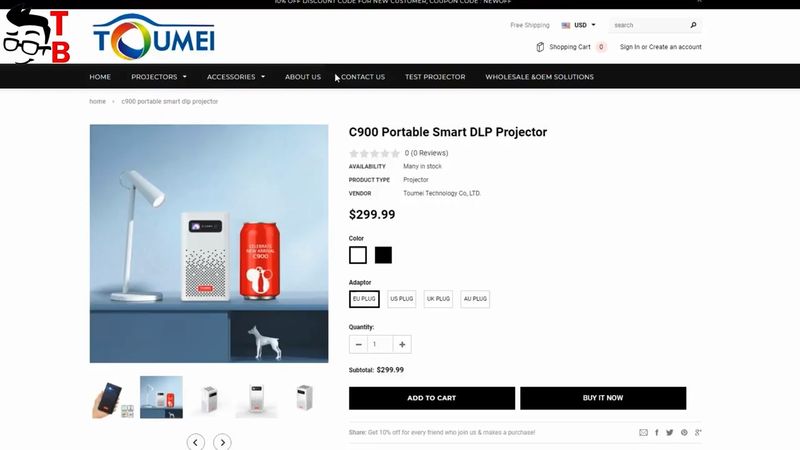 Toumei C900 is a smart projector, and it is powered by an MTK9632 processor. It also has 2GB of RAM and 32GB of internal memory.
Perhaps one of the main features of the new projector is the Android 9.0 operating system. There is Google App Store, YouTube, Netflix, and other popular Android apps. I will show you them a little later.
Toumei C900 projector supports dual-band Wi-Fi and Bluetooth 5.0.
Talking about the battery, it has a capacity of 5200mAh. The battery life on a single charge is about 3 hours.
Now, we can power on the projector, and look at the user interface and main functions of it.
User interface
Toumei C900 runs on the Android operating system, but it has its own user interface.
On the main screen, we can see airplay, miracast and manual.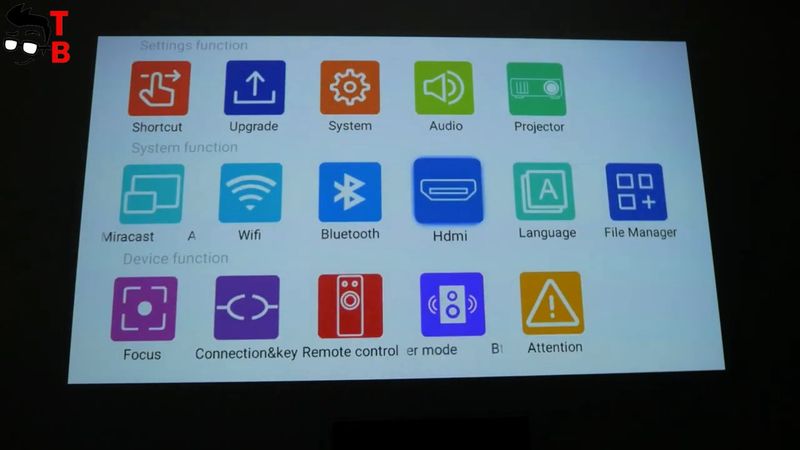 Then, we have app market, YouTube, Netflix, and other apps.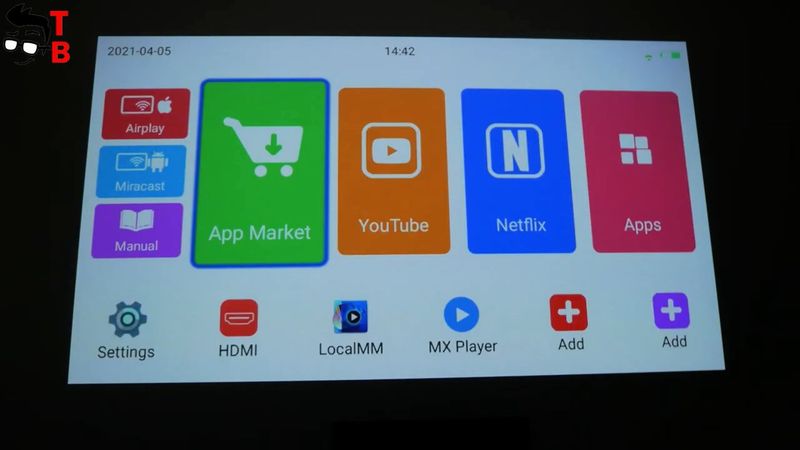 Yes, Android OS provides almost all the functions that most people need. However, you can connect any other device to this projector via HDMI, for example, a game console.
There are also many options in the settings menu.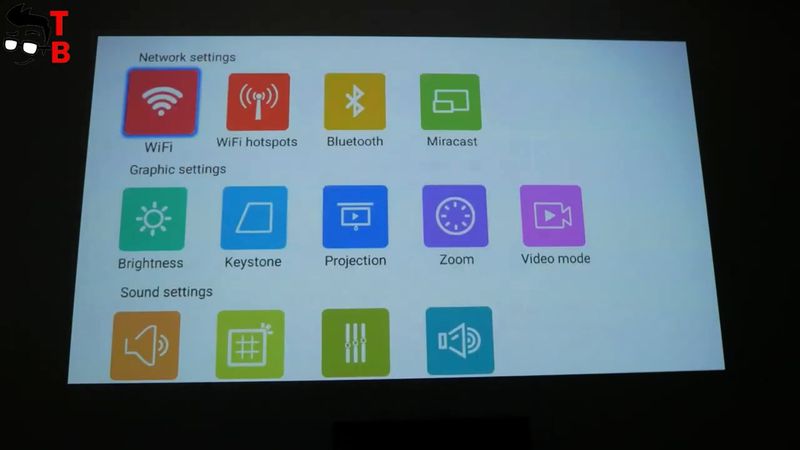 In the network settings, you can connect the projector to your home Wi-Fi network.
Then, we have graphics settings. Here you can choose the brightness from standard, highlight, and energy-saving mode, keystone correction, projection, zoom, and video mode.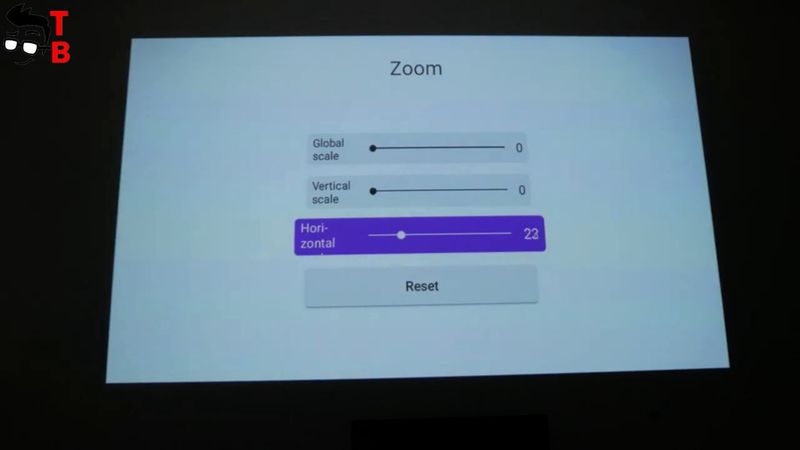 The sound settings menu has sound output, key tone, sound effect, and boot sound.
In the settings, you can also choose the fan speed: high, middle, or low.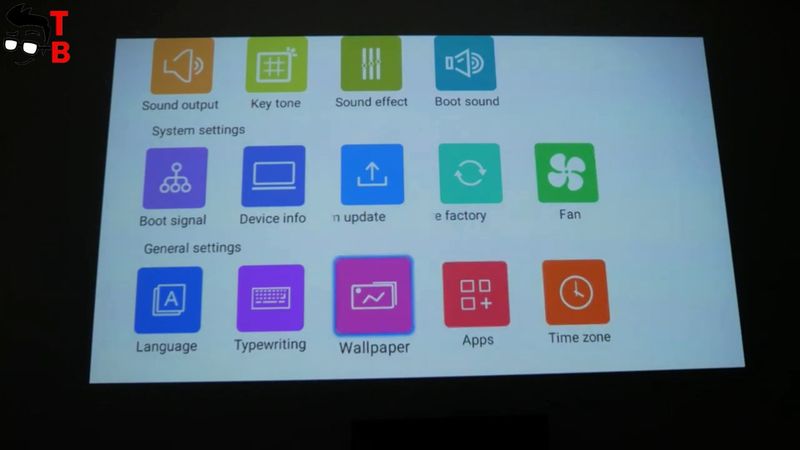 Toumei C900 projector supports many languages, such as English, Japanese, French, German, Italian, and others.
By the way, I want to show you the phone screen mirroring function. You can use both Android and iOS smartphones to display the phone screen on the projector.
Sound and noise level
Now, I want to check the maximum speaker volume and noise level of the Toumei C900 projector.
You know, this projector is very quiet. I hardly hear the noise.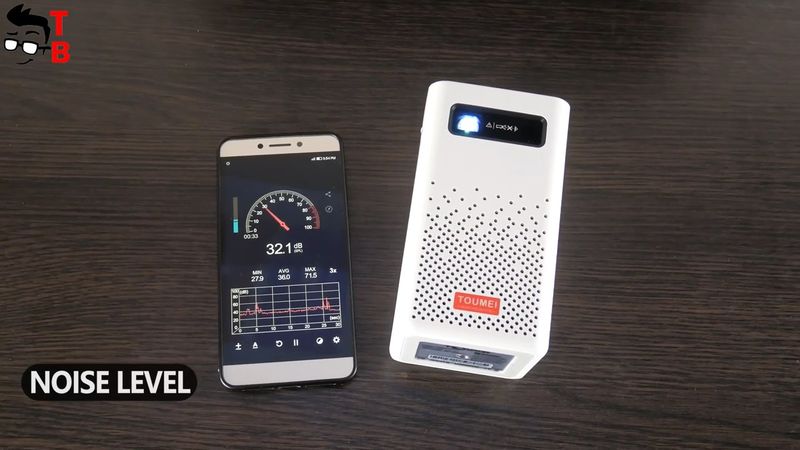 However, the sound volume is very high. The speaker is really powerful.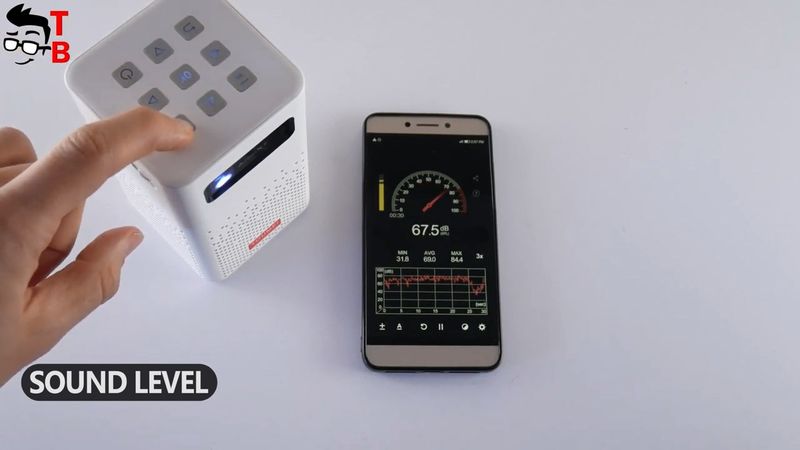 So, the Toumei C900 projector has only WVGA native resolution, not even 720p. However, let's watch some videos before say anything about image quality.
Projection quality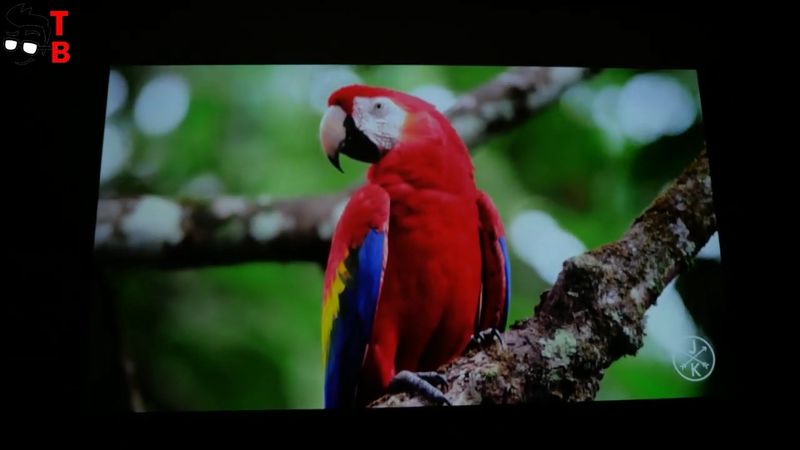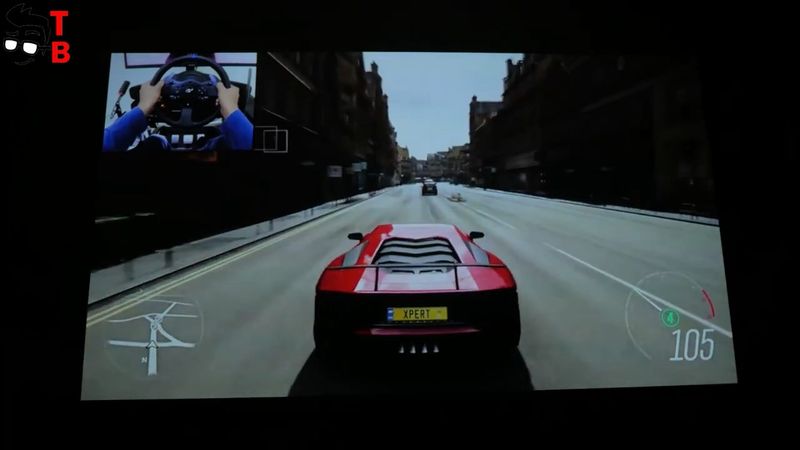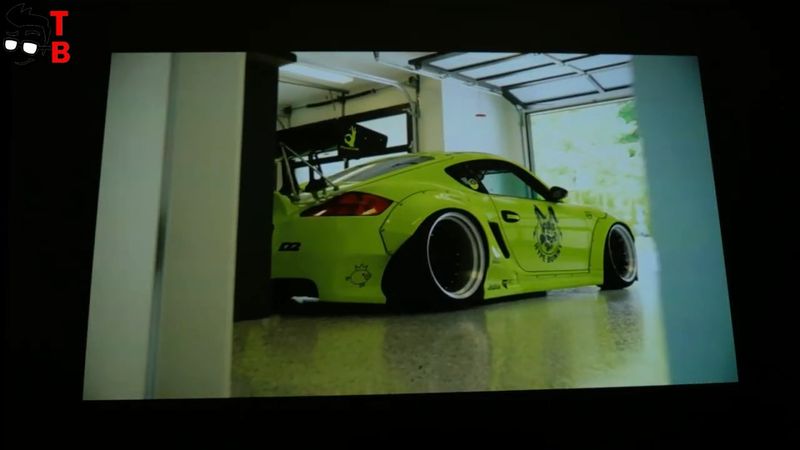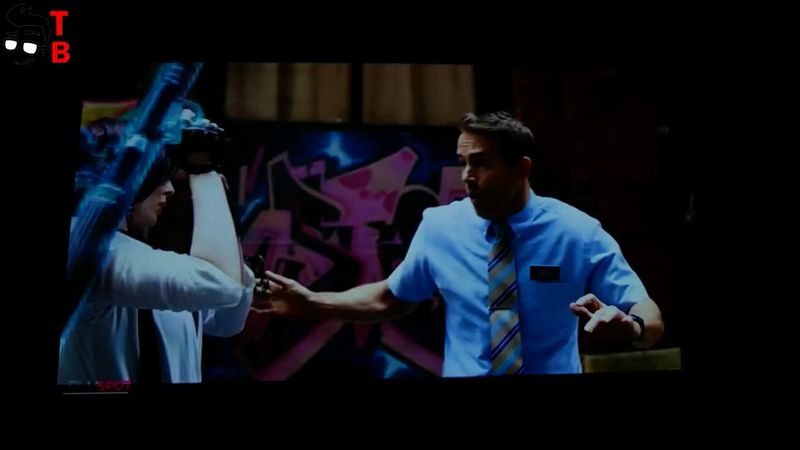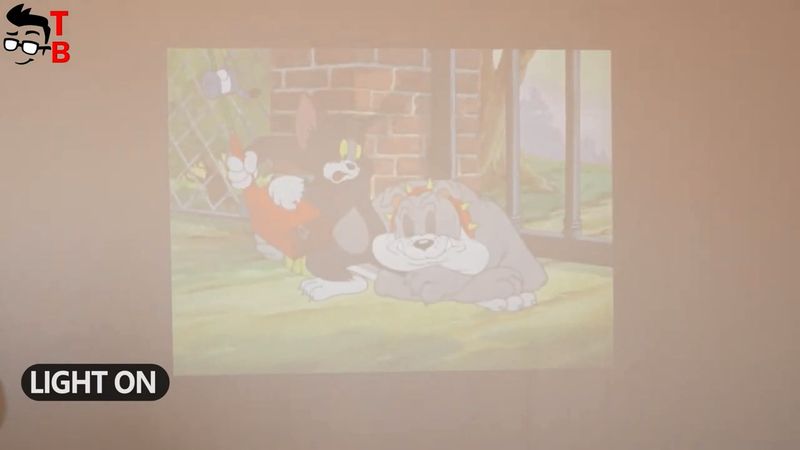 Conclusion
You know, Toumei C900 has a good projection quality. Yes, a small text is not very clear, so probably this projector is not for presentations, but overall, the image is good. I like the brightness and colors.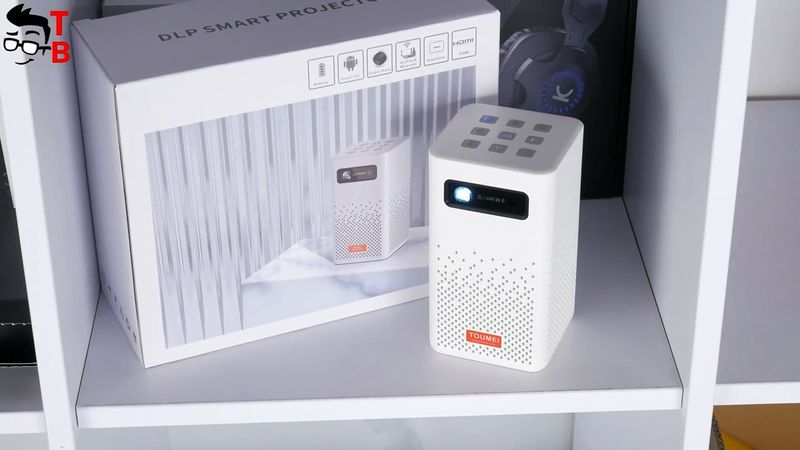 You can even use the projector in the daytime.
I think that Toumei C900 is a good projector for home and even outdoor cinema. It has a built-in battery and Android OS, so it is a completely standalone device.
Where To Buy Toumei C900?
C900 Portable Smart DLP Projector - Amazon
as of September 2, 2023 1:43 pm
Source: toumeipro