I'm back from my vacation, and now I'm ready to tell you about the new devices. Actually, I have many devices like dash cams, drones, security cameras, etc. However, let's start with the soundbar from TOPVISION Company.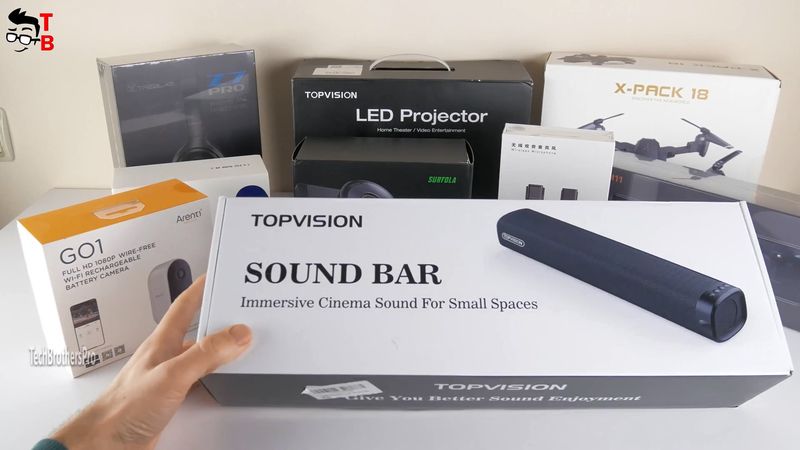 I also have a projector from the same company. I will test it and post an article next week.
Talking about the soundbar, it has 50W power, dual drivers, three sound modes, Bluetooth, and a wired connection.
The price of TOPVISION sound bar is only $53 on Amazon.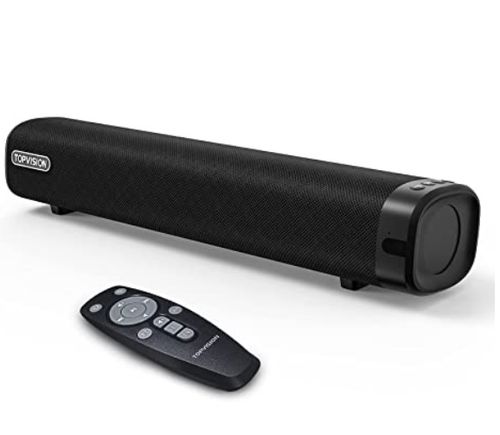 TOPVISION 50W Sound Bar - 22% OFF DISCOUNT - Amazon
as of September 19, 2023 9:35 pm
Unboxing
On the box of the sound bar, we can see how it looks like. There is also the inscription that this sound bar provides immersive cinema sound for small spaces. We will check it later in this article.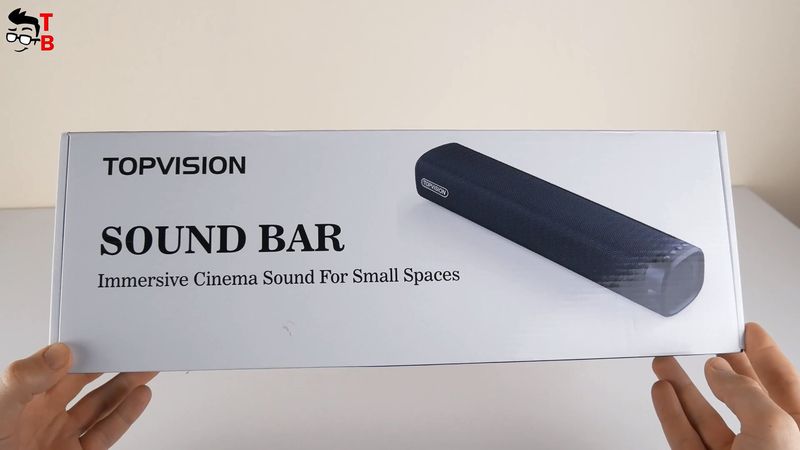 Inside the box, we have a sound bar itself, as well as another white box with a power adapter, remote control, audio cable, optical cable, RCA audio cable, user manual, and even two screws to install the sound bar on the wall.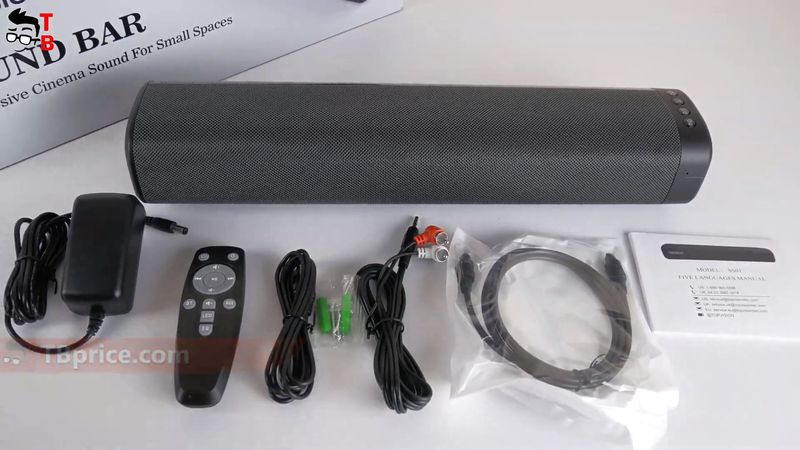 By the way, in the user manual, we can read the model of this device – SS01.
Design
You know, this is a compact 16-inch sound bar from TOPVISION, but there is also a bigger 35-inch model with a built-in subwoofer.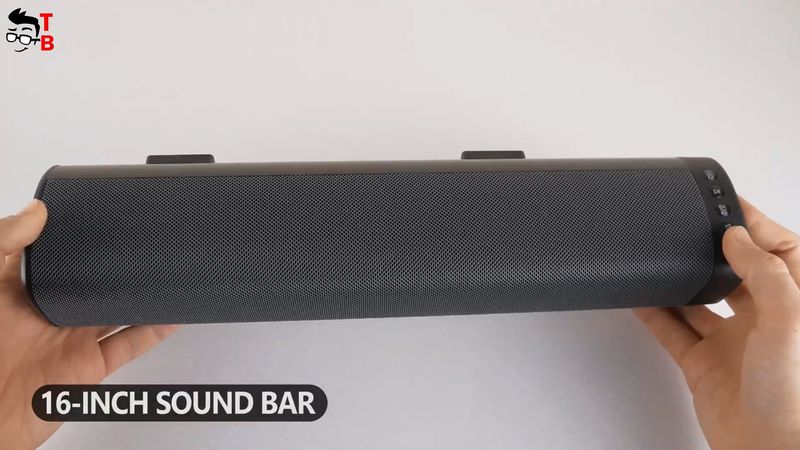 If you need a more powerful sound bar, I will leave the link to it in the description under the article.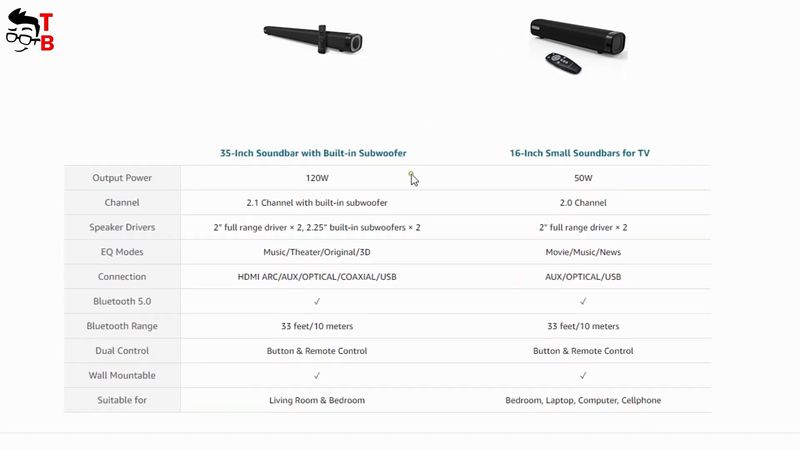 So, the dimensions of the 16-inch soundbar are 400 by 100 by 80 mm.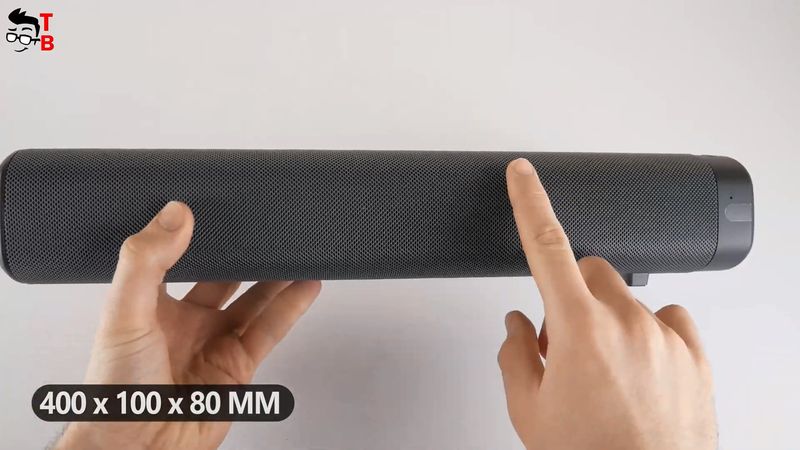 The weight is 1080 grams.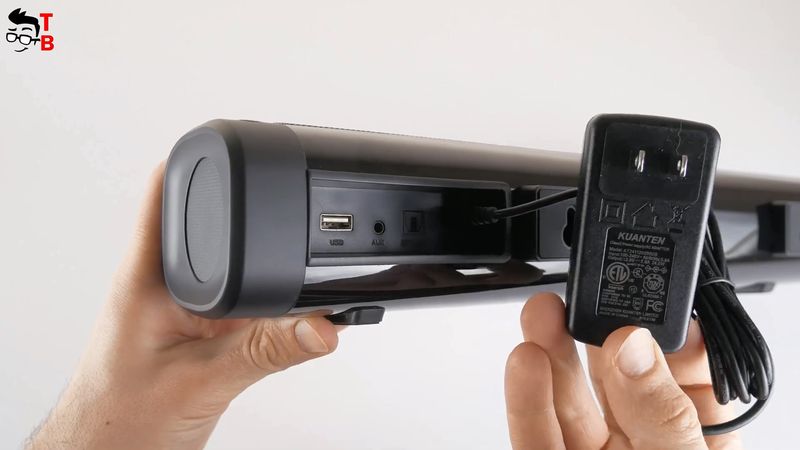 You know, before using this sound bar, you need to connect a power adapter. There is no built-in battery inside the case. Next to the DC IN connector, there is a USB port, AUX, and Optical port.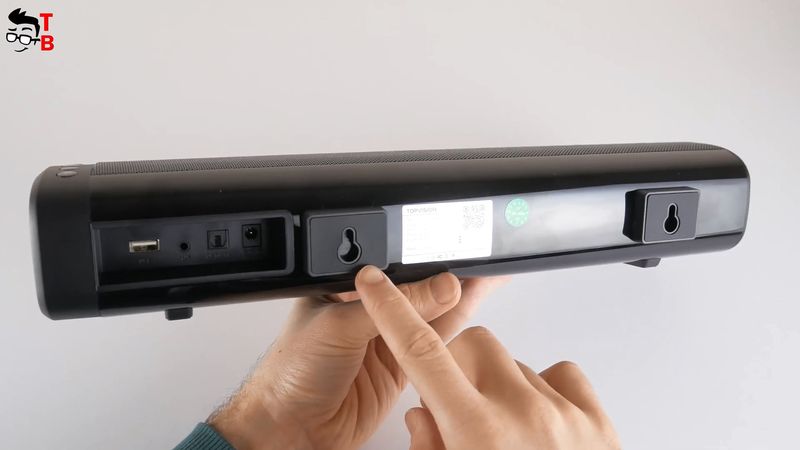 As I already said, you can install a sound bar on the wall using these mounts. However, you can also put it on the table under the TV. There are two rubber feet at the bottom of the sound bar.
Control
Talking about control, there are physical buttons on the sound bar, but also you can use remote control.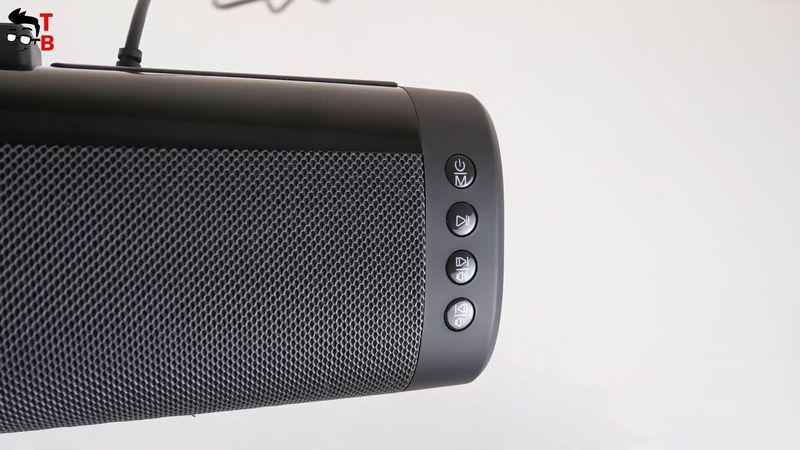 The physical buttons include power on and mode switch, play/pause, next track and volume up, previous track and volume down.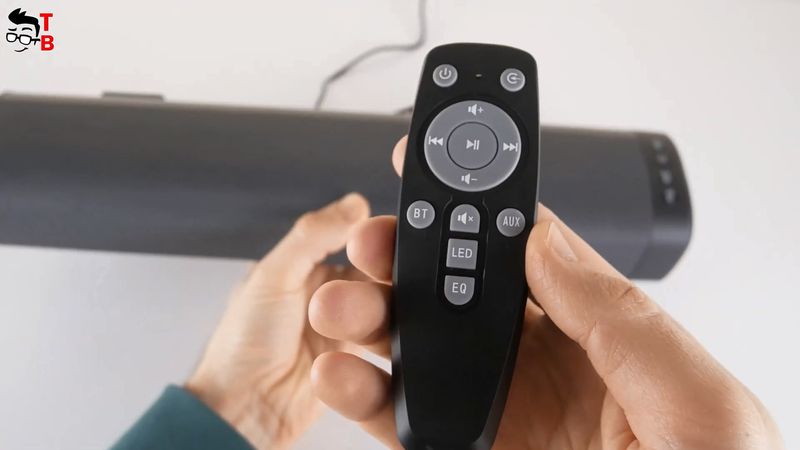 However, I think it is more convenient to use remote control. In addition to the previous buttons, you can choose Bluetooth or AUX mode, turn on/off the LED light, and change EQ mode.
OK, let's talk about the sound quality of the new TOPVISION soundbar.
Sound Quality
As I already said, a sound bar is equipped with two full-range drivers. The maximum power is 50W.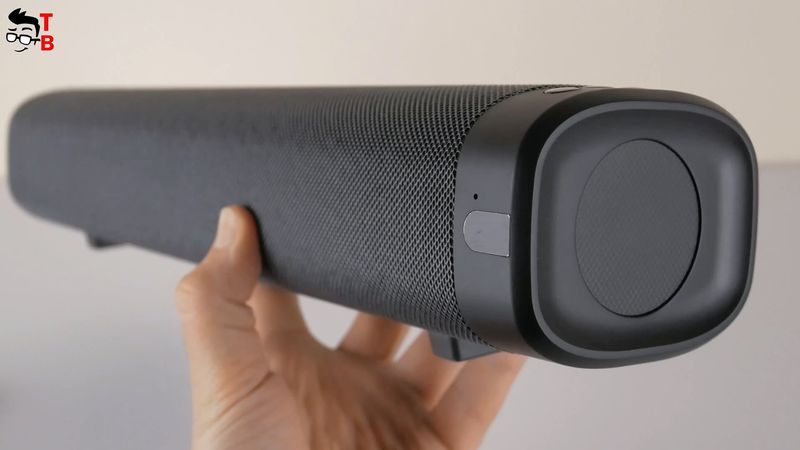 You know, I want to connect a sound bar to my TV through Bluetooth. By the way, there is Bluetooth 5.0 support with a maximum range of 10 meters.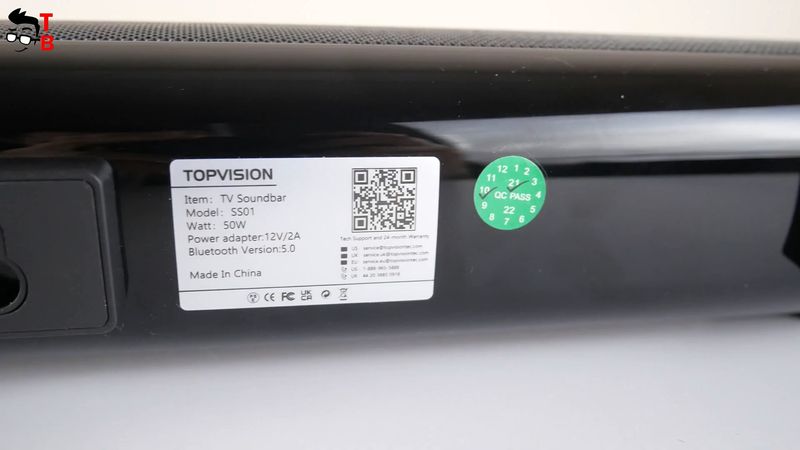 It only took me a couple of minutes to connect a soundbar to the TV.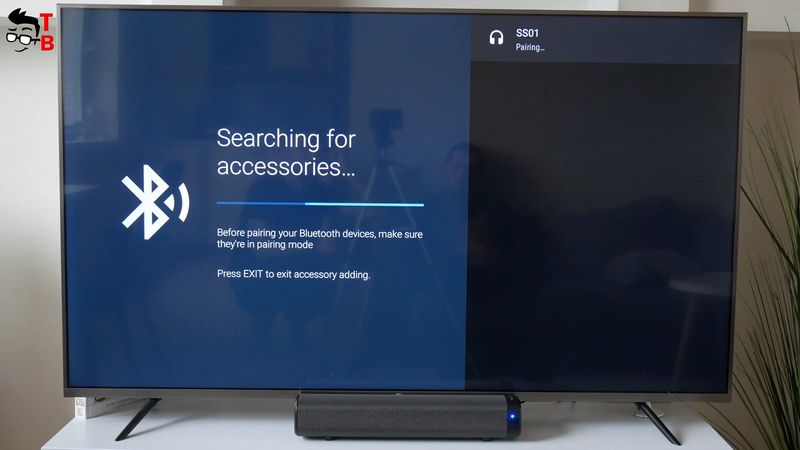 Now, I want to compare the sound quality of my TV built-in speaker and TOPVISION sound bar.
You know, my TV has a dual speaker with 20W maximum power, while the TOPVISION sound bar has 50W power.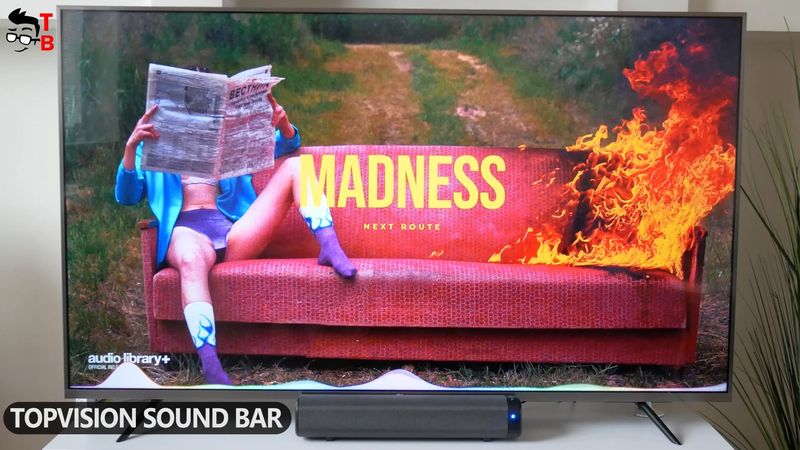 The TOPVISION Sound Bar really provides higher volume and better sound quality. I will probably use it all the time with my TV.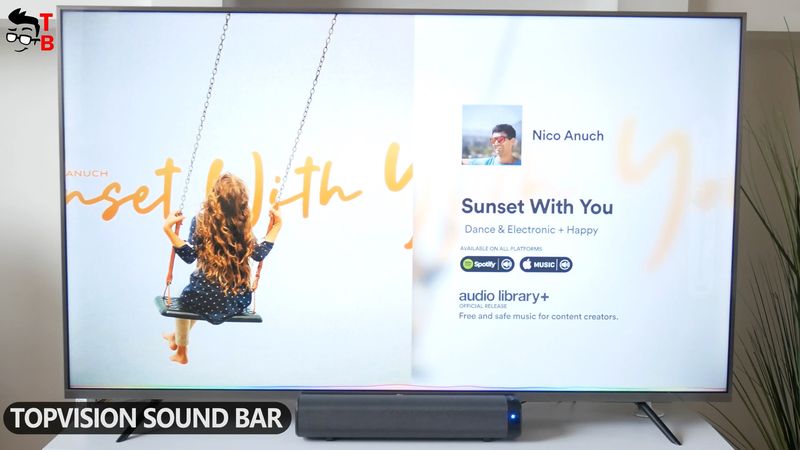 I also like remote control, so I can switch between Bluetooth and AUX modes, as well as change sound mode from news, movie, and music.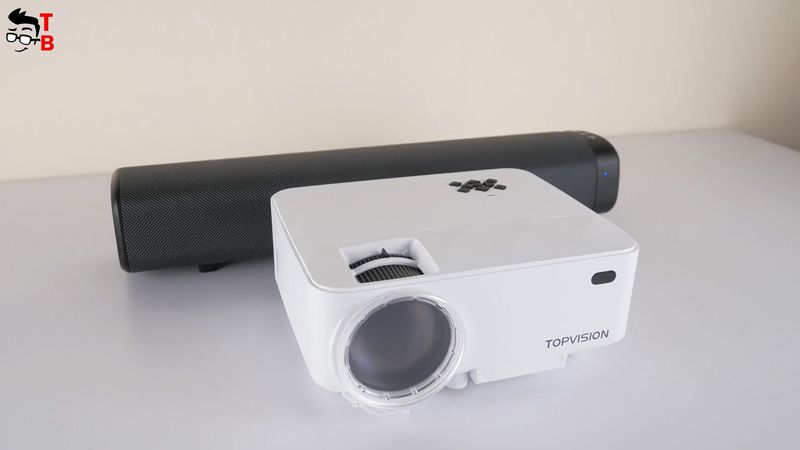 By the way, you can also connect a sound bar to the projector. You know, most projectors have weak speakers, and you need a sound bar for better sound quality. When I test TopVision projector, I will definitely connect a sound bar to it.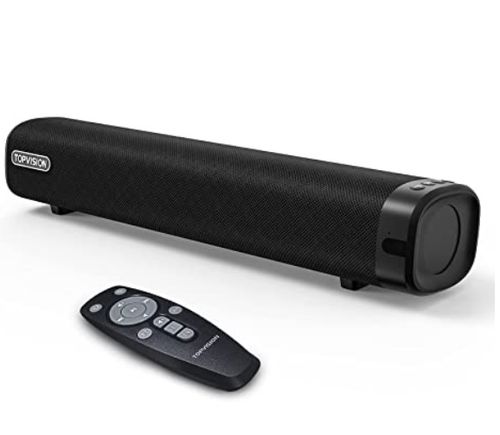 TOPVISION 50W Sound Bar - 22% OFF DISCOUNT - Amazon
as of September 19, 2023 9:35 pm