Today we have unboxing and review of new budget laptop called Teclast F6. Please, do not confuse with Teclast F6 Pro. These are completely different devices. Teclast F6 doesn't have 360 degree hinge, like F6 Pro. Also, F6 is almost two times cheaper than F6 Pro.
The price of Teclast F6 is only $270. For this money, you will get 13.3-inch Full HD display, Intel N3450 processor, 6GB of RAM and 128GB of SSD. So, let's start our review with unboxing, and then talk about build quality, performance, battery life and other stuff.
[wpsm_offerbox button_link="https://www.gearbest.com/laptops/pp_009552042578.html?wid=1433363&lkid=18826790″ button_text="Buy it now" price="$269.99″ price_old="$299.99″ title="Teclast F6 Laptop 6GB RAM 128GB SSD" description="13.3 inch Full HD IPS Display – Windows 10 Home Version – Intel Apollo Lake N3450 – 6GB RAM – 128GB SSD memory – 2MP camera – HDMI Output " thumb="http://www.tbprice.com/wp-content/uploads/2018/12/teclast-f6.jpg" logo_thumb="http://www.tbprice.com/wp-content/uploads/2018/04/gearbest-logo.png" ]
Unboxing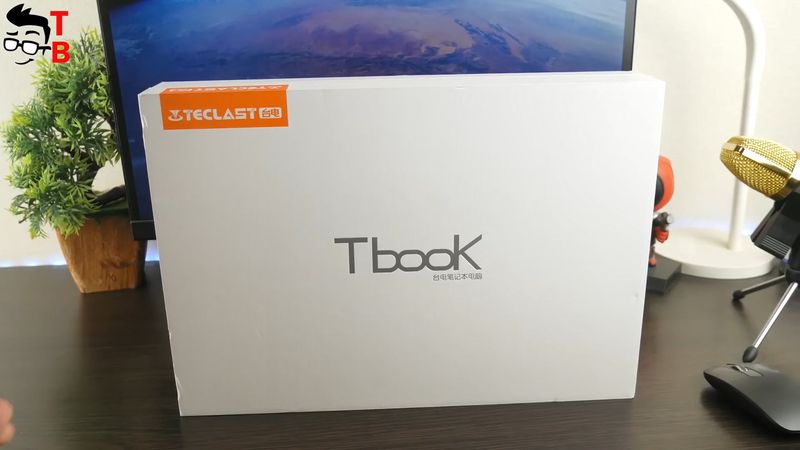 The laptop comes in a brand Teclast box of white color. There is company logo, TBook and some Chinese characters.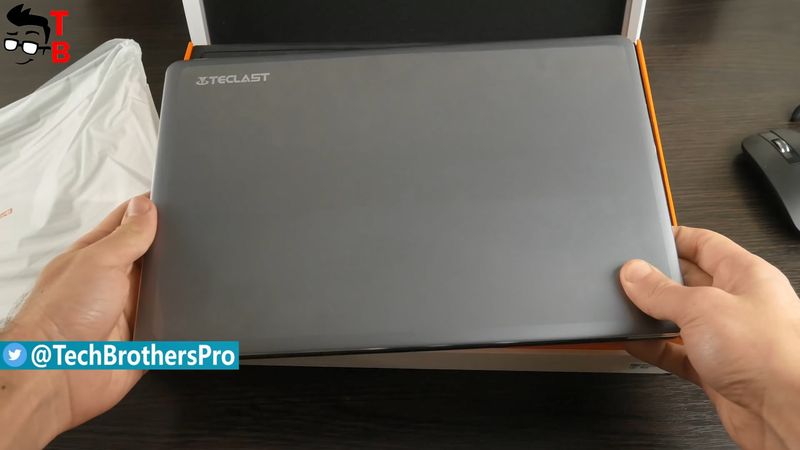 Inside the box, you can see laptop in transparent package. Also, there is power adapter and black envelope with user manual, warranty card and other documentation.
That's all! As you know, the laptops don't have additional accessories in the package. You have to buy them additionally.
Design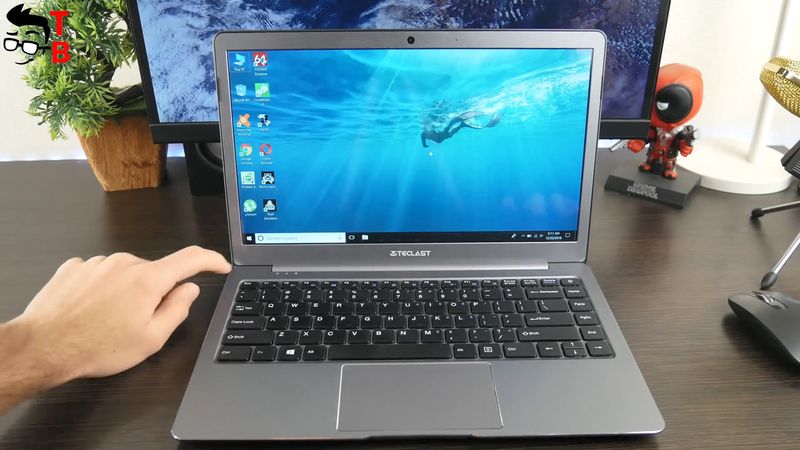 First of all, Teclast F6 is a compact laptop with 13.3 inch display. Its dimensions are 32 by 22 by 1.4 cm, and weight only 1.2 kg. It is thin and lightweight device, which is very good for people who carry laptops to schools, colleges, work or even long trips.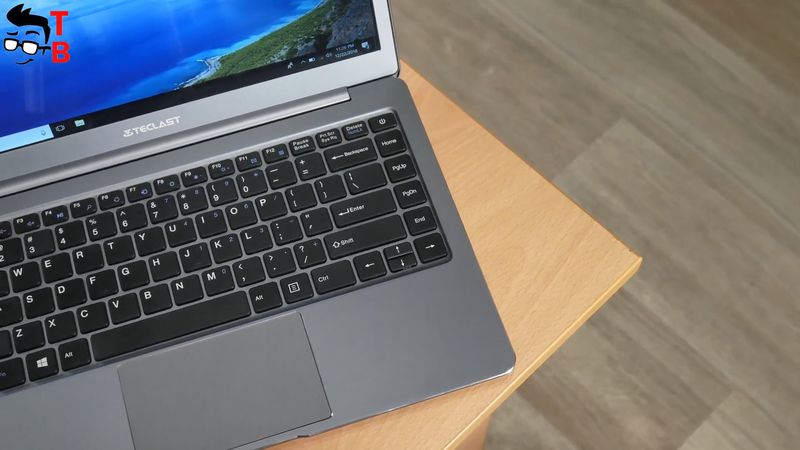 The case of the laptop is made of metal. Teclast F6 comes in a single color option, which is called gray cloud. By the way, did you notice factory film on the screen, backside and even on the bottom? They are completely transparent. I will not take them off as long as possible to keep the laptop in perfect condition.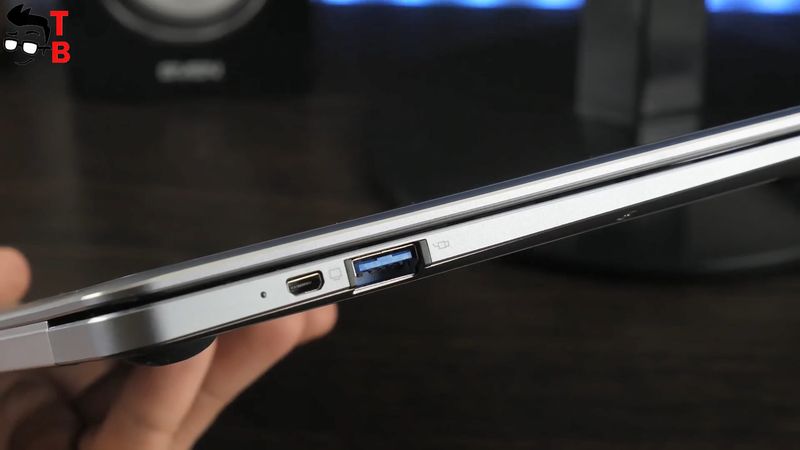 Teclast F6 has USB 3.0 and microHDMI on the left side, while on the right you can find microSD slot, another USB 3.0 Port, 3.5 mm audio jack and charging port.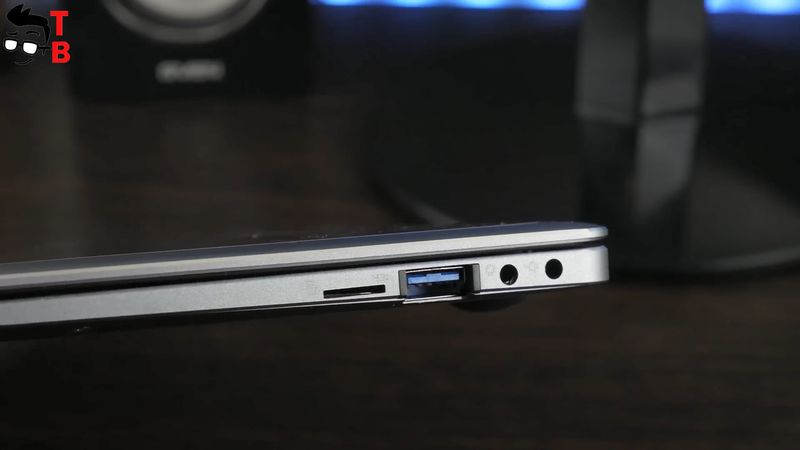 The laptop has a large touchpad. Of course, it doesn't have Force Touch, like Apple Macbook, but it supports multitouch and different gestures. In general, it works very well.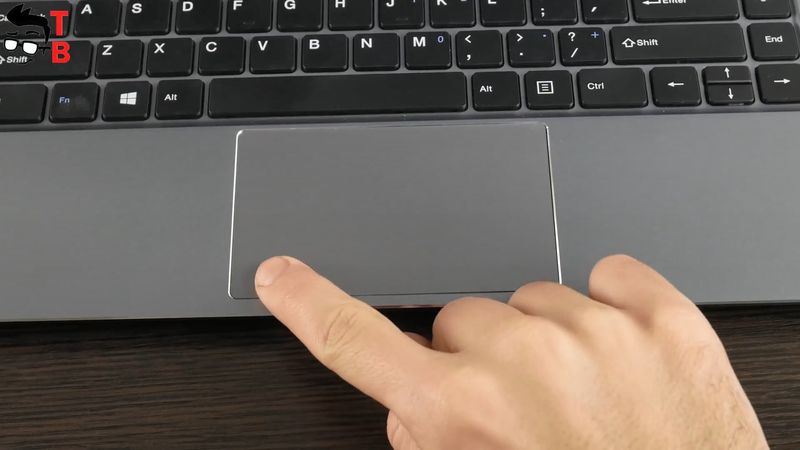 As for the keyboard, it has English layout, so if you are not from English speaking countries, you will need to make a laser engraving on keys. Also, there is no backlight, and it is not surprising, because the laptop is budget. From other side, the keyboard has all additional keys, such as Functional, Play/Pause, Plus and Minus. The keys are soft. It is very comfortable to type on this keyboard.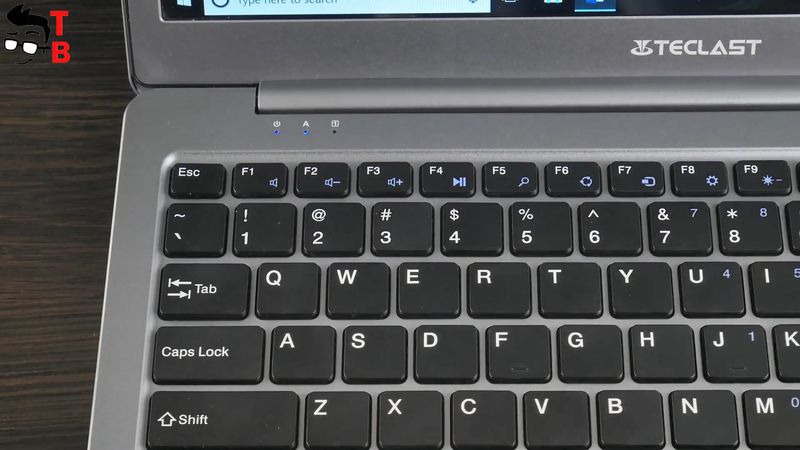 The laptop has four plastic legs on the bottom not to slide on the table.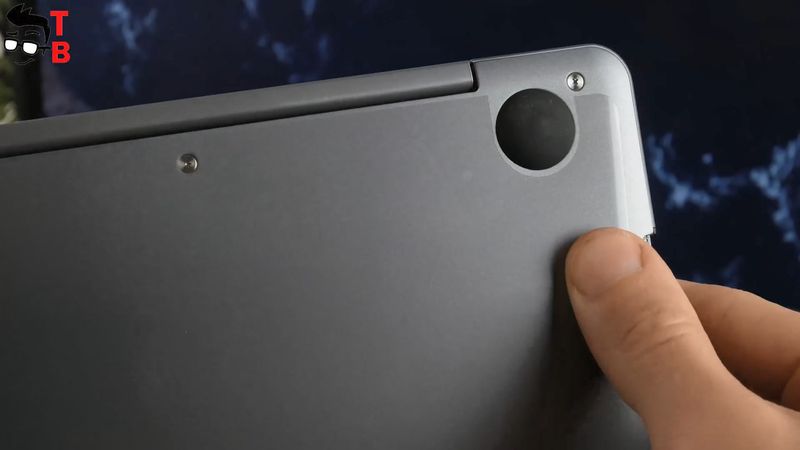 In general, Teclast F6 has very good build quality. I like its metal case, keyboard and available connectors. And the last test for this laptop – can I open it with one hand. Unfortunately, I cannot. More expensive Xiaomi laptops are opened with one hand.
Display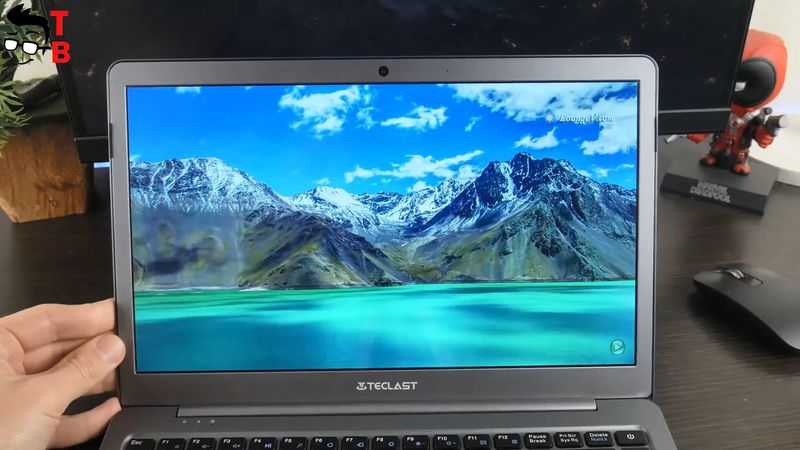 Talking about display, it has a diagonal of 13.3-inches and Full HD resolution, 1920 by 1080 pixels. The display is one of the main feature of Teclast F6. IPS panel provides very good contrast, detail and brightness. The viewing angles are not the best, but pretty good for budget laptop. The image quality is comparable to more expensive laptops from Xiaomi and even Apple.
By the way, on the left and right sides on the screen, you can see microphones, and on top there is 2MP camera for video communication.
Hardware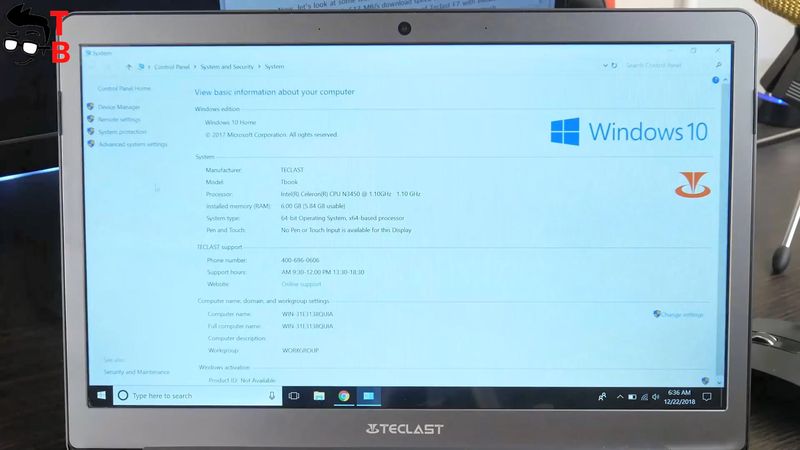 Teclast F6 is a budget laptop, so it is powered by entry-level chipset Intel Apollo Lake N3450. From other side, there is 6GB of RAM and 128GB of SSD memory. This combination provides good performance. By the way, Teclast F6 supports dual band Wi-Fi.
When we received the laptop, Windows 10 operating system was pre-installed. This is official international operating system, so you can change it to any language. This is a big advantage, because when we tested Xiaomi laptop, it had Chinese operating system, and we spent a lot of time for reinstalling the system.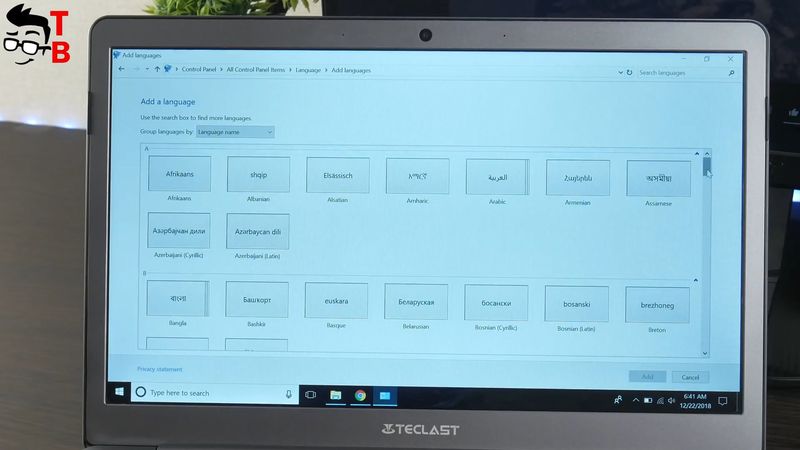 Now, let's look at some tests. First, I want to check memory speed. As you can see, there is 504 MB/s download speed and 160 MB/s writing speed. For comparison, here is the results of Teclast F7 with eMMC memory, which we have tested half a year ago. Teclast F6 is much faster!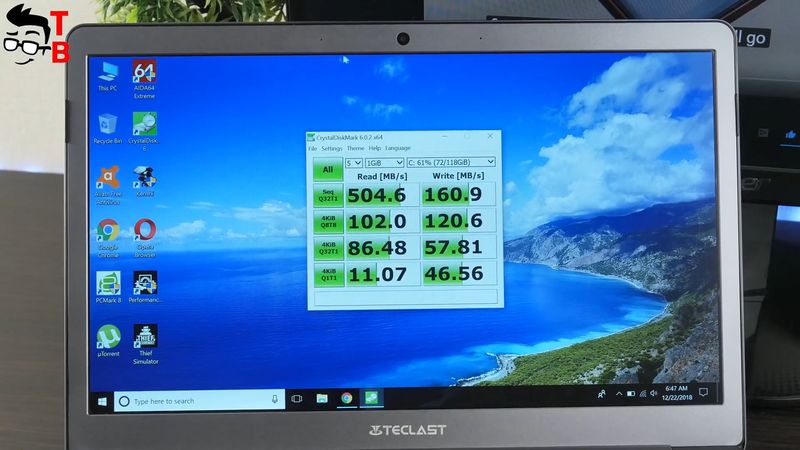 Here you can see GeekBench results: 1344 points in single core test, 3559 points in multi core test, and 5148 OpenGL score.
The next test is PCMark 8. The overall score is 1586. This table shows that Teclast F6 is far from gaming laptop.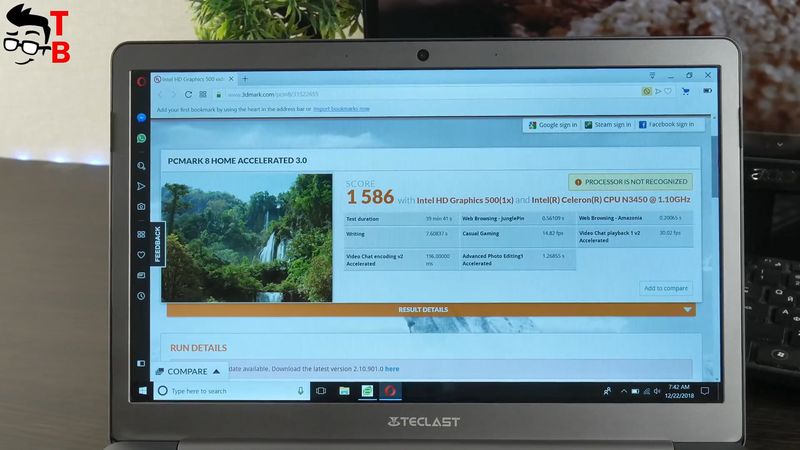 Also I want to show you Performance test. The PassMark rating is 1024. Here you can see Disk Mark, Memory Mark, 3D and 2D Graphic Mark and CPU Mark.
If we talk about real performance, then you can run 4K video on YouTube. Here is how it looks. I think it is quite good for a budget laptop.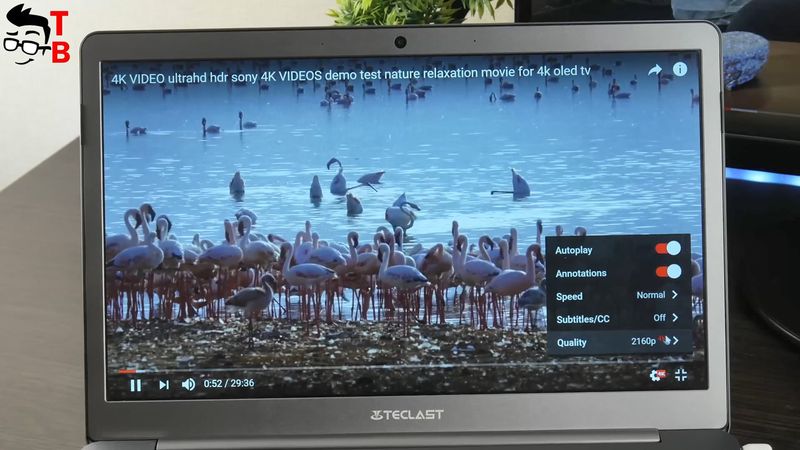 You can play simple games, such as Asphalt 9. It runs very well. There are no lags at all. In addition, I tried to launch Fortnite, but it doesn't work. I couldn't even install it. I don't know what's the problem, probably this laptop is just weak for this game.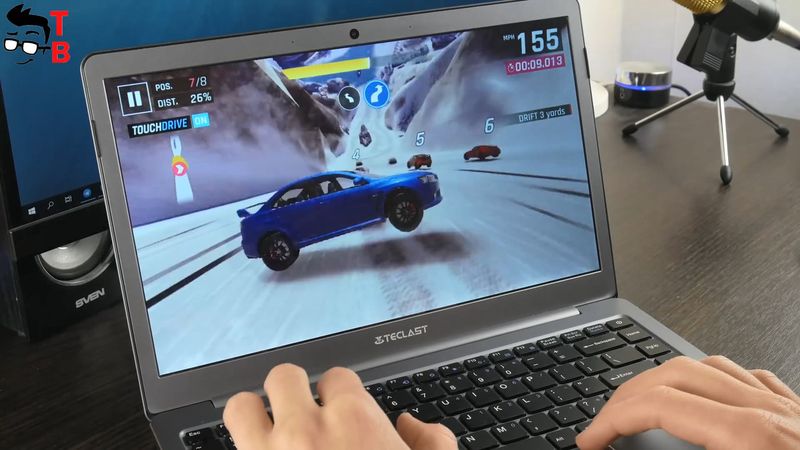 So, Teclast F6 has good performance for everyday tasks, documents, YouTube videos, web browsing, etc. Also, you can play simple games. However, this laptop is not for heavy games, photo, video editing, and other demanding tasks.
Battery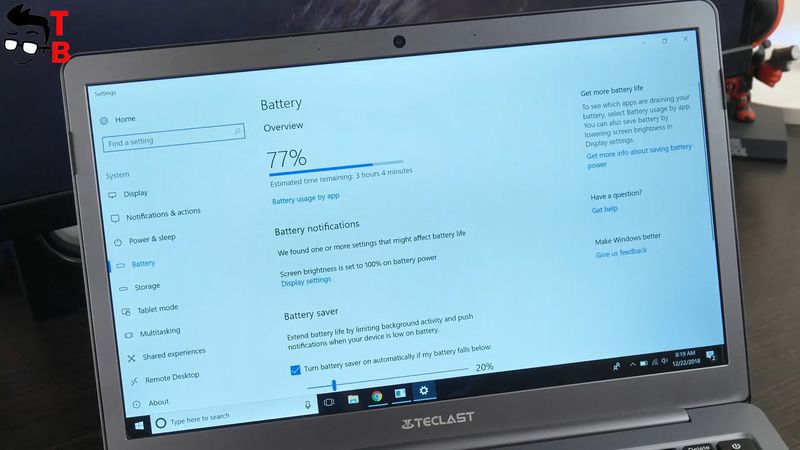 Teclast F6 is equipped with 5000mAh battery. The power adapter is 12V and 2A. The average battery life with turned on Wi-Fi, full brightness and active use is about 3-4 hours. If you are watching movies at 50% brightness, then you can get about 6 hours. It is not the best battery life, but enough for watching 2-3 movies on the road.
Sound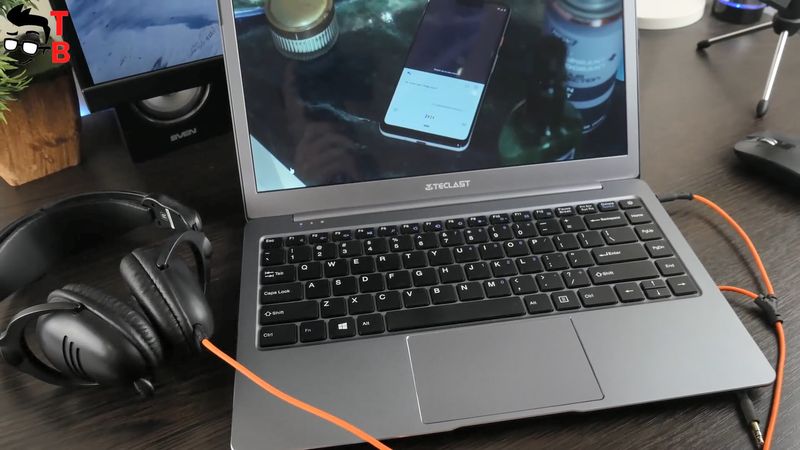 The speaker on Teclast F6 is located in the hinge. The sound is flat and quite. Fortunately, there is 3.5 mm audio jack, so you can connect external speaker and your favorite headphones.
Conclusion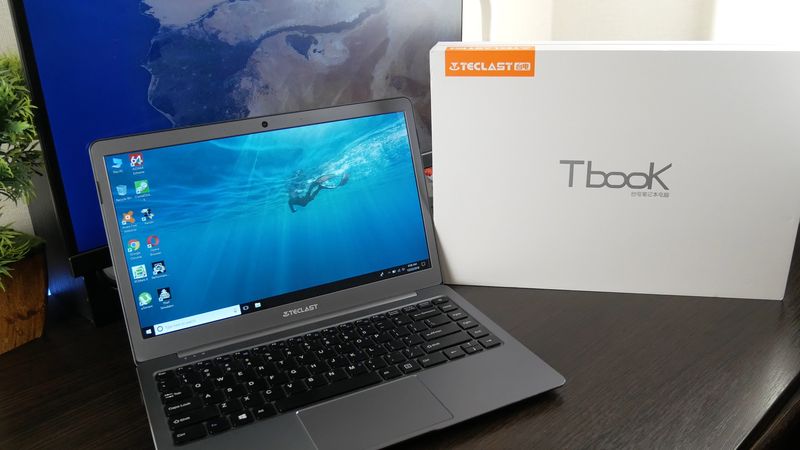 Teclast F6 is a good budget laptop, or even ultra-book. It has high build quality, metal case, good 13.3-inch display, and even decent performance. The battery life and sound are not the best, but still good for budget laptop. Teclast F6 is a good option for students, because it is compact and lightweight, and it copes with the main tasks.
[wpsm_offerbox button_link="https://www.gearbest.com/laptops/pp_009552042578.html?wid=1433363&lkid=18826790″ button_text="Buy it now" price="$269.99″ price_old="$299.99″ title="Teclast F6 Laptop 6GB RAM 128GB SSD" description="13.3 inch Full HD IPS Display – Windows 10 Home Version – Intel Apollo Lake N3450 – 6GB RAM – 128GB SSD memory – 2MP camera – HDMI Output " thumb="http://www.tbprice.com/wp-content/uploads/2018/12/teclast-f6.jpg" logo_thumb="http://www.tbprice.com/wp-content/uploads/2018/04/gearbest-logo.png" ]
Teclast F6 Review Video