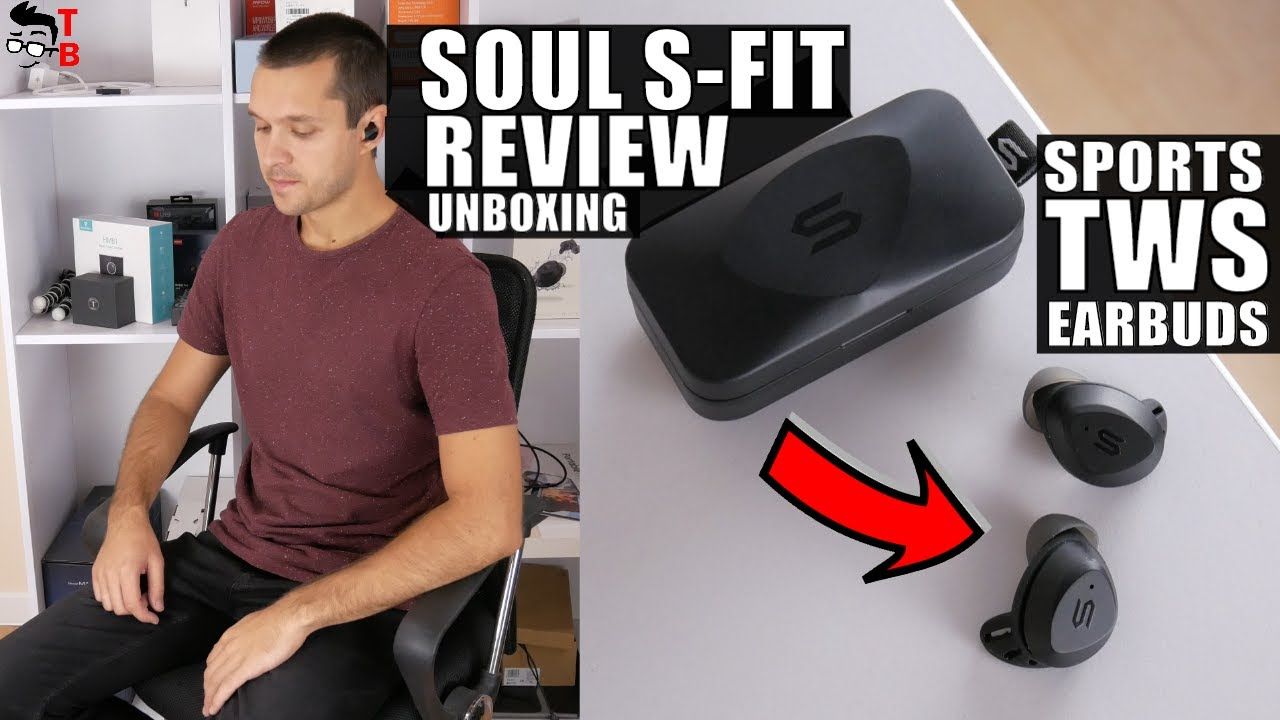 Today we have a review of real sports earbuds called Soul S-Fit. How do they differ from the regular earbuds?
First, they have wingtips for a comfortable and secure fit. Secondly, the earbuds are shockproof and waterproof.
Also, they have a very long battery life – up to 6 and a half hours of a single charge, and 33 hours with a charging case.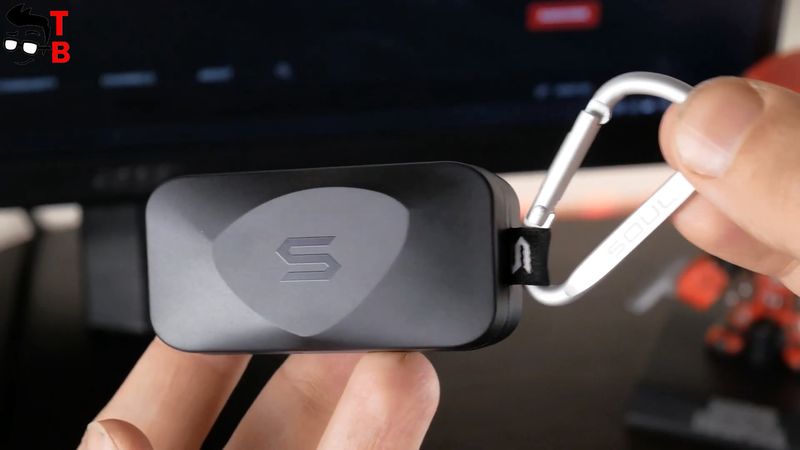 The earbuds even have a carabiner so you can hang the charging case on your bag.
What about sound quality? Let's talk about it and more in this article.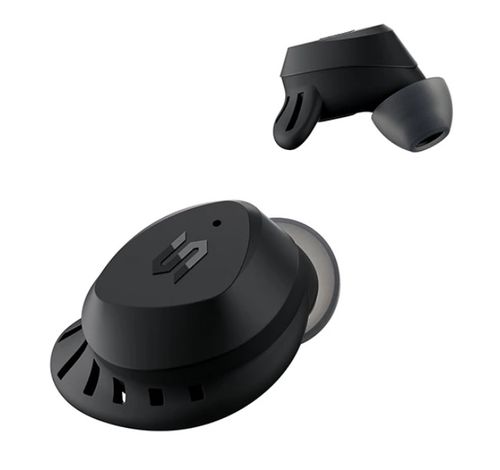 S-FIT - Best Seller - Official Website
Buy it now

Soulnation.com
as of September 17, 2021 3:26 pm
Unboxing
On the front of the box, we can see that earbuds are waterproof.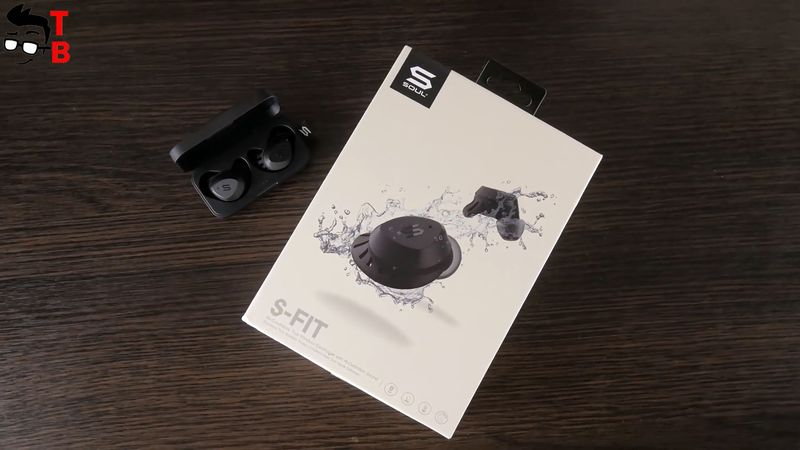 On the back, there are package contents and other features, such as powerful high-definition sound, IP67 waterproof, shock resistance, up to 33 hours of playtime, ergonomic design, and others.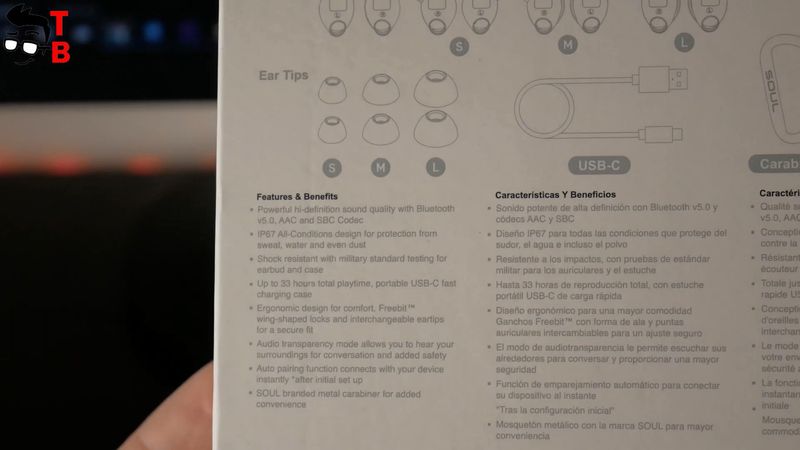 Opening the box, we can see that Soul is not a new company. It is already 10 years old. It means that the brand is reliable.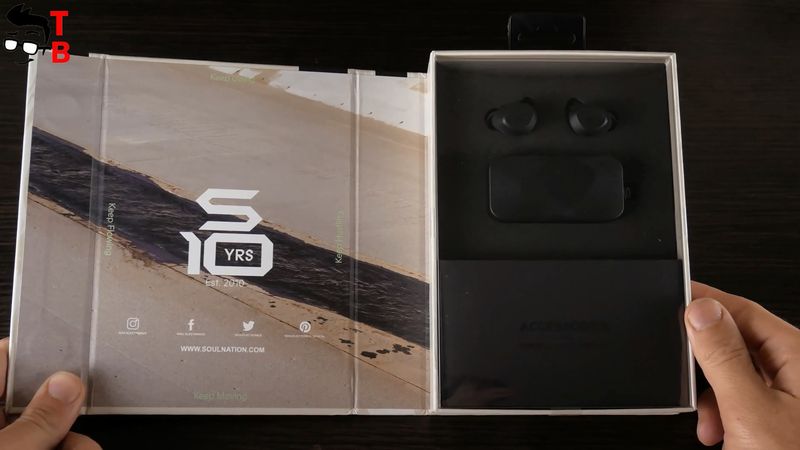 On the right side of the box, there is a charging case, earbuds, user manual and sticker, carabiner, USB Type-C charging cable, and a package with eartips and wingtips of different sizes.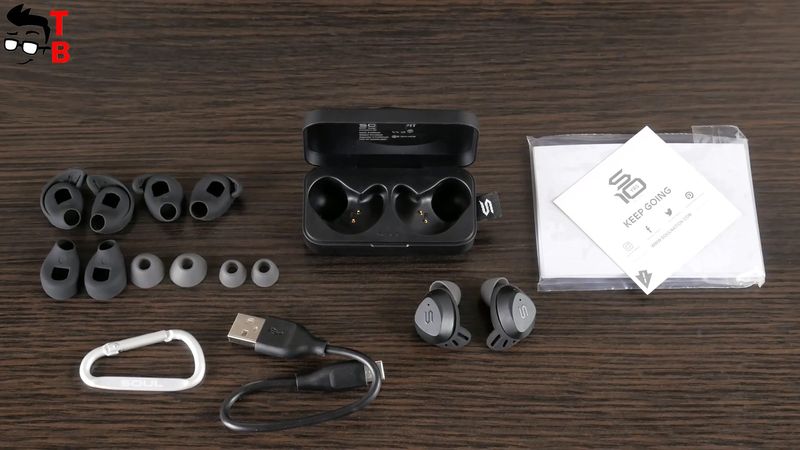 Soul S-Fit earbuds have a very good package. The first impression is that the earbuds are very expensive, although they cost only 80 dollars. It can be a good gift, for example.
back to menu ↑
Design
You know, the design is one of the main features of these earbuds. They use Freebit design with wing-shaped locks to ensure the earbuds stay in your ears. As I already said, there are eartips and wingtips of different side in the package, and you need to choose the right size for you before using earbuds.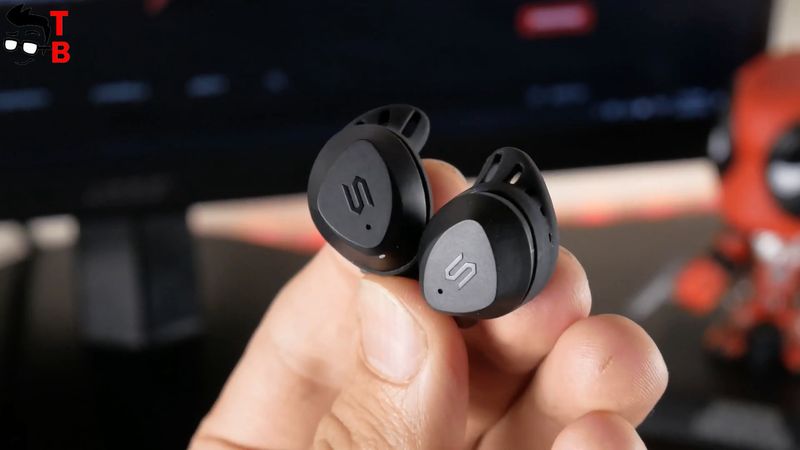 The earbuds have a touch control button under the S logo on the outside. There is also an LED indicator and microphone hole.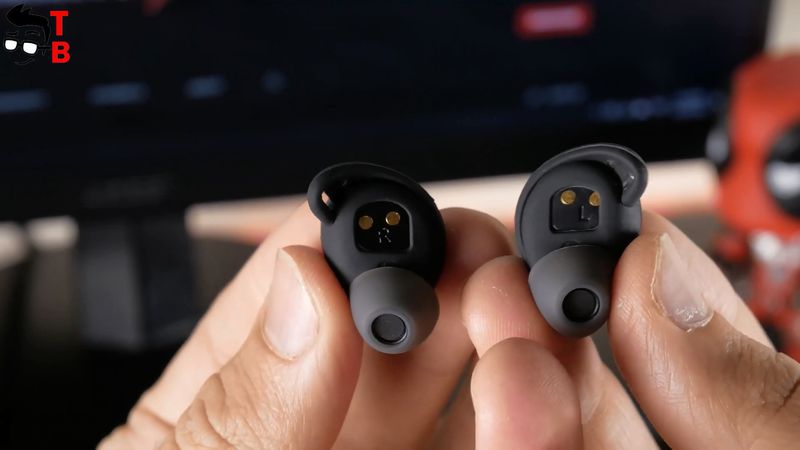 On the inside, there are two charging contacts.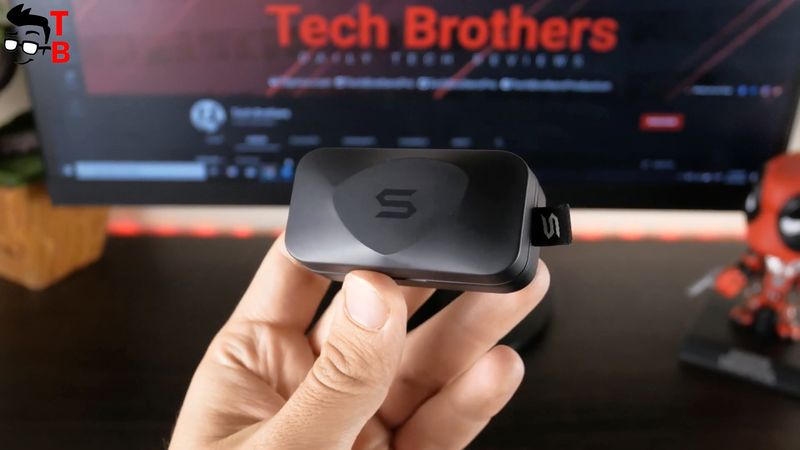 The charging case is quite compact. It has a very nice shape with the S logo on the top. USB Type-C port is on the back.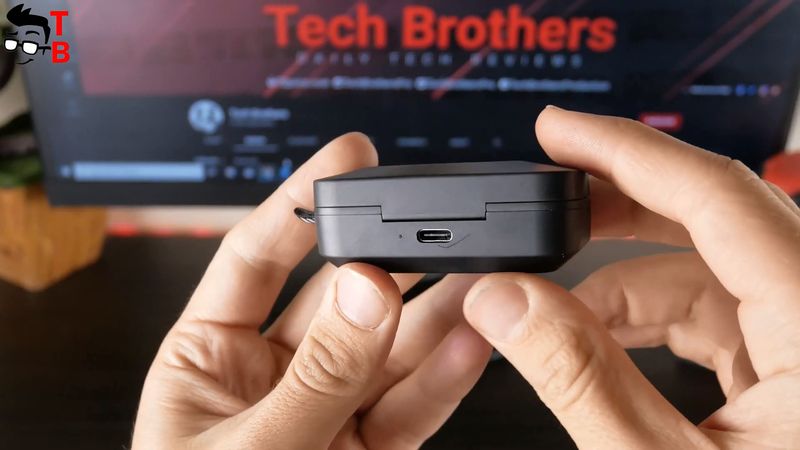 You can also attach a metal carabiner to the charging case. I think it is convenient for hiking or marathons.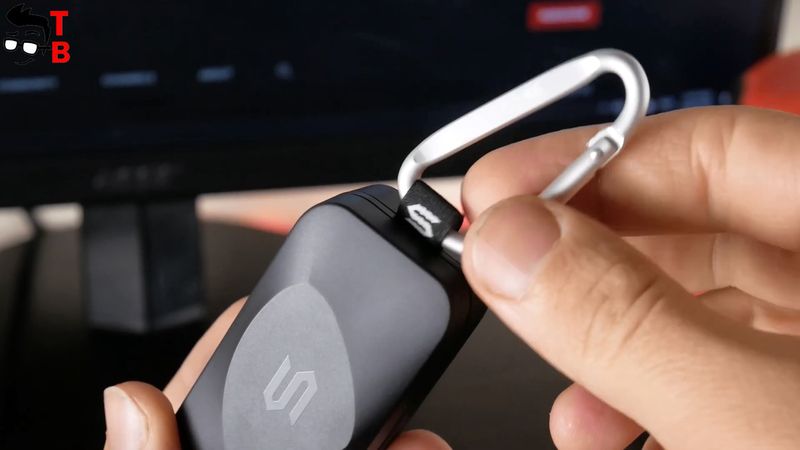 By the way, the charging case has only one LED indicator on the back.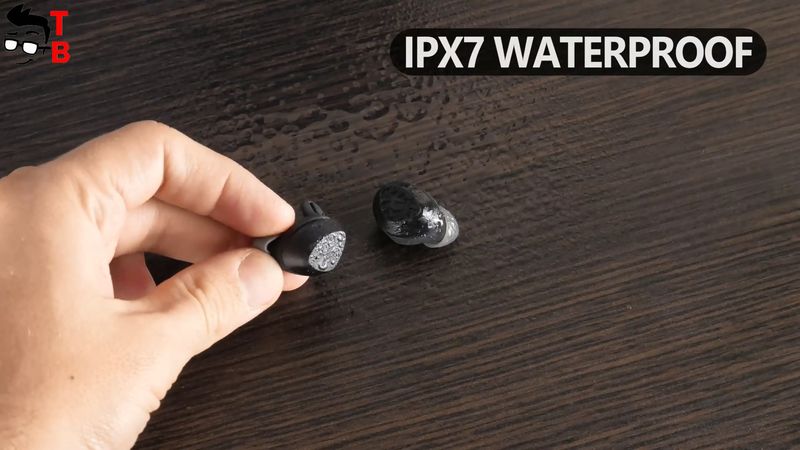 The earbuds are waterproof and dustproof by the IPX7 standard. The manufacturer says that they are also shockproof, but to be honest, I don't want to check it.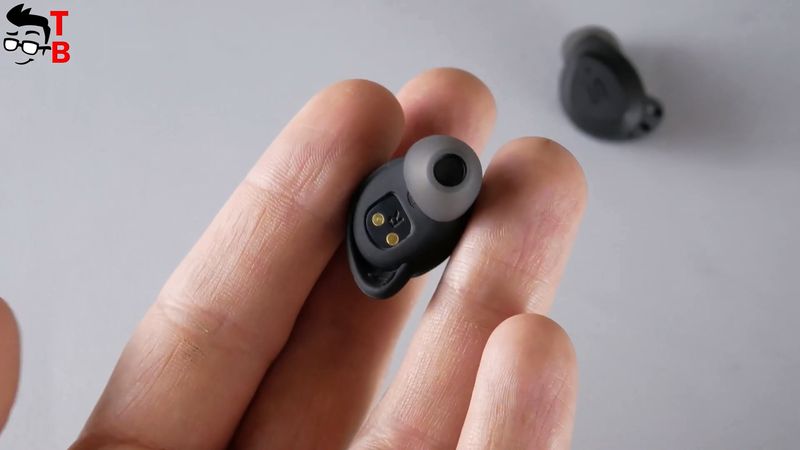 S Soul S-Fit is really one of the most comfortable earbuds that I have ever tested. Wingtips provide a very secure fit, so you can work out and run with these earbuds.
Now, let's connect the earbuds to smartphones and talk about sound quality.
back to menu ↑
Connection
S-Fit earbuds use the latest Bluetooth 5.0 technology for connecting with mobile devices. You should know that the maximum range is 15 meters.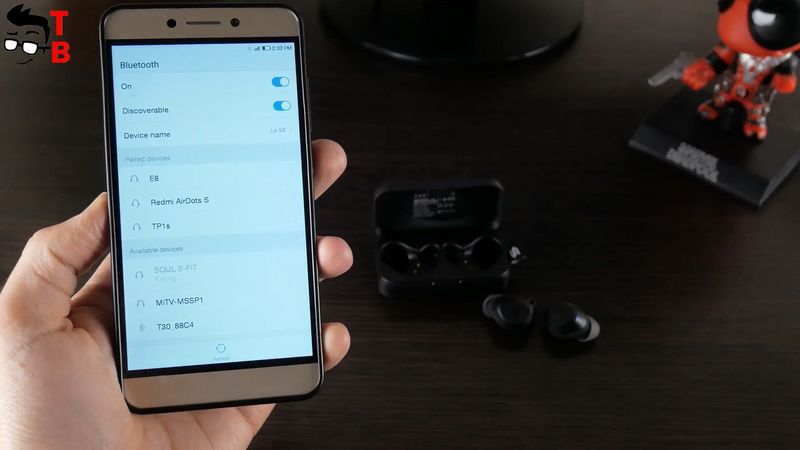 So, first, you need to take the earbuds out of the charging case. Then, open Bluetooth settings on your phone, and choose Soul S-Fit.
By the way, you can use both earbuds at the same time, or only one of them.
back to menu ↑
Control Options
Using the touch button on earbuds, you can play/pause the music with a single tap, play the next song with double-press, and call voice assistant with the triple press.
Of course, you can answer or reject phone calls.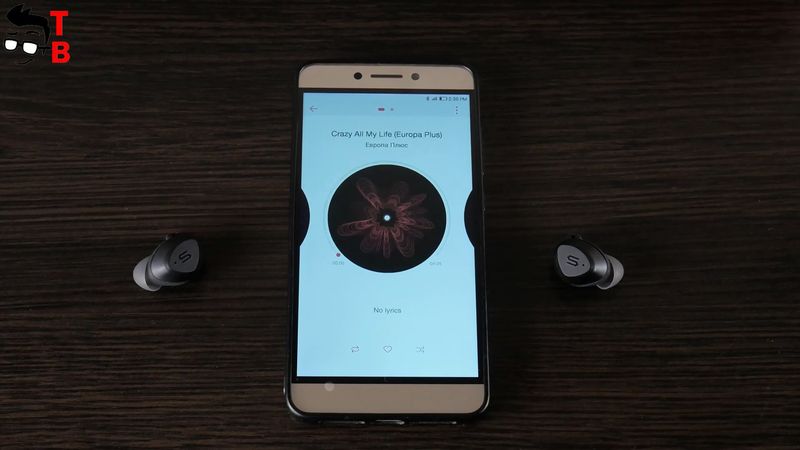 However, the unique feature of S-Fit earbuds is transparency mode. You can activate this mode with the long press for about 2 seconds. This is a very useful feature if you need to hear the traffic or talk with someone, but don't want to take the earbuds out of the ears.
back to menu ↑
Sound Quality
S-Fit earbuds have too many features for their price. The sound quality is one of them. They provide very good sound quality.
If you like bass, then you will be happy with these earbuds. You know, the bass is really important for sports earbuds. Motivational sports music has many bass, so good earbuds are very important for sports activities.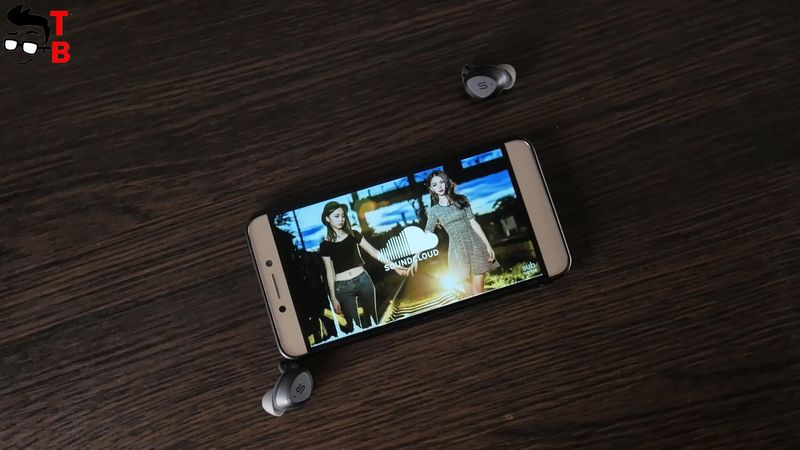 By the way, I think you will be interested to know that S-Fit earbuds support AAC. This is an audio coding standard for lossy digital audio compression.
In short, I am very satisfied with the sound quality.
back to menu ↑
Battery Life
The next surprise for me was battery life. S-Fit earbuds have about 6 hours of playtime on a single charge and 33 hours of battery life with a charging case.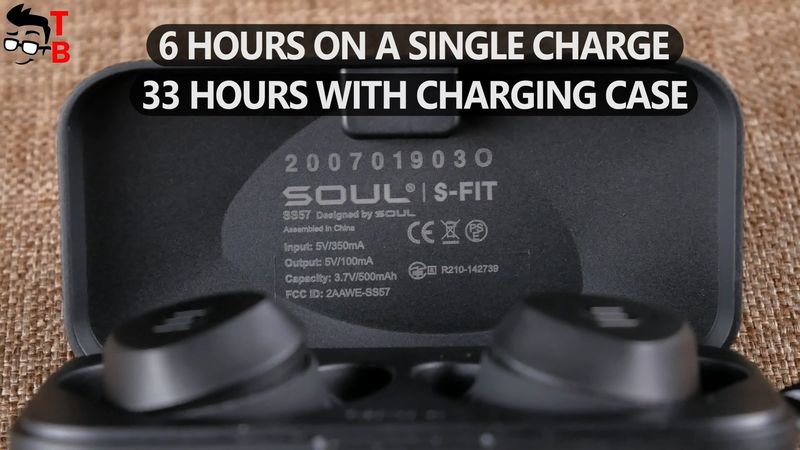 So, you can use the charging case 4 times to charge the earbuds. That's very good.
I also like that the charging case has a USB Type-C port. We need to forget about the MicroUSB standard long ago.
back to menu ↑
Conclusion
Soul S-Fit earbuds are one of the best wireless earbuds that I have tested for the last time. Probably, they are even the best one under $100.
The earbuds have not only good sound quality and long battery life, but also the shockproof and waterproof case, freebit wingtips for a comfortable and secure fit, and even a carabiner.
They are one of the best wireless earbuds for sports under $100.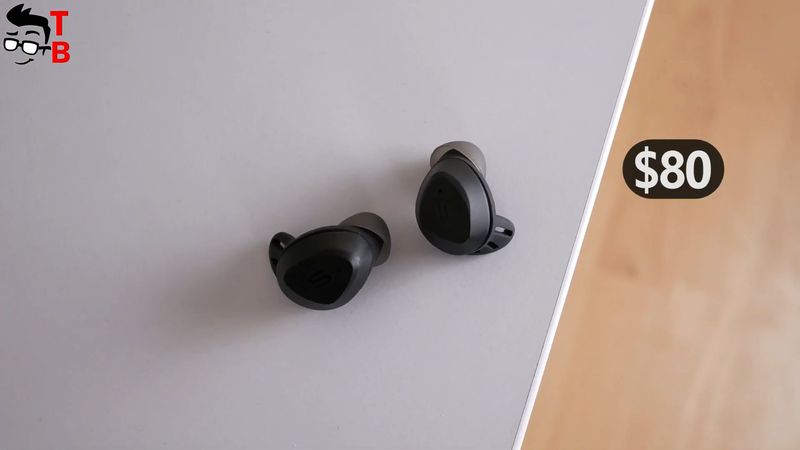 Actually, the price of the S-Fit earbuds is only $80. If you are interested, I will leave the link below.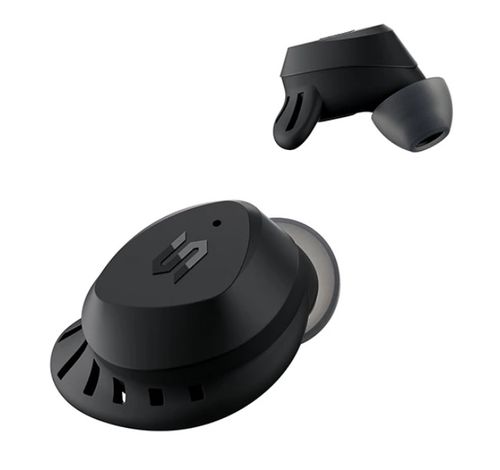 S-FIT - Best Seller - Official Website
Buy it now

Soulnation.com
as of September 17, 2021 3:26 pm
back to menu ↑
Soul S-Fit Video Review