You know, this projector looks like a kid's projector, but it has very adult features, such as native Full HD resolution, 9000 Lumens brightness, dual Hi-Fi speakers, and others.
The compact size allows you to carry the projector from one room to another, or even take it with you to the college, or the office.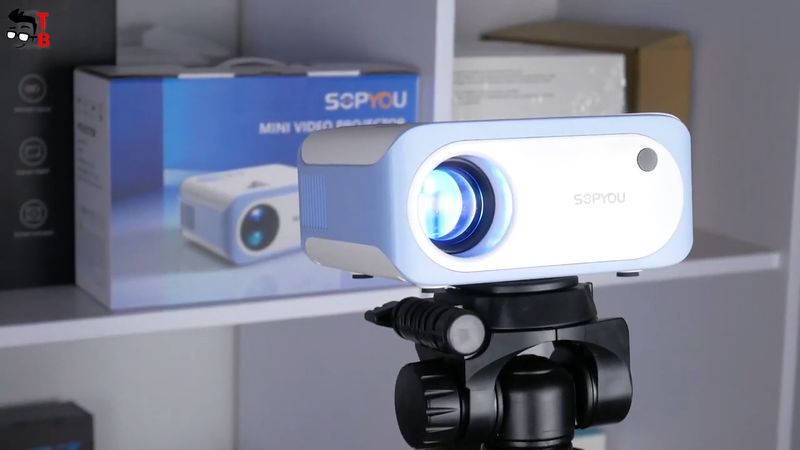 However, because of its small size, there is a small cooling system inside. Is it enough to keep the product from heating up? Let's find out.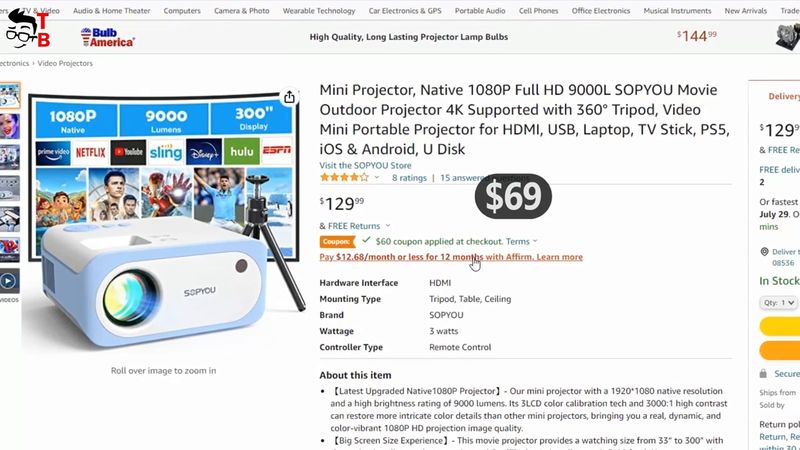 By the way, the name of this projector is SOPYOU P2, and you can buy it on Amazon for $129. There is also $60 OFF Coupon Code. So, the final price for you will be only $69.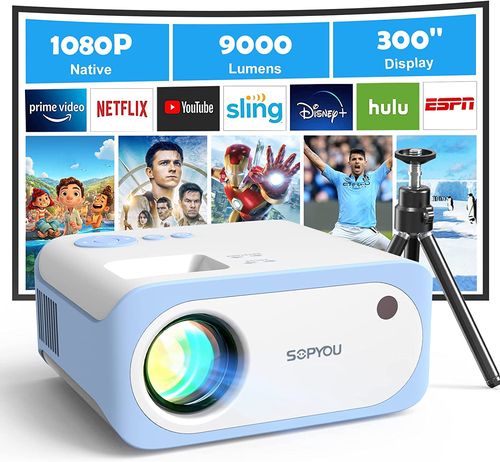 SOPYOU Mini Projector, Native 1080P Full HD - Amazon -
as of September 1, 2023 11:42 pm
Unboxing
You know, I was very surprised when I received this box. I didn't even realize how compact the projector was.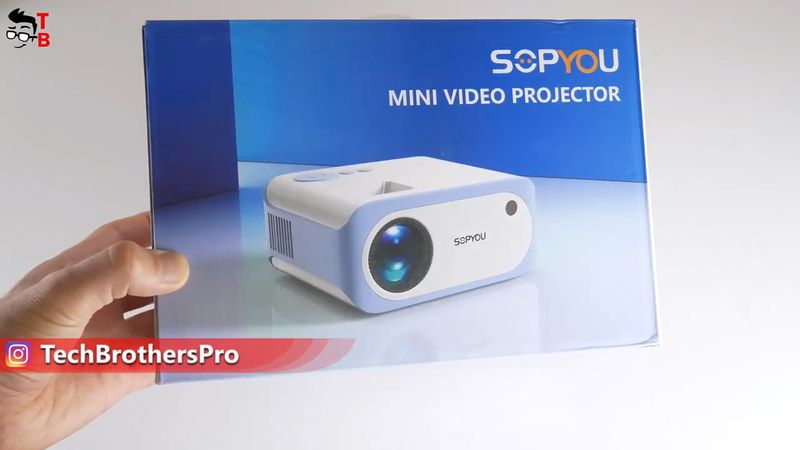 We can see its image on the front and back, as well as some specs on the side face, such as brand, model name, USB output, power supply.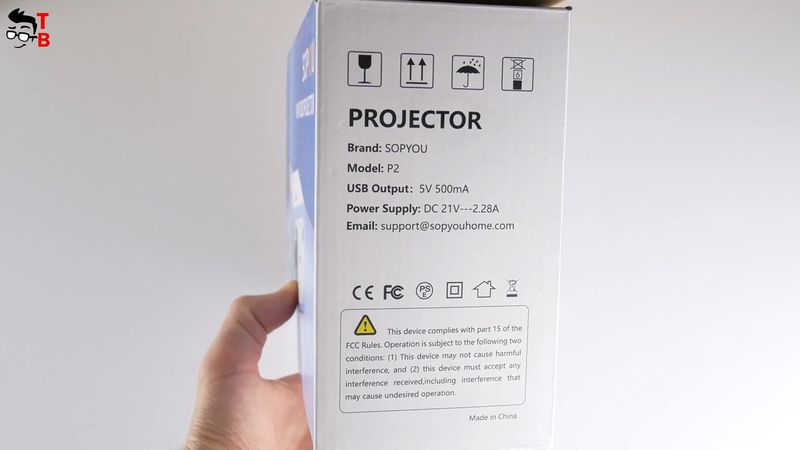 Inside the box, there is a projector itself, user manual, power adapter, tripod, AV cable, HDMI cable, and remote control.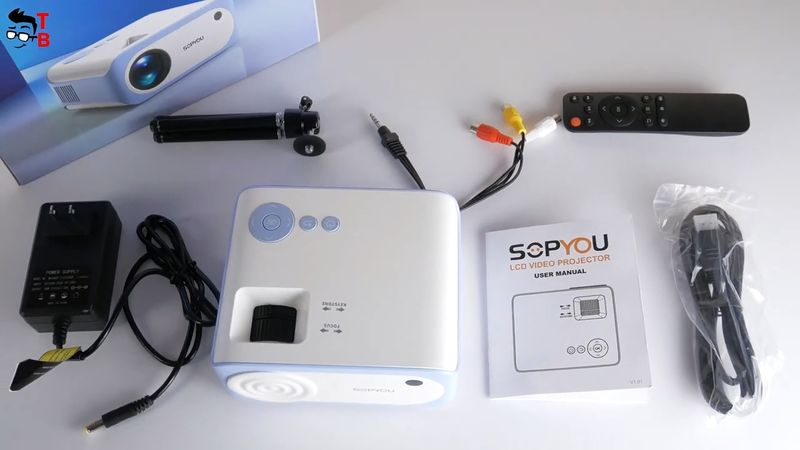 The package is very good for a budget projector.
Design
So, the compact size is definitely the main feature of SOPYOU P2 projector.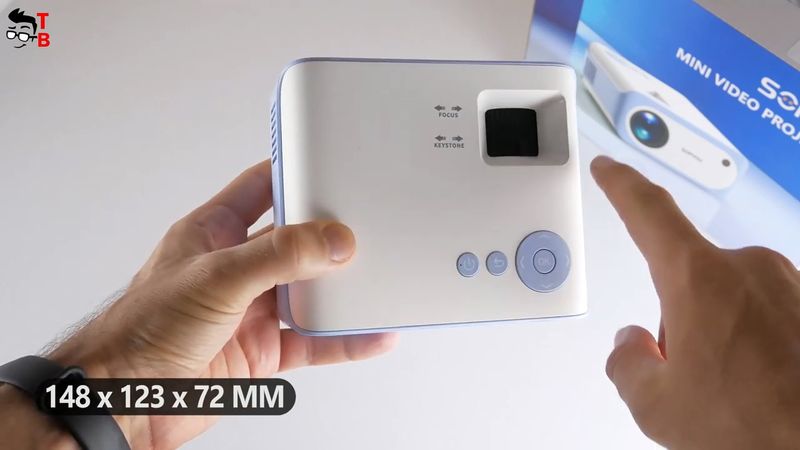 Its dimensions are 148 x 123 x 72 mm.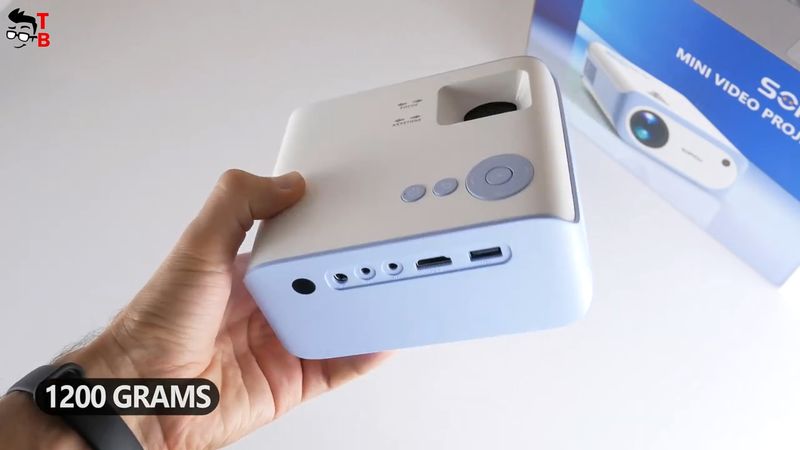 The weight is only 1200 grams.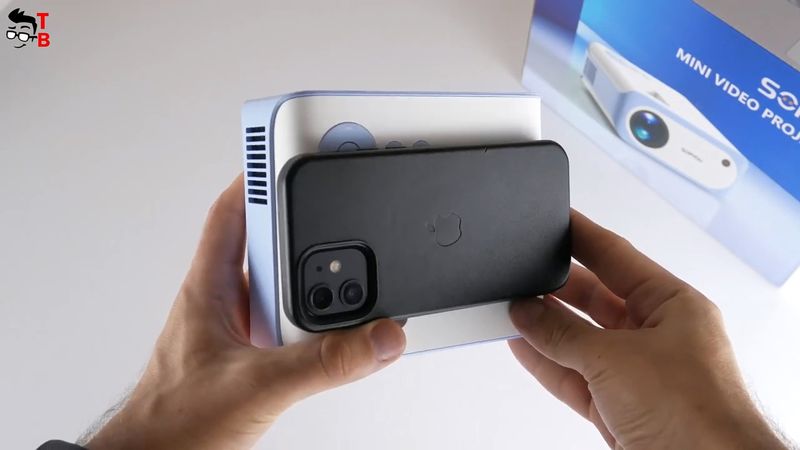 For comparison, the iPhone 12 is even longer than this projector.
Last week, I tested another Full HD projector with 9000 Lumens brightness, and you can see that it is much bigger than this one.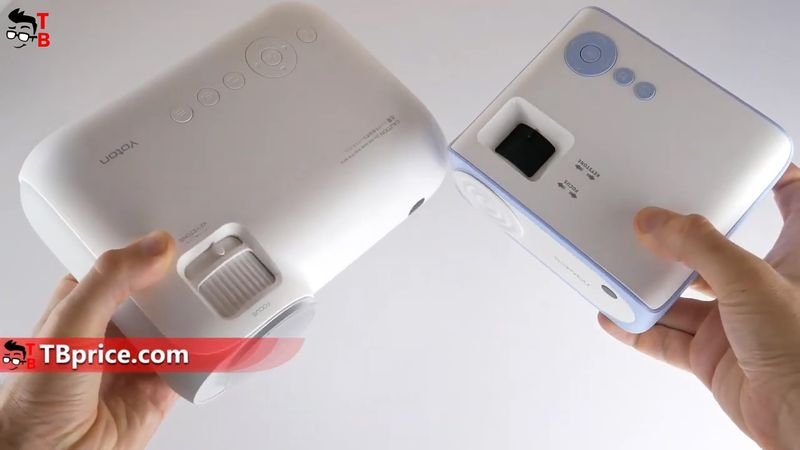 By the way, I also like a combination of white and blue colors of SOPYOU projector.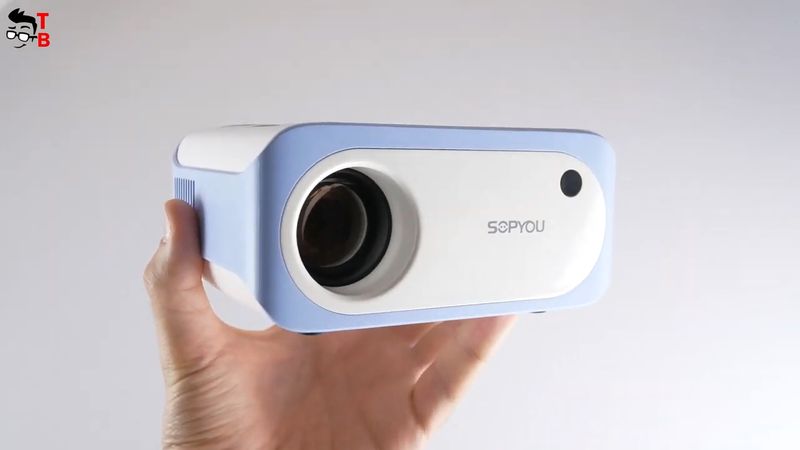 There is a lens, company logo and IR receiver on the front.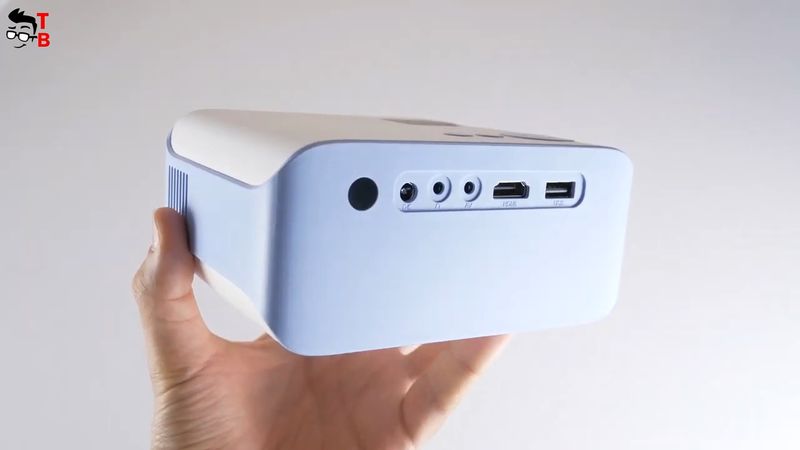 On the back, we can see the second IR receiver for remote control, DC power port, 3.5mm audio jack, AV port, HDMI and USB ports.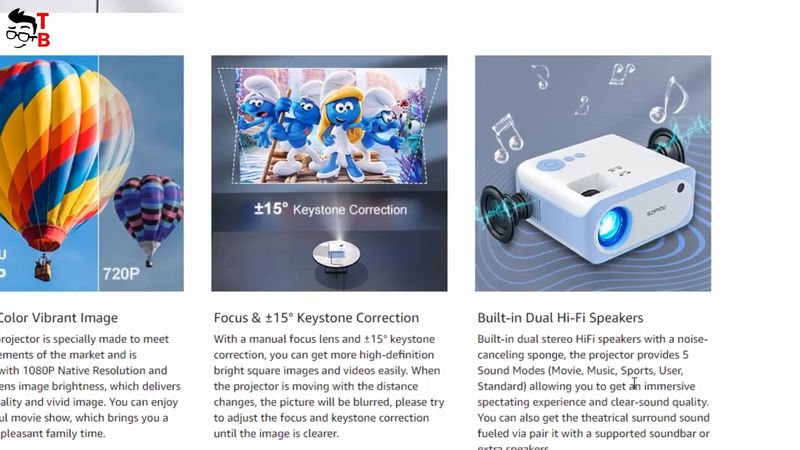 You know, on this picture, the speakers are located on the left and right sides.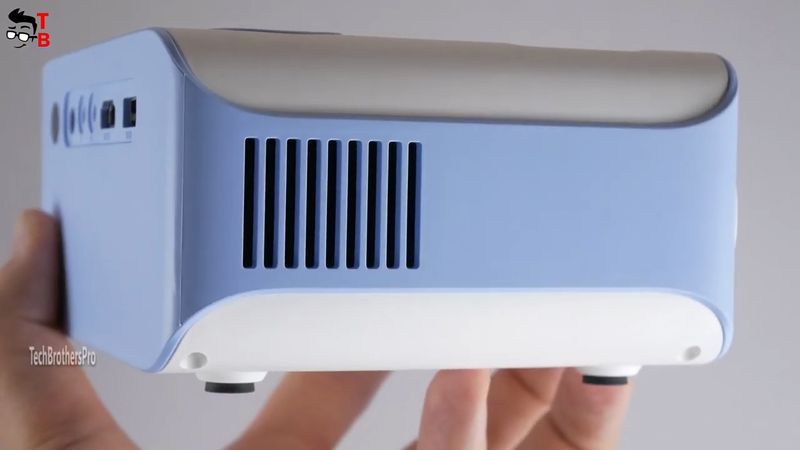 However, actually, the sound comes only from the right side
There is also a filter under the grill. It means that the air intake is located here. Then the air goes all the way through the body, and comes out the left side.
Talking about cooling system, I watched different videos for about 1 hour, and the projector didn't get very hot. Yes, the air comes out warm, but the projector body itself is not hot. That's very good.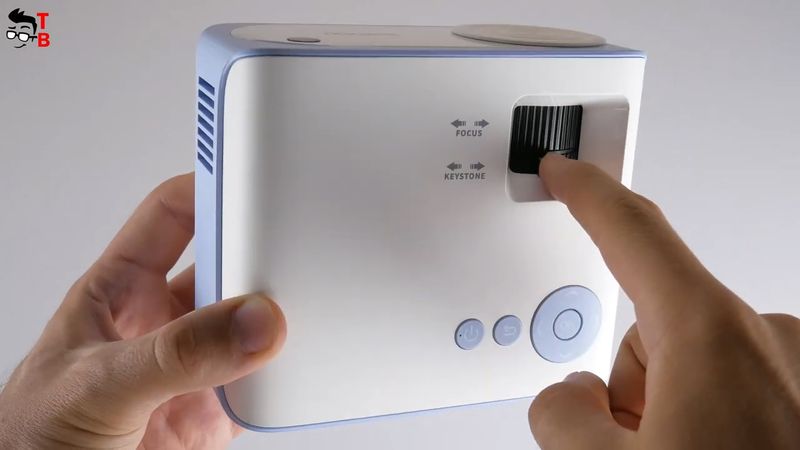 On the top, there is focus and keystone correction wheels, as well as power button, return button, navigation buttons, and OK.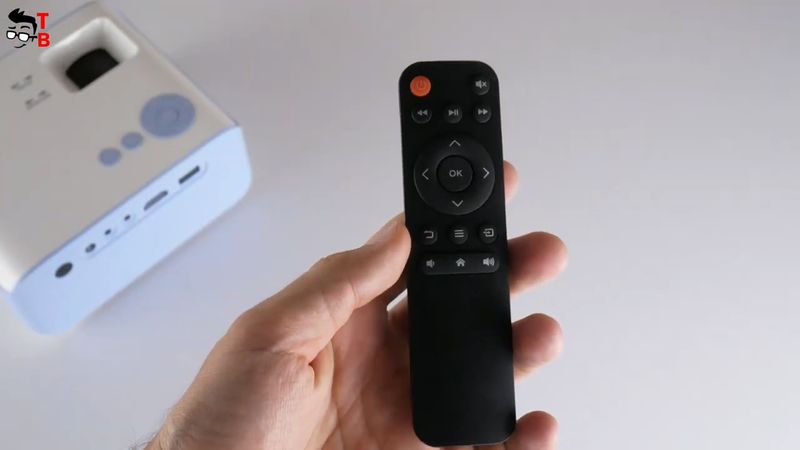 Most likely, you will use a remote control. In addition to the above buttons, it also has mute, play/pause, volume up/down, and home.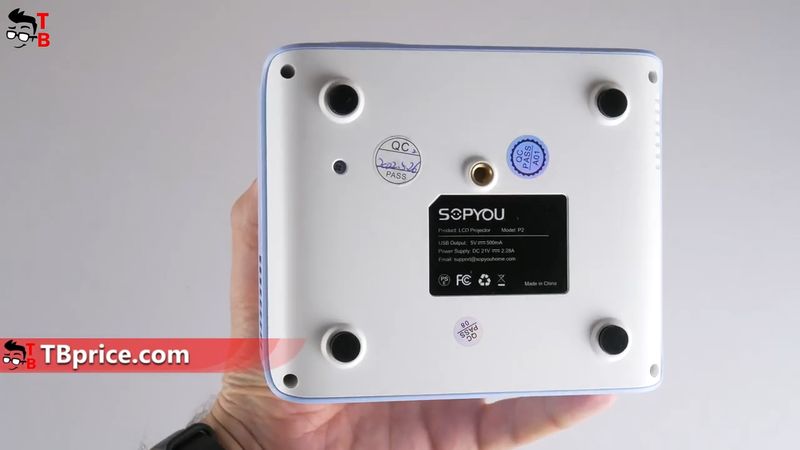 You should also know about ¼ inch mounting screw hole at the bottom of projector. You can use it for a tripod and a ceiling mount. There are also four rubber feet at the bottom, so you can just put a projector on a coffee table.
OK, now, let's power on SOPYOU P2 projector, and look at the user interface.
User Interface
You know, it doesn't have Android operating system, so you need to connect an external device to this projector to watch movies or play games.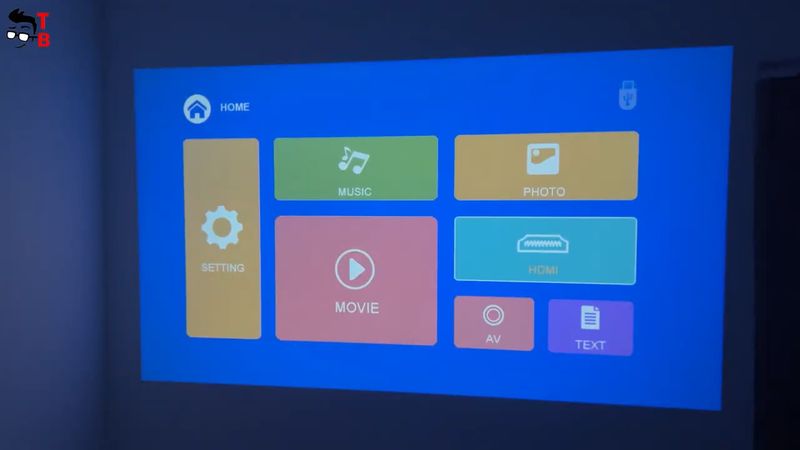 You can use HDMI port to connect a projector to the laptop, game console or TV stick, and USB port to connect USB flash drive.
After that, you need to select HDMI input source, or go to the music, movie, photo, or text.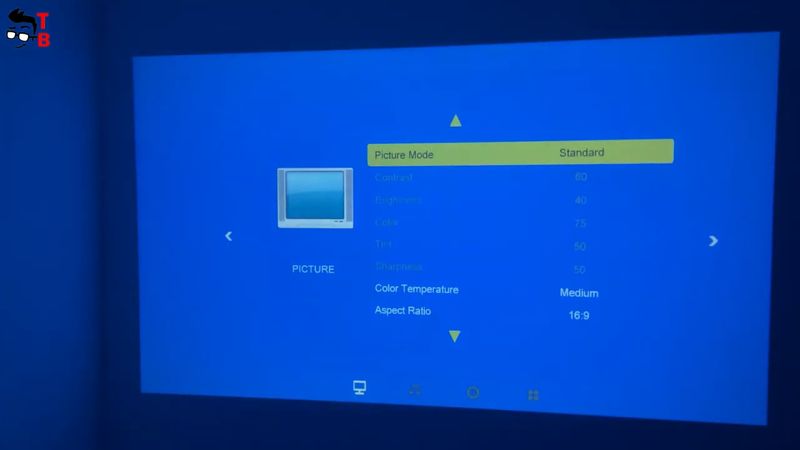 In the settings menu, we can choose a picture mode from standard, dynamic, mild and user. We can also change a contrast, brightness, color, sharpness, color temperature, aspect ratio, reduce display size and noise reduction.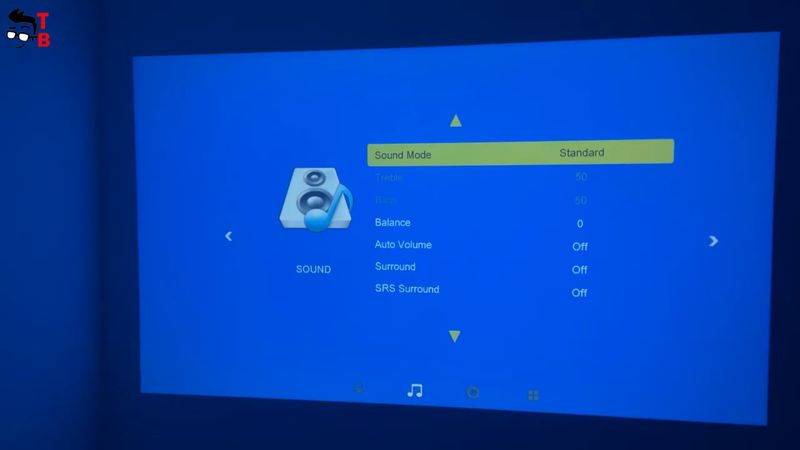 Among the sound settings are sound mode, treble, bass, balance, auto volume and surround sound.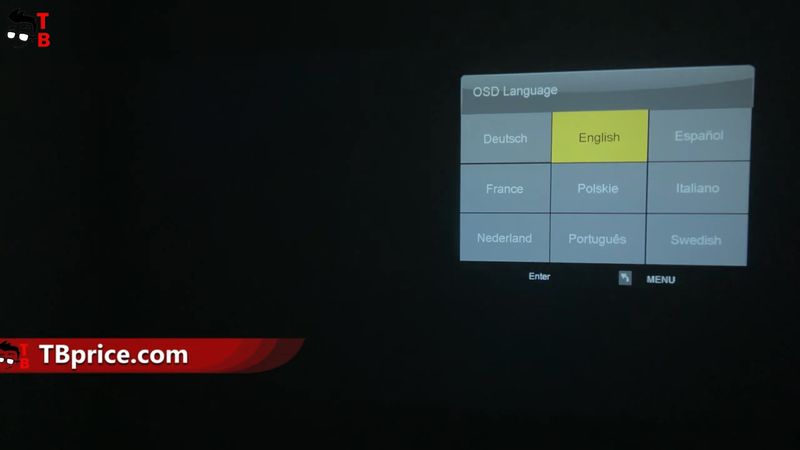 You can change a language on projector. There are nine languages available, such as English, Germany, Spanish, French, and others.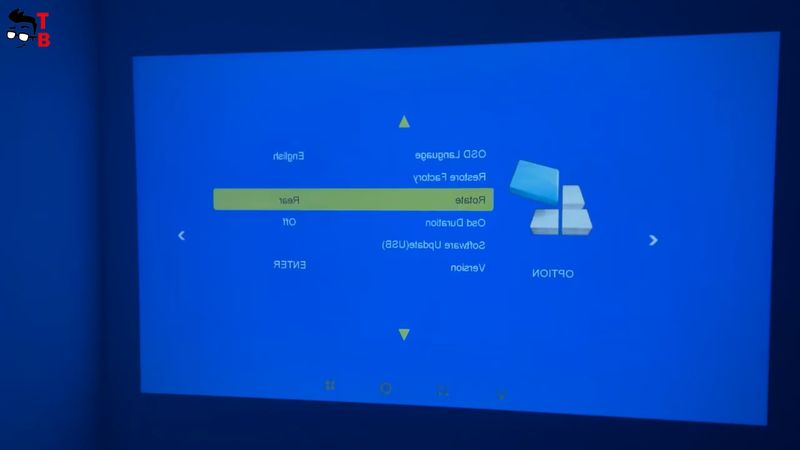 If you install a projector on the ceiling, then you need to rotate the screen. You can do this in the settings menu.
Smartphone Connection
By the way, you can also connect a smartphone to projector. SOPYOU P2 doesn't have built-in Wi-Fi, but you can use Miracast dongle.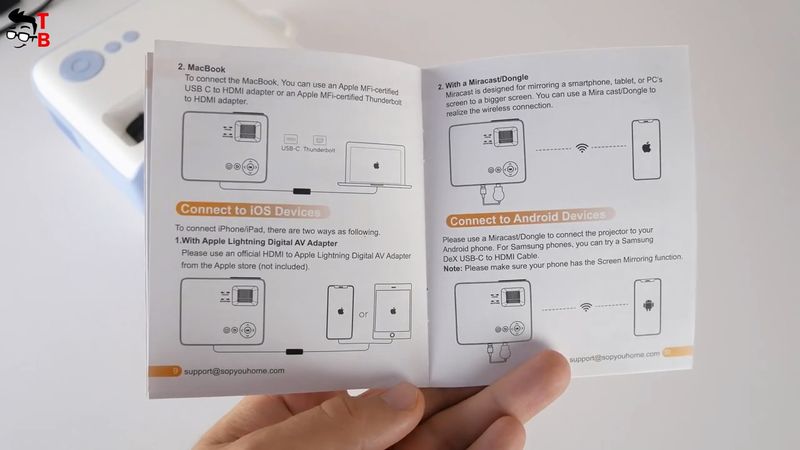 If you don't have it, like me, then you can connect the iPhone or iPad to projector with Apple Lighting Digital AV adapter. Unfortunately, I don't have it either.
I will use HDMI cable, and connect a projector to my laptop.
Noise and Volume Levels
As I already said, SOPYOU P2 projector doesn't heat up much during operation, but it is also very quiet.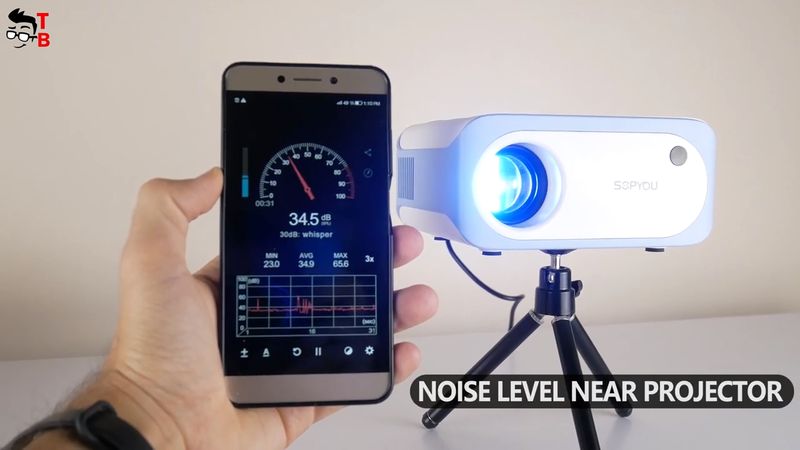 The noise level near projector is 35 db, and it is only 29 db at 1 meter.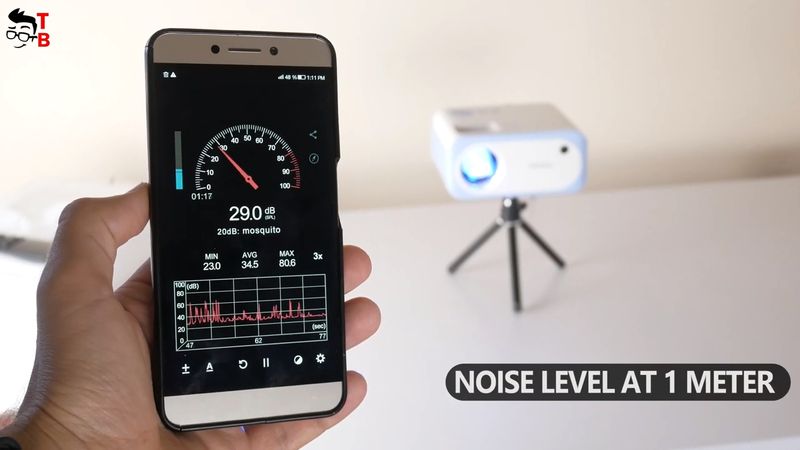 Talking about volume level, it is about 80 db.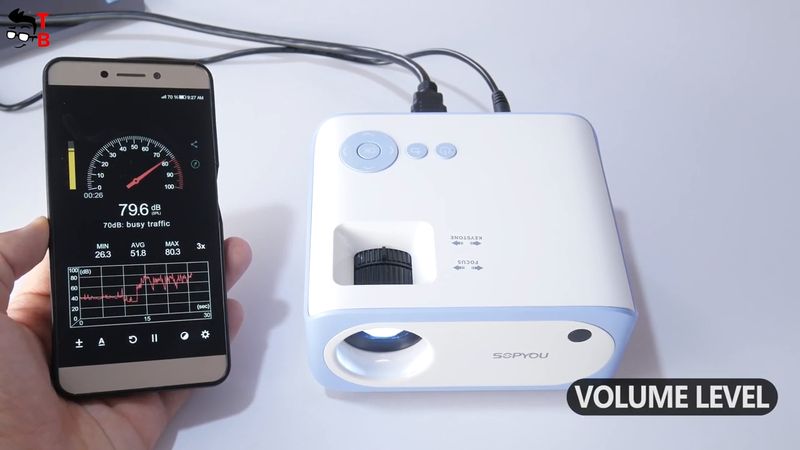 The projector has dual 3W speakers.
Overall, the sound quality is good for a compact projector. However, if you really want a home theater experience, then you need to connect external speakers.
Projection Quality
Finally, let's talk about image quality.
As I already said, SOPYOU P2 projector has Full HD native resolution.
The image is really clear, but I noticed that the bottom left corner is a little blurry.
As for the colors, they are very good for the budget projector. The contrast ratio is 3000:1.
You should also know that SOPYOU P2 has LED lamp with 50000 hours lifetime.
The recommended projection distance is from 1.5 to 3 meters.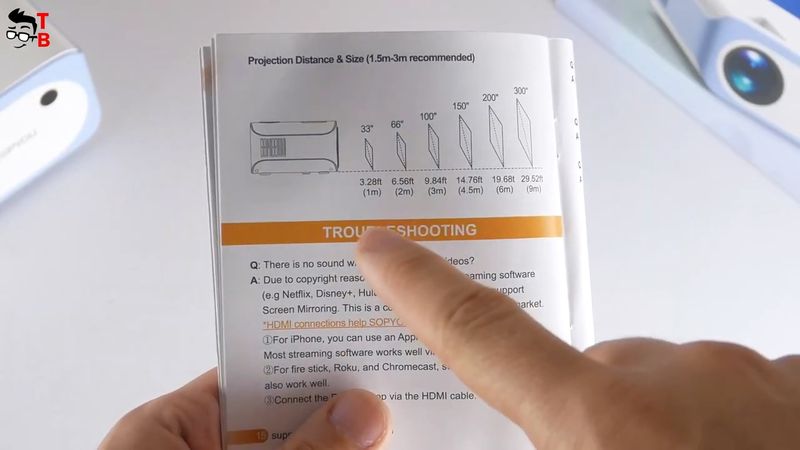 The projection size at a distance of 1 meter is 33 inches, while the maximum screen size is 300 inches at 9 meters. I have placed a projector at about 2 meters, and the screen size is 80 inches.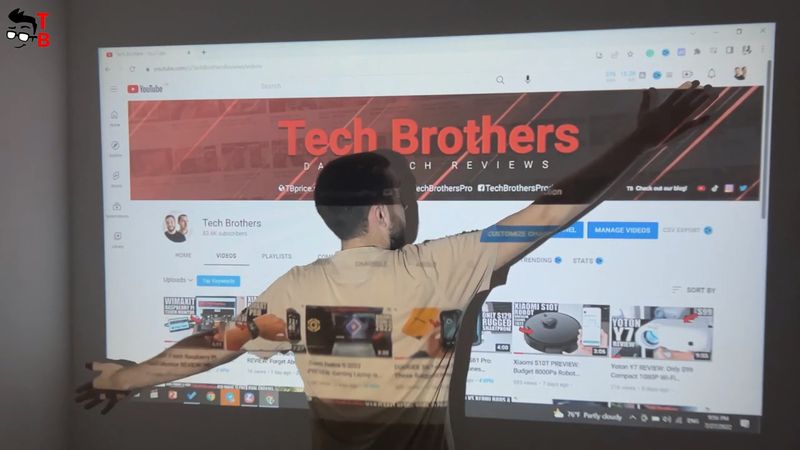 On Amazon product page, we can see 9000 Lumens brightness, but in the user manual, it says about 100 ANSI Lumens. This is enough to use the projector not only in a dark room, but also in the daytime. However, you need to close the blinds or curtains in the room.
Conclusion
So, I am not sure is this a kids projector or not, but it has really good quality for its price. This is probably the most compact native Full HD projector that I have ever tested.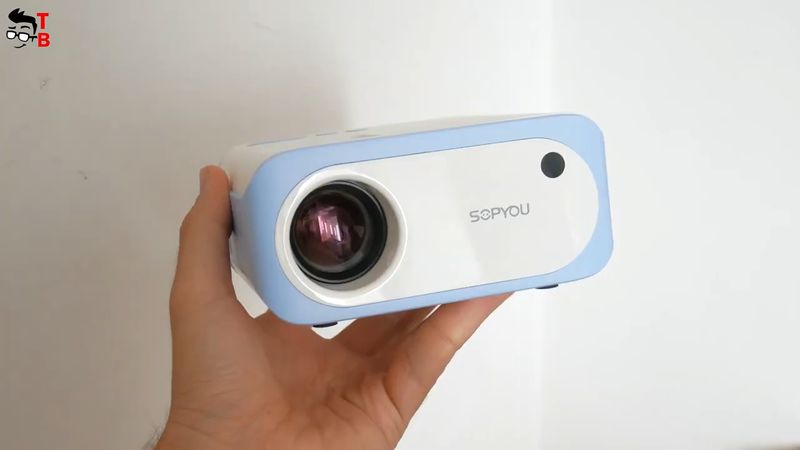 I think the only drawback of this model is the lack of Wi-Fi, but considering the price, you can buy a TV Stick additionally, and you will have a functional operating system with any apps, such as YouTube, Netflix, etc.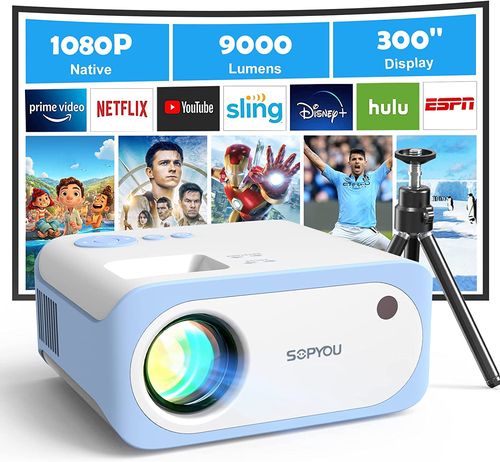 SOPYOU Mini Projector, Native 1080P Full HD - Amazon -
as of September 1, 2023 11:42 pm