What do you know about Reolink Company? If nothing, then this is one of the most popular manufacturers of Wi-Fi Home Security cameras in the United States.
You can buy Reolink cameras on Amazon and even Aliexpress.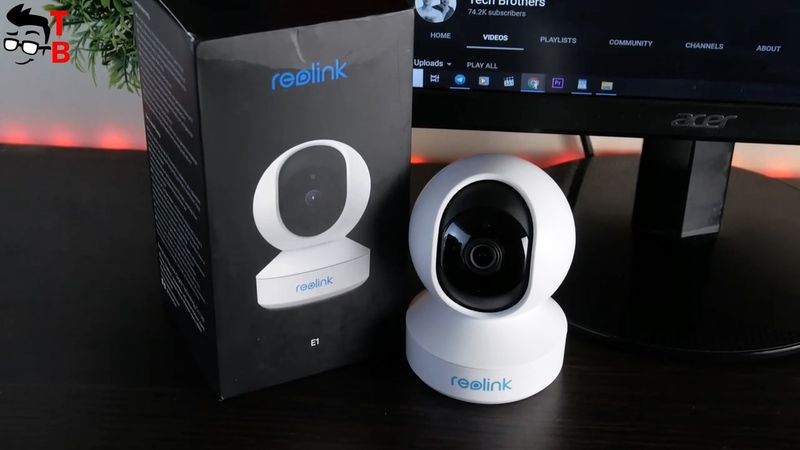 I have the Reolink E1 model. This camera has a 3MP sensor, pan, and tilt, two-way audio, night vision, motion alerts, etc.
Actually, there are already better cameras than I have – Reolink E1 Pro and Reolink E1 Zoom. They have 4MP and 5MP resolution, respectively. However, these cameras are more expensive.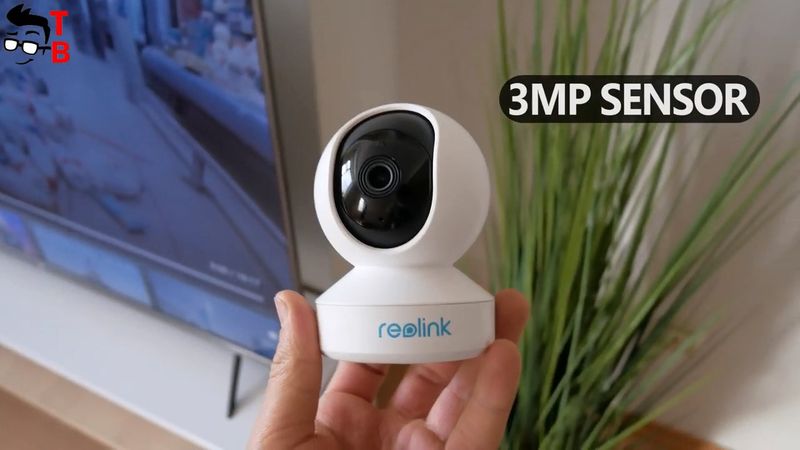 Is 3MP video resolution enough for home security? Let's check it out.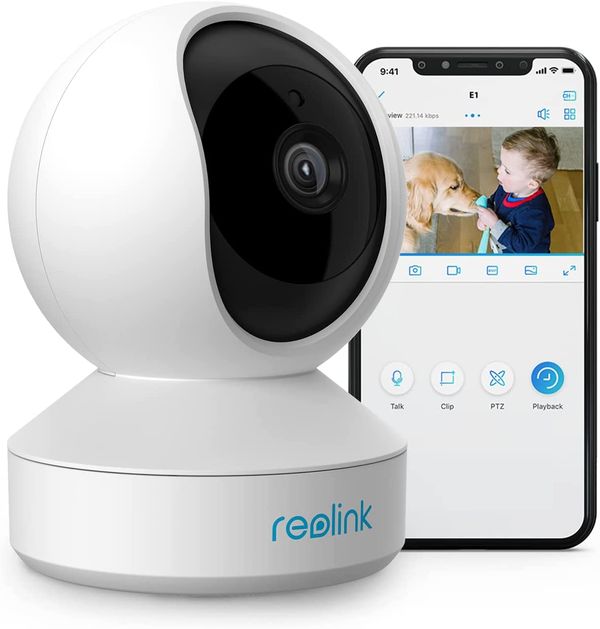 REOLINK E1 3MP HD Plug-in Indoor WiFi Camera - Amazon
as of September 15, 2023 12:08 pm
Unboxing
So, this is a box of Reolink E1 camera.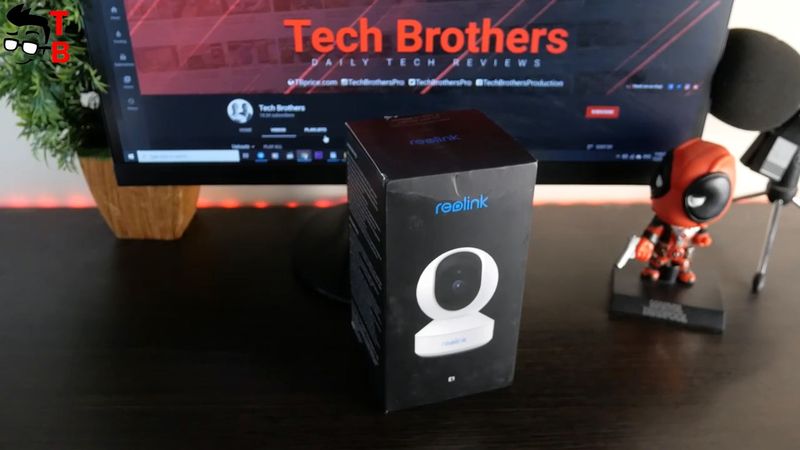 On the back, we can see the main features of this Wi-Fi camera in different languages. We will talk about all these features a little later. There is also information about the warranty and Reolink Application on the box.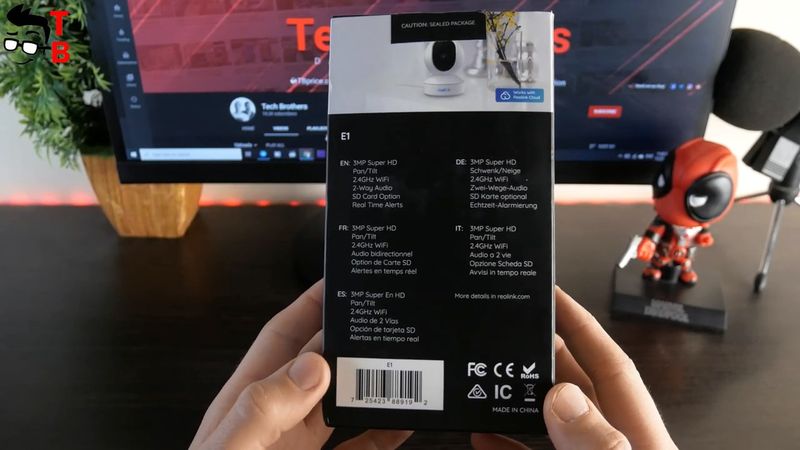 Inside the box, I found a quick start guide and a sticker with the caution of 24-hour video surveillance. Then, there is another white box with a power adapter, screws, and mounting plate.
Of course, you will find a camera inside the box. That's all!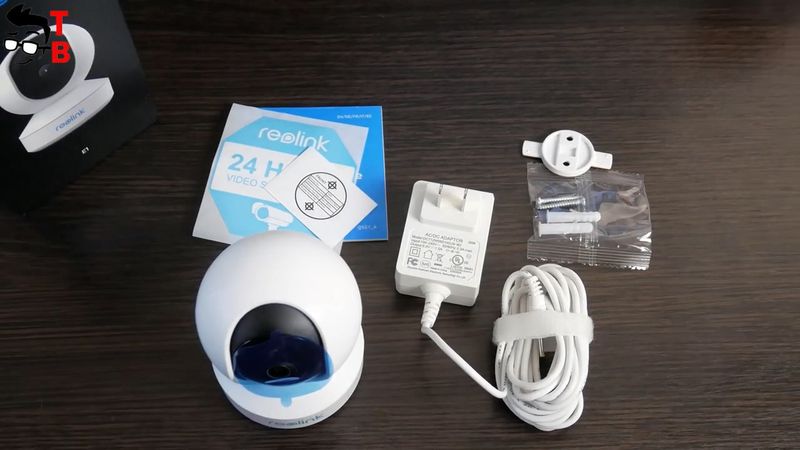 You know, I am very surprised by this power adapter. This is not USB Type-C or even micro USB. You can use only this power adapter with Reolink E1 camera. I don't really like it. What if I want to use the camera with a power bank? You cannot do this. I think it is a drawback.
Design
All IP cameras in 2020 look similar to each other. However, there is a company logo on the front of Reolink E1, so we know that this is a camera from Reolink.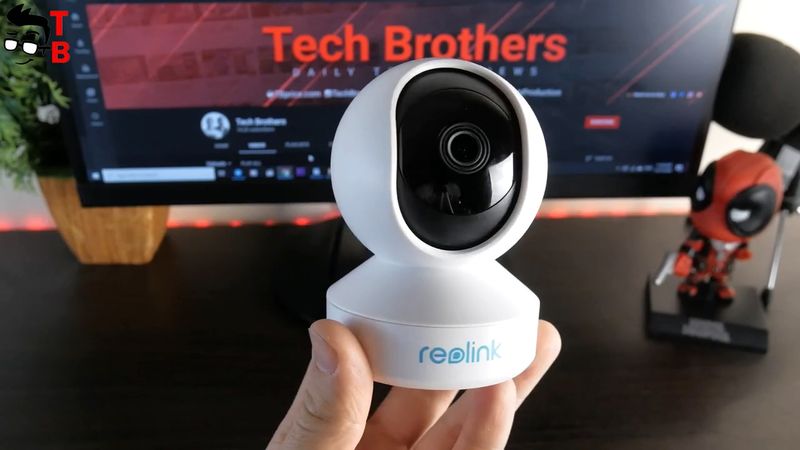 Also, this Wi-Fi camera is able to rotate 355 degrees horizontally, and 50 degrees vertically, so it has a moving head.
On the front, there is a camera lens, IR night vision sensor, and microphone. On the back, we can see a speaker. There is also a power connector on the back. I have already told you that I would like a USB Type-C port or at least microUSB. However, Reolink E1 has this power connector.
You can use a mounting plate on the bottom to install the camera on the ceiling.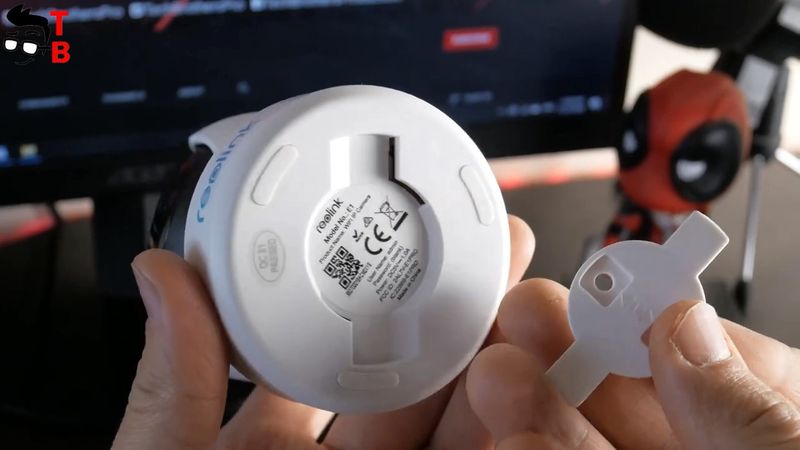 By the way, where are the microSD slot and reset button? You have to move the black part of the camera up to see them.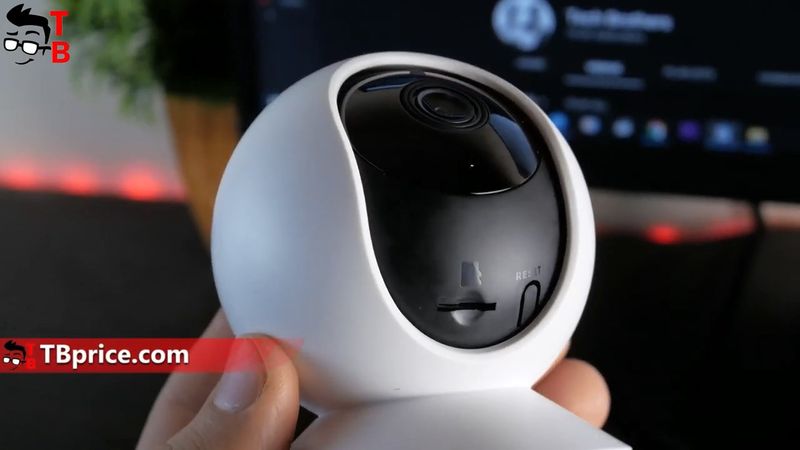 Also, you should know that this is an indoor home security camera, so it doesn't have water resistance.
I think that's all about design. Now, let's go to the official website, and look at all the features of Reolink E1 Wi-Fi camera.
Features
As I already said, I have a basic version of the Wi-Fi camera – Reolink E1, but you can buy Reolink E1 Pro and Reolink E1 Zoom. Click on the Comparison tab to see the differences between them.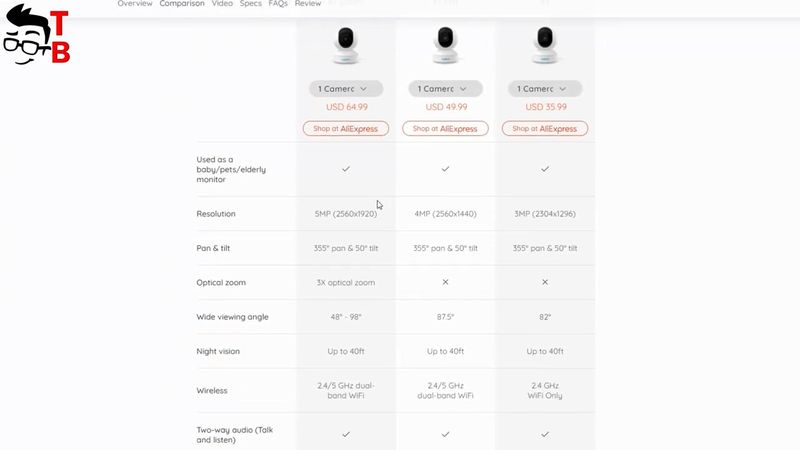 On this page, we can see the main features of Reolink E1, such as Easy setup, 3MP Super HD video, 355 degrees pan, and 50 degrees tilt, Wi-Fi connection, two-way audio, night vision, motion alerts, powerful audio alarm, and others.
You know, the 3MP sensor on Wi-Fi cameras has a resolution of 2304 by 1296 pixels. It is a better video resolution than 1080p.
Here we can see that you can install the camera on the ceiling or put it on the table.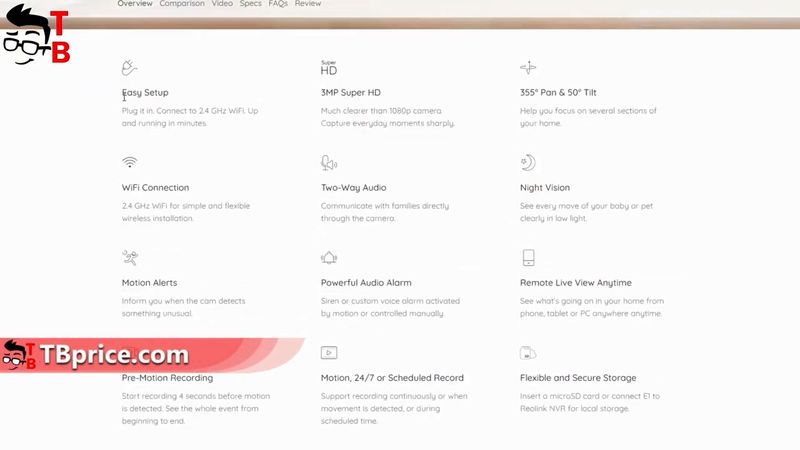 One of my favorite and must-have features of any security camera is motion detection and real-time alerts. You get instant notifications in the app on your smartphone and email.
You can also see the live video on a smartphone, hear and talk with people in front of a camera.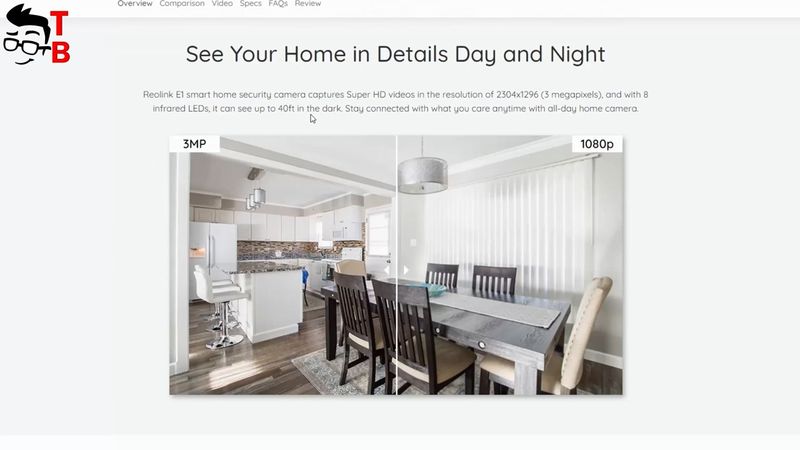 Recorded videos can be stored on a microSD memory card or Reolink Cloud.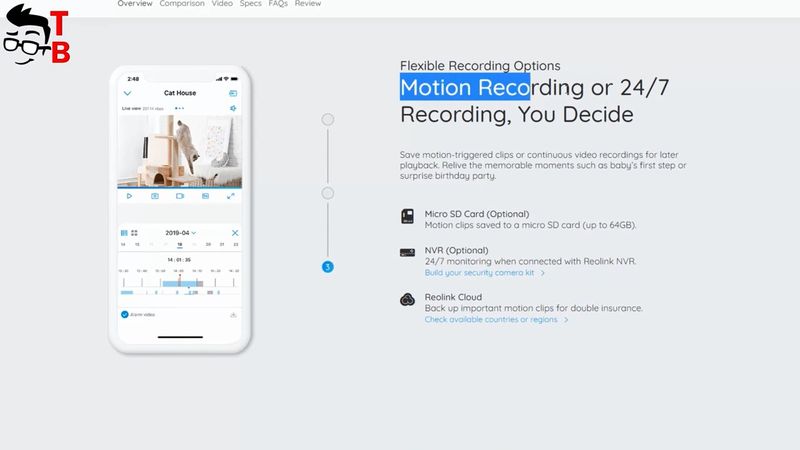 The last feature of the Reolink E1 camera is Google Assistant and Alexa support.
OK, now I am ready to connect the camera to the smartphone and look at the app features.
Connection
The connection is very simple. You just need to install the Reolink app on your Android or iOS device. Then, open the app, and click on the Plus icon in the right top corner.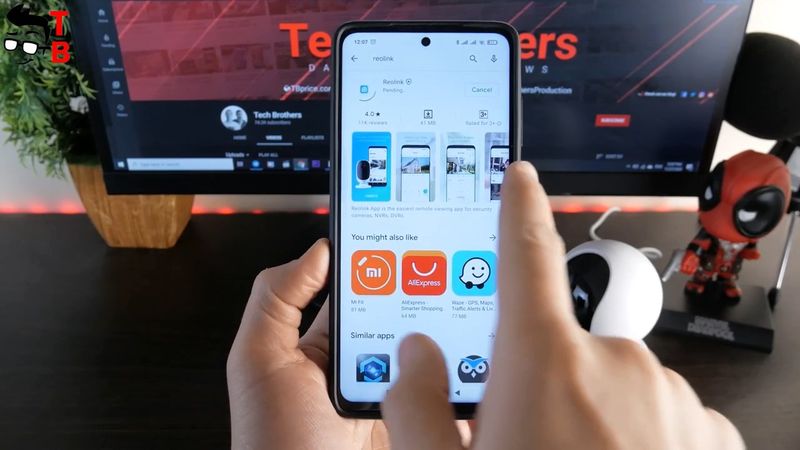 Now, just scan the QR code on the bottom of the camera.
The camera should be already powered on.
The next step is to choose a Wi-Fi network and enter a password from it.
After that, you will hear the voice prompts, and you just need to click next. That's all!
Application
In the app, you can see the live video from the camera. There are six icons under the video, such as play, mute, take a picture, record a video, choose video resolution, and enlarge.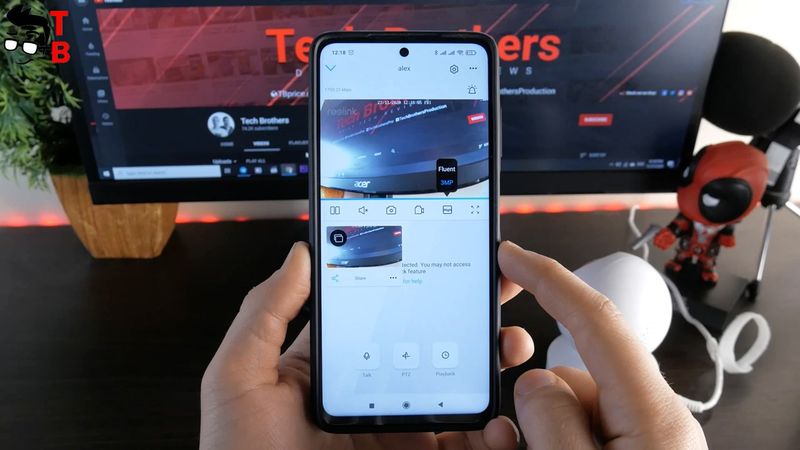 There are also three buttons on the bottom, such as talk, PTZ, and playback. If the first and the last buttons are clear, then the PTZ button allows to move the camera right, left, up, and down.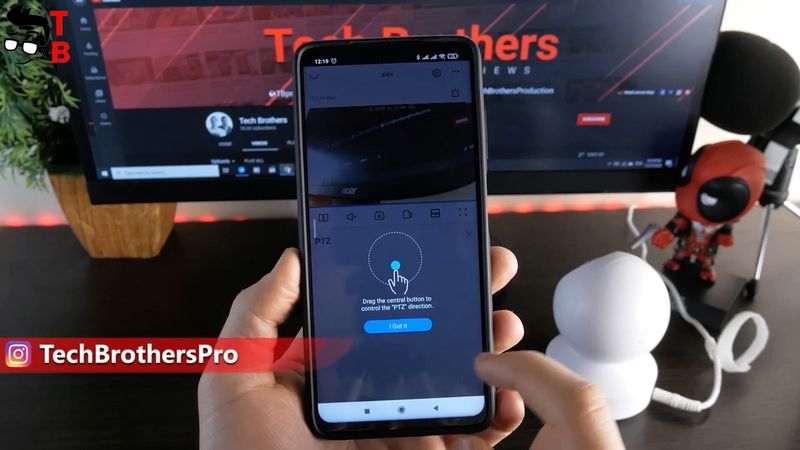 The application also has a very useful button on the top – Siren. If you see suspicious activity on the video, and no one is home, then click this button to turn on the siren.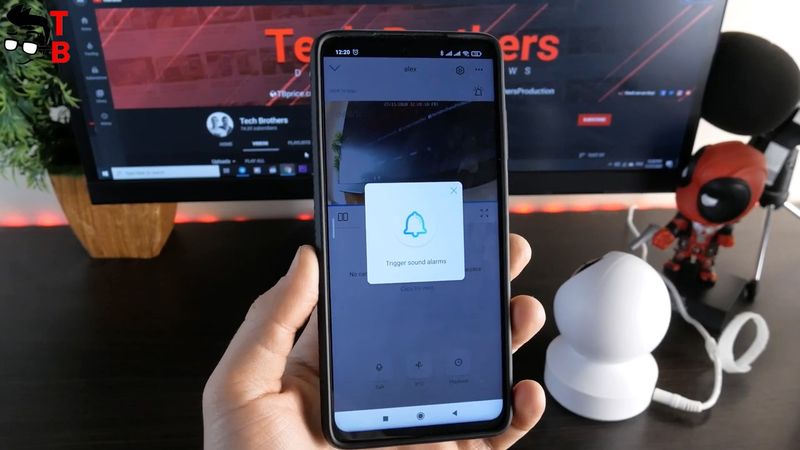 Do you remember a question at the beginning of this video? Is 3MP video resolution enough for home security? Now, you can see the video on Reolink E1 in the daytime and at night.
Video Quality
Reolink E1: Conclusion
Reolink is a reliable brand, so we can trust this company. When you buy a camera for home security, you hope that it will not fail at the right time.
I didn't have any problems with Reolink E1 camera. All the functions work very well, such as motion detection, siren, two-way audio, and others.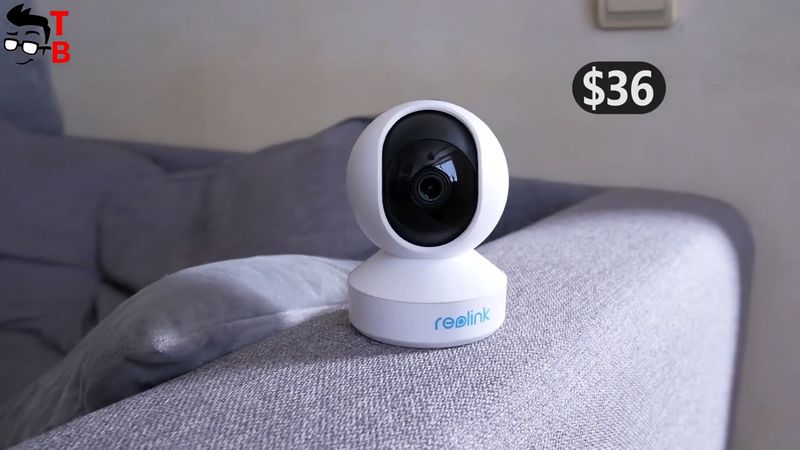 The price of Reolink E1 is very affordable – only $36.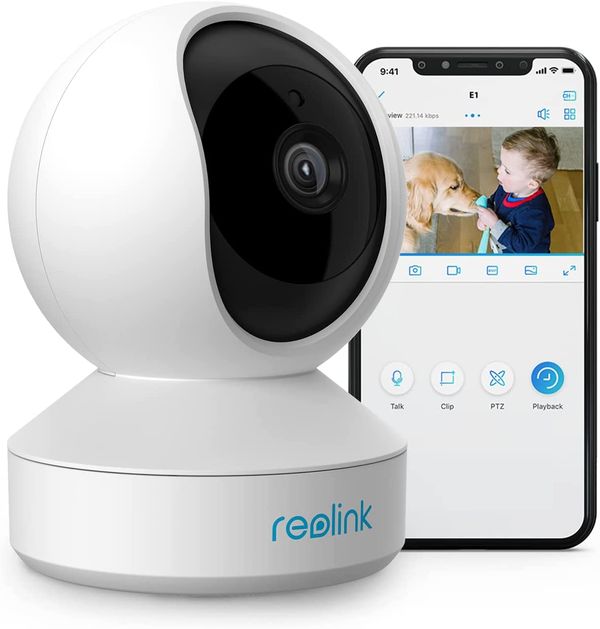 REOLINK E1 3MP HD Plug-in Indoor WiFi Camera - Amazon
as of September 15, 2023 12:08 pm