There are many projectors on the market now, and for only $150 you can buy a projector with Full HD native resolution, 6500 Lumens brightness, Wi-Fi and screen mirroring support, digital focus, 100-inch fast stretch screen, and storage bag.
In fact, I have listed the features of the new projector Pixthink M1.
By the way, do you like the design of this projector? It looks like some kind of retro device, doesn't it?
OK, let's begin our review of the new projector by unboxing it.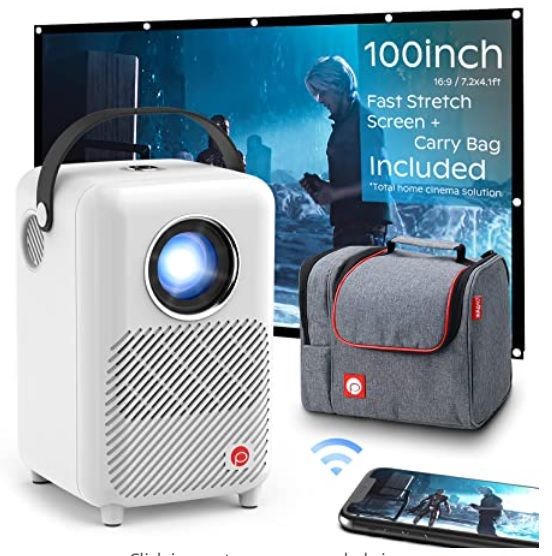 Pixthink Mini Portable Projector M1 - $60 OFF COUPON CODE - Amazon
as of September 16, 2023 5:12 am
Unboxing
You know, on the box of the new Pixthink projector there is only information about the manufacturer, but nothing about the features and specifications.
However, we can see the storage bag and projection screen. These are some of the main features of the new projector.
Inside the box, we really have a storage bag. There is a P logo on the front, and even the company logo on the side.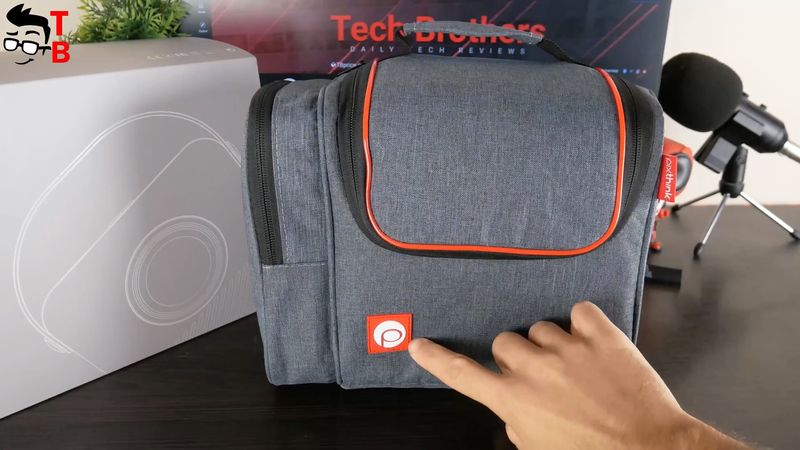 The bag is very good quality, and it doesn't feel cheap at all.
Inside the bag, there is a projection screen. As you can see, it has a 100-inch size. The screen package also comes with hooks, double-side adhesive tapes, and a rope to install the screen.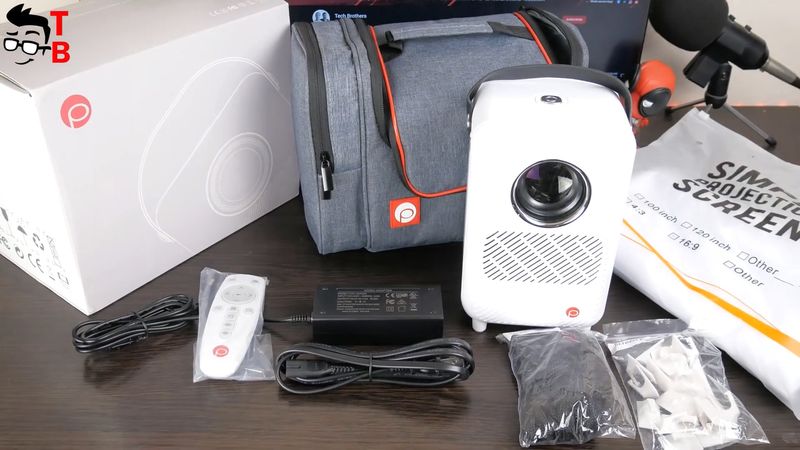 By the way, there is an installation instruction on the back of the package.
Then, we have a projector itself. You know, it is really compact, but we will talk about dimensions a little later.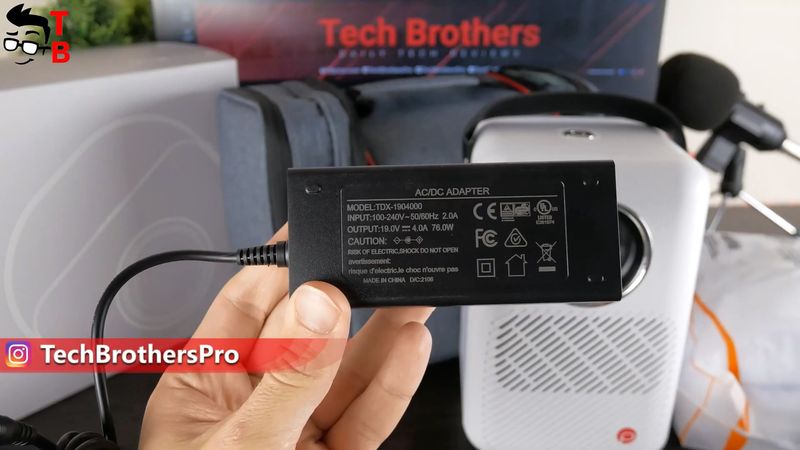 There is also a power adapter, power cable, remote control, and user manual in the bag.
So, Pixthink M1 is a compact projector, but I cannot call it portable, because it doesn't have a built-in battery.
Design
If we started talking about size, it is 200 by 130 by 125 mm.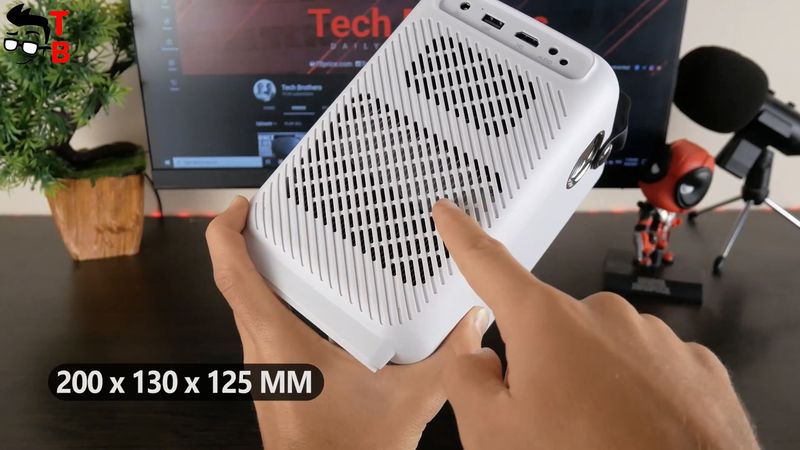 The weight of the projector is 1450 grams.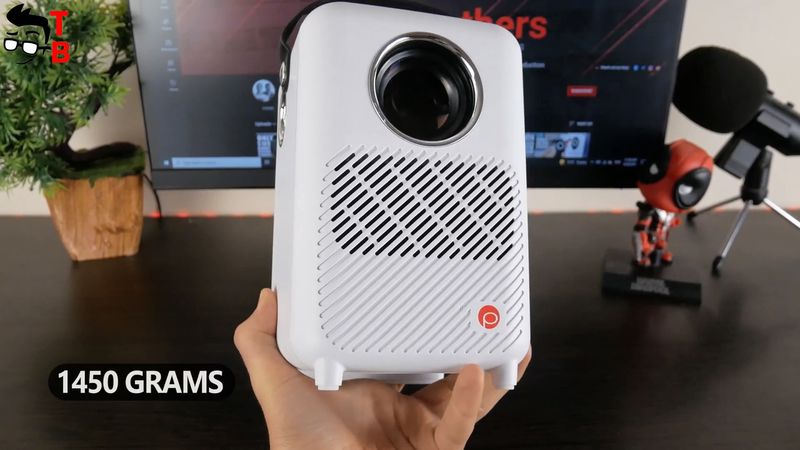 By the way, a projector is available only in this white color. There is a black handle at the top. I am not sure, but it looks like it is made of leather.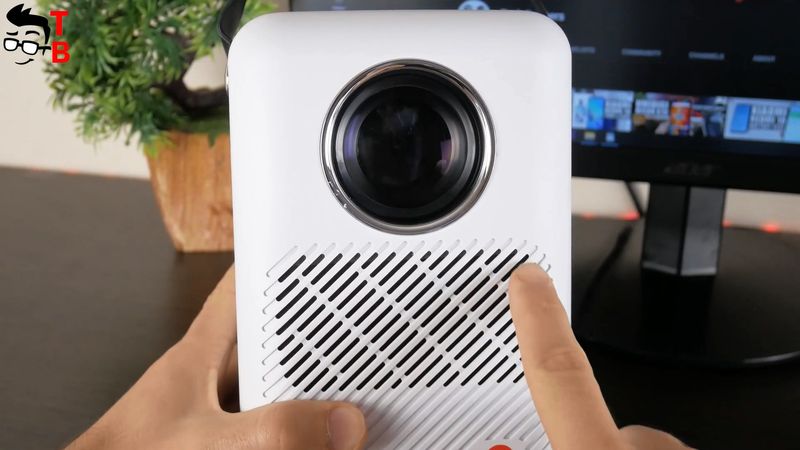 On the front of the projector, we can see a lens and heat sink.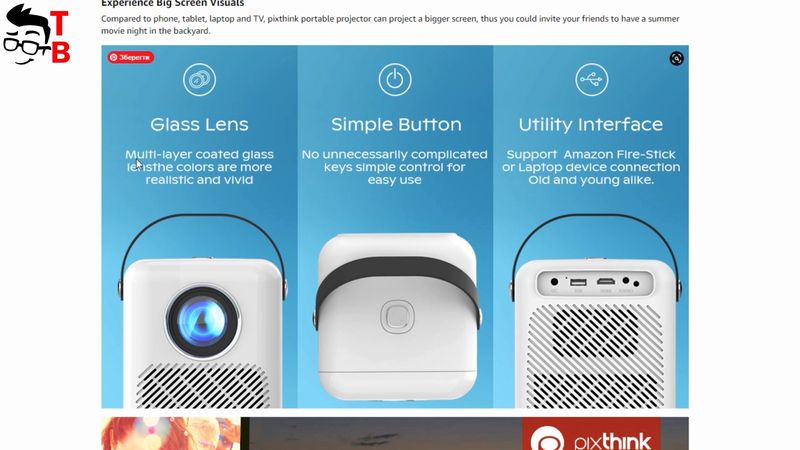 I have read on the Amazon product page that the lens is made of multi-layer coated glass, which makes the colors are more realistic and vivid. Later, we will check it out.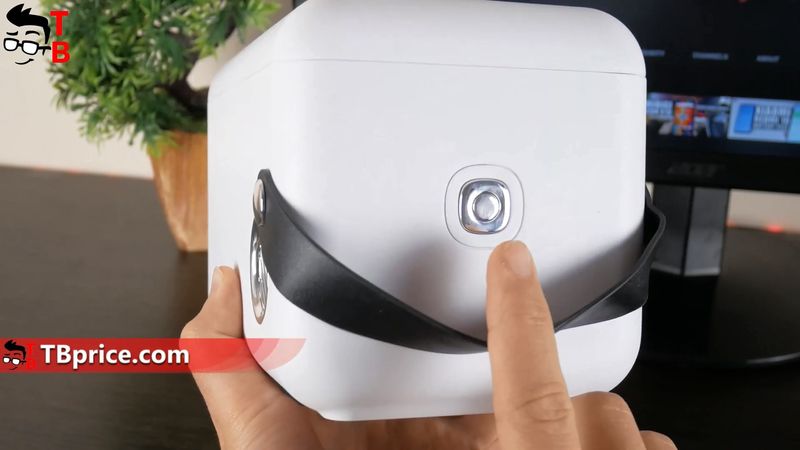 A projector has only one control button at the top.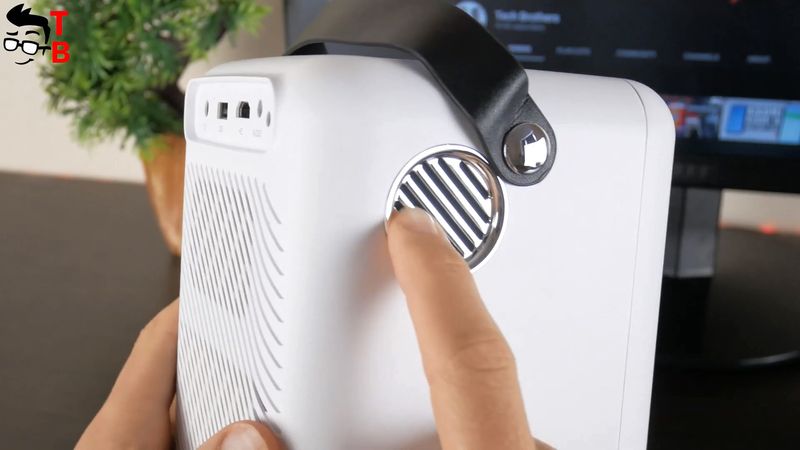 There is a dual speaker on the left and right sides.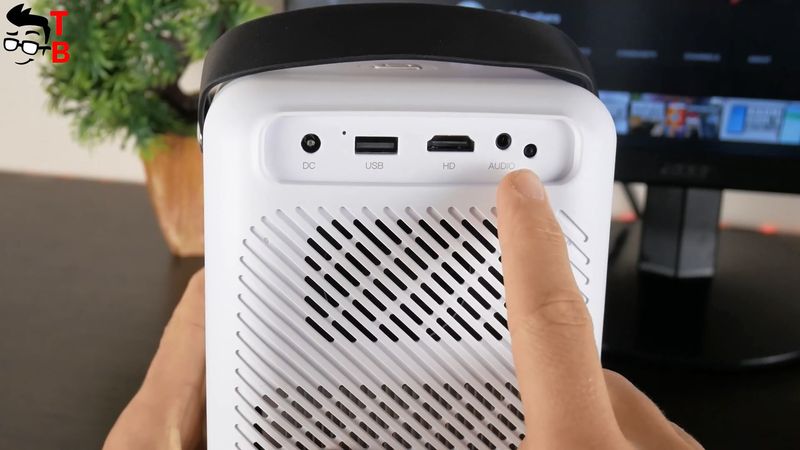 On the back of the projector, we have a DC port, USB port, HDMI port, 3.5mm audio jack, and IR receiver.
As you can see, there is no focus wheel, because Pixthink M1 has a digital focus. You can adjust it by remote control.
Talking about remote control, it has a power button, mute button, navigation buttons, menu, return, volume up and down. The remote control is powered by two AAA batteries.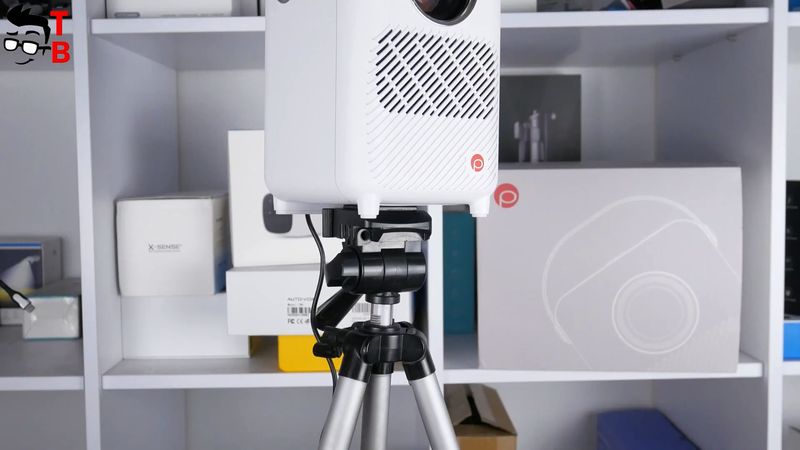 By the way, you can install the projector on the tripod or even ceiling. There is a ¼" screw hole at the bottom.
I should also say that the new projector has an enclosed optical design and an efficient cooling system. We can see on the Amazon product page how the projector looks like inside.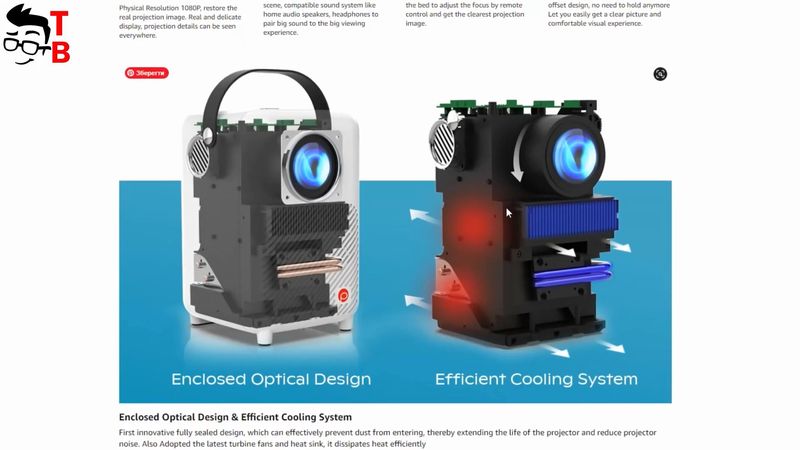 OK, that's all about design, and now let's turn on a projector.
Settings
Pixthink M1 doesn't have an Android operating system, so you need to connect the external device to it using an HDMI port, USB port, or Wi-Fi.
The projector has a settings menu, where we can choose a display mode from PC, whiteboard, movie, and user.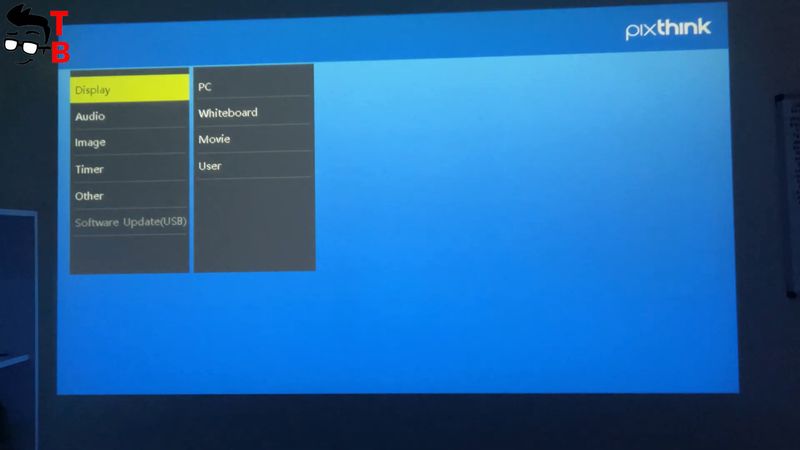 In Audio settings, we can change the volume and sound mode.
The aspect ratio can be auto, 4:6 and 16:9.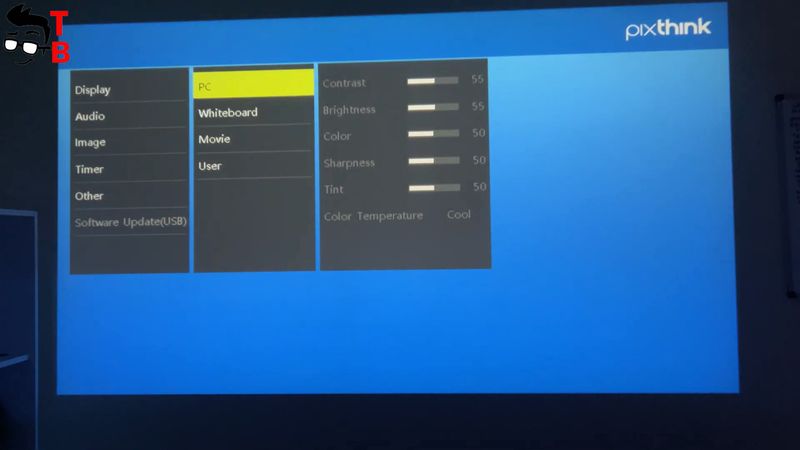 As I already said, you can place a projector on the ceiling, and then you need the choose a ceiling mode in the settings.
There is also a timer to automatically turn off a projector, and other settings, such as language, factory reset, and status.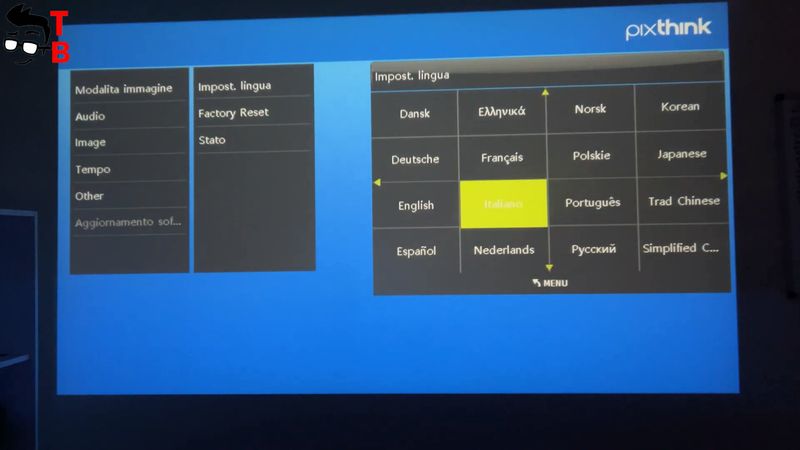 So, you can use an HDMI port to connect a laptop, game console, and other devices to the projector.
Using a USB port, you can insert a USB flash drive or connect a mobile device.
A 3.5mm audio jack can be used for connecting headphones or an external speaker.
The new projector also has Wi-Fi support, so you can connect the smartphone wirelessly. Let's do this.
Phone Mirroring
First, you need to go to Screen mirroring menu on the home page. Now, you can read a step-by-step tutorial how to connect a smartphone to a projector.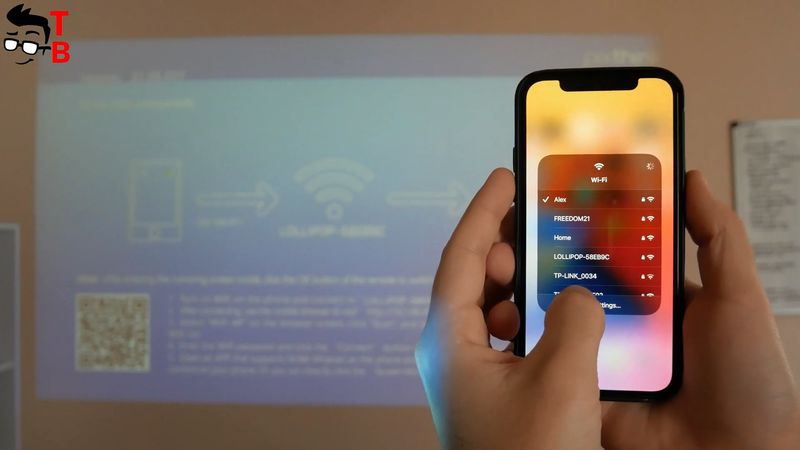 First, go to Wi-Fi settings on your phone.
Then, connect to the LOLIPOP Wi-Fi network. The password is from 1 to 8.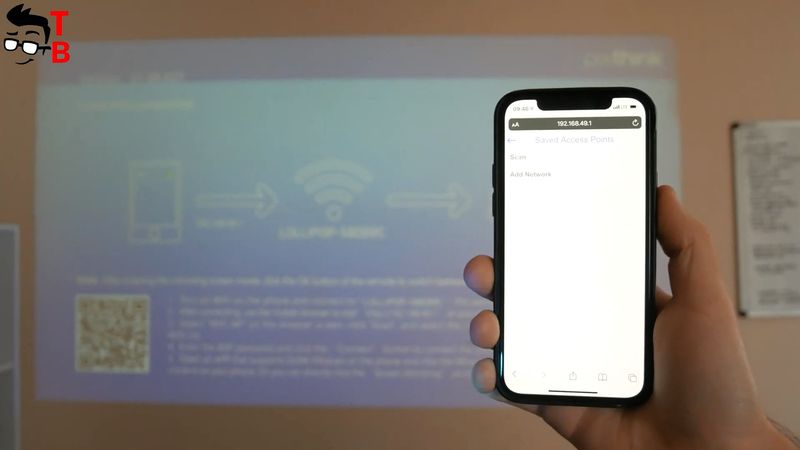 After connecting to the Wi-Fi network, open a browser and enter 192.168.49.1.
Select Wi-Fi App, and click on Scan.
The next step is to choose your home Wi-Fi network, and enter a password from it.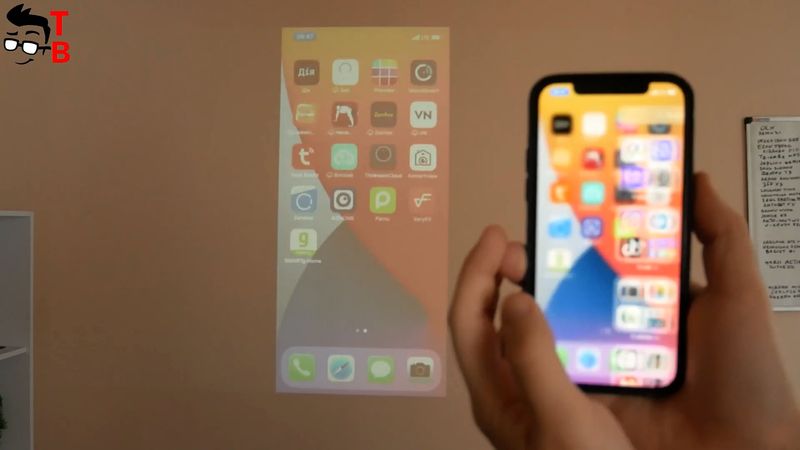 Finally, open the screen-mirroring function on your phone, and choose LOLIPOP.
That's all!
You know, there is a little delay, so I don't think you will be able to play games over a wireless connection. If you want to play games, it is better to connect the smartphone via cable.
Noise and volume level
Pixthink M1 projector has a dual speaker, so the sound quality should be good. Let's check it out.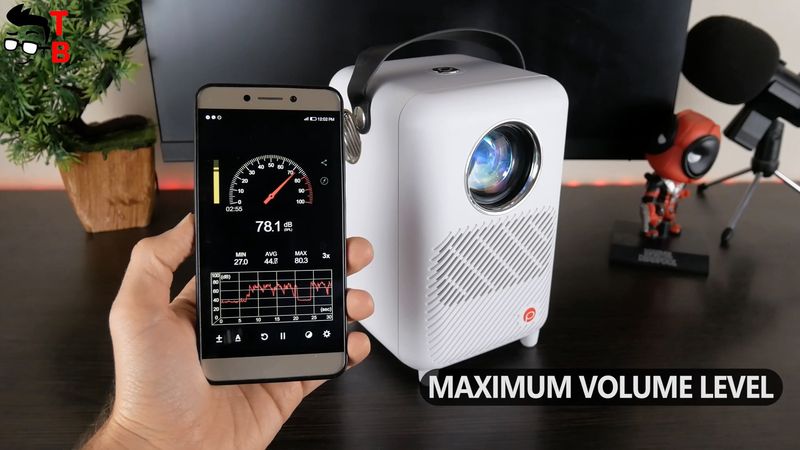 You know, the noise level is not very high.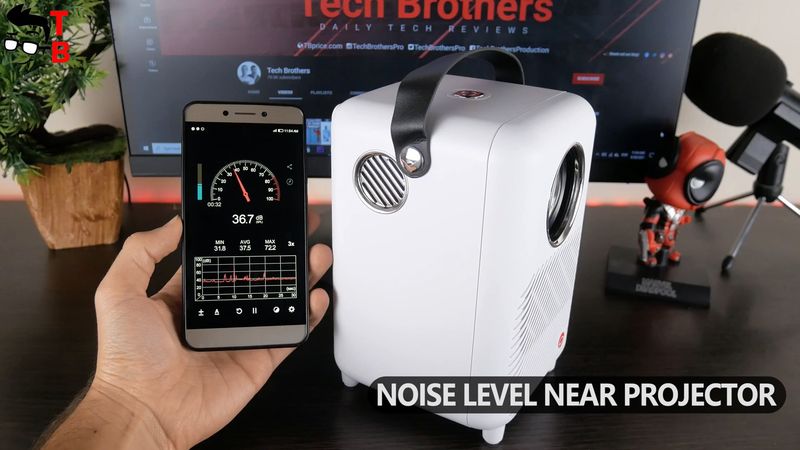 It is about 36 dB near the projector and about 28 dB at a distance of 1 meter.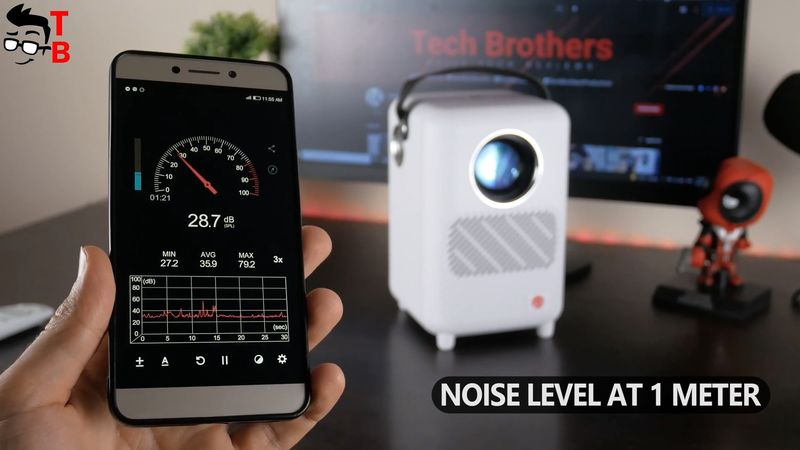 Projection Quality
Finally, we can watch some videos. I have connected my laptop to the projector via HDMI cable.
By the way, a projector is placed at a distance of about 2 meters from the wall. The projection size is about 120 inches.
In general, a projector can be placed at a distance from 0.85 cm to 3 meters. The maximum projection size is 200 inches.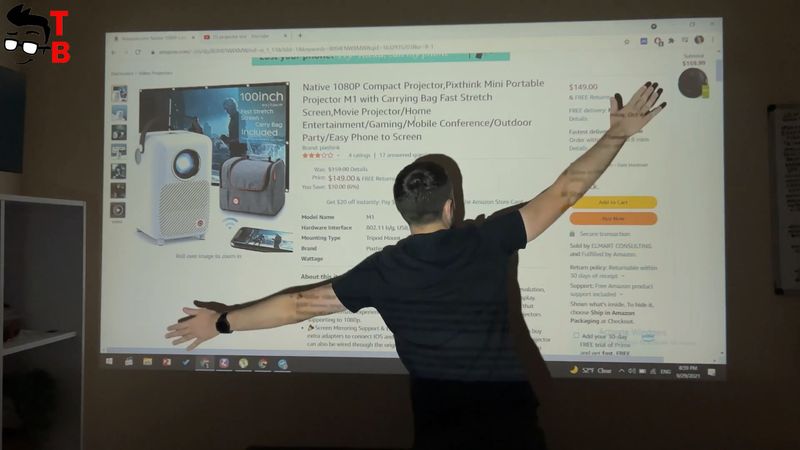 I have already told you that Pixthink M1 has Full HD native resolution. The brightness is 6500 Lumens or 300 ANSI Lumens. The contrast ratio is 10000:1.
You know, the projection is really good in the dark room. It is clear, so you can read a text or see small details on the video.
The brightness is also good.
However, the colors could be better. They are not as vivid as on my laptop. I know that it is not right to compare the colors on the display of my laptop and projection, but the difference is significant.
Anyway, this is a budget projector, and we cannot expect the perfect image quality from it.
By the way, a manufacturer recommends using a projector in a dark surrounding for a good reason. It is almost impossible to watch videos in a bright room, but you can still use it for presentations.
Conclusion
So, for the price of $150, Pixthink M1 is a really good projector. It has HDMI and USB ports for connection external devices, as well as Wi-Fi support to connect a smartphone wirelessly.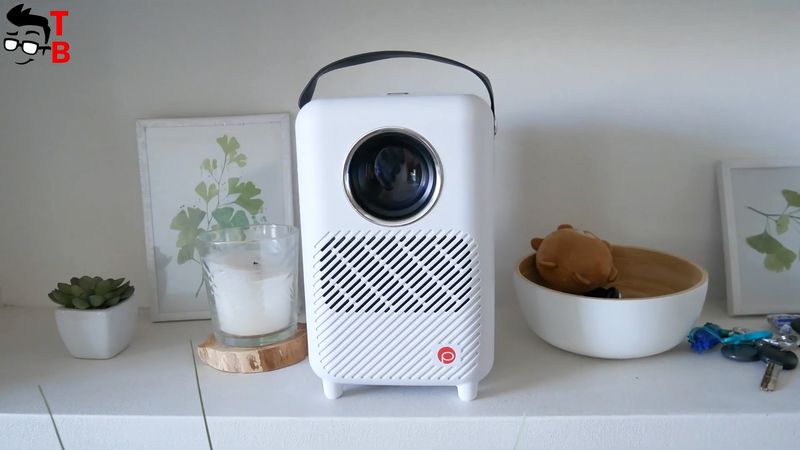 The projection quality is very good in total darkness. However, during the day, you can only use a projector for presentations.
A storage bag and a 100-inch fast stretch screen are a nice and useful bonus.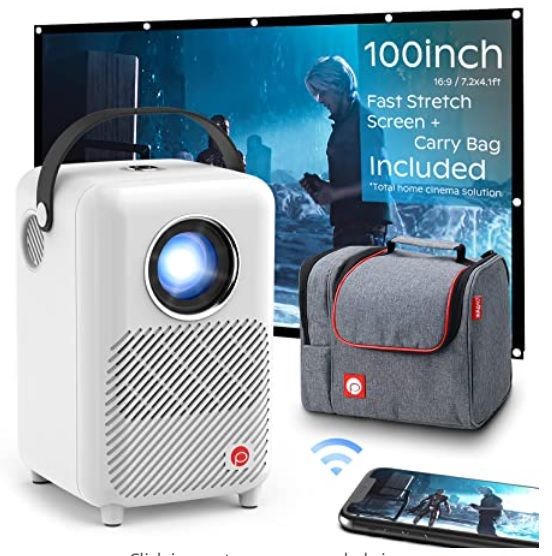 Pixthink Mini Portable Projector M1 - $60 OFF COUPON CODE - Amazon
as of September 16, 2023 5:12 am
Pixthink M1 Video Review