I have another compact Full HD projector, but this time it has Wi-Fi and Bluetooth support. You know, I think the projectors in 2022 should support Wi-Fi, so you can quickly mirror the screen of your smartphone on a big projection screen.
The name of this product is Pixthink D100. We have already tested projector from this brand about one year ago on our channel Tech Brothers. By the way, Pixthink M1 is still available on sale, and it also looks good for 2022.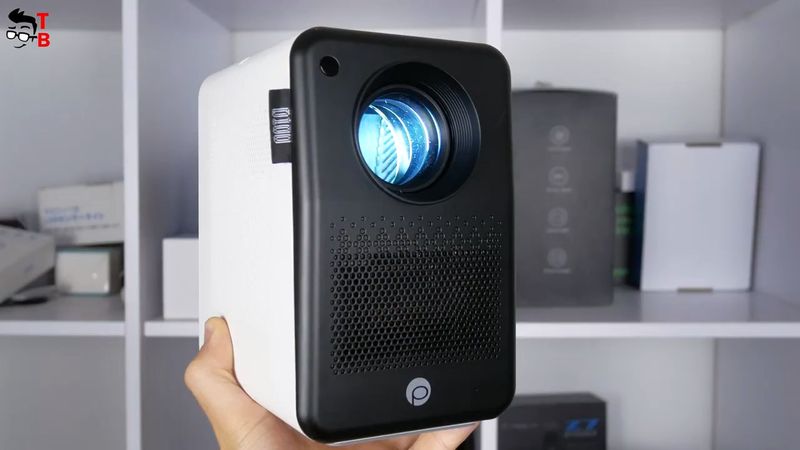 You know, design is one of the main features of the new Pixthink D100, because it looks very nice, and it has a slot for smartphone at the top, and even a drawer at the bottom for TV stick and USB flash drive.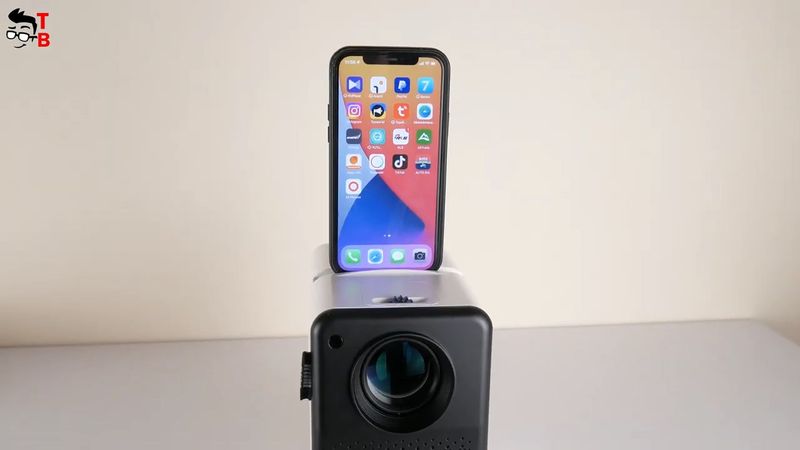 Let's talk about all the features of the new projector.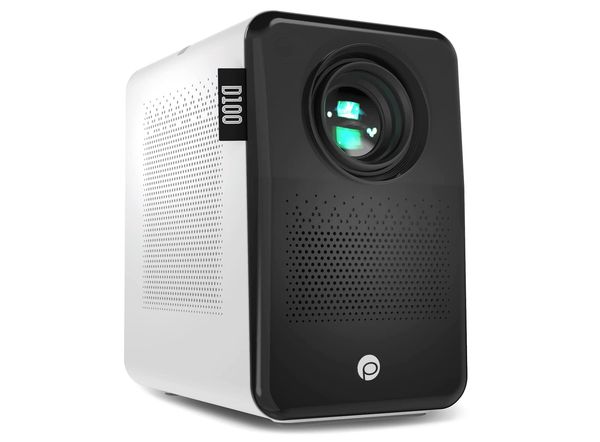 Pixthink WiFi Bluetooth Projector D100 - Amazon
as of September 7, 2023 5:12 pm
Unboxing
So, the projector is delivered in a cube box.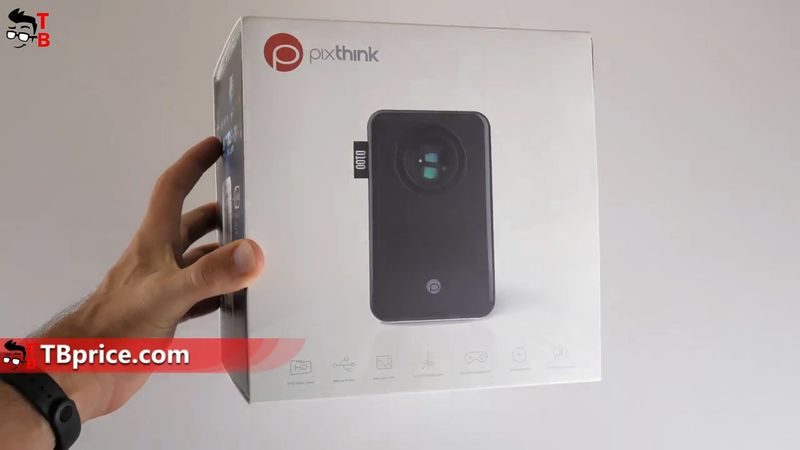 As you can see, one of the main features of Pixthink D100 is a hidden design with TV Stick compartment.
We can also read about other features on the box, such as 76W power output, bright Full HD visual, 7500 Lumen LED Light source, HiFi Stereo, etc.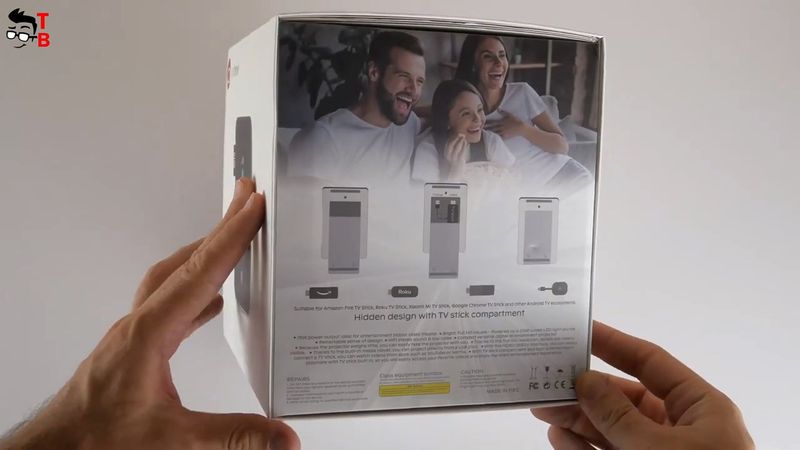 Inside the box, there is a projector itself. We will look closer at it a little later.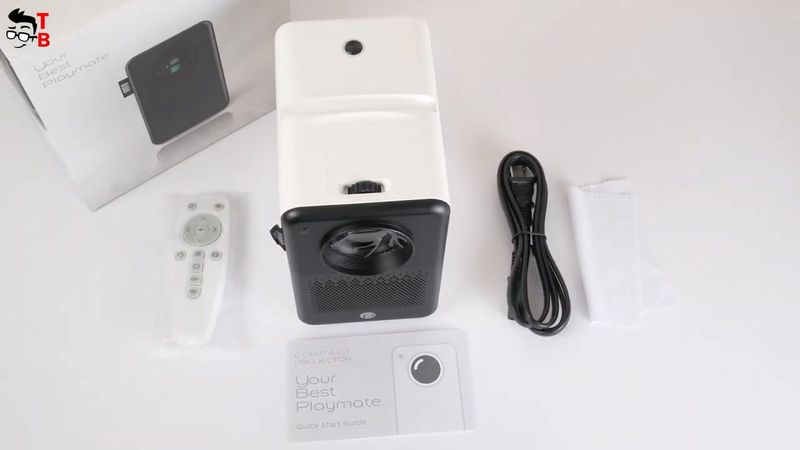 There is also another box with a remote control, power cable, a quick start guide and a cloth to wipe the lens.
You know, the previous model had a high quality carrying bag and even a 100-inch screen included. The new projector doesn't even have HDMI cable in the package.
Now, let's take a closer look at the new projector.
Design
You know, PIXTHINK D100 is a compact projector, but it is not portable, because it doesn't have built-in battery. You need to plug it into a power source.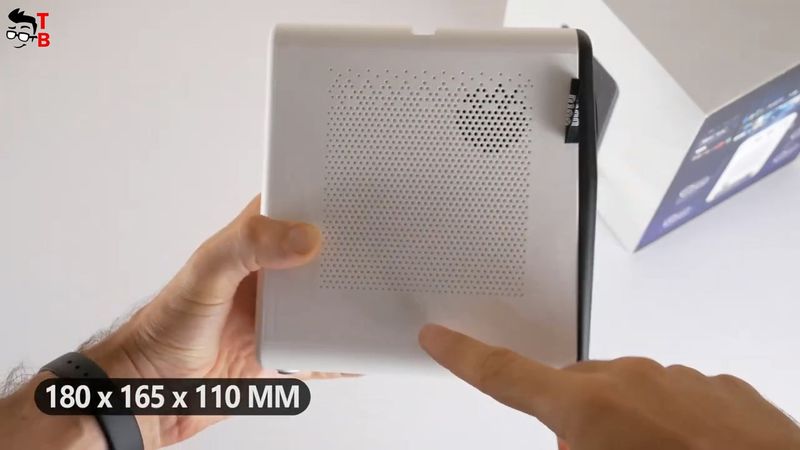 The body dimensions are 180 by 165 by 110 mm. The weight is 1190 grams.
As you can see, the front side is black, while the other part of the case is white. This is the only color option available for this model.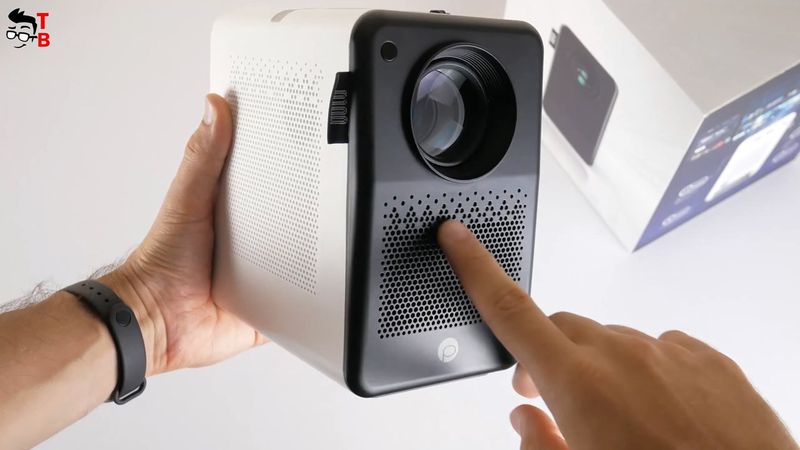 The lens on the front looks very big. There is also an infrared receiver next to the lens. Under the lens, we can see many holes for air intake. The cold air passes through the housing, thereby cooling it, and then the warm air comes out the back.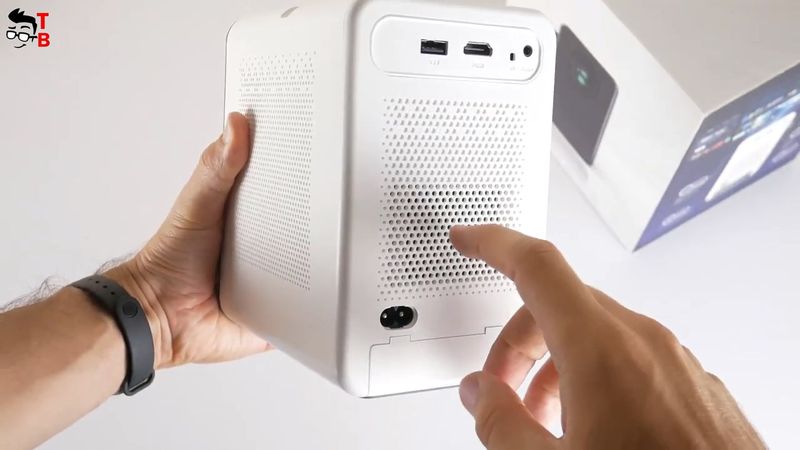 On the back, there is USB port, HDMI port, audio port, and AC power inlet.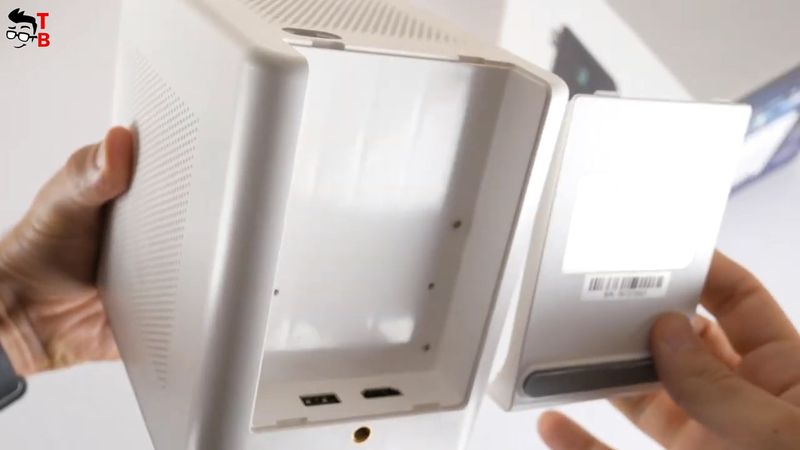 As I already said, Pixthink D100 has a hidden compartment for TV sticks. It is located at the bottom and you just have to pull down to open the cover. There is another HDMI and USB ports. So, you can plug in the TV Stick or USB flash drive, and close the cover, and they will stick out of the back of the projector. I really like this solution.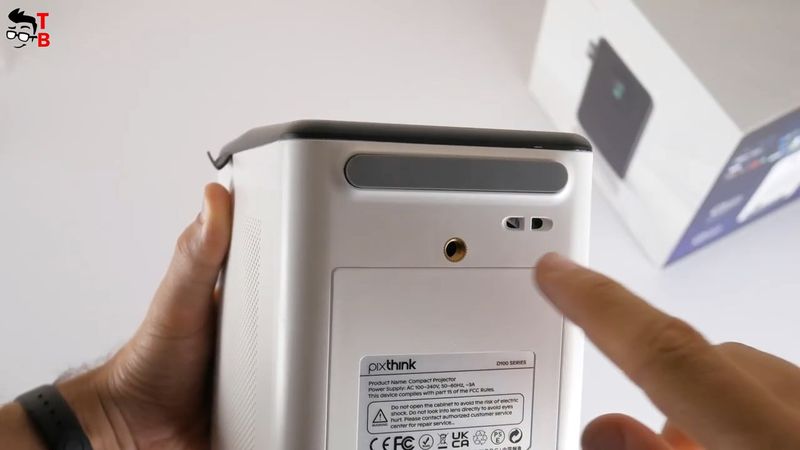 There is also ¼ inch mounting screw hole at the bottom for a tripod or a ceiling mount.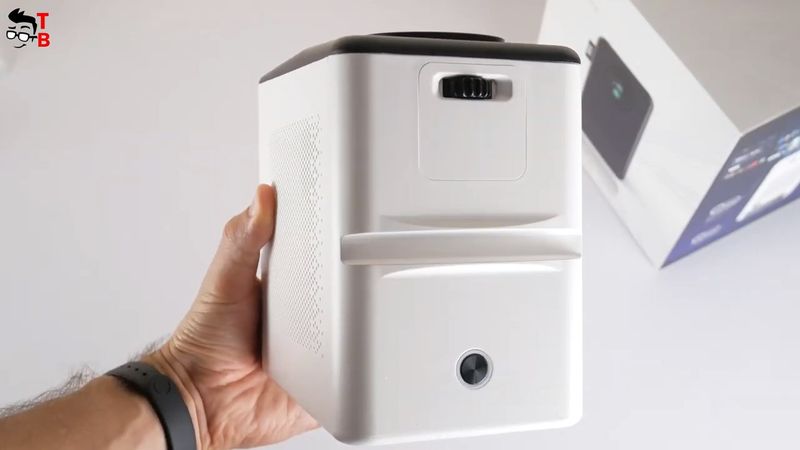 At the top, we can see a single wheel to adjust a focus, a slot for smartphone and a single power button. You know, I don't think you need more buttons on the projector case because everybody uses a remote control.
Talking about remote control, it is made of quite cheap plastic. However, there are some useful buttons, such as keystone correction, projection direction, volume controls, and others.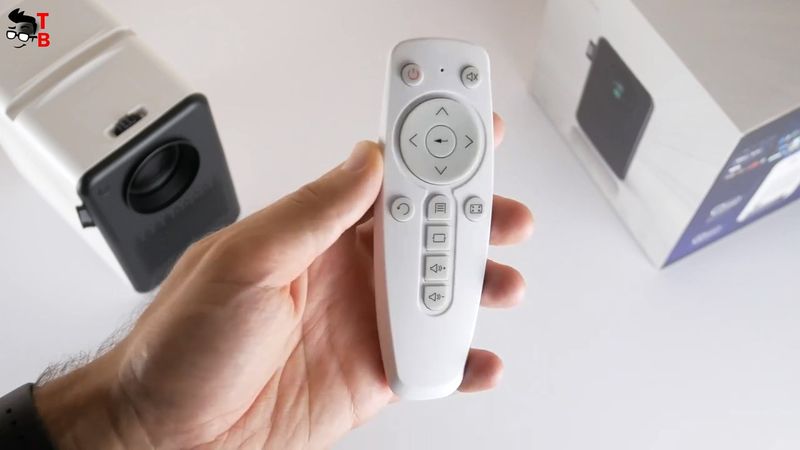 Another feature of the new Pixthink projector is dual 10W speakers. The first speaker grill is located on the left side, while the second one is on the right.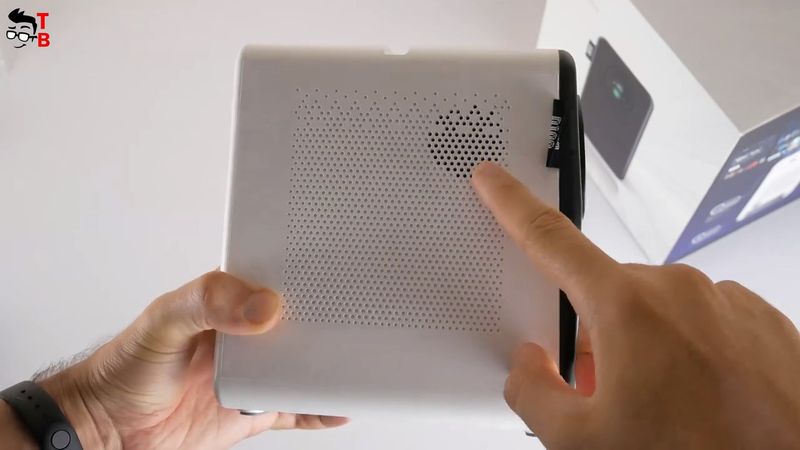 By the way, you can use a projector as a Bluetooth speaker for your smartphone. Later, we will check this function, as well as a speaker quality.
Now, let's look at the user interface and settings of Pixthink D100 projector.
User Interface
You know, there is no Android operating system, but the user interface looks very nice.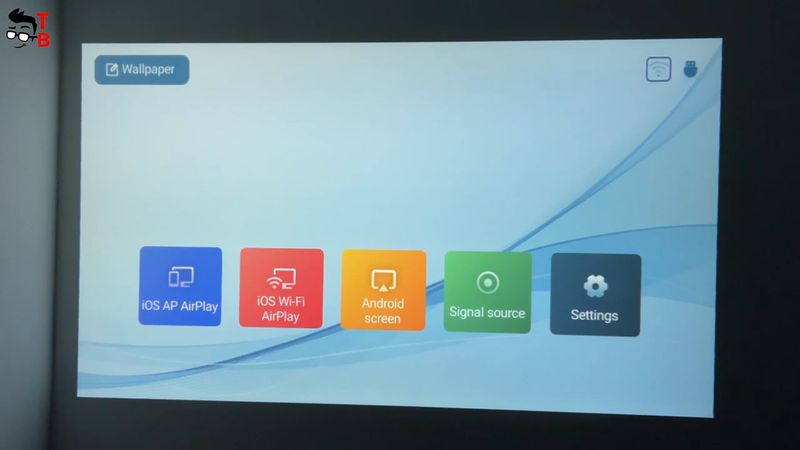 On the main screen, we can choose iOS Ap AirPlay, iOS Wi-Fi AirPlay, Android screen, Signal Source and Settings.
There is also Wi-Fi, Bluetooth and USB icons in the right top corner.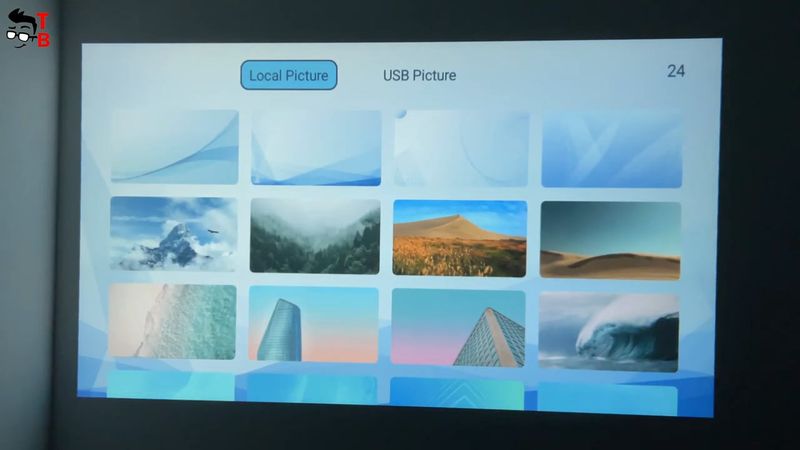 If you don't like a wallpaper on the main screen, you can change it. There are many wallpapers available on the projector, but you can also set your own picture from USB drive.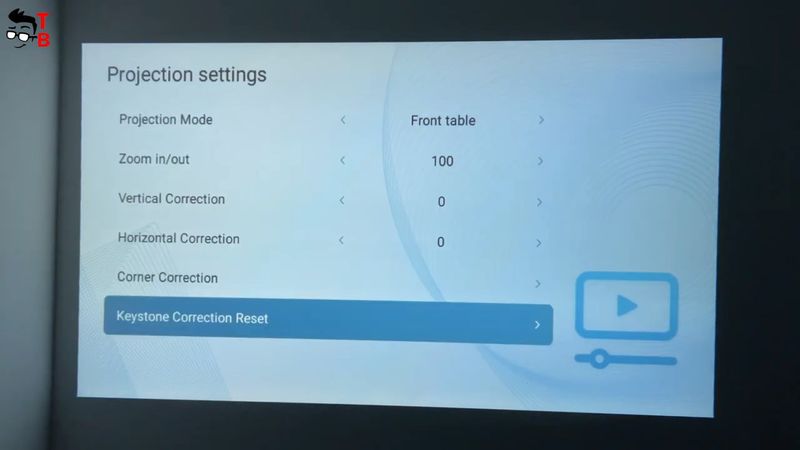 We will talk about screen mirroring a little later, but now let's go to the settings menu.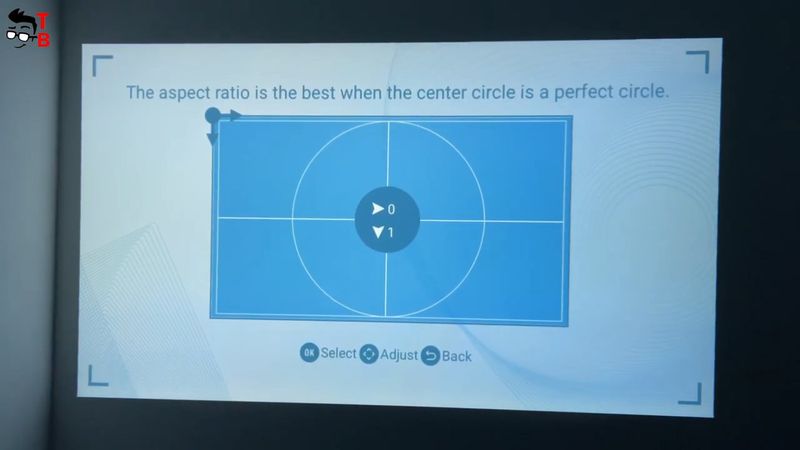 Here we have projection settings, network settings, Bluetooth settings, switch themes, other settings and about.
The projection settings include projection mode, zoom in/out, vertical correction, horizontal correction, corner correction, and keystone correction reset.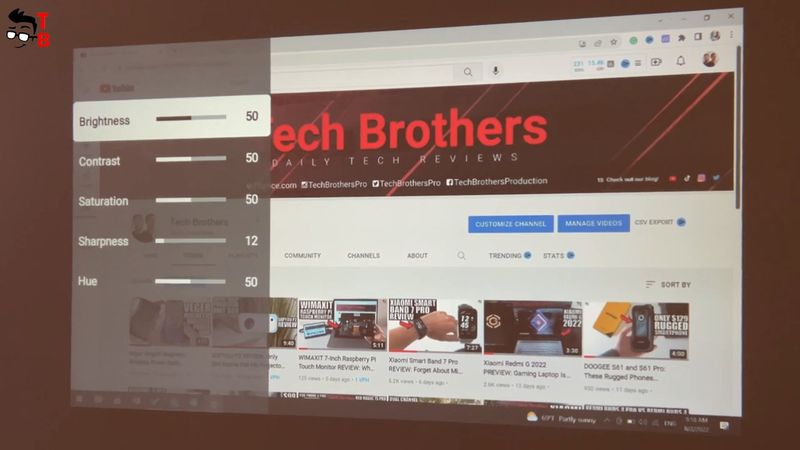 By the way, if you want to change a picture mode, color temperature, and some other settings, you need to press on the settings button on remote control.
This is very convenient because you can quickly change a picture mode and color temperature depending on the movie, game or even document.
Let's go back to the main settings menu.
In the network settings, you can connect to your home Wi-Fi network.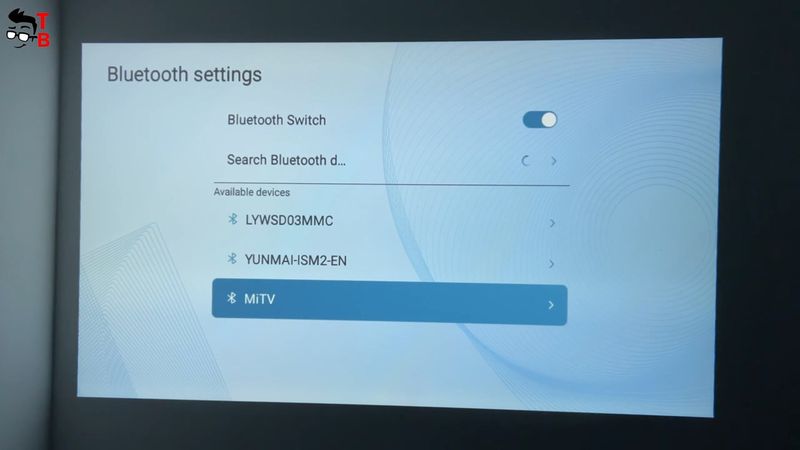 The new projector also has Bluetooth settings. By the way, the Bluetooth connection is bidirectional. It means that you can connect a projector to external speaker if you don't like the quality of the built-in speaker. In addition, you can connect your smartphone to the projector, and use the built-in speaker to listen to music.
Later, we will check the quality of projector built-in speaker.
Pixthink D100 has not only wallpapers, but also themes. You can choose fresh, blue, purple and gold themes.
That's very nice.
The other settings include boot signal input, power-on mode, key tone, screen saver time, shutdown time, language settings and restore to factory settings.
OK, now, I want to show you how to connect a smartphone to the projector.
Screen Mirroring
Actually, there are three methods to connect a smartphone to projector: two for iOS devices, and one for Android.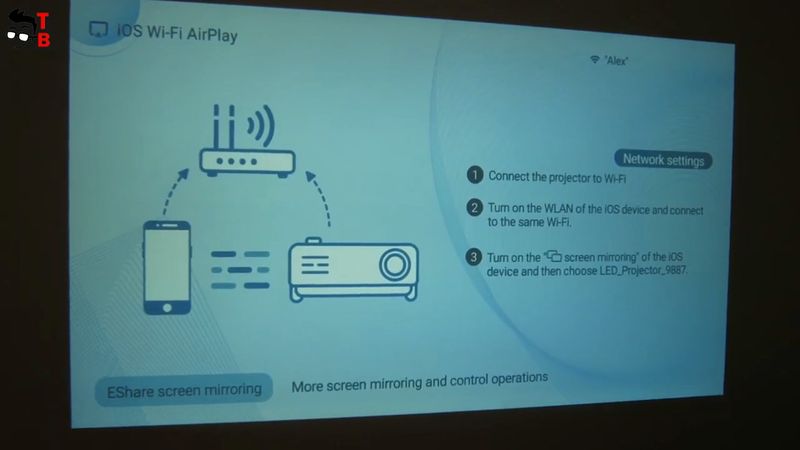 I have the iPhone, so I will show you the first two methods.
If you choose the iOS Ap AirPlay method, then a projector creates its own Wi-Fi network, and you need to connect a smartphone to this network. After that, just open screen mirroring menu on your iPhone, and select a projector.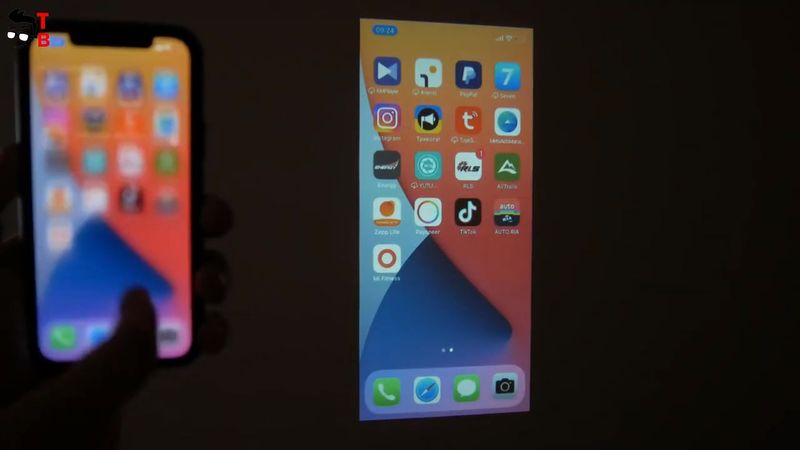 The second method is called iOS Wi-Fi AirPlay, and you need to connect a projector and smartphone to the same Wi-Fi network from your router. Go to the network settings on projector, and enter the password from your home Wi-Fi network. Now you have to pick up your smartphone again, and select projector in the screen-mirroring menu. That's all.
Noise Level
Before testing a built-in speaker, I want to measure a noise level.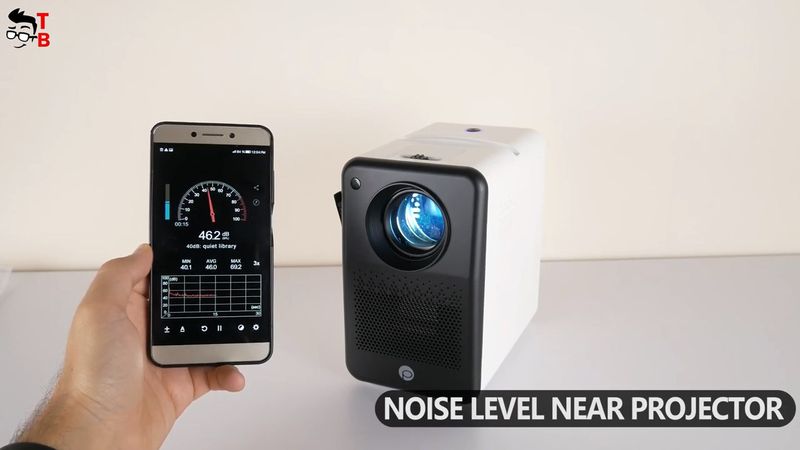 As you can see, the noise level near projector is 46dB, and it is about 35dB at 1 meter.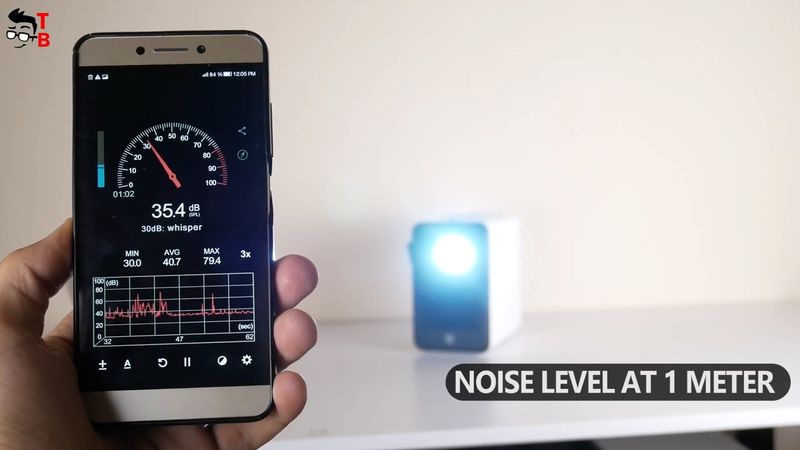 Speaker Quality
Finally, let's talk about built-in speaker of Pixthink D100 projector. You know, it is another feature of this model.
The sound quality is very good for a compact projector. Let's listen to some music.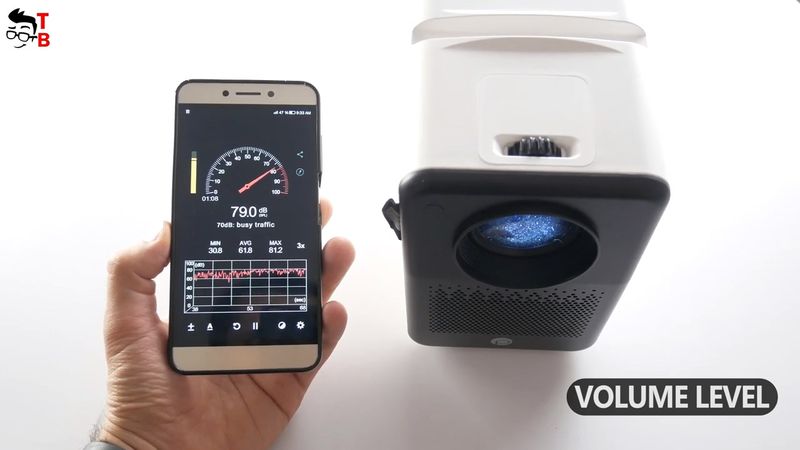 As I already said, you can use a projector as Bluetooth speaker for your smartphone. For that, you need to press a power button on projector, and then select Bluetooth speaker.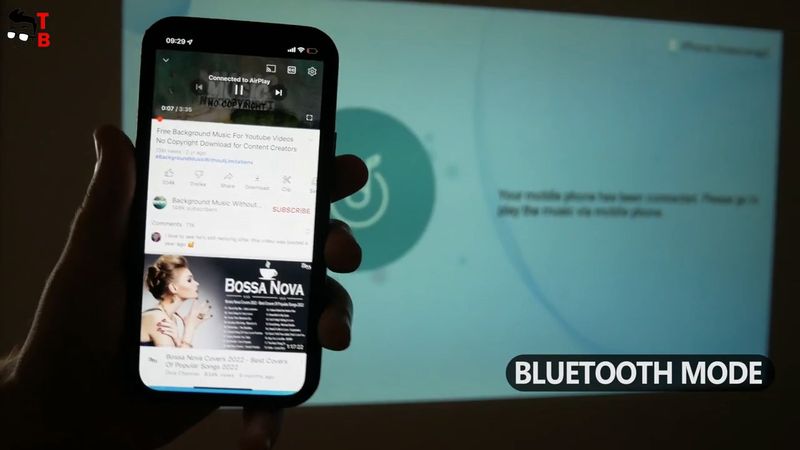 Now, take your phone, go to Bluetooth settings, and connect to projector. You can play music on YouTube, Apple Music, Spotify, or anywhere else and listen to it on the projector.
Projection Quality
I think we have already talked about everything of the new projector except projection quality. Let's watch some videos already.
So, PIXTHINK D100 has native Full HD 1080P resolution. The brightness is 300 ANSI Lumens. You know, these are very good specs for $130 projector.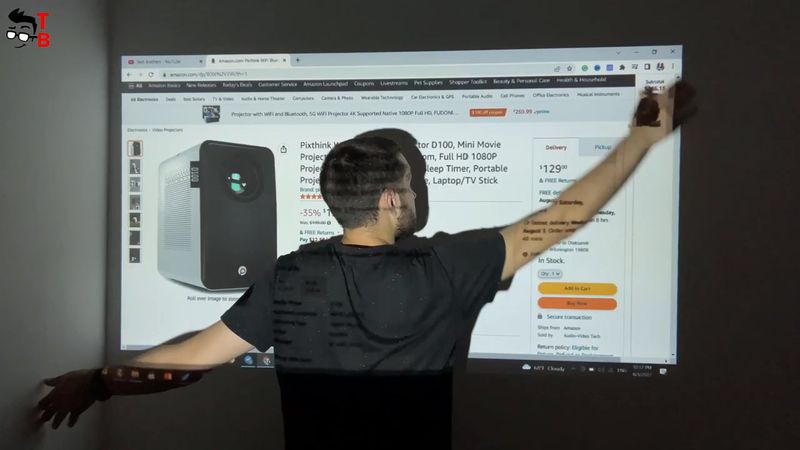 A maximum projection size is 300 inches, but for better image quality, it should not exceed 150 inches.
I have placed a projector at about 2 meters from the wall, and the screen size in my case is about 70 inches.
The image is really clear, and I really think it is native Full HD resolution.
You know, I didn't find information about contrast ratio, but I think the colors are good.
The brightness is more than enough for use a projector in a dark room, but also you can use it in a daytime. The image is not bad, is it?
Conclusion
So, I am very surprised by the new PIXTHINK D100 projector. It looks like the most thoughtful budget projector in 2022.
It has not only a good projection quality, thanks to native Full HD resolution and 300 ANSI lumens brightness, but also a very user-friendly interface, where you can change a wallpaper, theme, and many settings.
A dual band Wi-Fi allows you to connect a smartphone and mirror a screen. You can also use a projector as Bluetooth speaker for your smartphone.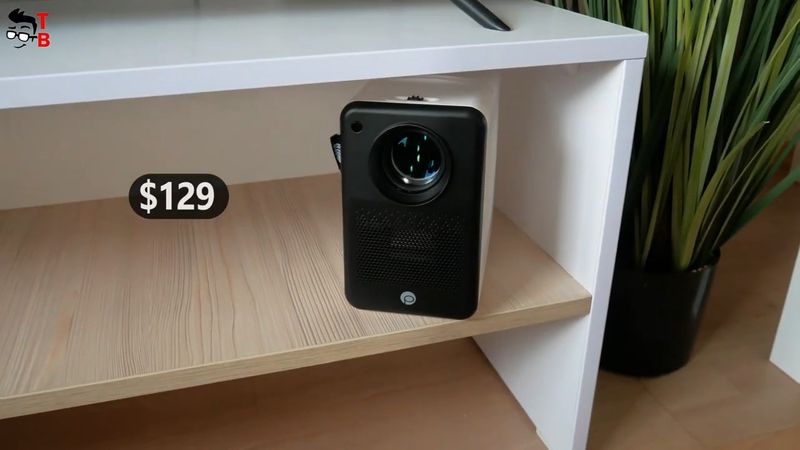 The design is another feature of this projector, because it has a slot for smartphone at the top, and a hidden compartment for TV stick and USB flash drive at the bottom.
So, the projector has many useful details, both in design, user interface and settings.
For the price of $129, Pixthink D100 is probably the best projector I have tested in 2022.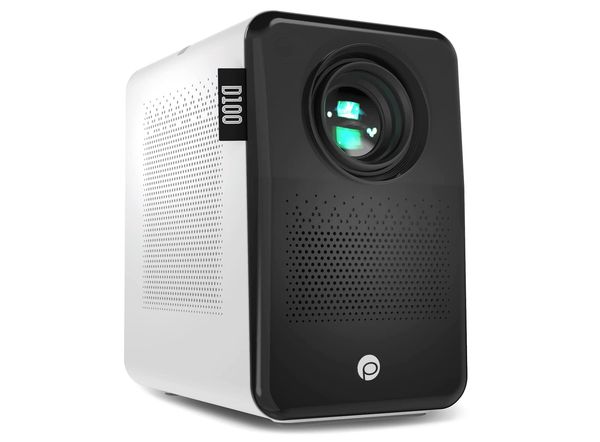 Pixthink WiFi Bluetooth Projector D100 - Amazon
as of September 7, 2023 5:12 pm