Finally, I got it! I know you have been waiting for unboxing and a full review of this smartphone because the first video about it has almost 20 thousand views on our YouTube channel. If you don't know what I'm talking about, this is Oukitel WP6.
The smartphone has 10000mAh battery, Helio P70 chipset, 6GB of RAM, and 128GB of internal memory, triple 48MP camera and good price – only $220.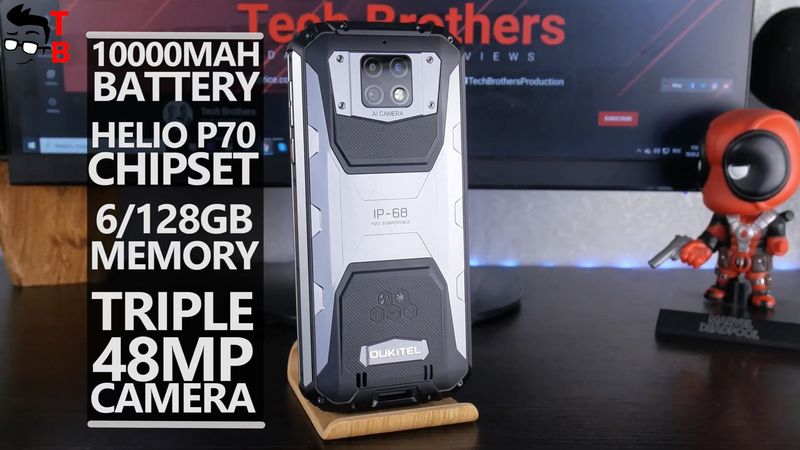 I want to tell you that we will publish five videos about this smartphone. This is the first article with unboxing and first look. Then there will be a performance test, camera test, battery test, and dedicated video with the pros and cons of this phone. The links to all these videos will be in the description.
So, let's get started!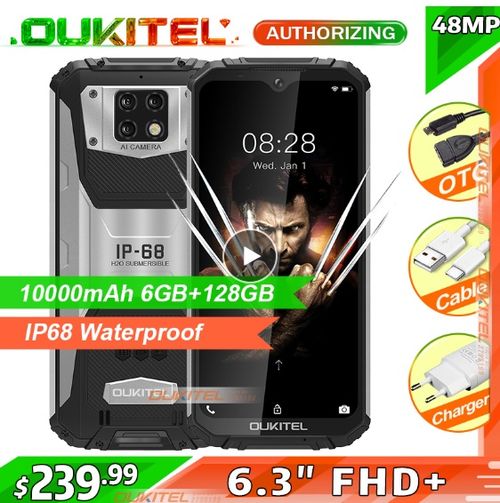 OUKITEL WP6 10000mAh 6.3'' FHD+ IP68 Waterproof Mobile Phone - Aliexpress
as of November 16, 2023 11:38 am
[wpsm_toplist]
Unboxing & Package Contents
You know, I have already tested some smartphones from the Oukitel company, and all of them come in the same box. For example, the previous Oukitel WP5 had completely the same white box. There is only a company logo on the front, and specifications on the back.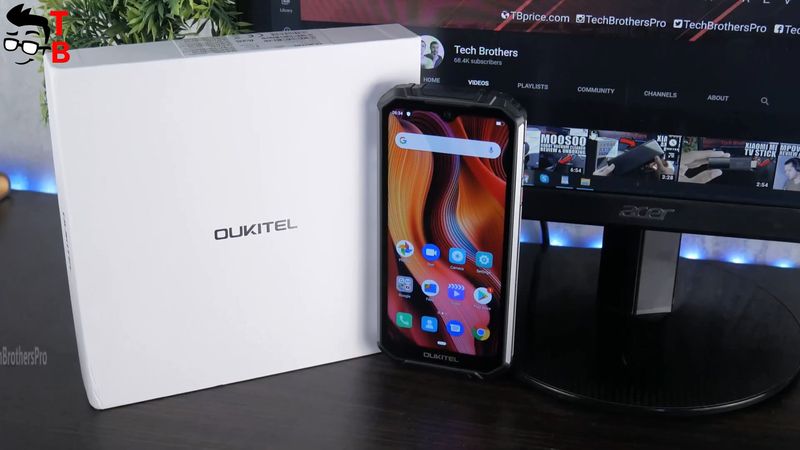 Inside the box, you will find the smartphone itself, SIM needle, user manual, and warranty card, micro USB cable, OTG cable, and 18W power adapter.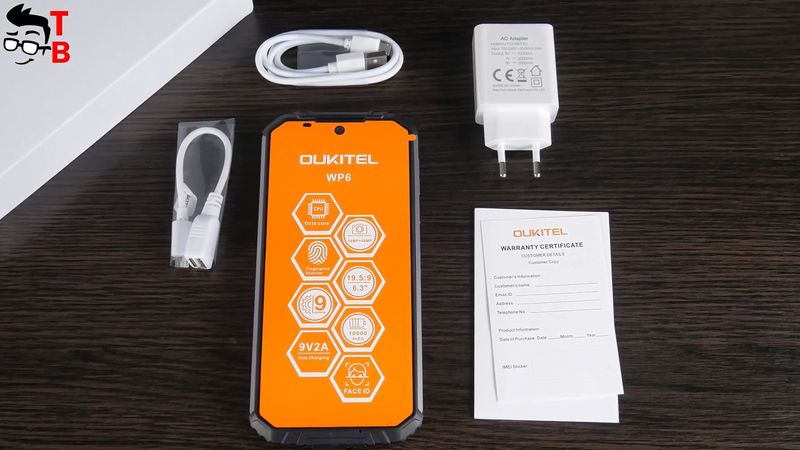 By the way, I have already found the first drawback of this smartphone – micro USB port. Even the previous budget phone Oukitel WP5 had USB Type-C. Why the new Oukitel WP6 have an only a micro USB port? I don't know.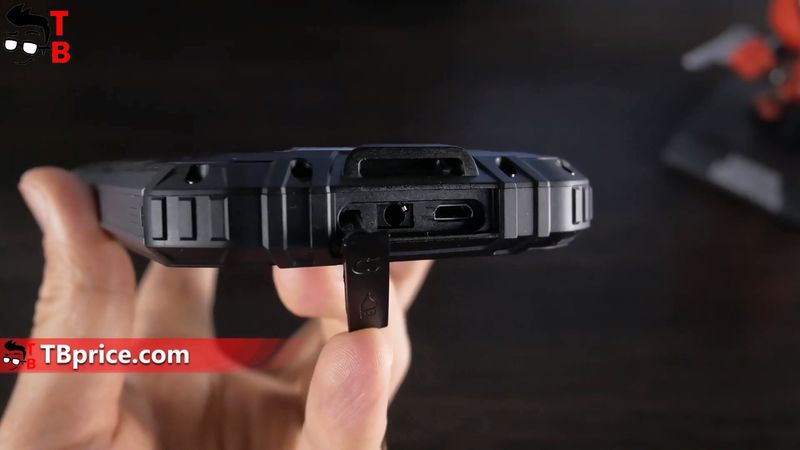 Okay, let's look at the design of the new Oukitel smartphone. Actually, there is a lot to talk about.
Design
First, Oukitel WP6 is a really big smartphone. The size is 175 x 82 mm. The thickness is 18 mm. It is almost twice as thick as my main smartphone. The weight is 379 grams.
However, it is OK for a rugged phone. One of the main features of Oukitel WP6 is a durable waterproof body. The case is made of rubber and metal.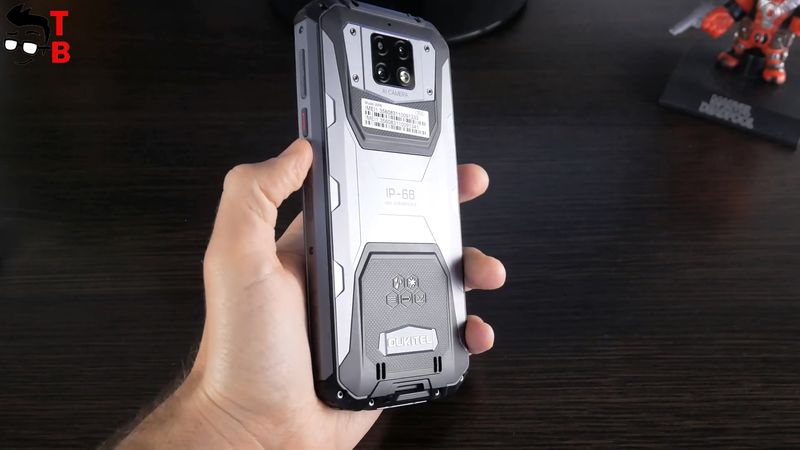 Just look at these rubberized corners. If the smartphone falls on one of them, nothing will happen.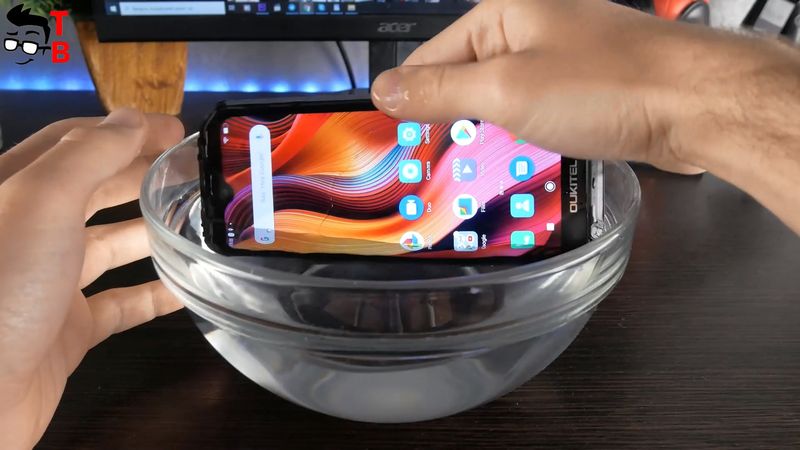 Oukitel WP6 is waterproof by the IP68 standard. You can use the smartphone under the water. All the ports and connectors are protected from water by rubber plugs.
MicroUSB and 3.5 mm audio jack are located under the rubber plug at the bottom.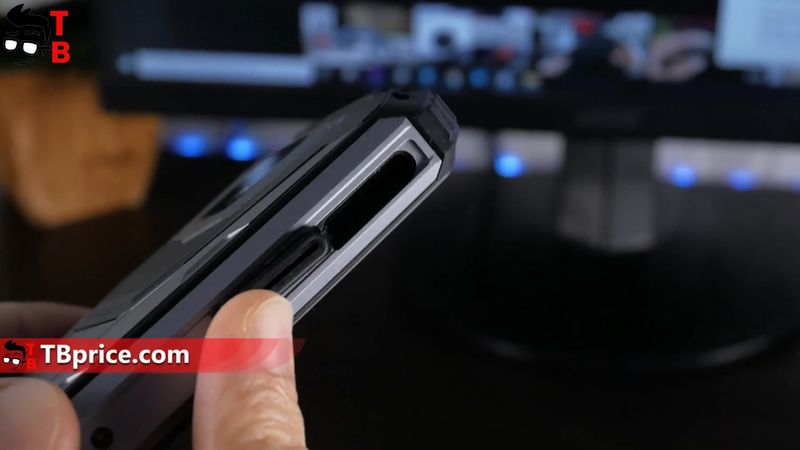 On the left side, there is another plug, and you will find microSD and SIM card slot here.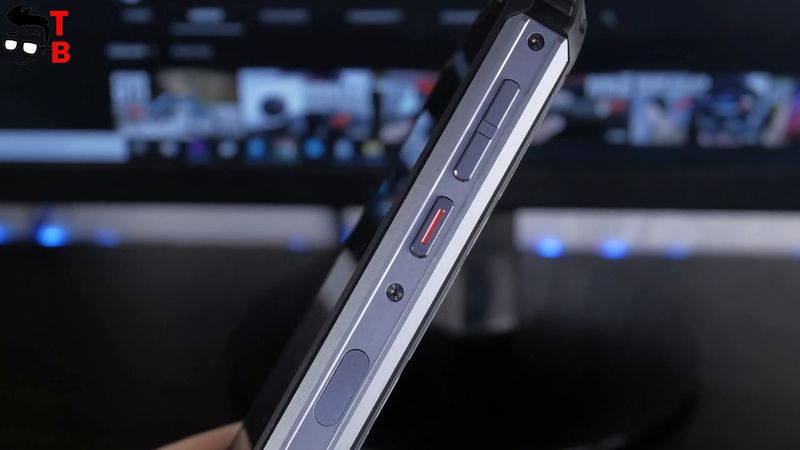 On the other side, there is a power button, volume rocker, and a fingerprint reader. You know, I really like it when the fingerprint scanner is located on the side face. It is very convenient for me.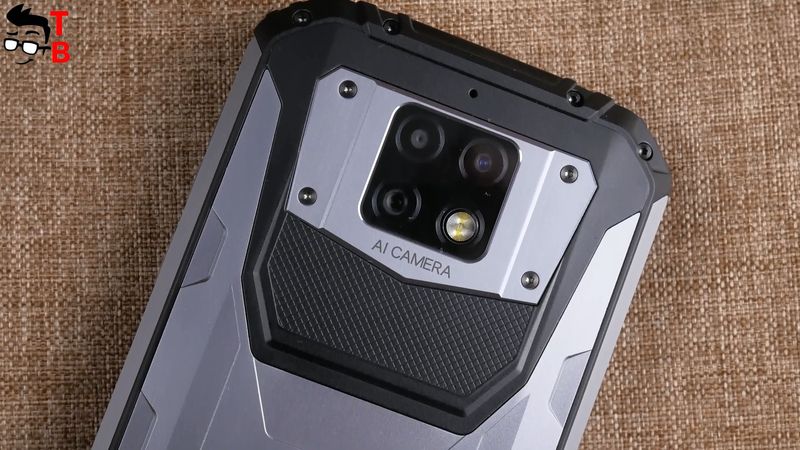 On the back, we can see only a triple camera with flashlight.
The front panel is also protected from scratches and damage with Corning Gorilla Glass.
Display
Talking about the front panel, as you can see, the display is not very big. It has a diagonal of 6.3 inches and Full HD+ resolution, 2340 by 1080 pixels. There is waterdrop notch above the display, but the bezels are very thick. There is an even Oukitel logo on the bottom.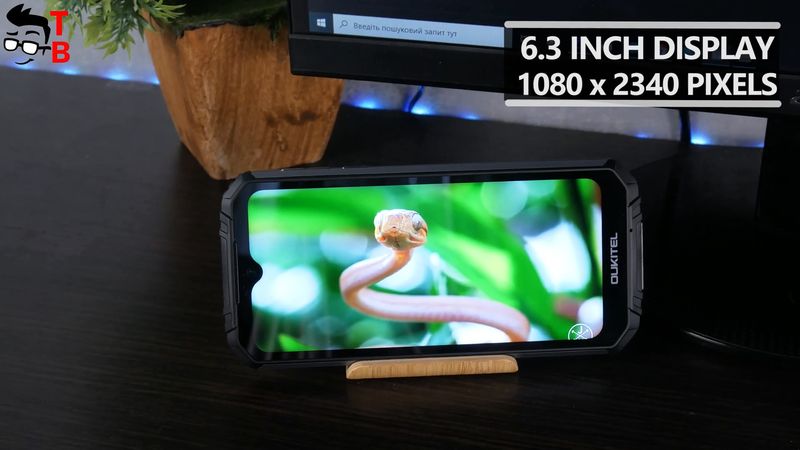 However, the pixel density is good – 409 PPI. That means the display is clear and crisp.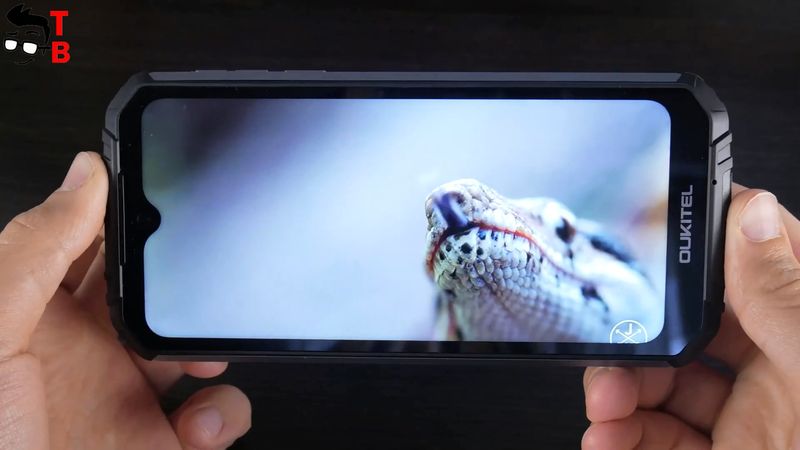 The brightness is also good. You can see the screen very well in direct sunlight.
Performance
As I already said, we will publish five videos about Oukitel WP6, including performance tests. This is unboxing and first look video, so I will not test the performance right now.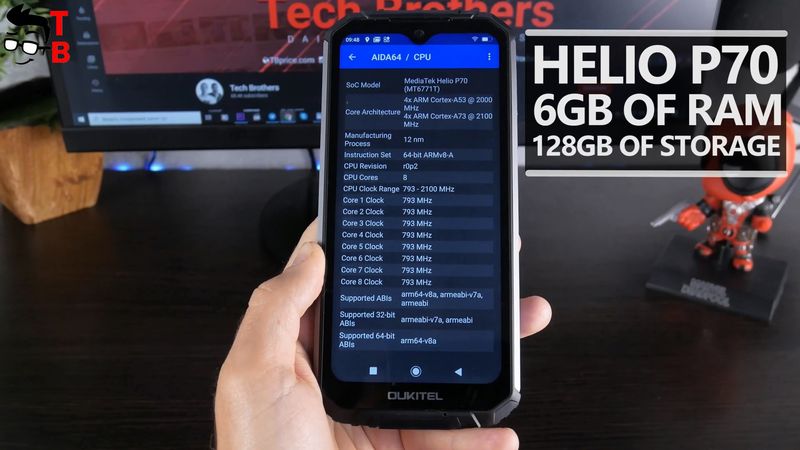 I just want to tell you that Oukitel WP6 is powered by Helio P70 chipset. It is a quite good processor for a budget phone. Also, it has 6GB of RAM and 128GB of internal memory.
The link to the video with the performance test will be in the description.
OK, now let's run the benchmarks.
Benchmarks
Of course, I want to start the performance test with AnTuTu, because it is the most popular benchmark test. As you can see, Oukitel WP6 has 182082 points. That's very good.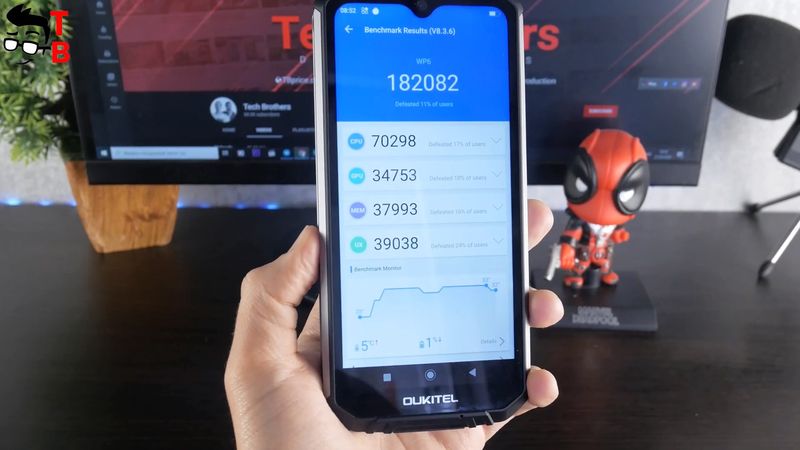 In GeekBench 4, the new rugged phone from Oukitel has 310 points in the single-core test and 1365 points in the multi-core test.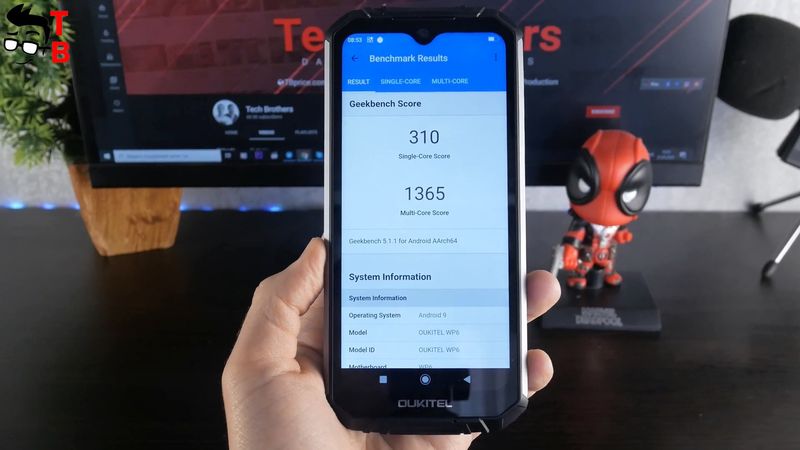 3DMark is another popular benchmark to test the 3D performance of mobile devices. As you can see, Oukitel WP6 has a 1392 overall score.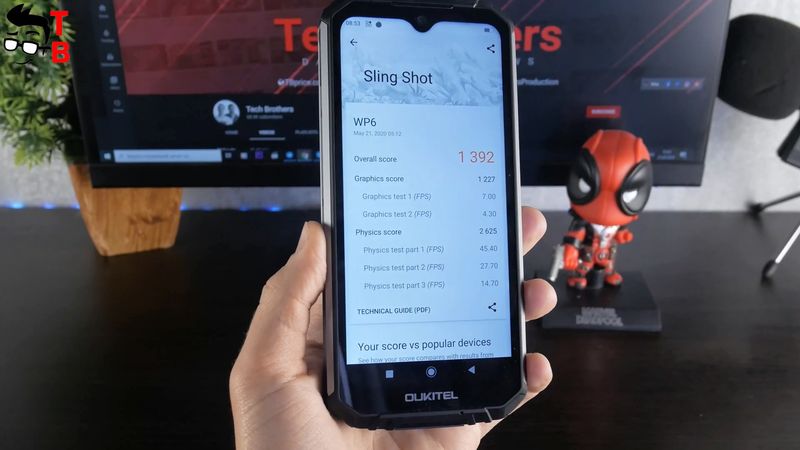 You may be also interested in memory speed, Wi-Fi speed, and GPS. I think everything is found on this smartphone.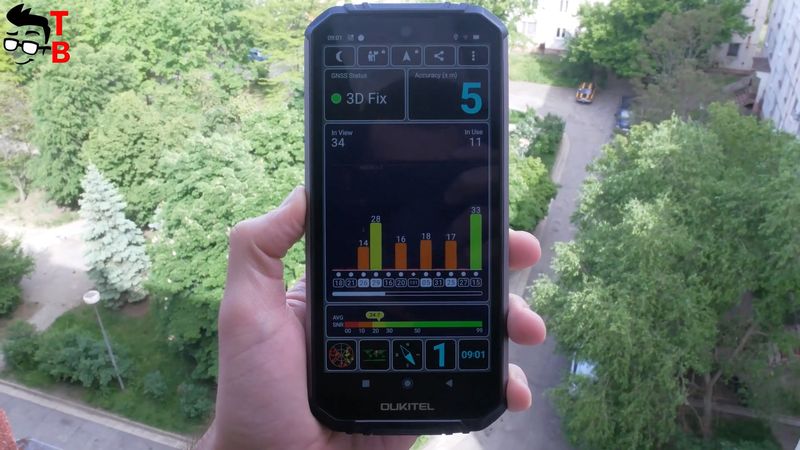 I think that's enough to understand the smartphone has quite good performance. But what about games? Let's play some popular Android games.
Games
You may have already noticed that I have three favorite games: Asphalt 9, PUBG Mobile, and Call of Duty Mobile. I think these are very good games for the performance test of Oukitel WP6.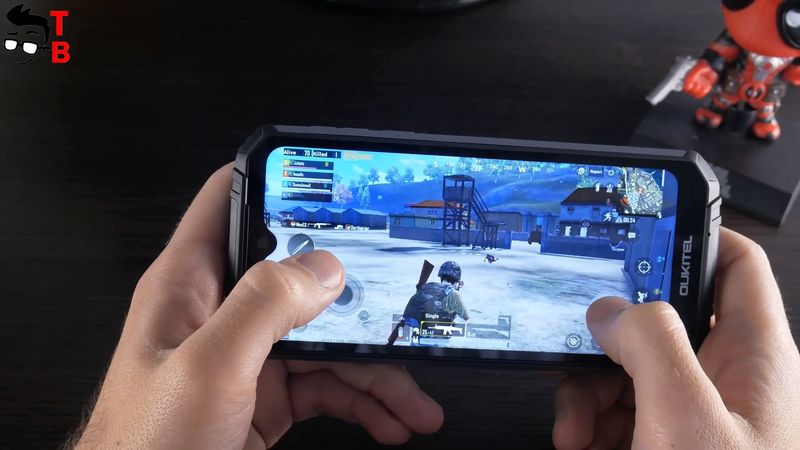 As you can see, the maximum graphics in PUBG Mobile is HD. The smartphone runs very well. I don't see any slowdowns or any other problems.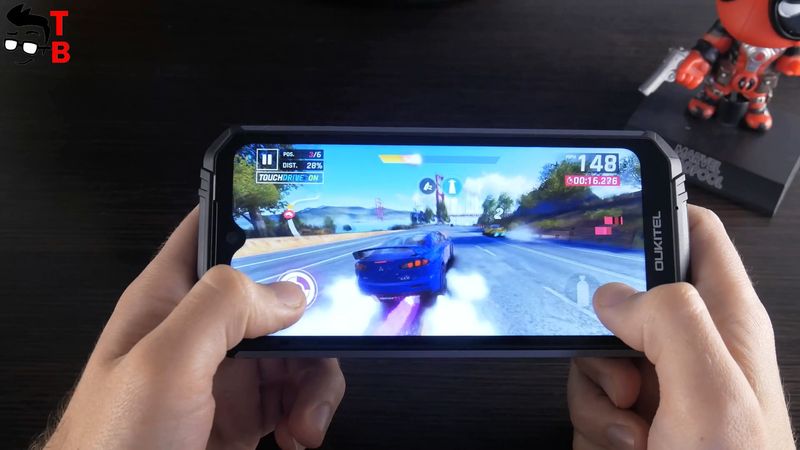 The next game is Asphalt 9. You know, I have been playing for about 20 minutes now, and my hands are really tired because Oukitel WP6 weighs 380 grams. It is about twice as heavy as any other not rugged smartphone. So, you will need to put your hands on the table when you play games. Holding the smartphone in the hands for a long time is hard enough.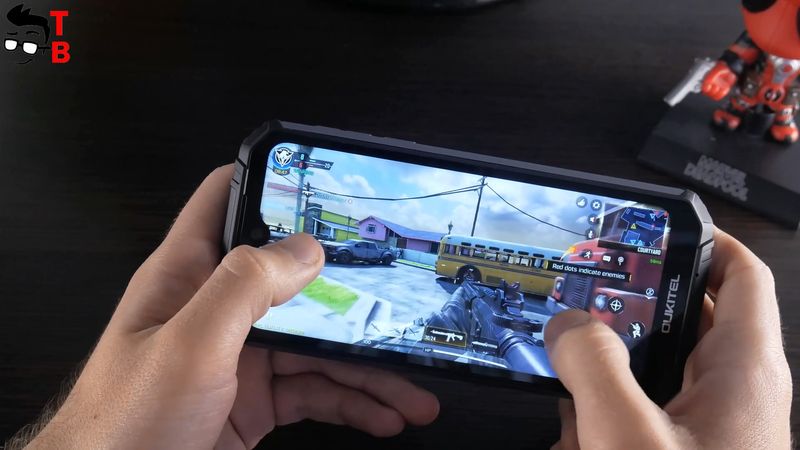 As you can see, there are no problems with Asphalt 9 on Oukitel WP6.
Triple Camera
The camera is another feature of this phone because there are three sensors on the back: 48MP main sensor, 5MP depth sensor, and 2MP third sensor. I don't know why there is a 2MP sensor. I am going to test the camera, take many photos, and then tell you the purpose of the 2MP sensor. Maybe it is even fake, I don't know yet.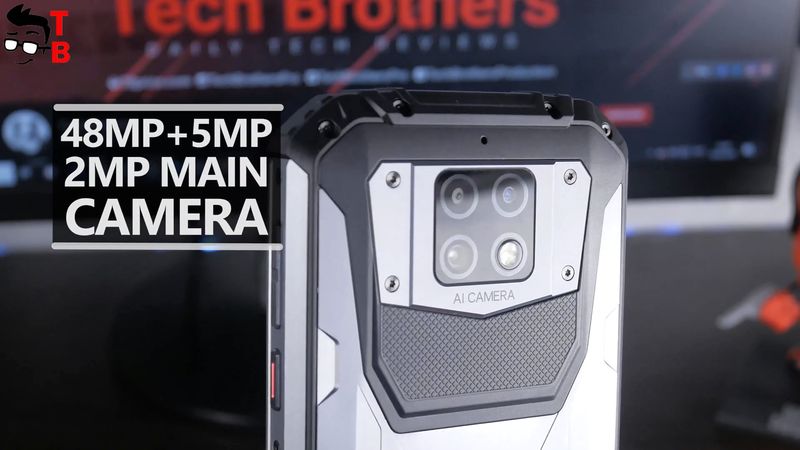 The front camera is 16MP.
Camera App
The smartphone has many shooting modes in the camera app. You can use night mode, video, face beauty, photo, slow motion, panorama, and group selfie.
While taking photos, you can use time-lapse, group selfie, and 48MP mode. There is also a flashlight, HDR, and bokeh.
In the settings menu, there are many options, such as fingerprint, sound, geo-tagging, volume keys, AI Scene, picture size, etc. By the way, the maximum picture size is 12MP. If you want to take a 48MP photo, you have to enable 48MP mode.
In the video settings menu, you can choose the video quality from the medium, fine, and high.
Sample Photos
OK, I think you want to see real sample photos. I took images day and night.
As you can see, the daytime photos are really good. 48MP main sensor is doing a great job.
The portrait photos are also good. The second 5MP sensor is definitely not fake.
As I already said, I still don't know what the third 2MP sensor is doing. It is not the macro lens, because there is no macro mode in the camera app.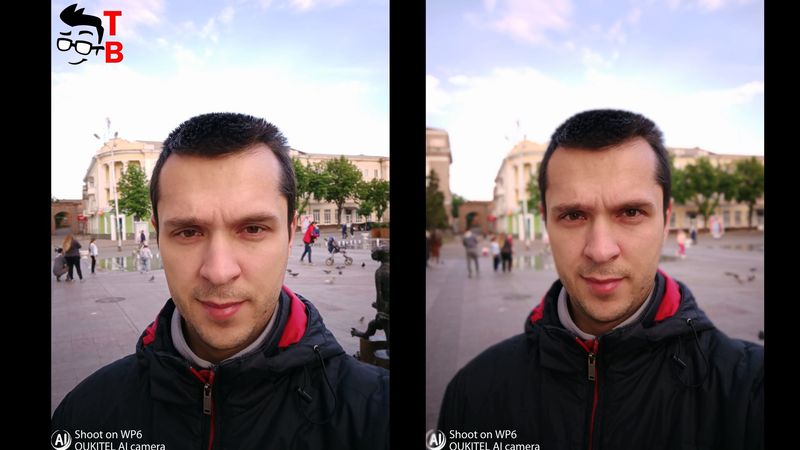 The selfie photos on the 16MP front camera are very good. You can even take portrait photos on the front camera.
The manufacturer says that Oukitel WP6 has a super night mode. The photos at night are really good. It is better to use the night mode when you take photos in poor light conditions.
Battery
However, the highlight of Oukitel WP6 is the battery. It has a capacity of 10000mAh. Also, the smartphone supports 18W fast charging. The battery life should be very long.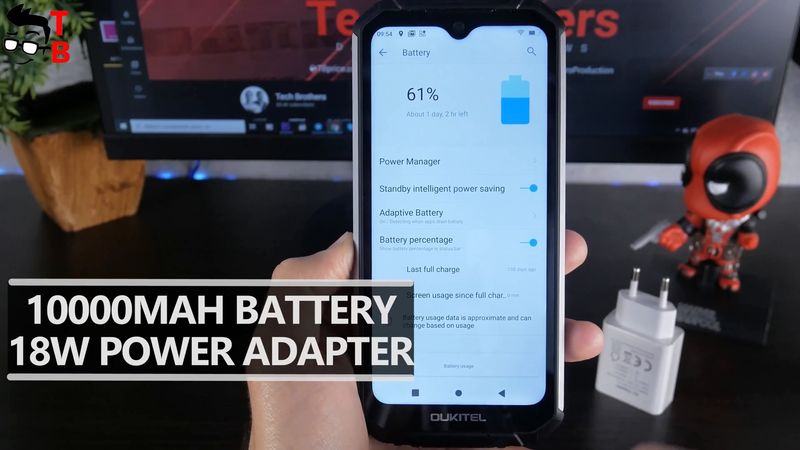 Even though 18W fast charging, I think the battery will take more than 3 hours to charge.
The link to the video with the battery test, you will also find in the description.
Connectivity
Oukitel WP6 had a slot for dual SIM and a dedicated slot for a microSD memory card. Both SIM cards support 4G networks. Unfortunately, the smartphone doesn't have NFC.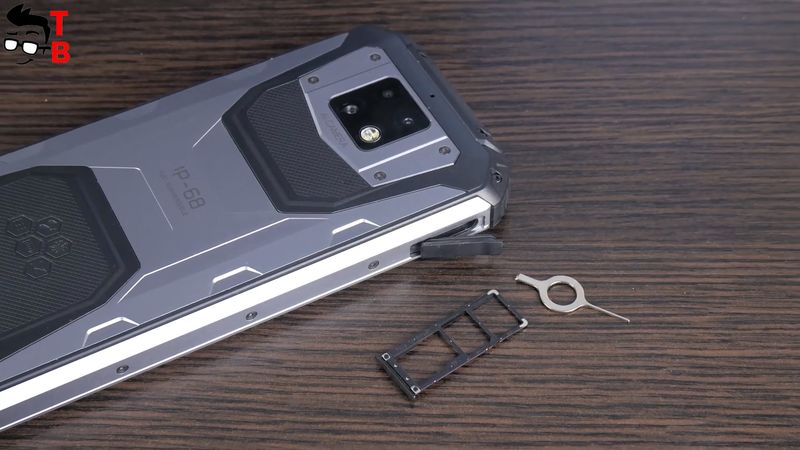 On the other side, there is OTG support. Oukitel WP6 has a very big battery, and you can use it to charge other phones.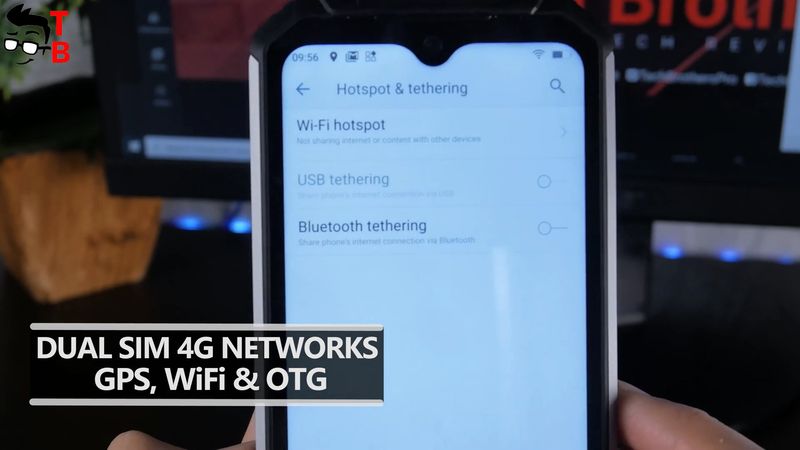 There is a special OTG cable in the package. So, Oukitel WP6 is not only a smartphone but also a power bank.
Speaker and Sound Quality
The speaker is located on the back. Now you can listen to the sound quality.
I think it is OK. However, if you don't like it, there is a 3.5 mm audio jack. You can also use Bluetooth wireless earbuds with this phone.
Conclusion
So far, Oukitel WP6 looks good. Yeah, this smartphone is not for everyone, because it is big and heavy. It is not comfortable to carry in a jeans pocket. However, if you need a durable and waterproof smartphone, then you don't care about the size.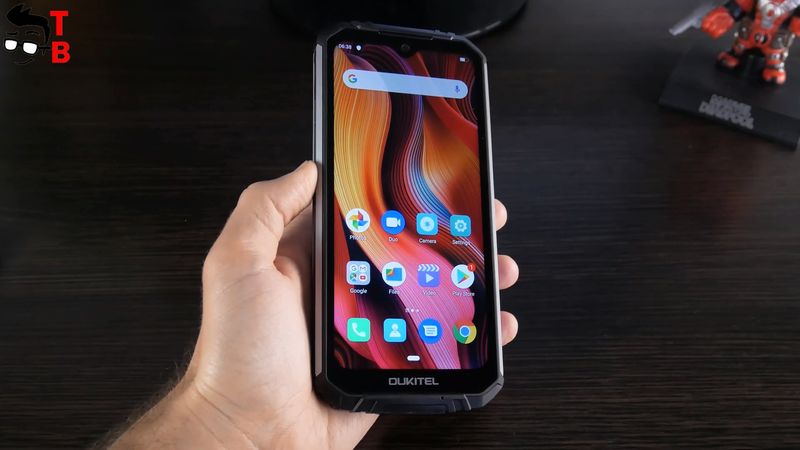 I cannot draw any conclusions about this smartphone right now, because I have to test performance, camera, and battery.
In a few days, we will publish all the videos, and then tell you should you buy this phone or not. Subscribe to our channel – Tech Brothers, not to miss new videos.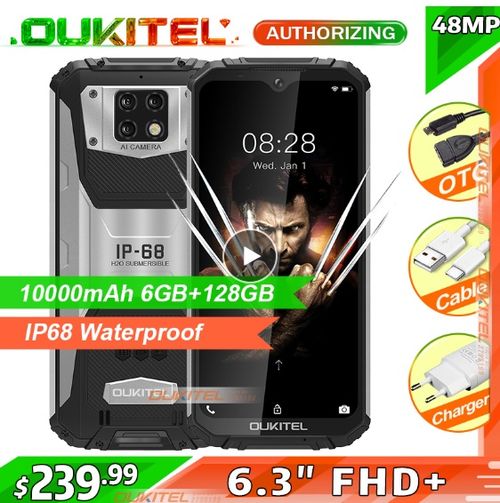 OUKITEL WP6 10000mAh 6.3'' FHD+ IP68 Waterproof Mobile Phone - Aliexpress
as of November 16, 2023 11:38 am
Oukitel WP6 Unboxing and Review Video