About one year ago, I tested a cordless vacuum cleaner from ORFELD Company. You can watch that video on our YouTube channel.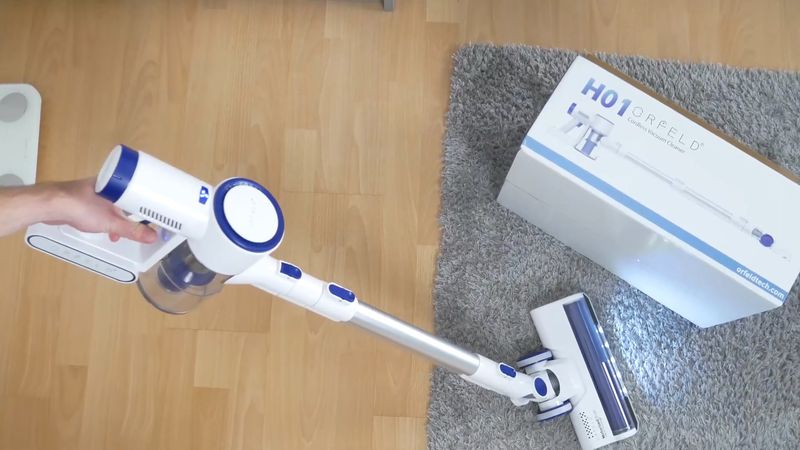 Now, I have the new version of the stick vacuum cleaner from the same brand, but it has a new design, 5-stage filtration system, up to 30 minutes of battery life, and 5 LED lights on the motorized brush. The motor power is 200W, and the suction power is up to 20KPa in a turbo mode.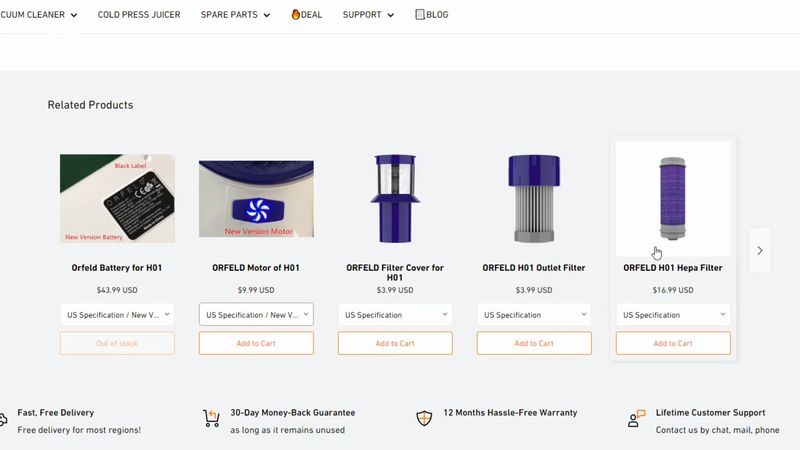 You know, I like ORFELD brand because they sell all the parts and accessories for the vacuum cleaners separately, including motor, battery, dust cup, filters and brushes. That's very good, because any vacuum cleaner after a year of active use needs to replace filters or even important parts, such as the motor.
OK, let's unbox the new ORFELD cordless vacuum cleaner, and then we will look at the design, and test the cleaning performance.
Unboxing
So, I have received a branded box with ORFELD logo on the top, and the image of a vacuum cleaner on the side.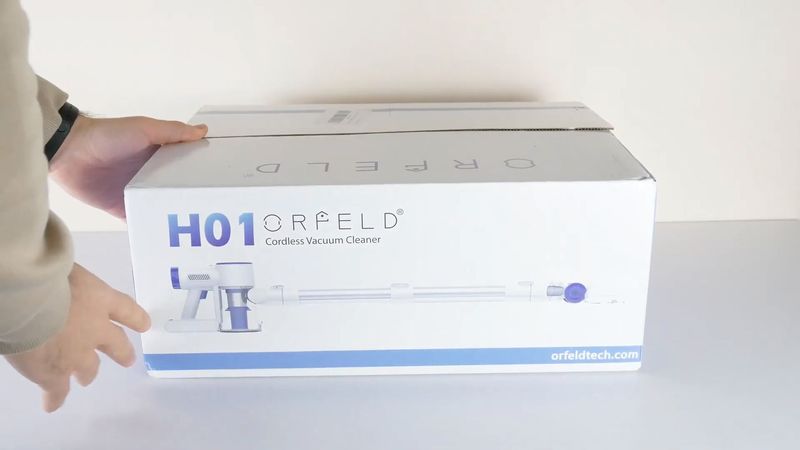 When you open a box, you will find a user manual. By the way, I forgot to tell you the model name of this product. This is H01.
Then, we have a main body with a removable battery. We will talk about this a little later. 
There is also a 2-in-1 motorized brush, metal tube, crevice tool, dust brush, wall mount stand, and power adapter, as well as two spare washable HEPA filters in the package.
Design
Talking about design of the new ORFELD H01 vacuum cleaner, I like the combination of white and blue colors.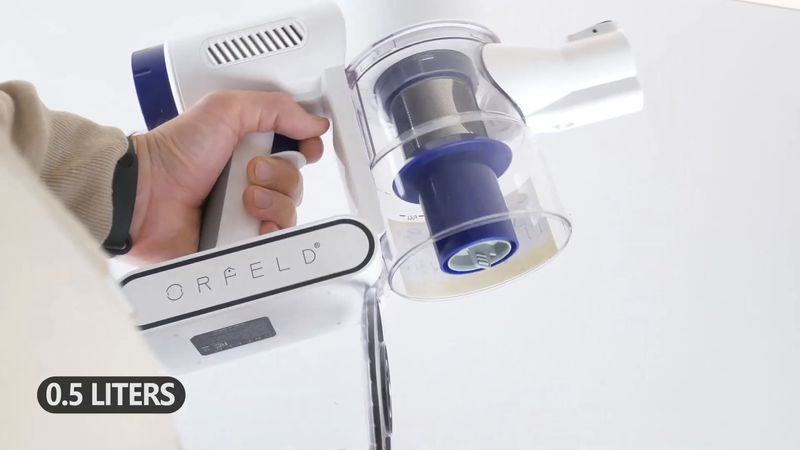 You know, a dust cup looks not so big, but it has a capacity of 0.5 Liters. That's enough to clean a large apartment.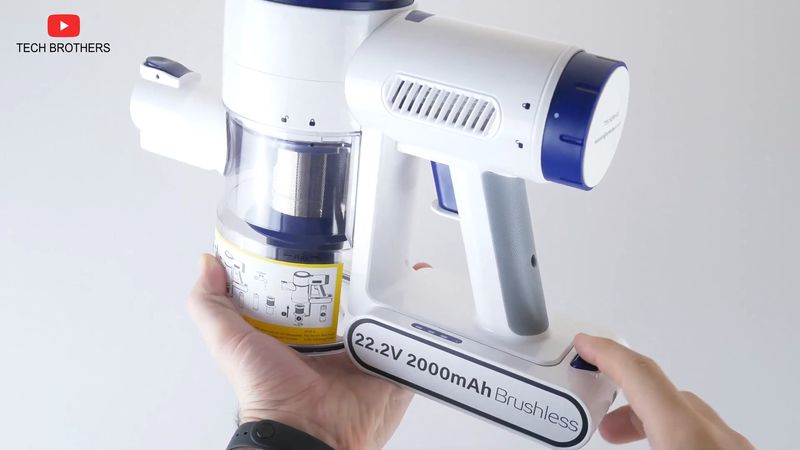 Another feature of this vacuum cleaner is a removable battery. There is ORFELD logo on one side, and 22.2V 2000mAh brushless on the other side.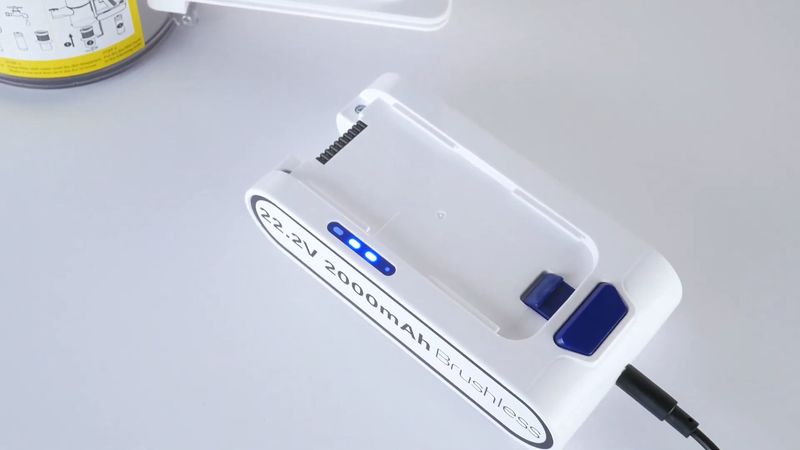 I think it is better to have a removable battery, because you can quickly take it off, and charge wherever you want. 
By the way, you can also buy the extra battery and use it instead of the first one.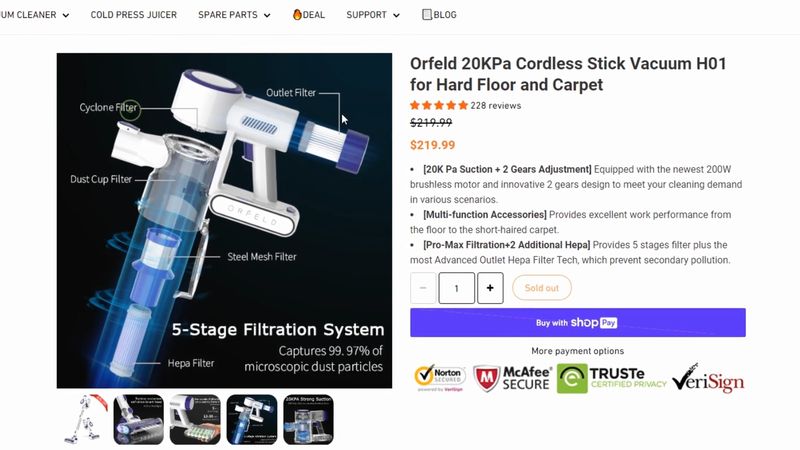 I already told you about the 5-stage filtration system of the ORFELD H01 vacuum cleaner.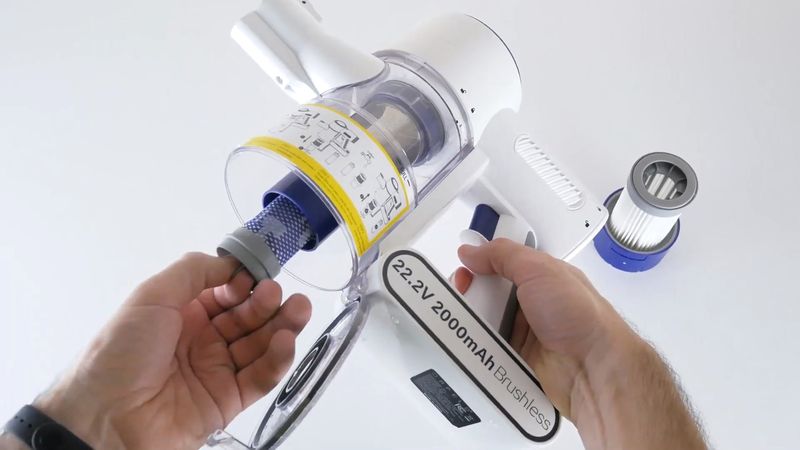 First, you can press a dust cup lid latch, and remove a HEPA filter.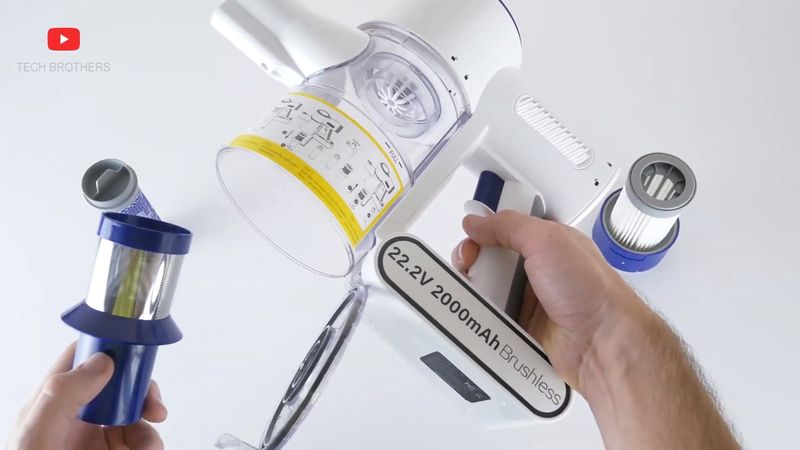 You can also hold a mesh filter and rotate it anticlockwise. Both HEPA and mesh filters are washable. However, they need to be completely dried before the next cleaning.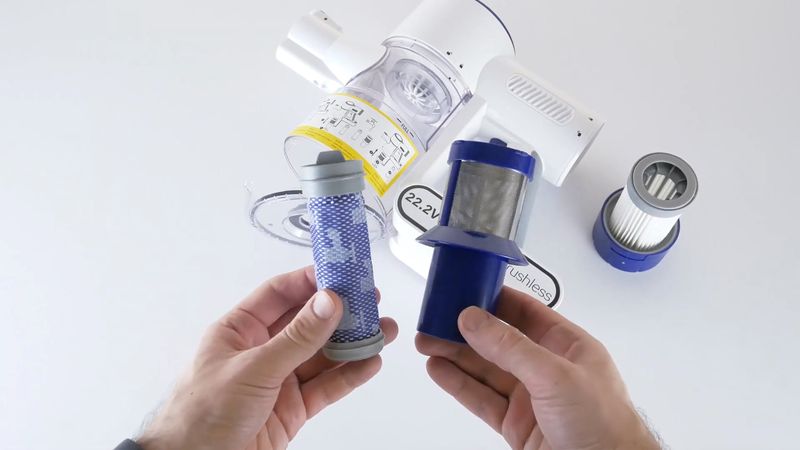 The next filter is above the handle. There are lock and unlock icons on the side. This is also a washable HEPA filter.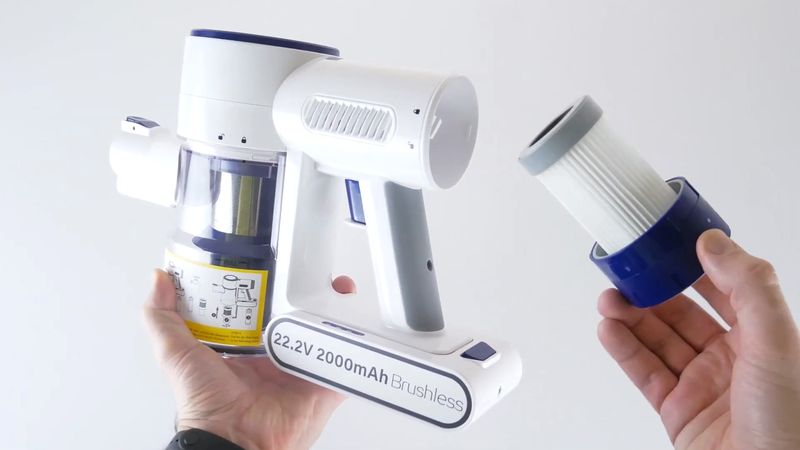 I found 3 removable filters, while the other two are inside the main body. You cannot take them out and clean.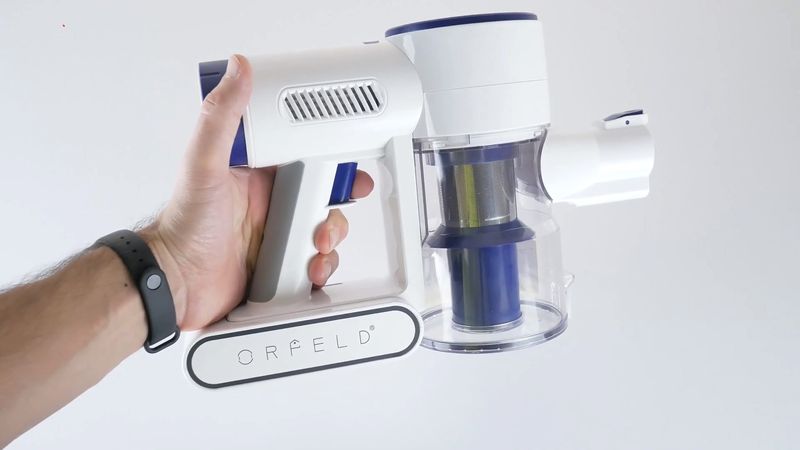 The new cordless vacuum cleaner has only one control button on the handle. You can press the button once to turn on the vacuum cleaner, and press it again to switch to the Turbo mode.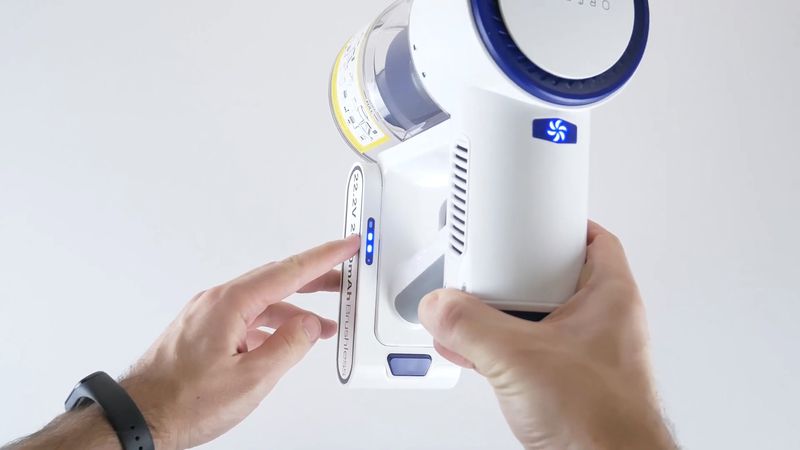 There is a suction power indicator on the top, as well as a battery level indicator on the battery.
So, I really like the design of this vacuum cleaner, removable battery, and removable filters.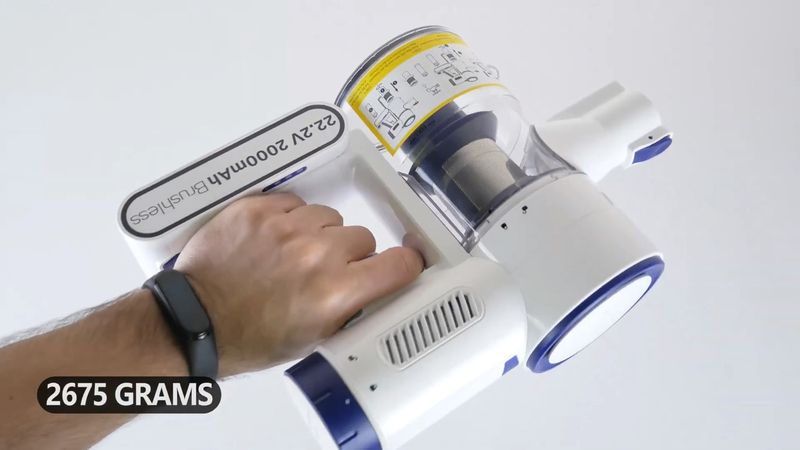 By the way, the weight of ORFELD H01 is only 2675 grams, so it is very easy to hold it in your hand for a long time. 
Accessories
Like the other cordless vacuum cleaners, ORFELD H01 has a metal tube. It is extendable up to 690 mm.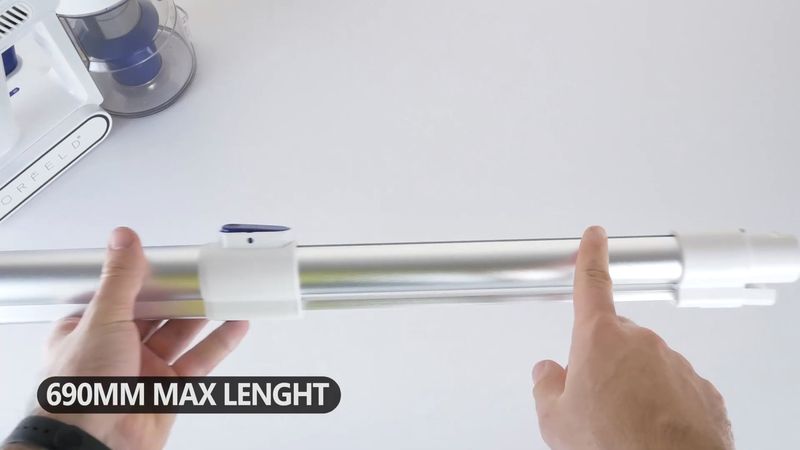 You just need to insert it to the main body, and then attach a motorized brush to the other end of the tube.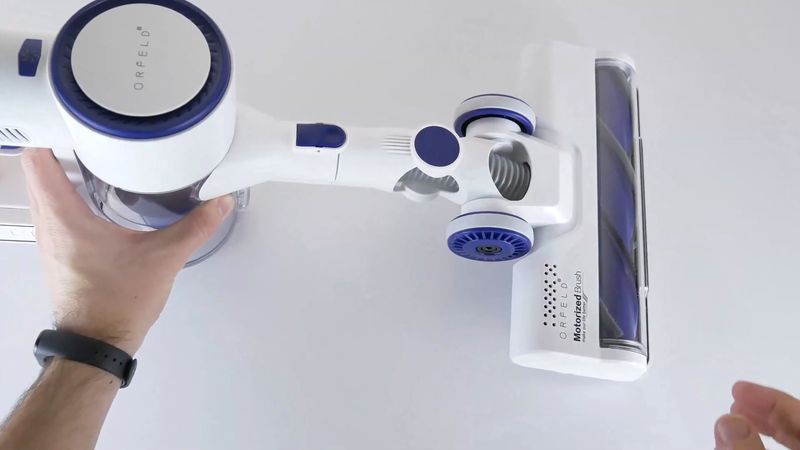 You can also insert a motorized brush to the main body of the vacuum cleaner without a metal tube.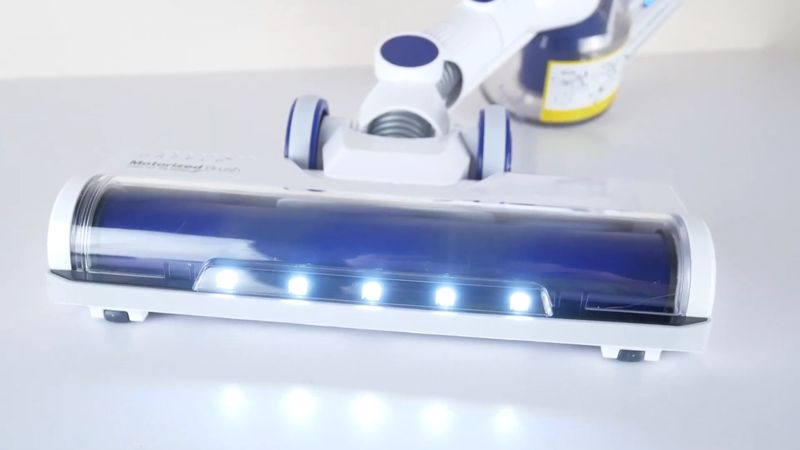 By the way, the feature of this motor brush is five LED lights. This is a very useful feature because it allows you to see dust and other dirt in dark corners.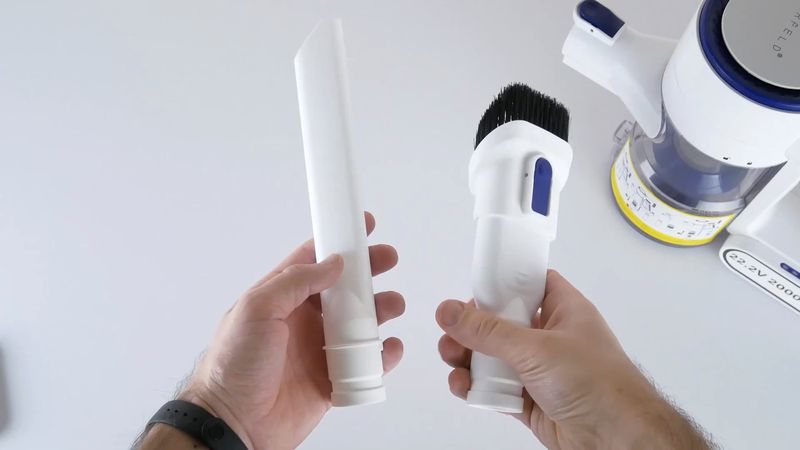 There is also a crevice tool and a dust brush in the package, and you can use them to clean shelves, curtains, furniture, or any other places.
So, I think we have already talked about the design of this cordless vacuum cleaner, and let's move on to performance.
Noise Level
First, I want to measure the noise level. As I already said, ORFELD H01 has standard and turbo suction modes.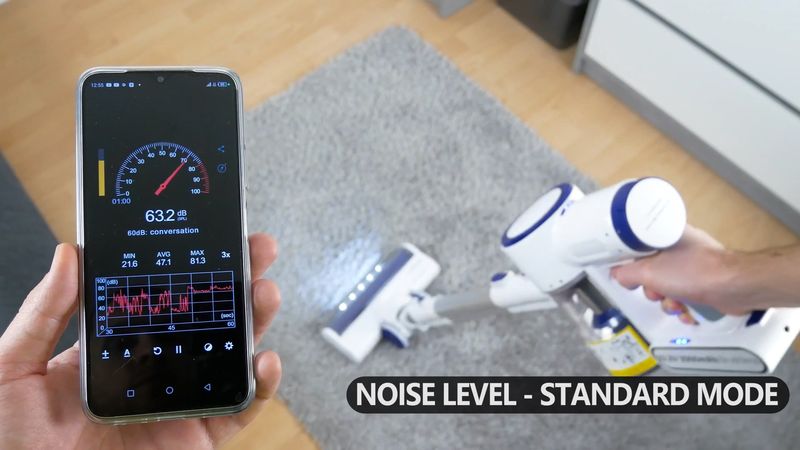 The noise level in a standard mode is 63 db.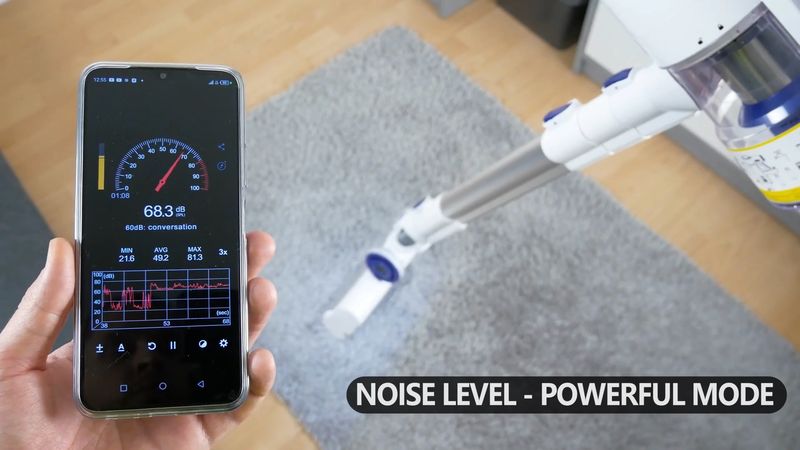 Using a turbo mode, the noise level is 68 dB.
Cleaning Performance
Now, let's talk a little about cleaning performance. The maximum suction power in a turbo mode is 20000 Pa. 
However,you will mostly use the vacuum cleaner in a standard mode, and the suction power is 9000 Pa.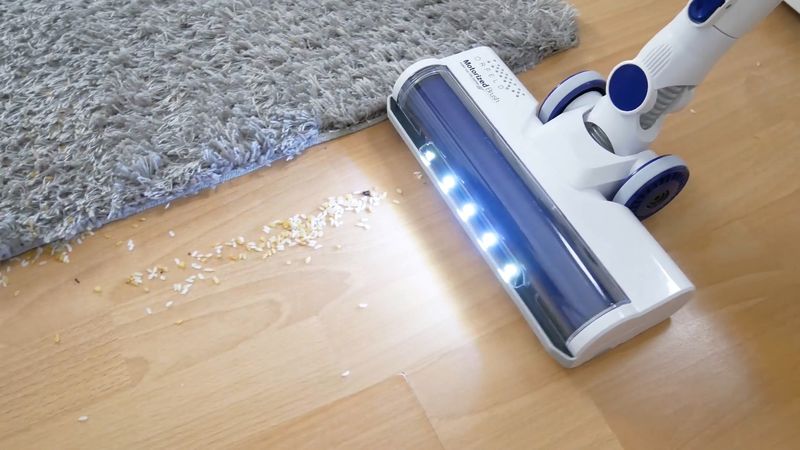 Even in a standard mode, the vacuum cleaner removes any dirt, including dust, pet hair, coffee beans, etc. 
By the way, ORFELD H01 cleans very well on the carpet. 
Conclusion
You know, ORFELD H01 is not the most powerful cordless vacuum cleaner I have tested, but it is definitely one of my favorites. 
I like the removable battery, as well as an extra HEPA filter in the handle. This vacuum cleaner has a 5-stage filtration system.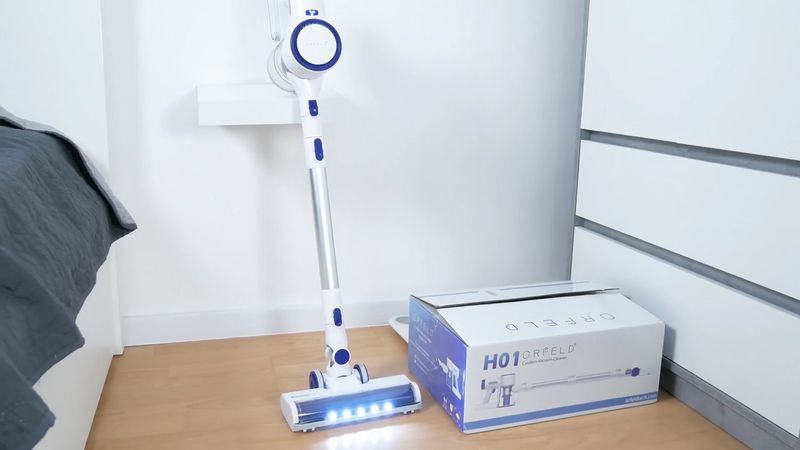 There are also two space HEPA filters in the package, and you can buy any filter or even motor, battery, dust cup, metal tube, etc. on the official website. 
You know, this is a very big advantage of ORFELD H01, because it can be very difficult to find even a HEPA filter on other vacuum cleaners. Here you can assemble the vacuum cleaner piece by piece from scratch.