Looking at this device, you might think this is bone conduction headphones, but actually, it is not. This is an open-ear meeting headset, and it doesn't use vibration to deliver audio through cheekbones, like the other bone conduction headphones.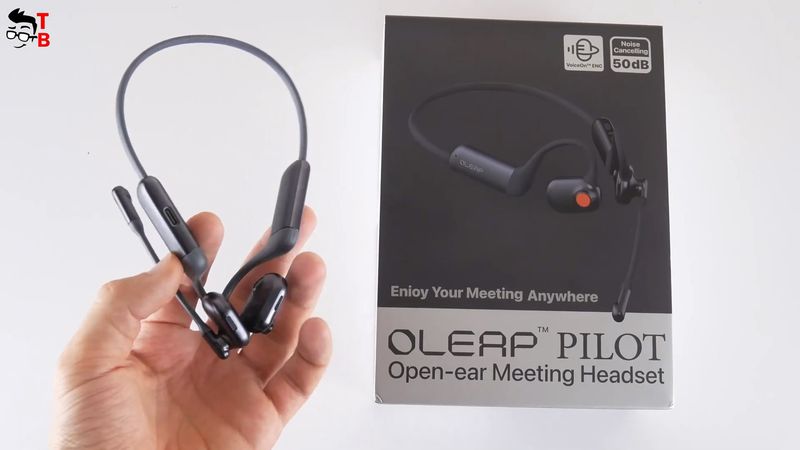 The manufacturer says that the new headset uses an air conduction. To be honest, I haven't tried or even seen anything like this before, so I'm very excited.
The headset is called OLEAP Pilot. It will launch on Kickstarter in August 2022, while a mass production will start in September. The crowdfunding price starts from $79.
We already have one sample of this headset, so we can do a full review of it. As usual, let's start with unboxing.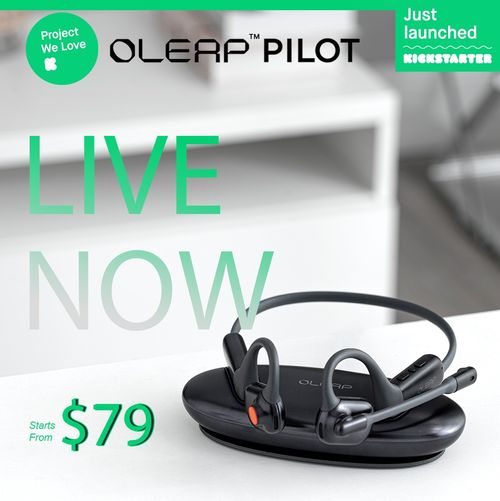 Oleap Pilot: Open-ear Headphones with Best Call & Sound - Kickstarter
as of January 29, 2023 3:47 pm
Unboxing
As you can see, I have two boxes. One of them is a headset, while another is a stand for it.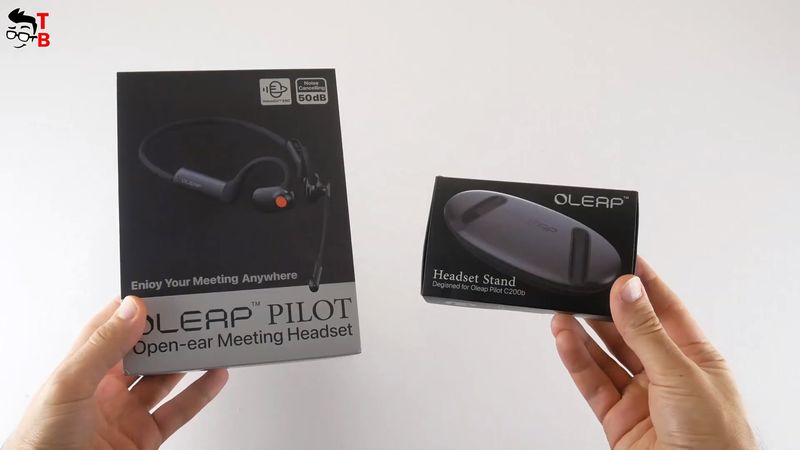 Most likely, a stand will be sold additionally. You know, this is not only a stand, but also a charging dock.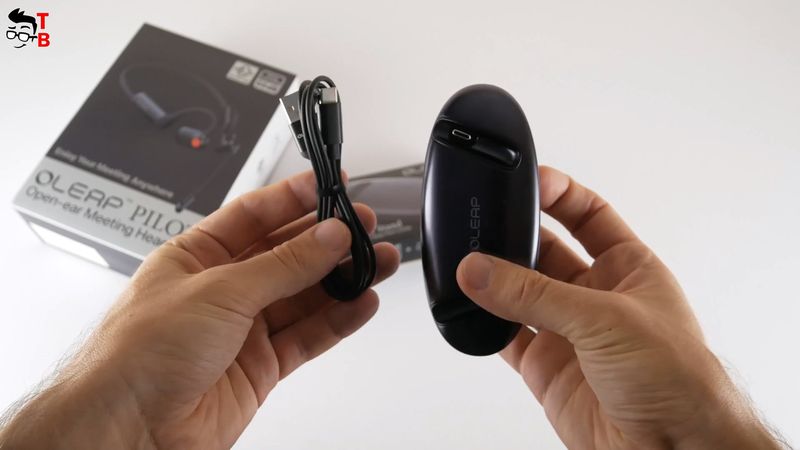 Later we will see how it works. There is also USB Type-C cable in the package.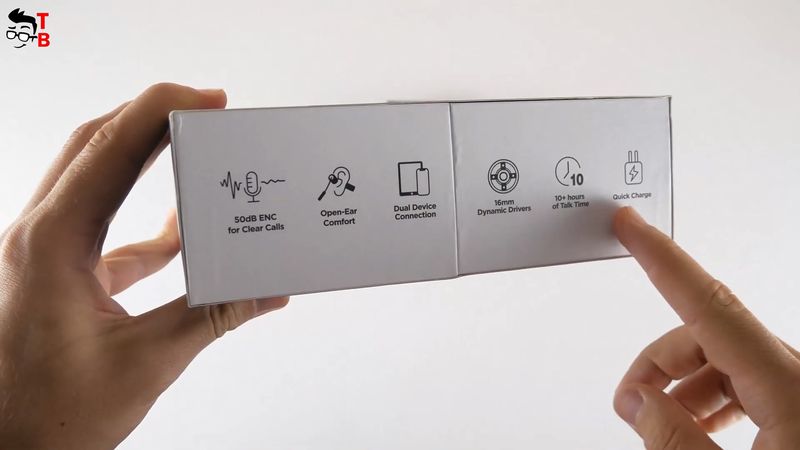 On the main box, we can read the main features of the headset, such as 50dB ENC, open-ear design, dual device connection, 16mm dynamic driver, 10 hours of battery life and quick charge.
There is also a specification list on the back.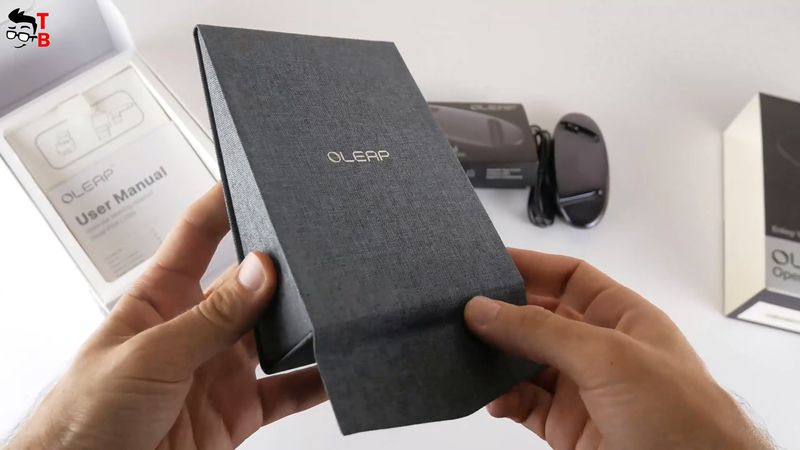 Inside the box, there is a fabric case with a big OLEAP logo, user manual, USB adapter, and USB Type-C charging cable.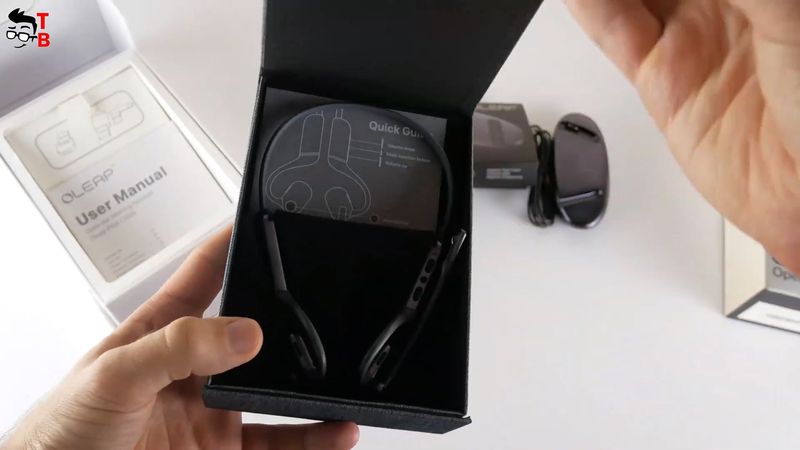 As you understand, the headset is in a fabric case. There is also another quick start guide in the case.
Design
You know, OLEAP Pilot really looks like bone-conduction headphones. However, as I already said, it doesn't use a vibration to deliver audio through cheekbones.
Another feature of this headset is a microphone.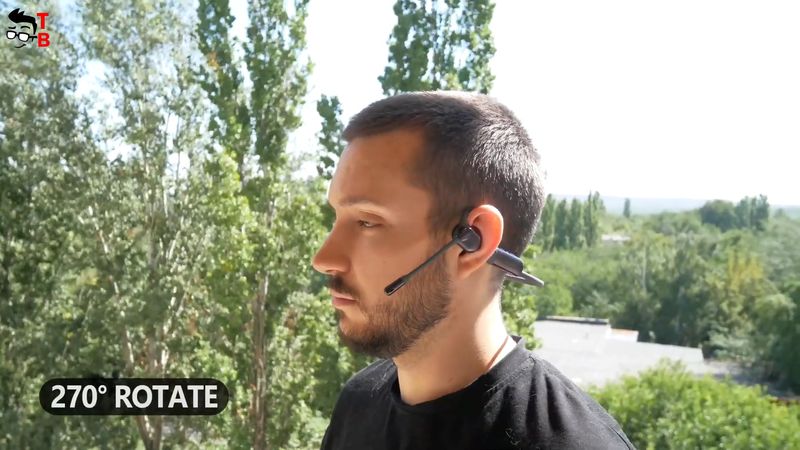 It is not removable, but you can rotate it 270 degrees.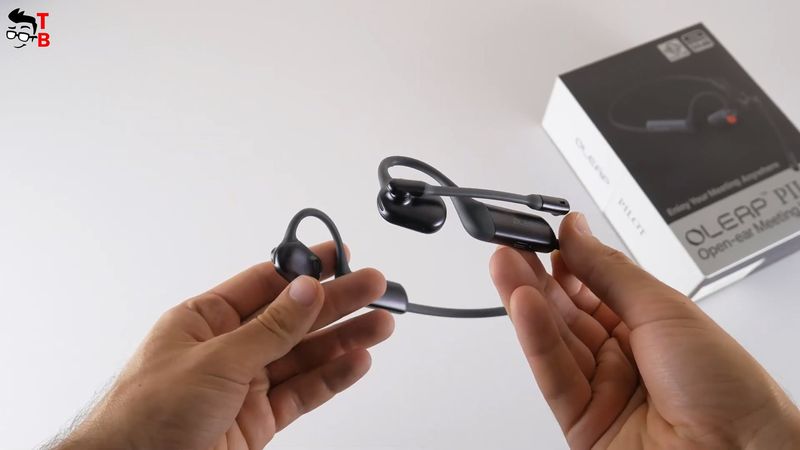 On the left side of the headset, there is volume up and down buttons, as well as power button, but you can use it to play/pause a music and answer or end a phone call.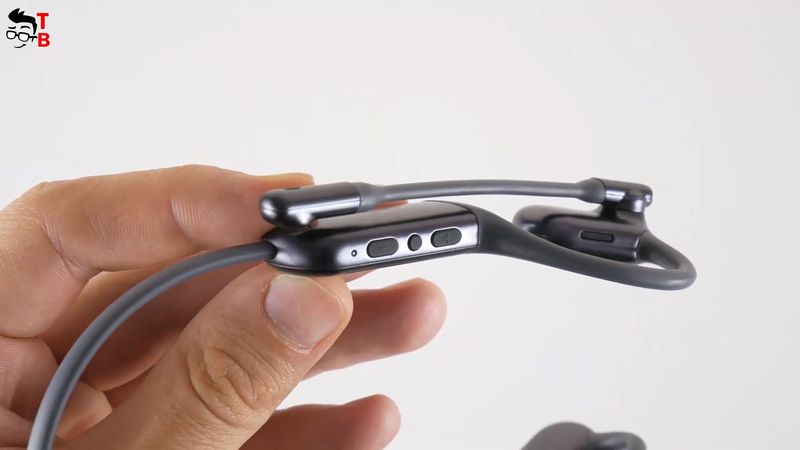 The headset also has a big mute button on the right ear. You can press it to turn off/on microphone during the call.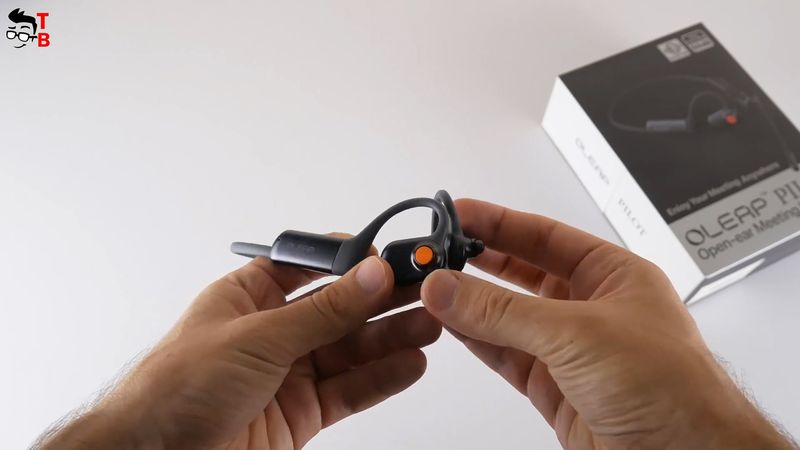 USB Type-C charging port is also on the left side.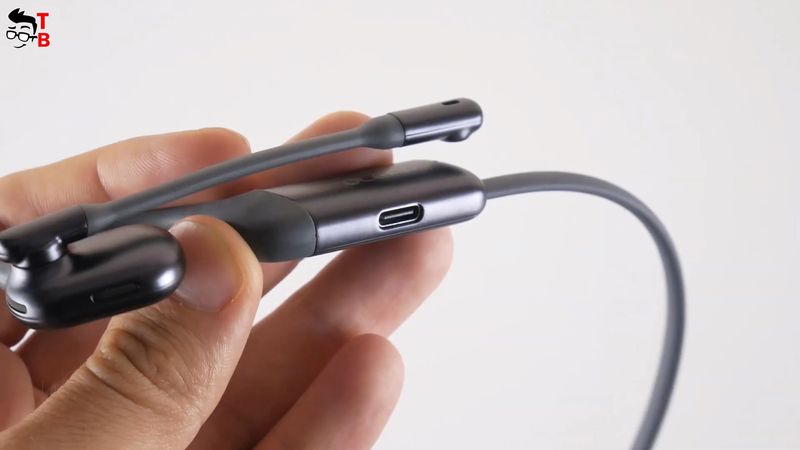 By the way, you can use a charging cable to charge a headset, or use a stand. As I already said, this is not only a stand, but also a charging dock. However, it doesn't have a built-in battery, so you still need to connect a stand to the power source.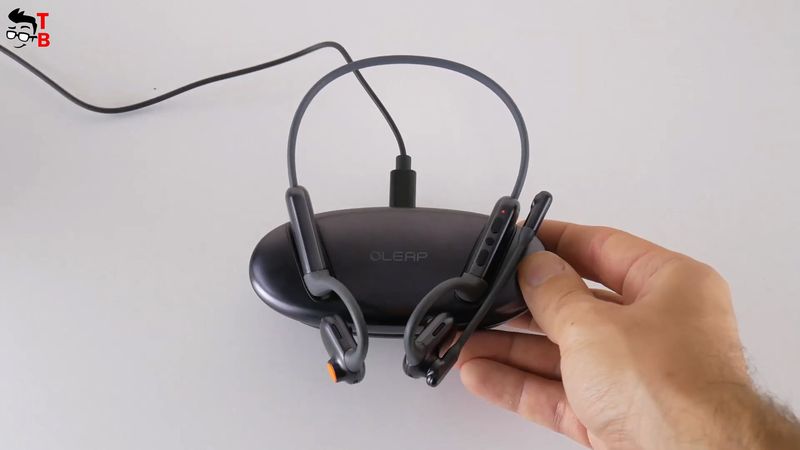 Anyway, it is a very handy solution for offices. In addition, the headset looks very stylish on this stand.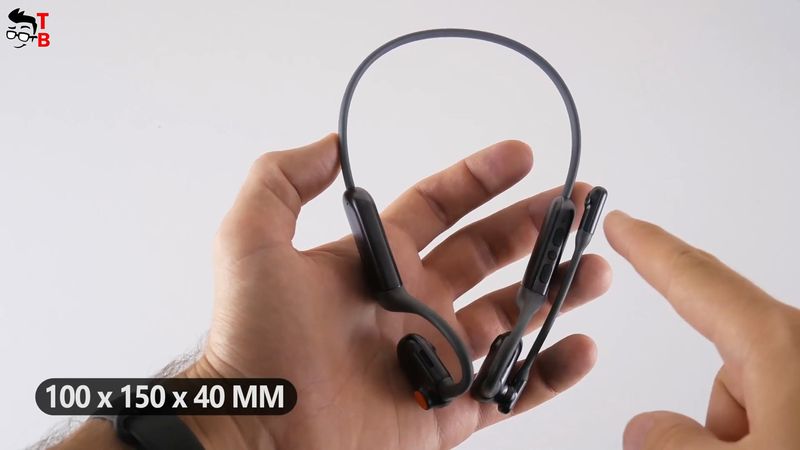 Talking about dimensions of OLEAP Pilot, they are 100 by 150 by 40 mm. The weight is only 33 grams. It is very lightweight, so you can wear the headset all the time until the battery runs out.
You should also know that OLEAP Pilot has IPX5 waterproof rating, so you can also use it for sports. The headset fits very securely on the head, and I think you can even go for a run with it.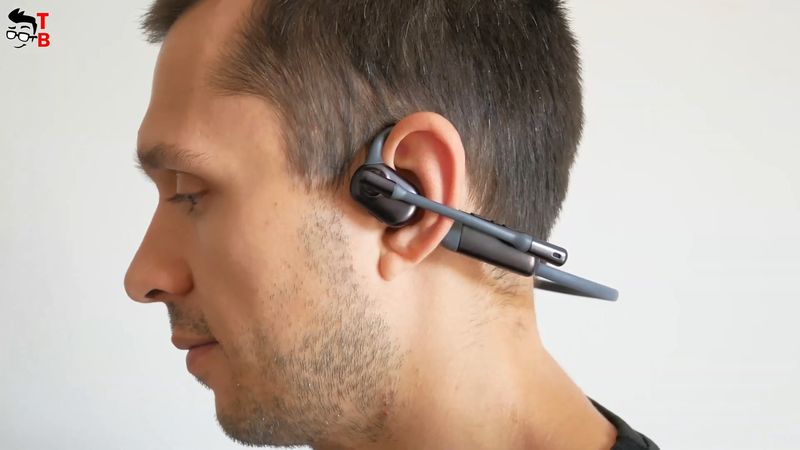 Talking about comfort, the new headphones are very comfortable, because they have an open-ear design, as well as light weight.
By the way, I just now realized that this headset is very safe when driving, because you can hear what's going on around you.
Now, let's talk about connection of OLEAP Pilot.
Connection
The new headset has a Bluetooth, so you can connect it to the smartphone, laptop or other devices like any other Bluetooth headphones.
Just press a power button on the headset, and then go to Bluetooth settings on your smartphone, and select OLEAP Pilot.
If you plan to connect the headset to laptop or computer, then it is better to use USB dongle from the package. The calls will be more stable and reliable.
Just insert a USB dongle into USB port of your laptop or PC, and the headset will be connected automatically.
By the way, you can also connect a headset to smartphone and PC at the same time. OLEAP Pilot supports dual device connection.
You know, the main feature of this headset is a microphone, so we need to test it.
Microphone Test
OLEAP Pilot has a built-in microphone that can rotate 270 degrees. Actually, there are three microphones – two mics on both sides, and one boom mic.
It also uses VoiceON ENC algorithm to eliminate background noise up to 50db.
So, I want to test a microphone in a quiet room, and then in the room with background noise.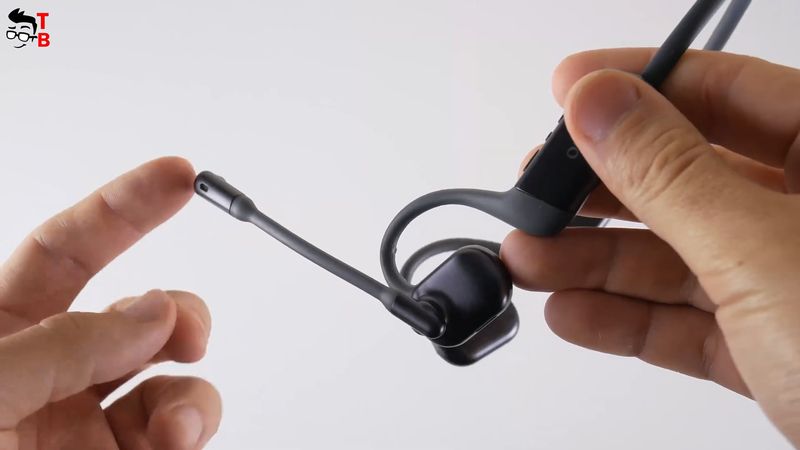 You can listen to an audio sample in the video above.
Hey, what's up! This is a microphone test of OLEAP Pilot headset in a quiet room.
The windows are closed, and there is only a noise from my computer, but I don't think you can hear it. By the way, I connected the headset to my smartphone. So, this is a phone call.
Now I opened the windows, and turned on the fan. Now it is quite noisy place because of the wind. Do you hear any differences from the previous sound? I will say my conclusions later after I listen to both sounds.
Sound Quality
You know, OLEAP Pilot is a headset, so we should also talk about sound quality.
There is 16mm dynamic driver inside.
First, I want to say that the sound quality of this headset is much better than bone-conduction headphones. The speakers are pointed directly into the ear canals, so the sound is very good quality.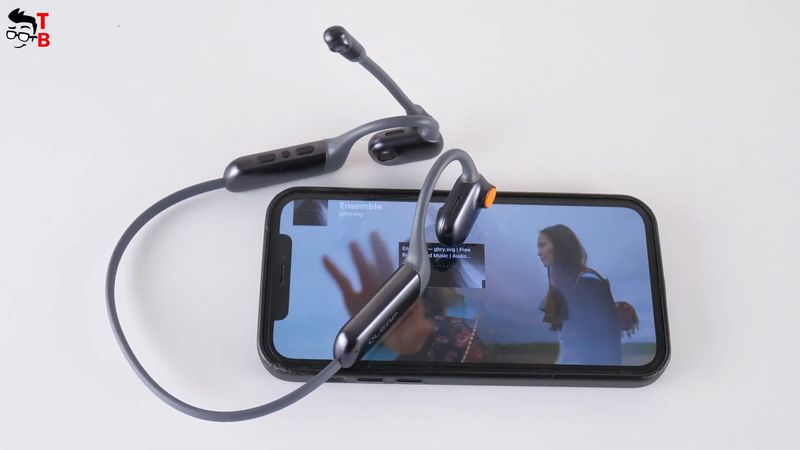 I thought that because of the open-ear design I would hear voices and noise around me, but actually, I don't really hear anything but music. The headset really immerse you in the music.
Another feature of this headset is BassLeap technology for boosted bass tone.
As I already said, OLEAP Pilot doesn't use vibration, unlike bone conduction headphones, so your ears do not get tired after long listening to music.
Battery
Finally, let's talk about battery. OLEAP Pilot is equipped with 180mAh battery, which doesn't really sound that much.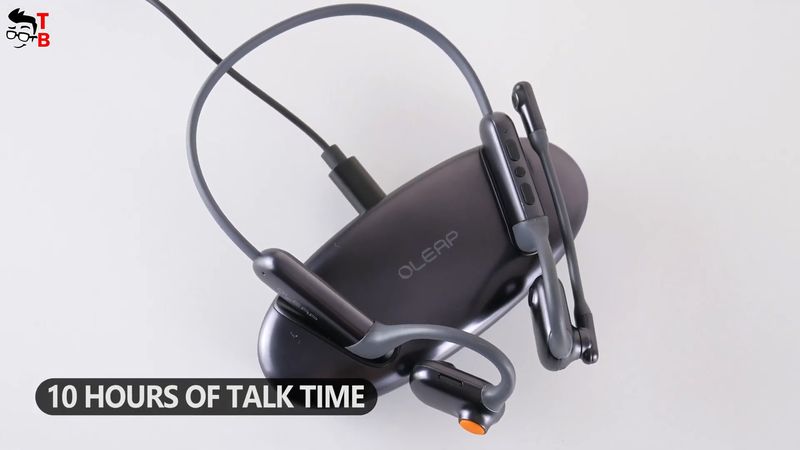 However, the headset has 10 hours of talk time and 16 hours of music playback time on a single charge. I think that's very good.
There is also fast charging support. 10 minutes of charging provides 30% of battery level. 1 hour of charging will give you 80%.
Conclusion
So, OLEAP Pilot looks like bone-conduction headphones, but actually they use air conduction.
Unlike the other bone-conduction headphones, which are designed for sports, OLEAP Pilot are intended for calls. The new headset has a rotatable microphone and 50db Noise Cancelling technology, so the mic quality is very good even in noisy places, such as office.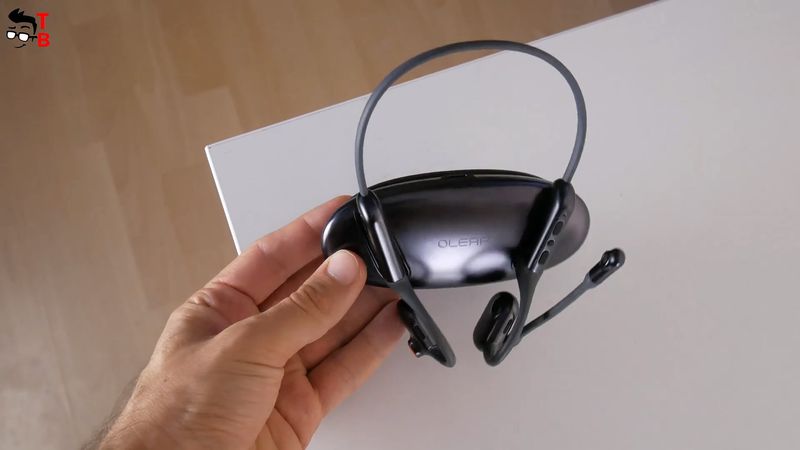 I also like a mute button, so you can quickly turn off/on the mic.
As for the sound quality, in my opinion, OLEAP Pilot is much better than bone-conduction headphones, and very close to over-ear headphones.
So, waiting for the start of sales of OLEAP Pilot.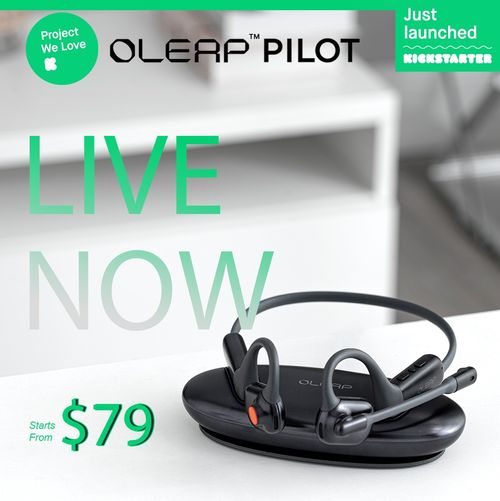 Oleap Pilot: Open-ear Headphones with Best Call & Sound - Kickstarter
as of January 29, 2023 3:47 pm