Have you ever heard of Nuroum brand? If not, this company makes a variety of office devices, such as Bluetooth headsets, webcams and all-in-one devices.
I have a conference camera in my hands, and today we will do a full review of it.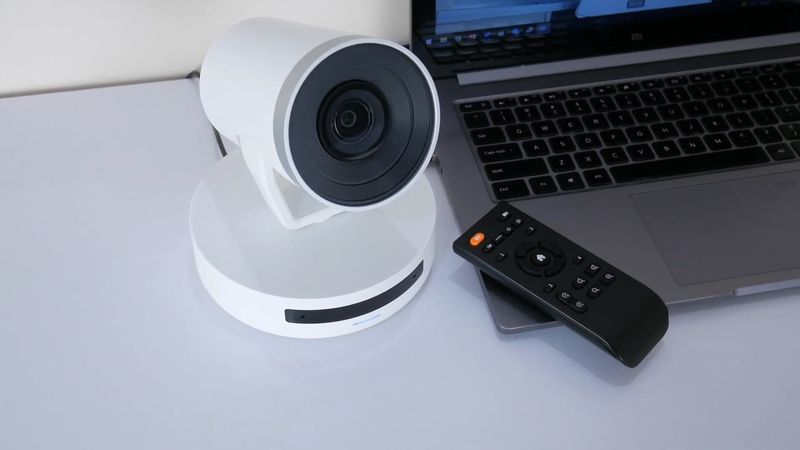 This camera is called Nuroum V403, and its main features are 1080p 30fps resolution, PTZ mechanism, 5x optical zoom, 122 degrees ultra-wide angle view, smart tracking mode and remote control.
You know, I have already tested some office webcams on our channel – Tech Brothers, but this one looks the most advanced. I am very interested in testing all the features, including video quality, microphone quality, remote control functions, and others.
Let's start with unboxing.
Unboxing
You know, this is not a compact webcam, so it comes in a quite big box.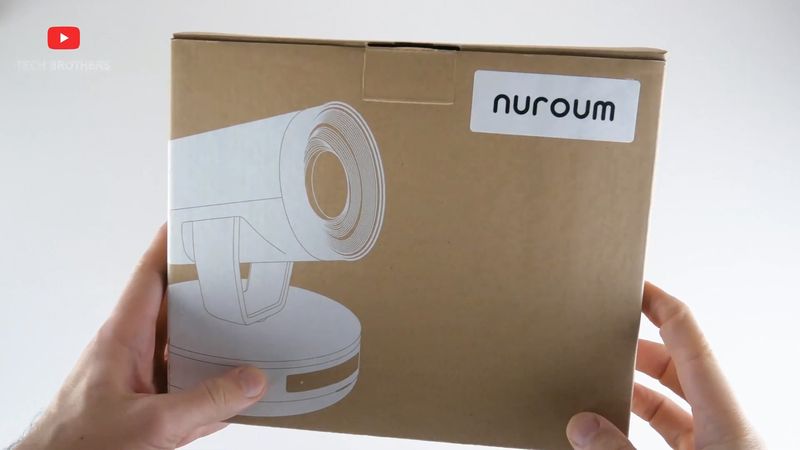 There is only the image of camera and brand logo on the front, and some information about manufacturer on the back.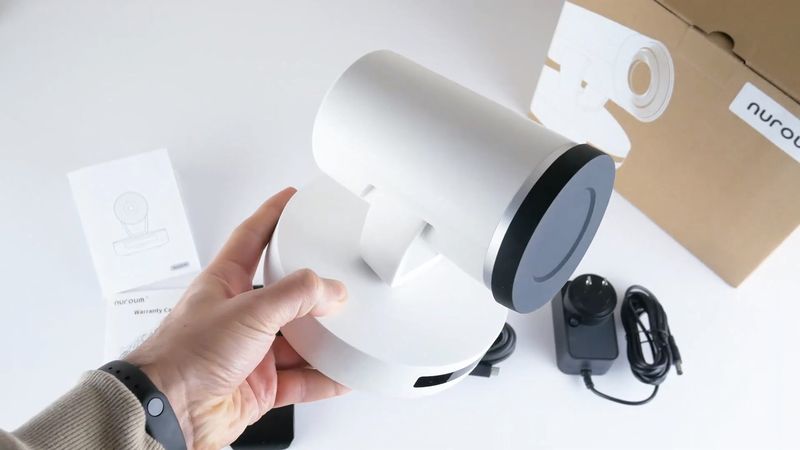 Inside the box, I found a user manual in different languages, warranty card, power cable, USB cable, remote control, and the conference camera.
Design
Wow, this is the biggest webcam that I have ever seen.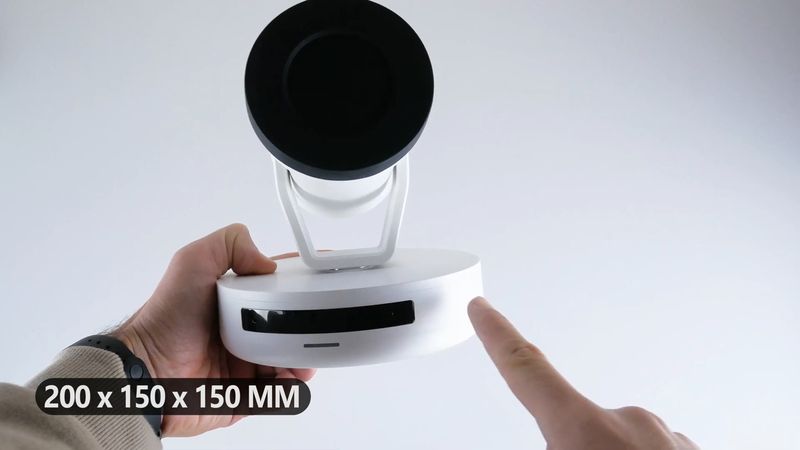 Its dimensions are 200 by 150 by 150 mm. The weight is 1910 grams.
As you can see, the camera has a big round base.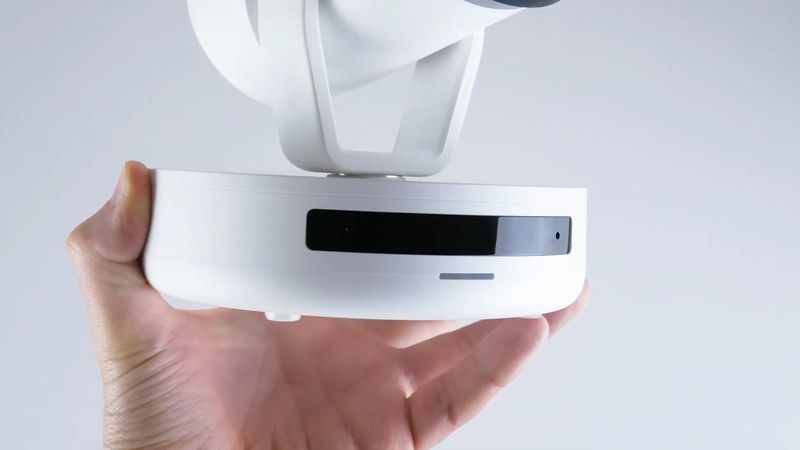 There is LED indicator, and IR sensor or a tracking sensor on the front.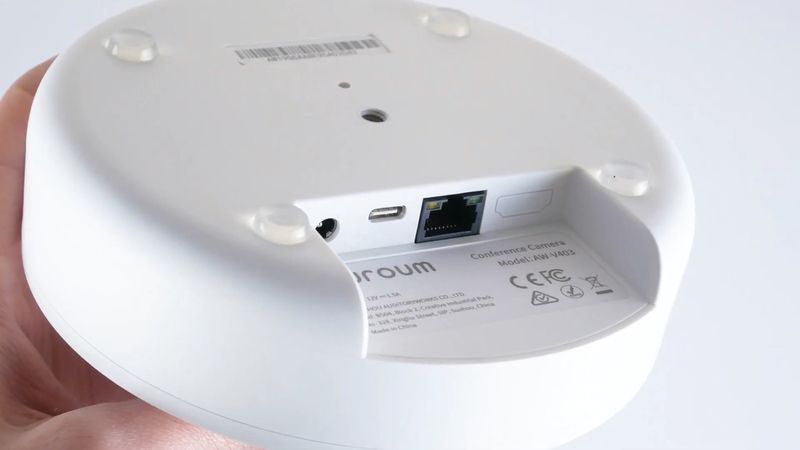 On the back of the base, there is RJ45 interface, USB Type-C port and DC power port.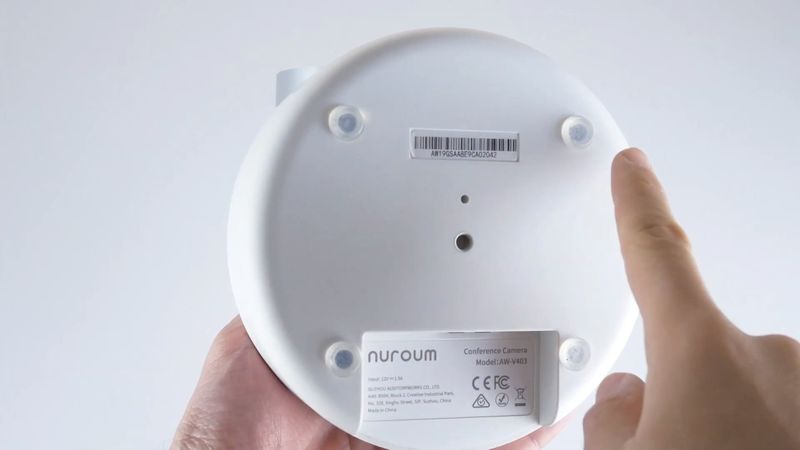 The conference camera stands on the four rubber feet. However, you can also install it on the tripod, because there is universal ¼" interface at the bottom.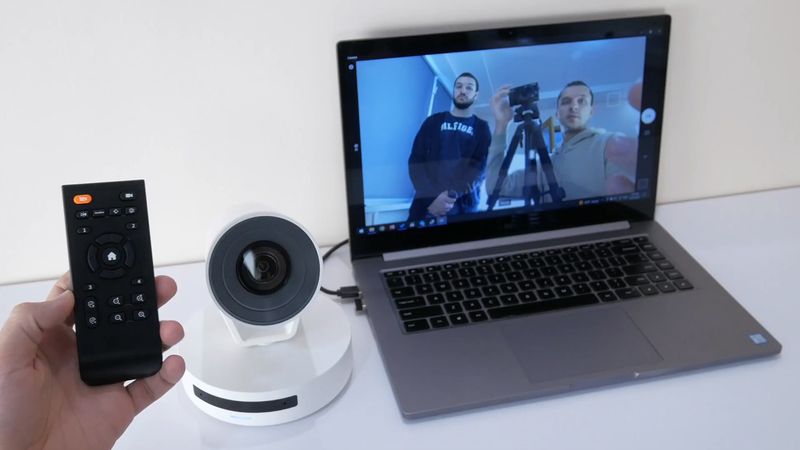 By the way, the manufacturer says that the camera can be installed on the TV and on the wall, but you need to buy brackets additionally.
Another feature of this conference camera is a privacy mode. In fact, a privacy mode is just a rubber cover on the lens. It is a very simple but effective solution.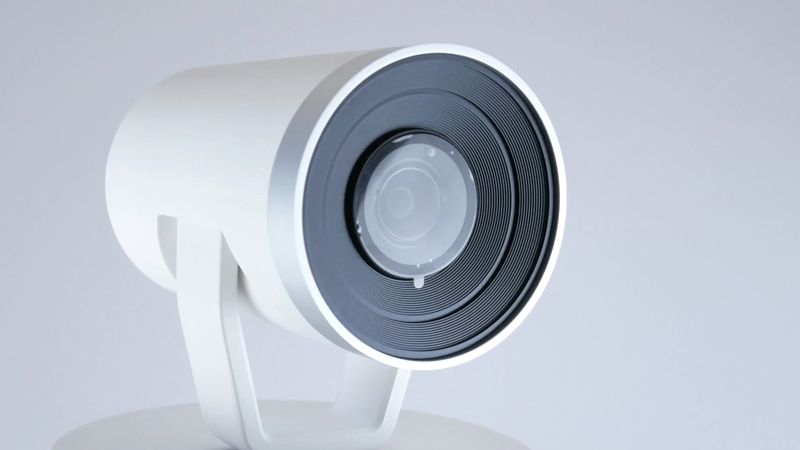 By the way, I also want to draw your attention to the size of the lens. It is much bigger than most other webcams. I think because of this the camera has a wider angle of view, as well as 5X zoom.
Remote Control
Talking about remote control, first, it is powered by two three A batteries.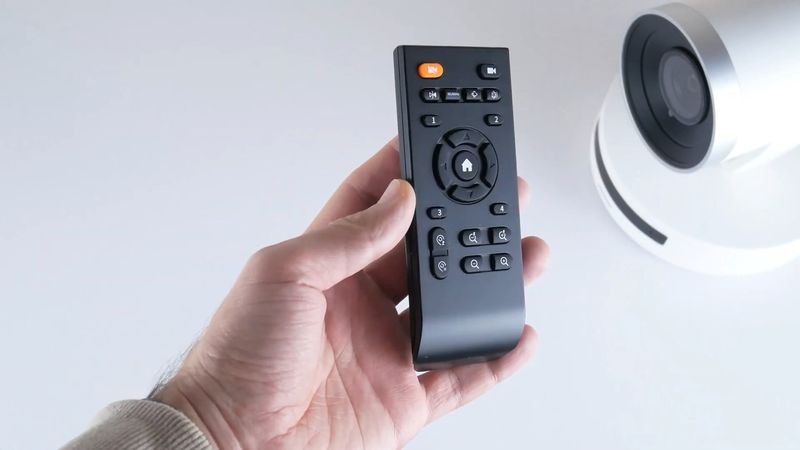 There are some very useful buttons on the remote control, such as camera on and off, mirror the picture, switch between 50 and 60 Hz, PTZ self-test and position calibration, flip top to bottom, four presets, as well as set preset and clear preset. We will talk about them a little later.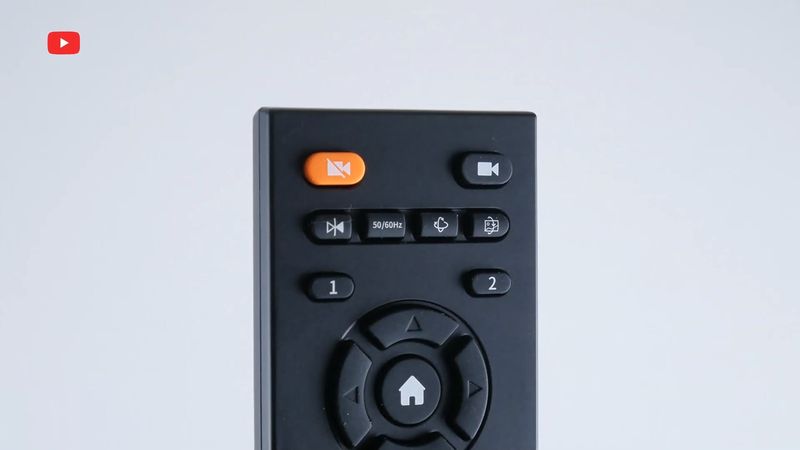 There are also a quick image zoom in and out, and zoom in gradually and zoom out gradually buttons.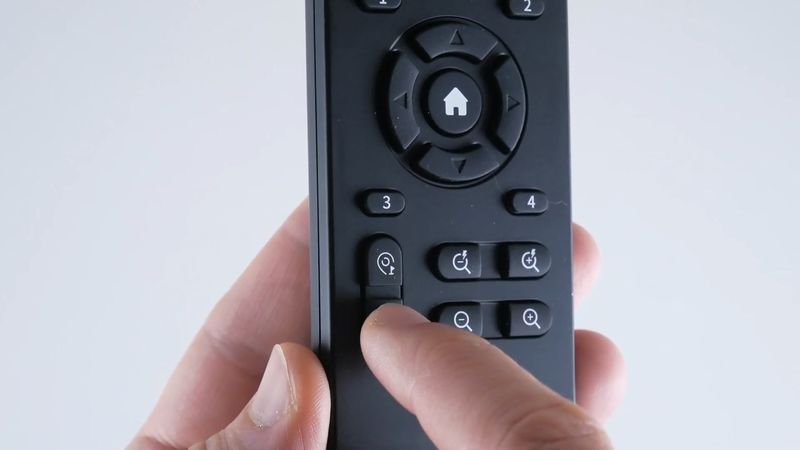 Using the home button, you can switch to the panorama mode, as well as return the camera to its original center position.
The navigation buttons allow you to control the pan, tilt and zoom of the PTZ camera.
PTZ Mechanism
Talking about PTZ mechanism, the camera has +-175 degrees horizontal rotation range, and +-30 degrees vertical rotation range.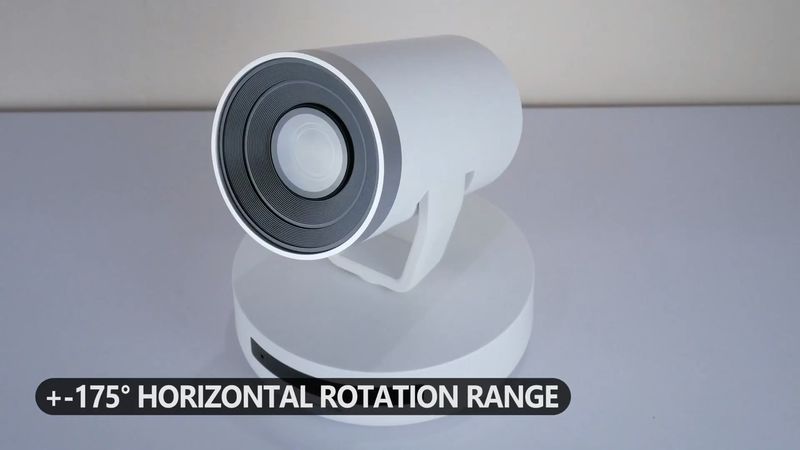 As I already said, you can manually move the camera with remote control, as well as to use a smart tracking.
Smart Tracking
To enable smart tracking mode, you need to press the home button and hold it for about 3 seconds. The camera will switch to the smart tracking mode from the manual mode.
After that, the camera will follow the presenter.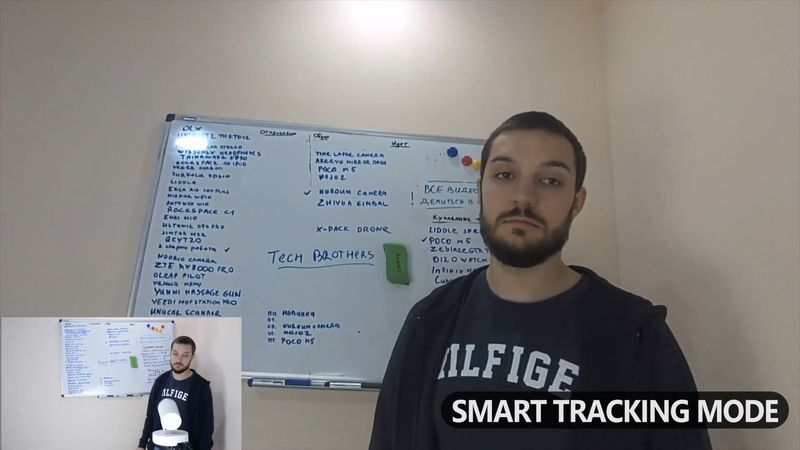 By the way, when you walk away from the camera, it automatically zooms in. When you get close to the camera, it automatically zooms out.
You know a smart tracking works very well.
Presets
As I already said, there are four presets available on the remote control and conference camera. In other words, you can choose up to four positions for the camera, and quickly switch between them.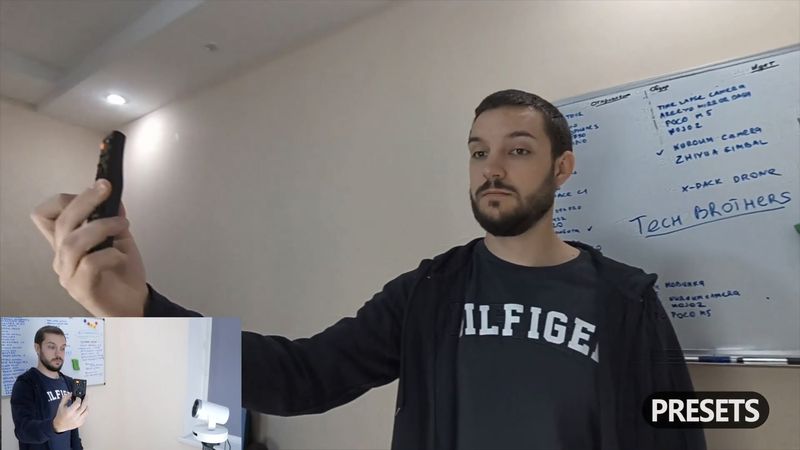 To do this, first you need to point the camera at one person, and press the set preset button.
Then, press the second button, point the camera to the second person, and press the set preset button.
Now, you can quickly switch between the first and second presets.
I think this feature can be very useful.
Auto-Focus
By the way, I forgot to tell you about autofocus of the new conference camera, but I think you have already noticed that the image is always in focus.
Connection
You know, Nuroum V403 has a very simple plug-and-play connection.
You just need to insert a USB Type-C cable to the camera, and the other end of the cable to the laptop or computer.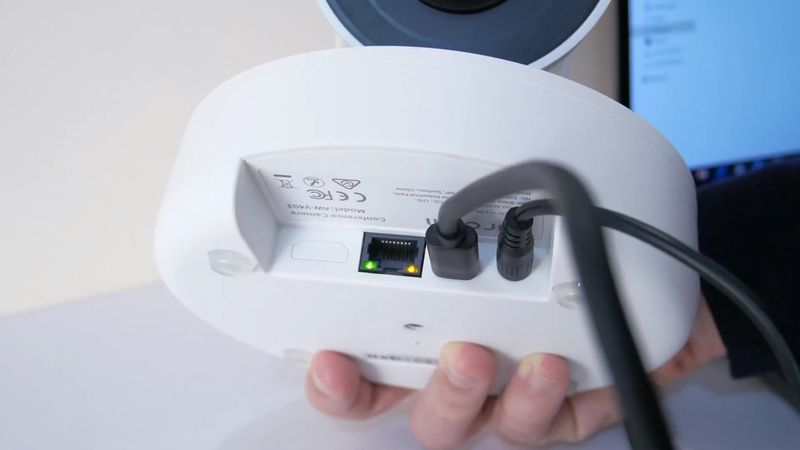 Now, open a compatible software, such as Zoom, Skype, Slack, Whats up, Face time, etc, and select a conference camera. That's all!
Microphone Quality
I usually test the microphone quality of webcams, but the problem is that Nuroum V403 doesn't have a mic and a speaker. That's too bad.
Video Quality
OK, then, I will tell you more about video quality.
The new conference camera has 2MP Premium Starvis CMOS sensor. The video resolution is 1080P at 30 fps. As I already said, the viewing angle of this camera is 122 degrees.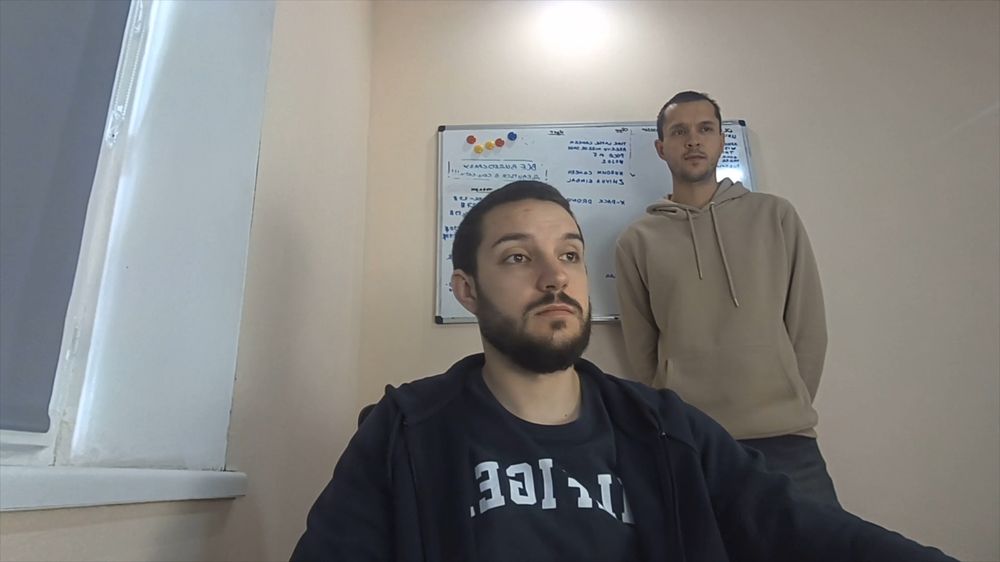 I want to show you a video from Nuroum V403 and a built-in webcam of my Xiaomi laptop.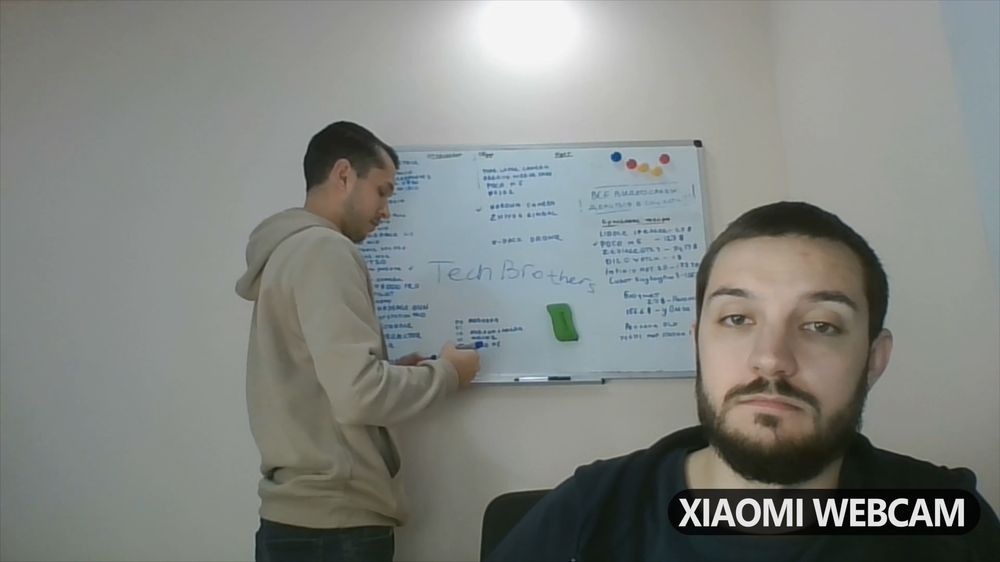 I think there is no need to explain anything here.
Conclusion
So, NUROUM V403 is a good conference camera with PTZ mechanism, smart tracking, autofocus, 5X optical zoom, 1080P video resolution, and many other features.
I am just a little disappointed that it doesn't have a built-in microphone.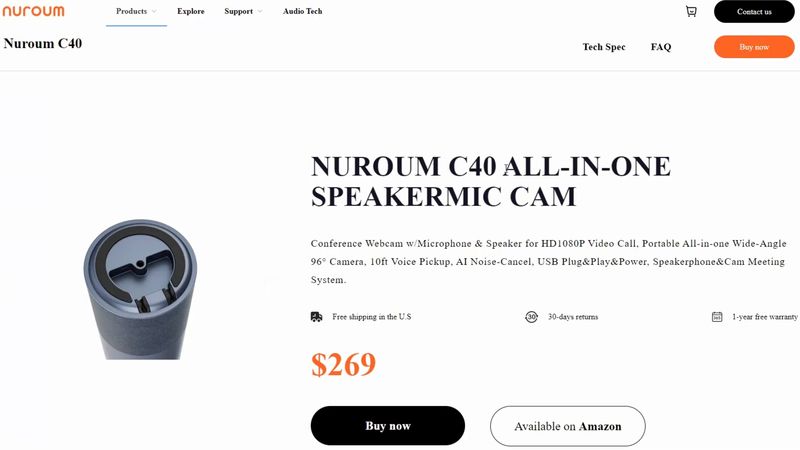 If you need a mic, you can buy an all-in-one device from NUROUM with a speaker and a noise-cancelling microphone.