It seems to me that projectors are getting better and cheaper not even every month, but every day. For example, the new NICPOW Q6 projector has Full HD native resolution, 13000 Lumens or 400ANSI brightness, Bluetooth 5.1 and dual-band Wi-Fi support.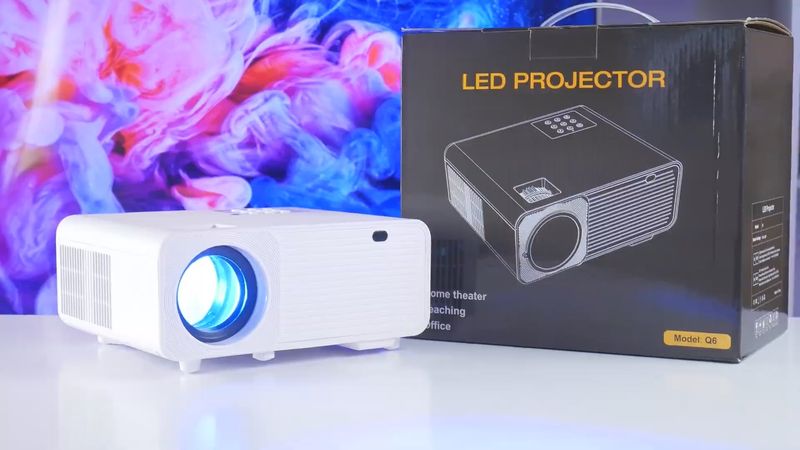 How much do you think it is worth? A couple of months ago, I would have said around $200. However, you can get it for only $109 now on Amazon. Moreover, there is a 30% off coupon, so the projector will cost you less than $100.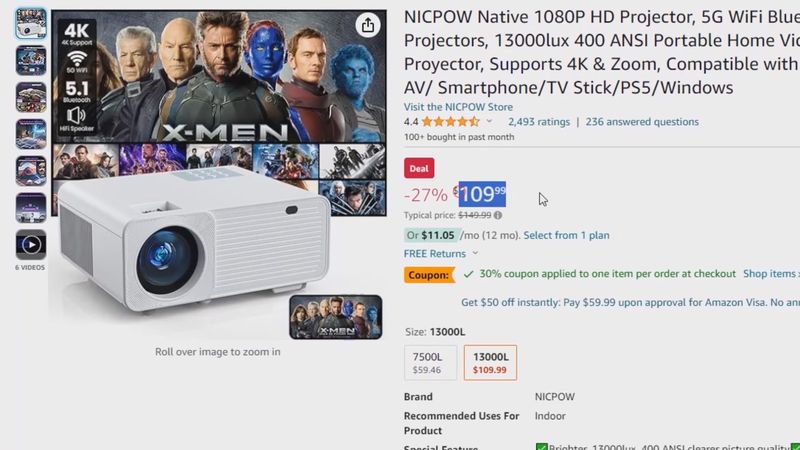 The NICPOW Q6 projector looks incredible for its price. However, let's test it out and see if there is a catch.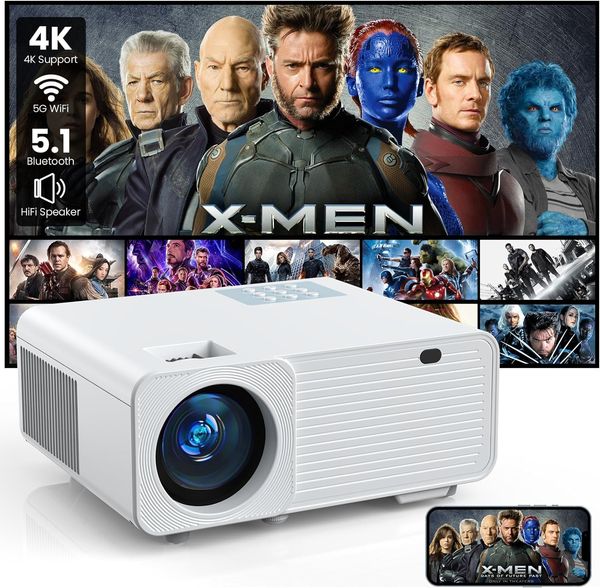 NICPOW Native 1080P HD Projector - US Amazon
as of November 22, 2023 10:50 am
Unboxing
You know, the box is pretty big and heavy, so probably the NICPOW Q6 projector is not very compact either. There is only the NICPOW logo on the cover, but when you remove it, you will see an image of the projector.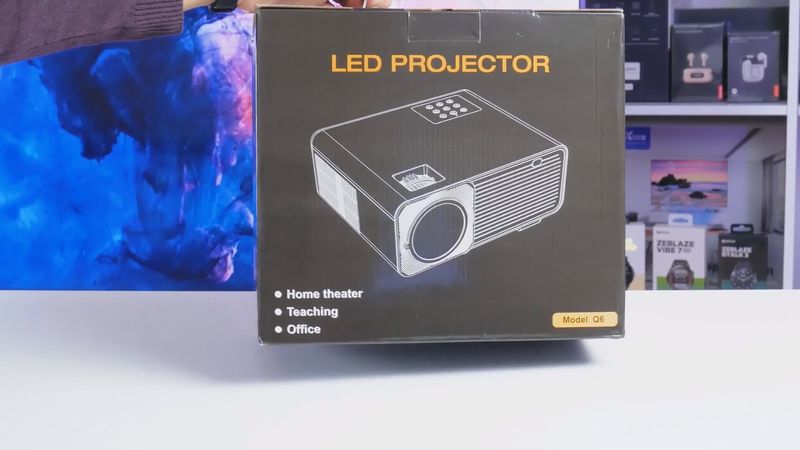 The manufacturer claims that it is designed for home theater, teaching and office. We will check it out a little later.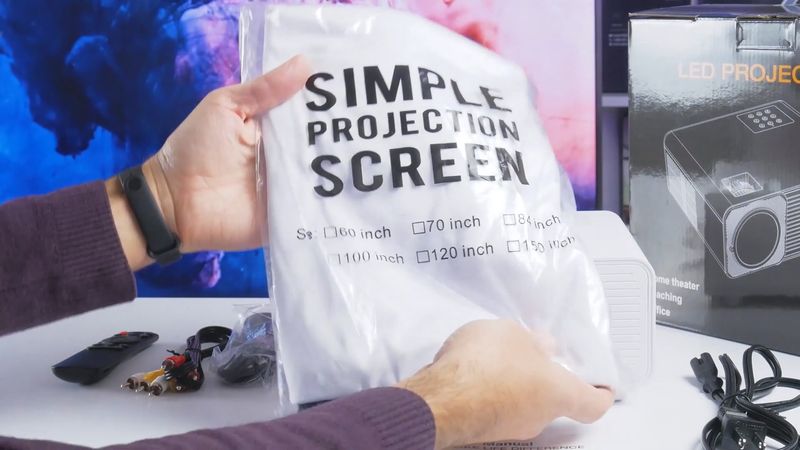 Inside the box is the projector, 100-inch simple projection screen, remote control, power cable, HDMI cable, AV cable, user manual and service card.
Nothing extraordinary, but the projection screen is a nice bonus.
Design
Just as I thought, the NICPOW Q6 is not a compact projector. This is probably the biggest projector I have tested in a while. I am not saying that's a bad thing, because a larger size can mean a better cooling system. We will check it out later.
However, it is definitely not a portable projector, because you will not be comfortable carrying it from one room to another.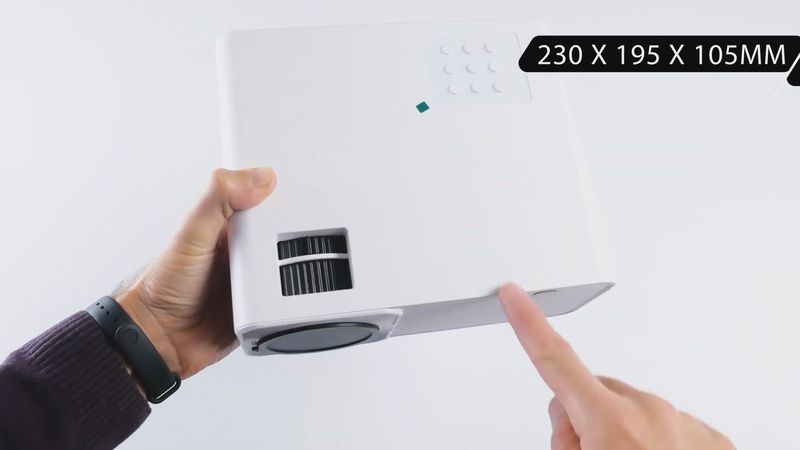 The dimensions of the NICPOW Q6 projector are 230 x 195 x 105mm. The weight is 1770 grams.
The projector is made of matte white plastic, but there are textured lines on the front.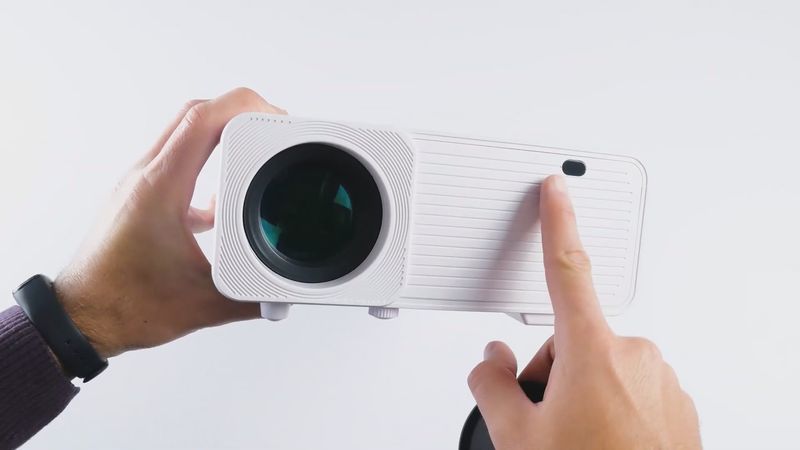 In addition, there is a lens under the protective cover and IR receiver on the front panel.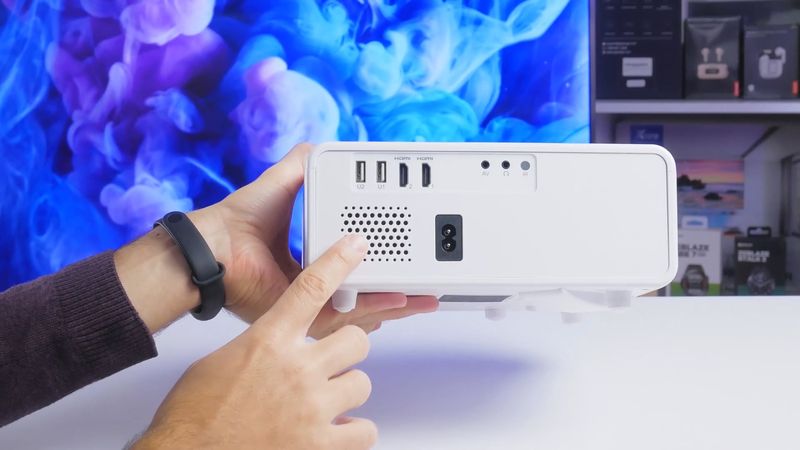 On the back, we can see two USB ports, two HDMI ports, AV input, headphone jack and IR receiver. There is also a power connector and a speaker on the rear panel.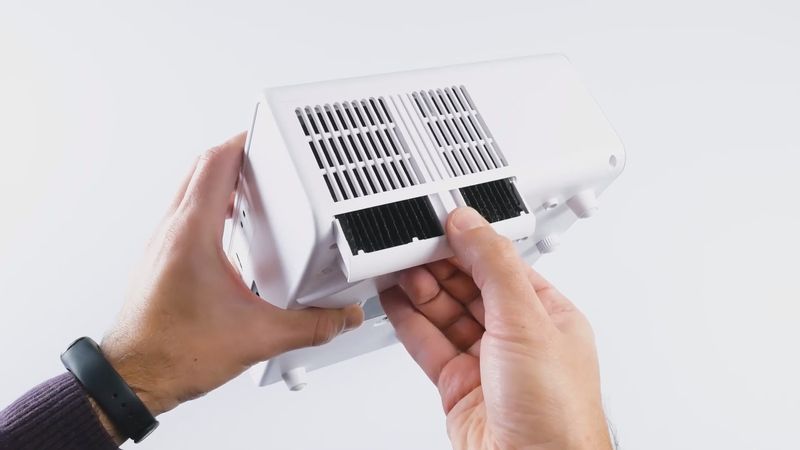 Large cooling windows are on the sides of the projector.
If we look at the top panel, we find the focus adjustment and keystone correction wheels, as well as the control panel.
The buttons are nice to press, but I think it is more convenient to use the remote control. It has power, mute, settings, menu, input source, navigation, and other buttons.
By the way, the NICPOW Q6 projector doesn't have a tripod mount, but you can install it on the ceiling.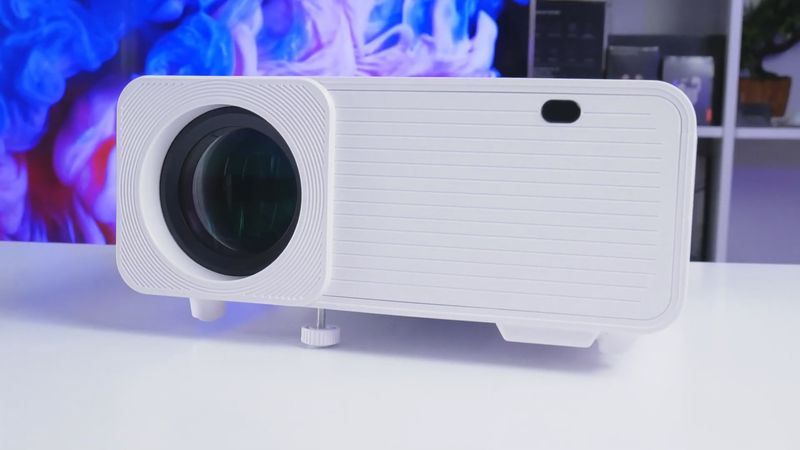 There is also a built-in kickstand, so you can just place the projector on a table and raise the front of it.
I think that's enough about the design. Now let's turn on the projector and look at the multimedia system.
Multimedia System
You know, I said multimedia system, because NICPOW Q6 projector doesn't have Android or any other smart operating system. You need to connect an external device. Fortunately, there are many ways to do this.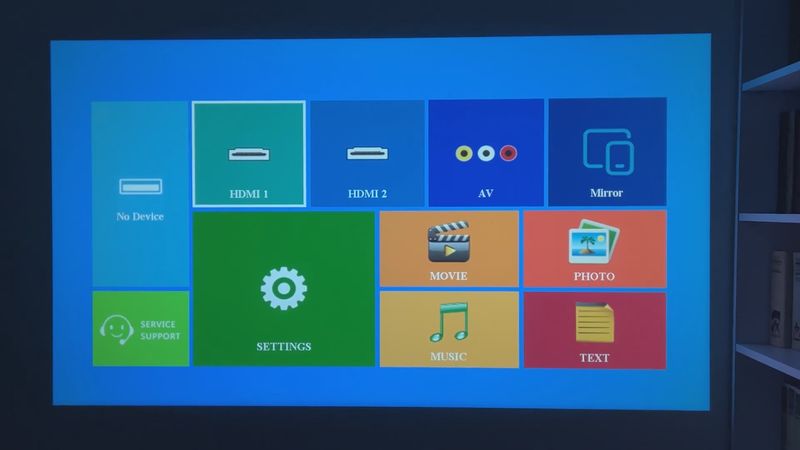 First, you can use HDMI 1 and HDMI 2 ports. There is also an AV connection, but I have never used it.
The easiest connection method is screen mirroring, but we'll talk about it a little later.
If you plug in a USB flash drive, you can go to Photo, Movie, Music and Text.
Finally, there is a Settings menu, and Service Support.
Let's go into Settings.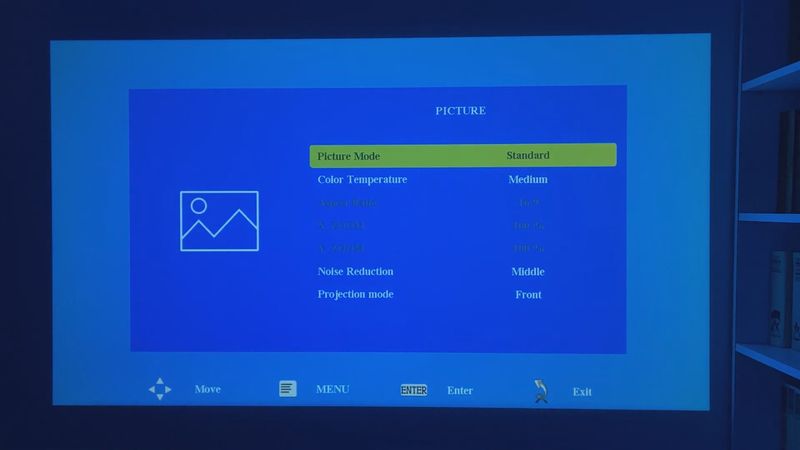 First, we have Picture settings, where we can change picture mode, color temperature, noise reduction and projection mode.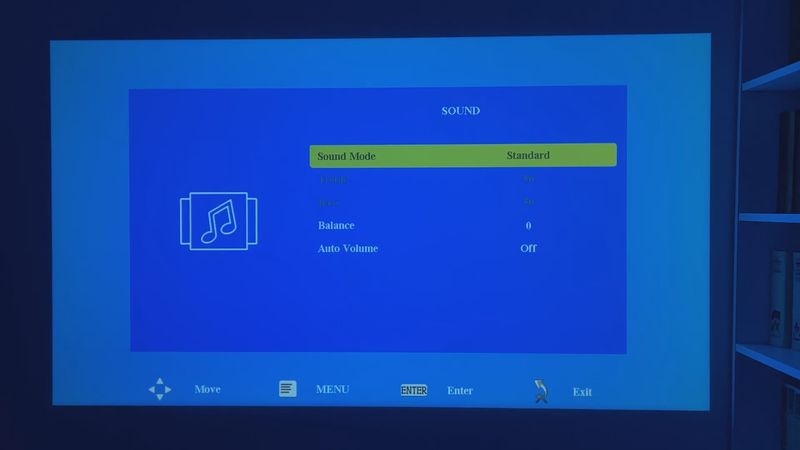 The Sound settings include sound mode, Balance and auto volume.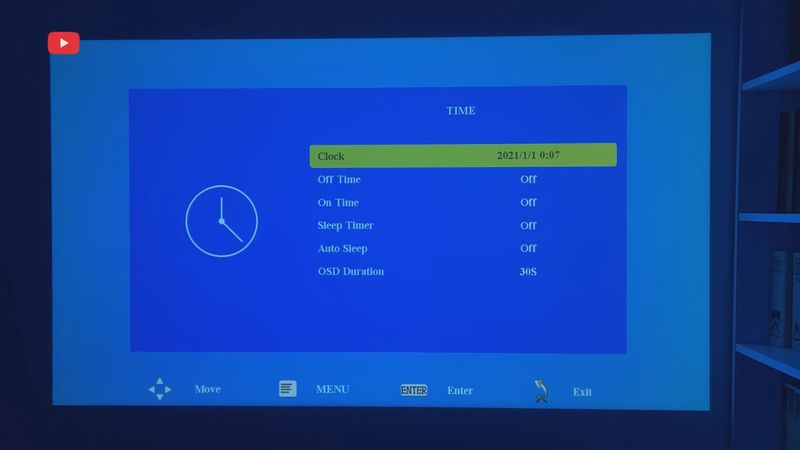 In the Time menu, we can set the time, off time, on time, sleep timer, auto sleep and OSD duration.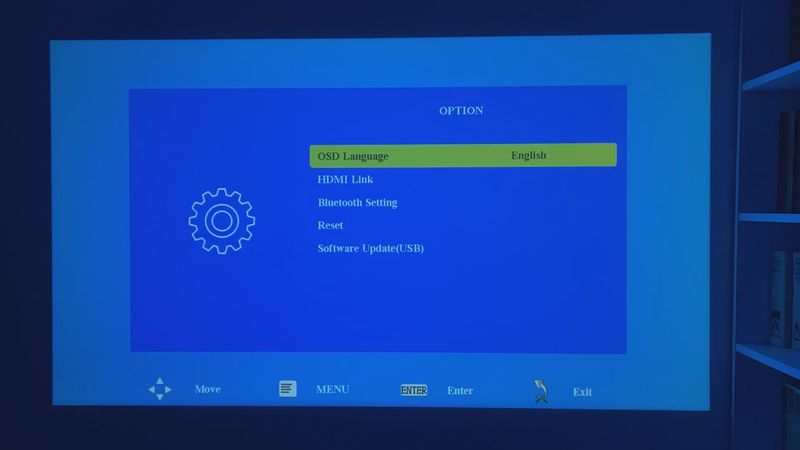 Finally, we can change the language of the multimedia system, use an HDMI Link, Bluetooth, reset and Software update.
Wi-Fi Screen Mirroring
Now, let's see how to use screen mirroring.
There are actually two ways to connect your smartphone to the projector.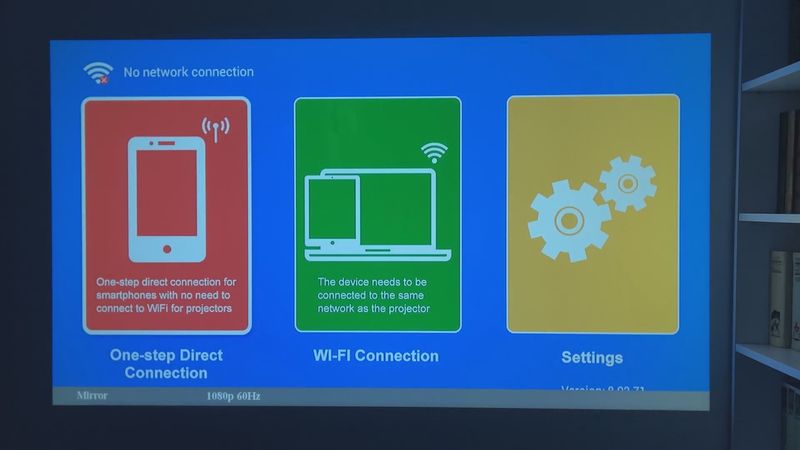 The first method does not require a Wi-Fi network for the projector because it uses the cellular network of the mobile device.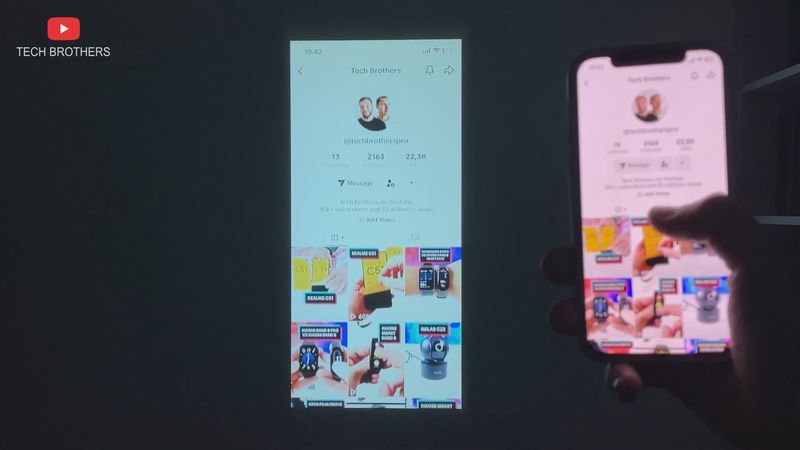 You just need to go to the Screen Mirroring on your smartphone and select the projector. The code is 1234. It was very easy and quick.
However, if you have slow cellular data, then it is better to use Wi-Fi network.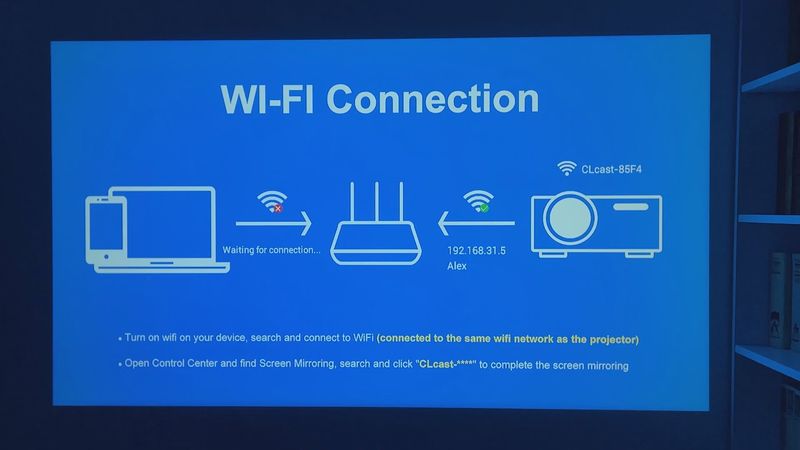 First you need to go to Wi-Fi connection and connect to your home Wi-Fi network on the projector.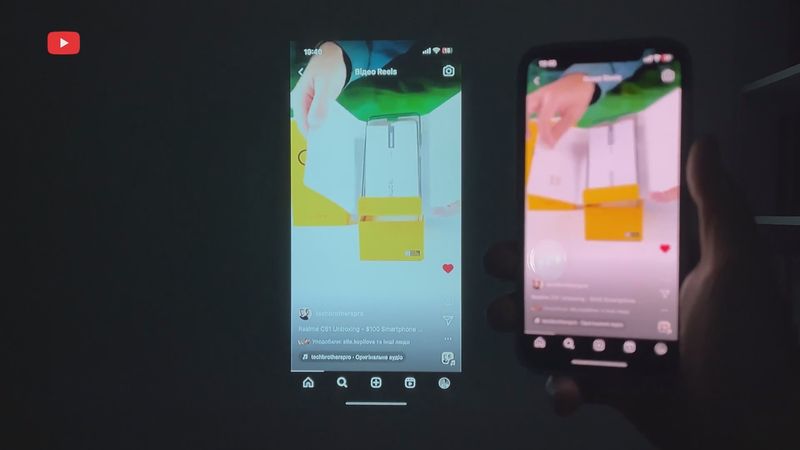 Now, open the Screen Mirroring menu on your smartphone, and select the projector. You don't need to enter the code this time. It seems to me that the latency is really lower via a Wi-Fi connection.
Bluetooth Connection
NICPOW Q6 projector also supports Bluetooth 5.1. You can use it to connect external speakers or headphones.
For that, go to the Settings menu, Option, Bluetooth Setting, and turn on the Bluetooth mode.
Now select Search Bluetooth.
I have Apple AirPods. As you can see, they are detected and connected to the projector.
Built-in Speaker Quality
However, the NICPOW Q6 projector has a pretty good 5W built-in speaker.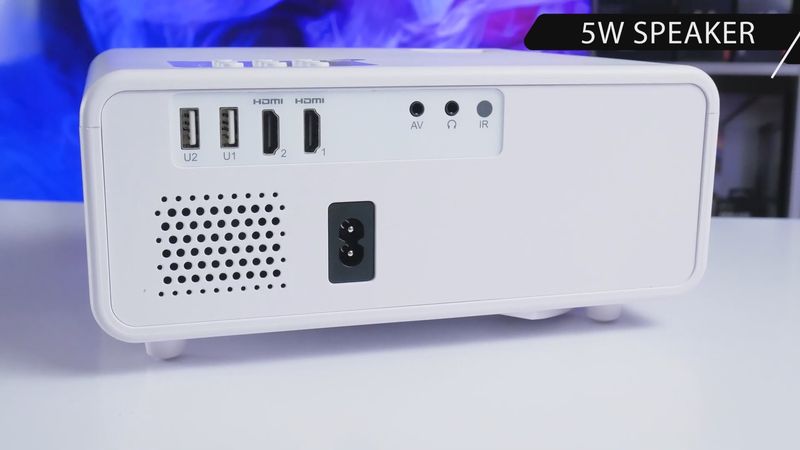 The volume is very high, so the built-in speaker is enough even for a large room.
Fan Noise
By the way, the manufacturer claims that the noise level of the projector is only 35dB.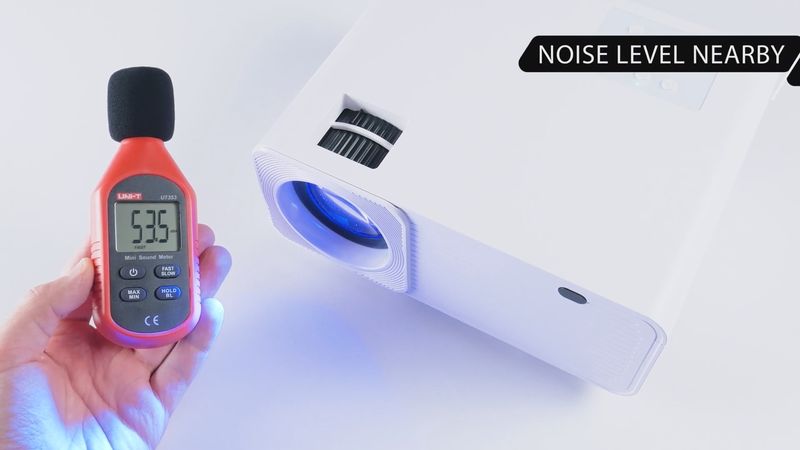 To be honest, it is hard to believe. Let's check it out.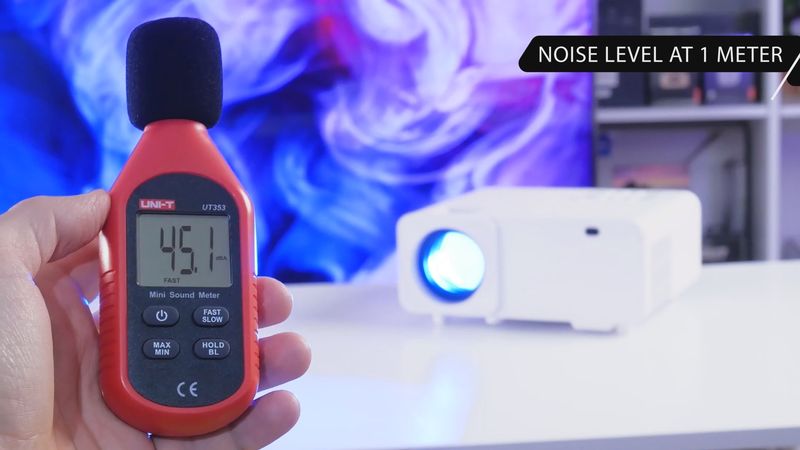 So, the fan noise near the projector is 53 db, and it is about 45db at a distance of 1 meter.
It is not 35db, but it is still very quiet for a budget projector.
Projection Quality
Finally, let's move on to the projection quality.
I connected my laptop to the projector via HDMI cable. We can see the native resolution of 1080P 60Hz.
I also placed the projector 2 meters away from the wall. The projection size is about 80 inches. However, NICPOW Q6 projector supports up to 300 inches screen size at a distance of 10 meters.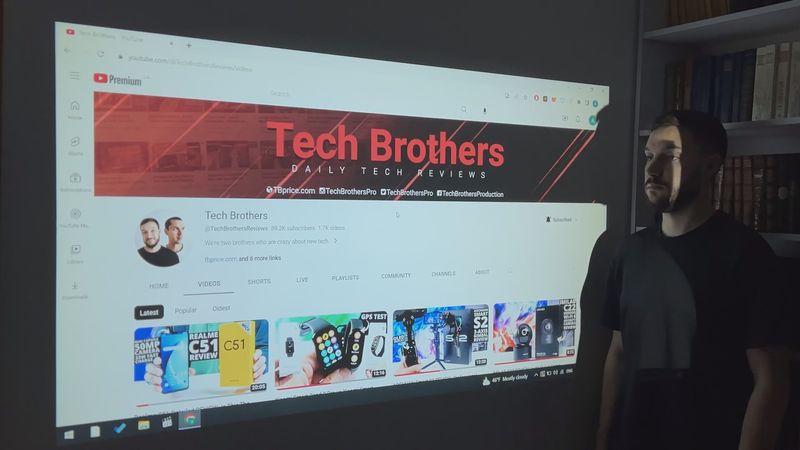 As for the projection quality, I noticed that the right and left sides of the screen are more yellow than the center. This is very noticeable on a white screen.
In addition, the corners are out of focus. This is a problem of many budget projectors.
However, the text is clear and readable in the center.
When it comes to watching videos, it is very good for a budget projector. The colors are saturated thanks to 10000 to 1 contrast ratio.
I really enjoyed watching sports matches on this projector.
However, you can also watch dark movies. The high brightness of 13000 Lumens allows you to do this.
Light On/Off
You know you can watch sports, cartoons or play games on the NICPOW Q6 projector even in a bright room.
Conclusion
So, in summary, I will say that the NICPOW Q6 projector didn't really surprise me, because it has some drawbacks, such as uneven white screen and blurry corners. I think it is not very suitable for the office.
However, it is good for home theater. The projector has good colors and high brightness.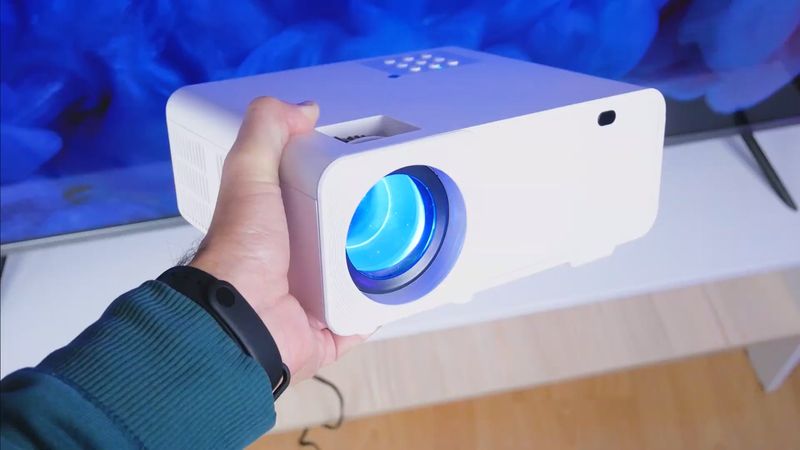 I also liked the quality built-in speaker.
In addition, you can quickly mirror your smartphone screen on the projector, and watch TikTok, Instagram and other social media.
Overall, for a projector under $100, the NICPOW Q6 is decent.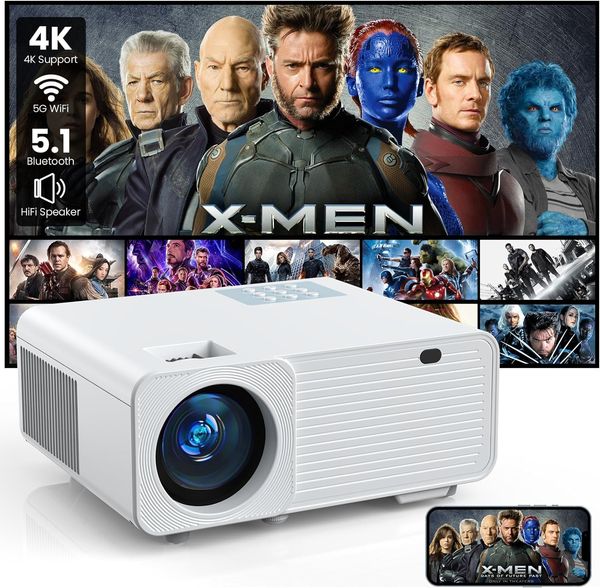 NICPOW Native 1080P HD Projector - US Amazon
as of November 22, 2023 10:50 am