I received another new product from MPOW Company. This is a Bluetooth speaker.
You know, I have already tested earbuds and headphones of this brand, and I really like them. The latest product was MPOW X3 earbuds with active noise cancellation.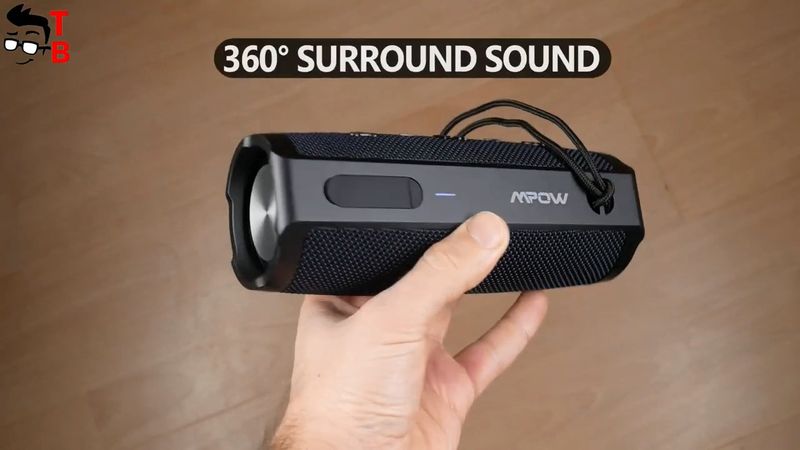 The new Bluetooth speaker has 360 degrees surround sound, 16W stereo sound, IPX7 water resistance, up to 10 hours of battery life, and a USB-C charging port.
The price of the speaker is $60, but you can also get a $20 coupon code on Amazon.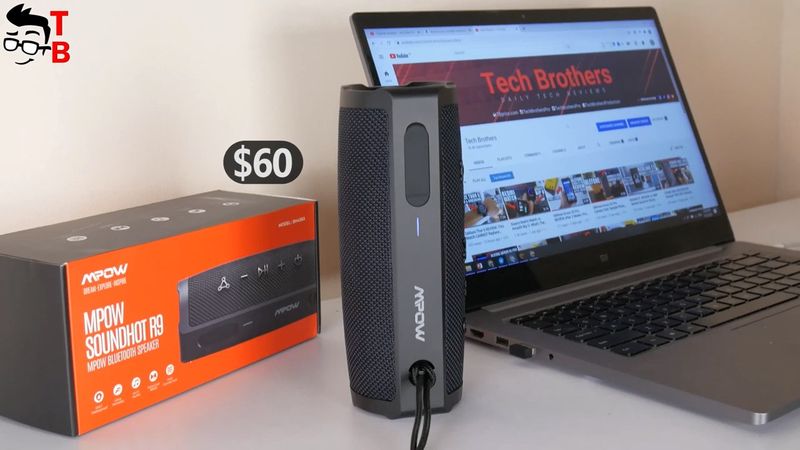 So, let's look at the design of MPOW Soundhot R9 speaker, and then listen to some audio samples.
Unboxing
I like that MPOW products come in a similar brand box. For example, I have the new MPOW X5 earbuds, and they have a similar box. I think the box should be recognizable because when you receive a package, you know it a new product from MPOW Company.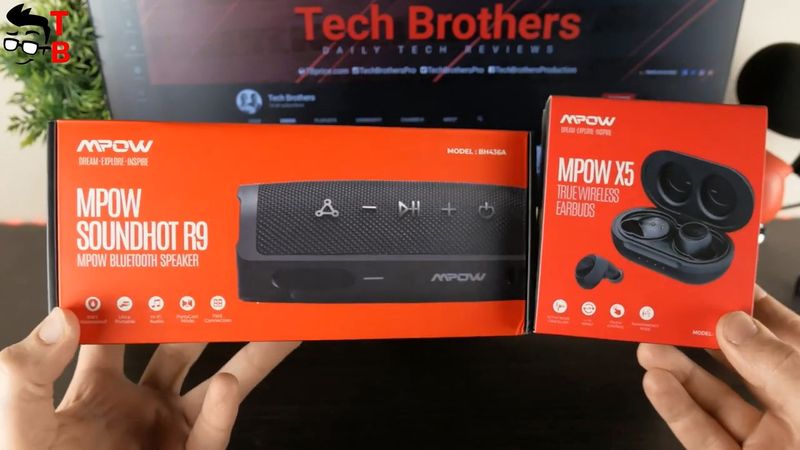 On the front, we can see the image of a speaker, model name, and main features, such as waterproof, ultra-portable, Hi-Fi audio, PartyCast mode, and TWS connection.
On the back, there are the same features, and specifications list.
Inside the box, you will find an envelope with a 2-year warranty card and user manual. There is also USB Type-C charging cable.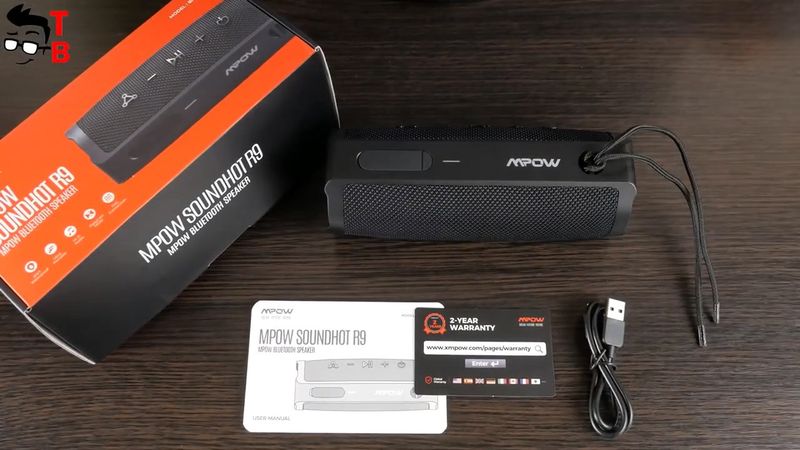 The Bluetooth speaker has a woven lanyard. You can use it to tie a speaker to a backpack, tree, fence, or anywhere you want.
Design
The manufacturer says that one of the main features of the MPOW Soundhot R9 speaker is compact size. I agree with them. The speaker is not very big. The dimensions are 180 by 65 by 65 cm.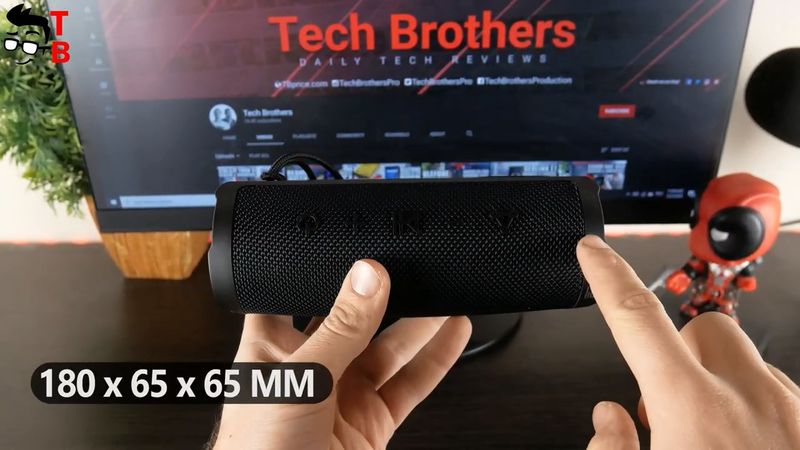 The weight is only 495 grams.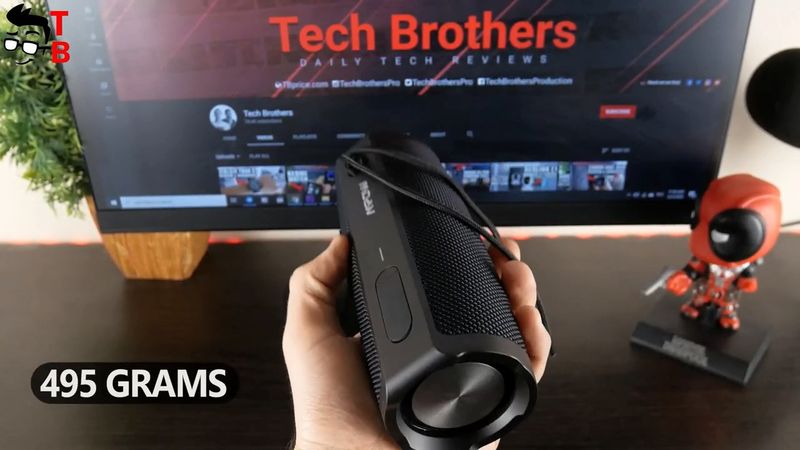 Another feature of this speaker is the anti-slippery fabric. It is really nice to hold in one hand.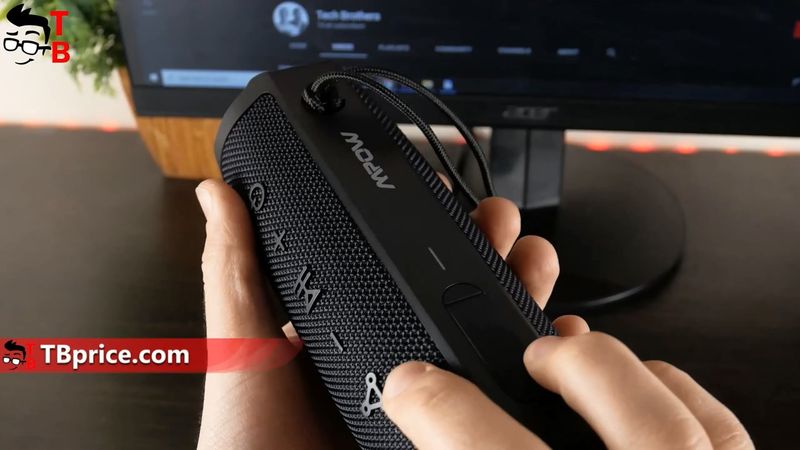 Also, the MPOW R9 speaker is IPX7 waterproof. The manufacturer calls it a pool speaker because you can use it in the swimming pool.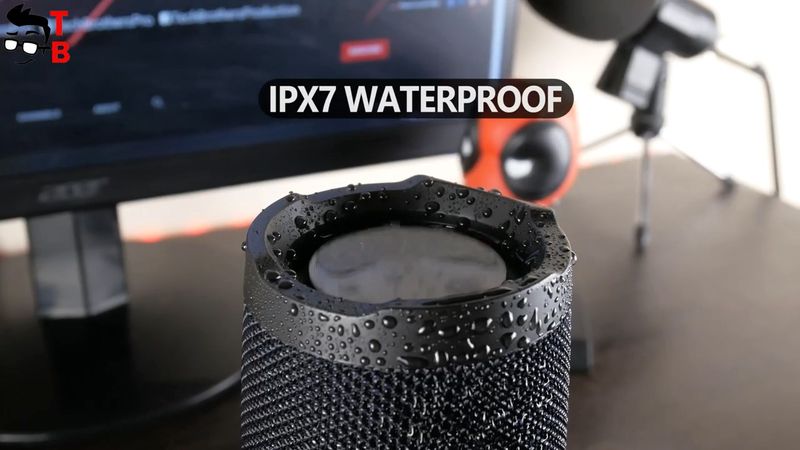 As you can see, there is the first subwoofer on the top and the second on the bottom.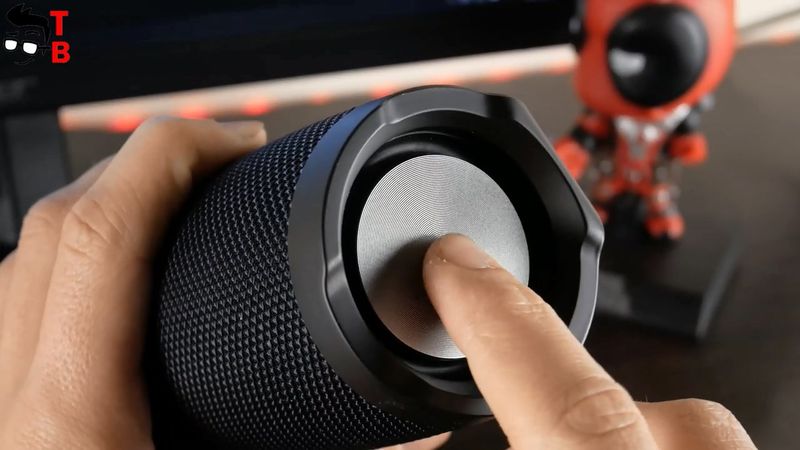 USB Type-C charging port and 3.5mm audio jack is hidden under a rubber plug, so the speaker is protected from getting water inside. There is also an LED light next to the rubber plug.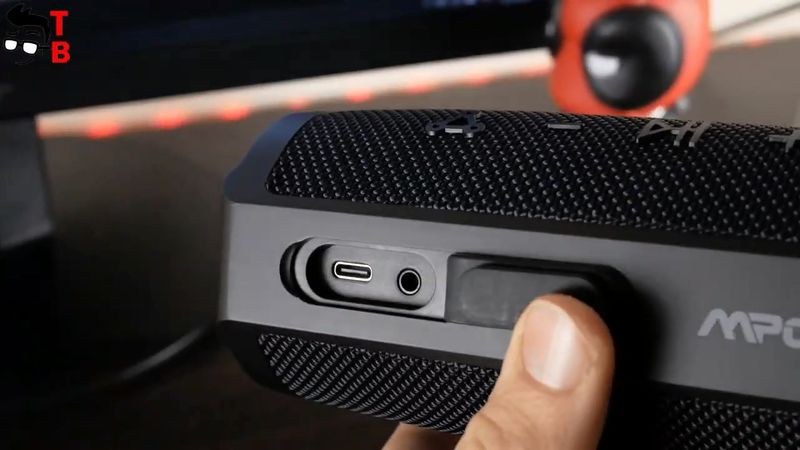 As I already said, the speaker has a lanyard.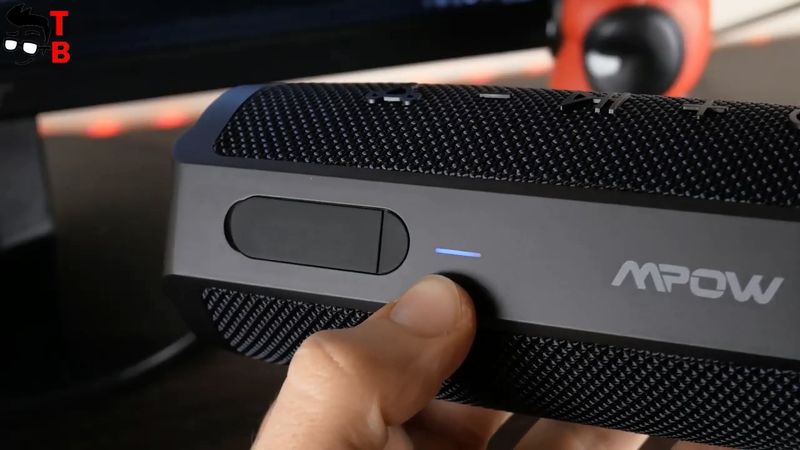 Finally, the MPOW Soundhot R9 speaker has five control buttons: power on/off, volume up, play/pause, volume down, and connect more speakers.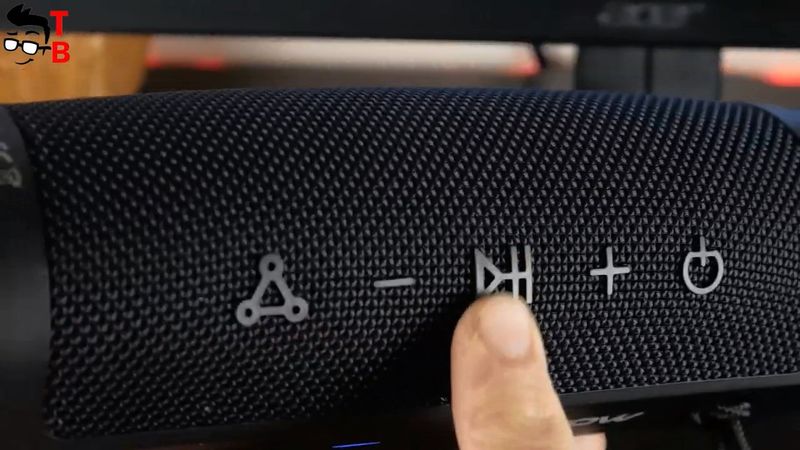 Yes, you can connect up to 100 MPOW R9 speakers to one mobile device, and listen to the same music. It is called Partycast mode, and this is awesome!
OK, I think that's all about design. Now, let's listen to some audio samples.
Samples
First, I want to check the maximum volume of this speaker. As you can see, it is about 80 dB. The sound is very loud for such a compact speaker.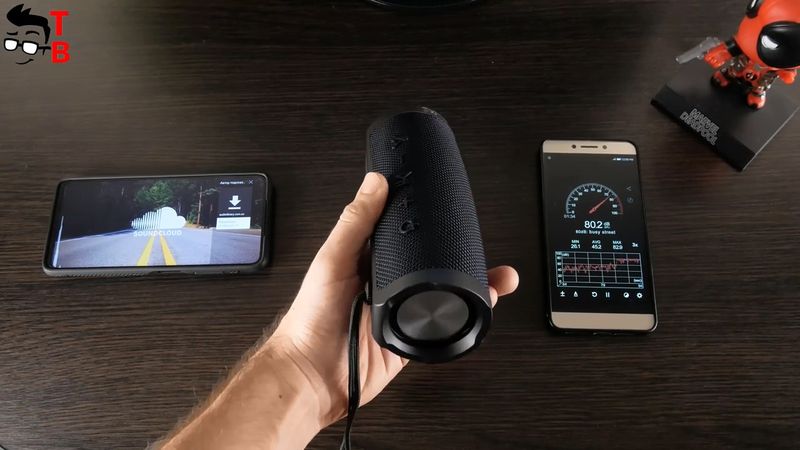 Battery
Talking about the battery, MPOW R9 speaker has a 4400mAh battery capacity.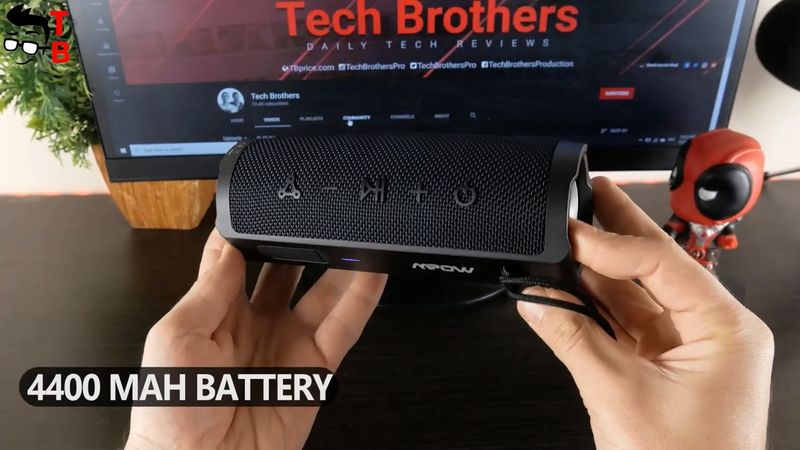 This is enough for 10 hours of music playback. Of course, the battery life depends on maximum volume and the distance between the speaker and the connected mobile device.
The charging time is about 3 hours.
Conclusion
MPOW R9 is a good wireless Bluetooth speaker with compact size and high build quality, water resistance, Bluetooth 5.0 connection, and support of Partycast mode.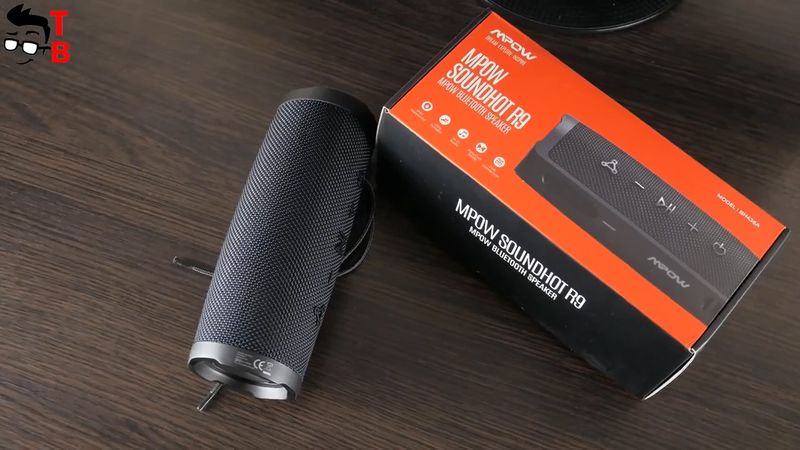 Most importantly, the speaker has good sound quality. I especially like the bass of the new MPOW speaker.