What do you know about Moza brand? To be honest, I hadn't heard of this company until they contacted us. But actually, this is a popular manufacturer of professional stabilizer gimbals for cameras and smartphones.
If we go to Moza's official website, we can see many devices for shooting video. You know, I am not a big video shooting professional, so most of these devices look scary to me.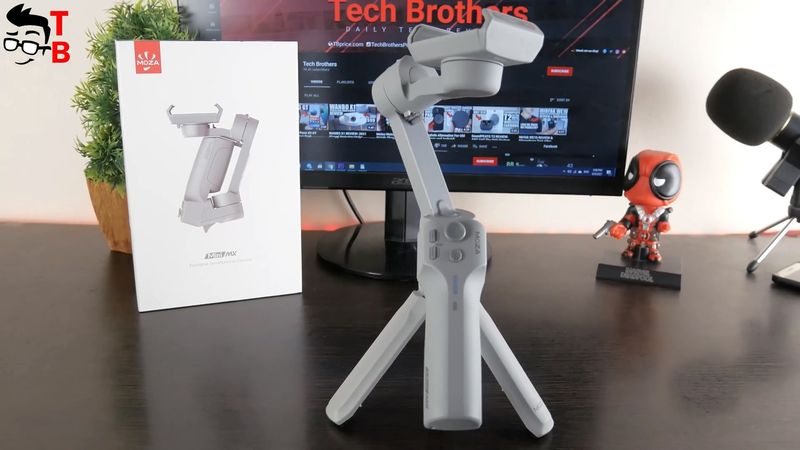 However, I have a very useful gadget for most people – a smartphone gimbal.   Moreover, if you often shoot video, for example, when traveling, then this is a must-have device for you.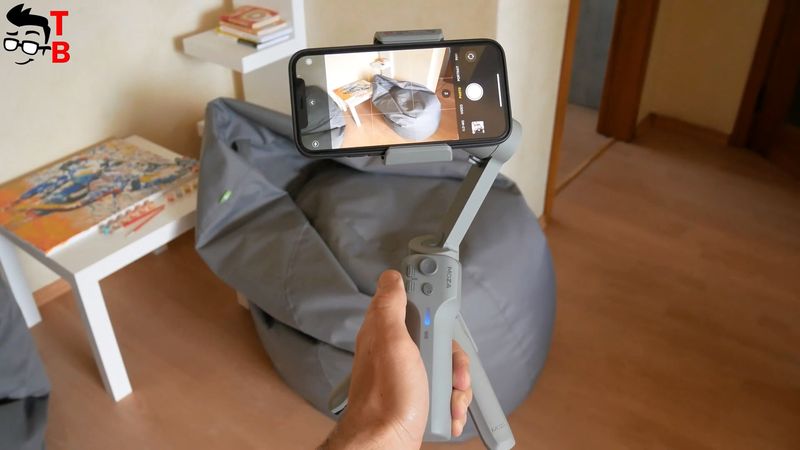 Moza Mini MX smartphone gimbal has a maximum load of 280 grams, so most mobile devices are compatible. It also has portrait and landscape modes, gesture control, face tracking, and application with built-in creative shooting templates.
OK, let's start the review with the unboxing.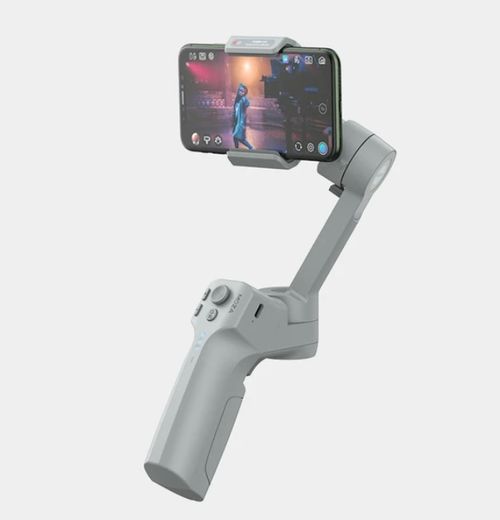 MOZA Mini MX Gimbal Handheld Stabilizer - Amazon
as of September 29, 2023 10:35 am
Unboxing
On the box, we can see the image of the smartphone gimbal, QR codes to the official website and social media accounts, and information about the manufacturer.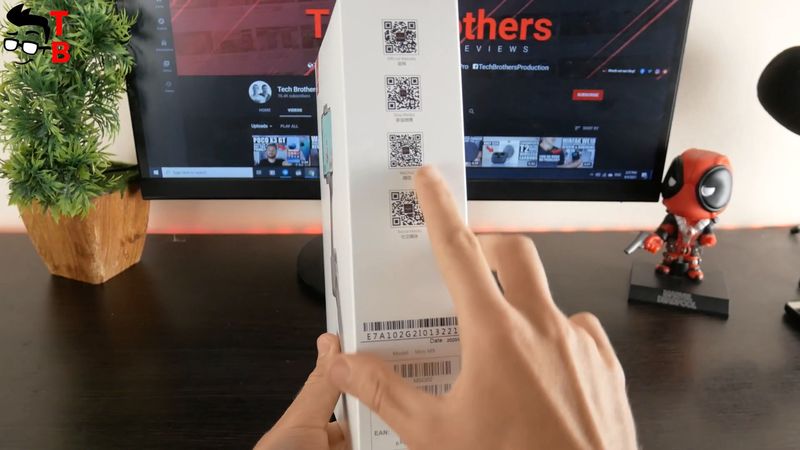 Inside the box, there is a smartphone gimbal, mini tripod, storage pouch, charging cable, wrist strap, and user manual.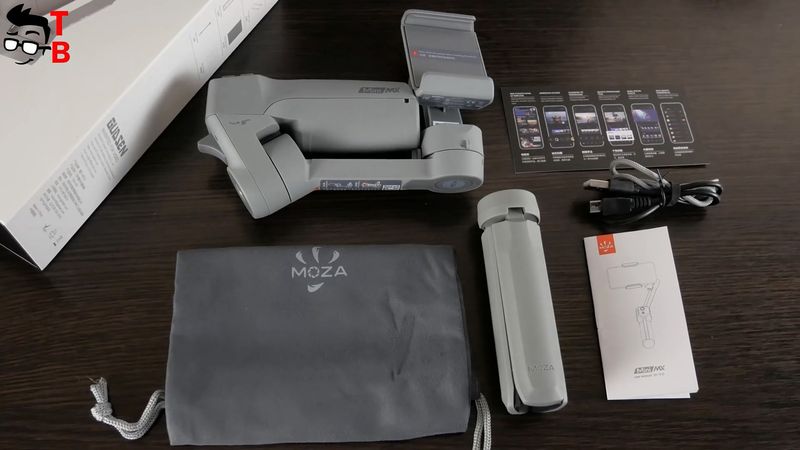 Design
You know, Moza Mini MX is not the most compact smartphone gimbal.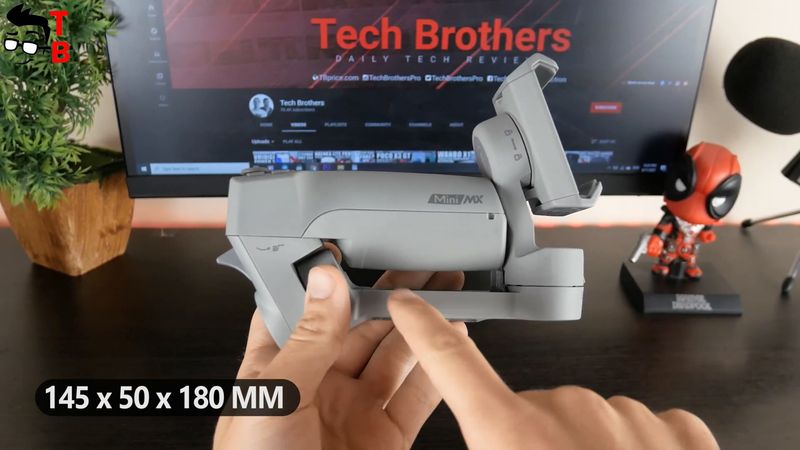 Its dimensions are 145 by 50 by 180mm when folded, and 120 by 120 by 265 when expended.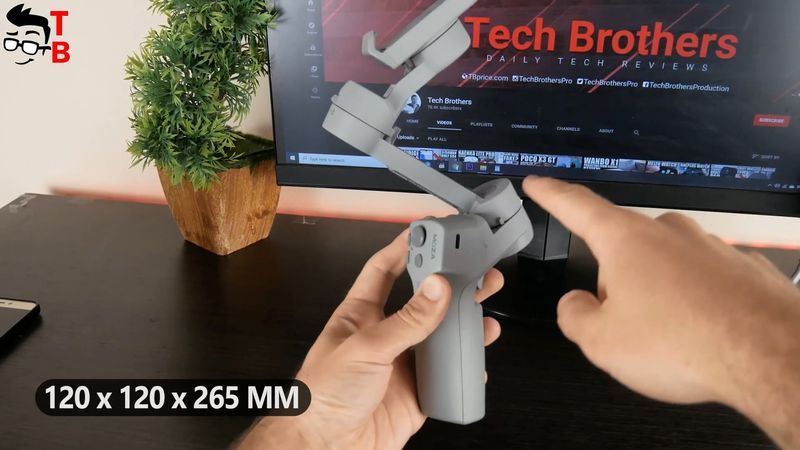 The weight is 412 grams.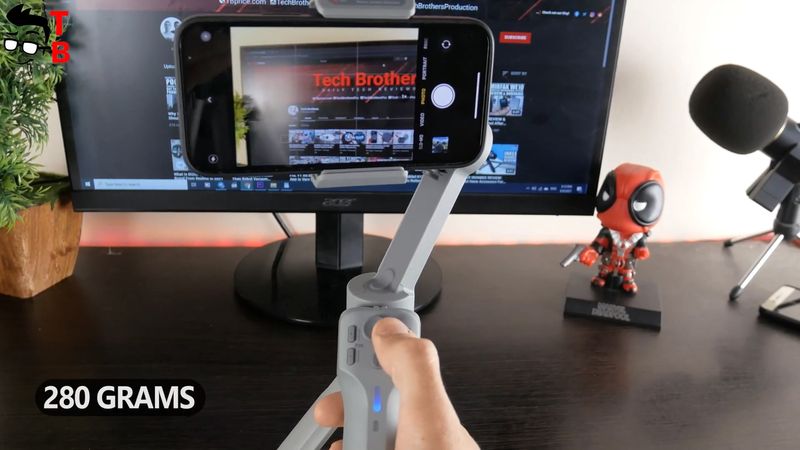 As I already said, the maximum payload is 280 grams. For example, iPhone 12 weighs only 160 grams. It means that Moza MINI MX is compatible with most mobile devices.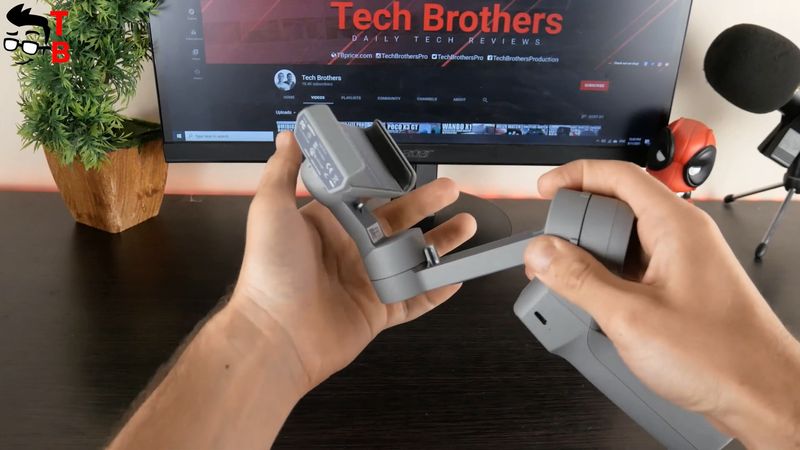 Now, let me tell you about the construction of this device. This is a three-axis gimbal with a roll motor, tilt motor and pan motor. Before using it, you need to unlock the roll motor and tilt motor. Then, install a smartphone in this holder.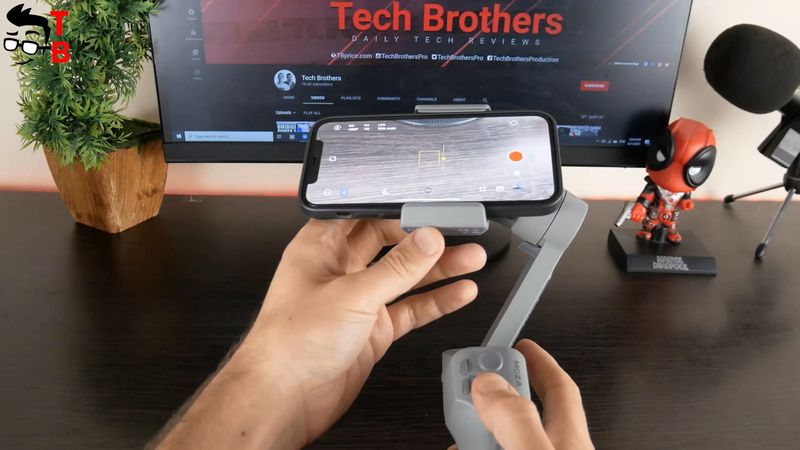 Moza Mini MX gimbal has control buttons, but we will talk about them a little later.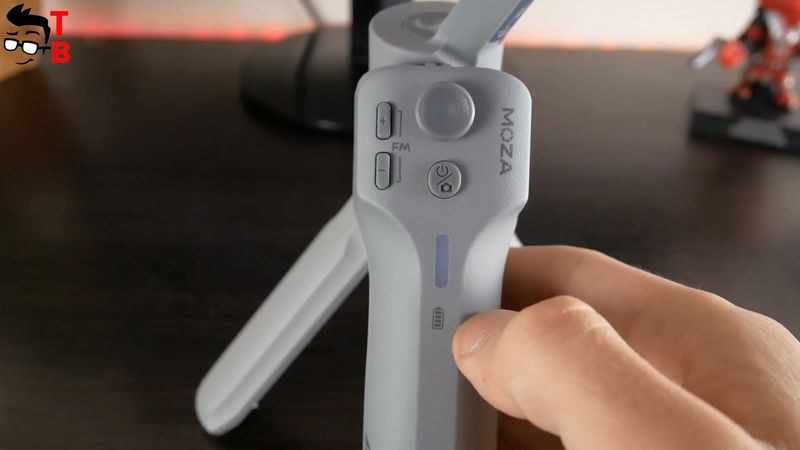 There is also USB Type-C charging port on the right side.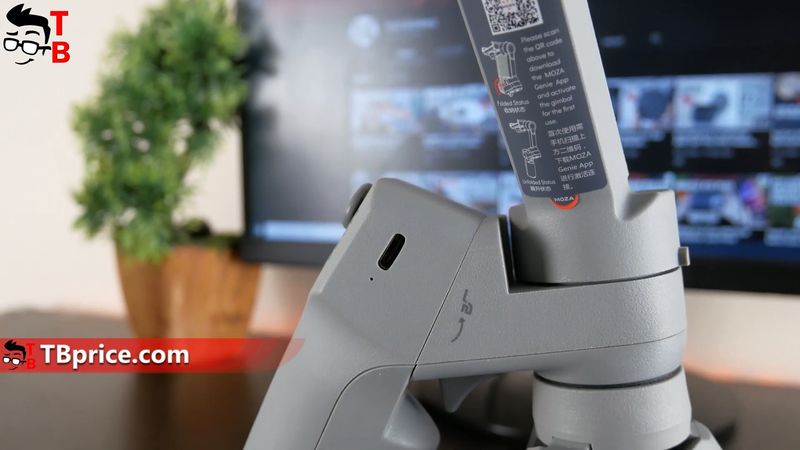 The smartphone gimbal also has mount for a tripod. You can use Moza MINI MX is not only like a phone gimbal, but also a tripod.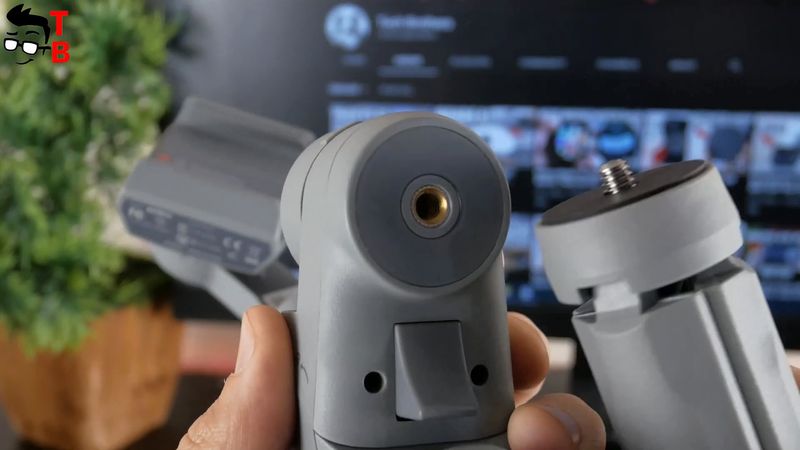 You know, although, the phone gimbal is fully made of plastic, it looks and feels very reliable.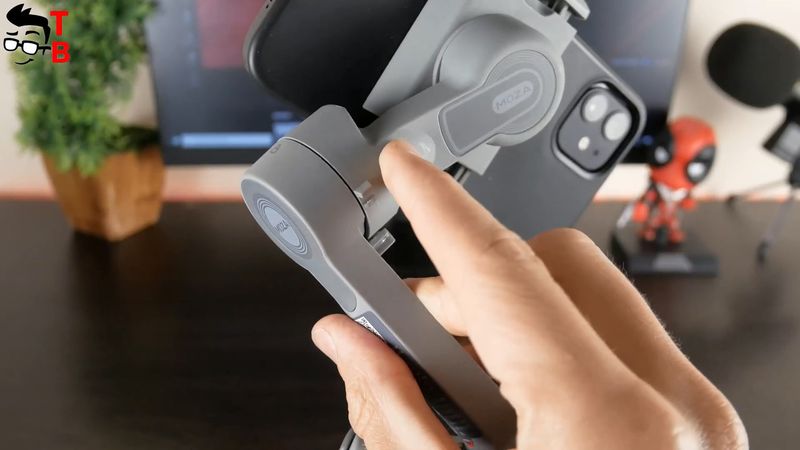 Now, let's talk about control buttons.
Control buttons
So, we have some control buttons on the smartphone gimbal. The first one is the function button. You can long-press on it to power on/off. A single press is to start/stop recording.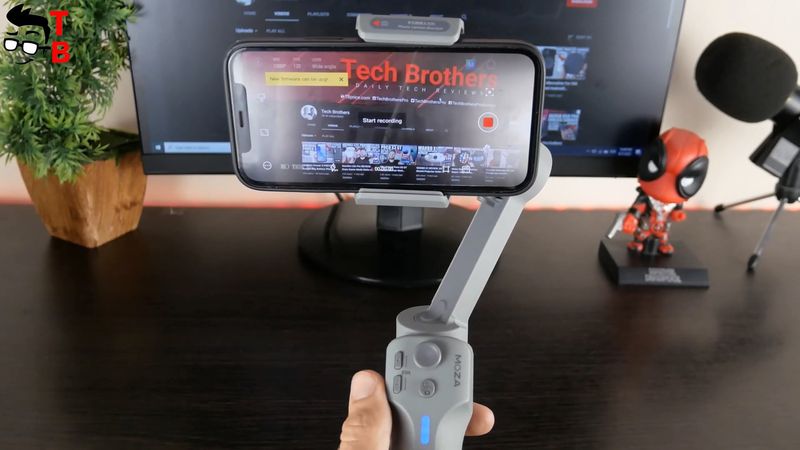 You can also double press on this button to switch between video and photo mode, and triple press to switch between horizontal and vertical mode.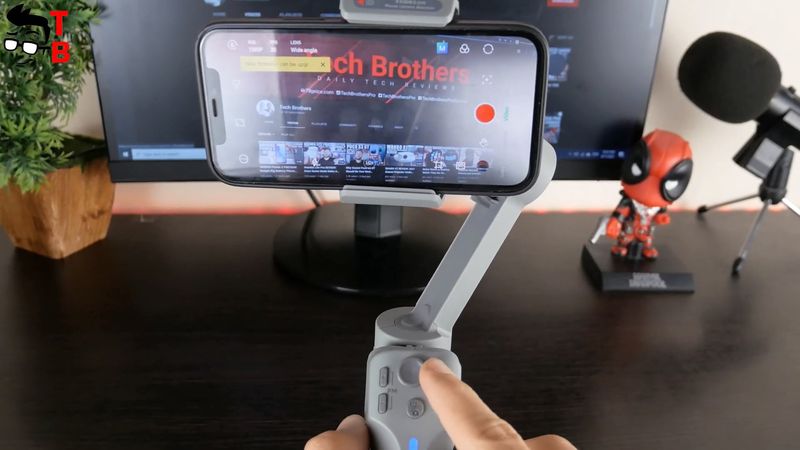 Moza MINI MX also has a joystick. There are also two buttons to the left of the joystick – zoom plus and zoom minus. Click and hold on these buttons to zoom in and out. You can also single press on zoom plus button to choose pan-tilt follow mode.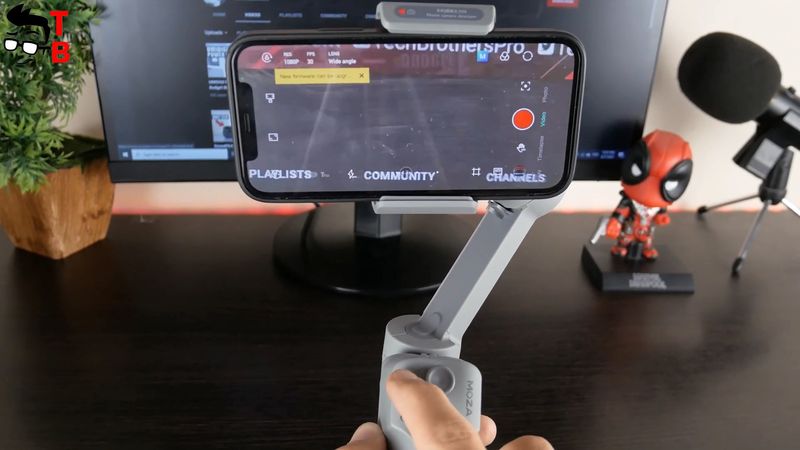 A single press on the zoom minus button is to choose FPV mode.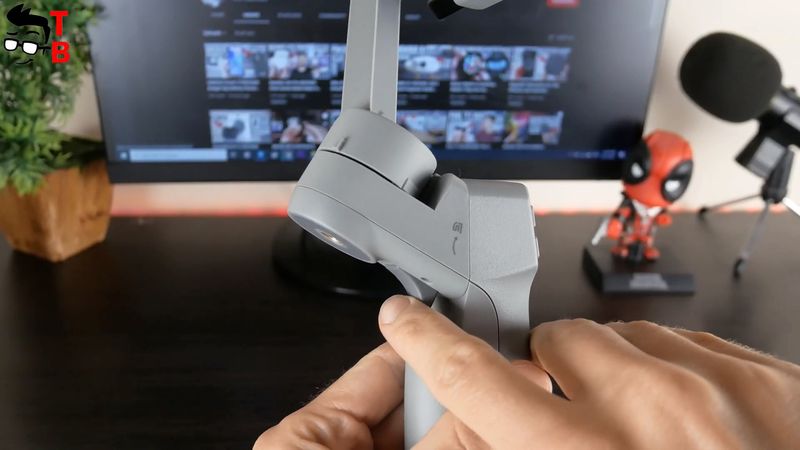 The phone gimbal also has a smart trigger. First, you can click and hold to enable all lock mode. Then, double click and hold to activate sport gear mode.
Just one click make the gimbal follow the center of the shot.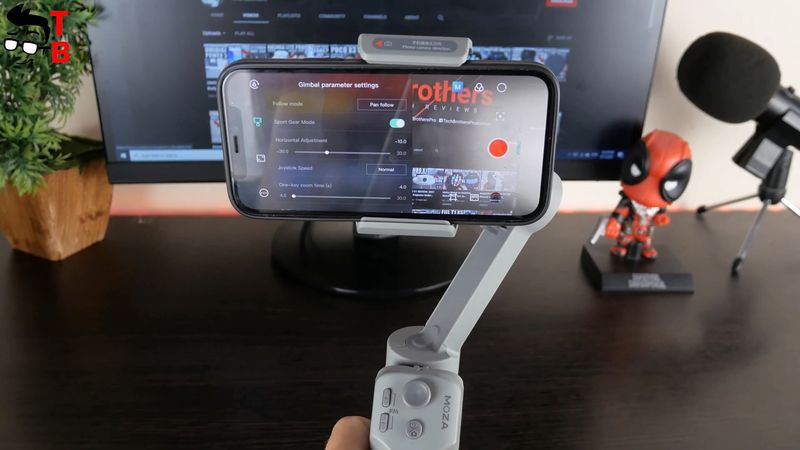 Double click is to re-center and exit the current mode.
Finally, triple click on the smart trigger allows switching between the rear and front facing camera.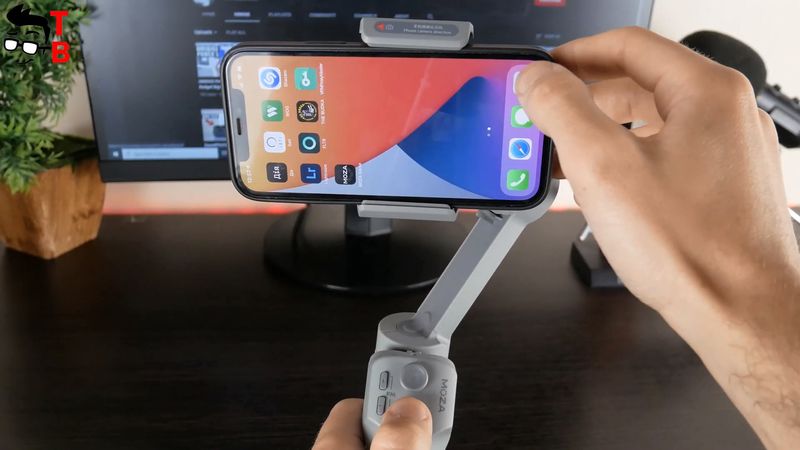 By the way, you can use the Moza Mini MX smartphone gimbal with the stock camera on your phone, but only to take photos or start/stop recording video. If you want to use all the functions that I said before, then you need to install the application from Moza. Let's talk about it.
Application
The app on a smartphone is called Moza Genie. It is available on Android and iOS devices.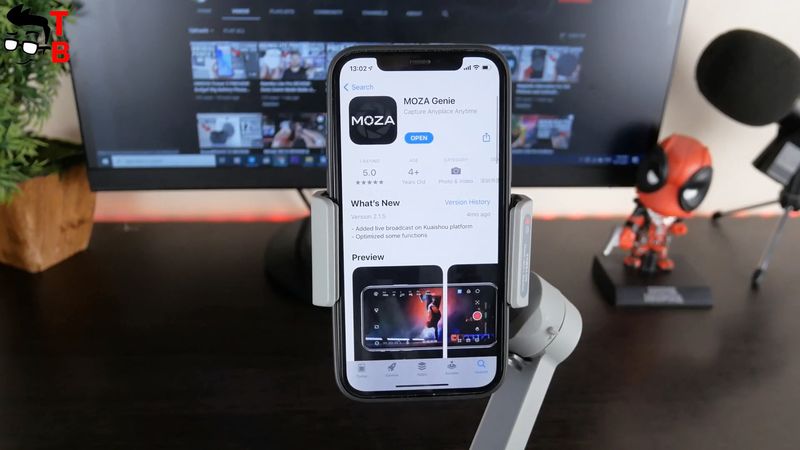 In the app, we have many useful functions. Before talking about them, let's connect the gimbal to a smartphone. You can see the Bluetooth icon on the screen. Just click on it, and select Moza Mini MX. That's all!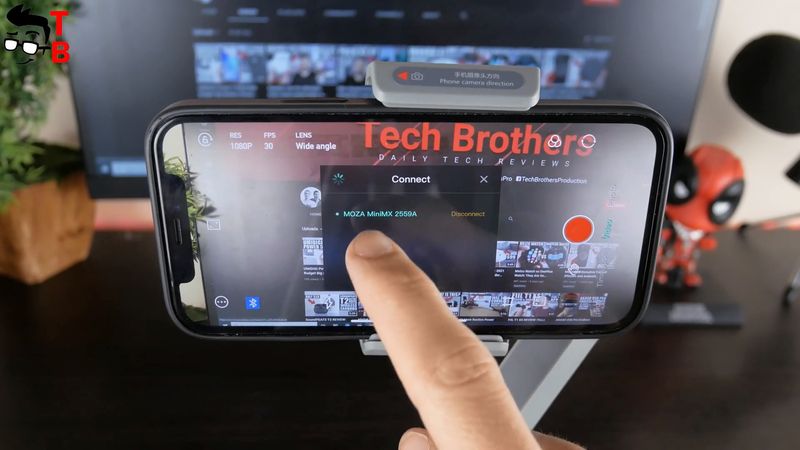 The application has some shooting modes, such as video, photo, timelapse, trajectory delay, and slow motion.
We can also turn on/off flashlight, grid and choose auto or pro mode. In Pro Mode, we can change ISO, white balance, etc.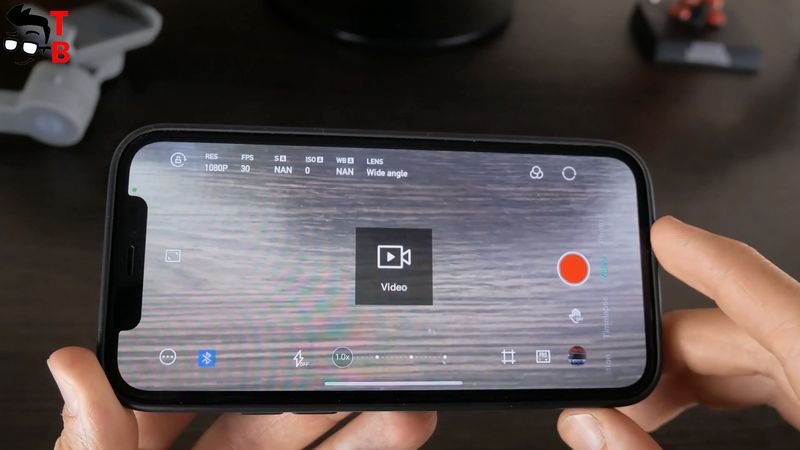 There are also four icons on the top of the screen. The first one is a lock/unlock, then gimbal settings, full view, and camera settings.
In the gimbal settings, we have the following options: follow mode (pan follow, pan and tilt, FPV), sports gear mode, horizontal adjustment, joystick speed, one-click zoom time, calibrate, instruction book, and other information.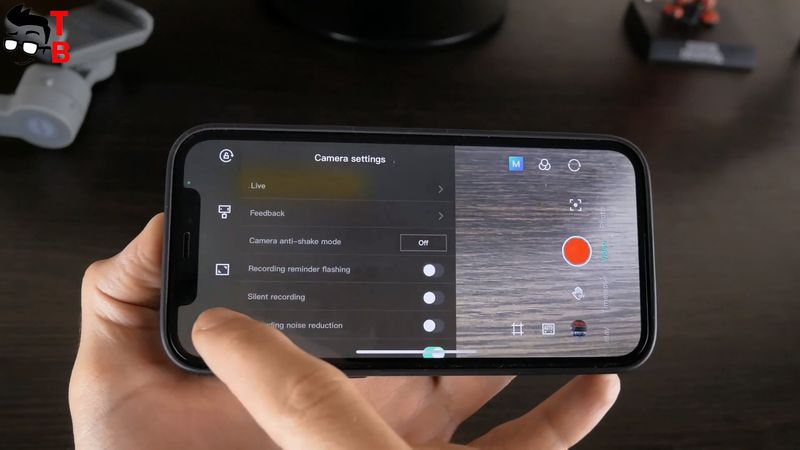 In camera settings, we can start a live video, leave feedback, turn on/off camera anti-shake mode, silent recording, noise reduction, gain, mixed background music, volume key recording, spirit level, overexposure tips, full-screen preview and reset.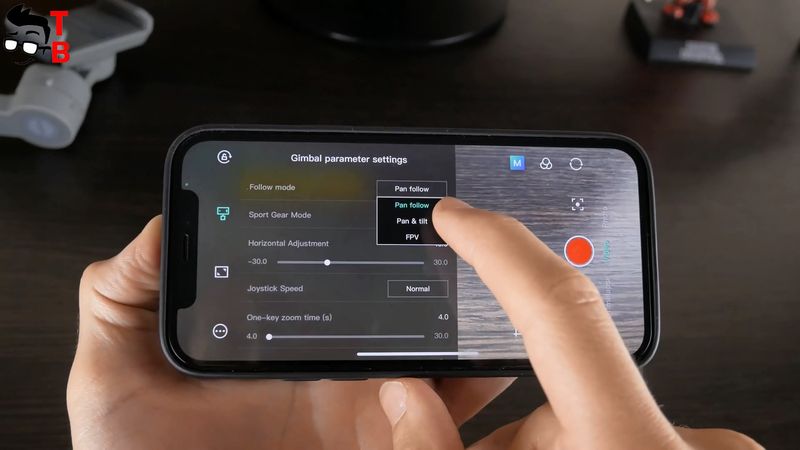 One of the main features of the Moza Mini MX smartphone gimbal is Magic Mode. Actually, this is not a mode, but a section in the app with built-in templates. You just need to choose a template, click on Capture, and then the gimbal will do everything automatically. You can get videos like this.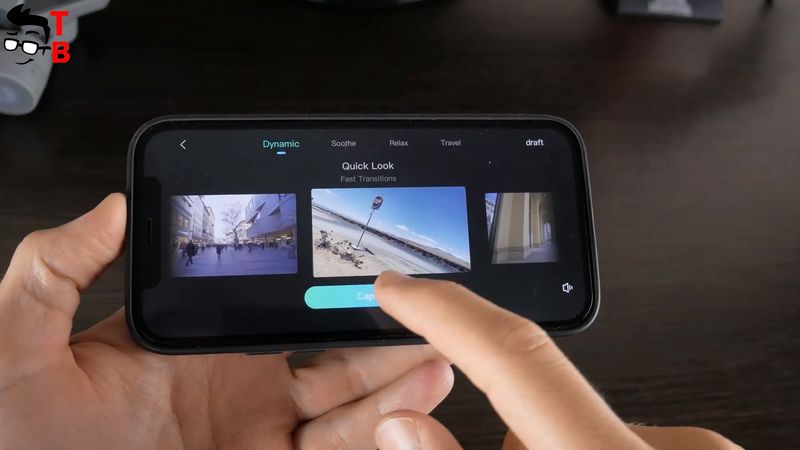 OK, if we start watching videos, let me show you the different shooting modes.
Shooting modes
Moza Mini MX has three main shooting modes, such as pan follow, pan and tilt, and FPV.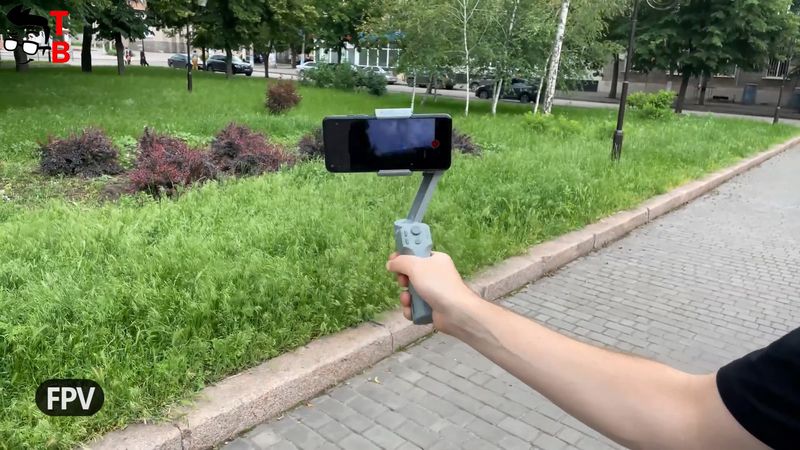 Pan and tilt mode is my favorite, because it keeps the horizon straight, but also moves the camera smoothly up and down as well as left and right.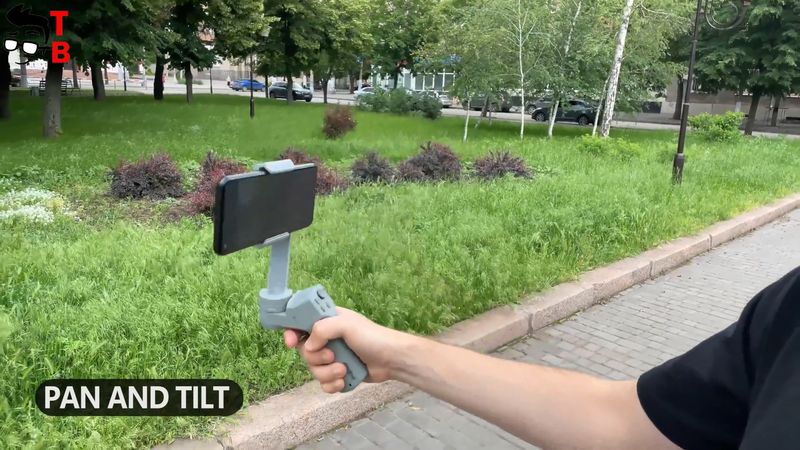 Moza Mini MX gimbal also has face tracking. You know, this mode works very well.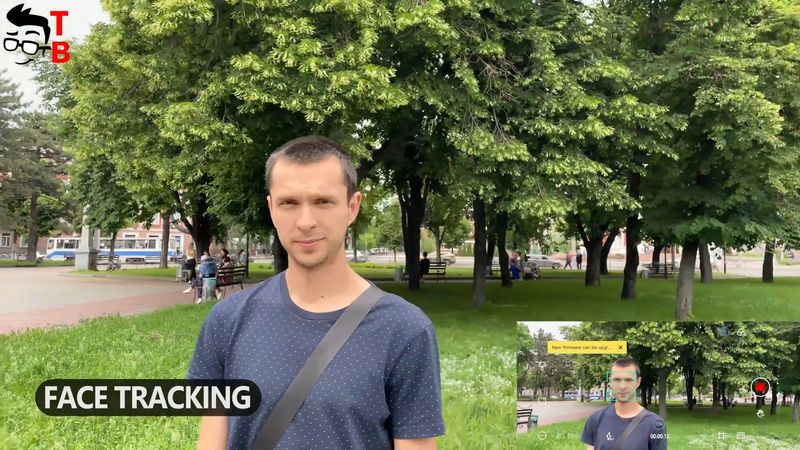 I also want to show you a slow-motion video, and time lapse.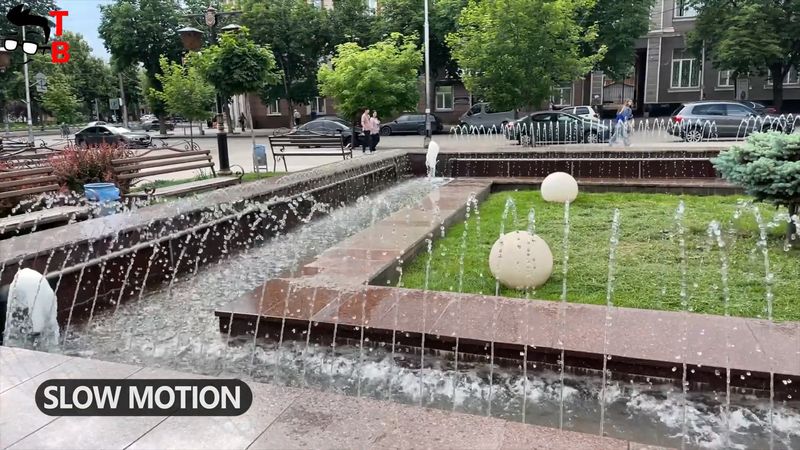 By the way, a gimbal has a trajectory time lapse, and I really like this function. You just need to select a time, a trajectory, and then a gimbal and a smartphone will take a timelapse in motion.
Finally, let's test the stabilization of MOZA Mini MX while running.
Video
I shot some videos using Moza MINI MX smartphone gimbal and iPhone 12. Write in the comments what you think about stabilization. Is it good?
Battery
By the way, I forgot to tell you about the battery.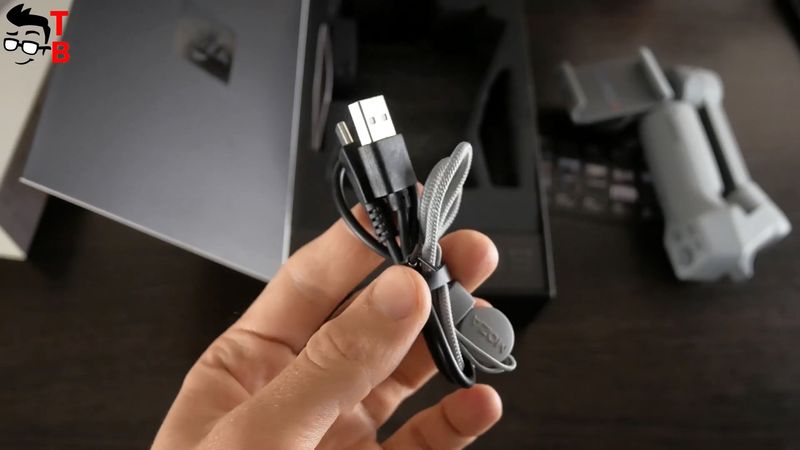 Moza Mini MX is equipped with a 2000mAh battery, and the manufacturer promises 20 hours of battery life on a single charge.
Conclusion
You know, video stabilization is one of the main problems of most smartphones, especially budget and even mid-range. In this case, a smartphone gimbal is not only a useful device but a must-have.
I like that Moza Mini MX can be used as a phone gimbal and a tripod. There are also many useful functions in the app, such as shooting modes, settings, and even magic mode with creative shooting templates.
The price of Moza Mini MX is only $90, and I think it is a good deal.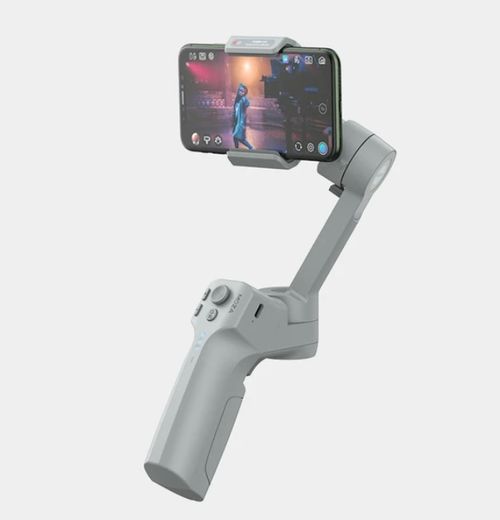 MOZA Mini MX Gimbal Handheld Stabilizer - Amazon
as of September 29, 2023 10:35 am