You know, I have tested many wireless earbuds on our channel – Tech Brothers, and it really is the most revolutionary product of the last few years. In 2022, you can buy good wireless earbuds for only $20. That was impossible just five years ago.
Even with all the features of wireless earbuds, most of them are not very suitable for active sports, for example, running. This is because only a few wireless earbuds provide a really secure fit. In addition, most wireless earbuds block out ambient sounds, so you may not hear a car, cyclist, or other danger on the street.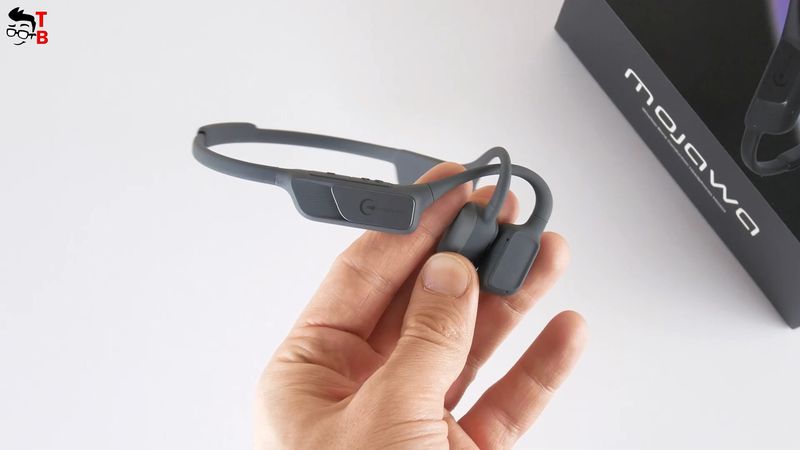 It is believed that bone conduction headphones are the best for sports because they deliver the sound through the cheekbone. Let's check it out with the new MOJAWA MOJO1 headphones.
They have Bluetooth 5.0 connection, dual noise cancelling microphone, IP67 waterproof rating, and 8 hours of battery life on a single charge.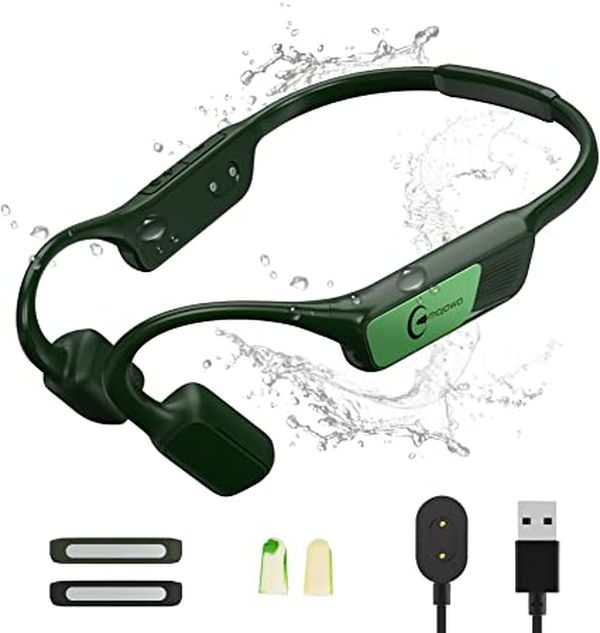 Mojawa Wireless Microphones Headsets - 40$ OFF COUPON CODE - Amazon
as of December 7, 2023 5:13 am
Unboxing
Mojawa Bone Conduction headphones come in this box.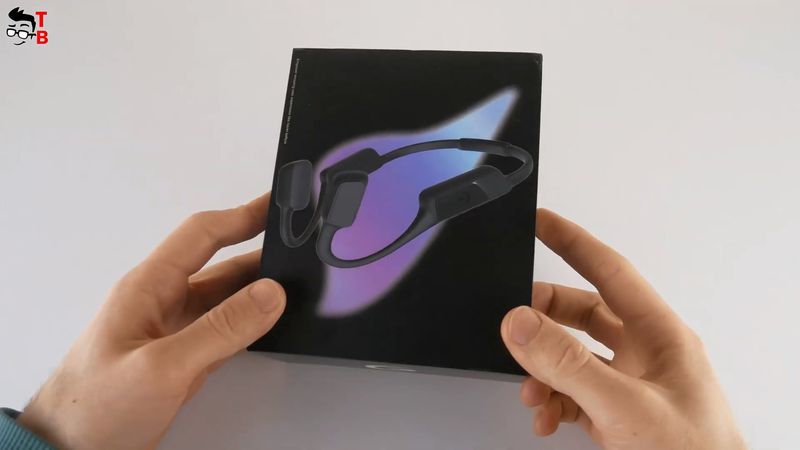 We can read the features of the headphones on the back, such as open ear design, aula safety reminder, AI ENC, voice assistant, and others.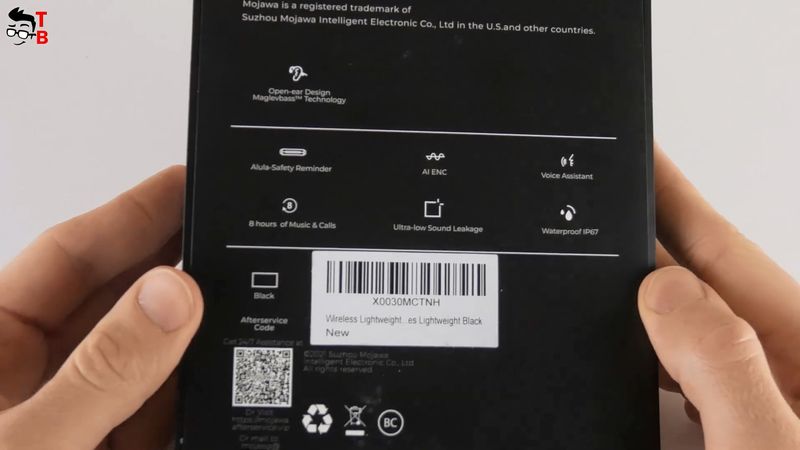 Inside the box, there are headphones themselves, and an extra reflective strip.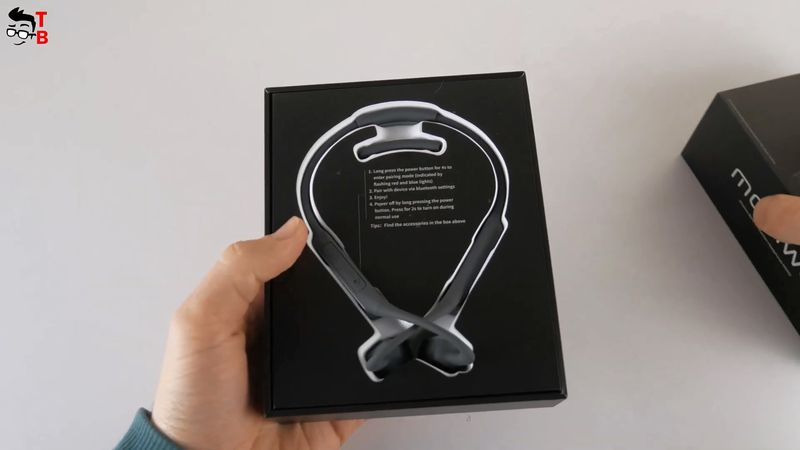 The first one is already installed on the headphones. By the way, this is an AULA safety reminder. We will talk about it a little later.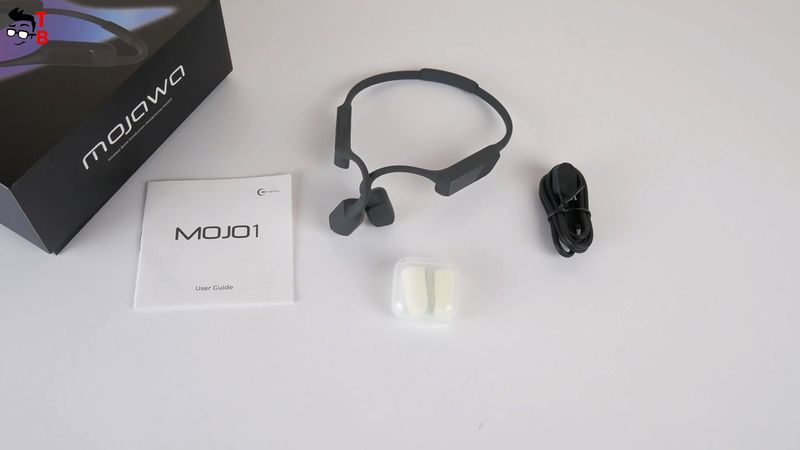 We also have a magnetic charging cable, earplugs, and user manual in the package. You can use earplugs if you don't want to hear the noise in the street. But then you lose one of the main features of bone conduction headphones. I mean an open ear design.
Design
You know, the design of all bone conduction headphones is similar. They have a neckband and two sound blocks.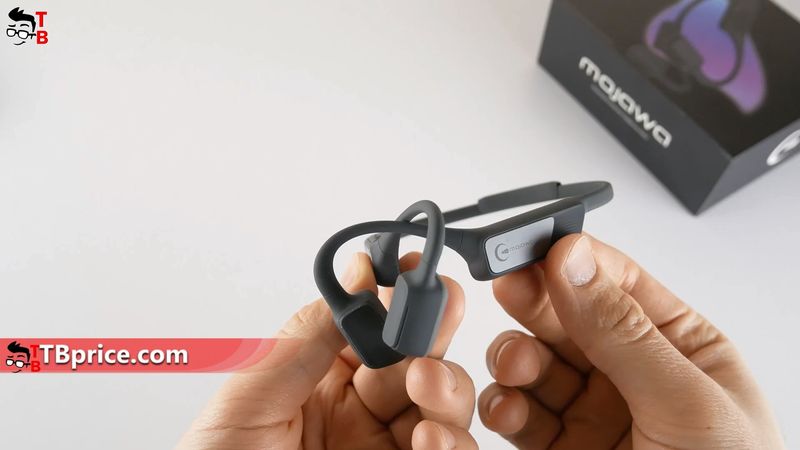 As I already said, one of the main features of MOJAWA MOJO1 headphones is the reflective strip on the neckband.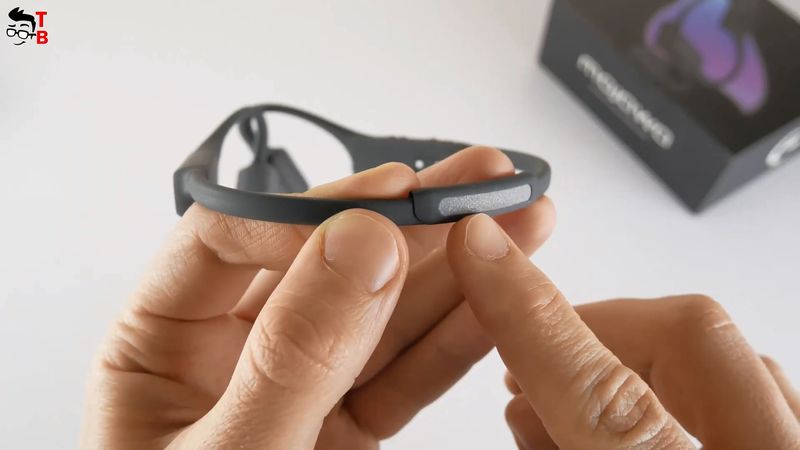 The manufacturer calls it Aula Safety Reminder. It makes you more visible in the dark. This is a useful feature for those who run in the evenings.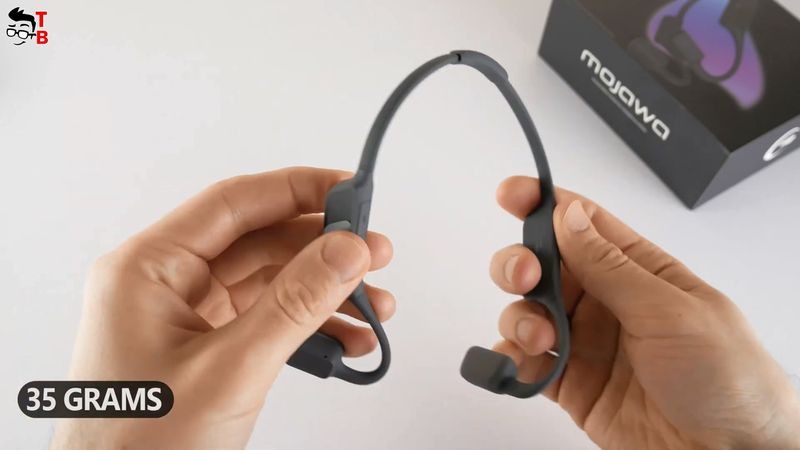 MOJAWA MOJO1 headphones have a soft titanium body, which makes them very lightweight – only 35 grams. From my experience, I can say that the headphones do not feel on the head, so they are comfortable to use for a long time.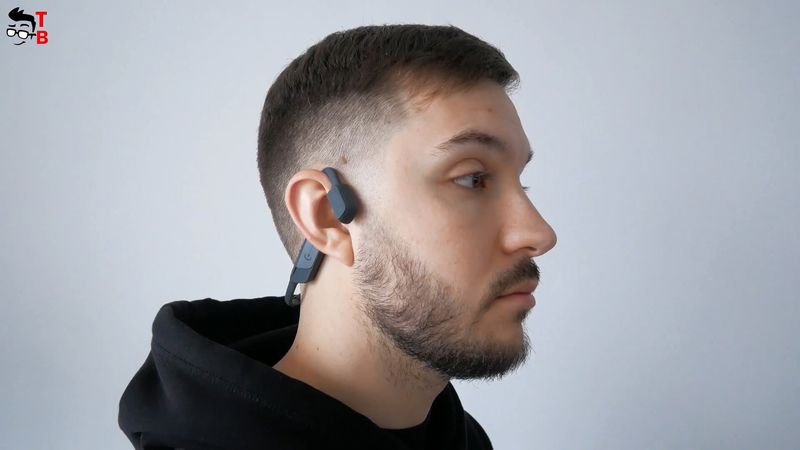 Moreover, after a while, about half an hour, you even forget that you are wearing the headphones. Perhaps this is one of the main advantages of bone conduction headphones over wireless headphones or earbuds.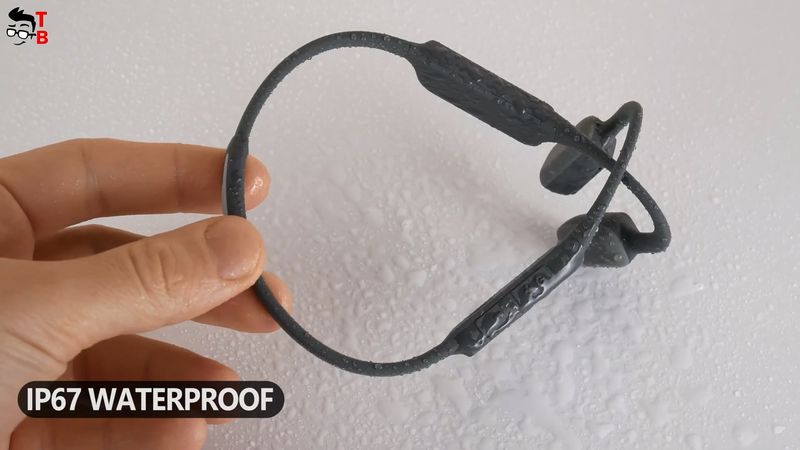 As I already said, these are headphones for sports, so they have an IP67 waterproof rating. You can use them in the rain or even wash them under running water.
Controls
Talking about controls, MOJAWA MOJO1 bone conduction headphones have a big multi-function button on the left ear. There is also a volume up/down and power button on the right ear, but closer to the neckband. I think everything is clear with these buttons.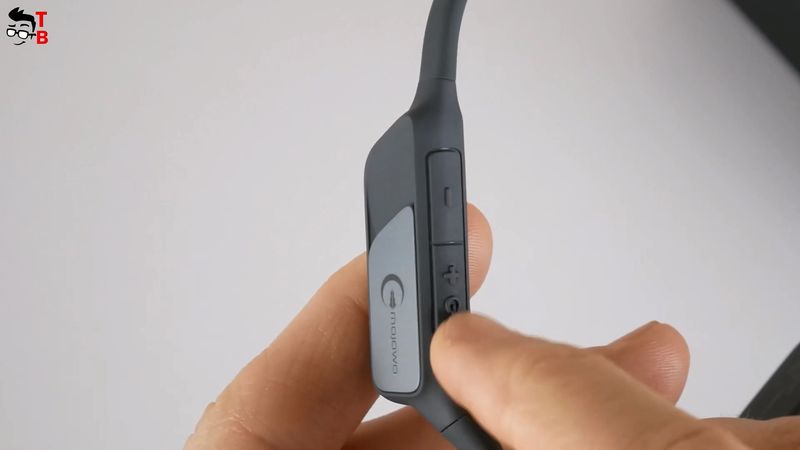 However, I need to tell you about the multi-function button. By the way, it is physical, not touch. In my opinion, this is a big advantage, because it is not very convenient to use touch buttons during sports.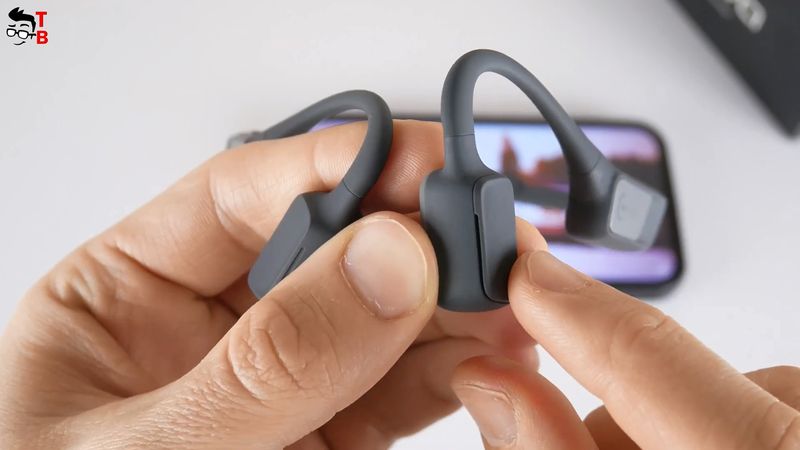 So, first, you can click once to play/pause the music. A double click on this button switches to the next track, and triple-click switches to the previous track.
You can also answer a phone call using a multi-function button. You just need to click once on the headphones. If you want to hang on the call, then press and hold a button for 2 seconds.
So, MOJAWA MOJO1 bone conduction headphones have all necessary controls, including volume control and switch tracks. That's very good.
Microphone Quality
You know, I think it doesn't make sense to do a latency test of these headphones, because they are not designed for mobile gaming. To be honest, I don't really know how to test a latency on them, because they deliver audio through the cheekbone.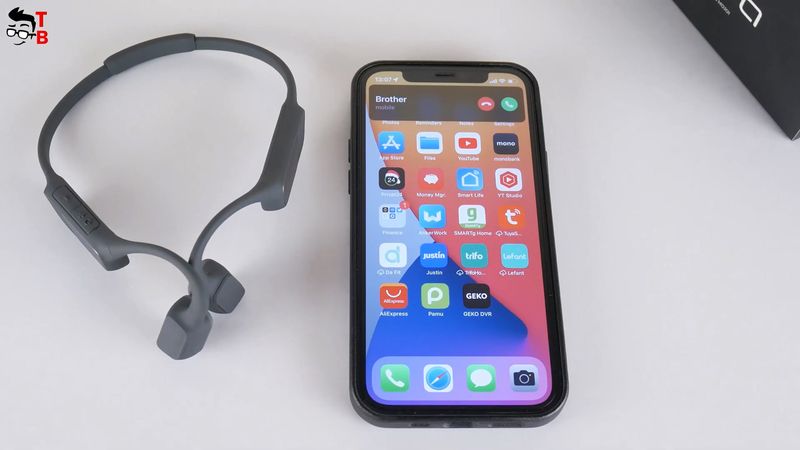 However, I am very interested in microphone quality. Let's check it out.
Sound Quality
Talking about sound quality, I have noticed that the headphones are not very tight to the head. To be honest, I'm not sure they should be tight. However, when you press them to the head, the sound is much louder and clearer.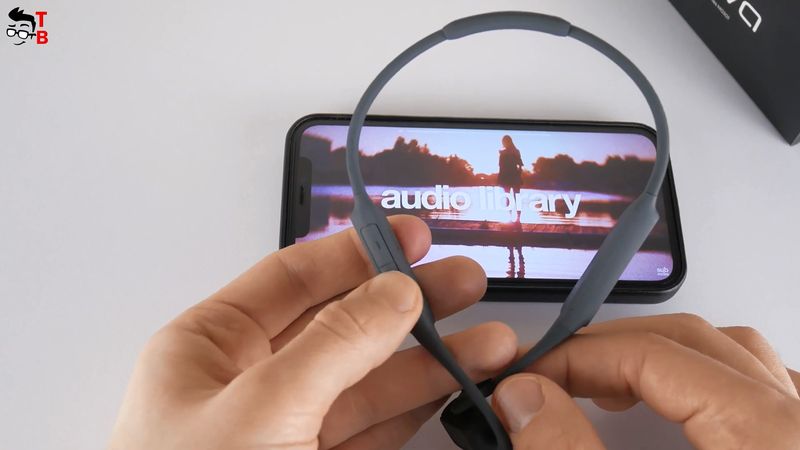 You know, in any case, it is wrong to compare over-ear headphones with bone conduction ones. They have completely different sound delivery technologies.
Unfortunately, the sound through the bones will never be as good as the sound through the ear canal. After all, we hear with our ears, not bones, right?
Also, we don't pay much attention to the music quality when we doing sports.
However, I want to note a good bass in MOJAWA headphones.
Battery
The battery is another feature of most bone conduction headphones because they are bigger than wireless earbuds.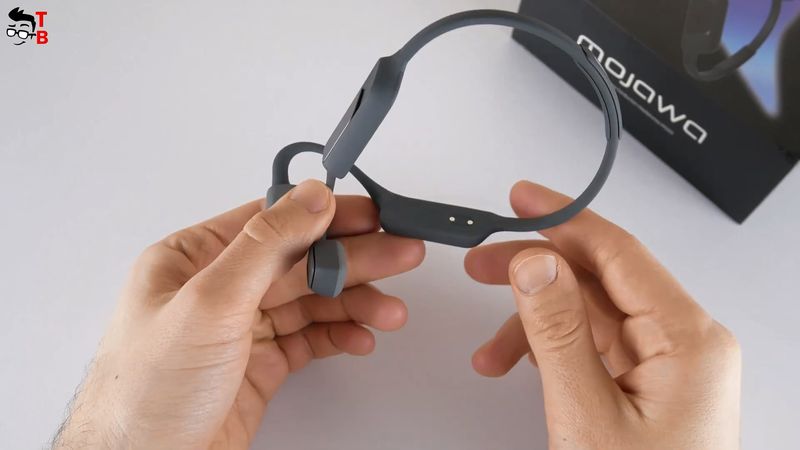 MOJAWA headphones have 8 hours of battery life on a single charge and up to 7 days in standby time.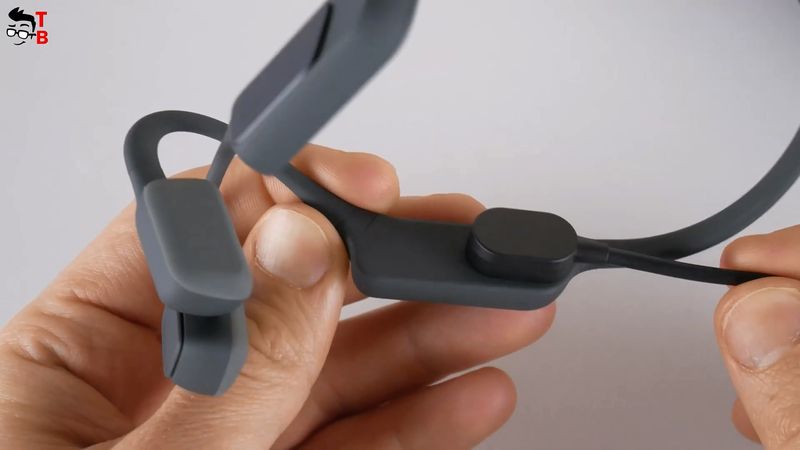 There is also a magnetic charging port, so you can quickly and easily put the headphones on charge. A full battery charge takes about one hour and 30 minutes.
Conclusion
So, what do I think of MOJAWA headphones? First, these and the other bone conduction headphones are not suitable for audiophiles. I mean those people who value sound quality more than anything else. Unfortunately, bone conduction headphones will never have better sound quality than over-ear headphones and earphones.
However, they have other advantages, such as open-ear design for safety during sports activities, such as running, amazing comfort, IP67 waterproof, and long battery life.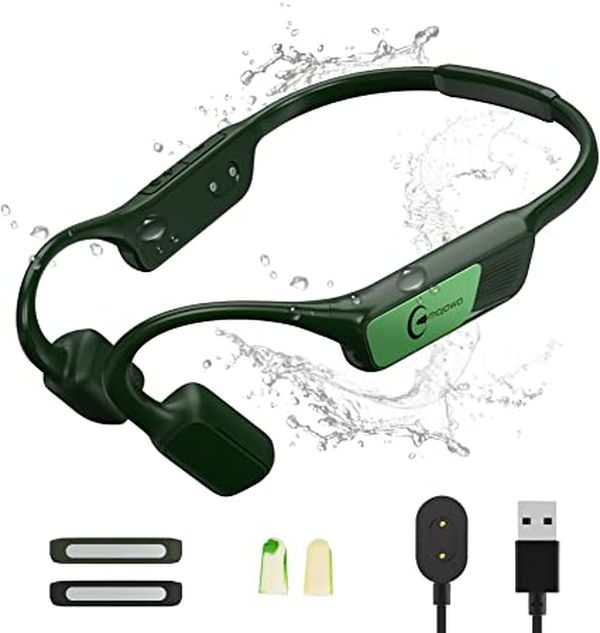 Mojawa Wireless Microphones Headsets - 40$ OFF COUPON CODE - Amazon
as of December 7, 2023 5:13 am