LeEco is a young Chinese brand with very big plans for the future. The company has already entered many markets around the world, and even USA. Also, LeEco has developed its own electric car. For the last time the Chinese company is not so active, but new smartphones are still being released, and they are very interesting.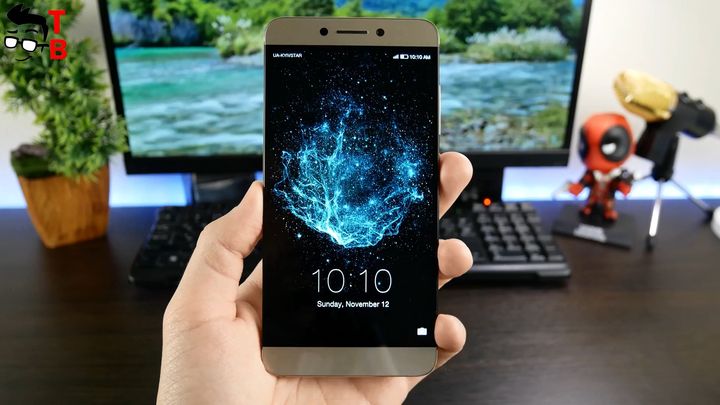 Today I have a review of LeEco Le S3 X626. It is an improved model of last year LeEco Le 2 (x620), but now it has 4GB of RAM, 21MP main camera and support for Quick Charge 3.0.
So, let's find out is this smartphone under $100 a good deal?
[wpsm_offerbox button_link="https://www.gearbest.com/cell-phones/pp_706430.html?wid=11&lkid=12112946″ button_text="Buy it now" price="$110.99″ price_old="$159.93″ offer_coupon="TechBrothersCM03″ title="LeEco Le S3 X626″ description="4GB RAM 64GB ROM 16.0MP Rear Camera" thumb="http://www.tbprice.com/wp-content/uploads/2017/11/LeEco-Le-S3-X626-tbprice.com-00.jpg" ]
 Unboxing

LeEco Le S3 X626 comes in a white cardboard box. There is company logo on the front panel, and specifications on the back, such as model number, memory, chipset, battery and others.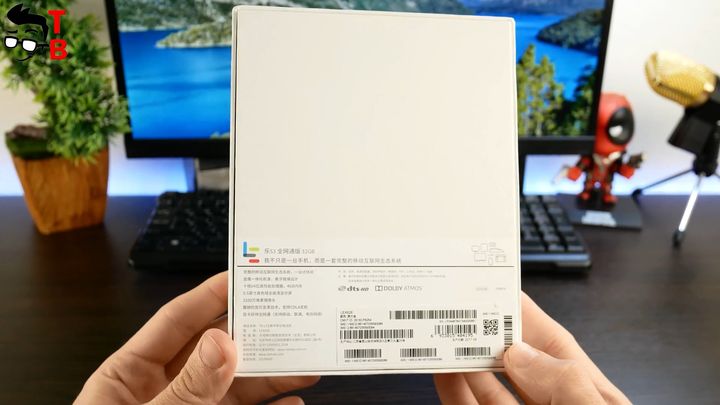 Inside the box you can find: smartphone, silicone case, power adapter, USB cable, USB Type-C to 3.5 mm audio jack adapter, user manual, and sim needle.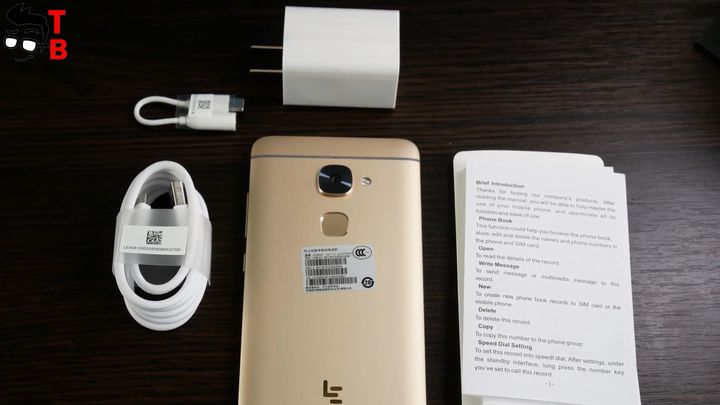 The smartphone and silicone case have factory films. You need to remove them before using devide.
Design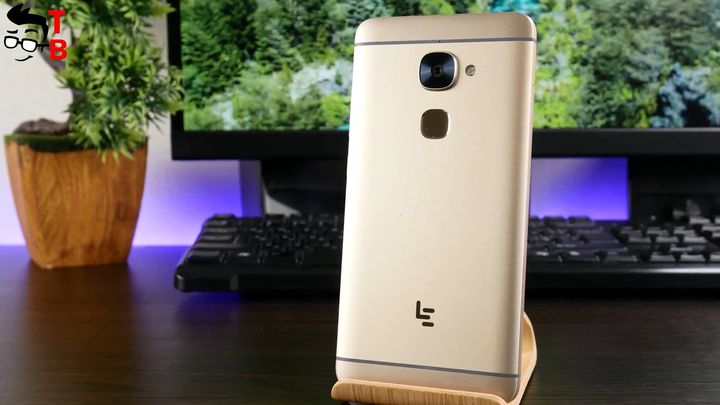 LeEco Le S3 X626 comes in different color options. I have gold version of smartphone. The body is made of metal.
The front panel has 5.5 inch flat display with black bezels on right and left sides. The bezels are quite big, about 3 mm. Above the display is front camera, talking speaker, a proximity and light sensor, and notification indicator. By the way, the notification indicator has different RGB colors with very soft brightness.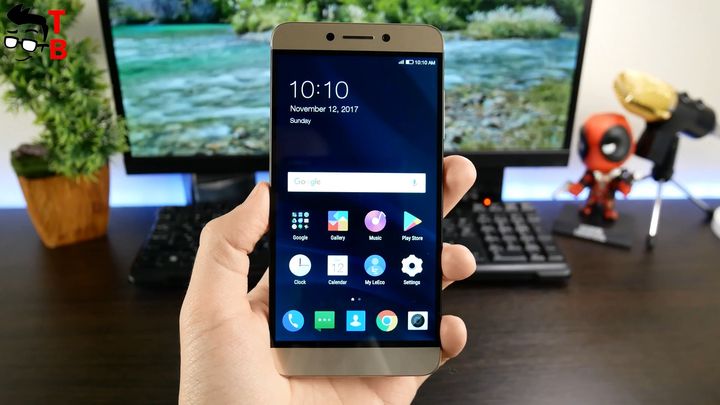 Under the display you can see control touch buttons with backlight. It is very useful for using a smartphone at night.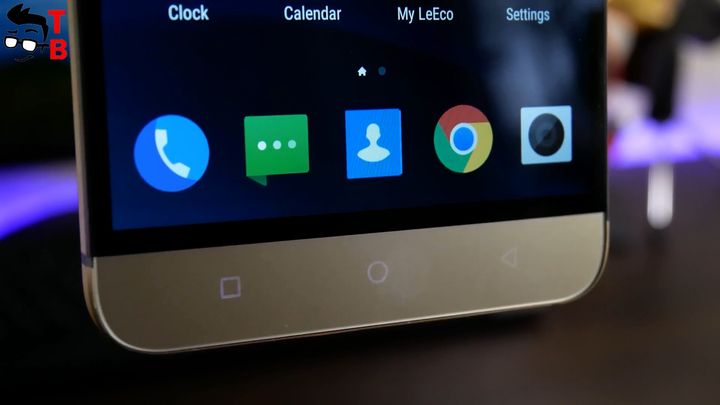 The back cover has plastic antenna strips on the top and bottom. In the center there is single main camera, a flash and fingerprint reader. It works pretty fast, but not instantly as flagship smartphones.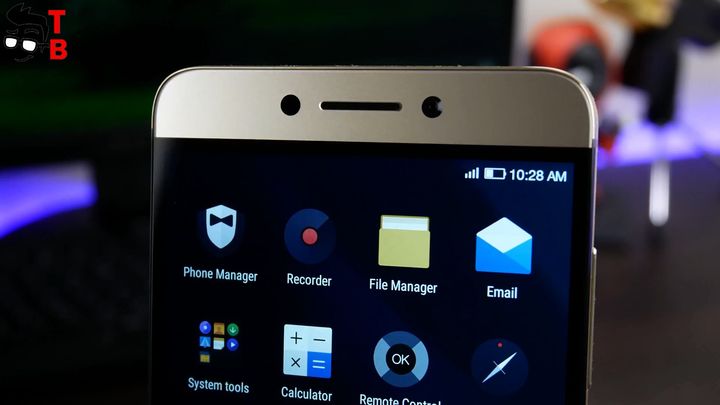 Leeco logo is located only on rear panel at the bottom. I really like the design of Leeco Le S3. It is minimalistic, simple and very harmonious.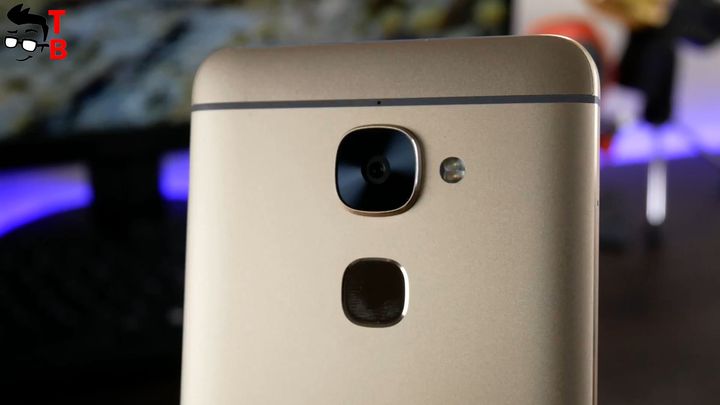 At the bottom of the smartphone is USB Type-C port and two speaker grilles. At the top there is only IR blaster. As you can see, the smartphone does not have a 3.5 mm audio jack, so the manufacturer added an adapter with USB Type-C to 3.5 mm jack so you can listen to music from your favorite headphones.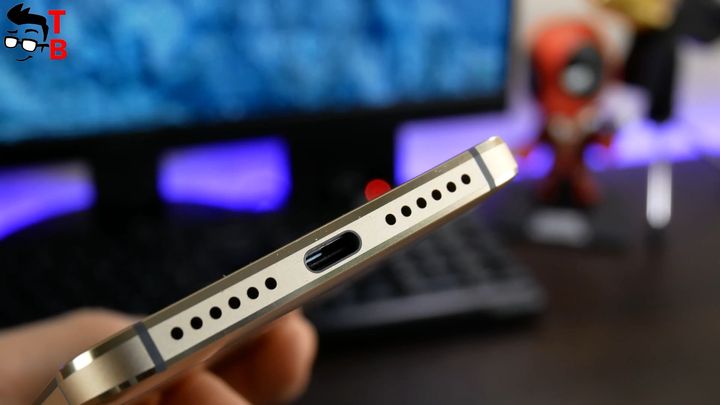 On the right side are the volume and power buttons, while on the left you can find a slot for sim cards. Please note, LeEco Le S3 X626 does not support expandable memory via microSD.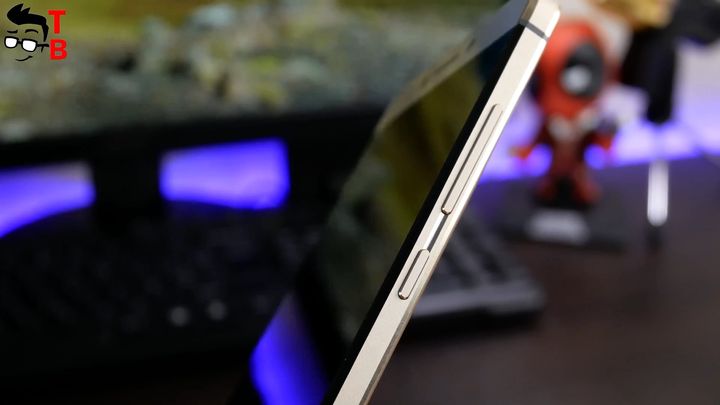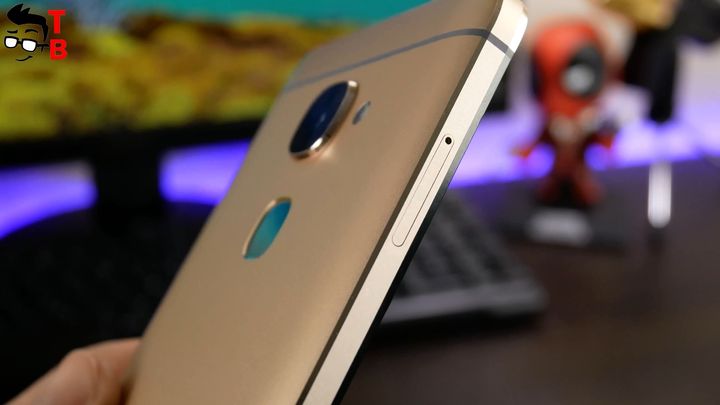 The smartphone has a high build quality, and stylish design. It seems like an expensive device, despite its low price.
LeEco Le S3 X626: Display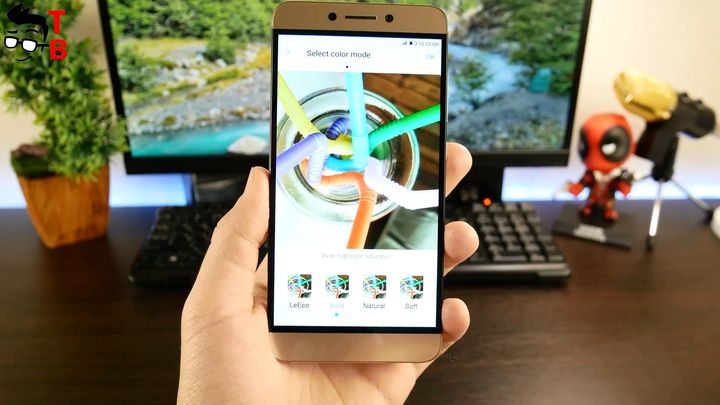 Leeco Le S3 is equipped with 5.5-inch display and Full HD resolution. The smartphone comes with IPS matrix, but I do not know about Gorilla Glass. I could not find any information about this on official website.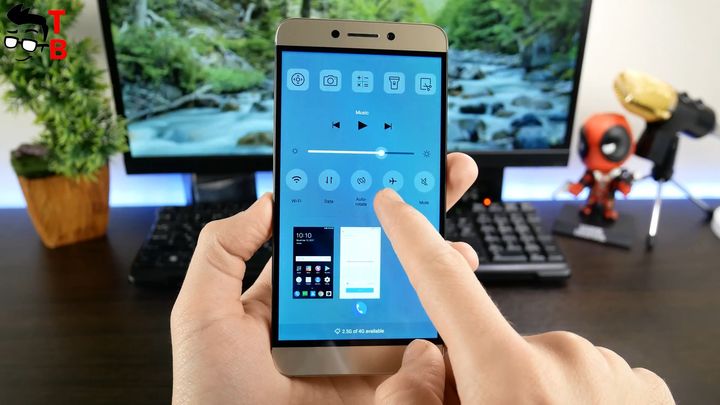 The display has an oleophobic coating, so you do not have to worry about fingerprints. Multi-touch test shows 5 simultaneous touches.
In smartphone settings, you can change the color mode, the scale of interface and the size of system font.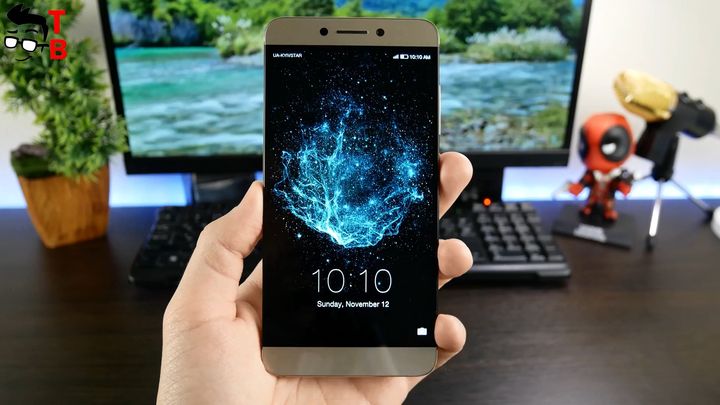 The display LeEco Le S3 X626 is good. In fact, I do not see any difference between it and flagship devices, except AMOLED/OLED display.
Sofware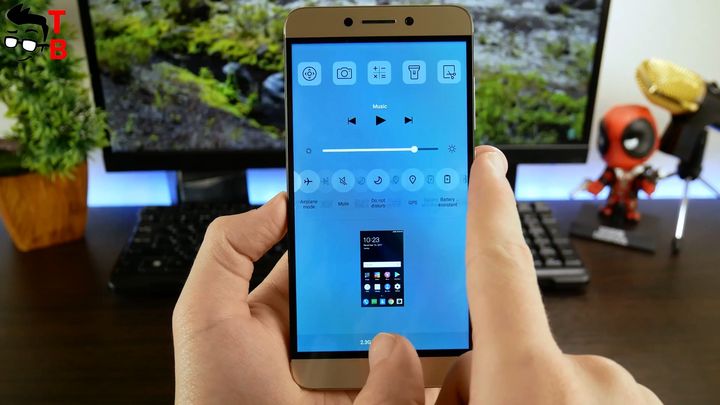 Let's turn on the smartphone and look at its software. LeEco Le S3 X626 runs on Android 6.0 Marshmallow and EUI 5.9 user interface on top. Yes, it's Chinese user interface, but it's nice and convenient.
The smartphone comes with all main apps and Google services, including Play Store. There are no Chinese apps and widgets.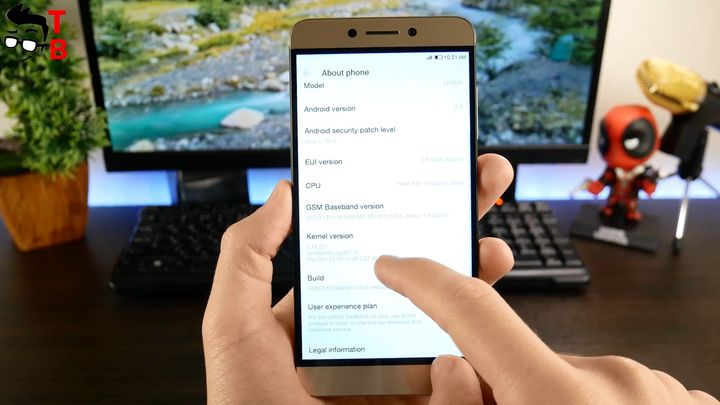 Yes, it runs on outdated version of Android 6.0, but user interface works smoothly and quickly. I did not find any slowdowns or delays during review.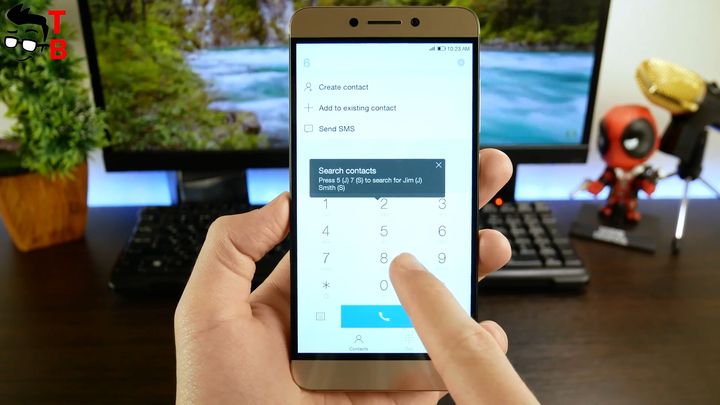 LeEco Le S3 X626: Performance
LeEco Le S3 X626 runs on the deca core chipset Helio X20 with clock speed 2.3 GHz. Graphics adapter Mali-T880 MP4. This is really powerful processor, and I was surprised when I saw it in a budget smartphone. As I said, the user interface works smoothly, all applications open quickly.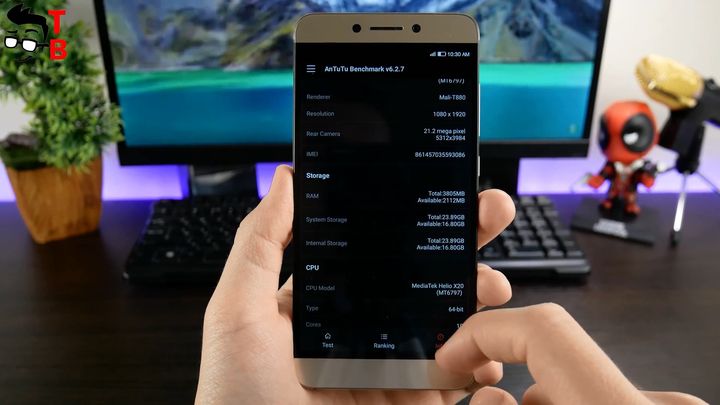 Later I will make detailed performance review, but now I want to show benmarks.
The smartphone has about 93000 points in AnTuTu test. Just imagine, 94 thousand! And this is a smartphone under $100.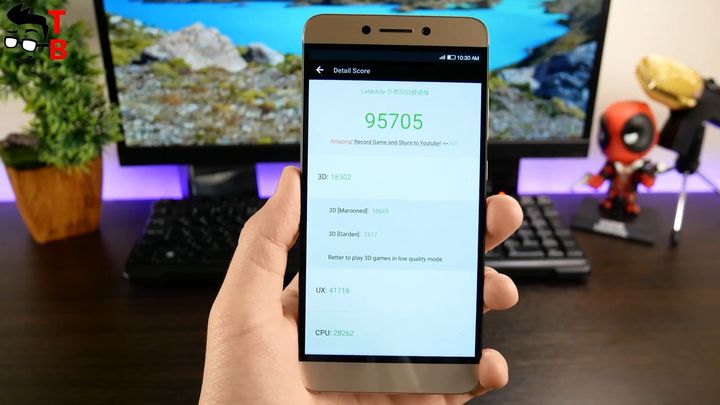 If we talk about another popular test, GeekBench 4, here we have the following result: 1500 points in single-core test and 4700 in multi-core test.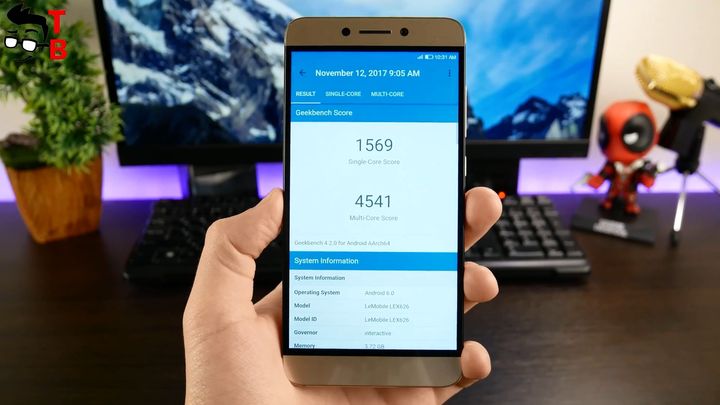 This is an amazing performance for a budget smartphone! I already want to play some games.
Games
Leeco Le S3 has very good results in benchmarks. But what about real performance? Let's play some games. Also I will look the temperature after each game.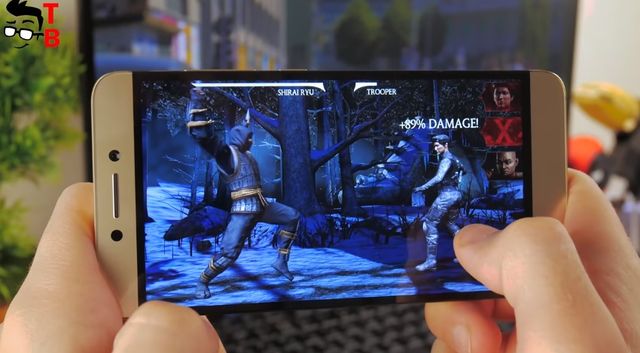 The first game is Mortal Combat X. I like this game for beautiful graphics and dynamic battles.
As you can see, Leeco Le S3 is good in it. Everything works fine, the graphics is good. I don't see any lags, slowdowns or breaks.
I played this game about 10 minutes, and smartphone has become a little warm, but not hot. The optimal temperature during games is up to 50 degrees.
As you can see, Leeco Le S3 is about 45 degrees. It is great! I can continue to play games.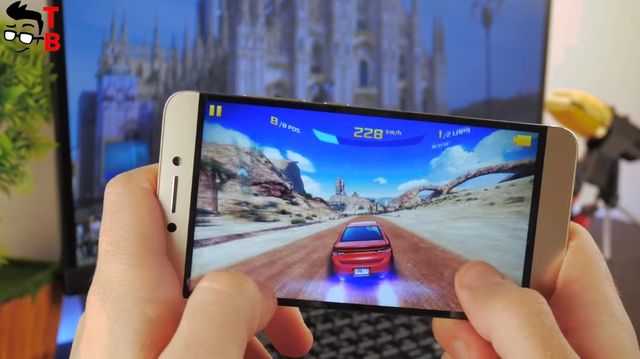 The next game is Asphalt 8. It is one of the most popular and productive Android games. I think every user of Android smartphone play this game. However, if you have cheap device with low performance, you may have some problems.
Leeco le S3 is budget phone, but it has very good performance. It provides stunning gaming experience. FPS is OK, graphics is great. The control of the car is very sensitive, which means that sensors work well.
Once again, let's check the temperature. I play games for about 30 minutes, and the smartphone isn't hot. The temperature is about 45 degrees.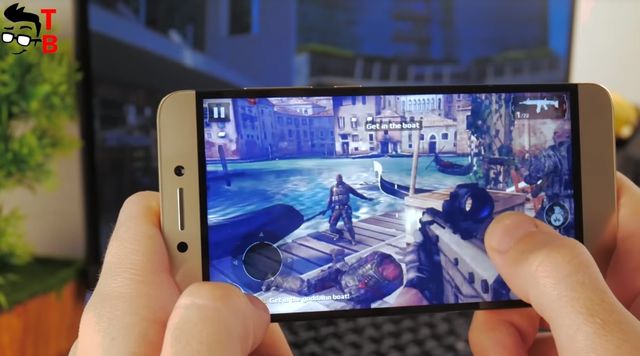 And the last game for this smartphone is Modern Combat 5. You may notice that I choose the most productive Android games. I think that if you can play this games on your smartphone then you will not have any problems with more simple games.
Modern Combat 5 runs very good. I like this game for amazing graphics and interesting story. Leeco Le S3 allows you to play it without lags, errors or slowdowns.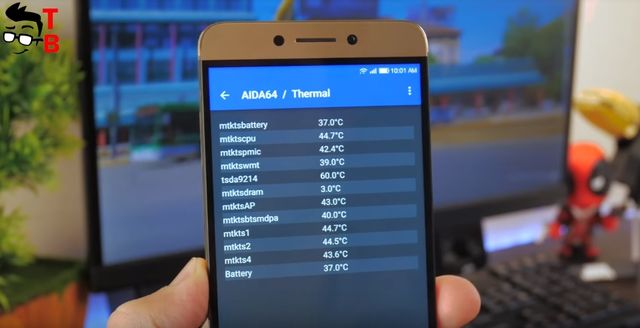 The temperature of smartphone after the last game is still 45 degrees. So, I can conclude that a long gameplay is not a problem for Leeco Le S3. It does not have overheating or throttling.
Leeco Le S3 is very good budget smartphone. I already tested its battery and performance, and I think that it is one of the best budget phones 2017.
Sound
LeEco Le S3 X626 does not have 3.5 mm connector, so you need to use adapter from USB Type-C to 3.5 mm audio jack to listen to music. The sound in headphones is very good and saturated. I watched some movies and listened to music, and even in subway the volume is very good.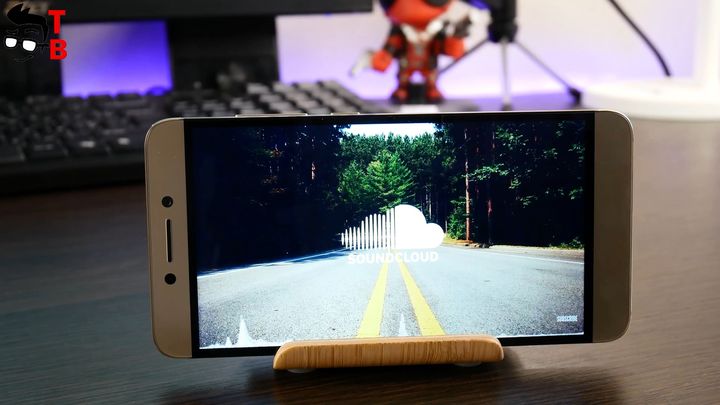 The smartphone comes with built-in Dolby Atomas application. Here you can choose the sound effect, for example, movies, music, games and stuff.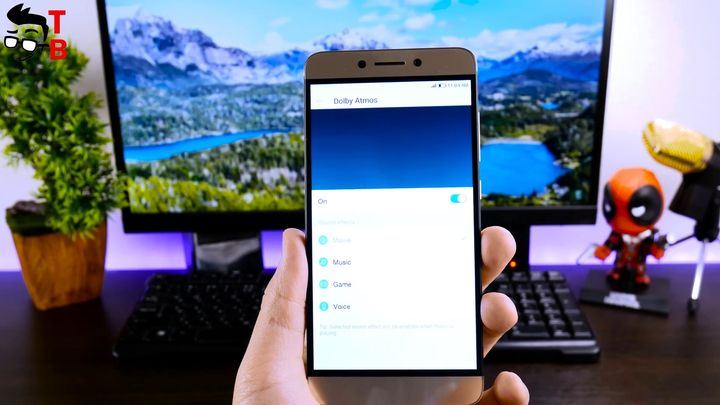 The sound on the speakers is also good. It is loud, saturated and even has basses.
LeEco Le S3 X626: Camera
Our hero comes with 21 megapixel sensor Sony IMX230 with aperture f/2.0 and 4:3 aspect ratio. The main camera has a phase autofocus.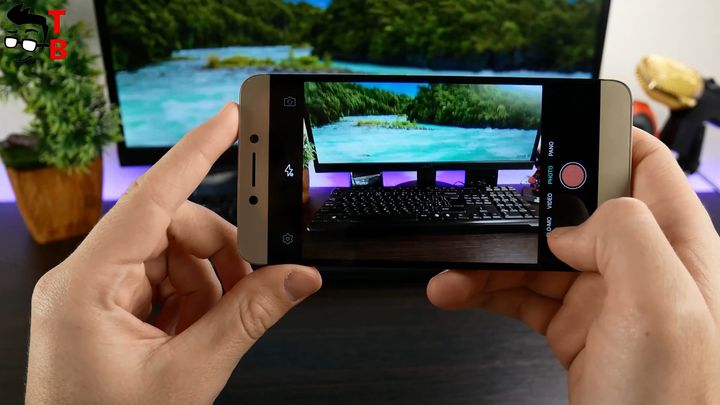 The front camera has 8MP sensor with f/2.2 aperture and fixed focus.
Camera App
Before we move on sample photos and videos, I want to show you camera app, which is pretty good.
It's really nice and minimal. Also, here you can find some useful features. There are four main modes: Slow-Mo, Video, Photo and Panorama. In Photo mode you can choose different filters, for example Nature, Normal, Cold, Mono, Warm and others.
Also in Photo mode, you'll see a small bar above it, and if you swipe up on that, you'll open a few other modes, like HDR, Night, Square, Beauty and Scene.
I really like Pro or Manual mode on Leeco Le S3. It provides some additional settings to set up photos perfectly.
Sample Photos
The daylight photos look amazing! Of course, you should not compare them with Pixel 2 XL or iPhone 8, but for its price LeEco Le S3 takes really good photos.
The pictures are sharp and colorful. Also I found that HDR mode is very helpful. It makes photos more colorful and bright. However, If you need more realistic shots, then it's better to turn off HDR mode.
As for night photos, they are also good. Pictures are little grainy, but they are still well detailed.
The 8-megapixel front-facing camera is nice. The selfie-lovers will be happy. The main thing is to find a place with good lighting.
Sample Videos
The video is recorded in 4K at 30 fps, Full HD at 30 fps and HD at 120 fps. The camera doesn't have stabilization, but the image is quite smooth. Also you can see that the video is well detailed.
Battery
LeEco Le S3 X626 comes with 3000 mAh battery. 24W charger supports Quick Charge 3.0 technology.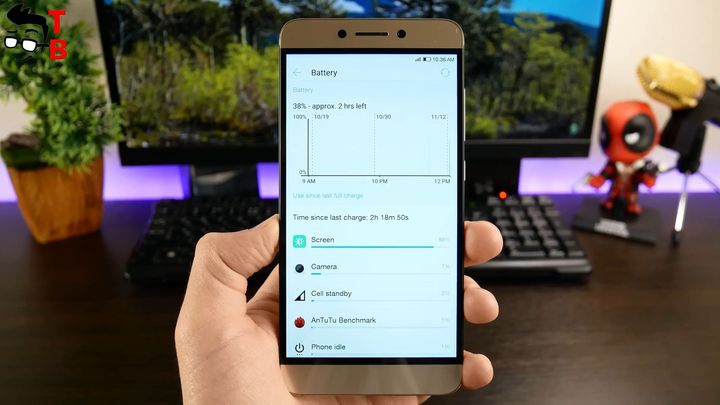 The manufacturer promises full charging for 1 hour and 20 minutes. It's amazing! As for battery life, 3000 mAh provides a full working day.
Later I will make battery test, and tell you results.
Communication
LeEco Le S3 X626 supports two nano SiM cards. Like many other smartphones with one radio module, SIM card can work with LTE and 3G, while second sim automatically works with GSM.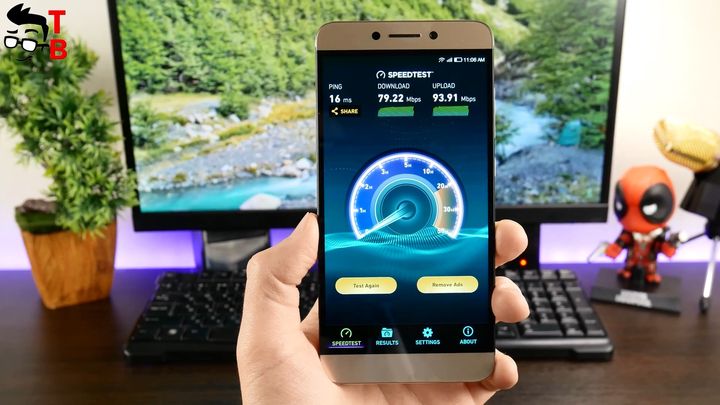 During the testing of calling, I had no any problems. The interlocutors heard me perfectly even in strong winds and in noisy places. The speaker is loud.
Wi-Fi module supports two bands of 2.4 GHz and 5 GHz. The wi-fi connection works fine.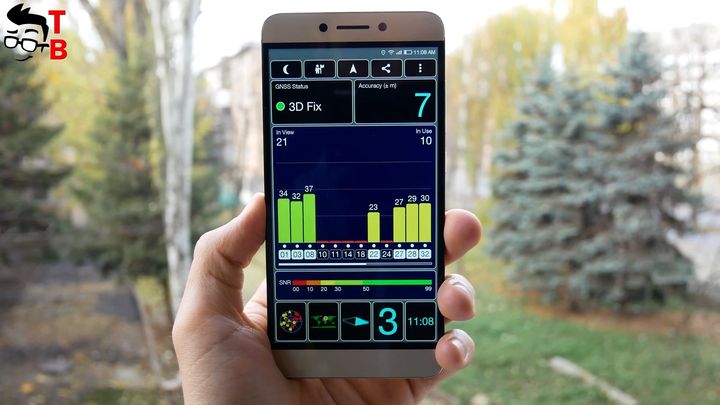 Also LeEco Le S3 X626 has IR blaster for controlling home appliances, such as TV.
Conclusion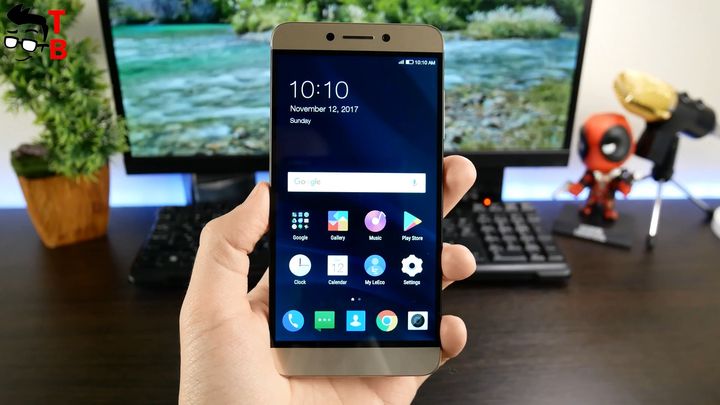 LeEco Le S3 X626 is very interesting budget smartphone. It has an amazing performance (more than 90 thousand points in Antutu), as well as promising cameras. The design is nice and stylish. The display has thick bezels, but I can not complain about it for $100 smartphone.
[wpsm_offerbox button_link="https://www.gearbest.com/cell-phones/pp_706430.html?wid=11&lkid=12112946″ button_text="Buy it now" price="$110.99″ price_old="$159.93″ offer_coupon="TechBrothersCM03″ title="LeEco Le S3 X626″ description="4GB RAM 64GB ROM 16.0MP Rear Camera" thumb="http://www.tbprice.com/wp-content/uploads/2017/11/LeEco-Le-S3-X626-tbprice.com-00.jpg" ]
LeEco Le S3 X626 Review Video