You know, I have a cat. When I go on vacation, my brother comes to my house once a day to feed my cat. I don't want a cat to go hungry during the day, so I need an automatic feeder. I have ordered one, and now I am very interested in testing it.
This smart automatic feeder for cat and dog is called KALADO. You can buy it for only $75 on Amazon.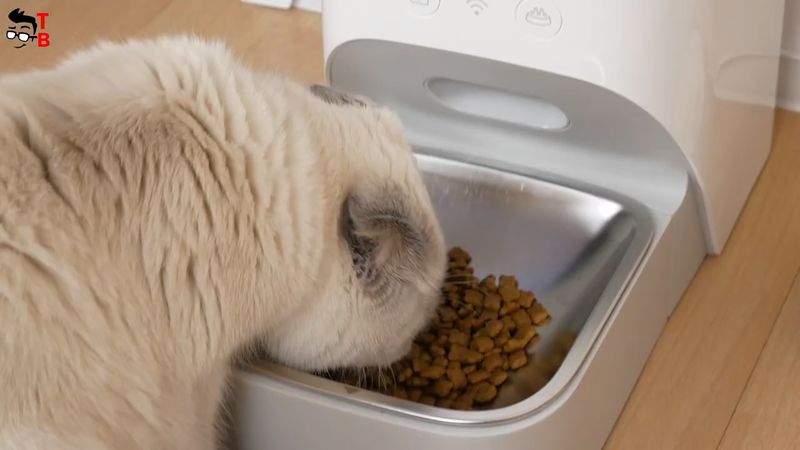 The main features of the new pet feeder are 3.8 liters volume, and up to 30 days of food supply, Wi-Fi support, remote app control and customizable feeding schedules in the app.
Let's start the review with unboxing. By the way, my cat's name is Luna. You will see her often in this article.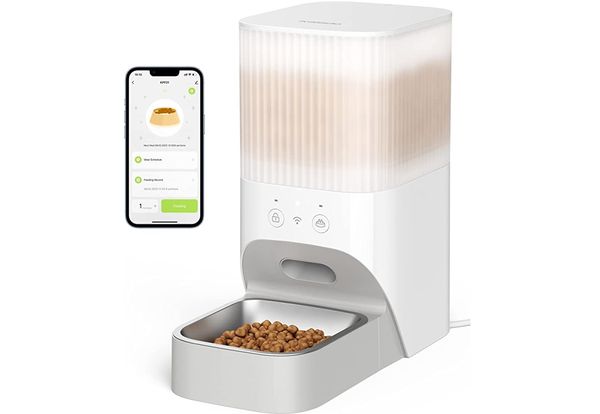 KALADO KPF01 Smart Automatic Cat/ Dog Feeder - Amazon
as of November 18, 2023 2:33 pm
Unboxing
I have received a smart automatic feeder in this box. Unfortunately, it was wrapped by shipping stickers, so the appearance of the box is a little spoiled. Nevertheless, the box is undamaged.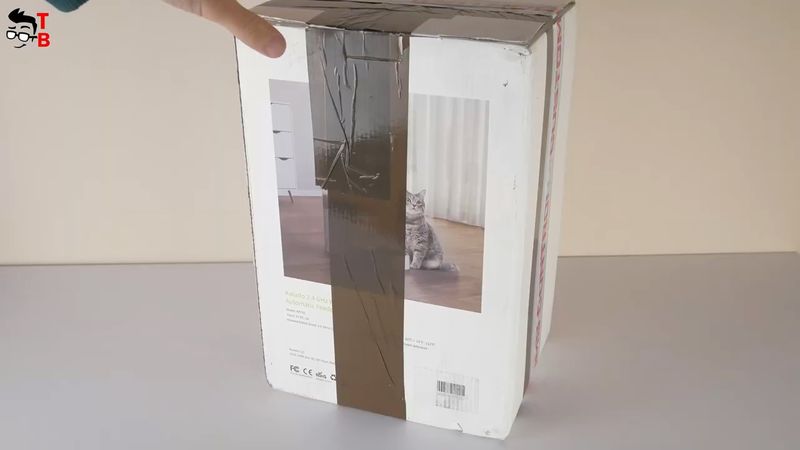 Inside the box, there is a user manual, automatic feeder itself, stainless steel bowl, power adapter and silica packet.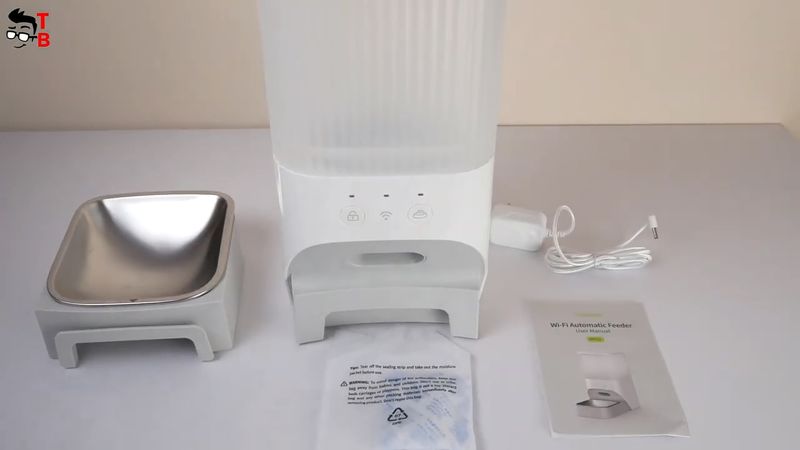 Now, let's talk about design of KALADO automatic cat and dog feeder.
Design
I want to start with dimensions of this product. So, the feeder itself is 340 by 200 by 170 mm.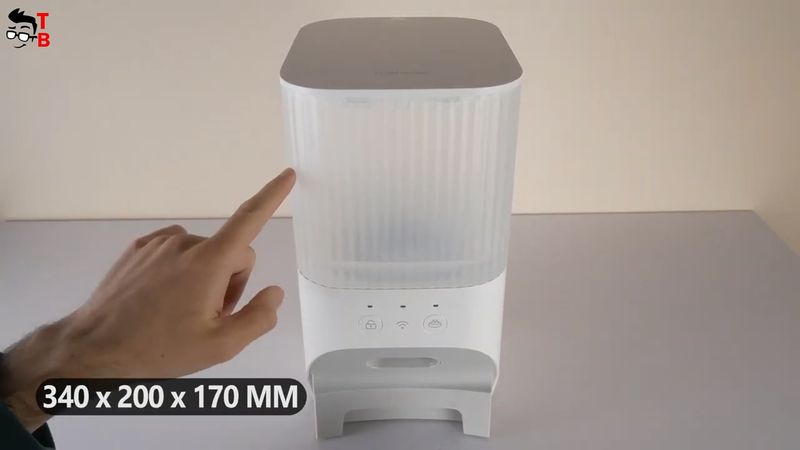 The size of the bowl is 170 by 160 by 65 mm.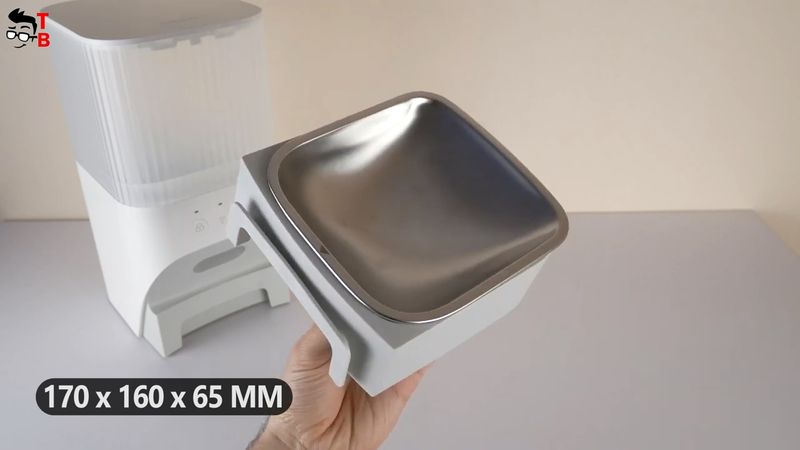 The maximum length of the feeder with the bowl is 350 mm.
The body is made of uncolored ABS plastic, while the bowl is stainless steel. You know, it is the best material for the bowl, because it prevent bacterial growth.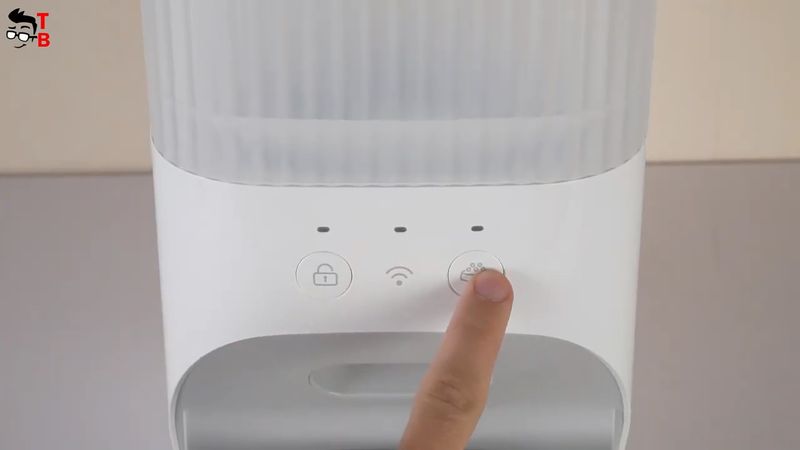 We can see Lock button, Manual Feeding Button and Wi-Fi indicator on the front.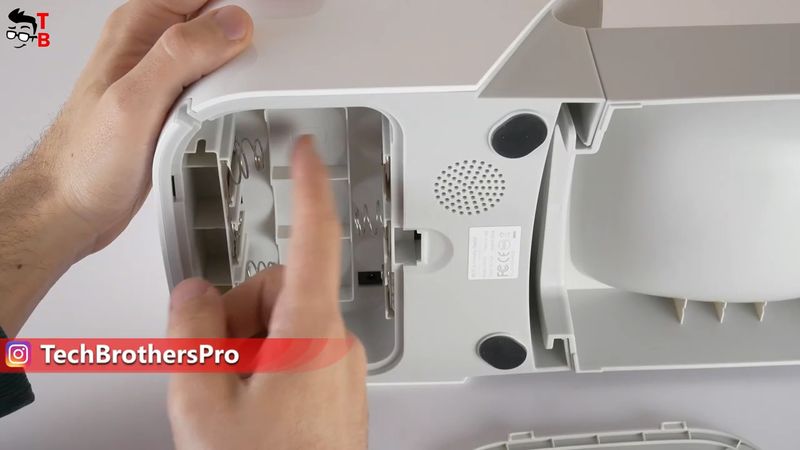 You know, KALADO automatic feeder can be powered by three batteries of D type, but they are not included. You can also use a power adapter.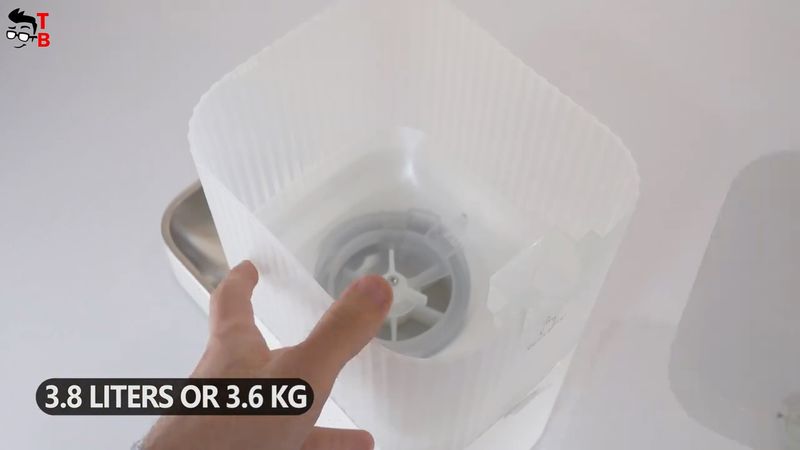 There is a button on the back of the feeder to open a food container. As I already said, it has a volume of 3.8 liters, or you can add 3.6 kg of food. We can see the inscription on the top that recommended kibble size ranges from 2 to 20mm.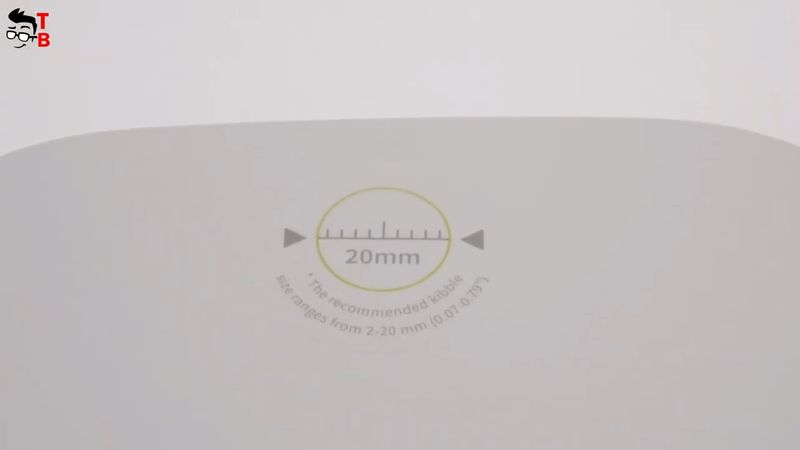 You can also remove the food container to clean it. For that, just rotate the food container counterclockwise, and lift it up. Now, you can allocate food funnel, and wash it.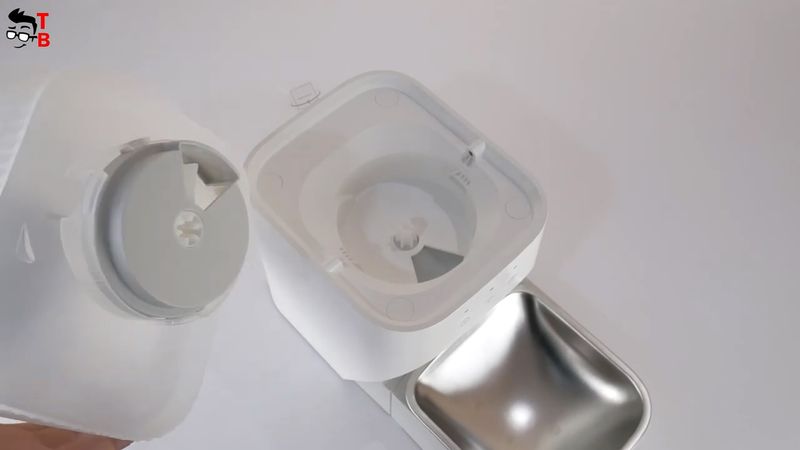 So, the whole construction of the automatic feeder looks pretty simple, but reliable. I also like a minimalist white design without any bright pictures of kittens.
So, let's add some food and see how it works.
How it works?
First, you need to open a battery compartment at the bottom, and insert three batteries or connect a power adapter.
After that, open a lid of the food container, and add some food.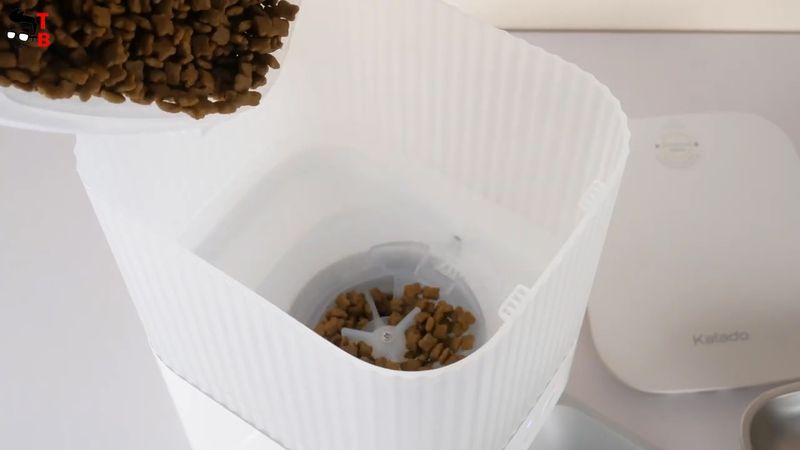 Now, you can press the manual feeding button to make the feeder dispense food into the bowl.
OK, that's very easy and fast.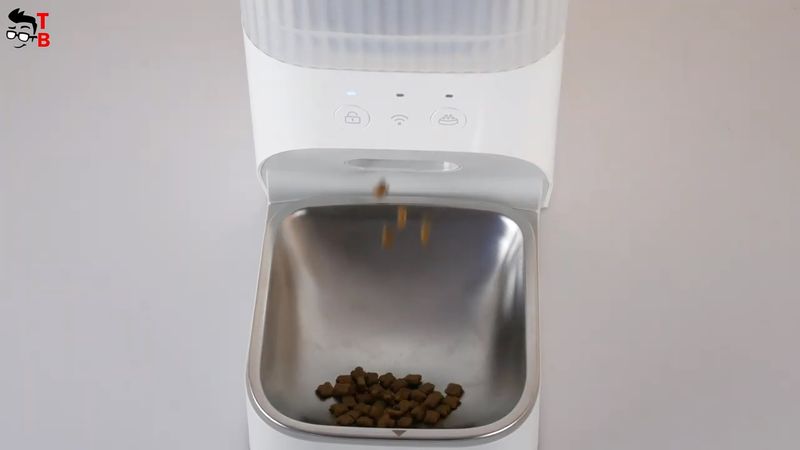 However, if you are not at home, then you need to use a mobile app to set a schedule or give the food remotely.
How to connect?
The application is called Osaio, and it is available on Android and iOS devices.
When you first open the app, you can press the button Start to use.
Sign up a new account, if you don't have it.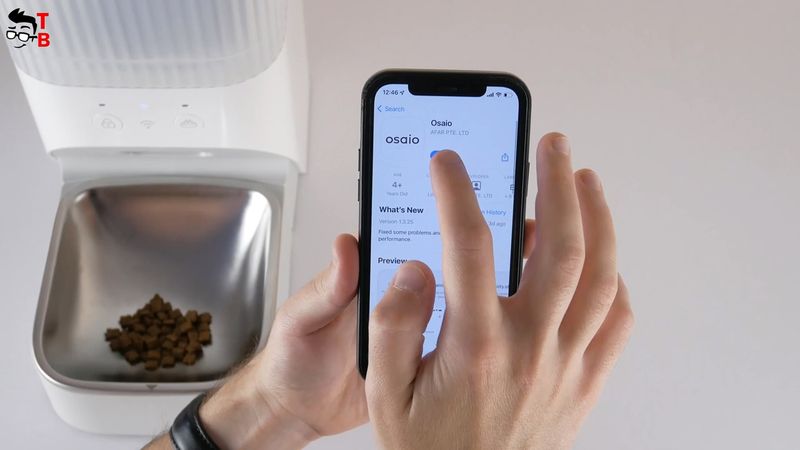 Now, make sure the feeder is plugged in.
You will see a notification on smartphone that a new device found. Just click on This One button.
Enter a password from your Wi-Fi network.
Wait a little, and automatic feeder will be connected.
App Functions
In the app, we can see a warning that there is not enough food in my feeder. I need to add some food.
Then, I can set a schedule, and see a feeding history.
Also, you can choose the portion size and give it to your pet.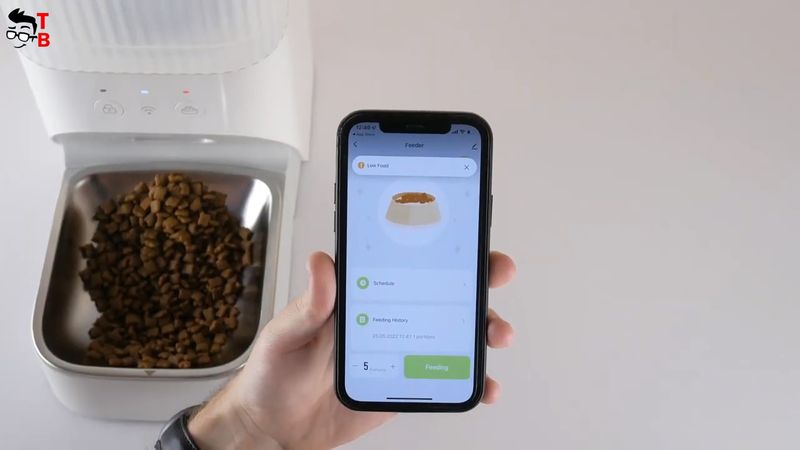 In the settings menu, you can turn on/off indicator light, check adapter status and mode. There is also a function of factory reset.
By the way, when you set a schedule, you can choose a portion size during the day, for example, two portions in the morning, one portion at lunch and two portions in the evening. It is very convenient.
Conclusion
So, KALADO automatic pet feeder is a very useful gadget if you are often away from home. It has a large food container, which can be easily disassembled and cleaned.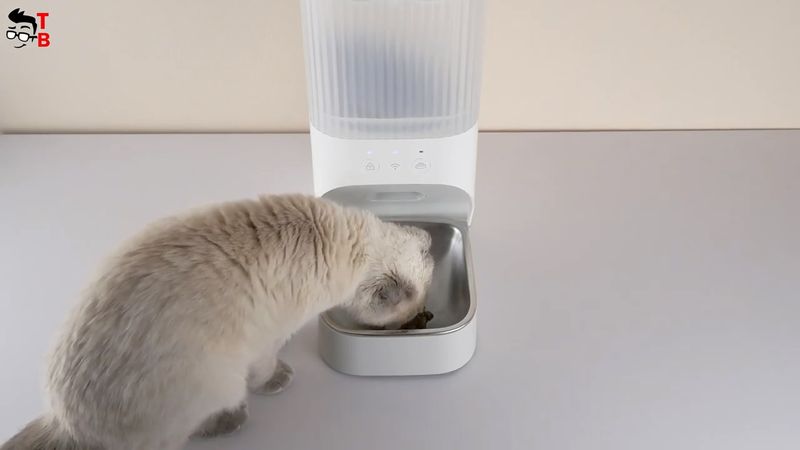 The application on smartphone will send you notification when the food level is low.
You can also set a schedule with different portion sizes throughout the day.
I think that an automatic feeder is a must-have device for any pet owner.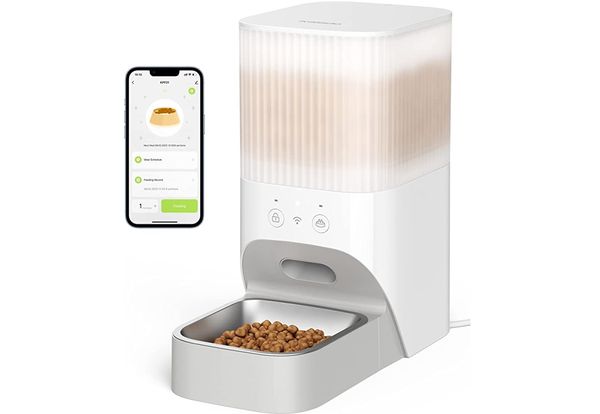 KALADO KPF01 Smart Automatic Cat/ Dog Feeder - Amazon
as of November 18, 2023 2:33 pm