Today I received Windows 10 tablet called Jumper EZpad 6 Plus. This is very interesting device thanks to 11.6-inch Full HD display, Intel N3450 chipset, 6GB of RAM and 64GB of storage, and Windows 10 operating system. By the way, EZpad 6 Plus supports keyboard, so you can use the tablet as laptop.
[wpsm_offerbox button_link="https://goo.gl/zhwhsj" button_text="Buy it now" price="$267.44″ price_old="$299.99″ offer_coupon="GBTPC" title="Jumper EZpad 6 Plus" description="11.6 inch Windows 10 Home Version Intel Celeron N3450″ thumb="http://www.tbprice.com/wp-content/uploads/2018/02/jumper-ezpad-6-plus-review-tablet-tbprice.com-25.jpg" ]
Unboxing
The tablet comes in a big black box with company logo on the front side. I want to note that the tablet itself is quite big. On the right side, we can see specification list, such as chipset, memory, display and others.
Inside the box, there is white Styrofoam. It protects the tablet from damage during transportation. To the right of the tablet we can see the charger. The tablet itself comes in a package. Under the device, you can find user manual and warranty. That's all!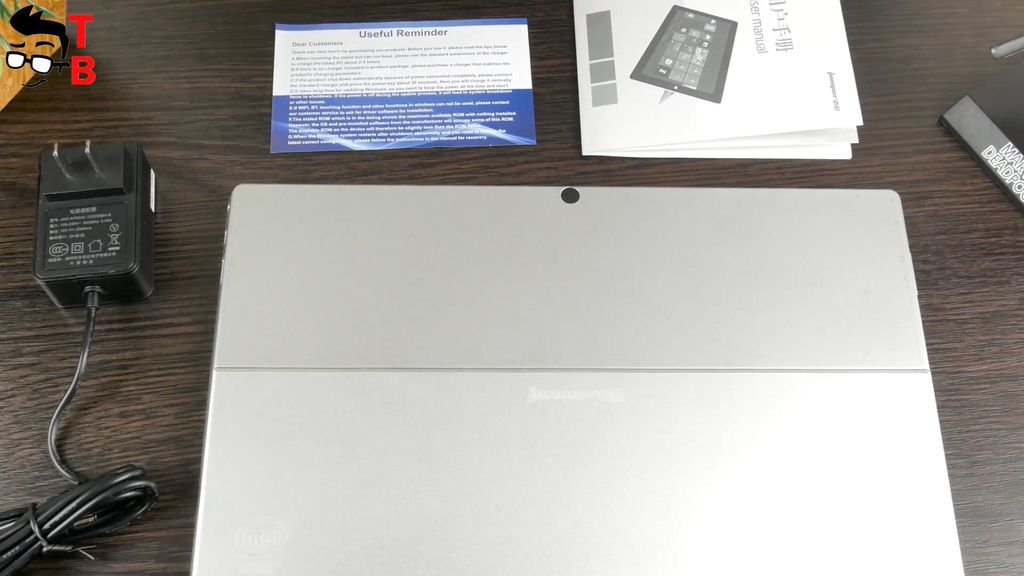 To be honest, I am little disappointed that there is no keyboard in the package, because it is sold additionally. Its price is about 40$. In my opinion, it is very important for Windows tablets, so you can use them as laptops.
Design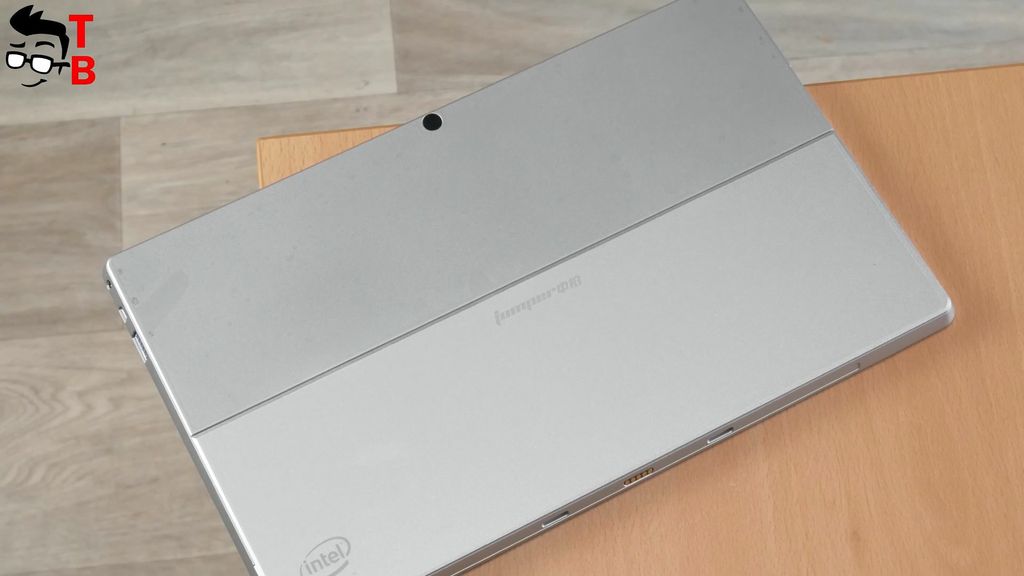 My first impressions when I get Jumper EZpad 6 Plus in my hands, it is quite big, thick and heavy. Of course, this is not the device you want to keep in your hands during games or watching movies. The dimensions are following: 297 by 183 by 16 mm. Also, it weighs about 1 kg.
Earlier, we reviewed VOYO i8 Pro, and it feels much smaller, thinner and lighter, than Jumper EZpad 6 Plus. However, they are completely different gadgets.
Jumper EZpad 6 Plus is made of plastic with metal frame around. The plastic is very comfortable to touch, but you should be careful when carrying the tablet with keys, and other things in your bag, because there may be scratches on the body.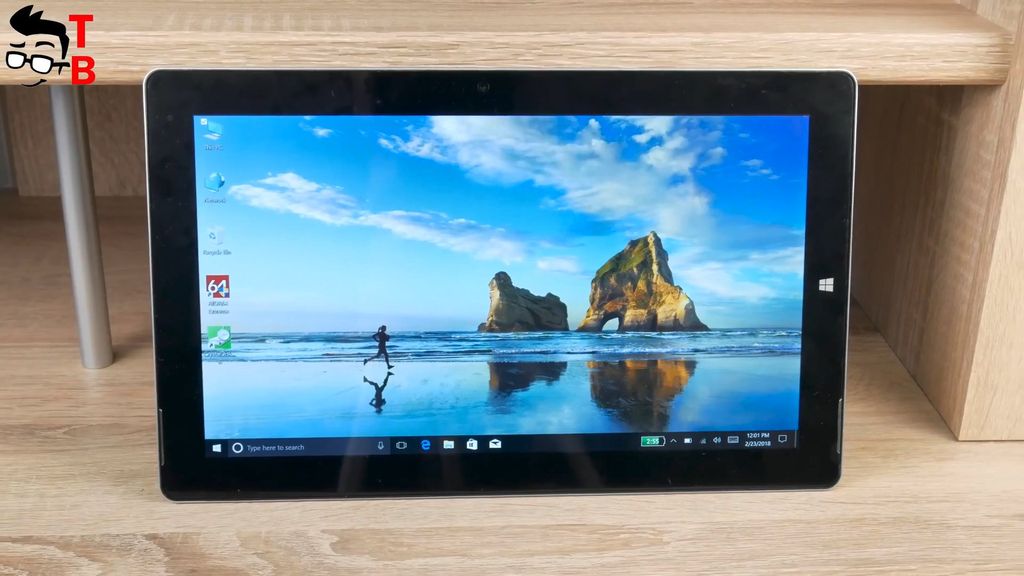 On the front panel, you can see 11.6-inch display with quite big bezels. I still do not understand why tablets have such thick bezels, when smartphones got rid of them. I am waiting for tablet with thin bezels! It should be the main trend on tablet market in 2018.
Also, you can see front camera and touch Home key with Windows logo on the front panel.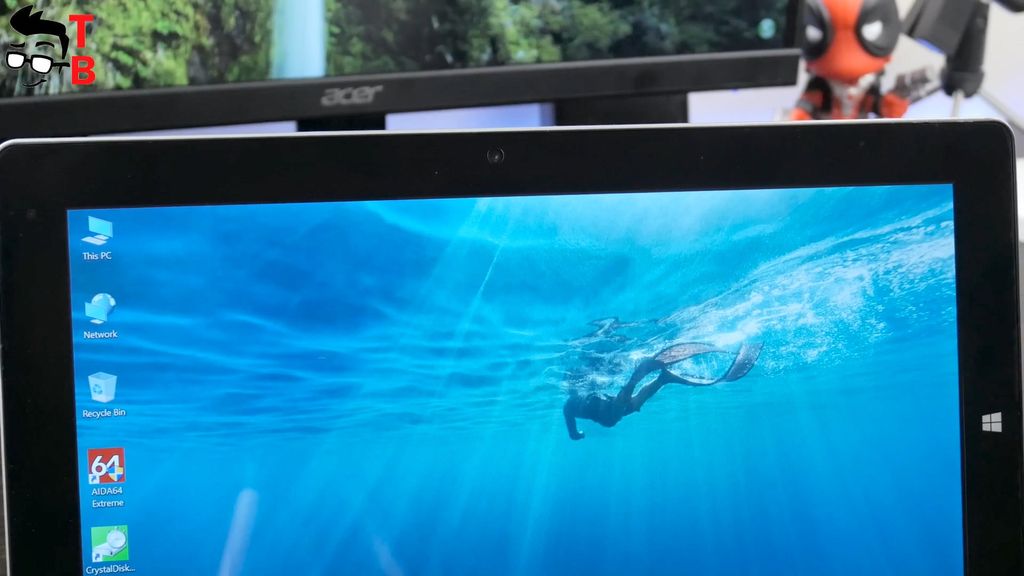 One of the main feature of Jumper EZpad 6 Plus is the metal stand on the rear panel. It allows to adjust the position of the screen while using the tablet as laptop.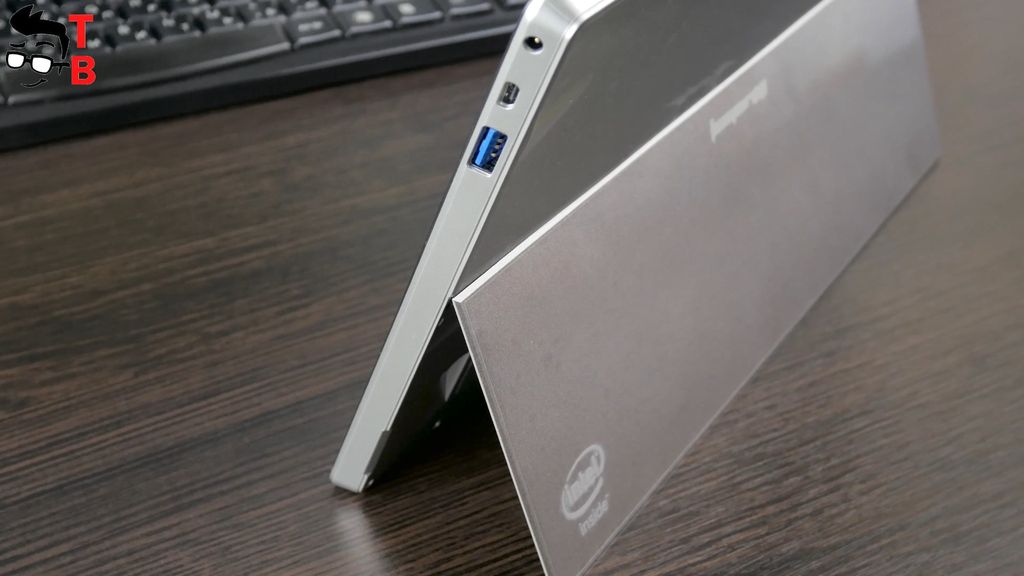 The connectors are located on the left and right sides: you can find USB 3.0 port, microUSB port and 3.5 mm audio jack on the right side, and microHDMI and DC port on the left side. Also, there is volume rocker. The power button is located at the top.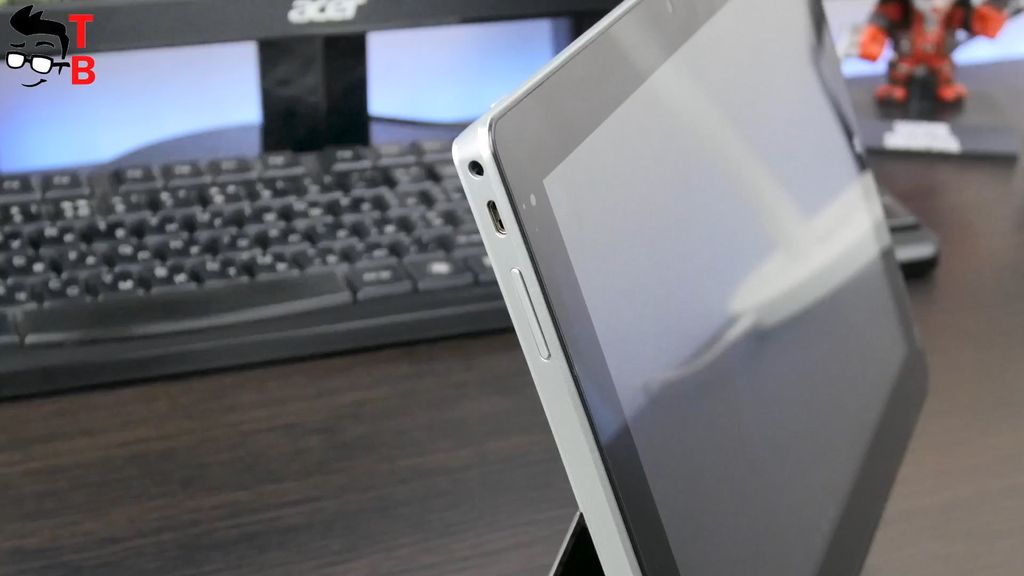 At the bottom, there is magnetic connectors for keyboard. By the way, if you open the stand, you can find slot for TF memory cards.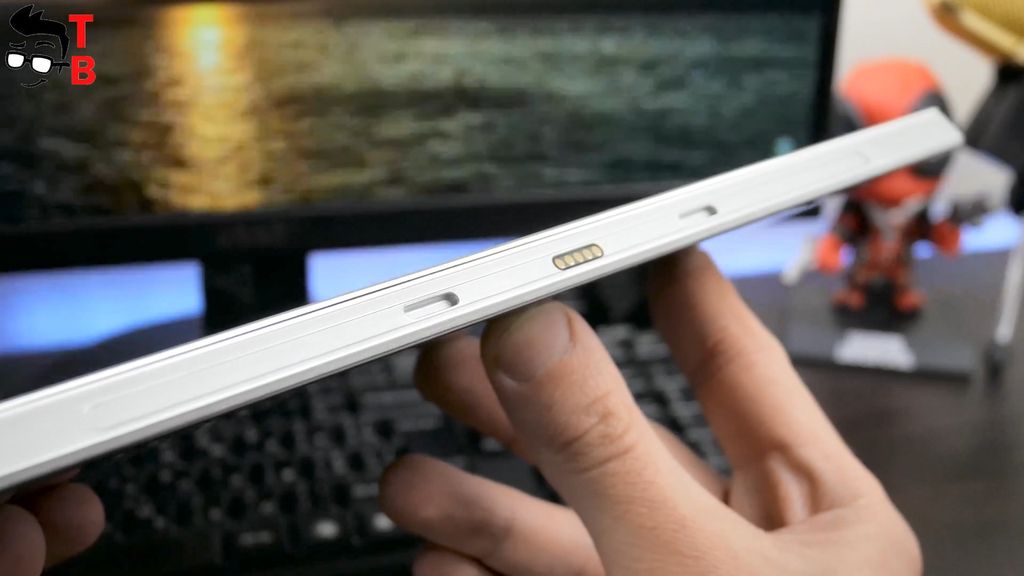 I want to note, that tablet has USB and microUSB ports, but you can charge it only with DC charger that comes in a package. I think it is a big disadvantage, because you will have to carry DC charger anywhere with you, instead of using standard microUSB cable to charge the tablet.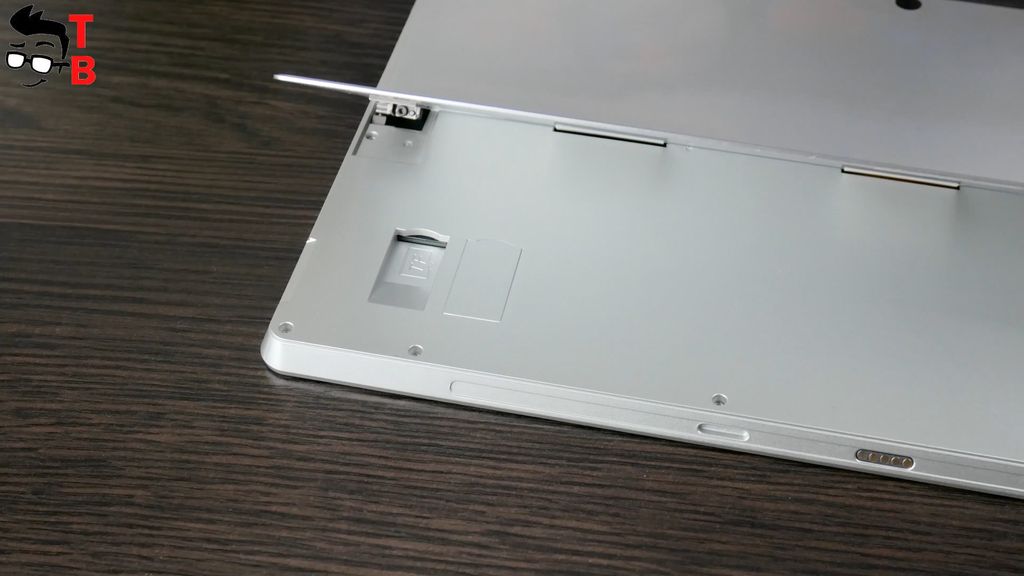 In general, Jumper EZpad 6 Plus looks and feels premium. I cannot say that it is lightweight and ultra-thin, but it is definitely thinner than most laptops.
Display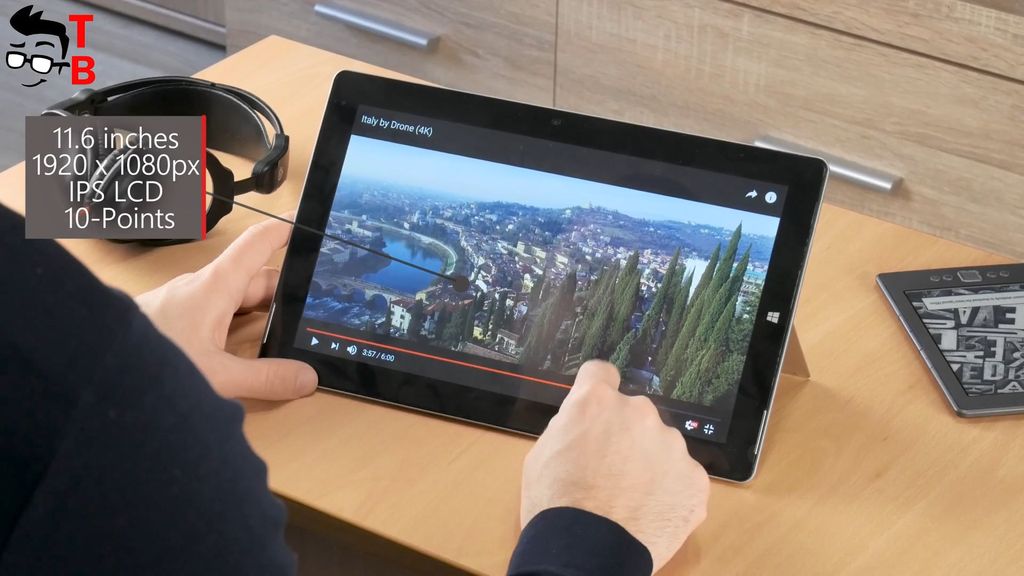 Jumper EZpad 6 Plus has 11.6-inch display with Full HD resolution, 1920 by 1080 pixels. It uses standard 16 to 9 aspect ratio, like many other laptops and tablets. The screen has good contrast and viewing angles. The maximum brightness is enough for using the tablet outdoors. Of course, the display reflects, because it is not matte, however it is possible to use in direct sunlight.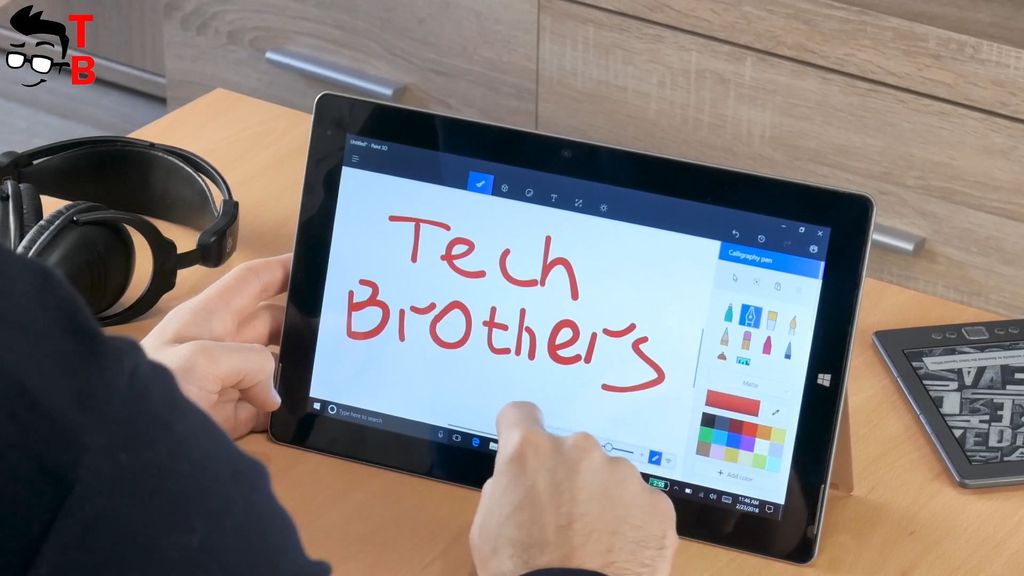 The screen supports up to 10 touches, and in my opinion, it is the main advantages over most laptops. You can use Jumper EZpad 6 Plus as the tablet or a laptop. Do you know how much laptops with touch screen costs? Very expensive.
Hardware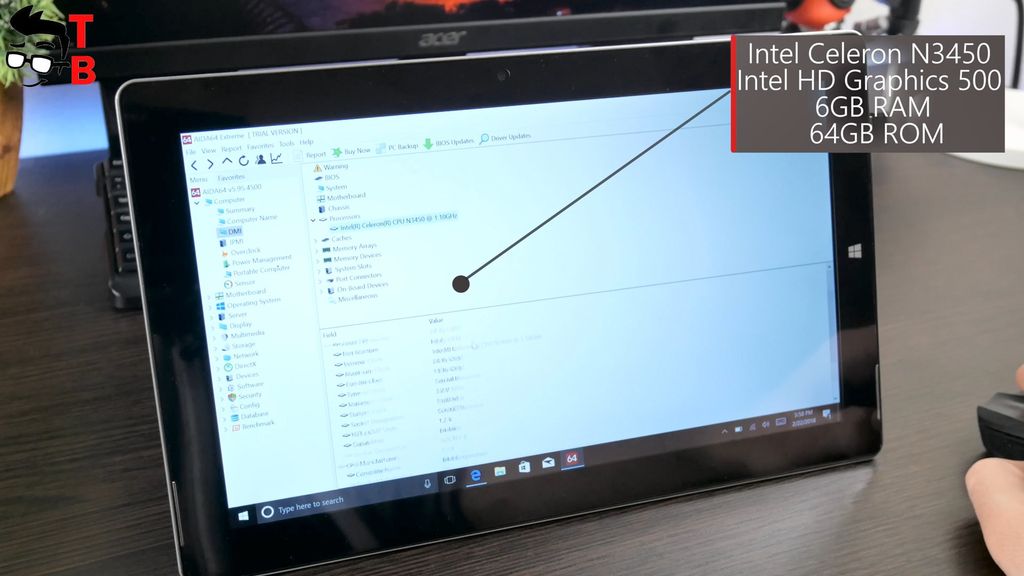 Jumper EZpad 6 Plus is powered by quad core chipset Intel Celeron N3450 with clock speed from 1.1GHz up to 2.2GHz. The processor is very popular, and used in many similar devices, for example, Chuwi Laptop. As for the graphics, there is integrated Intel HD Graphics 500 GPU with speed up to 700 MHz.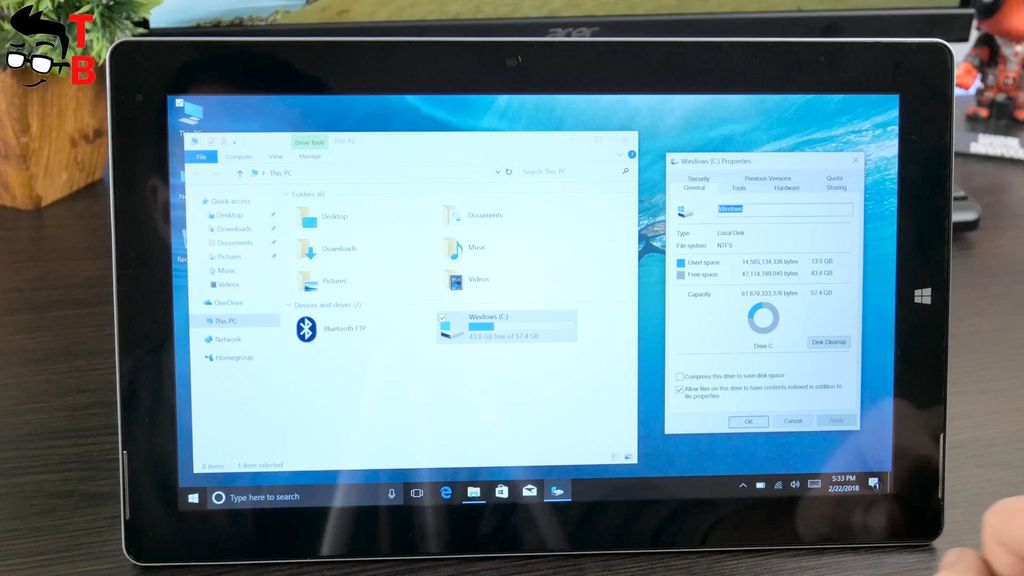 As for the memory, EZpad 6 Plus is equipped with 6GB of RAM and 64GB of storage. However, there is about 44 GB of free storage, while the other memory is used for system files. If this is not enough for you, you can use microSD memory cards up to 256GB, or external hard drivers through USB port.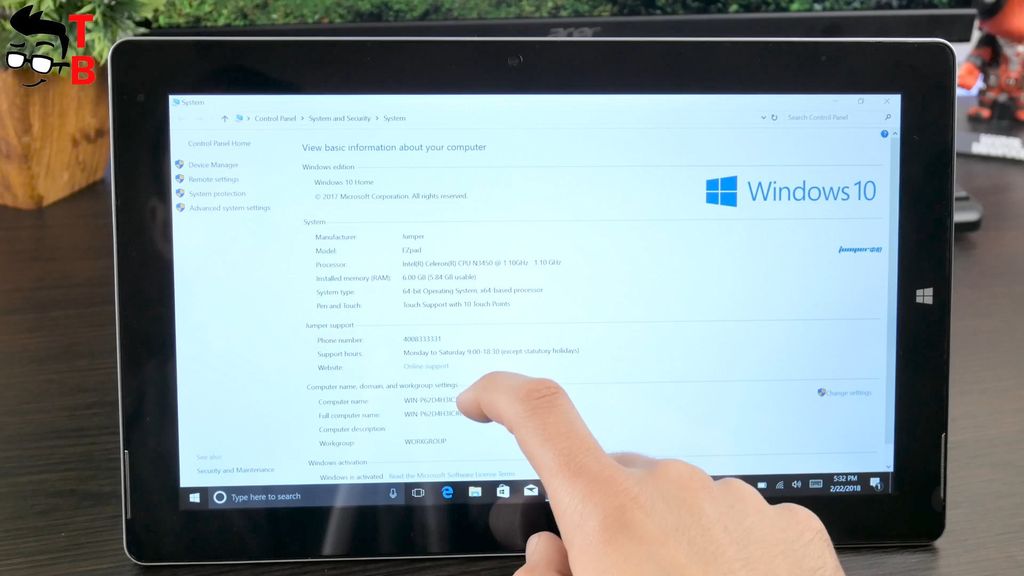 Later I will make detailed performance test of Jumper EZpad 6 Plus. Right now, I want to run GeekBench 4 test. As you can see, the tablet has about 1420 points in single core test, and 4200 points in multi core test. Also, it has almost 7400 points OpenGL score.
I cannot say that it is very powerful tablet. Probably, you could not run the latest games on Windows. However, you can use it for working with documents, watching videos, playing casual games, surfing internet and others.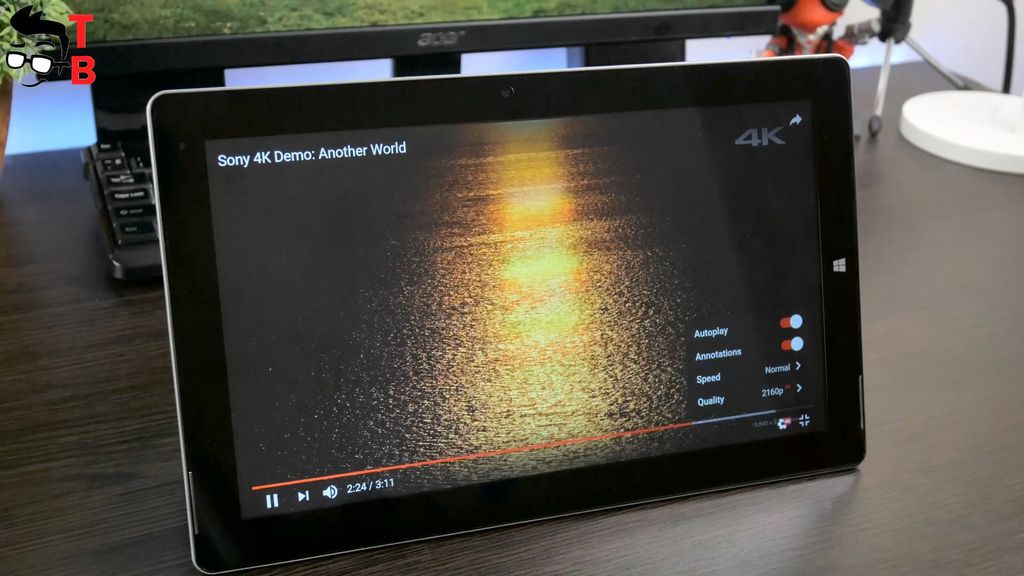 By the way, I was surprised that Jumper EZpad 6 Plus could play 4K video without any problems. I already played Asphalt 8, and this is not as smooth as I wanted. Perhaps, it is better look for more simple games. However, we will talk about this in the next video with detailed performance test.
Software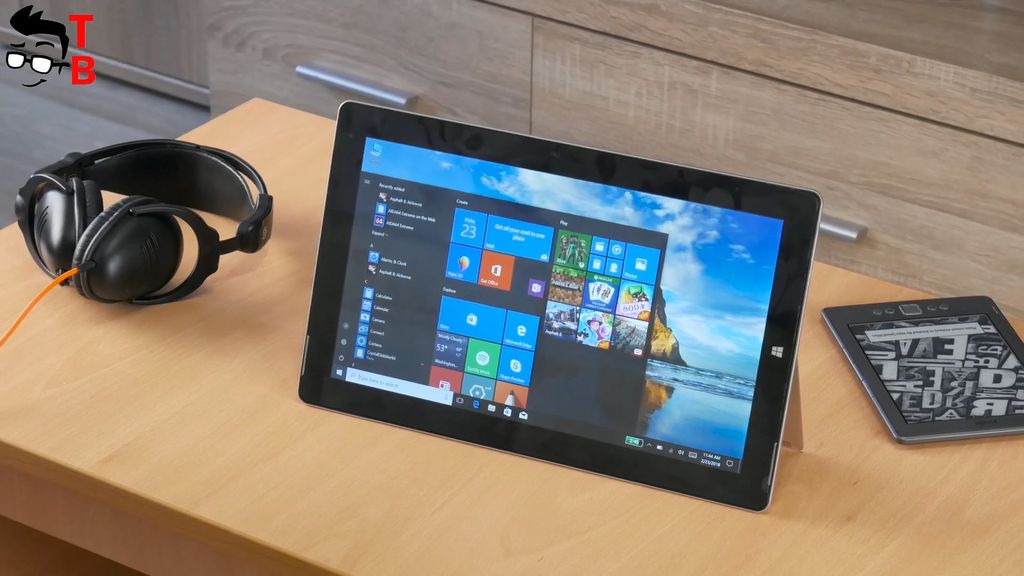 As you may noticed, Jumper EZpad 6 Plus runs on Windows 10 Home out of the box. This is full version of popular operating system, so you can install any apps and programs. The pre-installed language is English, but you can choose any other in settings menu.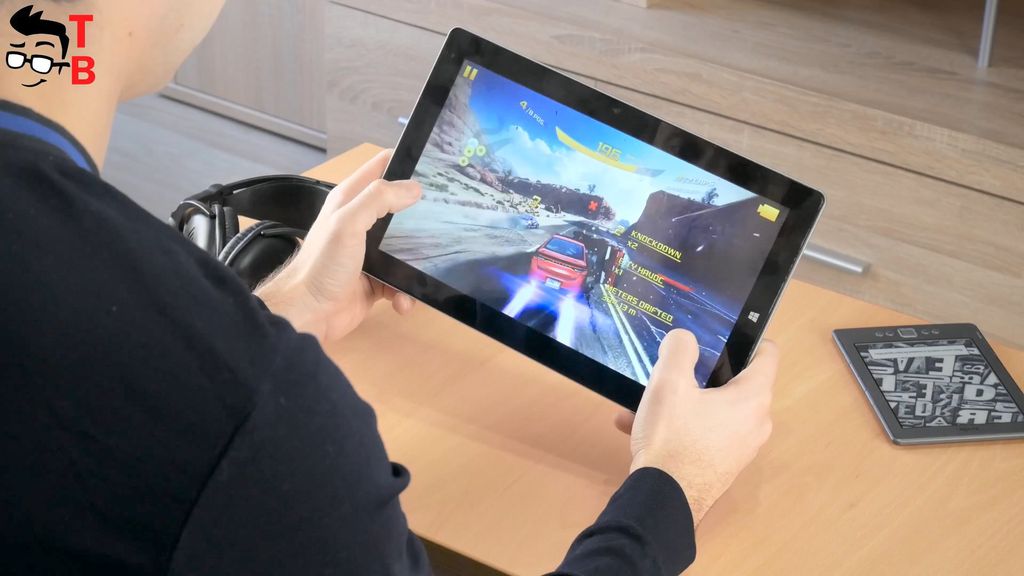 Camera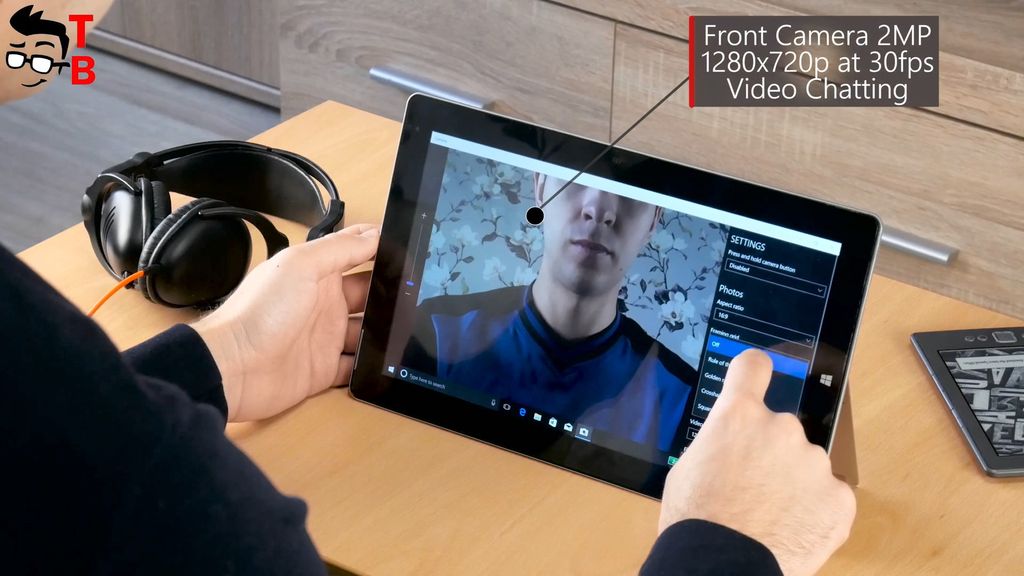 There is only single camera on the front panel. It has 2MP sensor. Of course, you can take pictures and record videos, but do not rely on high quality. In my opinion, it can be used only for video chatting, for example, Skype.
You can see a black circle on the back panel, and it looks like a camera sensor. However, it is not. I don't know what is it. If you know, please write in comments below.
Battery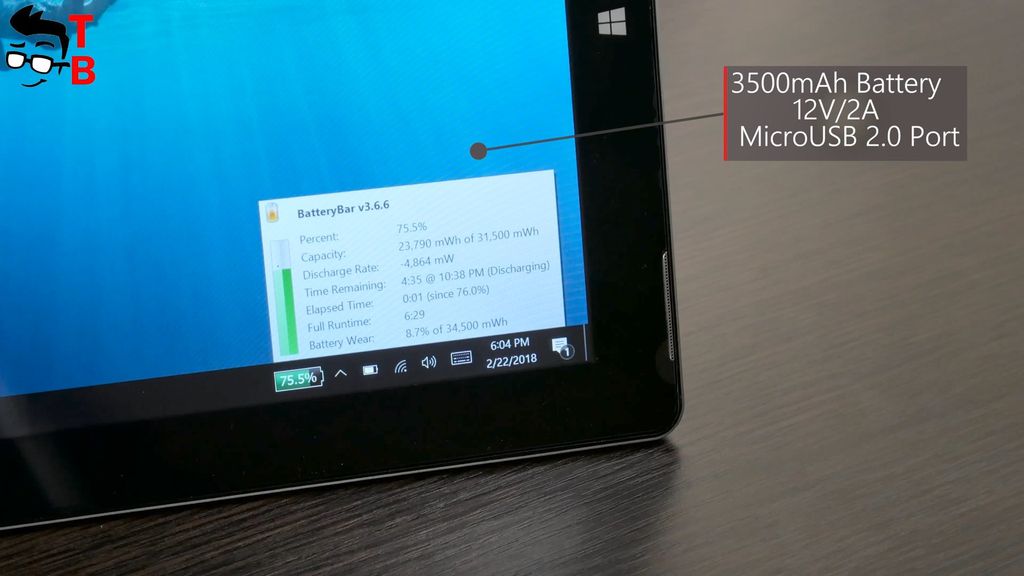 As for the battery, the tablet comes with only 3500mAh battery capacity. I will not lie, it's very small battery. For example, Chuwi Surbook is equipped with 10000mAh battery. So, you can expect on 4 hours on video playback, and about 3 hours of battery life while working with Office applications. If you want more, then you should use battery saving function in Windows 10.
By the way, manufacturer recommend to charge the tablet only through DC charger. You can find USB port and microUSB ports, but they are not used for charging.
Sound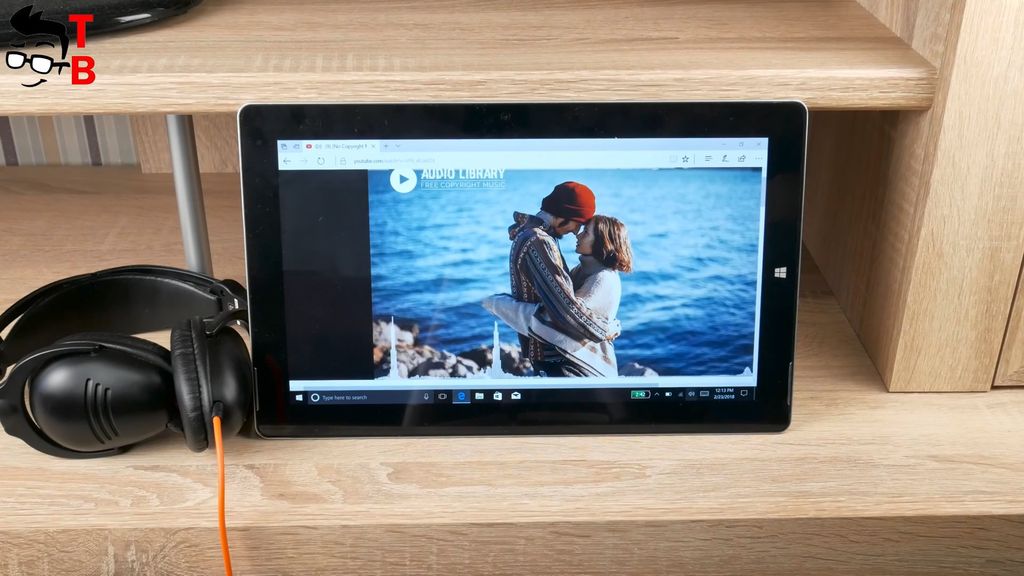 Jumper EZpad 6 Plus comes with dual-channel speaker on the left and right sides. Its quality is quite acceptable. The sound is loud, and there are even basses. In my opinion, you can watch movies and videos on YouTube through the built-in speaker.
Conclusion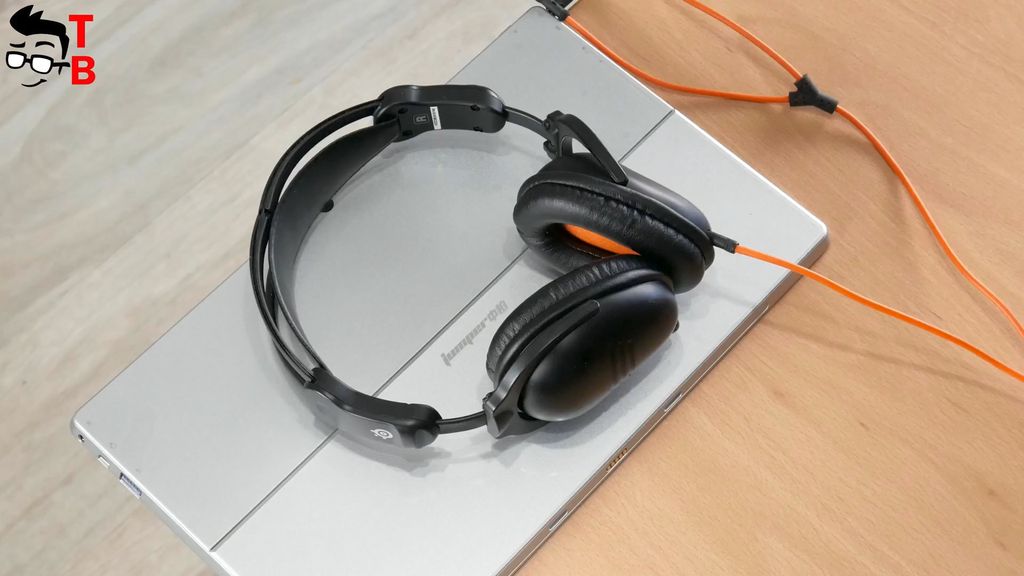 I have very mixed impression from Jumper EZpad 6 Plus. From one hand, it is high build quality tablet with premium design. However, it is pretty heavy and large to carry with yourself in college or office. It is equipped with USB 3.0 and microUSB ports, but you can use only DC charger for charging the tablet.
The performance is good, and the tablet is able to run office apps, such as word, excel, and others. Also you can play 4K video on YouTube. From the other hand, the battery is quite small, and you cannot expect more than 4 hours of battery life.
As for the display and sound, I don't have any complaints. They are good for this price category.
So, I want to recommend you to buy Chuwi Surbook, because it has bigger battery, display and more internal memory, however its price is twice more expensive – about $550. Jumper EZpad 6 Plus looks pretty good tablet for $300.
[wpsm_offerbox button_link="https://goo.gl/zhwhsj" button_text="Buy it now" price="$267.44″ price_old="$299.99″ offer_coupon="GBTPC" title="Jumper EZpad 6 Plus" description="11.6 inch Windows 10 Home Version Intel Celeron N3450″ thumb="http://www.tbprice.com/wp-content/uploads/2018/02/jumper-ezpad-6-plus-review-tablet-tbprice.com-25.jpg" ]
Jumper EZpad 6 Plus Review Video