It's been a while since we did a laptop review on our channel – Tech Brothers, but now I have an interesting model called iProda Yoga M1169YM.
As you understand from the name Yoga, this laptop has 360 degrees convertible design and 11.6-inch Full HD touch screen. So, you can use this device as a laptop and tablet.
The other features are Intel N4100 processor, 4GB of RAM and 64GB of SSD storage, USB Type-C charging port.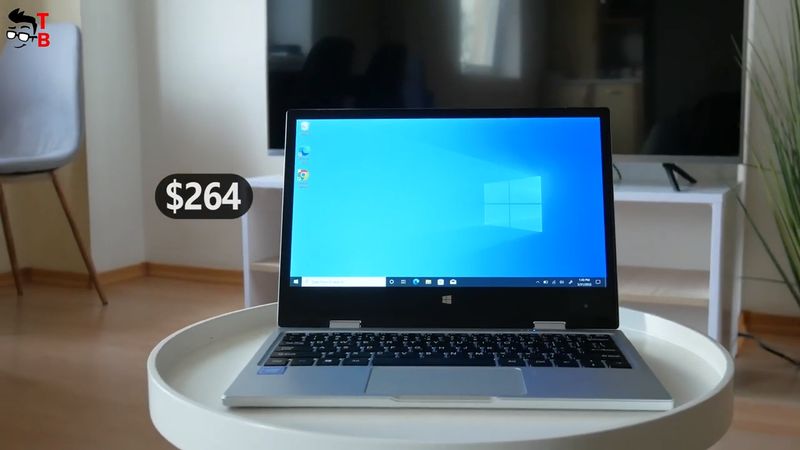 The price of the new iProda Yoga laptop is only $264 on Amazon.
It looks like a good laptop for students, because it is compact and lightweight. However, I am interested in performance. What games can you play on it? Let's find out.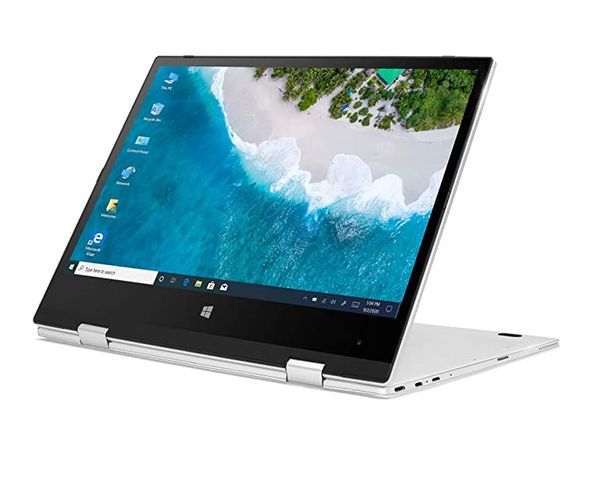 iProda 2 in 1 Laptop 11.6 Inch Touch Screen Laptop - Amazon
as of September 11, 2023 2:12 am
Unboxing
So, the laptop comes in this cardboard box. We can see iProda logo, 11.6-inch diagonal, and model name of Yoga M1169YM on the front of the box.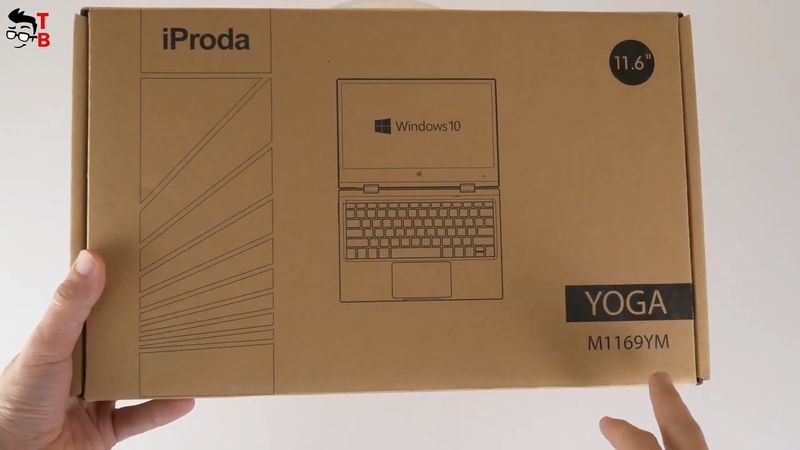 On the back, there are four scenarios for using the laptop.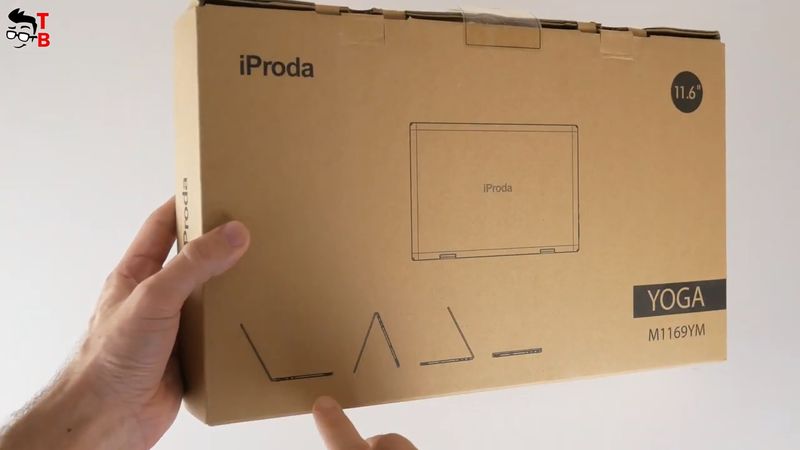 Inside the box, we have a laptop itself, power adapter and USB Type-C charging cable, user manual.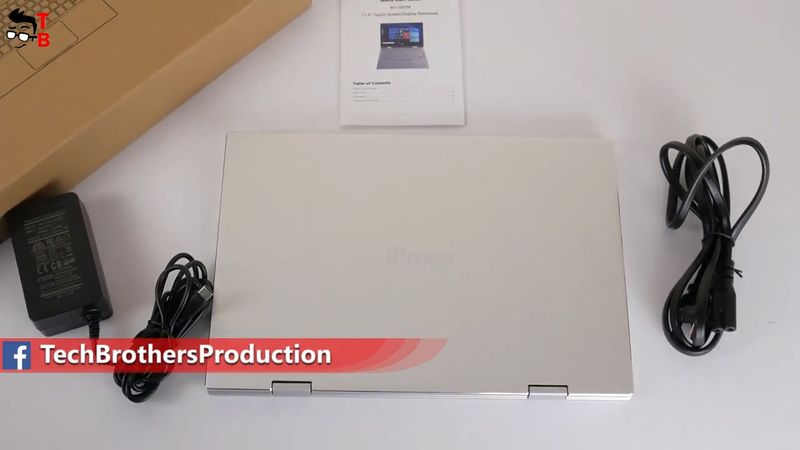 By the way, iProda Yoga laptop has USB Type-C charging port, so you can use any other adapter. For example, I have a power adapter from my Xiaomi laptop, and it is good with iProda Yoga.
Design
So, design is one of the main features of this laptop. First, it is compact and lightweight. The dimensions are 275 by 190 by 12 mm. The weight is 1030 grams.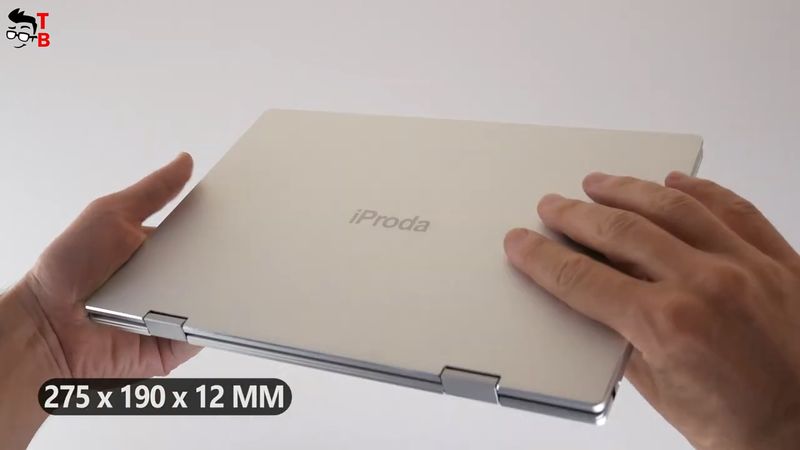 This is Yoga laptop, so it has 360 degrees rotatable screen.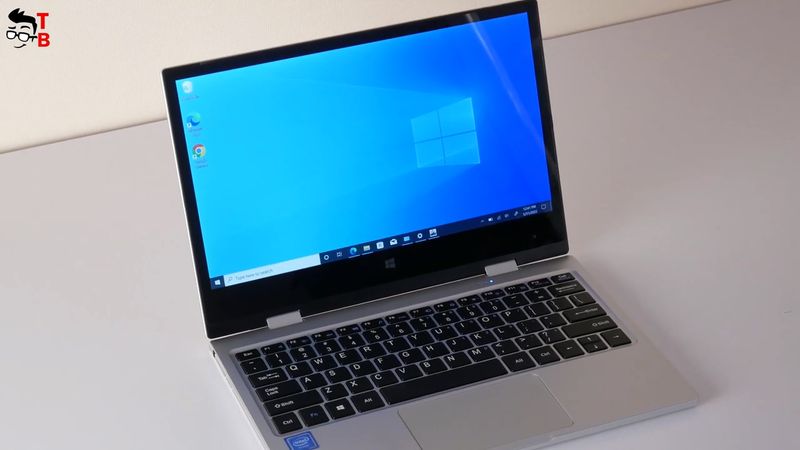 The first usage scenario is laptop, when you can see the screen and you can type on the keyboard.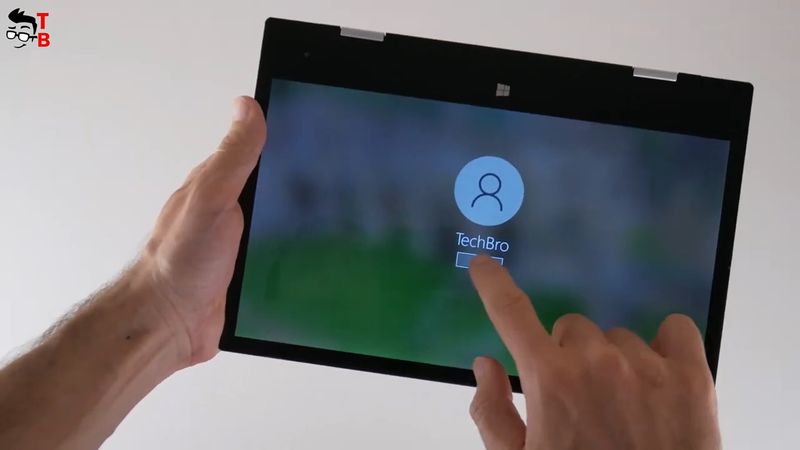 The second one is a tent, when you want to watch a movie, for example.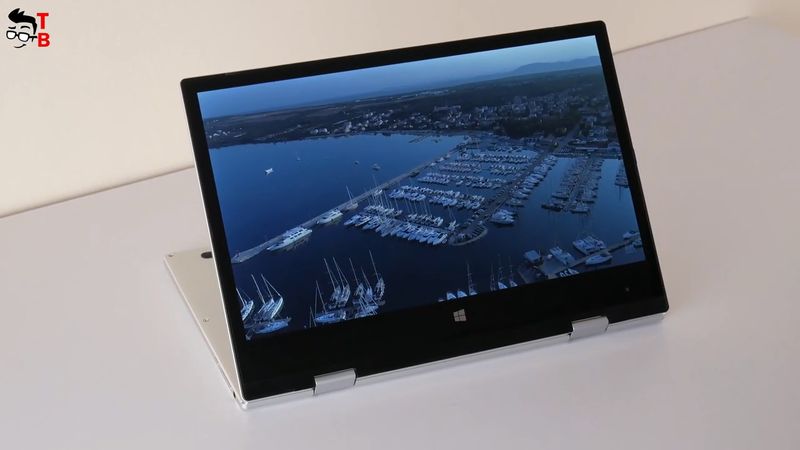 You can also put your laptop on the keyboard and use it as a stand.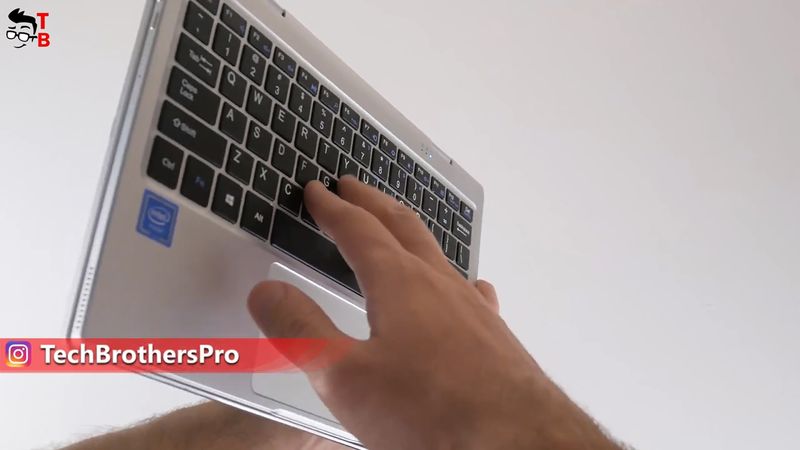 Finally, you can turn the keyboard behind the screen, and use it as a tablet. By the way, in the tablet mode, the keyboard is disabled automatically, so accidental presses are not a problem.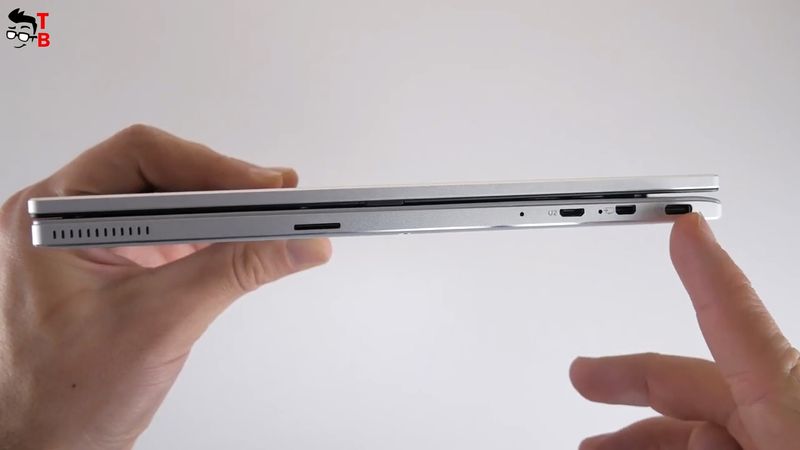 The next feature of iProda Yoga laptop is a connectors set. It is amazing that such a compact and thin laptop has USB Type-C charging port, microHDMI port, microUSB port, TF card slot, and 3.5mm audio jack. There is also power button and volume rocker on the left side.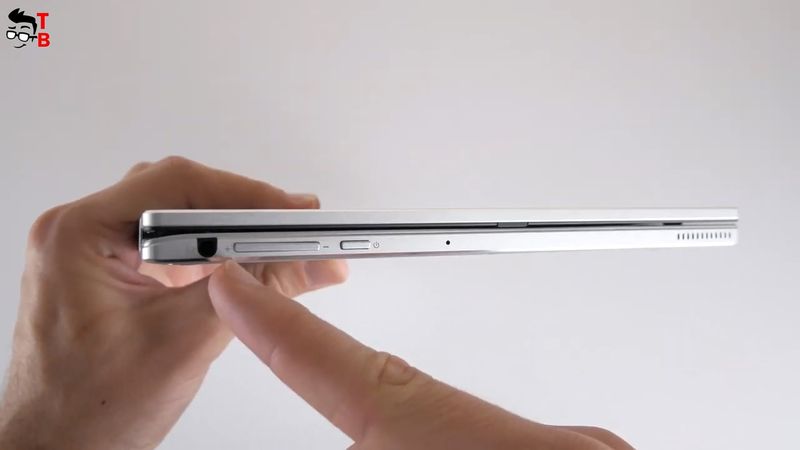 As I already said, the laptop has 64GB of SSD storage. If that's not enough for you, then you can use SSD slot at the bottom of the laptop.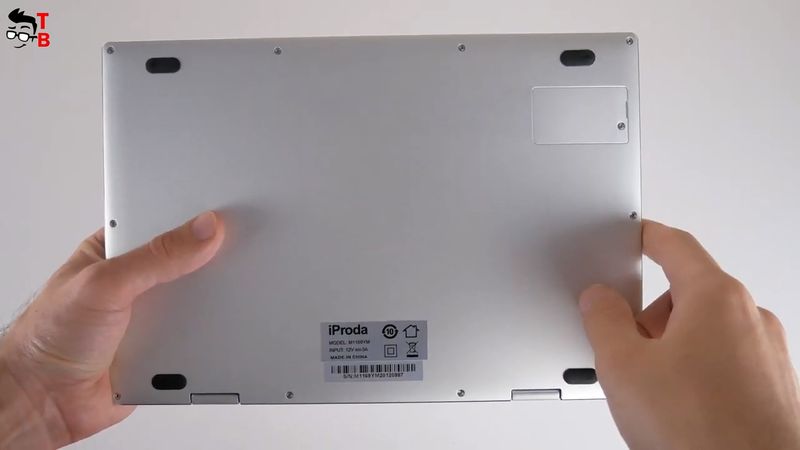 By the way, iProda Yoga laptop has a speaker grill on the left and right sides. Later in this article, we will check a sound quality.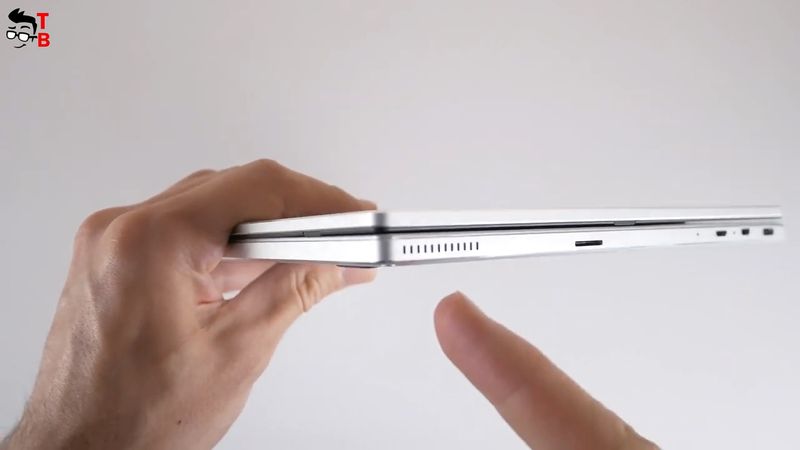 Now I want to do a one hand opening test. Unfortunately, iProda Yoga failed it. When you open the lid of the laptop, you need to hold the keyboard with your other hand.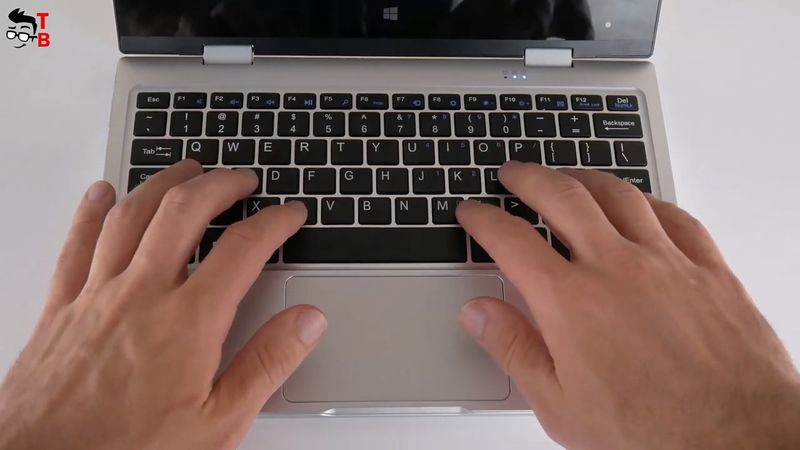 Talking about keyboard, despite a compact size of the laptop, the keys are standard size. For comparison, this is a keyboard of my 15.6-inch laptop from Xiaomi, and the keyboard of iProda Yoga. The keys are almost the same size.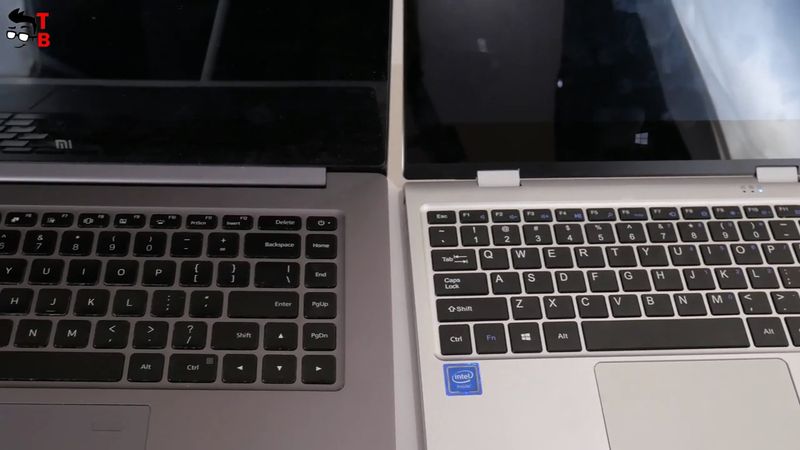 I also like that sound and the feedback when you type on the keyboard.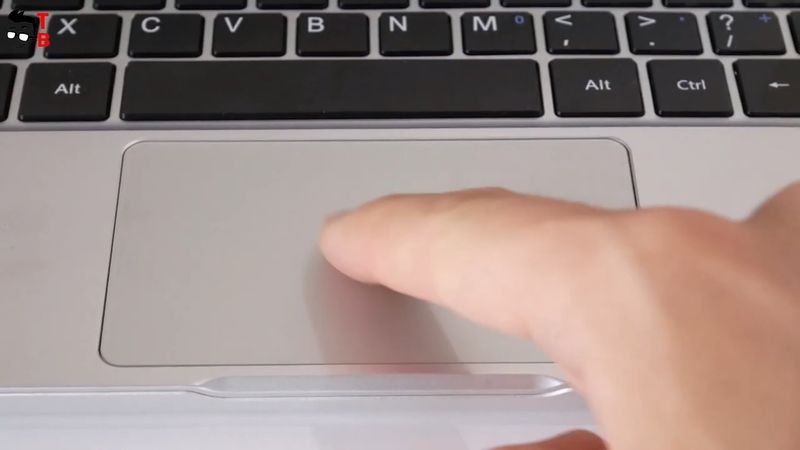 The touchpad is not very big, but I don't think you will use it very often, because the screen is touch sensitive.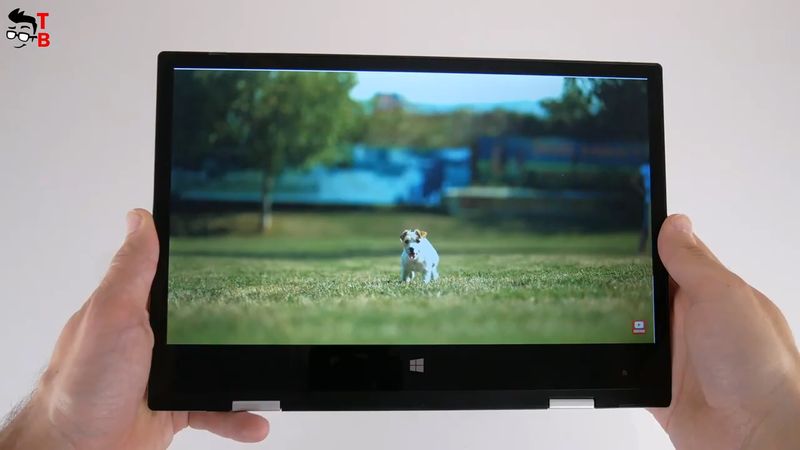 Finally, let's talk about display. As I already said, it has a diagonal of 11.6 inches and resolution of Full HD, 1920 by 1080 pixels. This is IPS panel with very good viewing angles.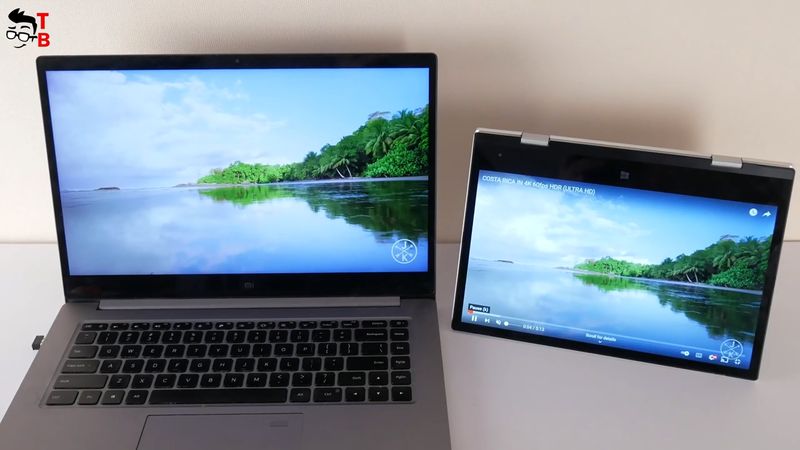 In general, I can say that display is one of the main features of this laptop. It is bright and contrast.
Once again, let's compare the screen of my Xiaomi laptop and a display of iProda Yoga.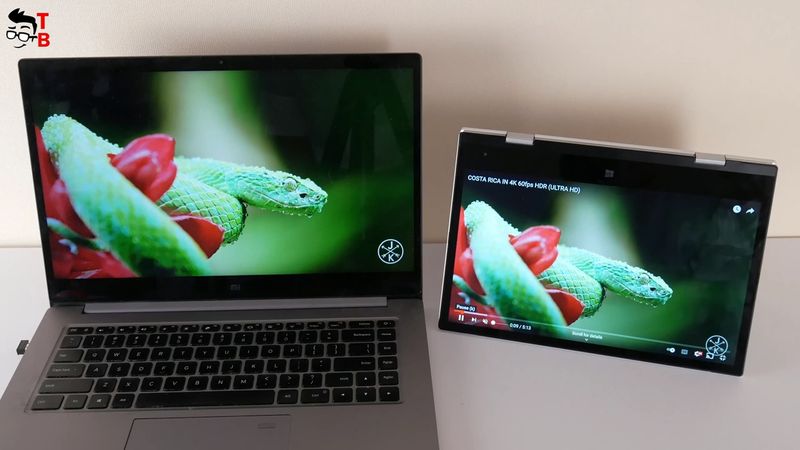 By the way, a touchscreen of iProda laptop supports 10 points. That's very good for games.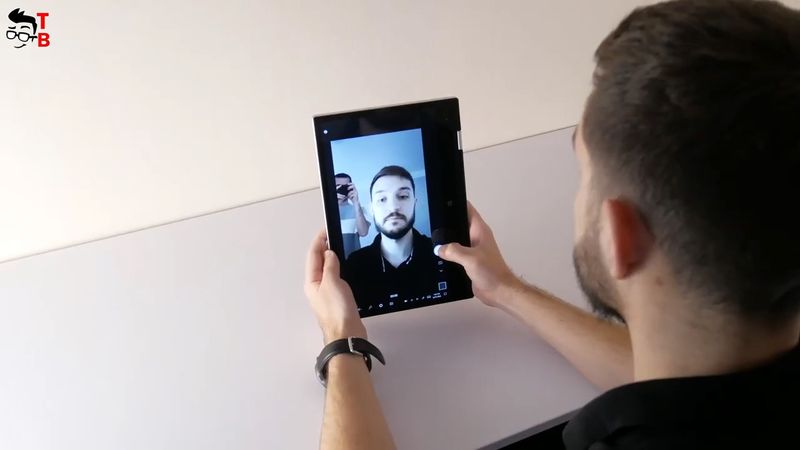 The front camera is located under the screen, in the bottom right corner. I don't think it is very comfortable during video calls in the laptop mode, but in a tent or tablet mode, it should be fine. The quality of the front camera is pretty good.
OK, now, let's talk about user interface.
Windows 10 Pro
iProda Yoga runs on Windows 10 Pro operating system out of the box. You don't need to install OS when you buy a laptop, because it is already installed.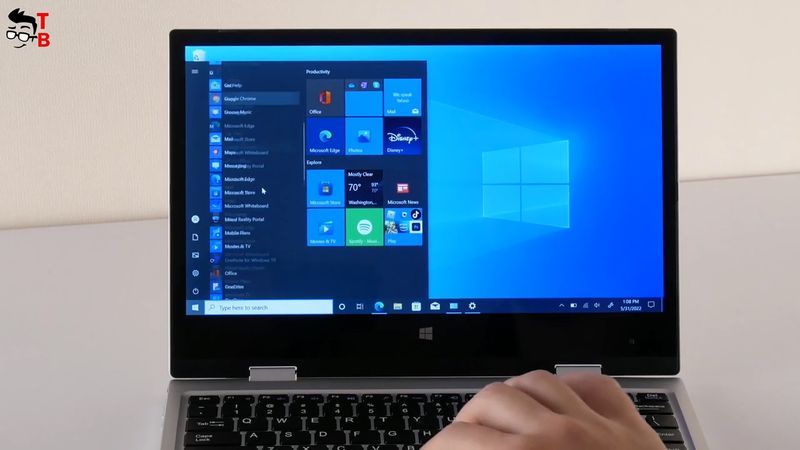 In the system settings menu, we can see the manufacturer of the laptop, its model name, as well as processor – Intel Celeron N4100 with maximum clock speed of 1.1GHz, and 4GB of RAM.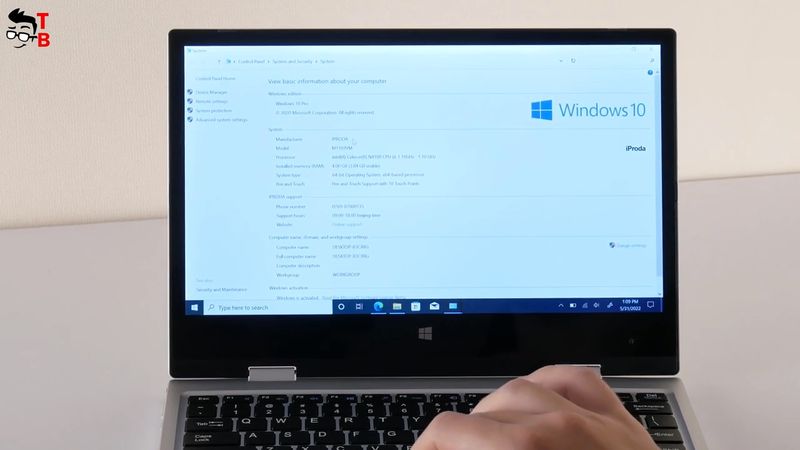 We can also see that a screen has a pen and touch support with 10 touch points. I have already told you about that.
In addition, a laptop has 64GB of SSD storage, but only 56GB of them is available. Most of it is already taken by operating system and other apps that I have installed for the benchmark tests.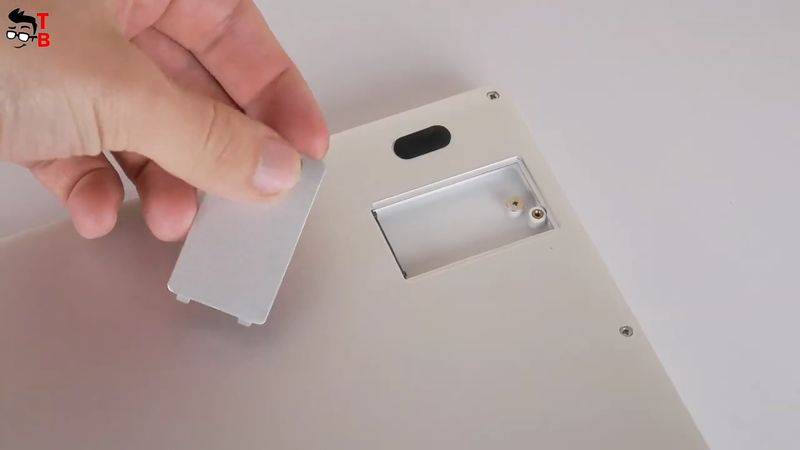 64GB is not even enough on my smartphone. You will definitely need to expand SSD memory, and fortunately, iProda Yoga laptop allows you to do that.
Overall, you will not find anything new in the user interface of this laptop if you already have a Windows 10 device.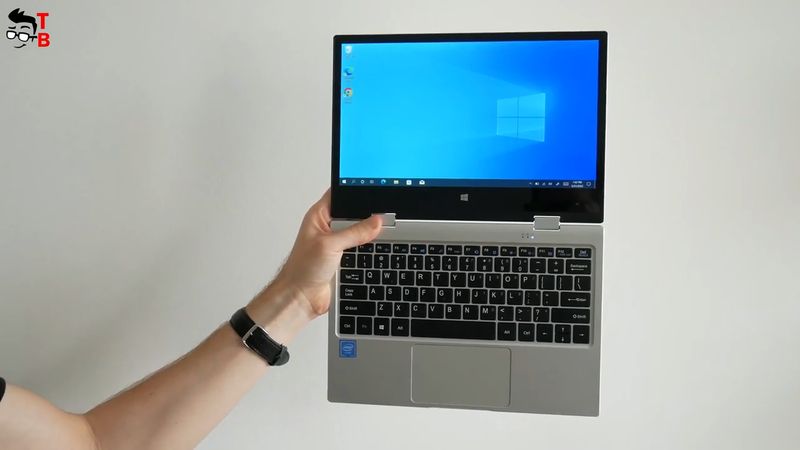 However, I like that the laptop automatically goes into tablet mode when you flip the keyboard. First, the keyboard is locked so the accidental presses will not disturb you.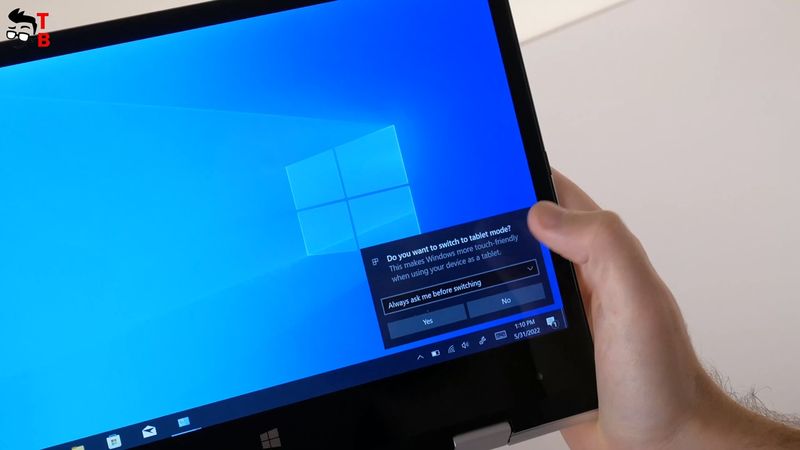 Then, a desktop and a start menu are different in the laptop and tablet modes.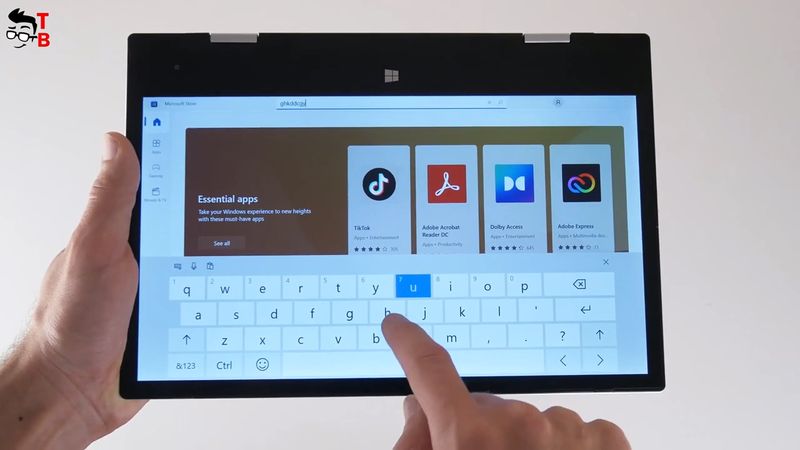 Also, when you want to type something, the on-screen keyboard appears.
OK, now, let's run some benchmark tests.
Benchmarks
First, I want to test a memory speed. As I already said, iProda Yoga laptop has SSD storage, so the memory speed is very good: 258 mbps reading, and 130 mbps writing speed.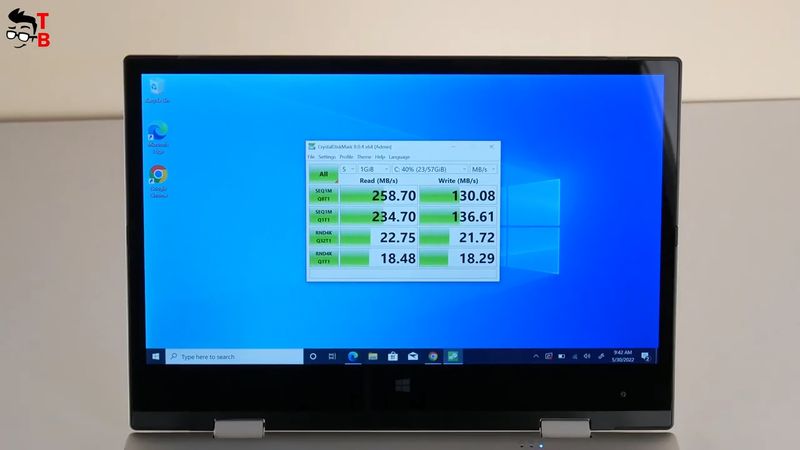 In GeekBench 5 benchmark, the laptop has 345 points in single core test and 1234 points in multi core test.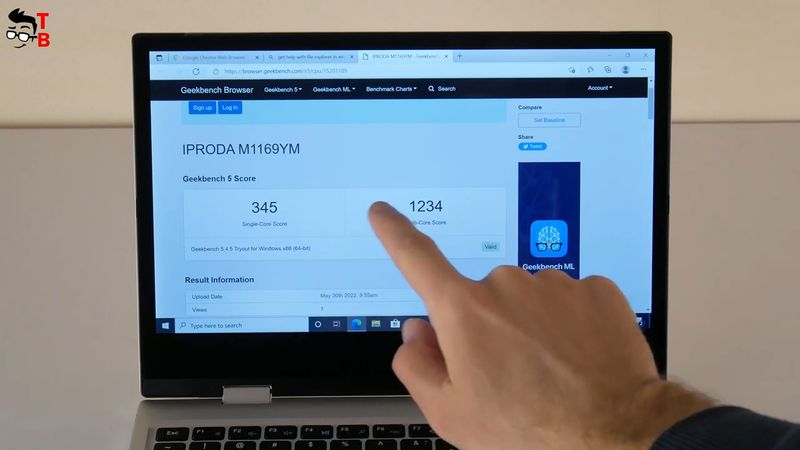 In the Cinebench, we can see the ranking of processor, as well as a result in single core test and multi core test.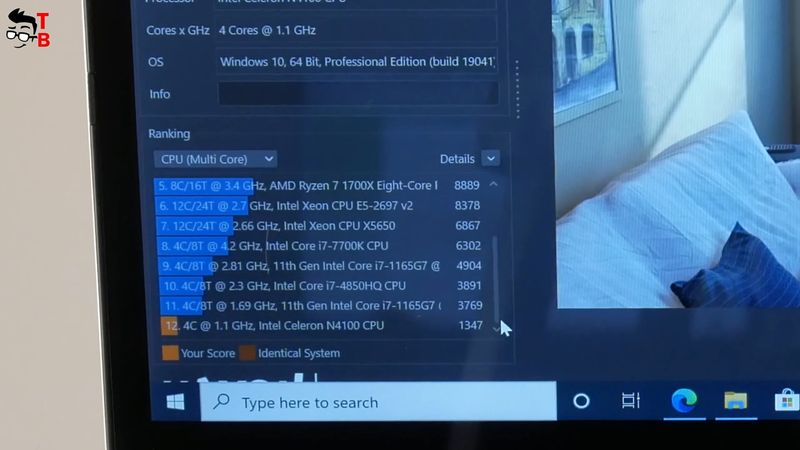 In general, the benchmark results are quite low. However, I haven't noticed any problems in normal use. The laptop works fast and smooth.
Games
Now, we can play some games. You know, this is a low-cost laptop with touchscreen, so I need to try some simple games, such as Candy Crush. You don't need a keyboard for this game, so you can flip it.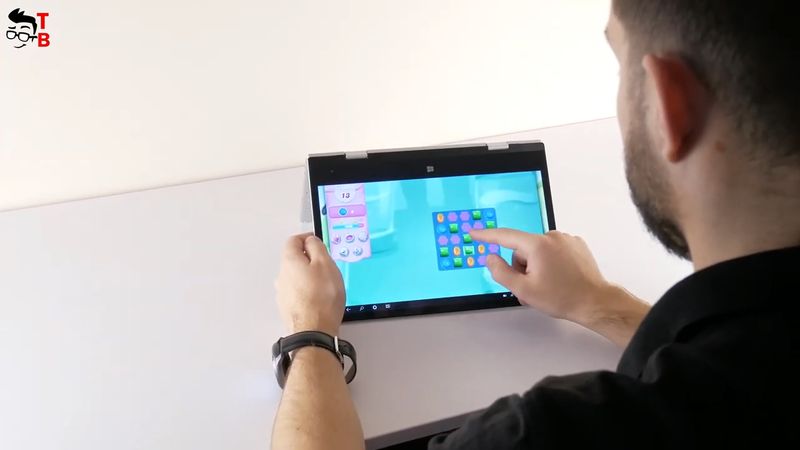 Now, let's play something heavier, for example, Asphalt 9. The graphics is not very high, but the performance is good. There are no slowdowns or glitches.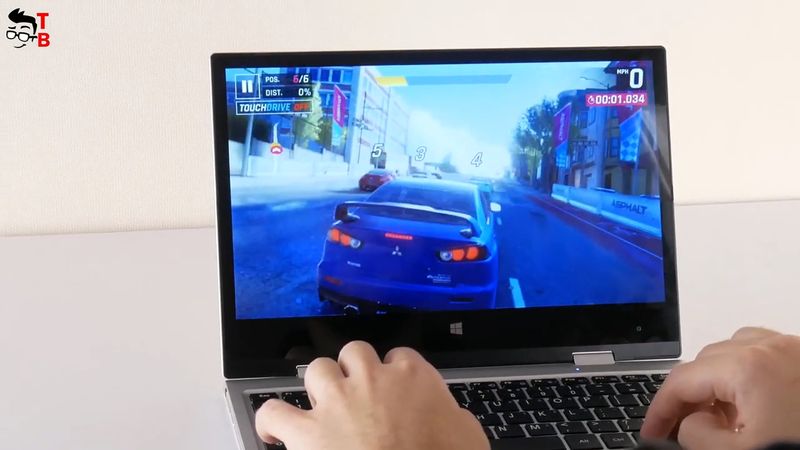 You know, after playing these games for a while, the laptop got warm. This is to be expected, because it has no active cooling.
Battery
Talking about battery of iProda Yoga laptop, it has a capacity of 3500mAh. The manufacturer promises 8 hours of battery life. However, in my use, it lasted for 5 hours. I think it is still good for a compact laptop.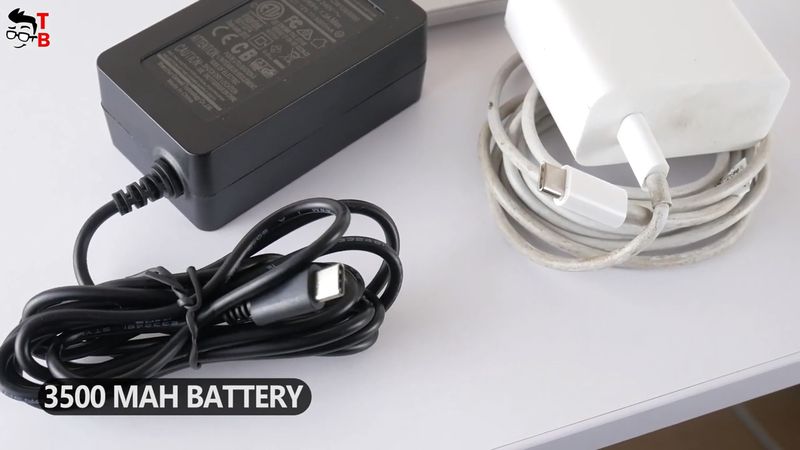 However, my favorite feature is USB Type-C charging port. I don't like DC ports, because you need to carry a charger with you. Here you just need to have USB Type-C charging cable from your smartphone to charge a laptop.
Speaker
By the way, I promised to check the quality of the built-in speakers.
The speakers are quite loud, but the sound is flat. They miss some bass.
Conclusion
So, what I like about iProda Yoga laptop. First, I like a compact size and low weight. It is perfect for travel.
The display is definitely the main feature of this laptop. It is not only touch screen, but also very good quality. You can watch movies, videos on YouTube and even read text on this screen. I think this is important for students.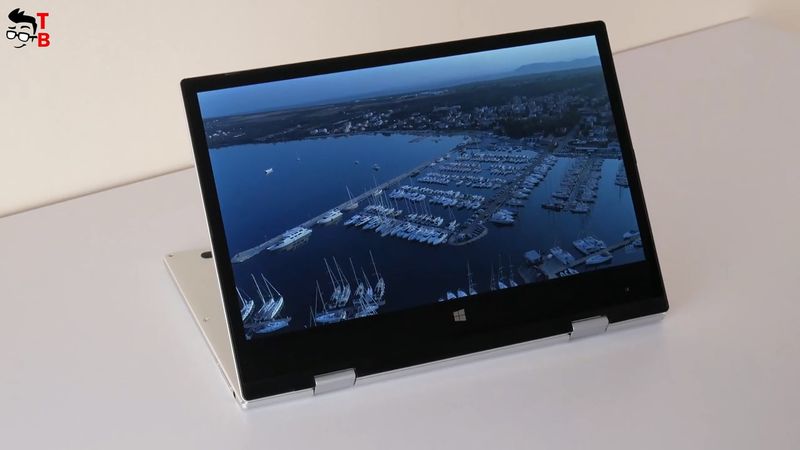 As for performance, iProda Yoga runs simple games, such as candy crash and asphalt 9, but it is not designed for heavy games. Even after these simple games, the laptop got warm.
However, I didn't have any problems with scrolling websites in browser, working in Google Documents, playing videos on YouTube, etc.
So, this is a good low-cost laptop for students and those people who need a compact laptop when they travel.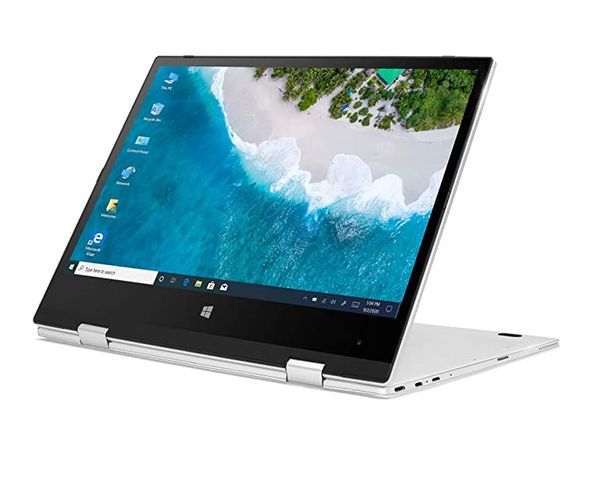 iProda 2 in 1 Laptop 11.6 Inch Touch Screen Laptop - Amazon
as of September 11, 2023 2:12 am