We have been testing many budget projectors on our channel Tech Brothers, and most of them have Wi-Fi support. It is a useful feature to quickly connect your smartphone and watch social media or YouTube on the big screen.
However, in my experience, I rarely use the screen mirroring function, because I cannot use the smartphone when it is connected to the projector. I usually connect a TV Stick to the projector, so I can watch Netflix, Prime Video, YouTube, and other streaming services, while my smartphone is free for messages or calls.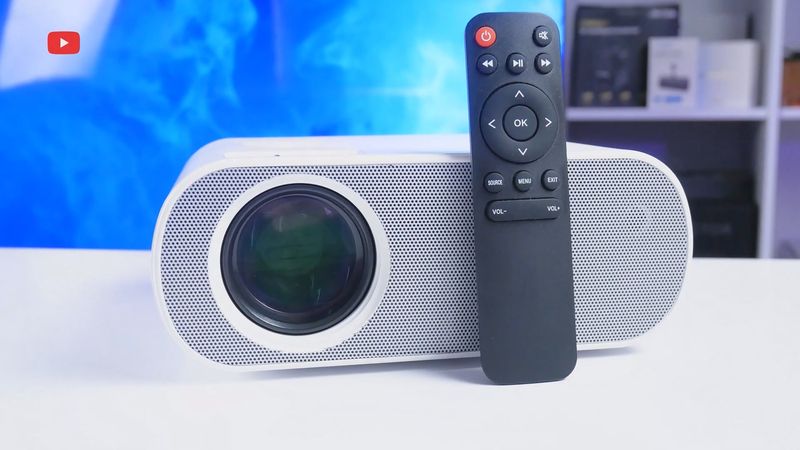 So, if you don't need Wi-Fi, why should you overpay for it? In this article, I am going to tell you about one of the most affordable Full HD projectors on the market. I think it is cheaper than its competitors because it doesn't have Wi-Fi support.
From the other side, the projector has Bluetooth support, so you can connect headphones or external speakers to it.
The name of the new projector is HOMPOW C10. Let's take a closer look at this projector, and start by unboxing it.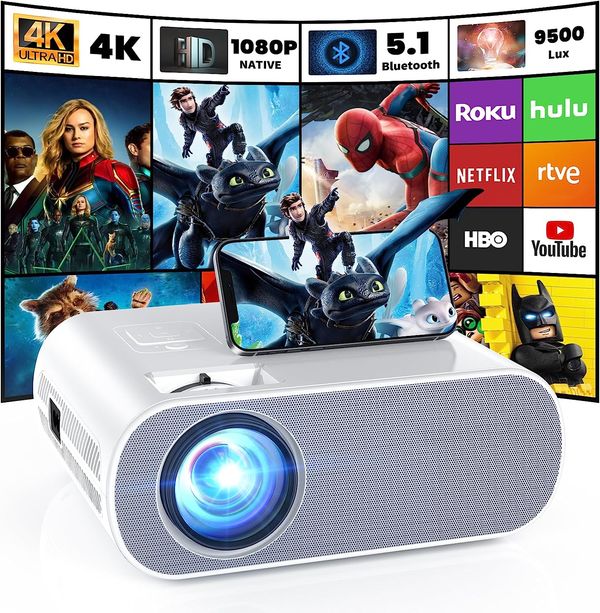 HOMPOW C10 Projector - Amazon
as of September 26, 2023 1:07 pm
Unboxing
There is only HOMPOW logo on the front of the box, but we can also see the model C10 on the side.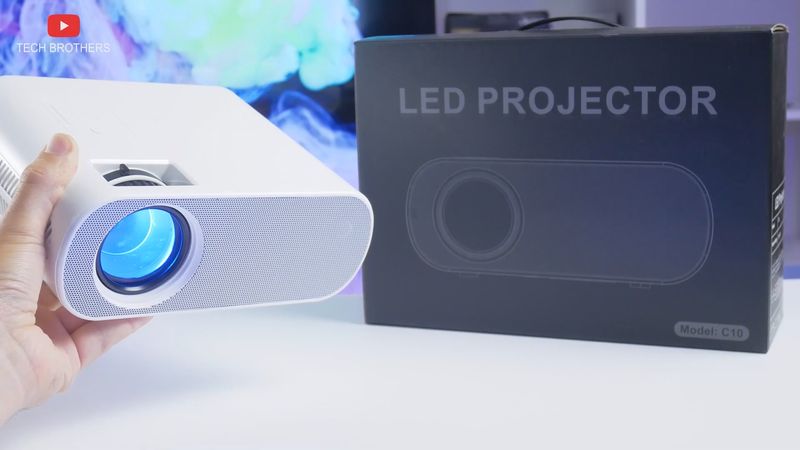 Inside the box, we have the projector in a protective bubble bag, as well as a box with some useful items, such as remote control, HDMI cable, audio cable, power cable, kickstand, napkin and user manual.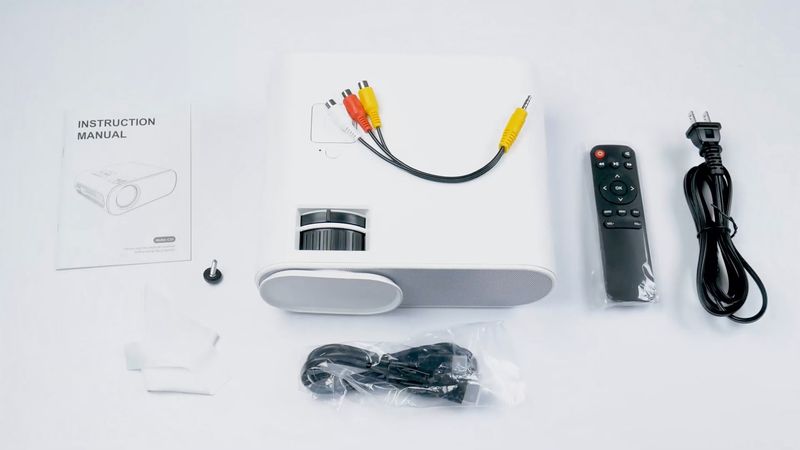 This is an ultra-budget projector, so a tripod or a projection screen are not included.
Design
When it comes to the design of the projector, first, it has a nice rounded shape. The body is made of white plastic, while the front looks like a metal mesh. However, it is also plastic.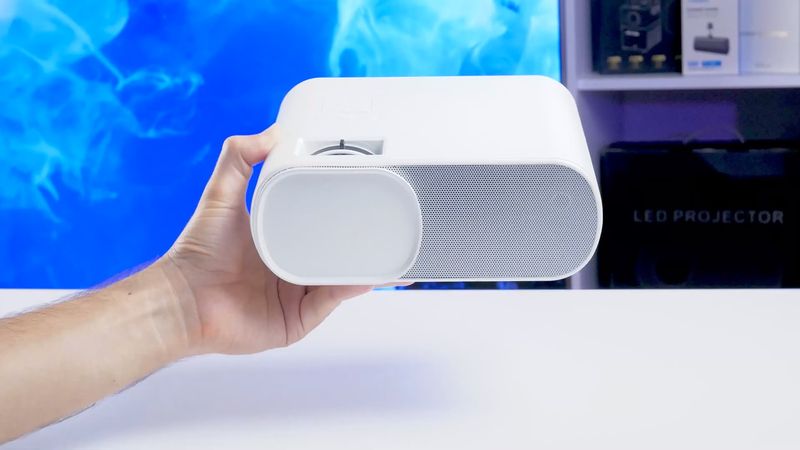 There is only a lens on the front.
On the back, we can see audio jack, AV port, HDMI port, two USB ports, IR receiver, speaker and air intake.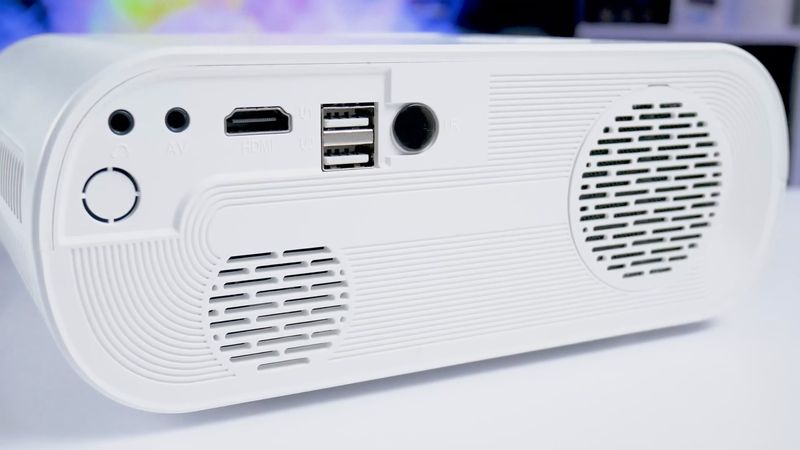 The air outlet in on the left side.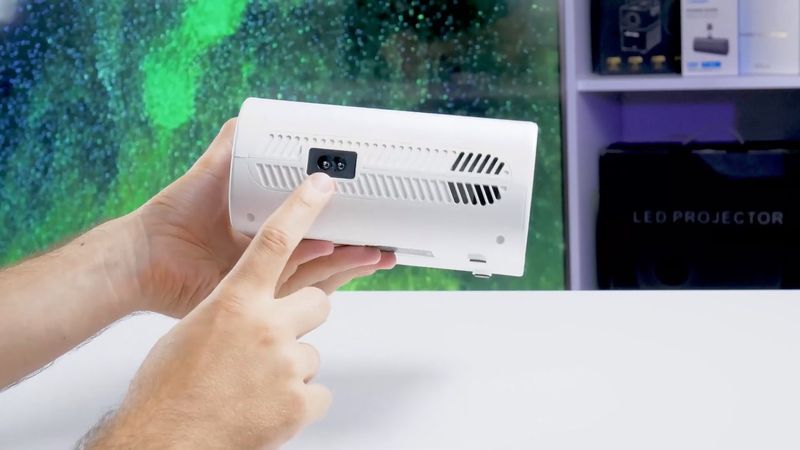 A power connector is on the right.
HOMPOW C10 projector also has a focus adjustment and a keystone correction wheels on top.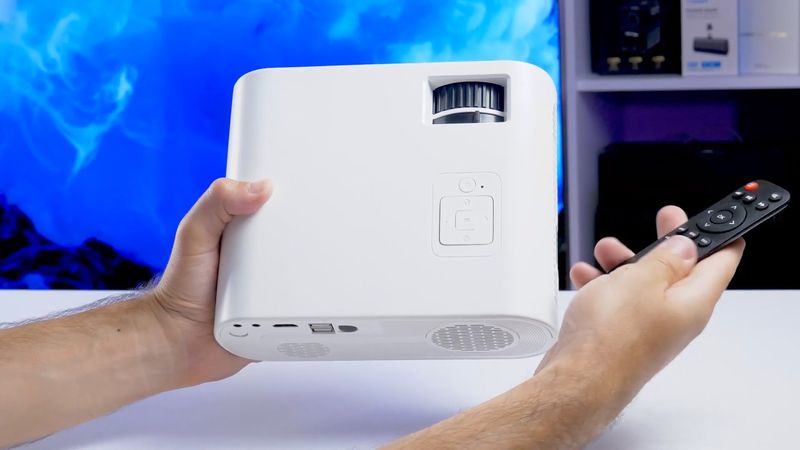 Among the control buttons are power on/off, navigation, and OK.
However, it is more convenient to use the remote control. It is made of cheap plastic, but it works very well.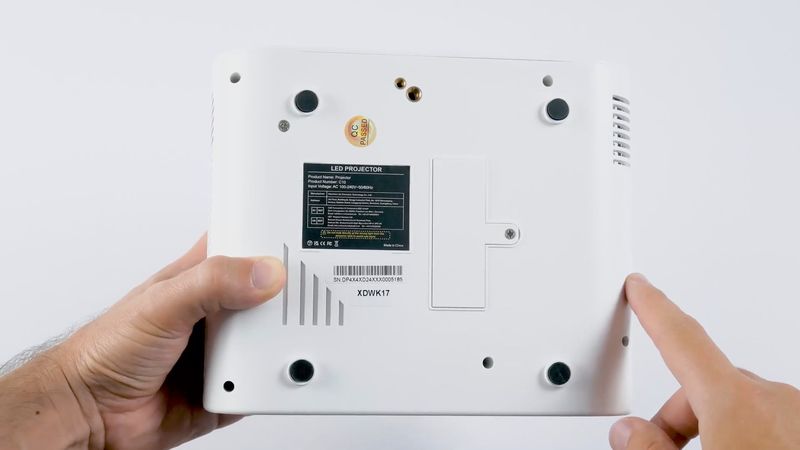 If you look at the bottom, there are four rubber feet, a tripod mount, and a kickstand mount.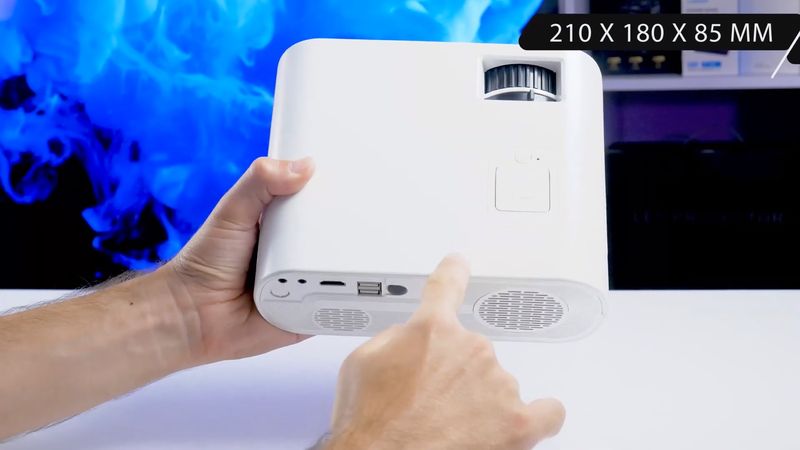 As you can see, the HOMPOW projector is quite compact. Its size is 210 x 180 x 85 mm. The weight is 2590 grams.
However, it doesn't have a built-in battery, so it is not actually portable. You need to find a power outlet to use the projector outdoors.
User Interface
OK, now let's turn on the HOMPOW С10 projector and look at the multimedia system.
You know, I can already see that the projector has a clear image. However, we will talk about the projection quality a little later.
So, on the home page, we can select the signal source such as AV or HDMI.
There are also movie, music and photo sections, but you can access them when you connect an external storage device such as USB flash drive.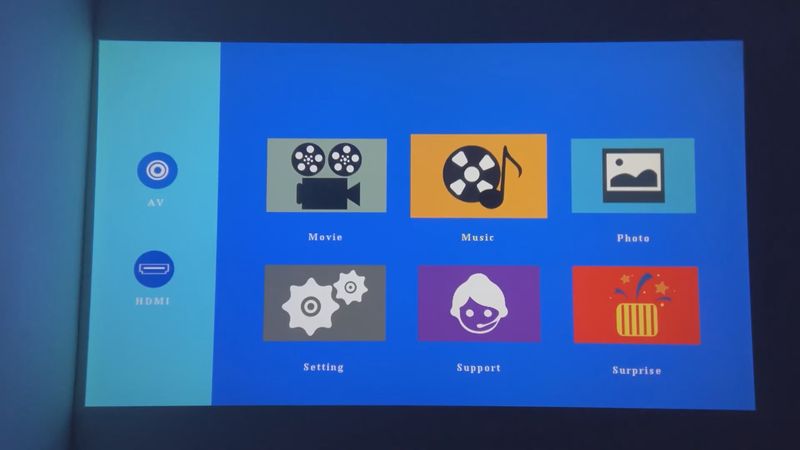 In the Surprise section is a warranty, new item test and VIP customer group.
If you have any questions about using the projector, you can go to Support and find the manufacturer's contacts.
Finally, we can go to the Settings menu from the home page.
Let's take a look at the settings of the HOMPOW С10 projector.
Settings
First, we can change the language of the system.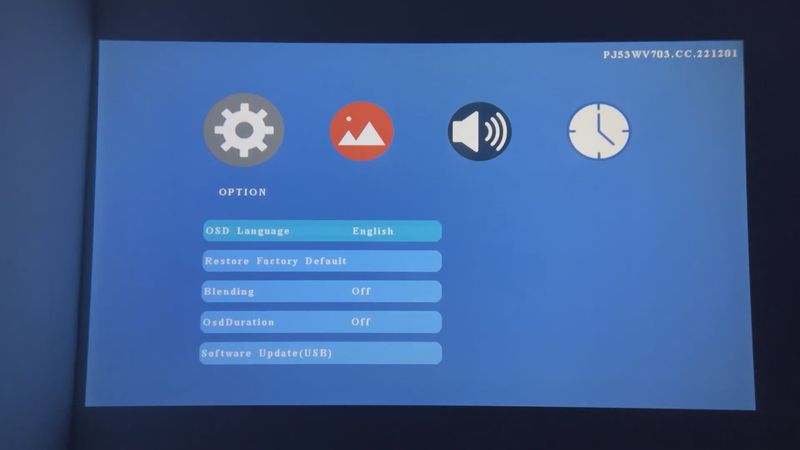 There is also a Restore Factory Default option, Blending, OSD Duration, and Software update.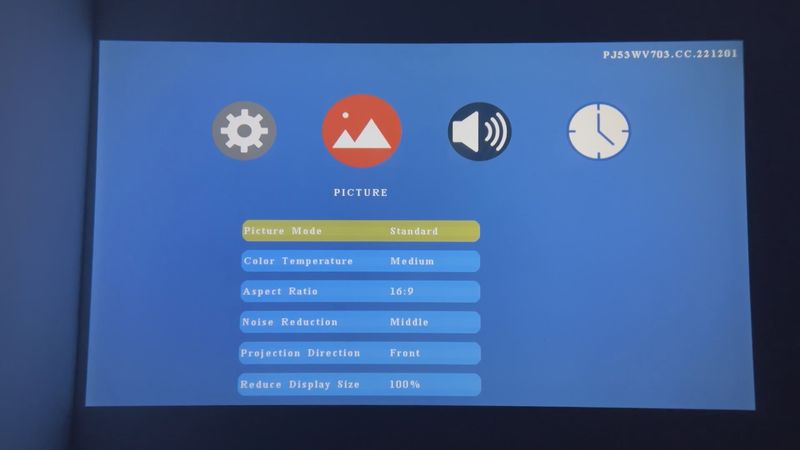 The picture settings have picture mode, color temperature, aspect ratio, noise reduction, projection direction, and reduce display size.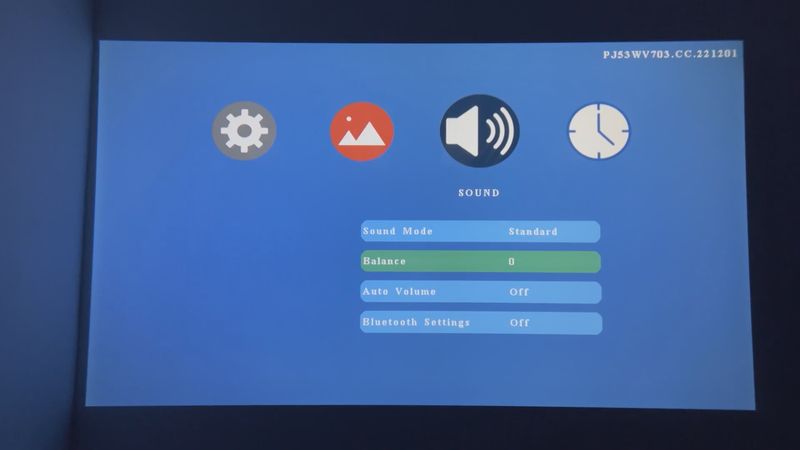 In the Sound settings, we can change the sound mode, balance, auto volume and Bluetooth connection.
Finally, you can set a Sleep Timer on the HOMPOW C10 projector.
OK, now, let's go back to the Bluetooth connection and see how to connect a Bluetooth Device.
Bluetooth Connection
The Bluetooth connection has three modes, such as Off, Auto and Static.
I will select a Static mode, and then click on Search Device.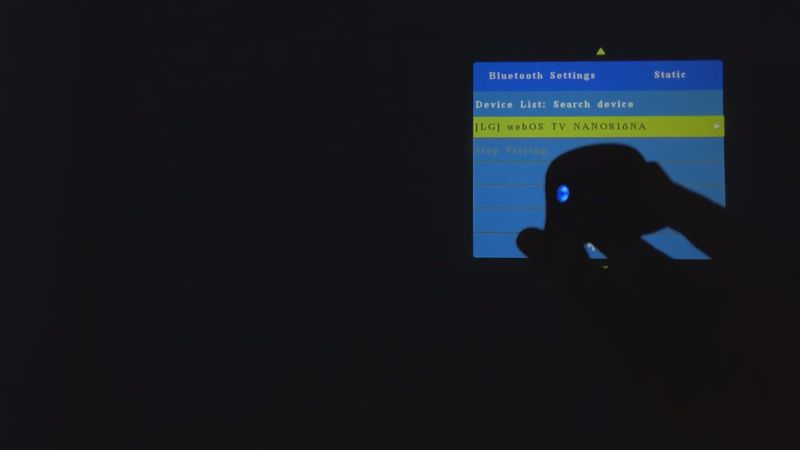 Wait a little, and select your Bluetooth device. In my case, this is a small Bluetooth speaker.
So, if you want to watch a movie alone, you can connect headphones. To use the projector in a large room, you can connect the external speaker or soundbar.
However, for a small room, the built-in speaker should be enough.
Sound Quality
You can listen to some audio samples in our video review.
Noise Level
By the way, the projector has a built-in fan for cooling. You can hear the fan noise in a quiet room.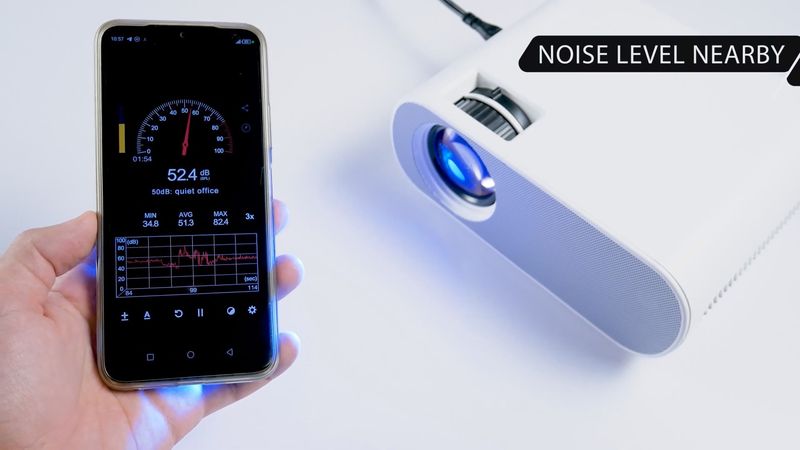 It is about 52 db near the projector, and 42 db at a distance of 1 meter.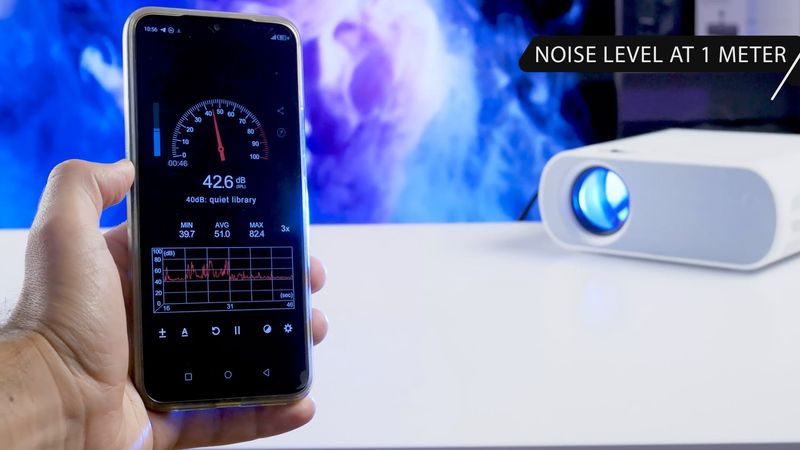 However, when you are watching a movie, the fan is almost inaudible. That's very good.
Projection Quality
HOMPOW С10 is one of the most affordable Full HD projectors on the market, and I do believe it has a native 1080P resolution, because the image is clear. Even at the edges and corners, the picture is not blurred.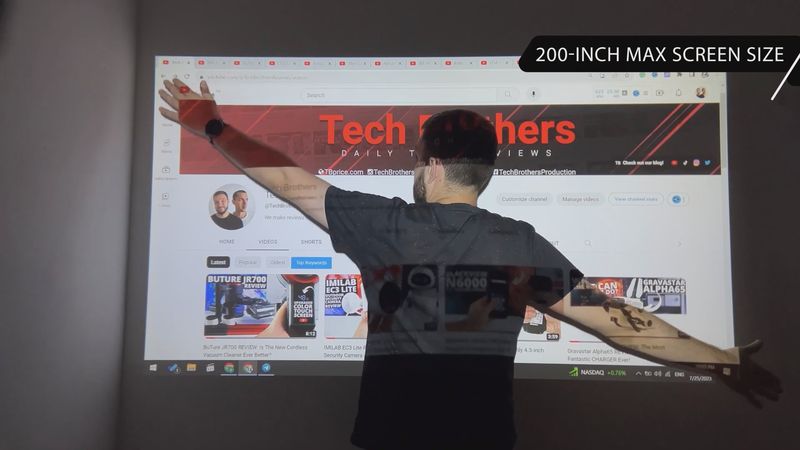 By the way, the projector also has a good throw ratio. I have placed it at about 2 and a half meters away from the wall, and my screen size is about 80 inches. The maximum screen size of the HOMPOW C10 projector is 200 inches at a distance of 5 meters.
To be honest, I am very surprised by the image quality of this projector. The colors are rich thanks to the 95% of NTSC color coverage. The brightness is enough for watching dark movies.
The manufacturer also claims that HOMPOW C10 projector uses anti-blue light technology to protect children's eyes.
I would also like to remind you that this is an LCD projector with LED bulb. The lamp life is about 50 thousand hours. So, the projector can last for 34 years with 4 hours of viewing per day.
Light On
I already said that the projector has good brightness, namely 9500 Lumens, so it can be used in a room with light.
Conclusion
So, the lack of Wi-Fi connection is not a problem for me. It is a useful feature, but I don't really use it much.
It is better to connect a TV stick to the projector and watch streaming services, or connect a game console and play games.
HOMPOW C10 projector has excellent image quality for its price of $67.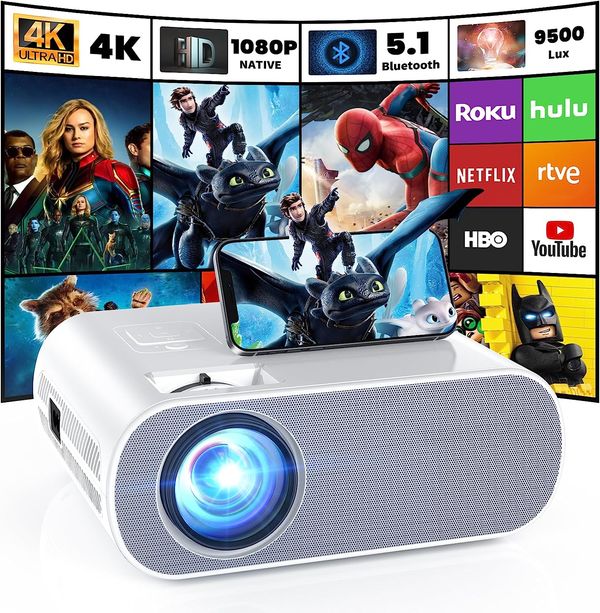 HOMPOW C10 Projector - Amazon
as of September 26, 2023 1:07 pm