To keep your home clean, you need a vacuum cleaner. Personally, I have a robot vacuum cleaner, and it is very useful because it cleans every day on a schedule, even when I am not home.
However, I also need a cordless vacuum for cleaning hard-to-reach places.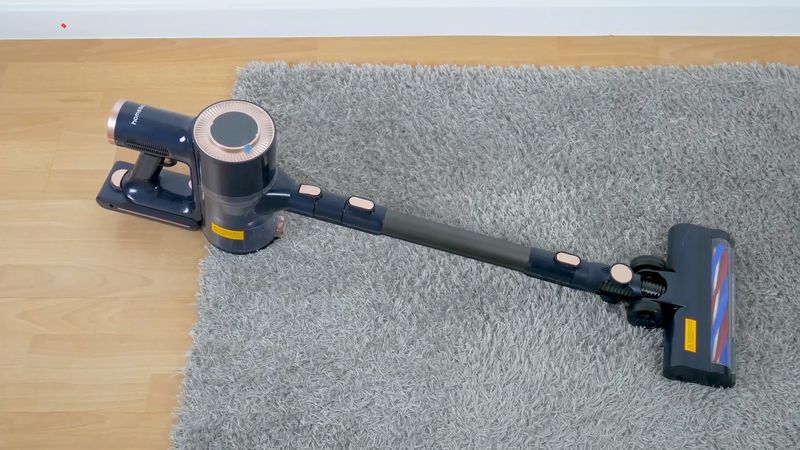 In this article, we will test a new Homeika cordless vacuum cleaner with 20000Pa suction power, 200W motor, LED display, 7-layer filtration system, 30 minutes of runtime and other features.
First, let's do unboxing, and look at design of the new handheld vacuum cleaner, and then we will do a cleaning test.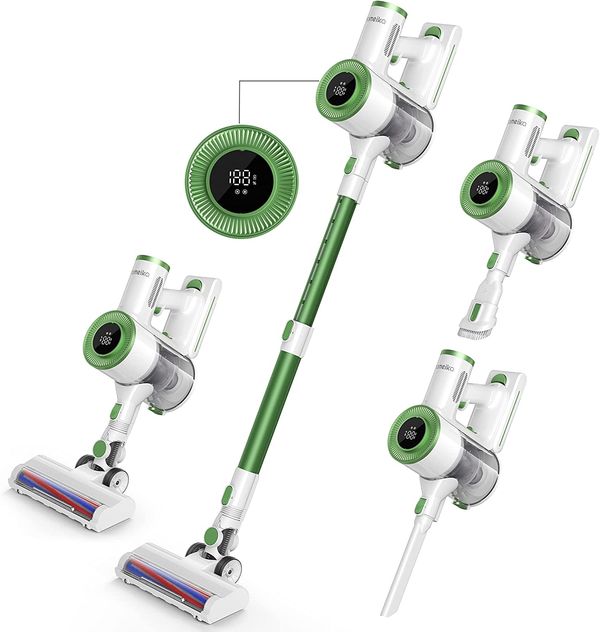 Homeika Stick Vacuum Cleaner Cordless - Amazon
as of March 1, 2023 7:48 pm
Unboxing
On the box of the cordless vacuum cleaner, we can see Homeika logo and the model name H016.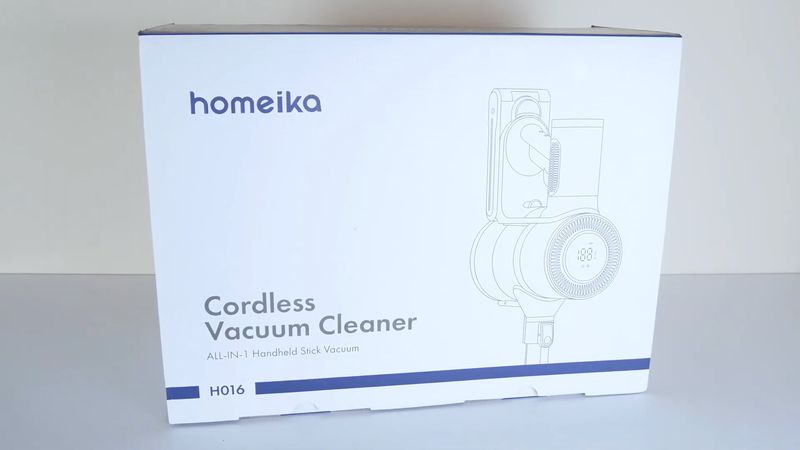 When you open the box, you will see quick instructions on how to assembly the main parts, screen display descriptions, heap cleaning, floor brush cleaning and installation of wall hanger. We will talk about all of that in this article.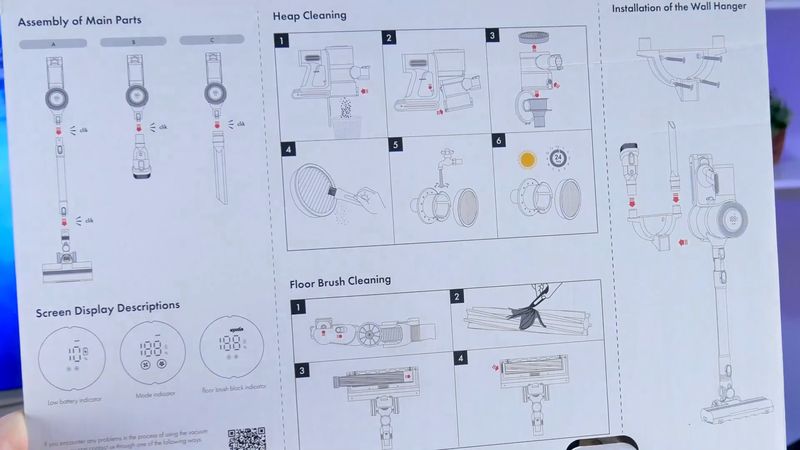 There is also a detailed user manual in the box.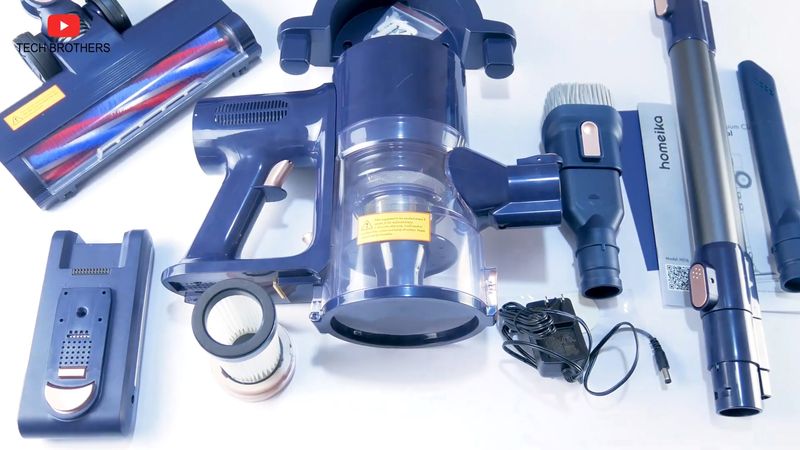 The package includes a main body of the vacuum cleaner, conductive telescopic tube, LED electric floor brush, crevice tool, 2-in-1 brush, wall hanger, screws, and power adapter.
Design
The first impressions of Homeika cordless vacuum cleaner is that it is quite large. I have tested some handheld vacuum cleaners recently, and they were more compact.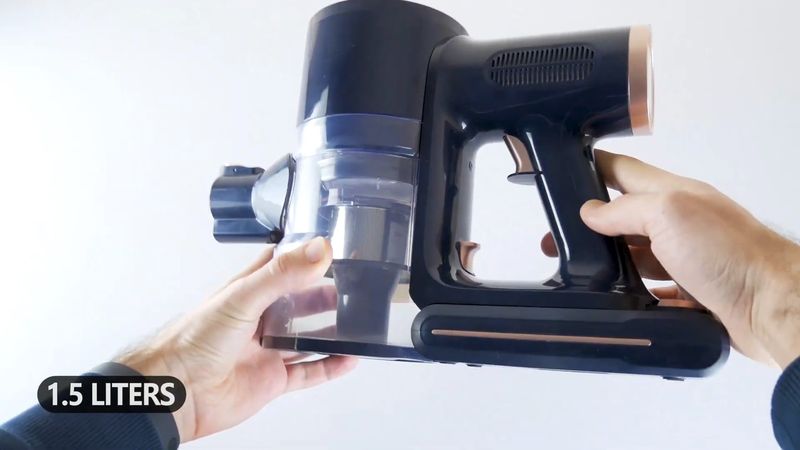 However, this is because a new Homeika vacuum cleaner has a big 1.5 liters dust cup, while its competitors mostly have 0.5 liters dust cups.
On the other hand, the vacuum cleaner is not very heavy – 1540 grams.
You can quickly clean a dust cup by pressing a side button, but also you can press the button next to the handle to take out a dust cup. This is very convenient for cleaning the filters as well as the dust cup.
We will talk about filters and the filtration system a little later.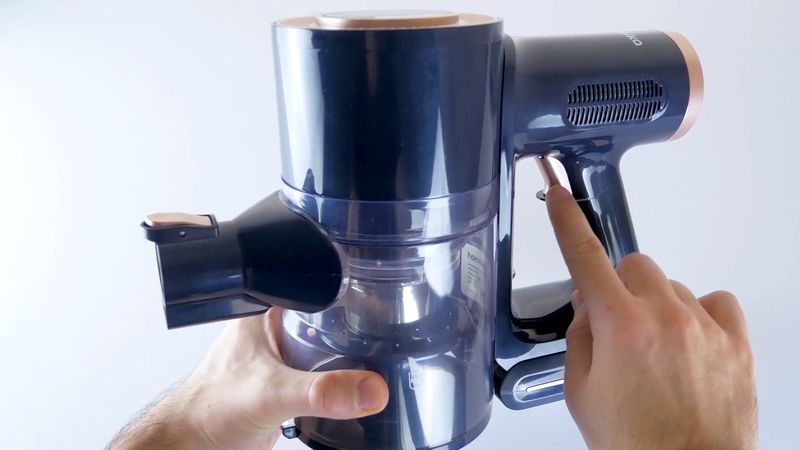 There is only one button on the handle for starting the vacuum cleaner, as well as changing modes.
Display
Another feature of Homeika cordless vacuum is LED display. We can see a battery level in percent, low and high suction modes.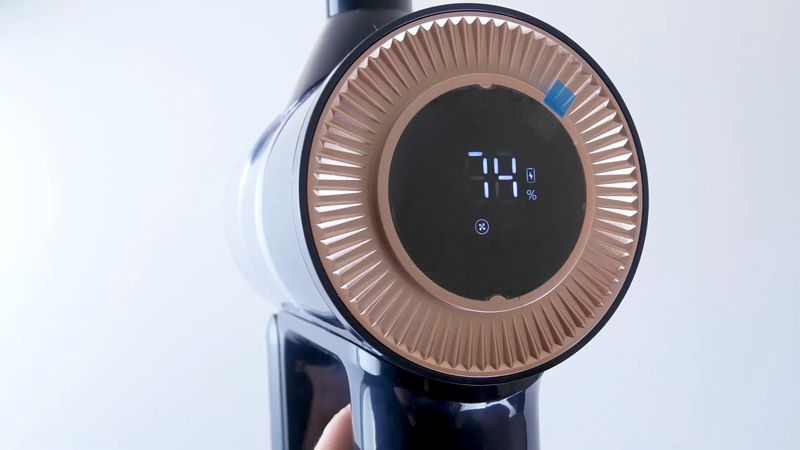 There is also a block indicator on the display when the floor brush is blocked.
Battery
I really like when the battery of the cordless vacuum cleaner is removable, because you can quickly take it out and put it on charge.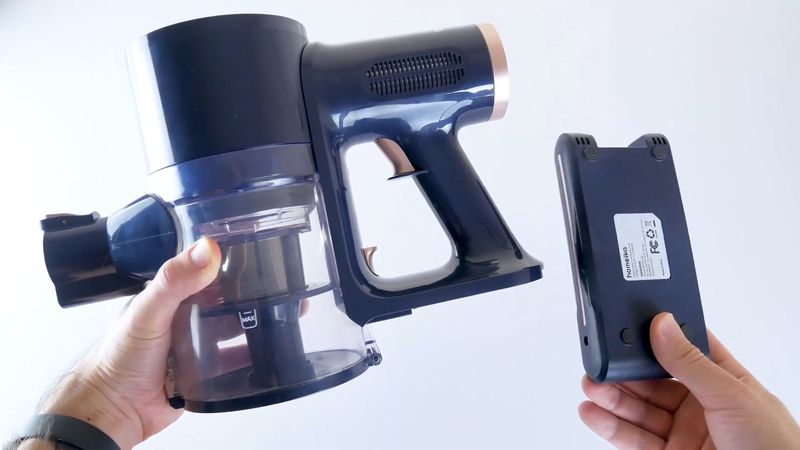 The battery of Homeika vacuum cleaner has a capacity of 2200mAh. The manufacturer promises 30 minutes of runtime, but this is in a standard mode.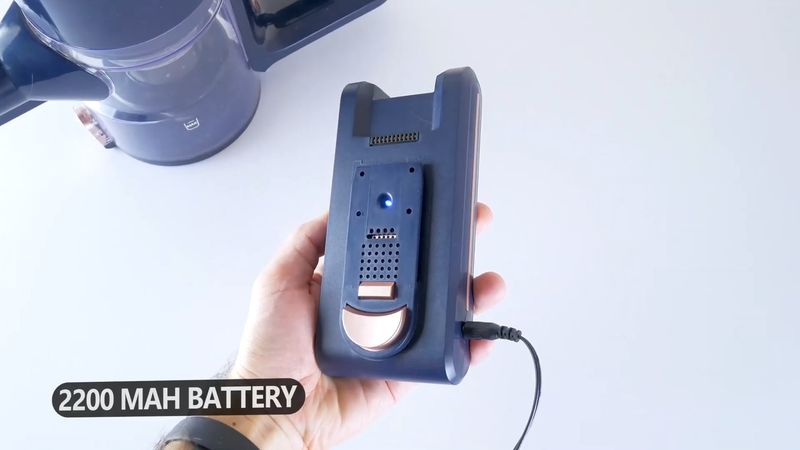 The cleaning time in a powerful mode is about 15 minutes.
Filtration System
Finally, let's talk about the filtration system, because it is very advanced here.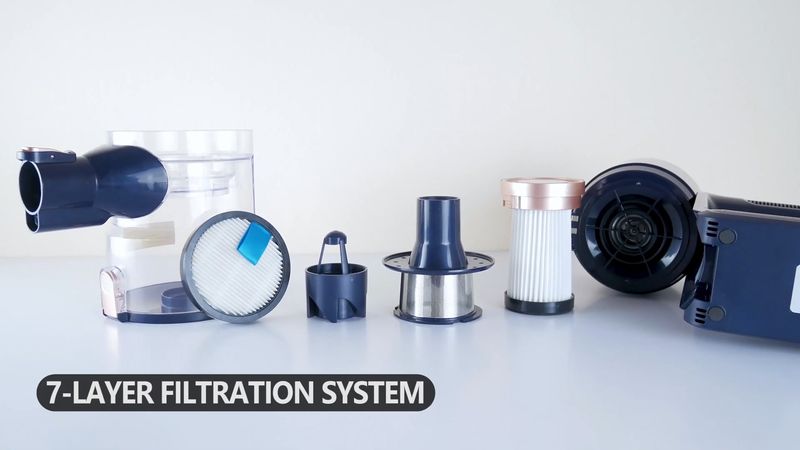 Homeika cordless vacuum cleaner has 7-layer filtration system.
First, there is a cyclonic filtration in the dust cup. It collects large debris, which is easy to remove with a side button.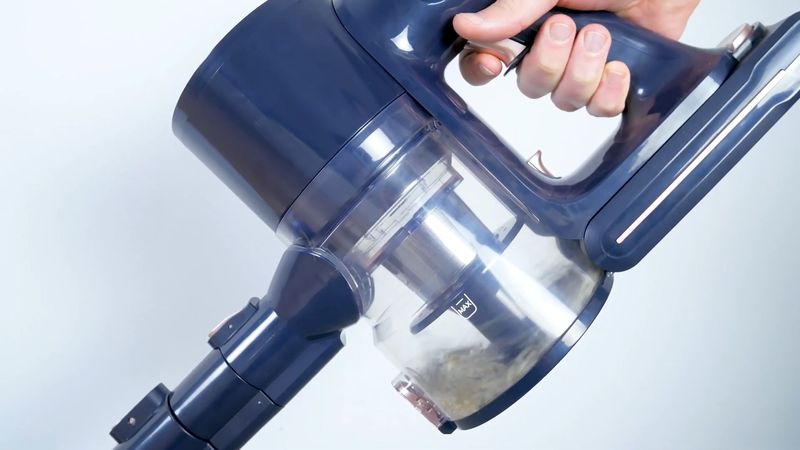 Then, we need to take out a dust cup to see the other layers of the filtration system.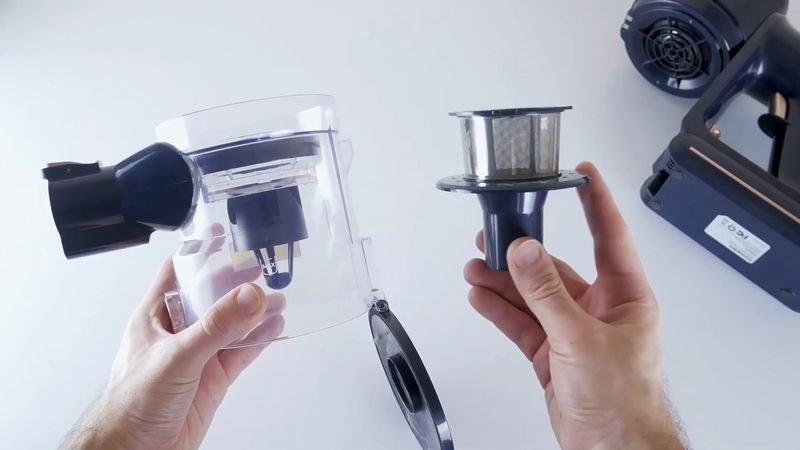 There is a stainless steel filter, multiple separation filter, the first HEPA filter and a sponge filter. They are all washable.
Homeika vacuum cleaner also has a motor protection filter, but we cannot remove it and clean.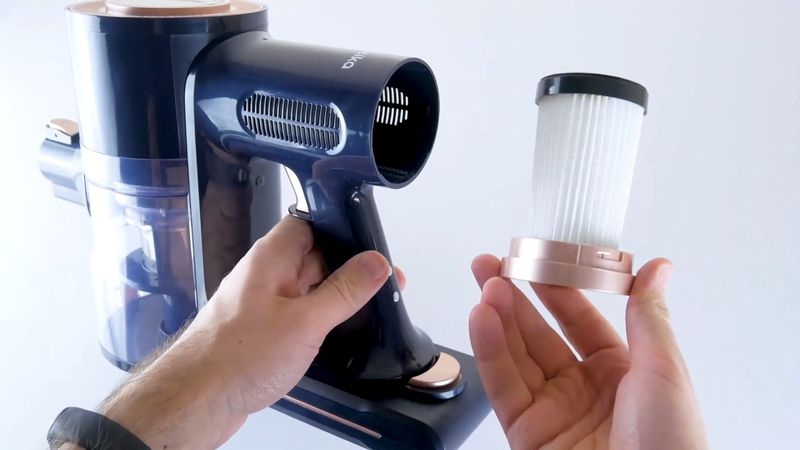 Finally, there is the second HEPA filter above the handle. You can also wash it. However, make sure that the HEPA filter is dry before installing it in the vacuum cleaner, because the wet filter will cause damage.
Noise Level
By the way, I also want to measure a noise level of Homeika vacuum cleaner.
As I already said, there are two speed modes available.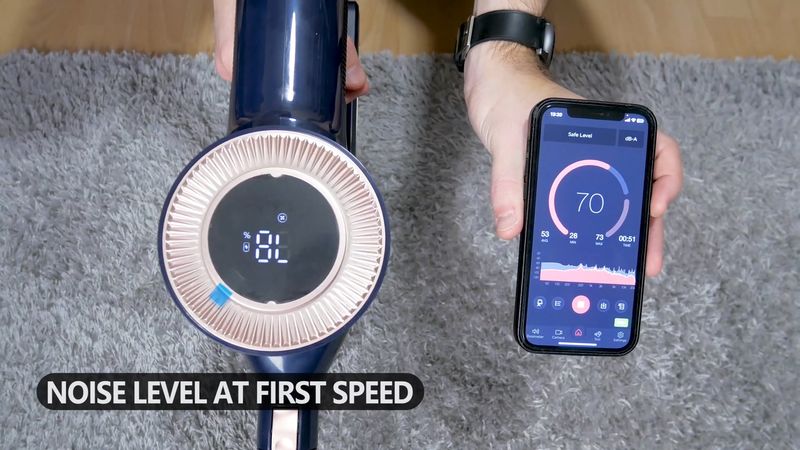 The noise level at first speed is 70 db, and it is about 73 db at second speed.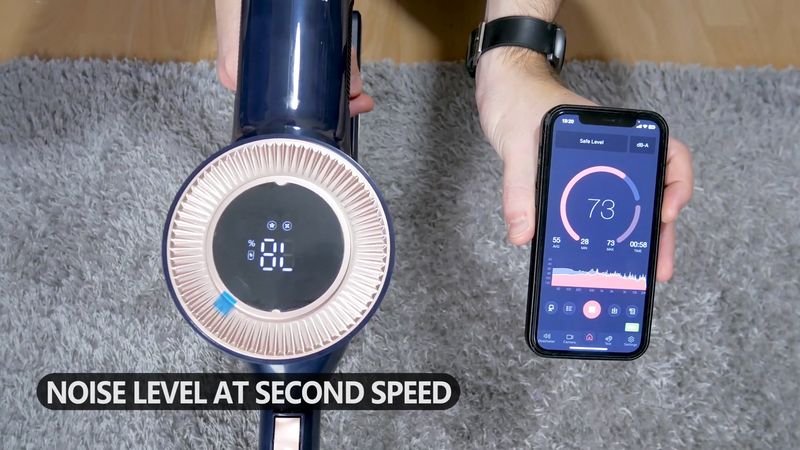 However, it is a noise at a distance of about 20 cm from the vacuum cleaner. Overall, it is not very noisy.
Impressions
You know, I have been using Homeika cordless vacuum cleaner for a few days now, and I want to share my impressions about it.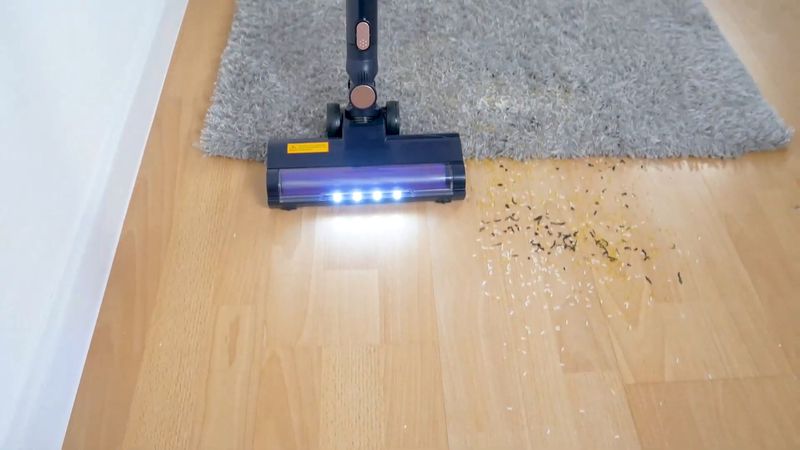 I mostly used a telescopic tube and a floor brush. By the way, the floor brush has four LED lights that illuminate debris on the floor.
The suction power is enough for collecting all kinds of debris, such as, coffee, tea, and others.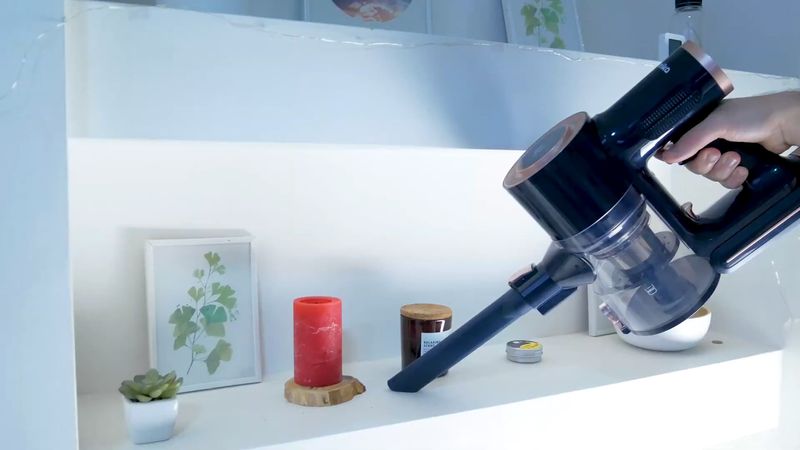 You can also use a 2-in-1 brush and crevice tool for cleaning tables, shelves, photo frames, etc.
As for the display, I will not say that I used it very often, but it is convenient to check the battery level.
What I really like about Homeika cordless vacuum cleaner is a big 1.5 liters dust cup. It is enough for three complete cleanings of my apartment. That's very good.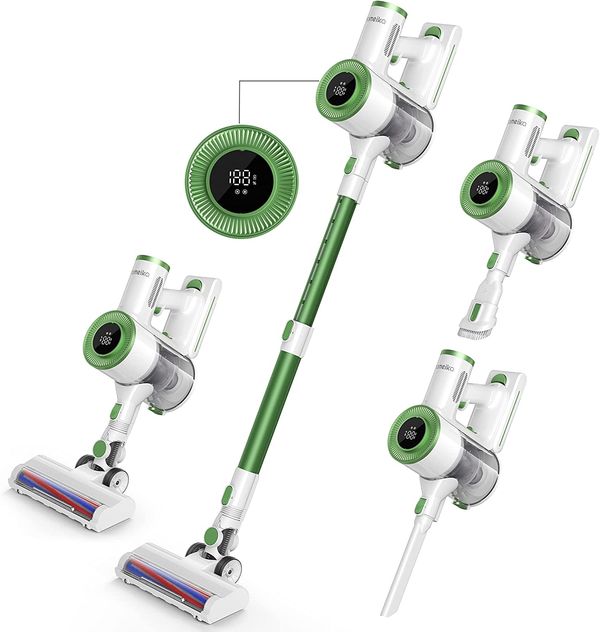 Homeika Stick Vacuum Cleaner Cordless - Amazon
as of March 1, 2023 7:48 pm