Today, we will check a brand new projector from HISION Company. You know, this is a budget projector under $200, but it has a native Full HD resolution, 9000 Lumens brightness, Wi-Fi and Bluetooth support, up to 200 inches screen size.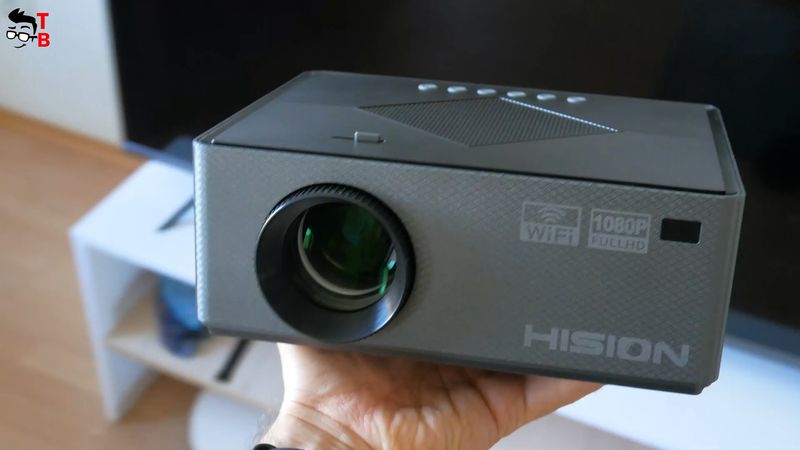 By the way, we have already tested many budget projectors with similar specifications. You can watch the videos on our channel Tech Brothers.
In this article, we will talk about all the functions and features of the new HISION Projector. Let's start with unboxing.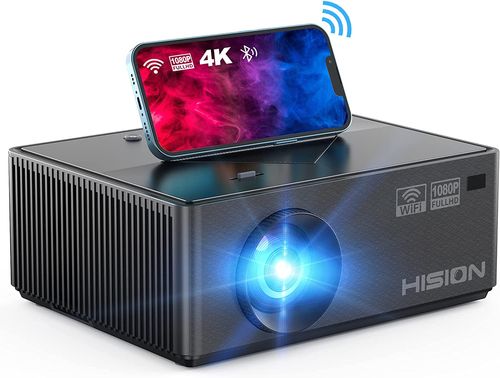 HISION WiFi Bluetooth Projector Native 1080P Projector - Amazon
as of September 24, 2023 8:35 pm
Unboxing
By the way, another feature of this projector is a compact size. I will tell you the dimensions a little later, but now you can see that the box is really compact.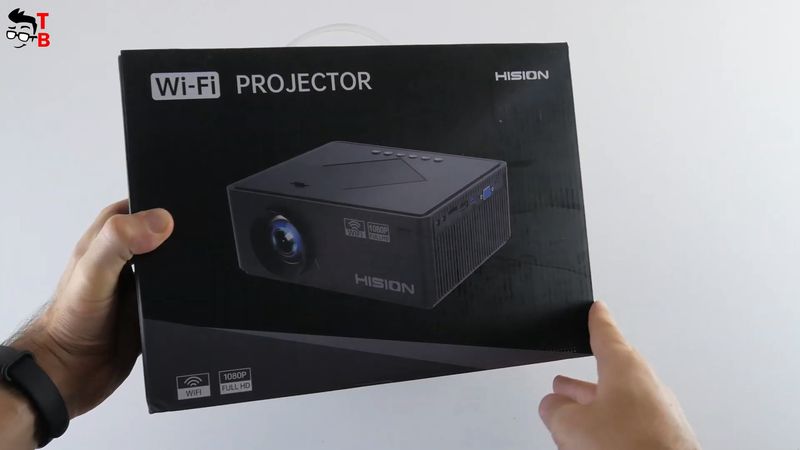 There is the image of the projector on the front, and specifications on the back.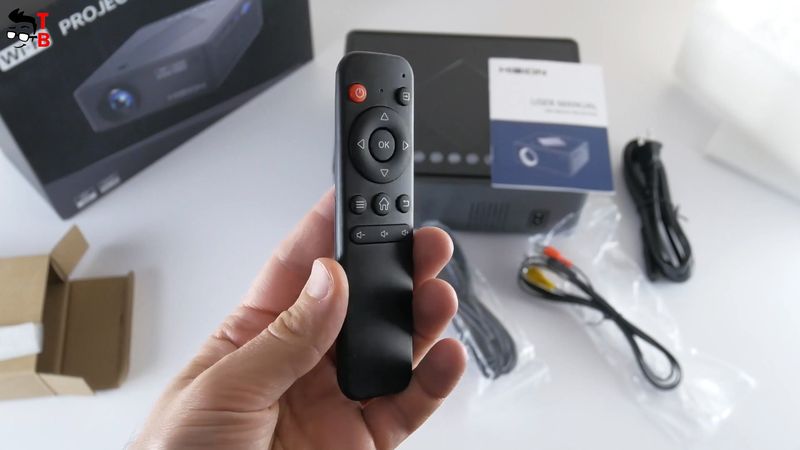 Inside the box, I found a projector itself, remote control, HDMI cable, AV cable, power cable and user manual.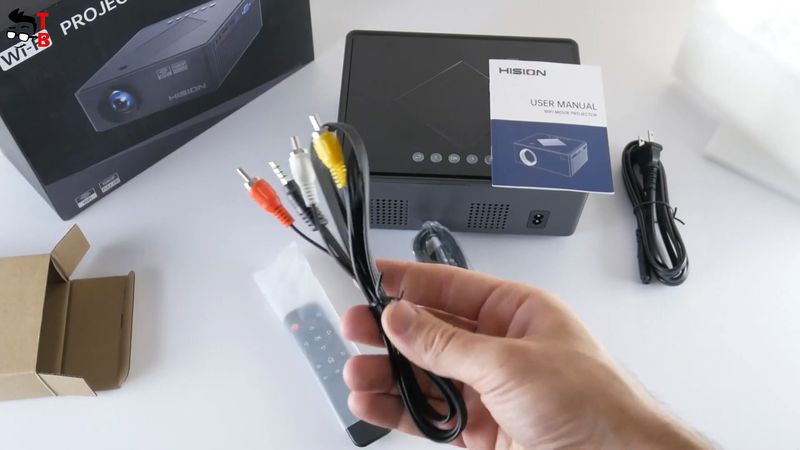 Design
So, going back to the size of the projector, it is 220 x 180 x 90 mm. The weight is 1230 grams.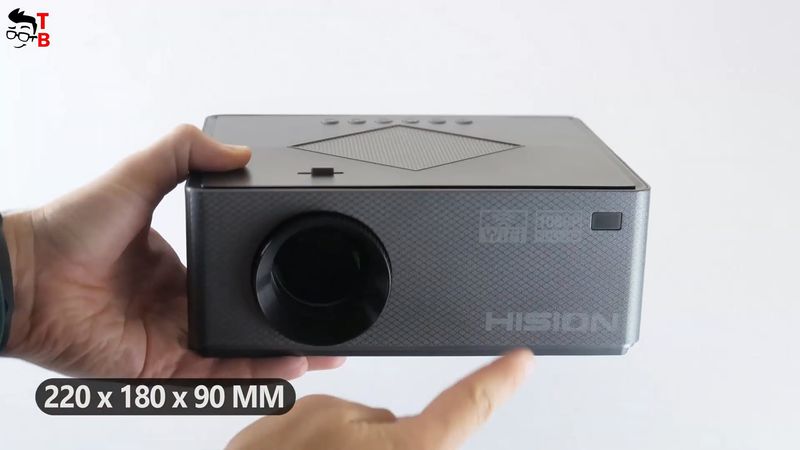 This is a compact and lightweight projector, but it is not portable, because it doesn't have a built-in battery.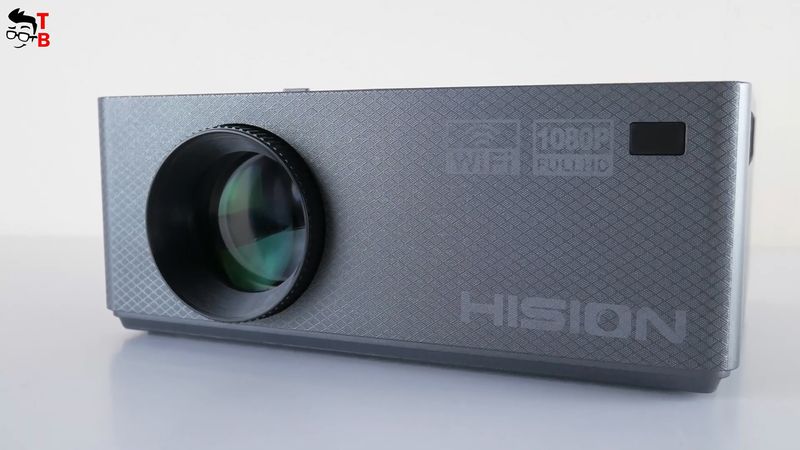 You know, the body of HISION projector is made in a black color, but there is a nice texture on the front and back. There is also a textured rhombus at the top, but it has no function other than decoration.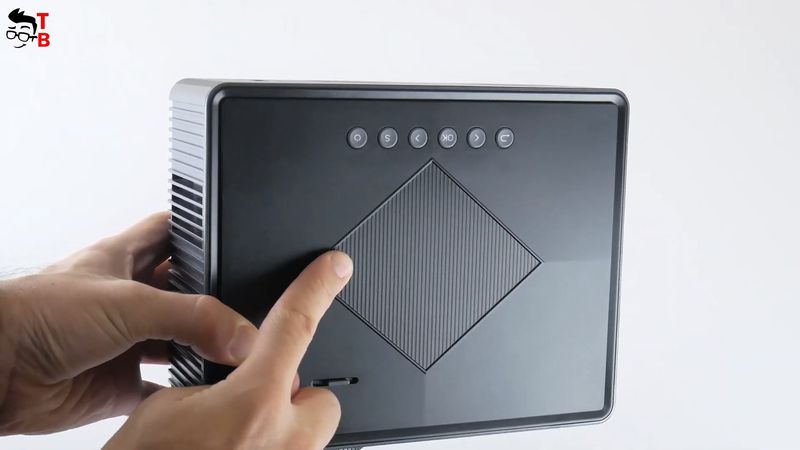 We can see a 15 degrees keystone correction handle and control buttons at the top panel.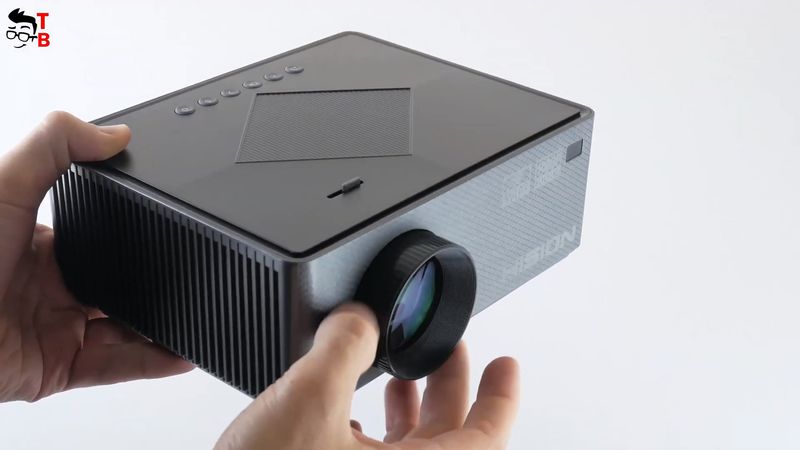 By the way, a focus wheel is located around the lens. So, HISION projector has a manual keystone correction and focus adjustments.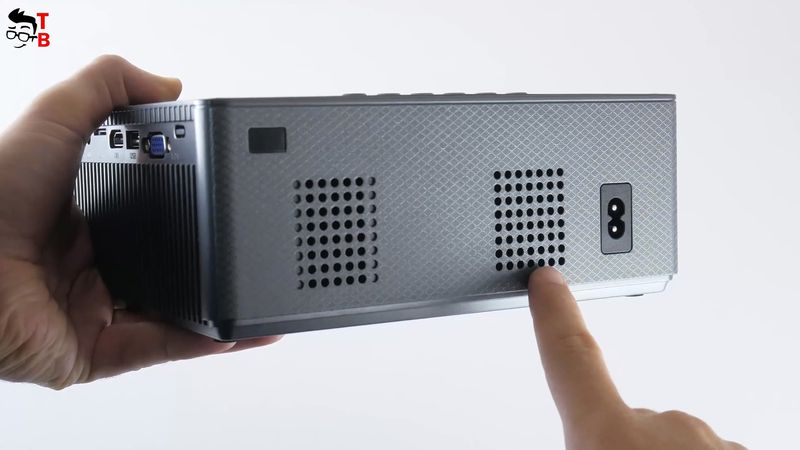 There is also IR receiver for remote control on the front. The second IR receiver is on the back panel, next to the power supply and speaker.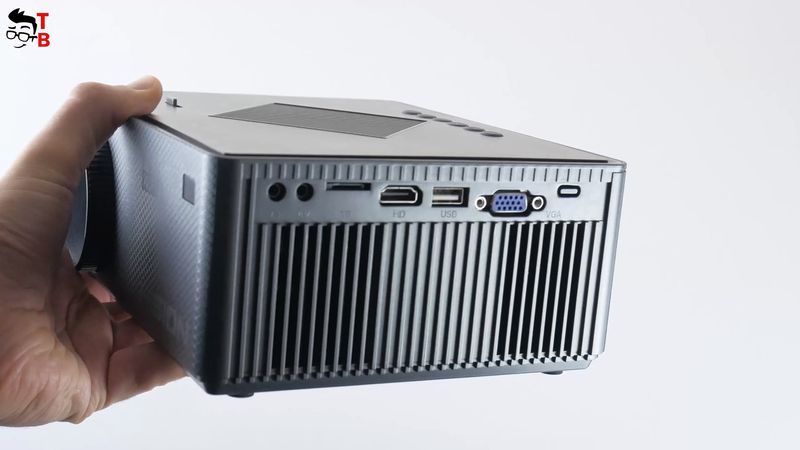 On the side, we can see 3.5mm audio jack, AV port, HDMI port, USB port and VGA port. The window for blowing air is a little lower.
The air intake comes from the other side. It looks like there is a removable filter, but I cannot take it off.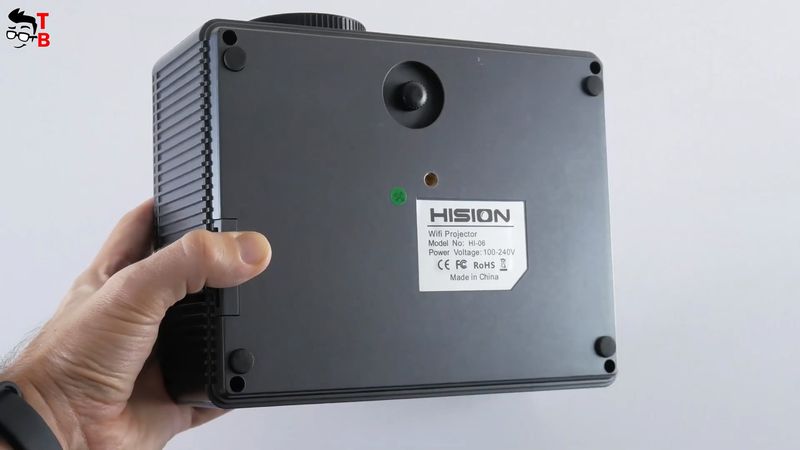 At the bottom, there are four rubber feet, kickstand and tripod mount. A projector doesn't have the ceiling mounts, so you should pay attention to this if you were planning to install it on the ceiling.
Overall, the projector looks simple, but it is made with quality. The compact size and lightweight allows you to carry a projector from one room to another, or even take it to the office or college.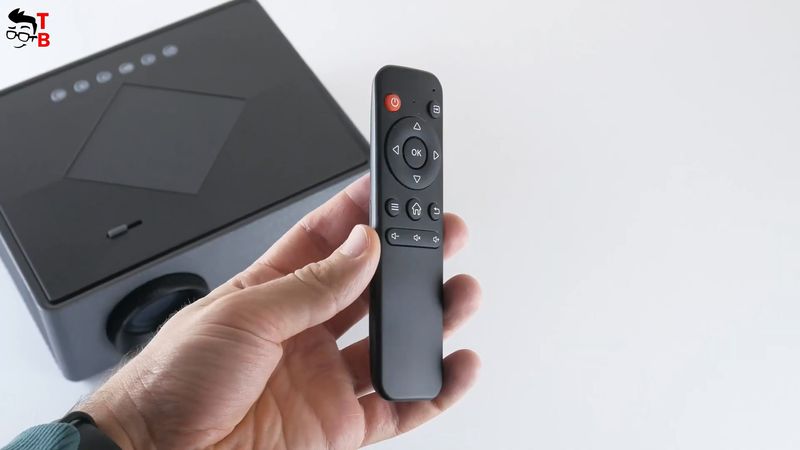 A remote control is also simple, because it doesn't have any extra buttons. It is powered by two three A batteries. Using a remote control, you can power on/off a projector, select a source input, go to the settings menu, home, return, volume up/down and mute.
Okay, let's take a look at the settings menu of HISION projector.
Settings
On the main screen, you can go the Media, Source, Settings, Miracast and AirPlay.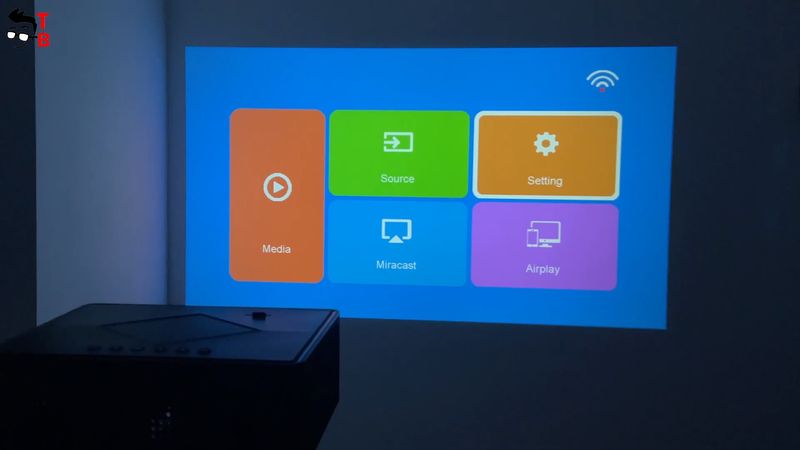 There is movie, music and photo in the Media menu.
Then, we can select an input source for projector from AV, HDMI, VGA and Media.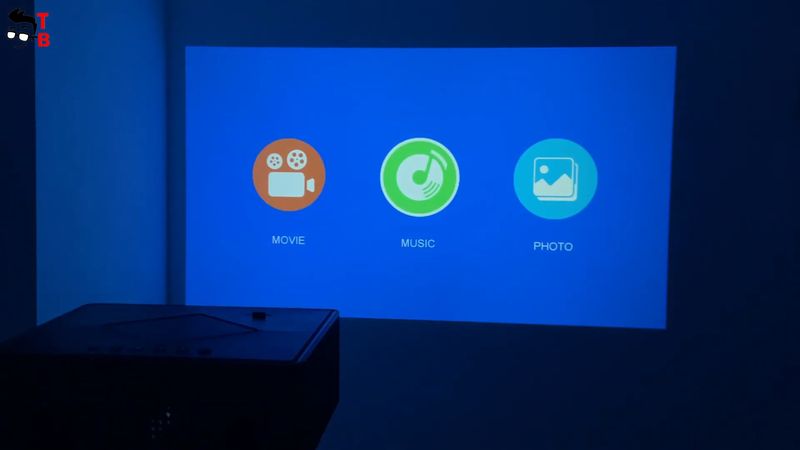 We will talk about Miracast and AirPlay a little later, but now let's go to the Settings menu.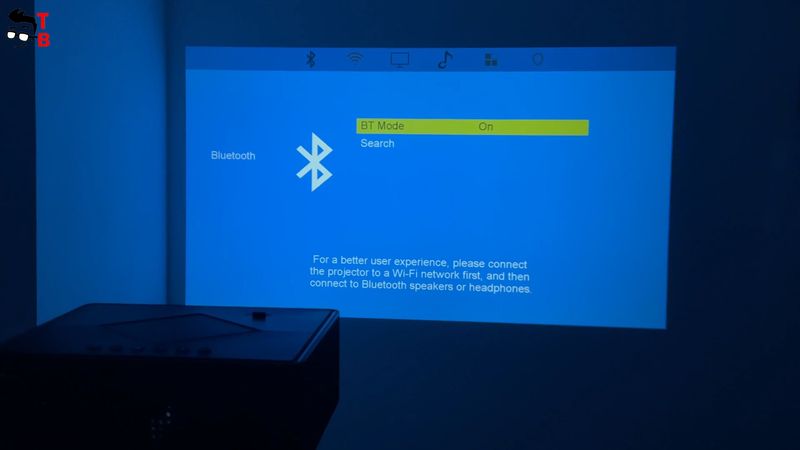 Here we have a Bluetooth menu, where we can turn on/off Bluetooth, and connect a projector to the other device, for example, external speaker.
Then, there is a Wi-Fi menu for wireless smartphone connection. Later, I will show you how to mirror a smartphone screen to projector.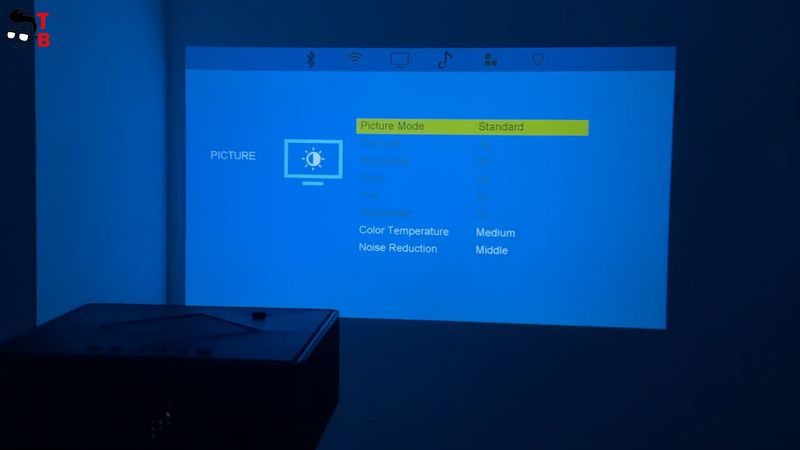 The picture settings include picture mode, color temperature, and noise reduction.
In the next menu, we can choose a sound mode and turn on/off auto volume.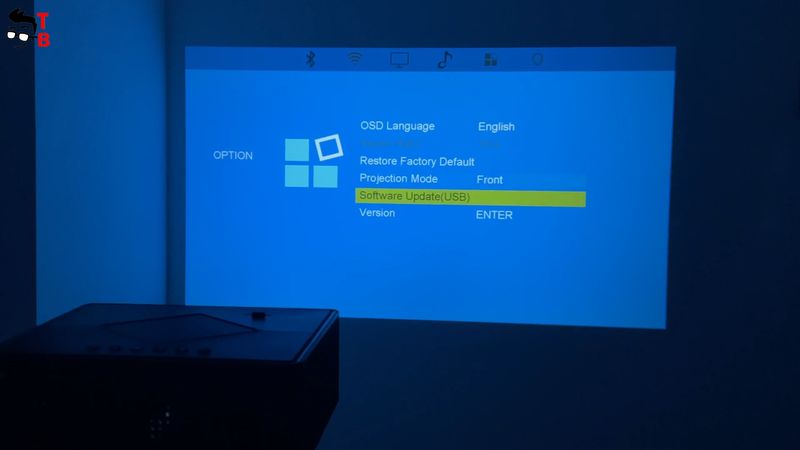 You can also change a language of projector in the settings, as well as restore factory default, choose projection mode, and update software.
The last menu is a customer service.
Wi-Fi and Screen Mirroring
Okay, I have said many times before about Wi-Fi support in this projector. Let's finally see how it works.
First, you need to go the settings menu on projector, select network settings, press on Scan button, and connect to the same Wi-Fi network as your smartphone.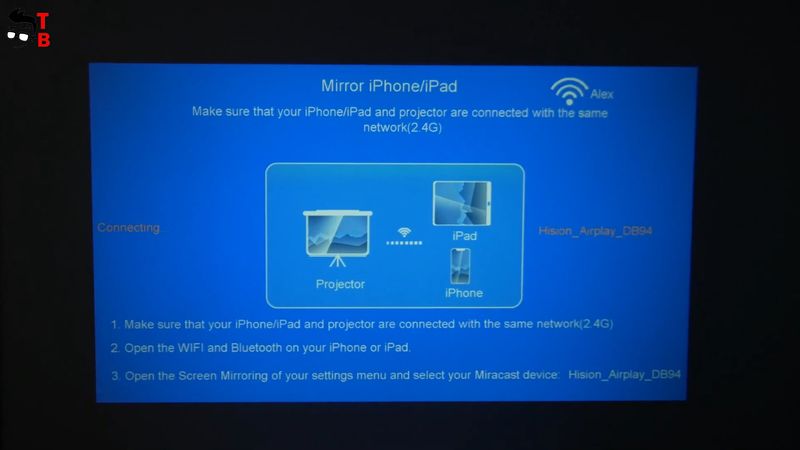 Now, go back to the main screen, and enter AirPlay, if you have iPhone, and Miracast, if you have Android device.
Now, you just need to take your phone, go to screen mirroring, and select a projector. That's all.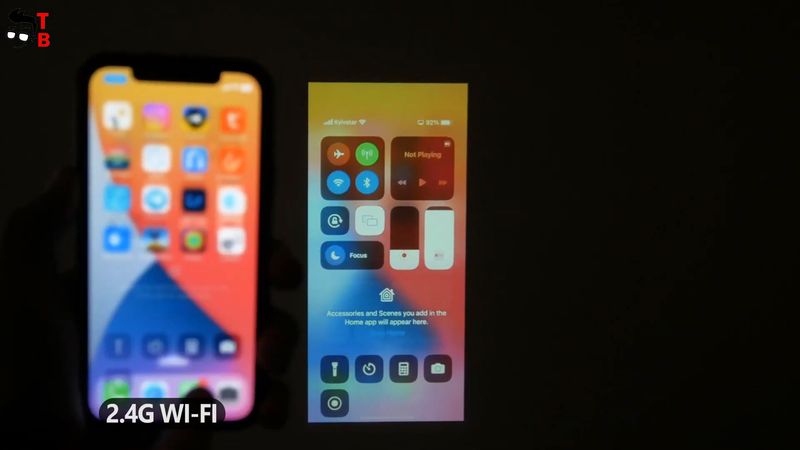 By the way, HISION Projector supports only 2.4G Wi-Fi, not 5G.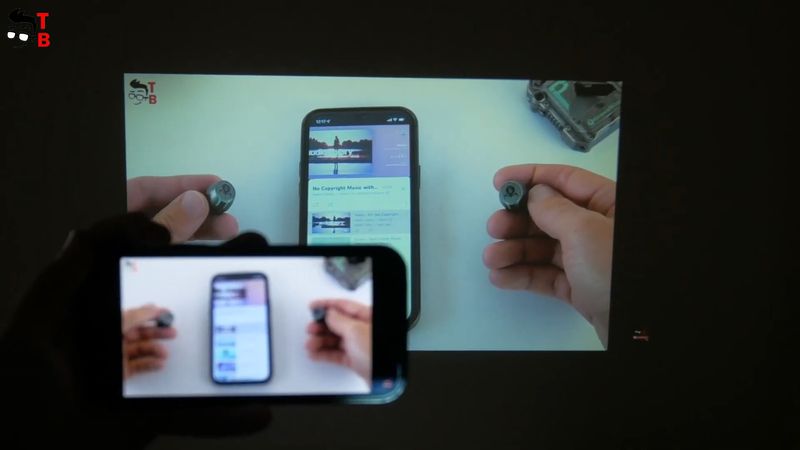 However, the latency is quite low. It is comfortable to watch videos.
Bluetooth
Another feature of this projector is Bluetooth 5.0 support. However, this is not bidirectional Bluetooth. It means that you cannot use a projector in a speaker mode. When I tried to connect a projector to smartphone via Bluetooth, I didn't find it in a Bluetooth menu of my phone.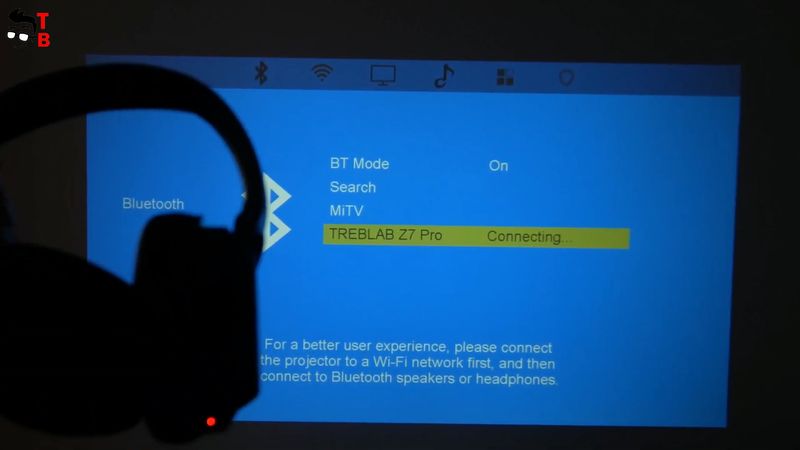 You can only connect other devices to projector, such as external speaker or headphones.
For that, you need to go to the settings menu, enable Bluetooth, and then select your headphones.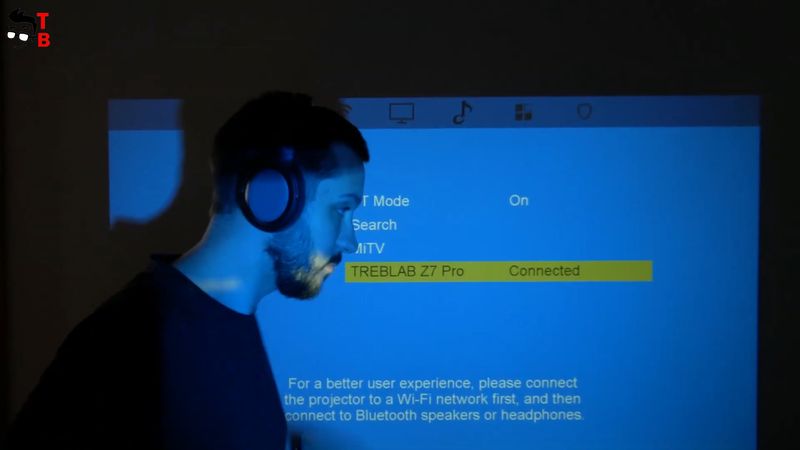 This is a useful feature, if you want to watch movies alone or if you don't like the sound quality of the built-in speaker.
Speaker Quality
HISION Projector has a 3W speaker. It is very loud, but the sound quality is just OK. You know, that makes sense given the compact size of a projector.
Noise Level
The good news is that HISION projector is not very loud.
The noise level near projector is 39 db, and it is about 30 db at 1 meter.
Projection Quality
Finally, we can talk about projection quality. I have placed a projector at a distance of about 3 meters from the wall, and the screen size is about 80 inches.
I want to recall you that a maximum screen size of this projector is 200 inches at 6 meters of the wall, and a minimum screen size is 30 inches at 1.5 meters.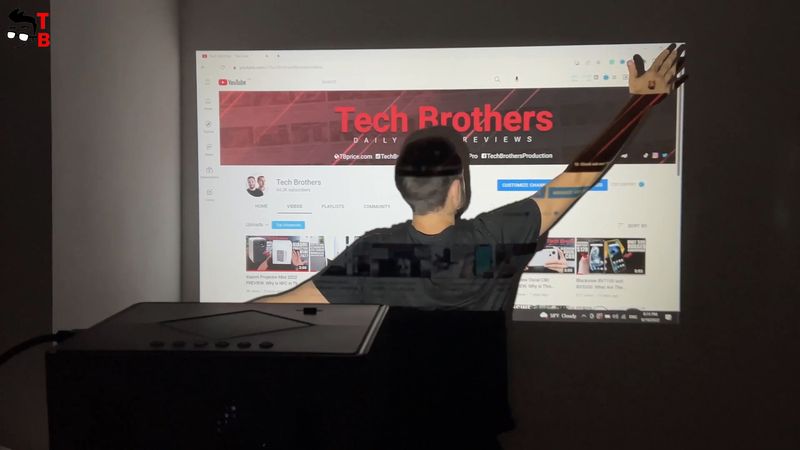 The native resolution is Full HD 1080P. Overall, the image is clear, but I noticed a slight blur in the lower left corner. Anyway, you can read text on this projection without any problems.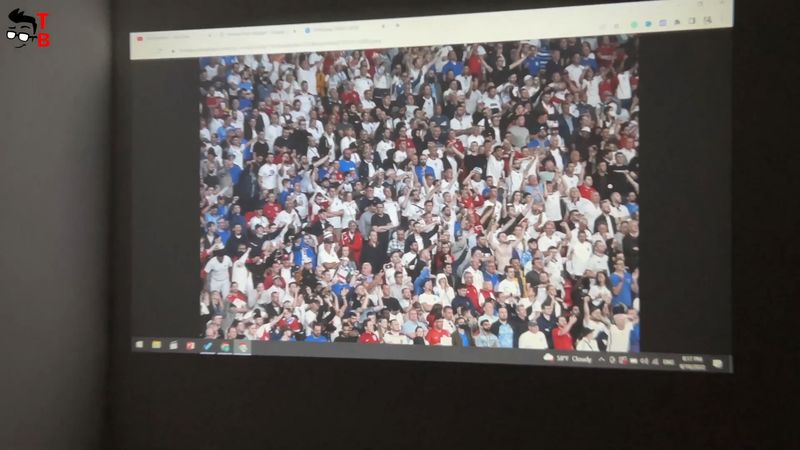 On this picture, we can see the faces of football fans. The quality is really good.
The contrast ratio of HISION projector is 9000:1. I think the colors are okay for a budget projector.
By the way, I want to show you how a picture mode affects a picture quality.
You can press the settings button on the remote control to quickly change the picture mode while watching video. To be honest, it seems to me that the changes are not significant. You can use the standard picture mode to watch movies, sports, games, etc.
The brightness of HISION Projector is 9000 Lumens. I have a very bright lamp in the center of the room, but even when it is on, the projection can be seen quite well.
Conclusion
So, in conclusion, I want to talk about the pros and cons of HISION Projector.
The advantages of this projector are a good picture quality, thanks to Full HD native resolution and high brightness, a compact size and a quality assembly, Wi-Fi and Bluetooth support, multiple connectivity, such as HDMI, USB, AV and VGA ports.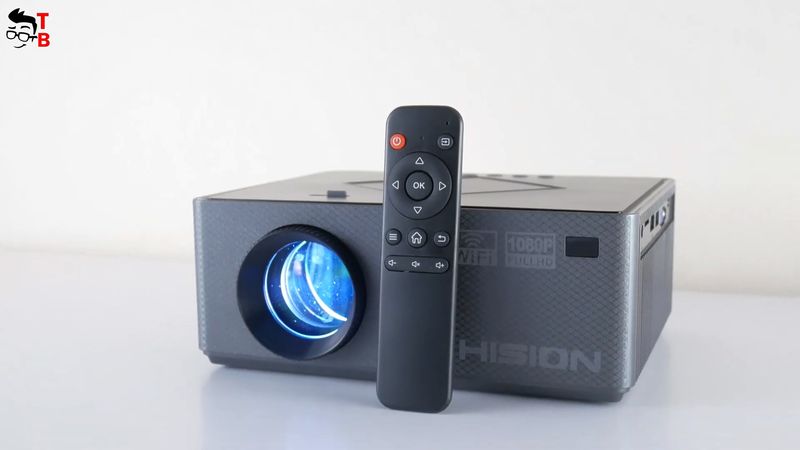 Among the disadvantages are the lack of ceiling mounts at the bottom of the projector, and a low quality speaker.
Given the compact size of the projector and its affordable price, I cannot complain about the built-in speaker. In addition, you can connect the external speaker or a soundbar to the projector via Bluetooth.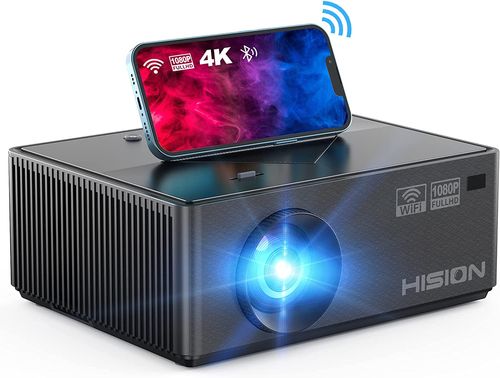 HISION WiFi Bluetooth Projector Native 1080P Projector - Amazon
as of September 24, 2023 8:35 pm