There are many true wireless earbuds on the market in 2021. We have tested from the most budget to expensive flagship earbuds. You know, most of them you can use for sports because they have sweat protection.
However, if you play professional sports, or just run and go to the gym regularly, then you need special earbuds for sports, such as HAKII Action.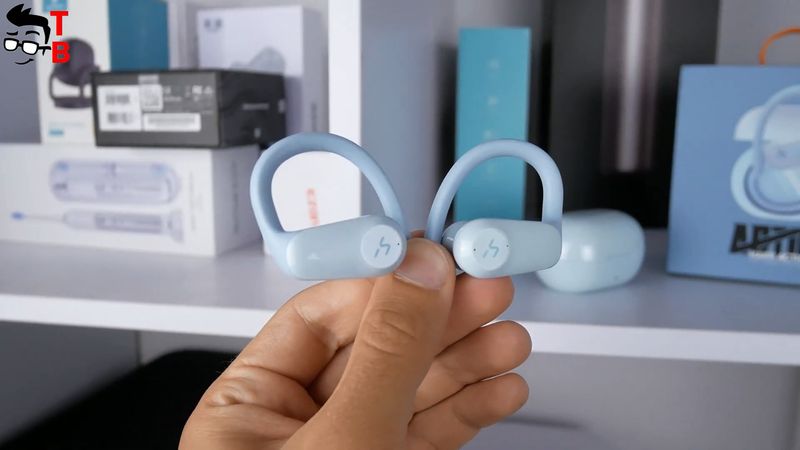 How do they differ from regular earbuds? First, they have customized ear hooks for a better fit. Also, they are IPX7 waterproof. Most other earbuds have only IPX4 standards.
You could already notice that HAKII Action is bigger than other earphones, so they have 9 hours of battery life on a single charge and 36 hours with a charging case.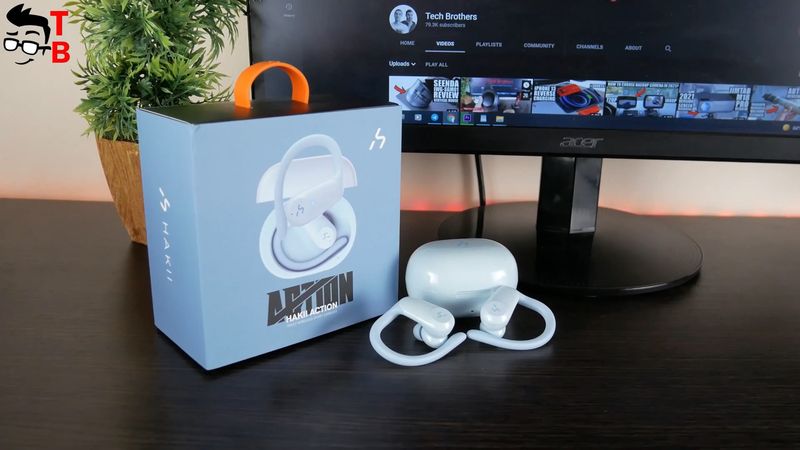 By the way, these are the third earbuds from HAKII Company that I have tested.
Okay, let's go back to HAKII Action, and let's start the review with the unboxing.
Unboxing
I like HAKII earbuds because this company pays attention to the package design and package contents, so you have a good first impression after buying the new earbuds.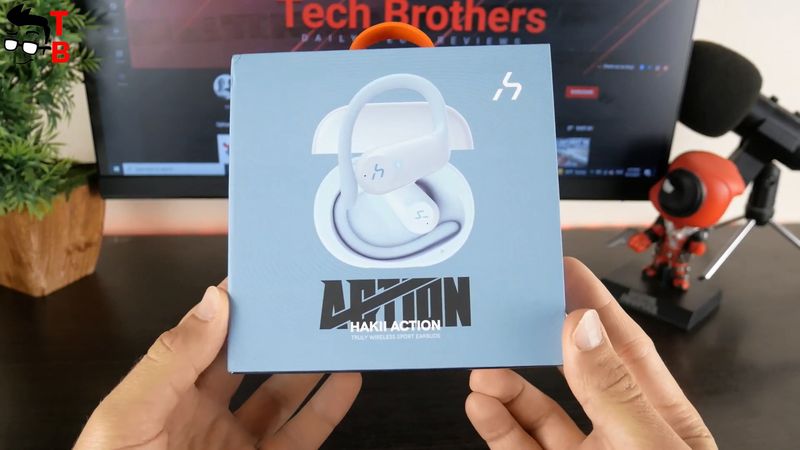 The box of HAKII Action is quite big because the earbuds themselves are not very compact. We can read the main features of the new earbuds on the back of the box.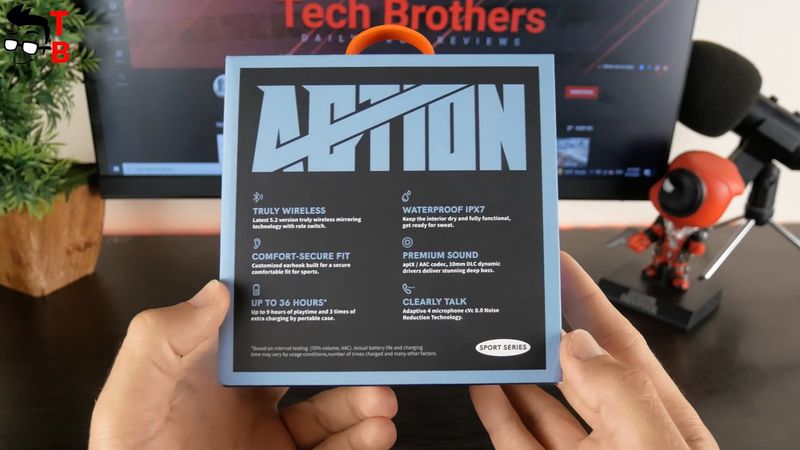 By the way, I found a sports series inscription on the box. We can see on the official website that there is sports, classic, and star series of earbuds from HAKII.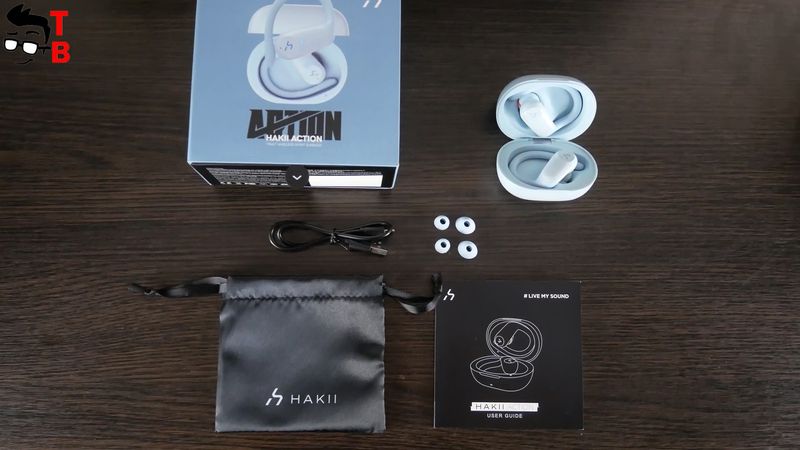 When you open the box of HAKII Action, you will find a charging case with earbuds, pouch, user manual, USB Type-C charging cable, and silicone ear tips of different size.
Now, let's talk about the design of HAKII Action. These earbuds are very different from others I have tested lately.
Design
You can see some of the earbuds I have been testing lately, and this is HAKII ACTION. The charging case is huge.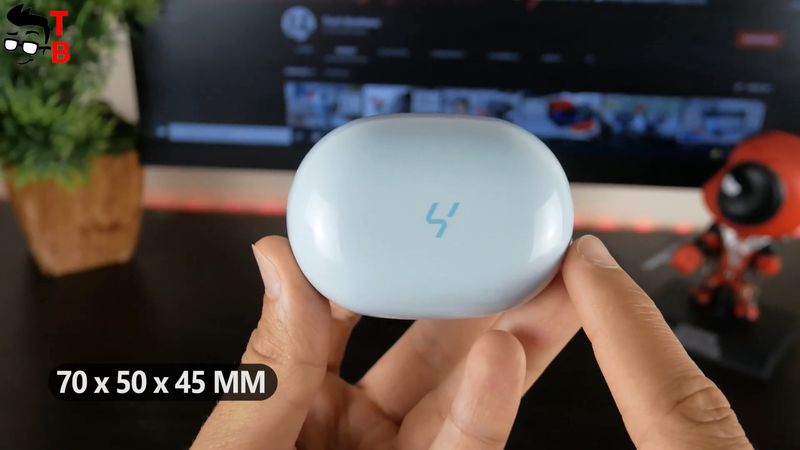 The dimensions of the case are 70 by 50 by 45 mm. The weight with earbuds inside is 78 grams.
It is almost impossible to put it in the jeans pocket, but you can carry a charging case in your bag. Now I understand why the pouch is included.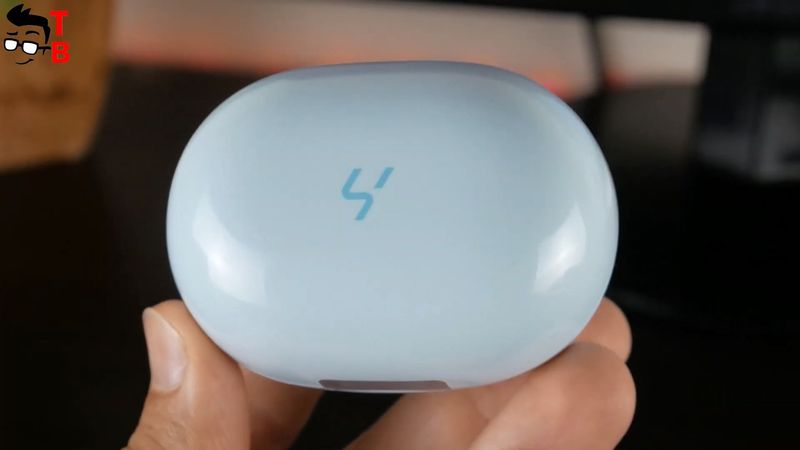 As you can see, I have earbuds of ice blue color. They are also available in black color.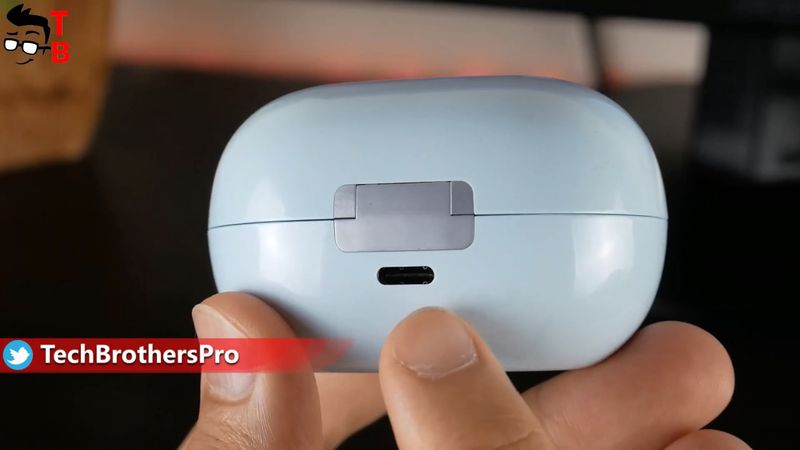 On the back of the charging case is a USB Type-C port, and there is an LED indicator on the front.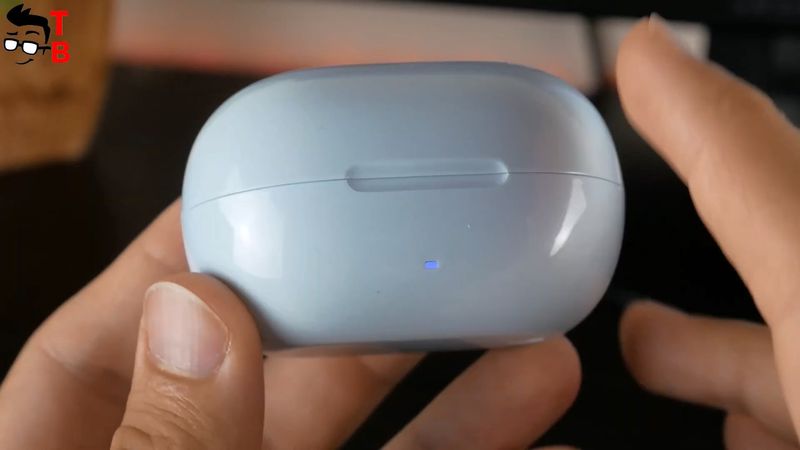 Inside the case, we have left and right earbuds. Unlike other earbuds, which are placed on one side of the charging case, here the left earbud is at the top, while the right earbud is at the bottom.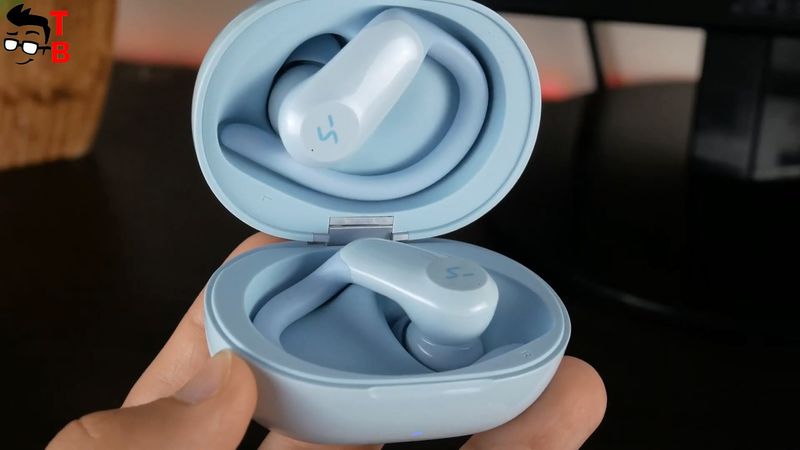 As you can see, the main part of the earbud is made of glossy plastic, while the ear hook is rubber, and it is flexible.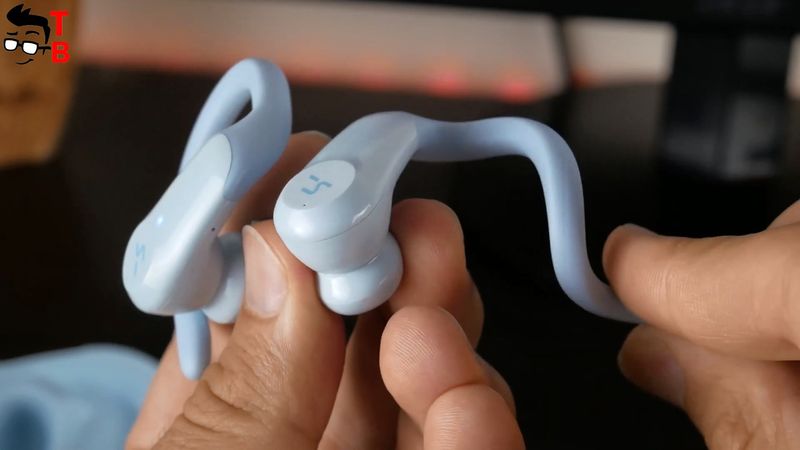 I have tried to remove the ear hook, but it seems it is not removable.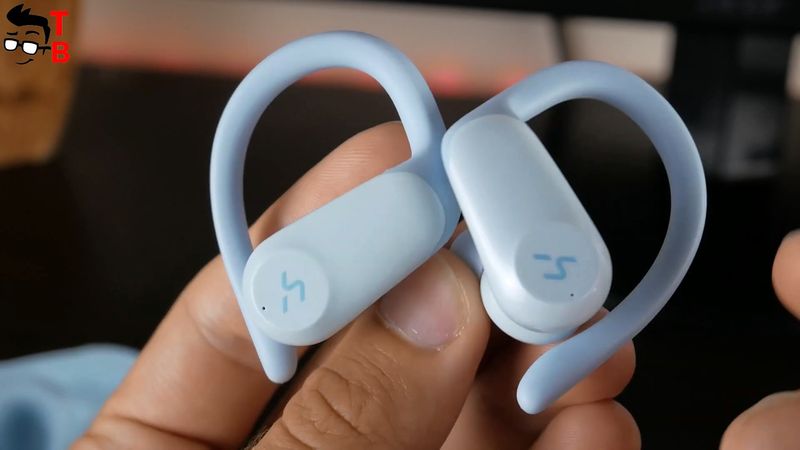 However, you can change the ear tips. As I already said, there are extra ear tips of different size in the package.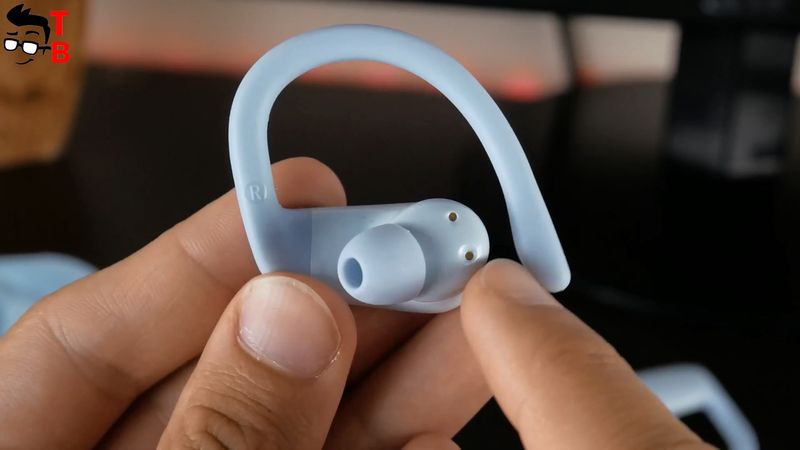 The earbuds have touch control buttons, a LED indicator, a microphone, and charging contacts.
Yes, HAKII Action is big, and they look a little weird on the ears, but they are one of the most comfortable earbuds I have ever tested.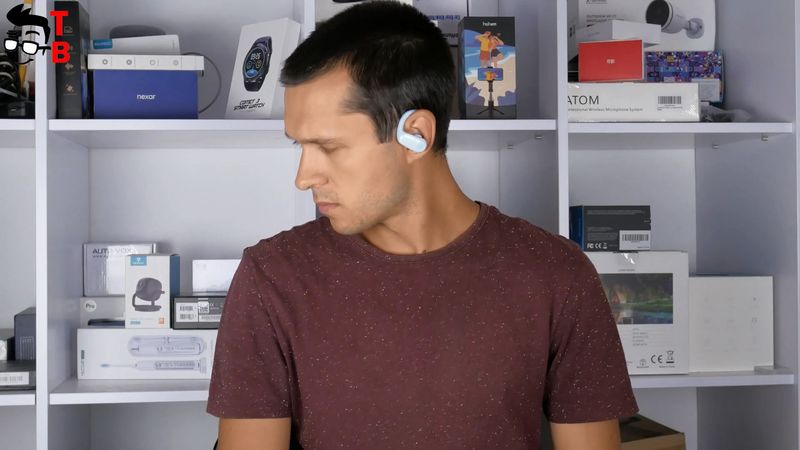 If you really need earbuds for sports, then you need to choose the ones that have ear hooks. They really hold the earbuds on the ears, so they do not fall out even during heavy physical activity.
Control Functions
I already said that HAKII Action has touch control buttons. The control functions are very important on the sports earbuds because it is not convenient to take out the smartphone when you run or do other sports.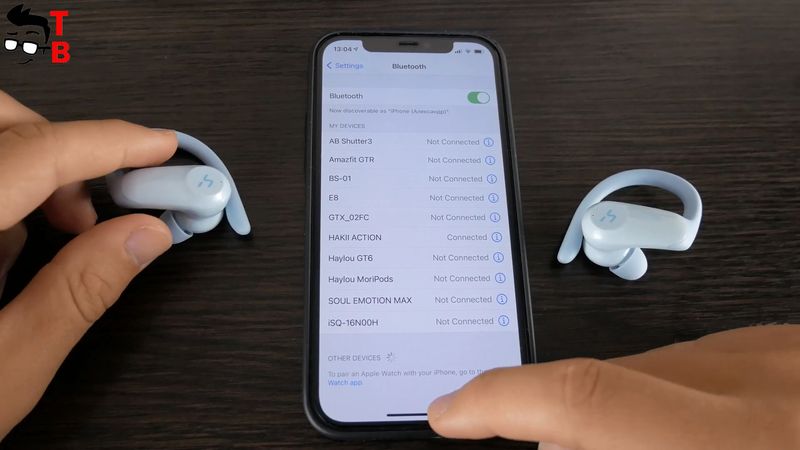 So, using touch buttons, you can play/pause the music, switch to the next track by the triple press on the right earbuds, and the previous track by the triple press on the left earbud.
You can also volume up with a long press on the left earbud, and volume down with a long press on the right earbud.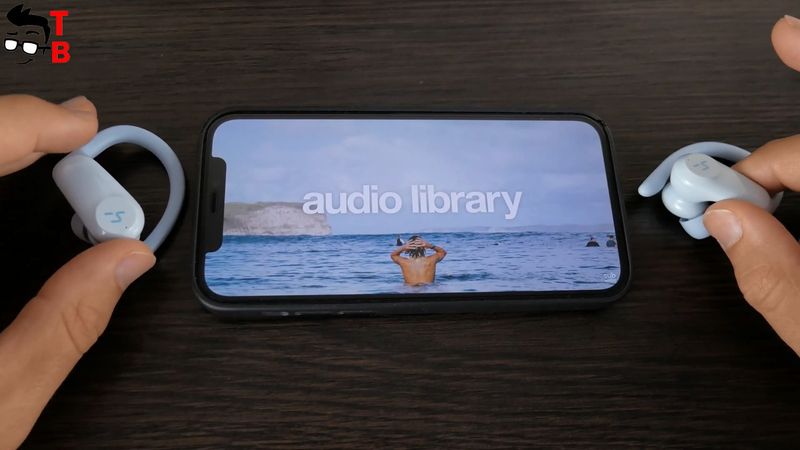 I am surprised that HAKII Action even has a game mode. Double-tap on the right earbud activates low latency mode.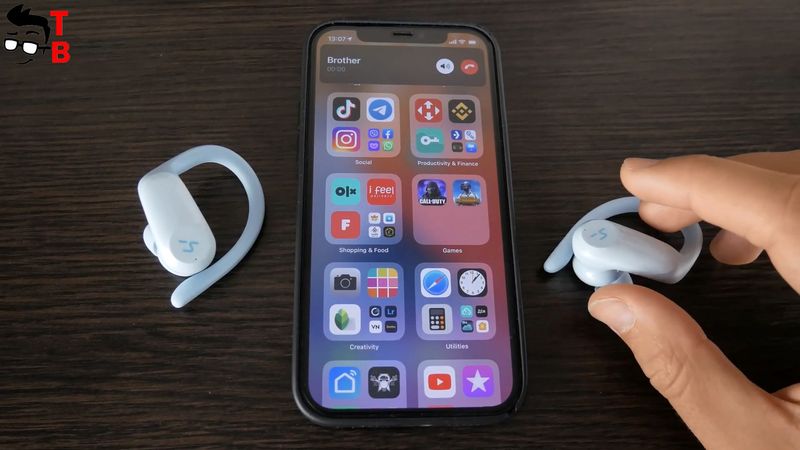 Of course, you can answer the phone call with a single touch on any earbud.
So, HAKII Action has a game mode, and I want to test it.
Latency Test
Game mode means that sound delay should be as low as possible in games and video playback. It is usually quite difficult to notice a delay in sound while watching a video. HAKII Action doesn't have any problems with that.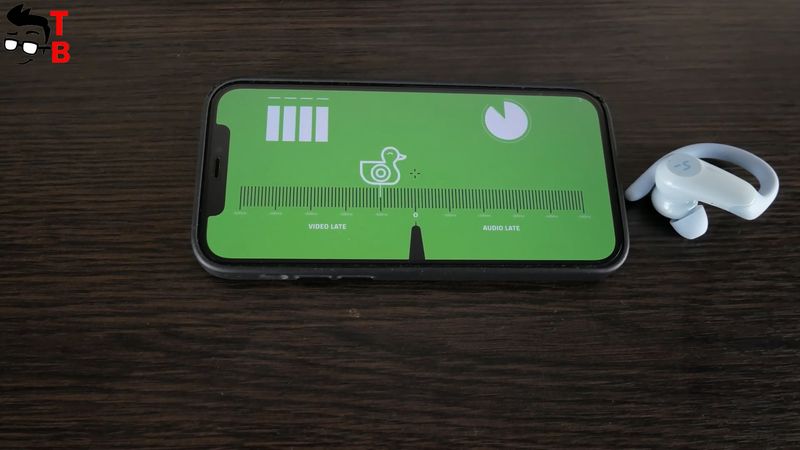 As for the latency in games, I think it is also very low. However, there is a difference between normal and game mode, so it is better to turn on the game mode when you play games.
Microphone Test
I found the information on the official website about the cVc noise cancellation of HAKII Action. The new earbuds have an adaptive 4-microphone system, combined with the eighth generation of cVc smart call noise reduction technology.
The quality of the microphone should be good, but let's check it out.
Hey, guys! I am testing HAKII Action true wireless earbuds for sports. I am not running or doing other sports right now, just sitting in my studio. However, I think the microphone quality will be the same during sports.
Sound Quality
Before talking about sound quality, I want to tell you about the specifications of HAKII Action. The earbuds have a Qualcomm QCC3040 chip and Bluetooth 5.2. This combination provides lower power consumption, faster transmission, and a more stable connection.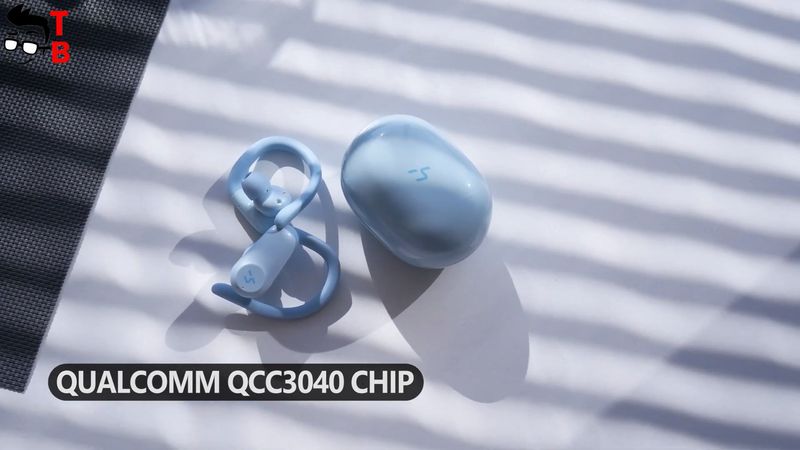 Also, HAKII Action is equipped with a 10mm LCD diamond-like carbon diaphragm speaker.
You might think that sound quality isn't really important for sports earbuds, because when you're exercising, you're breathing heavily and not paying attention to the music anyway. However, this is not exactly true.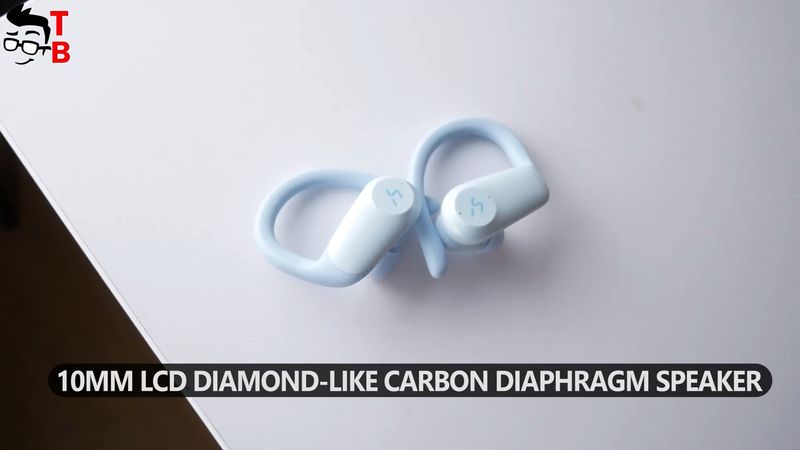 Most sports earbuds have very deep bass to motivate you while doing sports. HAKII Action also has very good bass, but there is also clear sound. You can listen to any genre of music and even listen to podcasts.
I also like the high volume. This is very important during sports activities.
Battery
HAKII ACTION has an advantage over other earbuds, thanks to their large size. I am talking about battery life.
You know, most wireless earbuds can play music for 4-5 hours, but HAKII Action has 9 hours of playtime on a single charge. That's a very good battery life for true wireless earbuds. Probably, it is one of the best results on the market in 2021.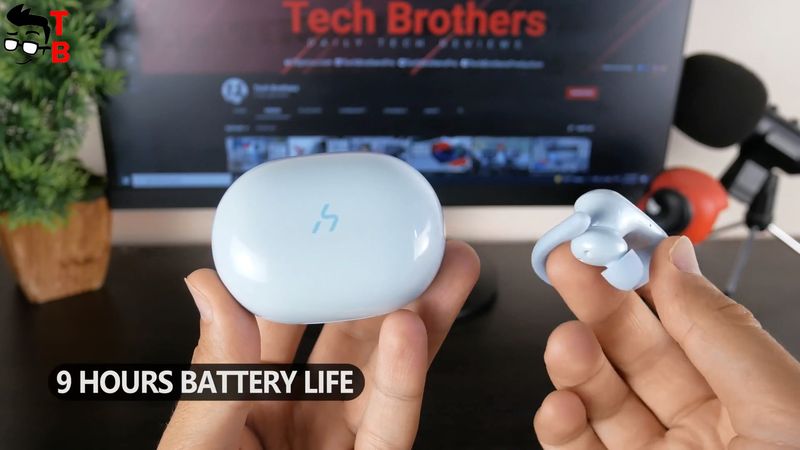 The charging case provides three additional recharges. So, you have about 36 hours of battery life with a charging case.
Conclusion
Most likely, HAKII Action is not for everyone, because the earbuds have quite a big charging case, and many people don't need ear hooks, because they don't do sports.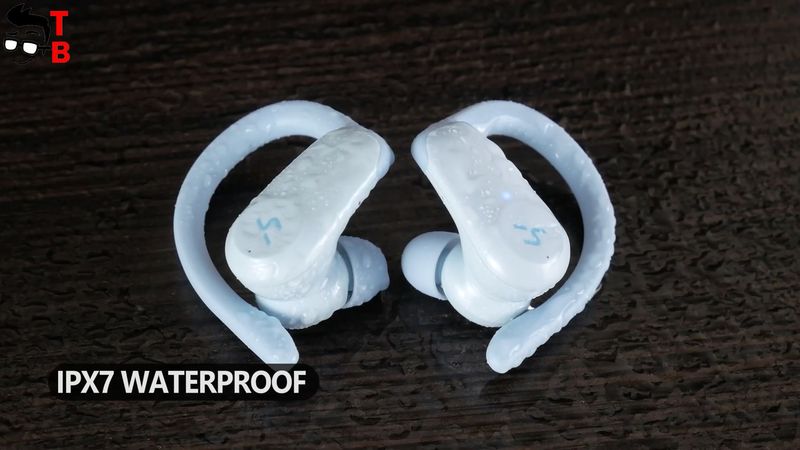 However, if the sport is an significant part of your life, then you should take a closer look at HAKII Action. These earbuds have many advantages over regular earbuds, such as ear hooks for better fit, IPX7 waterproof, good sound quality, and very long battery life.