Today we are going to make full review and unboxing of one of the cheapest projectors on the market. It has very simple name – H2 LCD Projector. It is budget projector of $100, and it does not have Android operating system. However, you can connect it to laptop, PC, Play Station 4, Xbox and other devices via HDMI, and watch movies or play games on a big screen. It has the native resolution of 800 by 480 pixels; however, it supports Full HD, 1080p videos.
So, let's start our review with unboxing, and then find out its interesting features.
[wpsm_offerbox button_link="https://www.gearbest.com/projectors/pp_1573965.html?lkid=13636684″ button_text="Buy it now" price="$133.41″ price_old="$145.99″ title="H2 LCD Projector 1800 Lumens" description="Supports 1080P – HDMI USB VGA – PS3 PS4 / X-Box" thumb="http://www.tbprice.com/wp-content/uploads/2018/04/H2-LCD-Projector.jpg" ]
H2 LCD Projector: Unboxing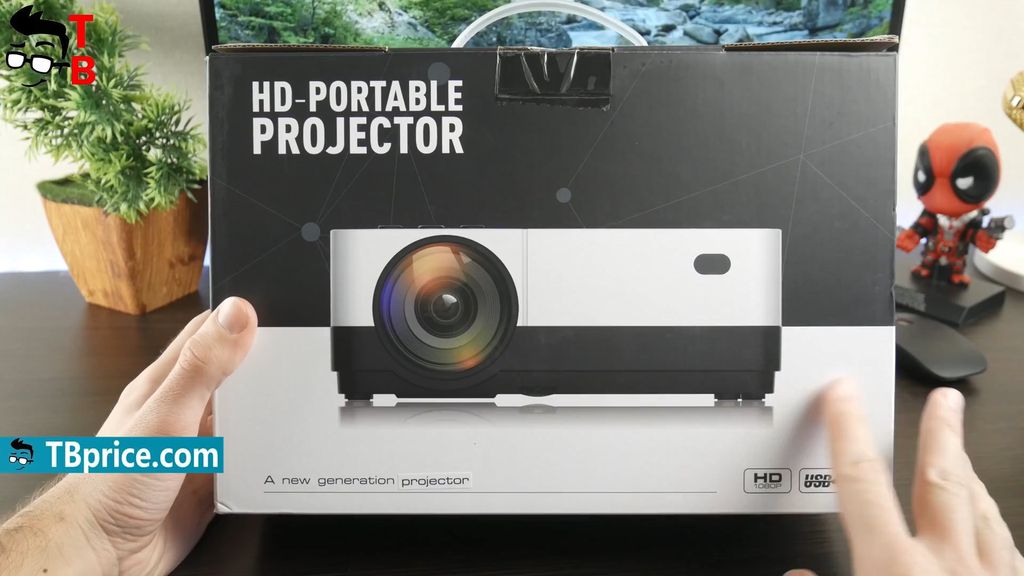 The projector comes in a cardboard box. Here you can read all details about device inside: model number, supported technologies, specifications, and others.
When you open the box, you will see the projector in transparent package. From the left side there are other accessories, such as remote control, power cable, RGB cable for video/audio input, and user manual. I think that you don't need user manual, because the projector is very simple to use. However, the user manual in English, so you can peek out some details.
H2 LCD Projector: Design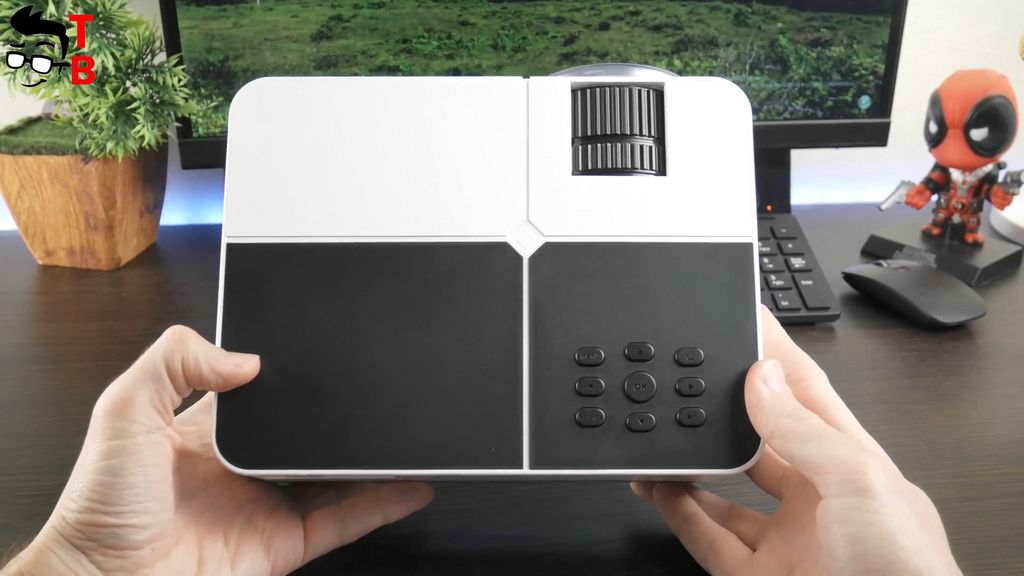 Now let's look at design of H2 LCD Projector. It is made of cheap plastic; but I really like the color combination of black and white. At the top, you can see two wheels: one is for focus, while another is for image correction. Also there are control buttons, such as Power, Menu, Source, Play, OK and others. I think that you don't need these buttons, because there is a remote control.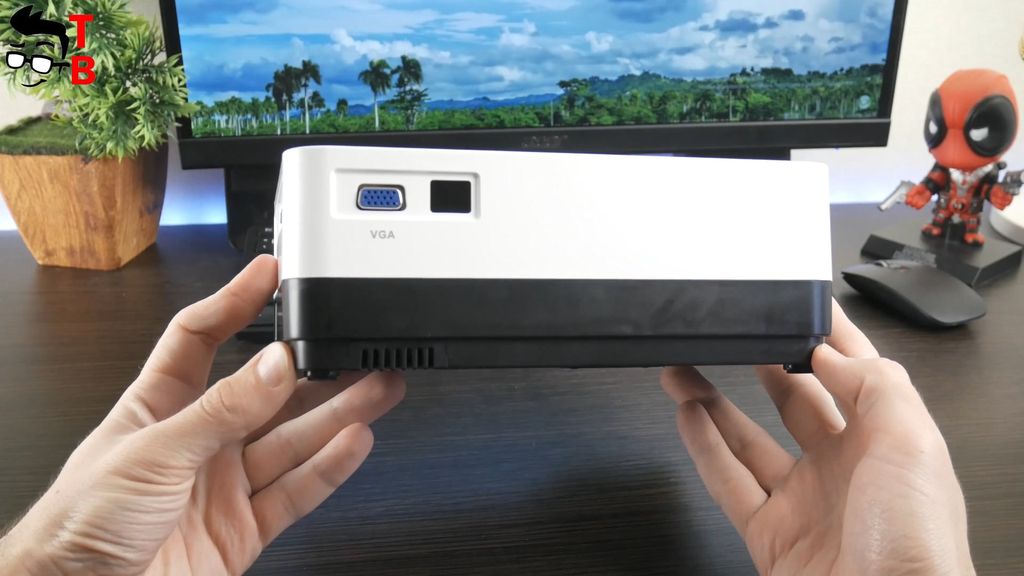 From the back, you can find only VGA port. Does anyone still use it? The main connectors are located on the left side. There are a slot for SD memory card, 3.5mm headphones jack, AV connector, two HDMI ports and even USB port. From the right side, you can find a connector for power cable.
If you look at front panel, there is big lens that is protected with plastic cover. Also, you can find infrared receiver to control the projector with remote control.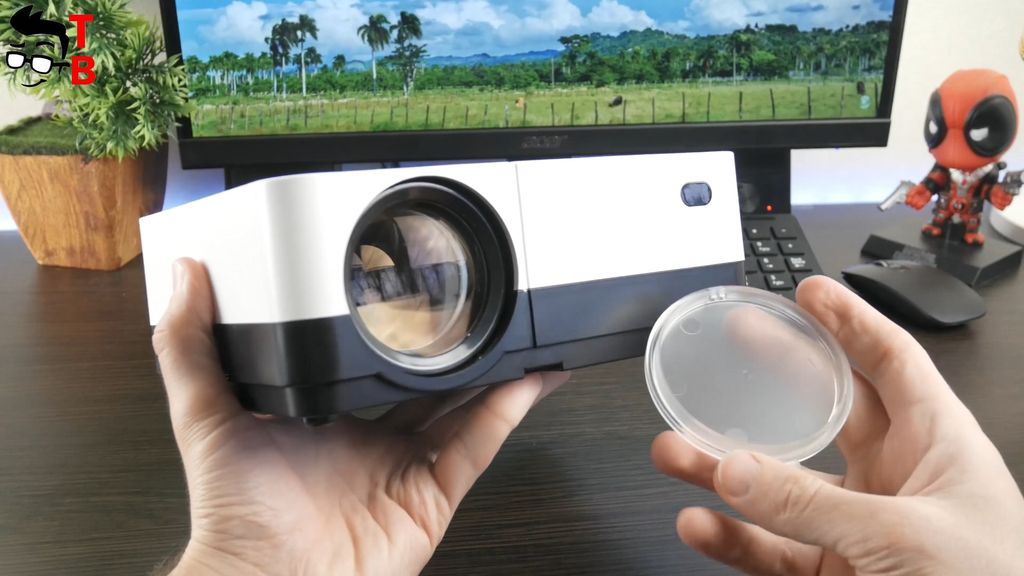 From the bottom we are interested in connector for tripod, and others accessories, for example, to hang the projector on the ceiling.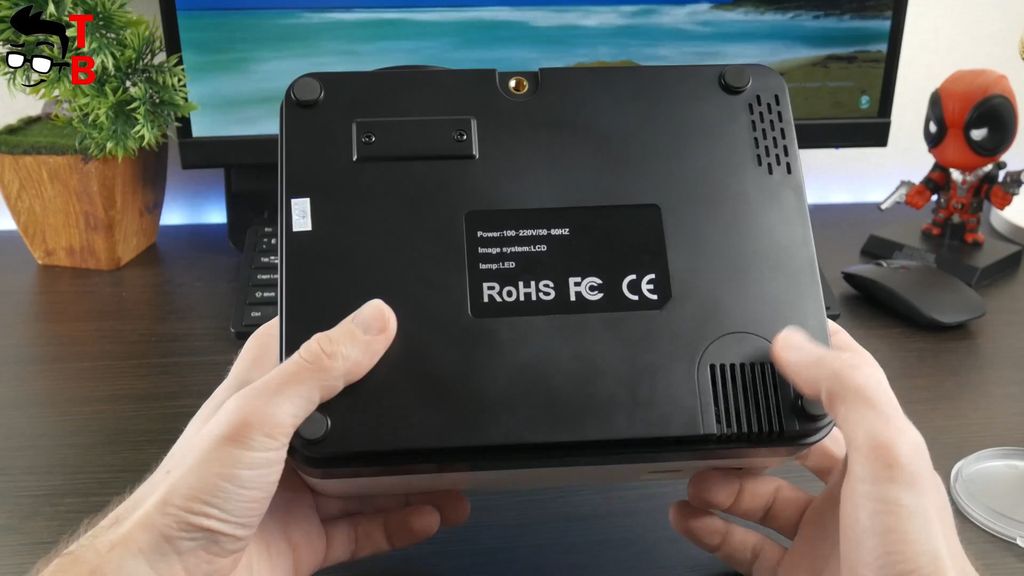 H2 LCD Projector is pretty compact, because I already reviewed much bigger devices, such as Alfawise X. You can find link to this video in description. Also, H2 Projector weighs about 1.3 kilograms.
By the way, there is a remote control of black color. It duplicates all functions from control panel on projector. It is powered by two AAA batteries.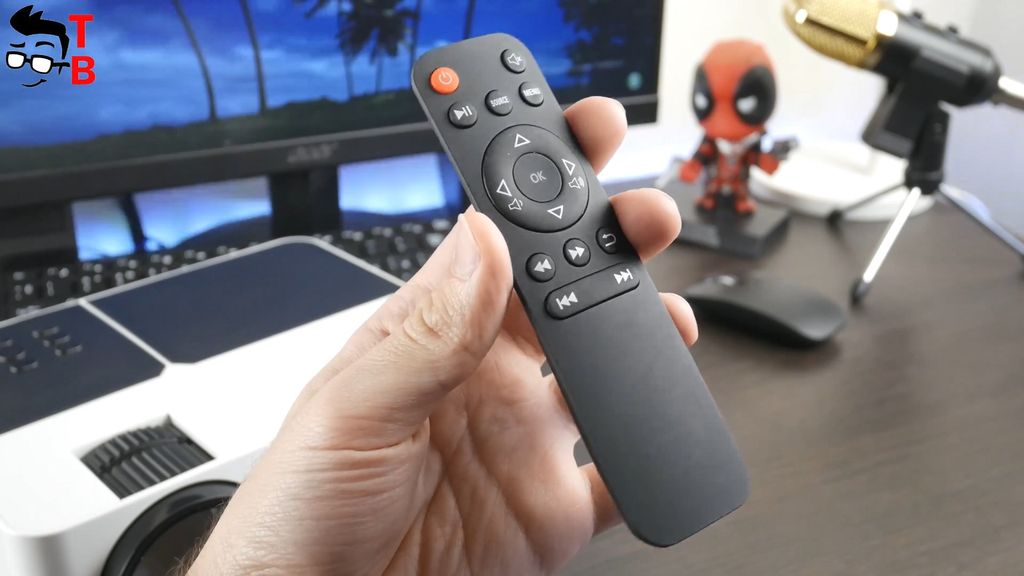 H2 LCD Projector: User Interface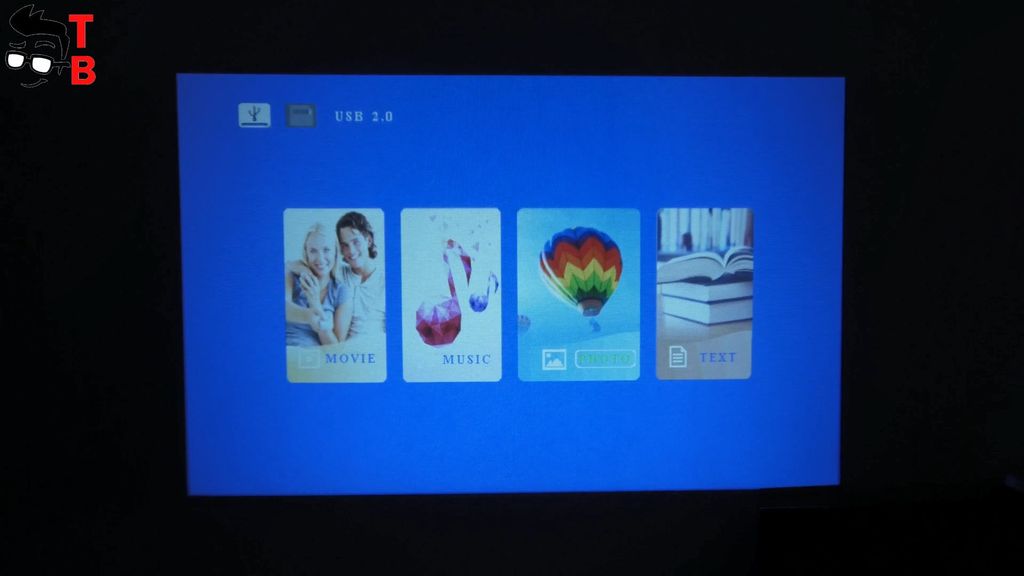 As I already said, H2 LCD Projector doesn't have Android or other operating system. It has very simple user interface. It is comfortable and easy to use, but it looks very old. The main screen provides categories to play files, such as video, photos, music and text. Also you can choose the input source: HDMI, AV, USB or SD card.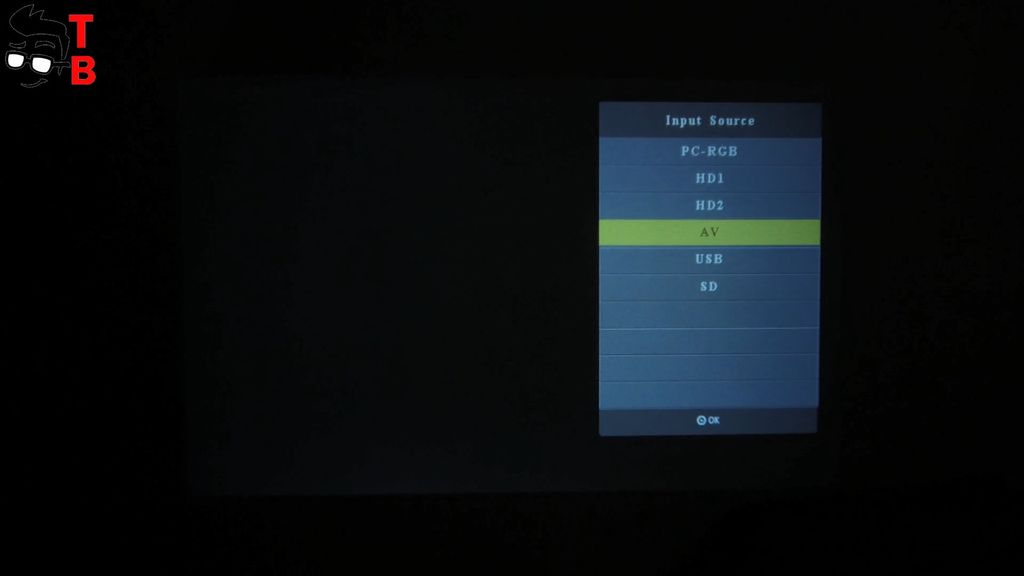 The settings menu have different options to setup picture, audio and others. The first menu offers options to choose picture mode, color temperature, aspect ratio, noise reduction, Projector direction and others.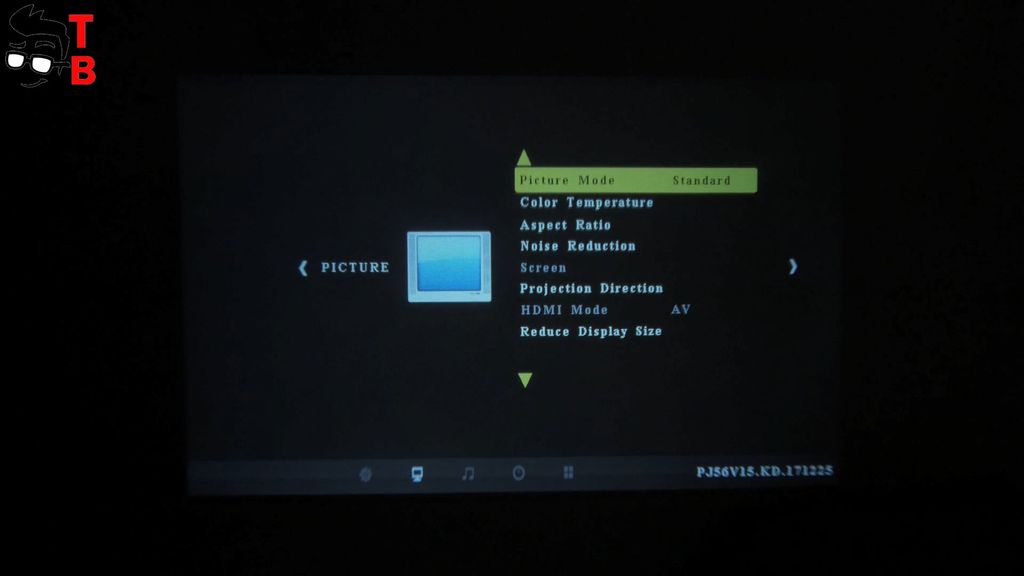 From the sound menu you can change sound mode, balance, etc. Then there is an option to setup sleep timer. And the last menu provides system settings, such as language, reset factory settings and software updates. By the way, I want to note that projector supports the most popular languages, such as English, French, Russian, and many others.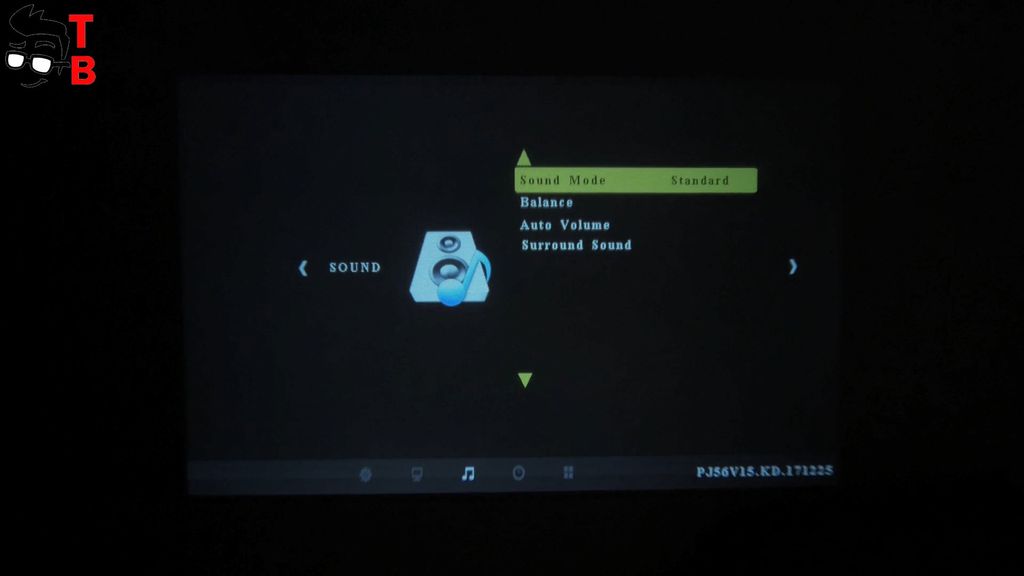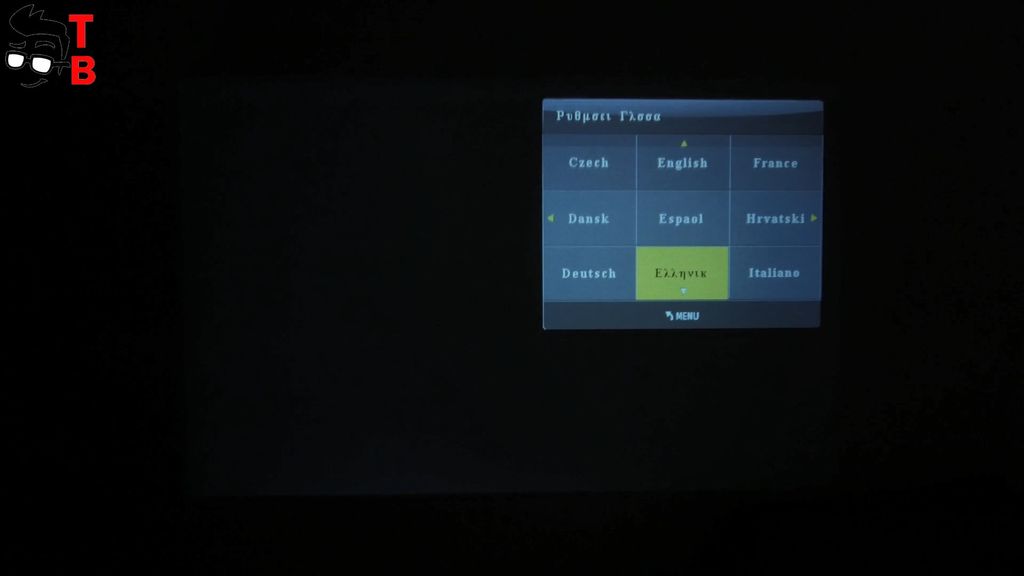 I played some videos from USB flash drive, and I didn't have any problems. The projector has image resolution from 30 to 150 inches. You can place the projector at a distance from 1 to 4 meters. The contrast ratio 2000:1 provides pretty good image. However, you should remember that projector has only 480p resolution. Yes, it supports 1080p videos, but output resolution will be only 480p. I tried to play 4K video, but H2 LCD Projector could not do it.
The maximum brightness of 1800 lumens makes it possible to use projector in light room. Of course, it is better to use contrast images, for example, black and white colors, then it will be much more visible in light room. In total darkness, the image is very good, as for budget projector.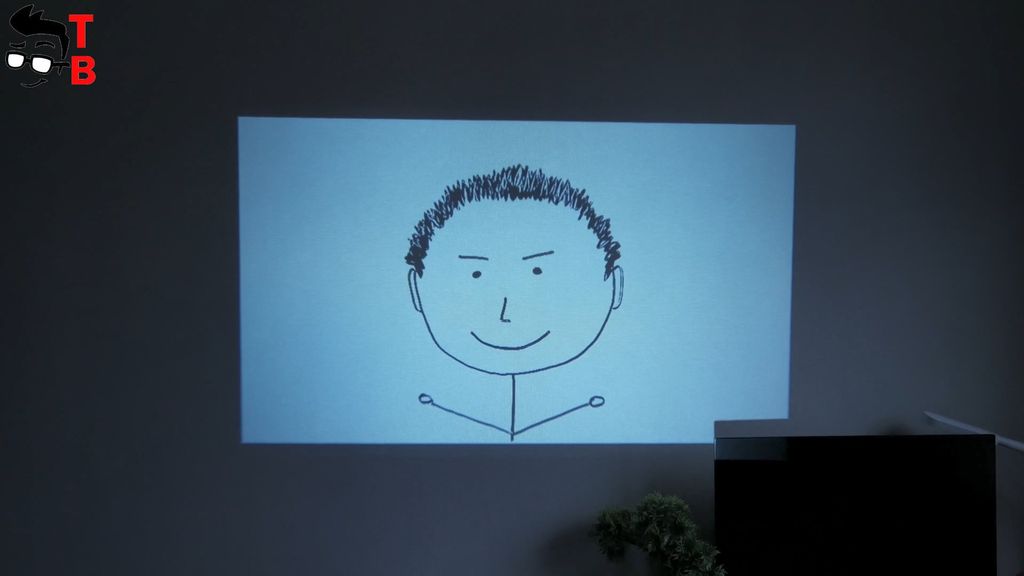 If we talk about lamp life, the manufacturer says about 30000 hours. The projector doesn't have built-in battery, and it is powered only from outlet.
By the way, H2 projector has built-in speaker. It is very loud, however it is impossible to use at 100%, because the sound is poor. At the volume of about 50%, it is pretty comfortable to use. Also, you can connect external speaker via 3.5mm audio jack.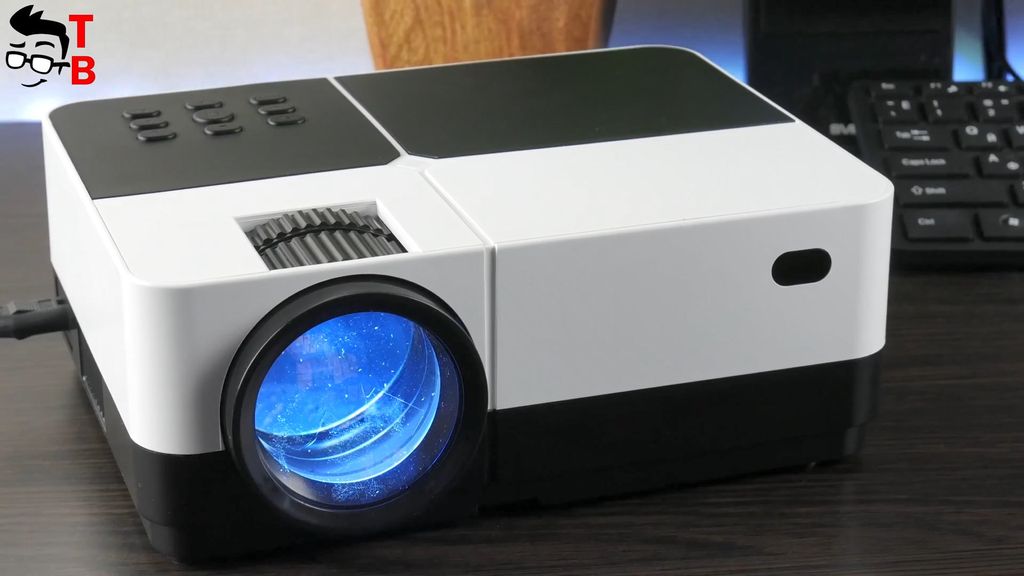 H2 LCD Projector: Conclusion
So, H2 LCD Projector is very interesting device. For the low price of about $100, it provides very good specifications and image quality. First, I want to note compact size and a rich set of connectors. Also, H2 LCD Projector has good brightness – 1800 lumens, and contrast – 2000 to 1.
The native resolution is pretty low, however projector supports Full HD videos. Also, there is no Android operating system, so you can play files only from USB and SD drives, or use HDMI cable to transfer image from computer, laptop of gaming consoles, such as Play Station 4.
So, if you need budget projector to watch movies at home, presentation in college or office, and just play games on a big screen, then H2 LCD Projector will be good option.
[wpsm_offerbox button_link="https://www.gearbest.com/projectors/pp_1573965.html?lkid=13636684″ button_text="Buy it now" price="$133.41″ price_old="$145.99″ title="H2 LCD Projector 1800 Lumens" description="Supports 1080P – HDMI USB VGA – PS3 PS4 / X-Box" thumb="http://www.tbprice.com/wp-content/uploads/2018/04/H2-LCD-Projector.jpg" ]
H2 LCD Projector Review Video